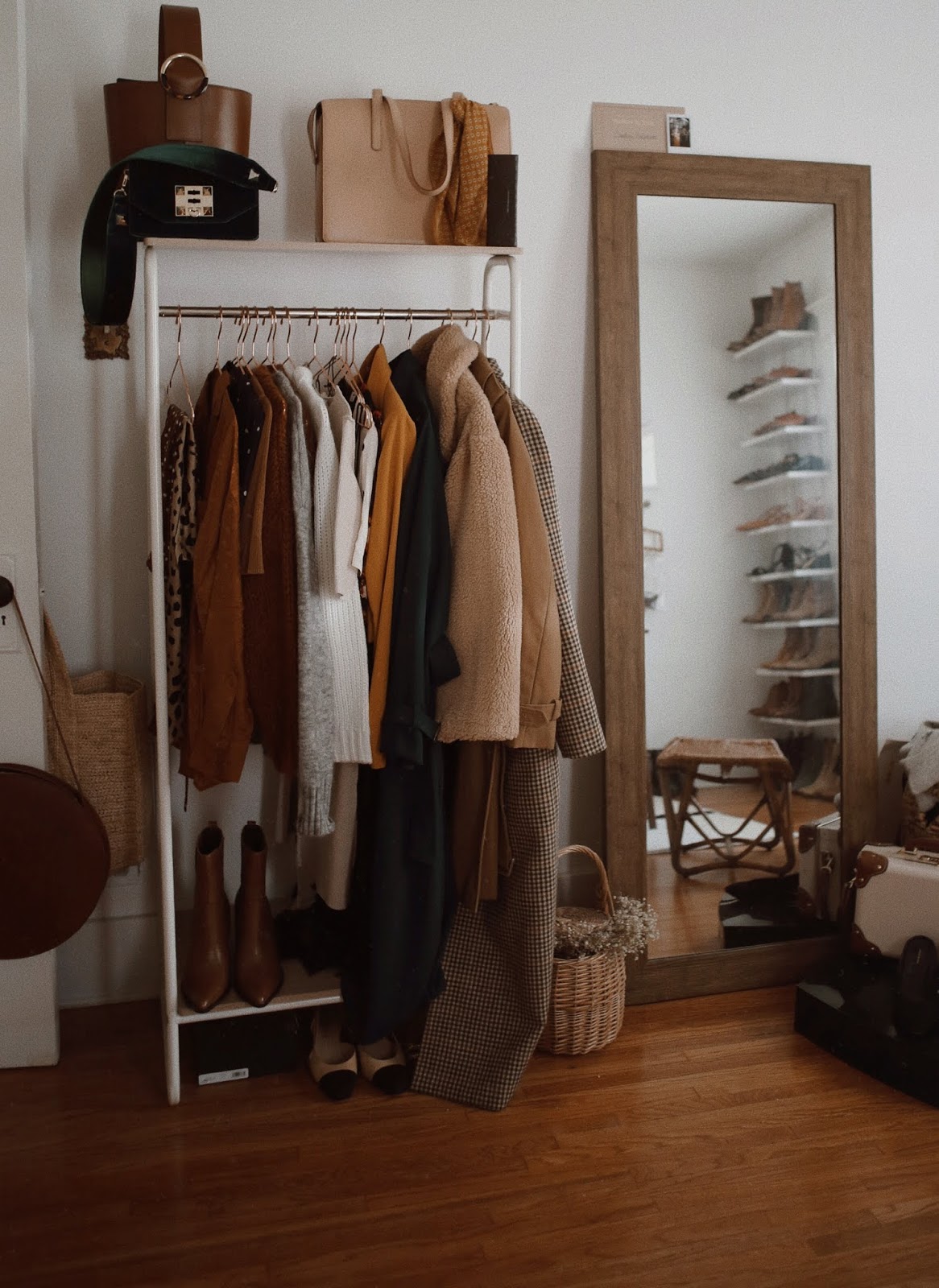 Over the next two weeks, Eric and I will be heading out of LA, spending the weekend in Boston, 5 days in Paris, and 6 days driving around various cities in Switzerland. And while I'm tempted to just pack up everything I own and just "figure it out" when I land, I know that that will lead to stress, overpacking, and having to lug multiple giant suitcases around. I think a lot of the time when I see photos of bloggers traveling (especially during Fashion week) there is a tendency to glorify how many suitcases have been brought along. It's become the norm to show a bogged-down airport cart, or else an overflowing car trunk, stuffed to the brim with suitcases.
Whether it's intentional or not, it always feels like the photo is trying to convey just how many things someone owns, or how many times a day they're planning on changing, and the overall fantasy attached to the world of fashion and fashion blogging. The idea that you simply must bring piles of clothing, tons of designer bags, and of course, a separate suitcase just for shoes.
And honestly – I don't want to shame anyone. I am not invited to a ton of shows every year, I get some invitations and tend to only attend a few shows. I hate the idea of changing outfits every few hours, so I don't. There are plenty of bloggers out there who are invited to all of the biggest shows, and have tons of gifted pieces that they need to bring along. But for me, it's just not how I travel, and I always wonder how it feels to readers when this is portrayed as the norm.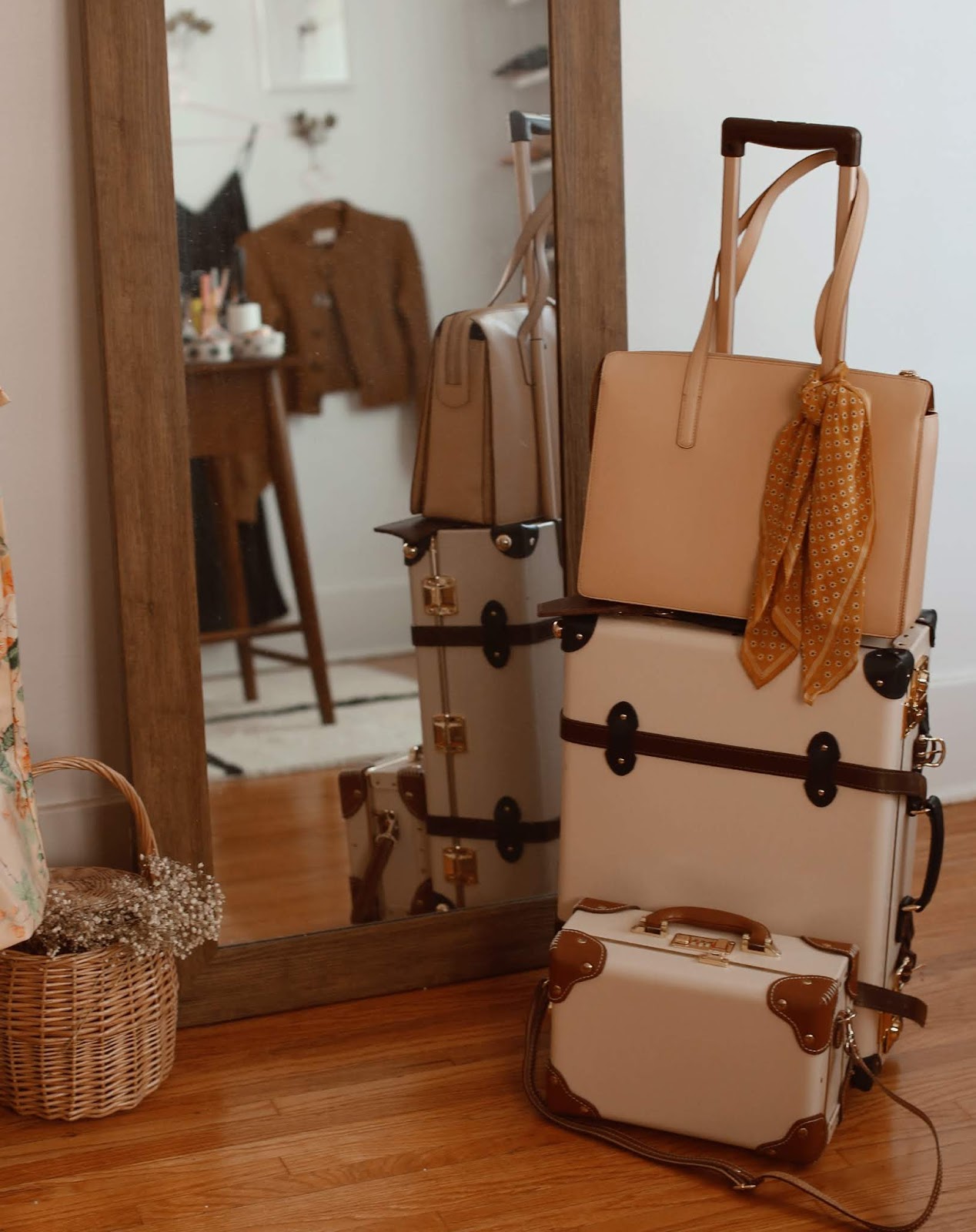 laptop bag / carry-on suitcase / vanity case
Don't get me wrong – I'm bringing clothing that I plan on shooting looks in. I have multiple purses I'm bringing, and I am excited to create content in each of the locations we are visiting. It's my job! But I do want to try to show a balance between the two worlds, and how I pack for multiple cities. I get really anxious about overpacking, so for the most part avoid checking luggage at all costs. But when it comes to seasonal travel, coats and boots take up more room, so I am resigned to my fate of checking some luggage.
So today I wanted to share tips based on some questions that were submitted via Instagram for this post, including answering questions like how I pack my suitcase for multiple destinations, how I maximize space, and how I choose versatile pieces.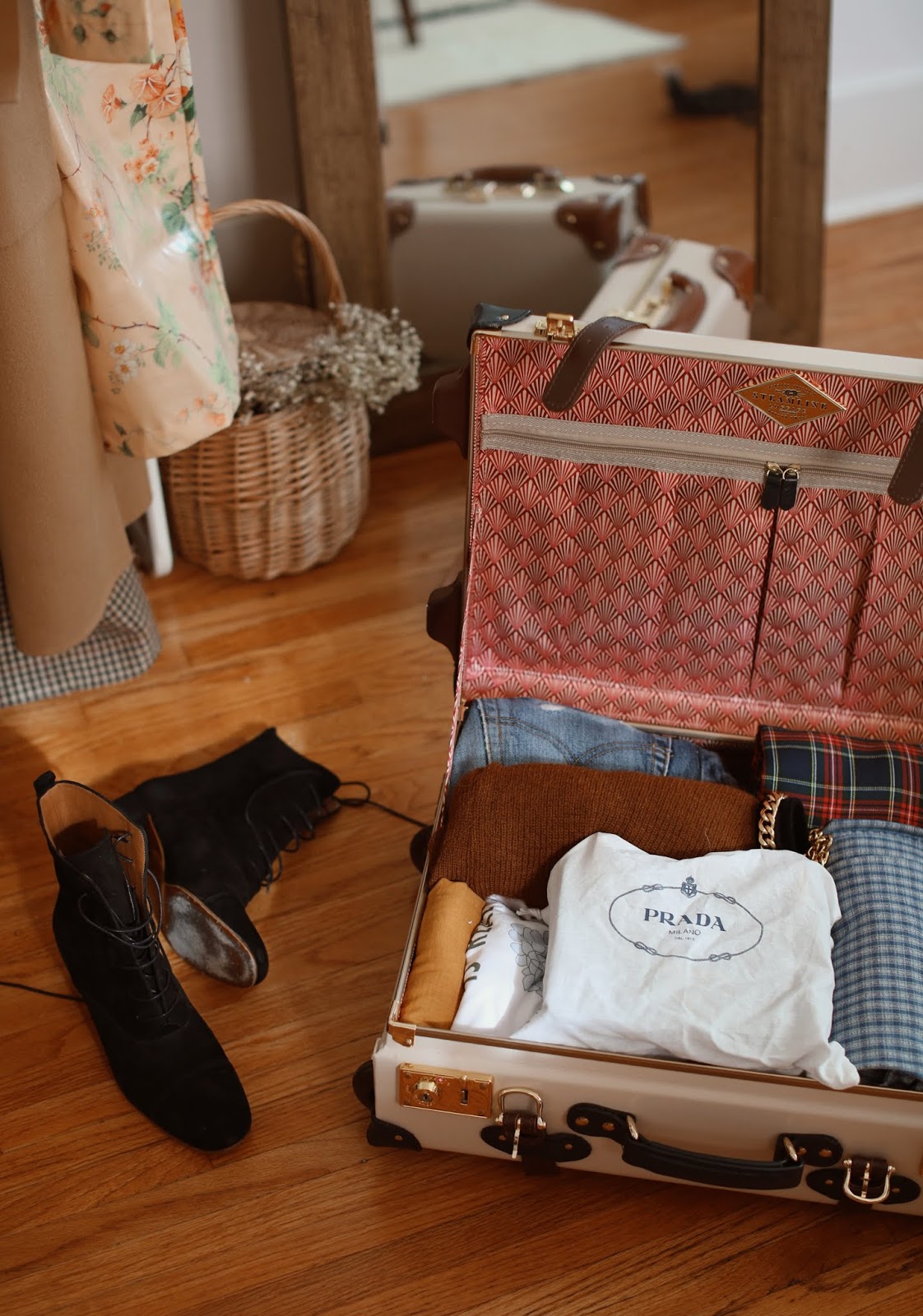 "How do you pack less in order to mix and match on vacation?"
When it comes to avoiding the trappings of over-packing, my advice is to create outfits, and try them on. I'm serious. I used to be the type of person to throw various bottoms, tops, dresses, and shoes in a bag, and assume that I would be able to just mix and match on the go. And while that can work for a few days, at the end of the trip I'd always realized that there were not only a few pieces I'd wished I'd packed, but even more pieces that I never even touched.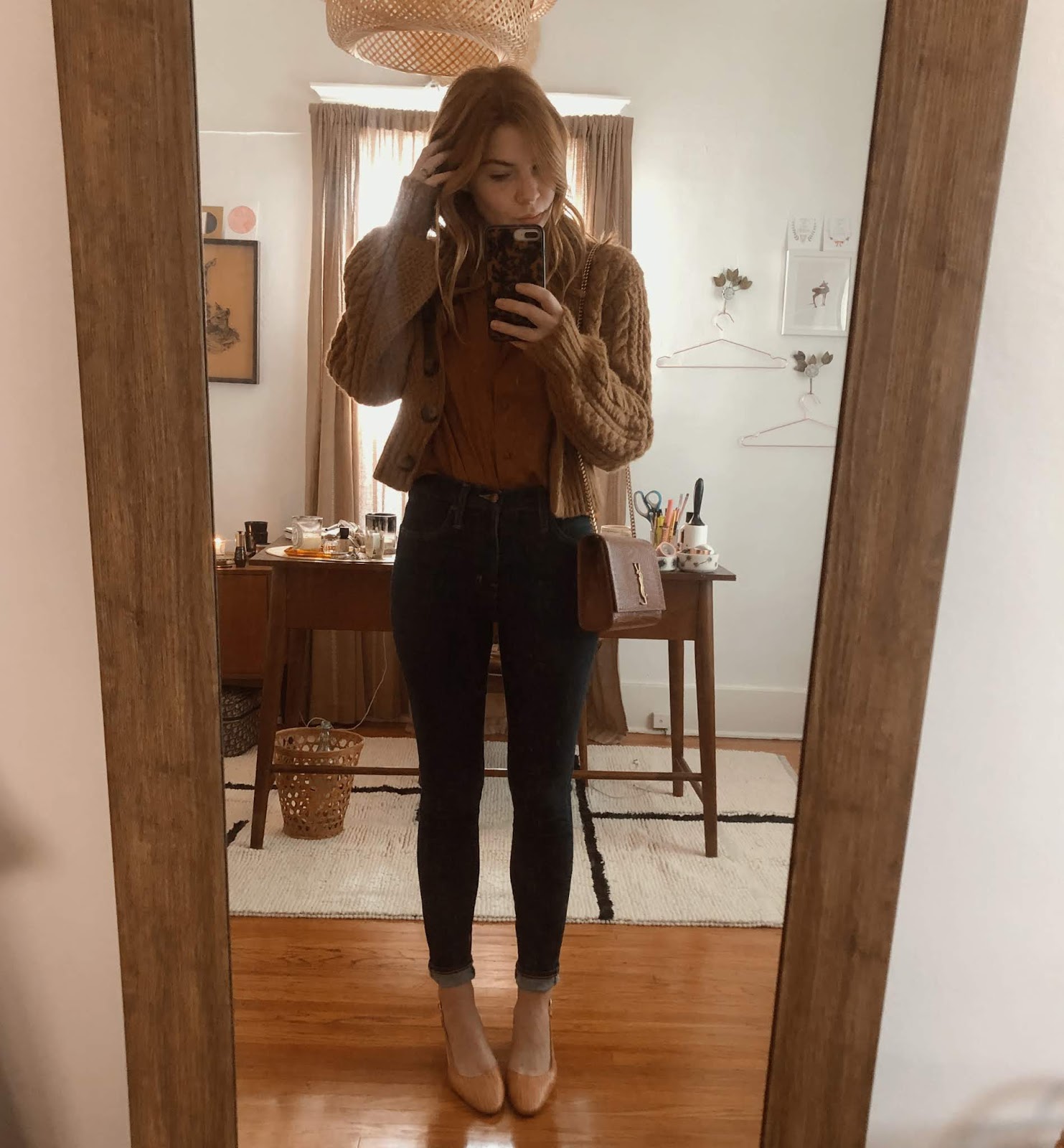 So what I do, is put together a pile of clothing that I'm thinking about bringing, and start trying things on. I put shoes with looks, and style the whole thing, and when I've found a look I like, I take a mirror photo and save it in my phone. One look, done. I continue until I feel I have enough for the trip, but I always keep in mind that a different look does not mean a head-to-toe new outfit. If I swap out a blouse, and maybe put different shoes with a pair of jeans I'm already planning on bringing, that to me is a new look. During a 2 week trip, it's very unlikely that I would need more than 2 pairs of jeans, so I try to pick those pieces that can be worn more than once.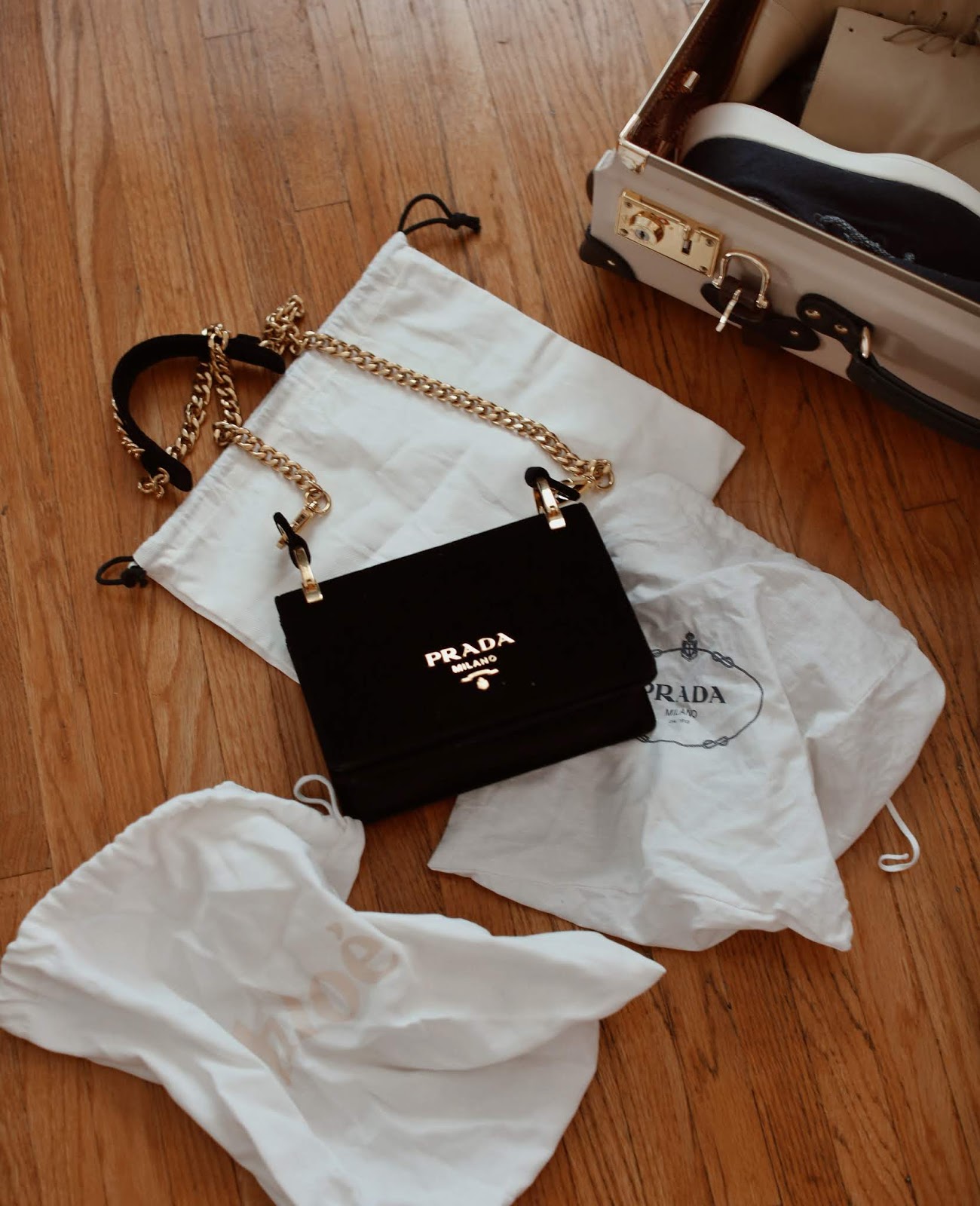 "Do you pack different looks for day vs night?"
This is another way that I like to cut down on what I'm bringing. For example, I almost always pack a sleeker look for nighttime, and that is usually in the form of a simple slip dress. My go to is the 1996 dress from Realisation Par. Paired with heels, it's a great look for going out at night. But, that same dress can easily be worn during the day, with a sweater thrown over it and walking shoes or boots. The dress turns into a skirt in a way, and it feels like a completely new look. Not only that, but silky dresses take up the least amount of room, so packing several is easily done without maxing out your space.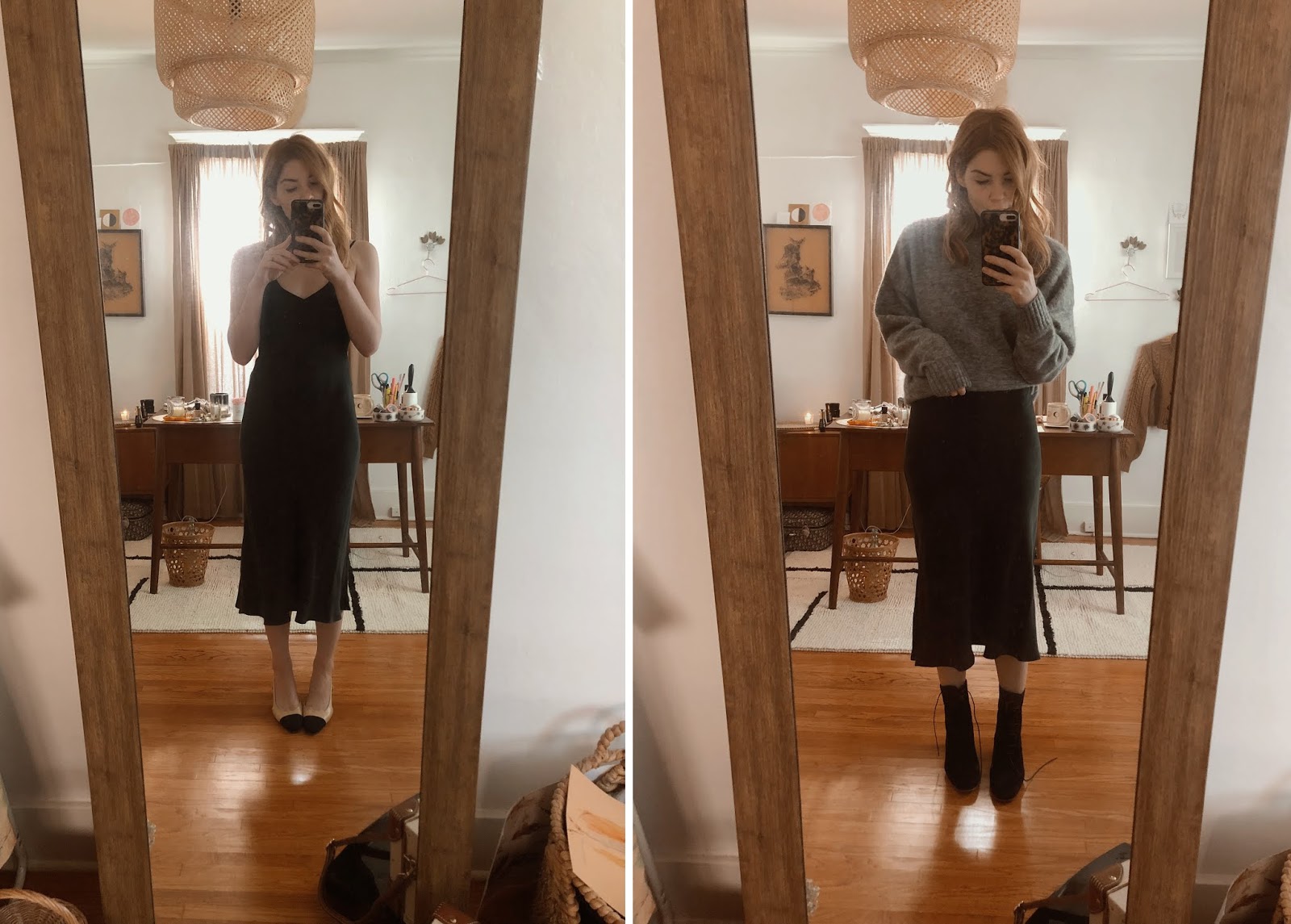 "What is the best way to pack coats?"
While it's not exactly fun, if you're planning on bringing more than one coat, opt for wearing one of your coats on the plane. It counts as a personal item, and if you're wearing it when you board, no one is going to bother you about it. I take mine off when I sit down, and usually gently roll it and either place it above in the bin (only if there's room! Leave space for others luggage) or by my feet. If the plane is chilly, I often drape my coat over my legs as a blanket.
This really only works if your coat isn't super bulky or structured, so pick wisely what coat you want to wear on the plane. A puffer coat for snow is going to be in every one's way, but an unlined wool option like Rouje's Philou Coat can be easily brought on board. As far as packing a coat in your suitcase, I like to put mine in last, laid on top of everything else, as flat and with as few folds as possible.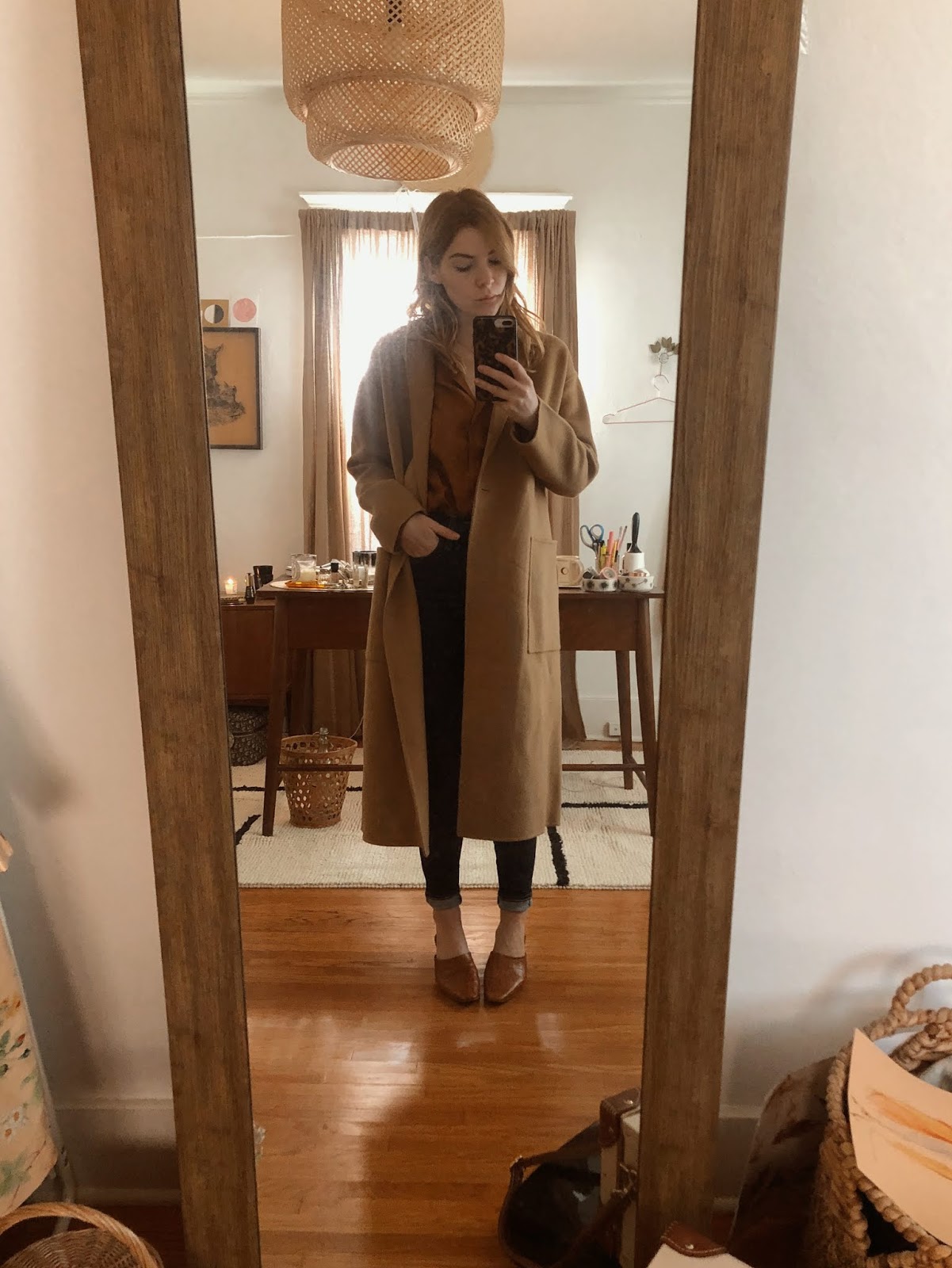 "Any tips on saving space in your suitcase?
I firmly believe in rolling my clothing to save space. I fold my clothing in thirds, and then roll them as tight as possible when packing. It allows me to really see everything in there, and takes up the least amount of room in my opinion. I also believe in an order to packing suitcases. I put all of my shoes in first, and stuff all of my underwear and socks in any boots I may have brought. That way, there's no unused space inside of my shoes. If I have sneakers, I put things I don't want to break inside of them (perfume or glass bottled skincare if I'm checking).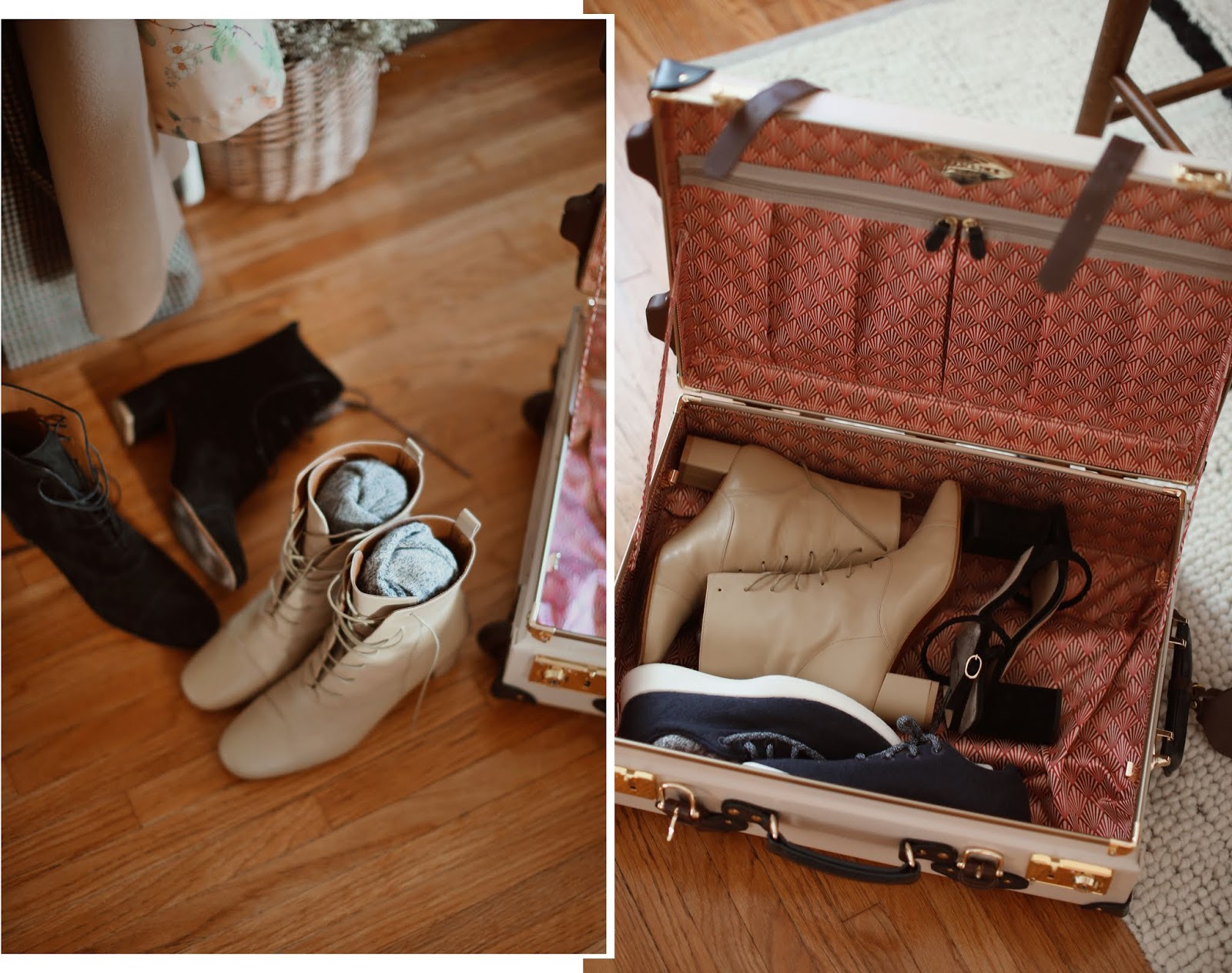 Once that layer is down I look for any gaps in between the layer of shoes. A small space can easily fit a rolled belt, or a hairbrush. Smaller items like tees and tanks can be rolled and sandwiched in between other things. I get this layer as level as possible, and then start putting my rolled clothing, starting with my bottoms. Denim and skirts go in, follower by sweaters and tops. Any purses that I pack usually have tees or socks inside of them to maximize space / hold their shape. And I use as many dustbags as possible! Shoes, purses, even outfits can be put into spare dustbags. I finish up with my skincare that I am planning on checking (larger bottles and things I don't need on the plane) and seal up my luggage.
In my personal bag I keep my laptop, in-flight skincare essentials, snacks, headphones, passports, tickets, back up batteries, and maybe a book or my planner. I recently got this laptop bag from CREAGH and I am obsessed. Not only does it have a pocket for literally everything I need to bring, but it perches perfectly on a carry on suitcase, and fits up right under a seat on the plane. It's chic enough that when I am out and about, I will carry it as a purse, and when moving from airport to airport, I know where everything I need is located.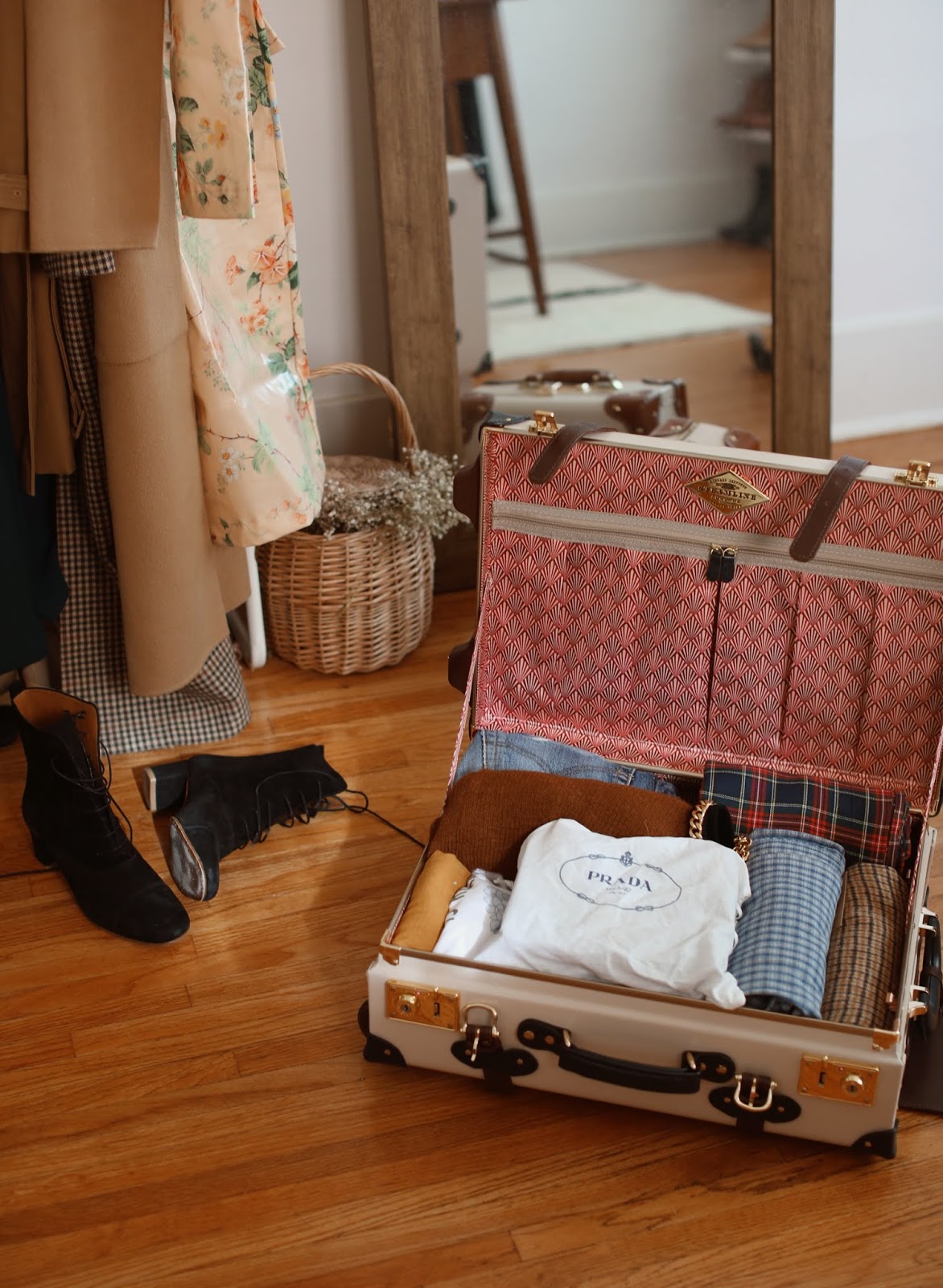 "What are some comfortable but cute looks you choose for lots of walking?"
In the summer, I always recommend a cotton sundress, and sneakers for walking around. Add a denim jacket or a lightweight blouse to keep your arms out of the sun, and you're good to go. For fall, my pick is great vintage jeans or comfortable high rise jeans like this pair from Madewell with a sweater and sneakers. Pick a purse you love, and it's a great choice for visiting lots of museums and riding public transportation.
If you'd like to avoid wearing sneakers the whole time, I recommend finding some comfortable loafers or mules to bring along. I almost always pack a pair of mules (it's what I wear on the plane since they come off easily in a security check) and loafers can work just as well with a dress as they do with jeans.
And that's basically how I do it! To be fair, I will be checking a larger suitcase (not photographed here), but beyond that I'm hoping to keep everything pretty compact. Any questions you'd still like answered? Leave them in the comments below!