After moving in a few months ago, parts of the house are starting to really come together.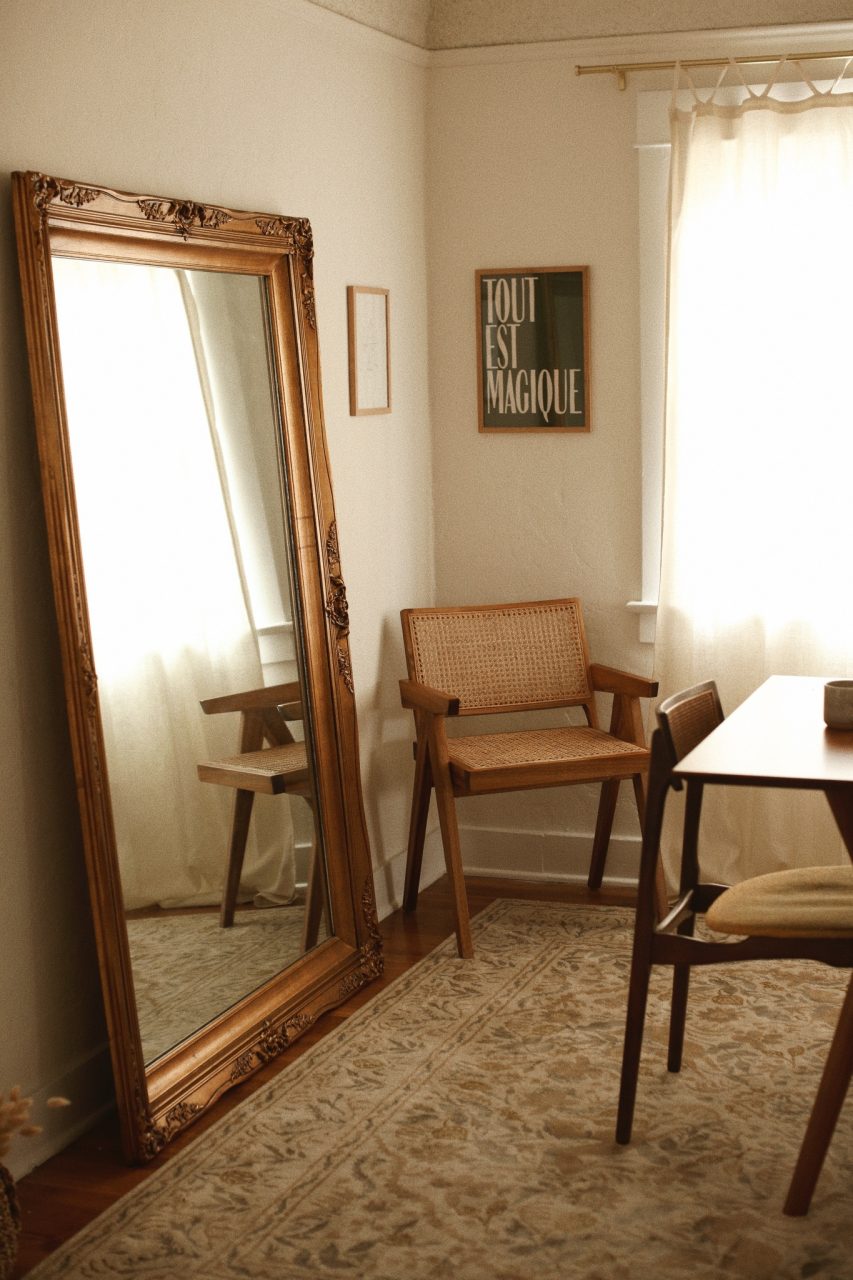 And let me just clarify – parts of the house. We're still miles behind on projects we've planned, and there are plenty of boxes in the garage. Slowly but surely, however, we've made a few corners feel done, and it's really helped ease my anxiety about needing it all to be done as quickly as possible. By having two spaces feel cozy, I can allow more time for the rest of the house to take shape. So today I wanted to share with you our dining room and 'sitting room' (that's what I'm calling it, anyway) as they currently are. Plenty more changes will take place in here, but so far, I'm loving coming home to this space.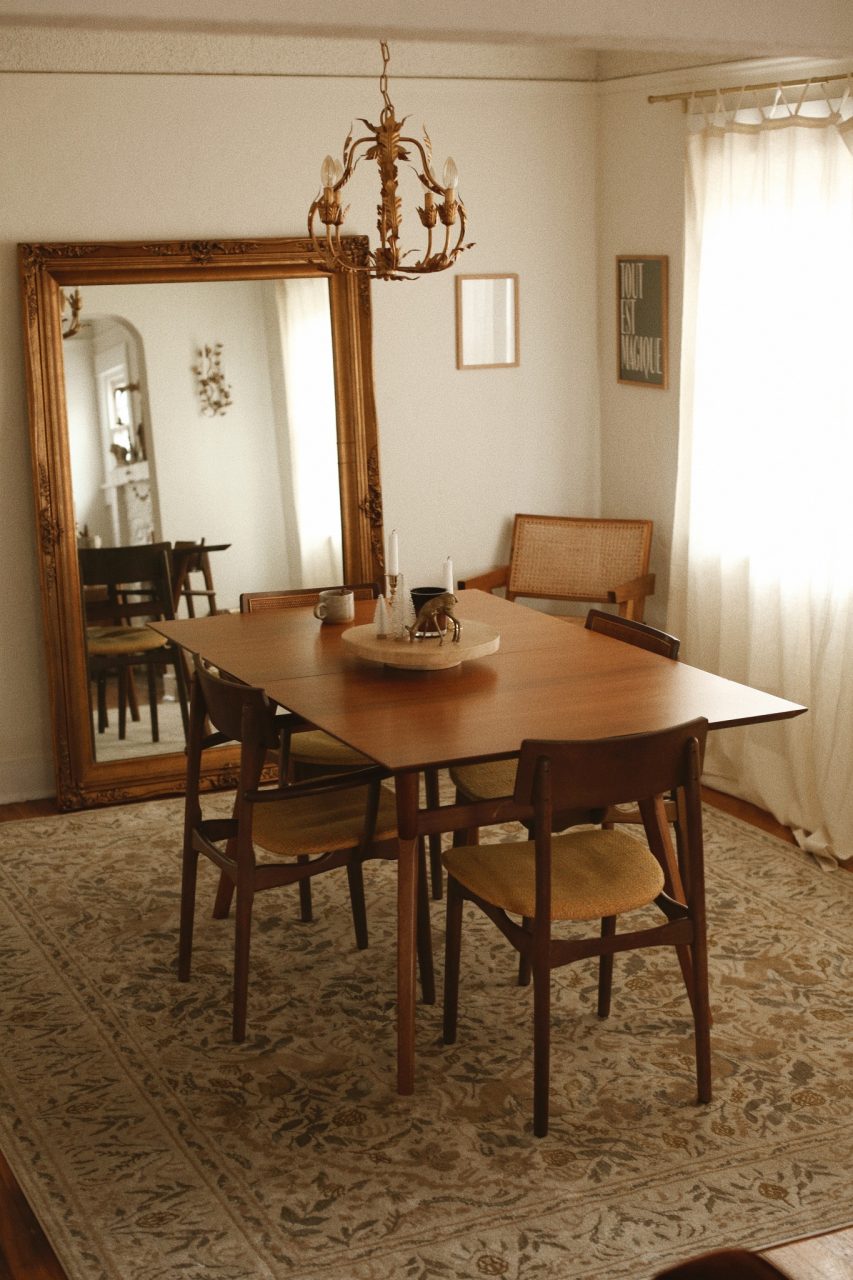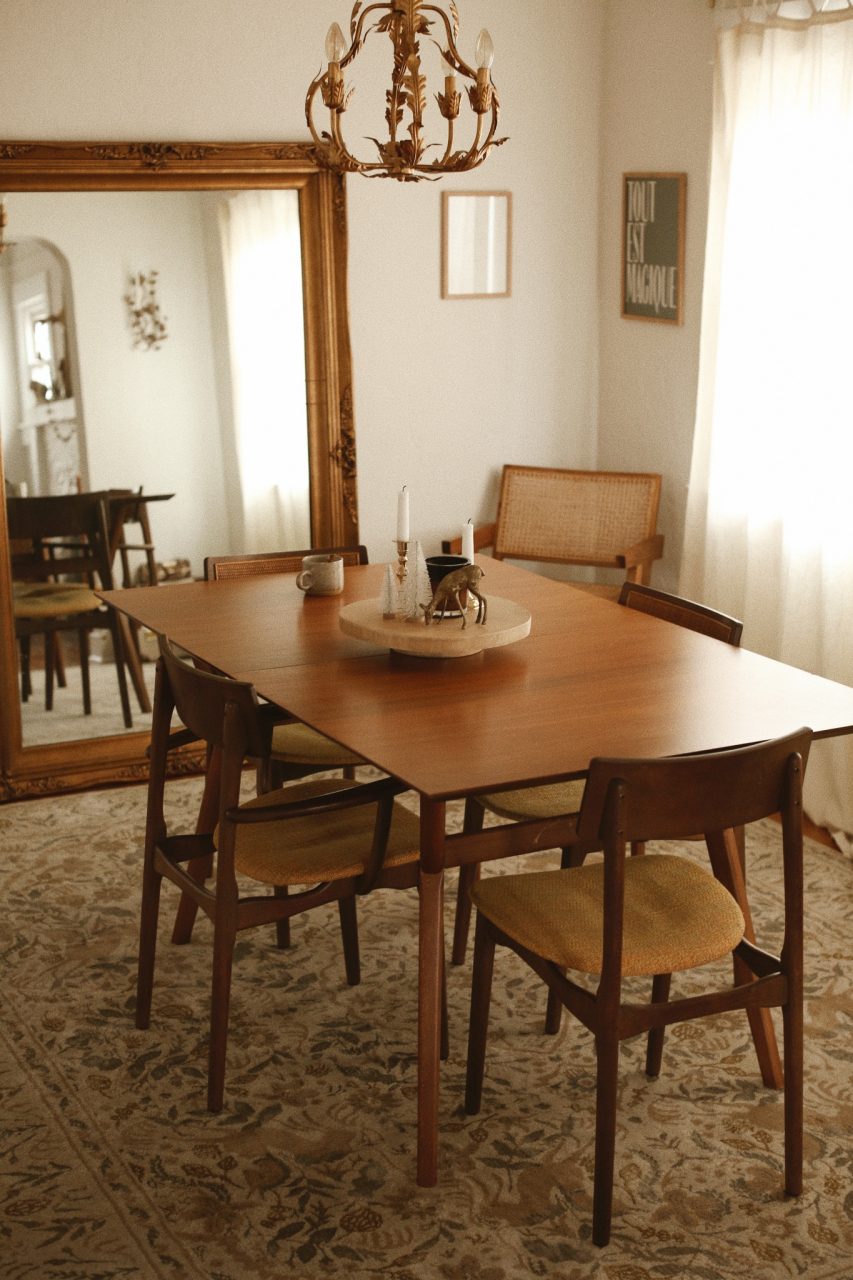 cane chair / magique print / lazy susan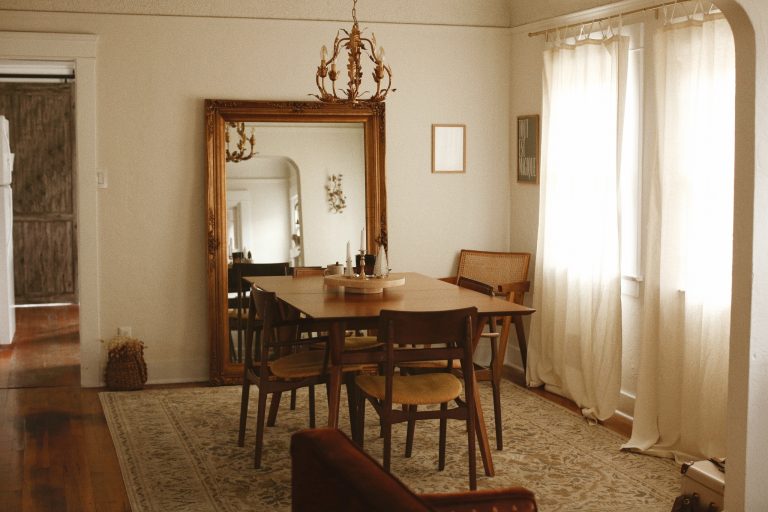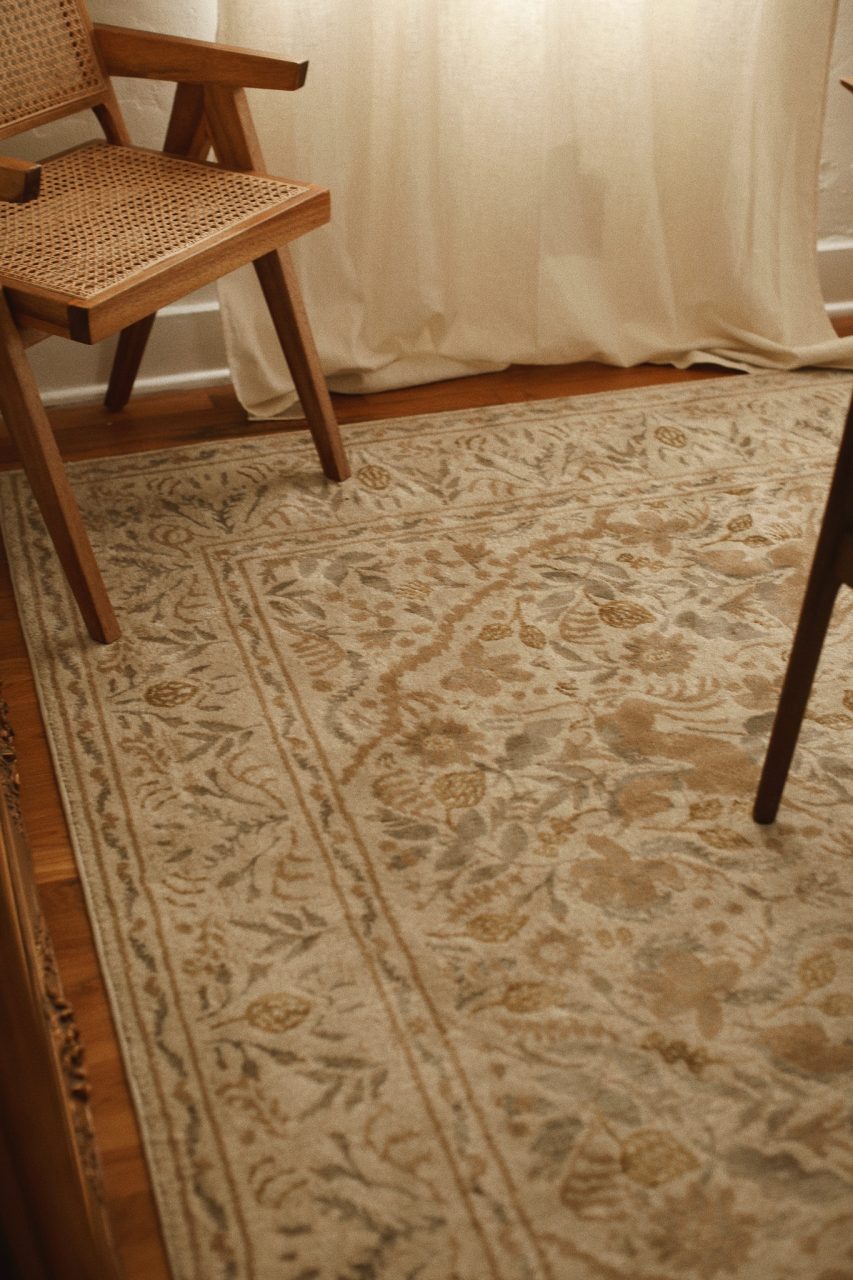 Shockingly the dining room seemed to come together the quickest, owing in large part to the layout of this house being very similar to our last place. Eric found the large mirror in this room on Craigslist (I know, luckiest score ever) and I found this rug by Rifle Paper Co. with Loloi Rugs. The two pieces just seemed to go together so seamlessly, and I love how timeless this room feels. We brought over our dining room table (another craigslist find) and our vintage chairs from the old place. We did shrink down the table a bit by taking the eave out, so the cane chairs that we normally had at the head are now spread out in each room, creating a cozy little corner. Adding to that some framed pieces from our trips, and it's feeling like home in here.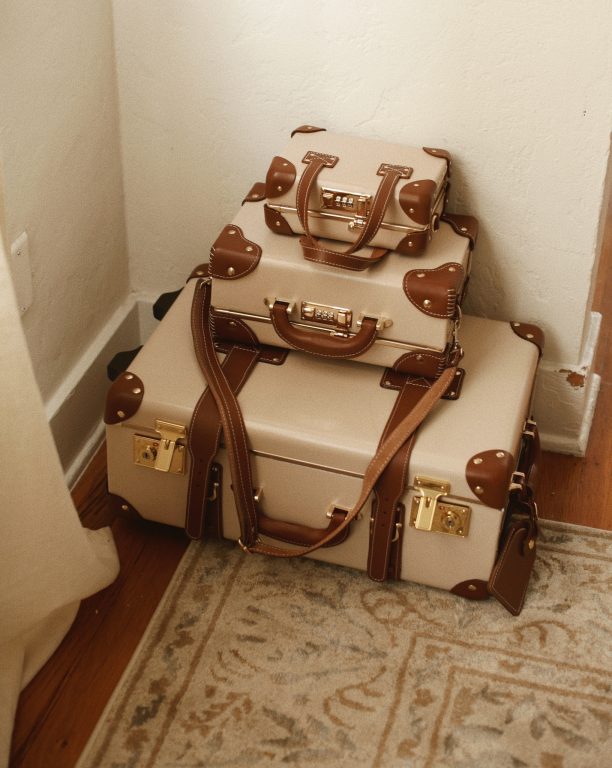 Mini Suitcase / Vanity Case / Carry-on Case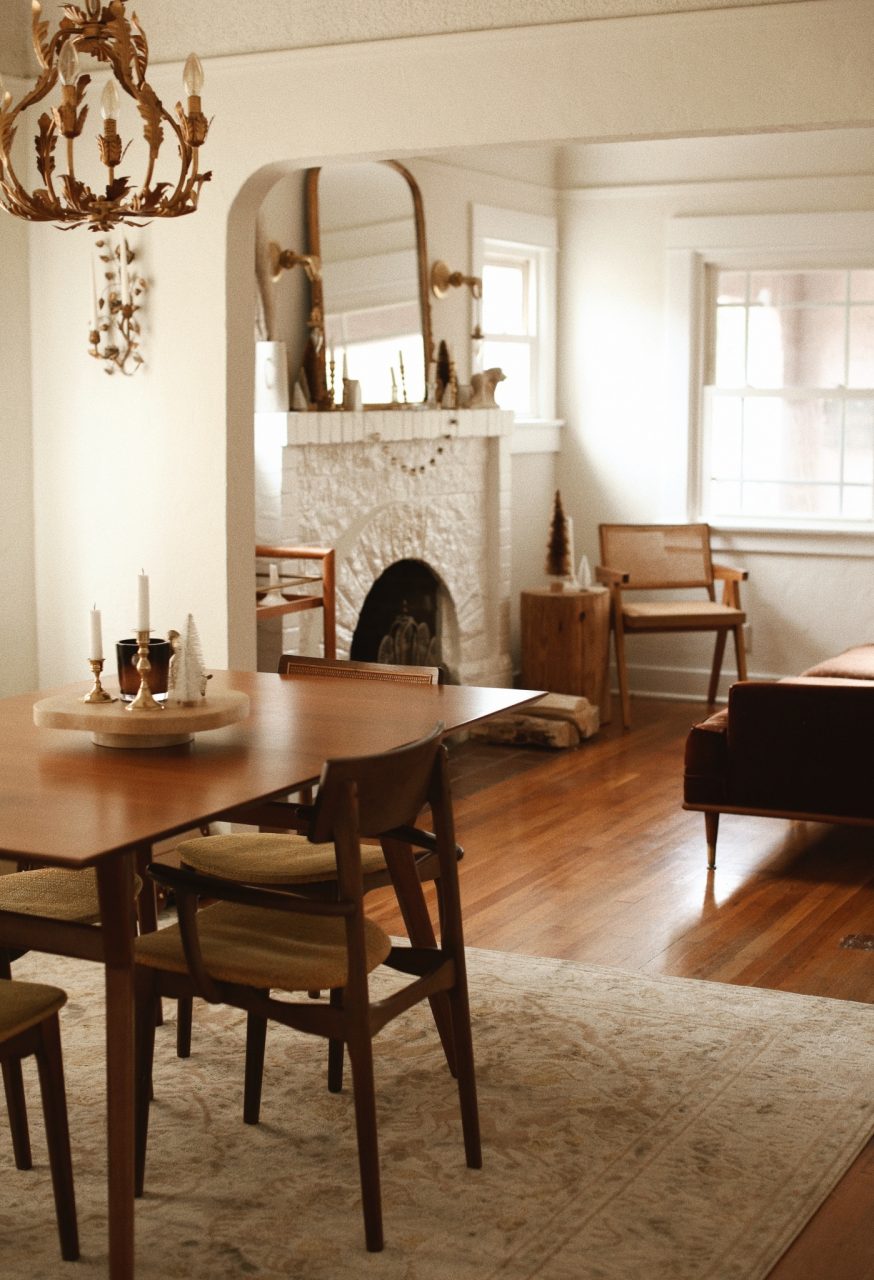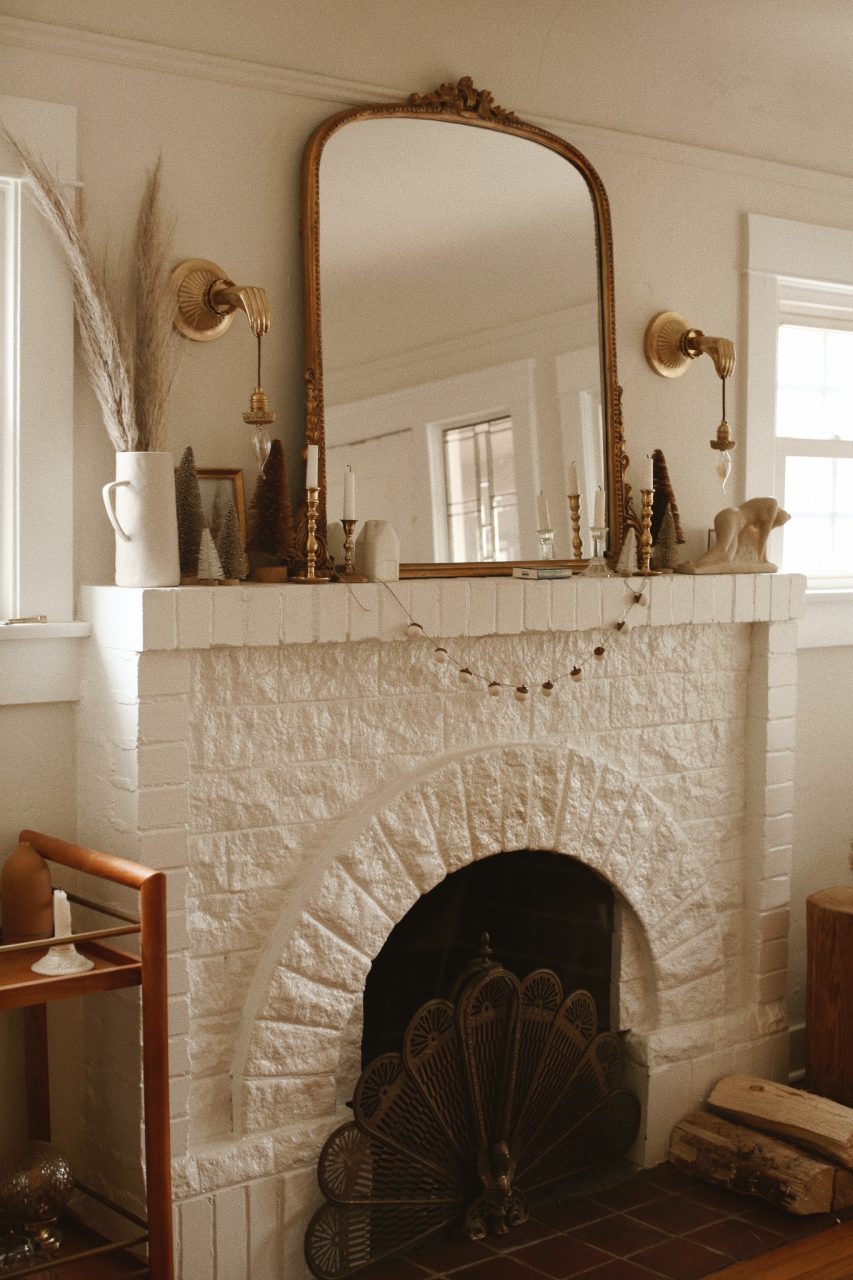 Gold Mirror / Hand Sconce Lamps
And on to the 'sitting room' – which I'm only calling it this because we have no plans to put a TV in here. If you've seen my home update YouTube video you know that we are currently working on transforming the 'bonus room' that our house came with into our main living room. Eventually that space will have a large sectional couch and a projector for watching TV and movies. So with that space being dedicated to entertainment, this front room really gets to just be about the fireplace – which was a major selling point when we bought the house.
We finally had our first fire in the fireplace (I of course was nervous about the whole place catching on fire, but we were safe) and got to enjoy this space. I love the front room. I've already gotten to decorate the mantle for both autumn and winter, and am excited to have a place to continually update. The latest additions in the room are the Gold Mirror and Hand Sconce Lamps (both from Anthro) as well as the vintage fireplace screen we found at the flea market. It was actually mass produced in the 40s, so if you're in the market, search for 'peacock fire screen' on ebay or etsy, and you should find a few.
Tall Christmas tree / Small Christmas tree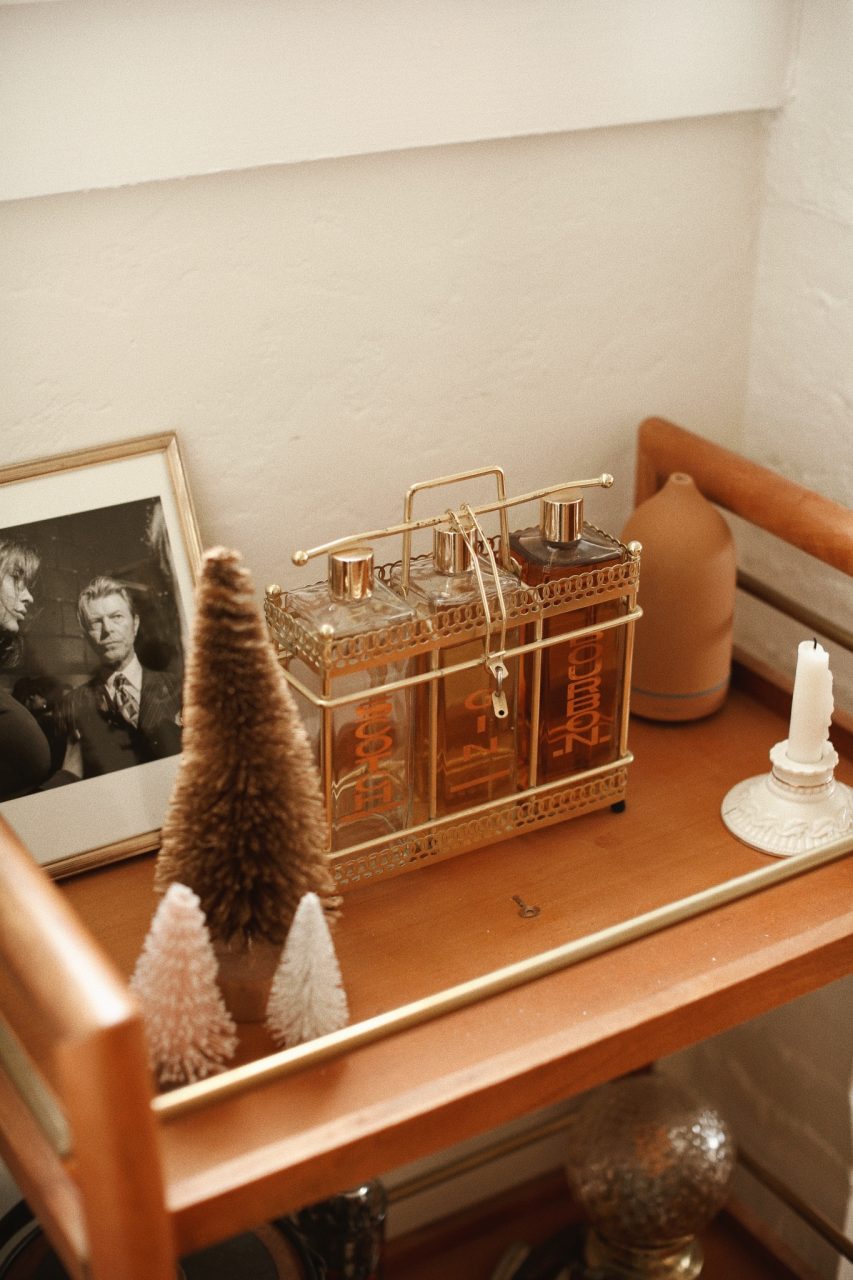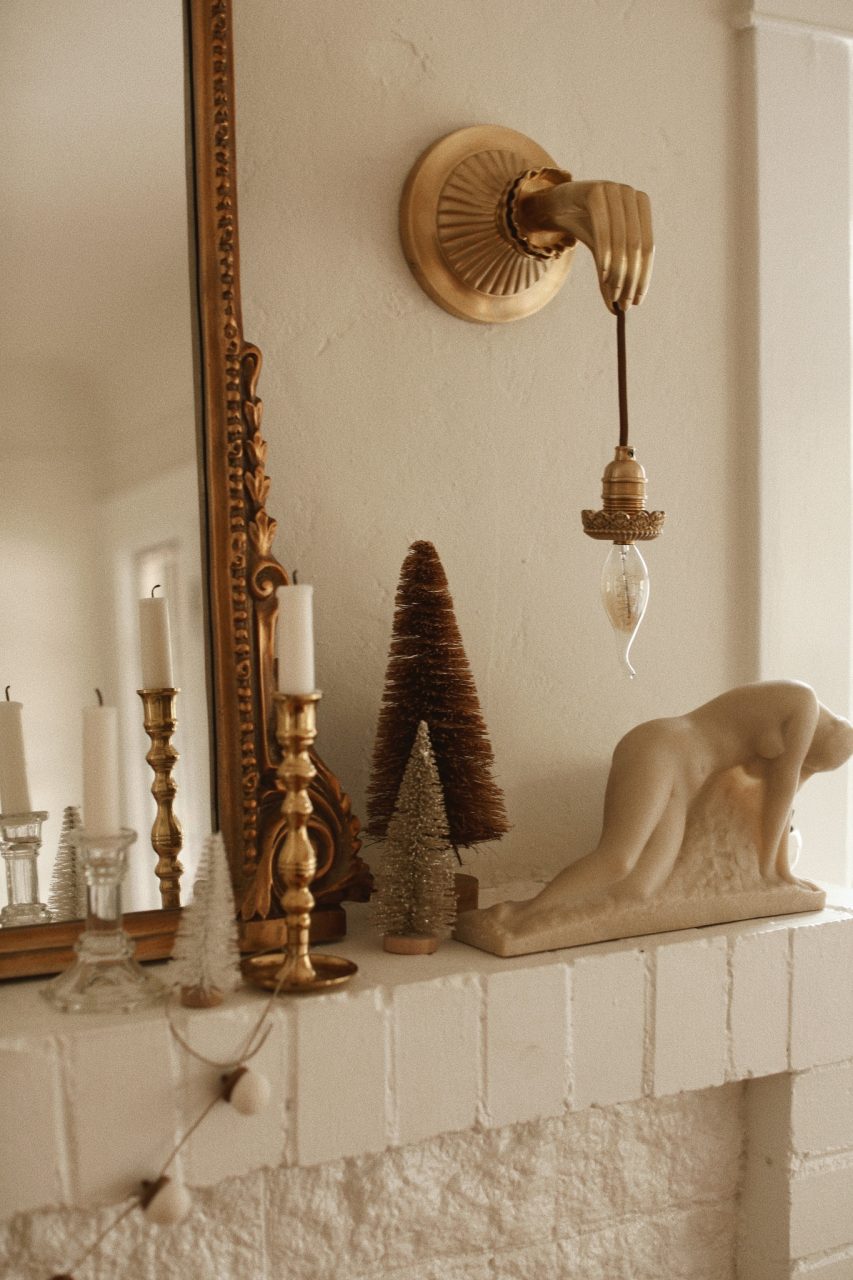 I think so far my favorite thing about these two rooms is the light. Not just the pretty filtered sunlight that we get during the day, but also the lighting that we've installed for night time. The sconces feel so cozy when lit, and I've started a pretty serious collection of candlesticks and wall candelabras, all sourced from antique stores at thrift stores. When we have nothing but candlelight and maybe the fire lit in the front room, it feels like its from another era. I'm so excited to continue bringing back those antique touches into our house – particularly since it's from the 1920s. I think so many homes nowadays are modernized, and we lose a lot of that history. Eric and I have made it our goal to replace as many new fixtures and items as we can with vintage an antique finds. I'll share more on that in a future blog post, but we have some big plans in that respect.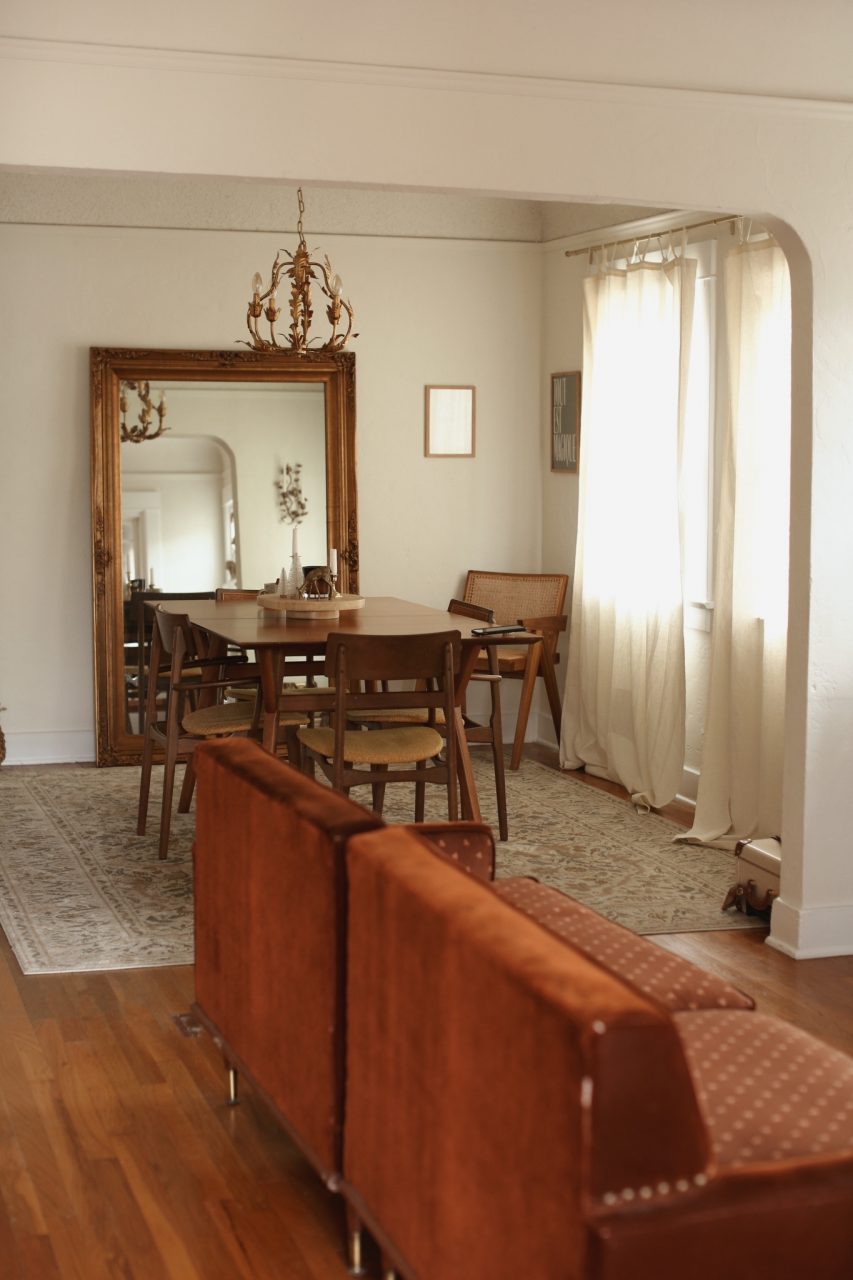 And finally, I wanted to share a brief look at the other side of the front room – the space that definitely is NOT done. We have this vintage sofa in here that while cute, is not comfortable. At all. In fact – we've never really owned a couch that either of us would consider comfy. I've always wanted something large and overstuffed and cozy to sprawl out on, and I think we've finally tracked down the piece that will be the focal feature of the back living room. I don't want to spoil the surprise, but after visiting Arhaus last month, I think I found the one. But when it came to this front space, I still wanted something that was small but comfortable to sit on and enjoy the fireplace.
After spending ages looking for sofas and settees, I decided to check out Arhaus again, and lo and behold, we found another piece that felt not only chic, but timeless too. This antique style settee will soon be the focal point of this room, and I cannot WAIT. Because Arhaus allows for complete customization when it comes to fabric choices, we were able to pick out a cream linen shade that is not only gorgeous, but stain resistant too. I'll be sharing more details on that in an upcoming post, but it's been exciting to find furniture that finally feels grown up. I love vintage pieces, but I want to start investing in seating that not only looks pretty, but is made durably and well. I want pieces that I can invest in and have for the rest of my life, rather than continually cycling through. It's a big step, but I cannot wait for it to arrive, and to see the rest of the house take shape.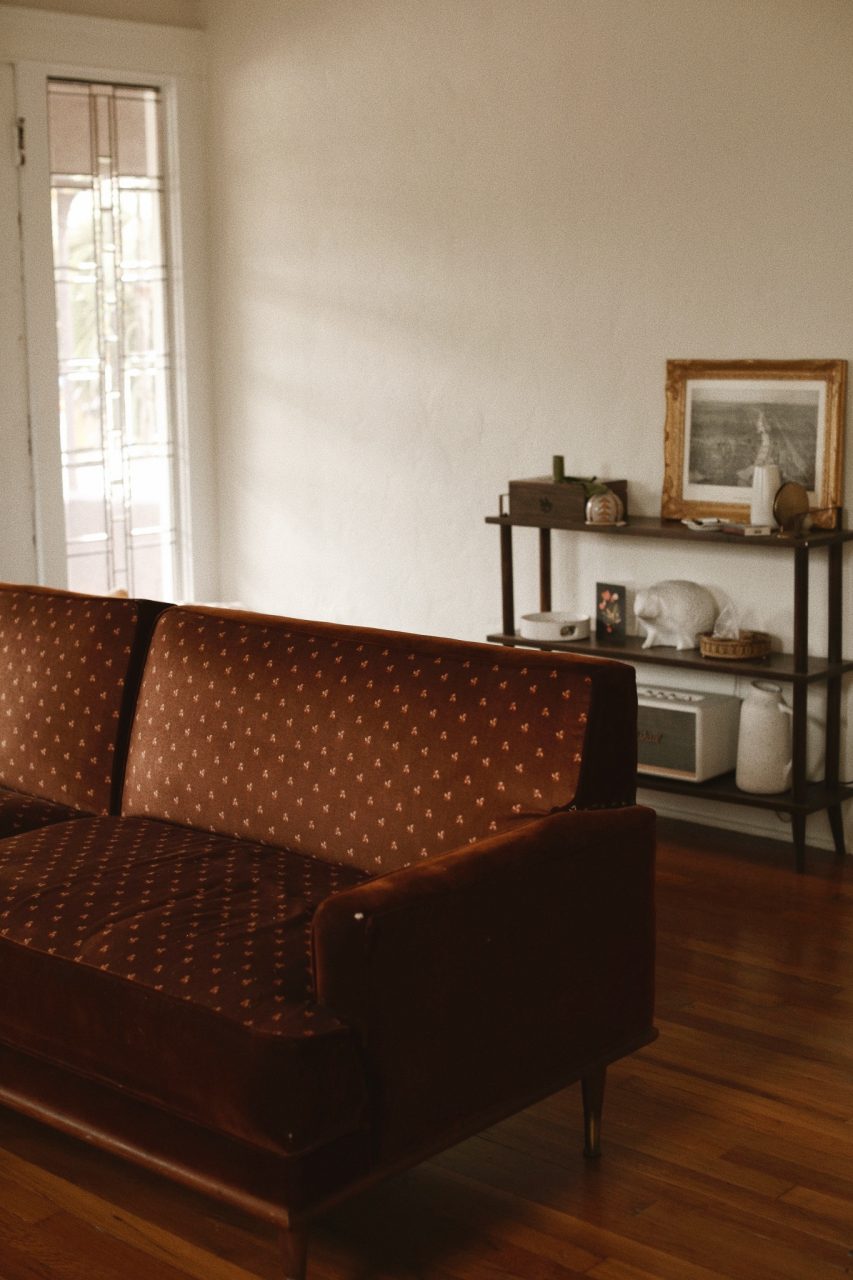 Thank you to Arhaus and Loloi rugs for providing some of the pieces mentioned in this post. All opinions expressed are my own.