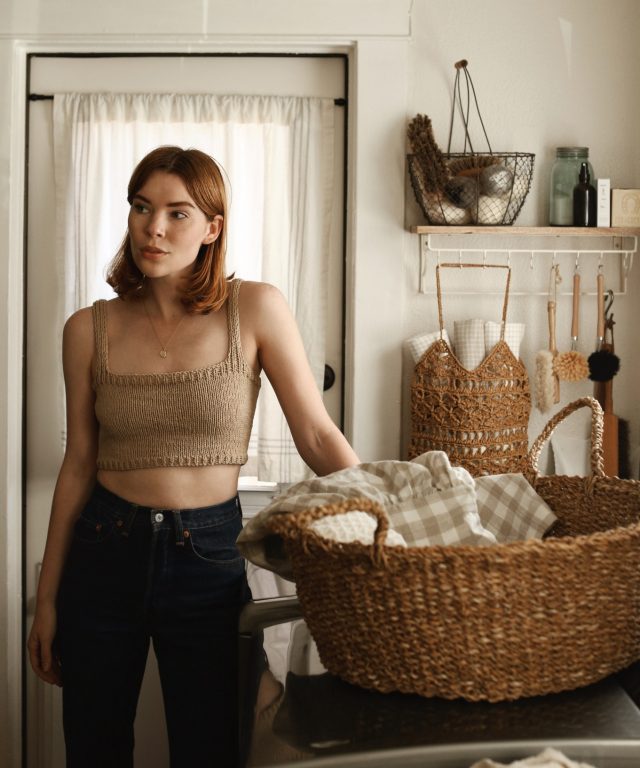 Today I am so honored to be featured on The Etsy Edit. I've been a fan of Etsy for so long, not least of all because I got my start with my very own vintage shop on Etsy over 10 years ago! A bit of a dream come true, so I hope you'll check out the feature, and my tips below featuring my favorite finds from my feature on The Etsy Edit.
Our kitchen is our most used room in the house at the moment. Baking, cooking, washing up dishes – we spend a lot of time together in this space. But another reason why it's seeing a lot of action at the moment is because our kitchen is also our laundry room. My European readers won't find anything strange about this, but as an American, I have to say, it's not especially common to have your washer and dryer side by side with the dishwasher and sink.
When we first bought the house, we talked about removing the washer and dryer and creating a space for doing laundry elsewhere in the house. But as our laundry list (get it?) of home projects grew longer and longer, the plan of making a separate laundry room fell further down the list. At this point, I actually quite like where they are located, as it means all of our cleaning (whether related to meals or clothing) happens in one space. Which is why it's absolutely key for us to keep this space tidy and organized for day-to-day use, and why turning to my favorite shops on Etsy has made it all possible. To shop the entire post, head over to 'The Etsy Edit' for full links!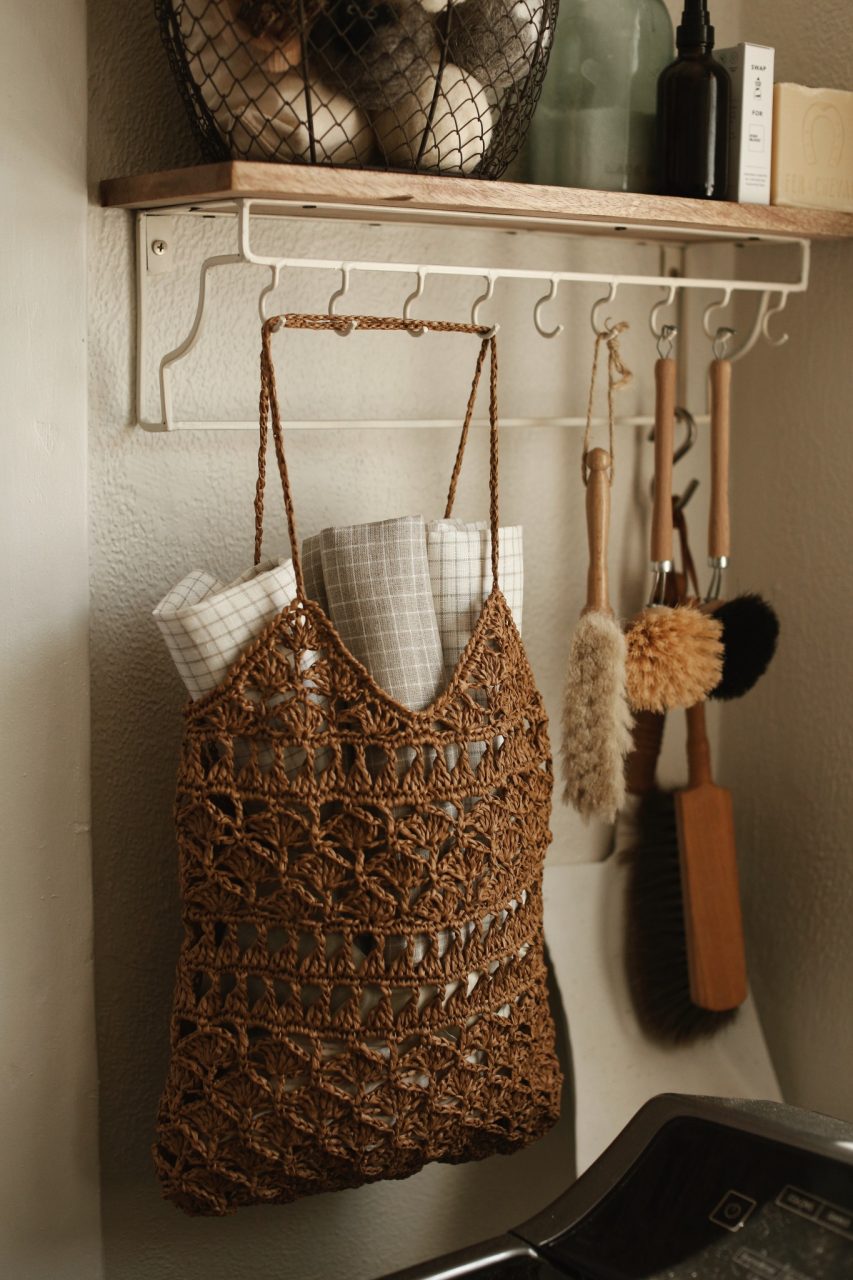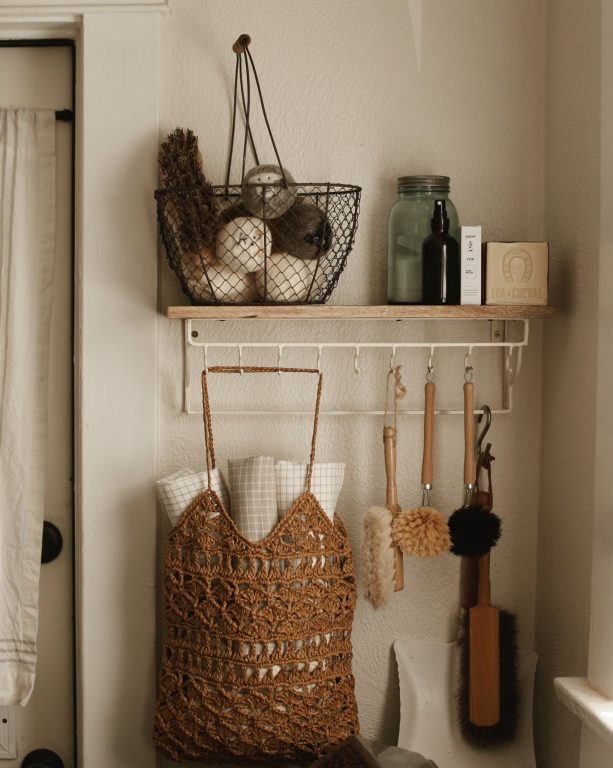 Eric installed this handy little shelf in the corner of our kitchen to serve as home to a variety of tools and products. It was once a kitchen rack, with the little hooks on the underside meant to hold tea cups, but it's been so much more handy in its current employ. In fact, I did some browsing on Etsy and found a few similar shelves that could serve the same purpose in your home, simply by searching for 'Kitchen Shelf with Hooks' or 'Spice Rack with Hooks'. Visit The Etsy Edit to see a few of my favorites featured below:
option 1 / option 2 / option 3 / option 4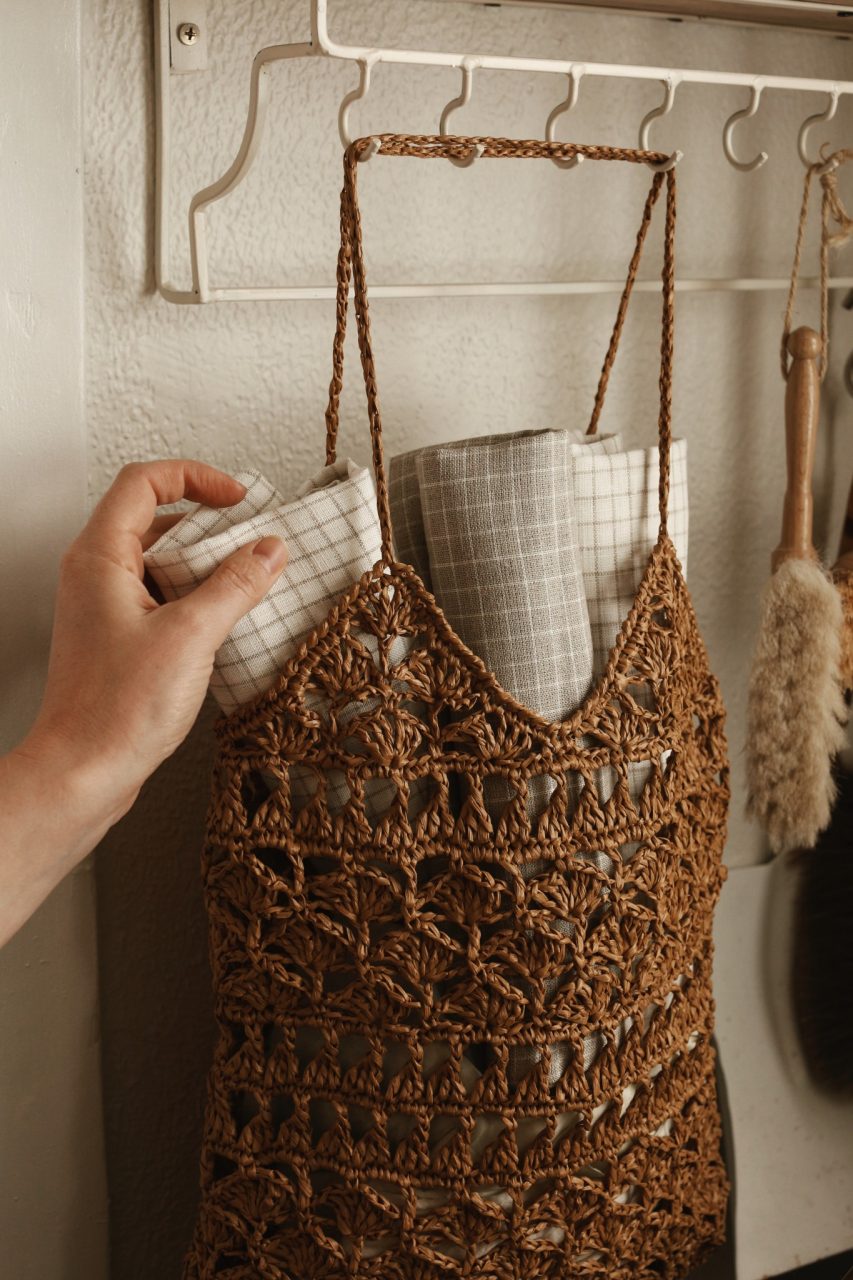 One thing that I like to always have on hand, is plenty of kitchen linens. We've been doing our best to quit using disposable paper towels, so having plenty of linens on hand for either drying or cleaning is a must. I'm a fan of using linen as it dries so quickly, and means that I can easily wash a load of kitchen towels and have them ready and dried for use again in the shortest time frame. This set of 3 tea towels that I found on Etsy by the shop Magic Linen get a lot of use. And for easy storage, a simple basket hangs from the hook made by the shop Plexida. The best part is, it can double up as a purse for a trip to the farmers market, so much like our kitchen, it can serve multiple purposes. Plexida is one of my favorite Etsy shops, and in the photos above I'm actually wearing a knit crop that they carry as well!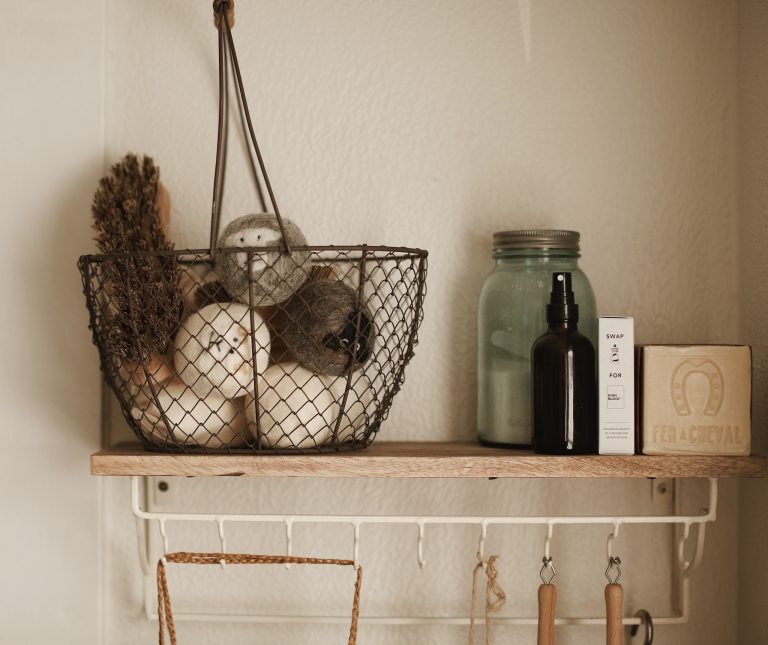 On the top shelf, I use a wire basket to keep bits and bobs organized. Plus it's nice to be able to see what is inside so I can always spot what it is I'm hunting for. To find this basket, all I did was search for a 'Wire Egg Basket' on Etsy, and I found so many vintage and new options. To see more of my favorites like the ones below, head to The Etsy Edit :
Something I always keep nearby in the little egg basket, is plenty of wool dryer balls – specifically these darling sheep-themed ones from the Etsy shop Little Beau Sheep. I use them in place of dryer sheets to keep my clothing soft and usually put a few drops of essential oil on them to make things smell fresh. Plus, just look at them. How could I not choose the sheep ones??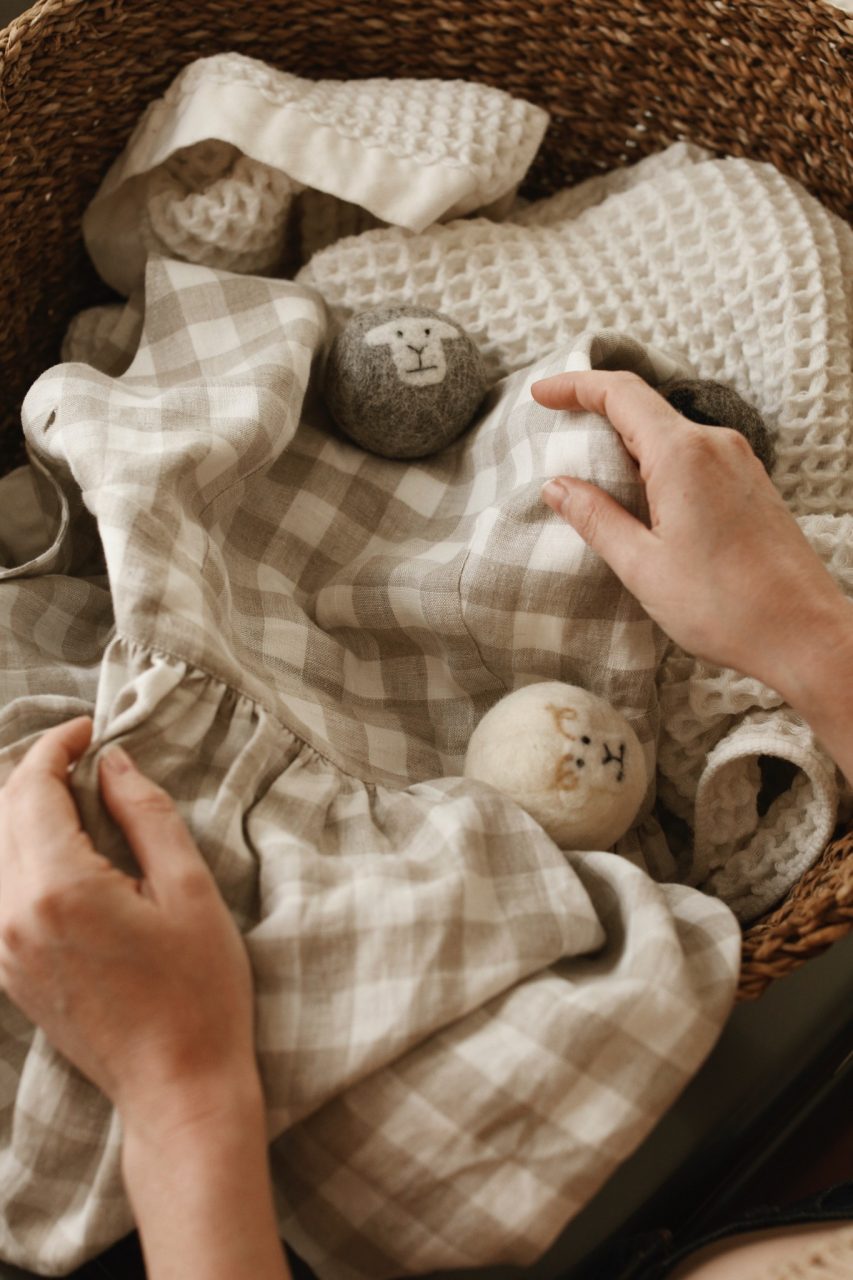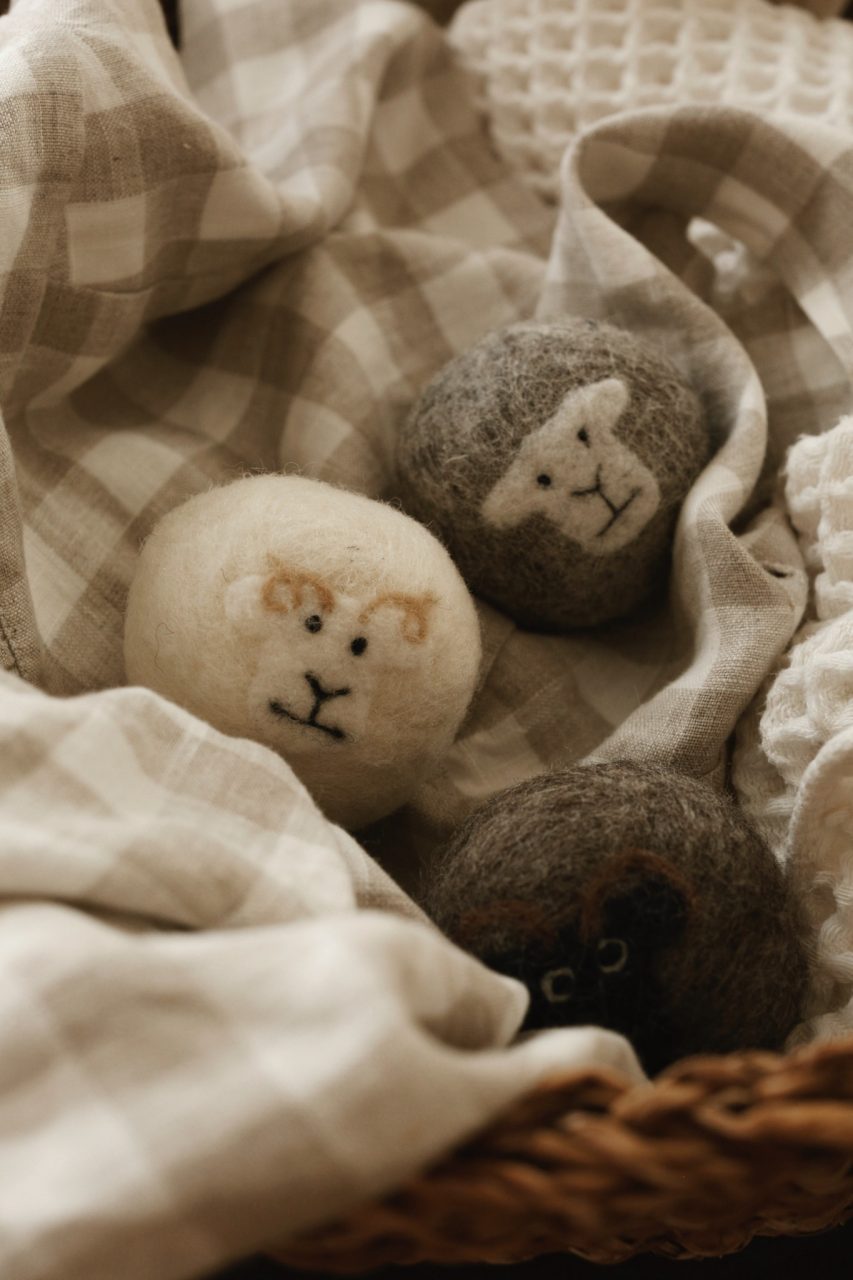 This corner of the kitchen also plays host to some of the tools and products that I use for washing up. We made the switch from plastic bottles filled with dish soap to using a Dish Block from No Tox Life's Etsy shop. At first I was skeptical about using a solid soap when cleaning dishes, wondering how on earth it would possibly work. But so far it's been great, and I've loved being able to ditch having another single use plastic bottle in our home.
Usually I use a dish rag to do the washing up, but if something needs an especially good scrub, I reach for any number of brushes that we keep on hand. I have one brush that I use for sweeping crumbs off of counters, one that is used for scrubbing out pots, one for more delicate dishes, and one that I use for cleaning the counters. They're made mostly with wooden handles and natural bristles, so it feels nice to know that they are not only sturdy, but will biodegrade when they're no longer in service. Below are some of my favorite brush options I found on Etsy, but there are SO many more to choose from :
Those are just a few of the ways that I like to keep my kitchen / laundry space organized. If you're interested in seeing more of my favorites that I've found on Etsy, head over to 'The Etsy Edit' for full links! And a big thank you to the team at Etsy for partnering with me on this post!