Paris is always a good idea. And after not visiting for 2 and a half years, I was worried I'd built it up to something almost mythical in my head, with memories that couldn't possibly be accurate. I had nothing to worry about once I arrived – it was the perfect vacation with beautiful company. I had the joy of getting to spend a few days with friends (coucou Krystal, Alissa, and Serena) before Eric joined me for a few days of hopping around the city.
Below I'm including where we went, what we did, and of course what we ate, in the hopes that it will help aid your own travels. If you want details on any of the outfits below, be sure to visit the daily looks section of my blog that includes links to it all.
And if you have any questions at all, don't hesitate to leave a comment!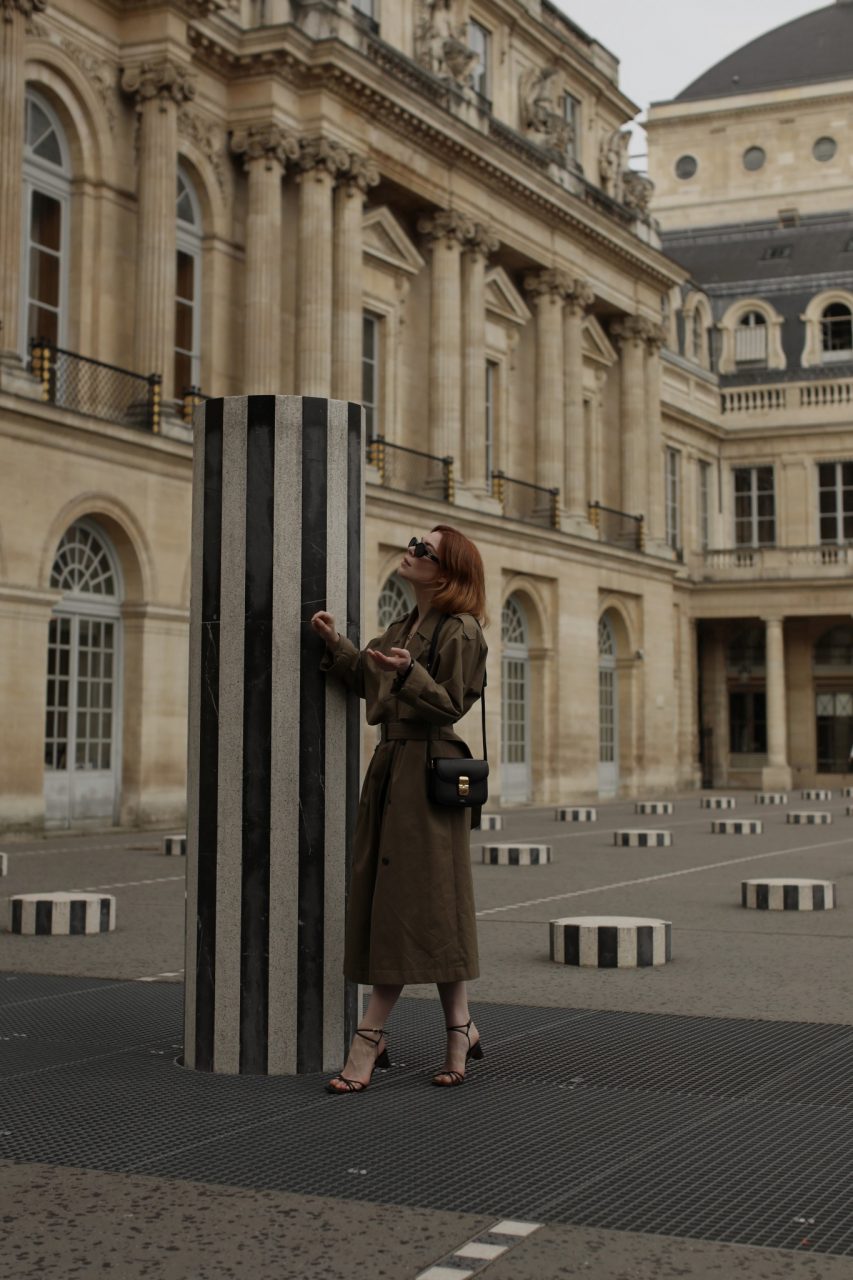 To Do
Musée Rodin | I've said it before but this is my favorite museum in the world. It's just such a beautiful escape and I leave with my heart (and my camera roll) bursting each time. Dedicate enough time to have a leisurely wander through the museum and the grounds and if you can bring a sandwich and have a picnic in the gardens. I'm not sure if that's allowed but I did see others doing it so I'm betting it's just fine. We pre-booked our tickets online and it was well worth it.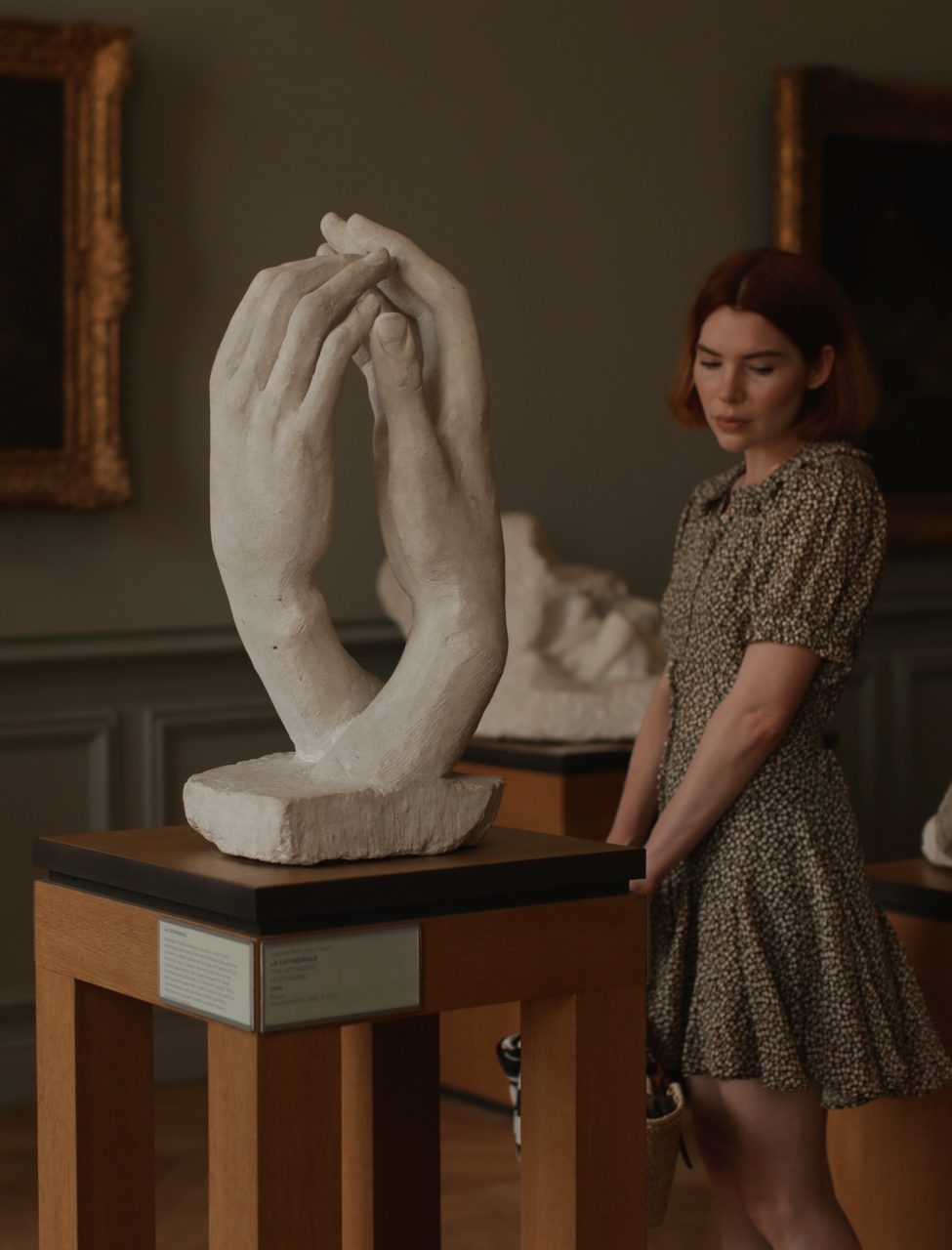 Jardin des Tuileries | Always worth a ramble, and just such a lively spot to walk around. Just wear comfortable shoes and sunscreen please.
Palais-Royal | Another must-visit for me and another must-photograph spot. We went on a day with just a bit of rain and it felt like we had the place to ourselves. It's just such a classic spot that is sure to inspire you. And don't miss grabbing a coffee at Maison Kitsune (details below) while you're there.
Musée des Archives Nationales | This was a museum (and garden) that we sort of stumbled into on our last day and it was breathtaking. The rooms felt like they were straight out of Versailles – but without having to take a long train ride and fight crowds to see. In fact we were quite alone (as you can see in the pictures) during our visit and it was free. I'll definitely be going back on our next visit – maybe with a more dressy look to shoot.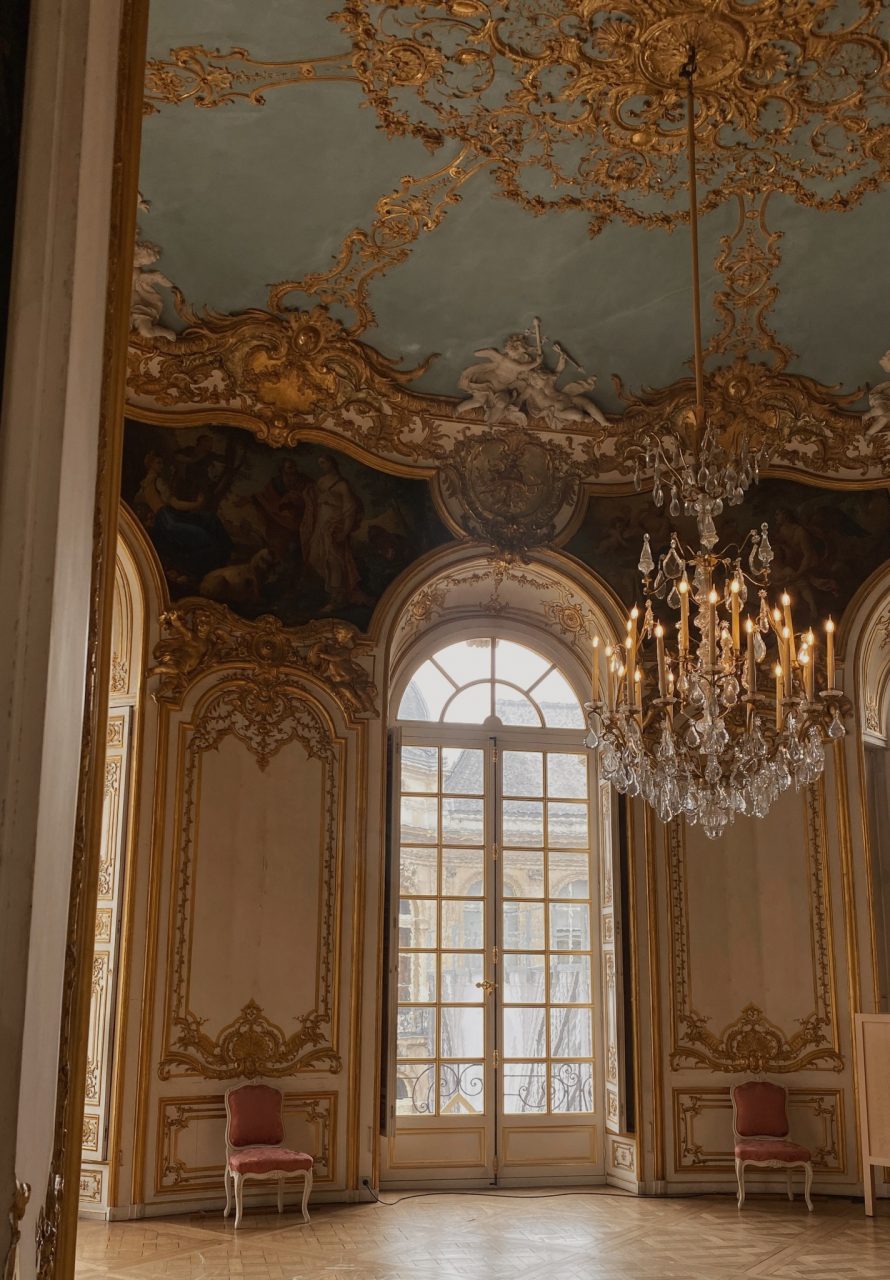 Montmartre | If you came of age when Amelie was released in theaters, you'll already likely be obsessed with the idea of visiting Montmartre. We've been before to see Sacré-Cœur, so this time we just did a bit of a wander. Endless cafes and street corners, and so many places to stop in. Wear comfortable shoes (lots of steps) and don't miss the photo booth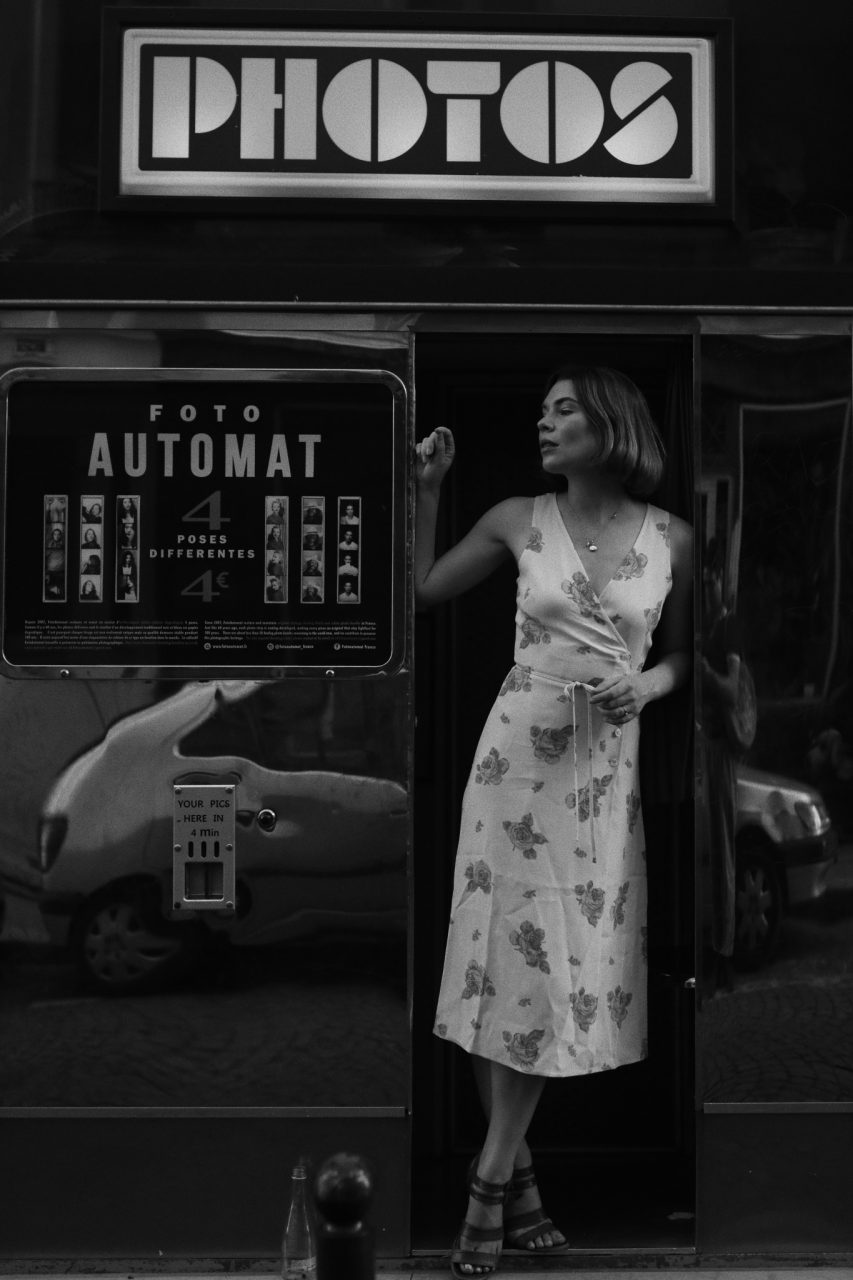 Picnic along the Seine | Somehow I've never seen the Eiffel tower light show despite having visited multiple times, so this time I made a point to go. Rather than sitting in the crowded park underneath, grab a spot over here on the other side of the river. You'll have a better view (and see the boats going by) and can spread out a bit more. Definitely bring a blanket (we forgot) and be careful as there can be glass on the ground. I went with a group of friends and it was so special to finally get to see it.
To Stay
I personally love staying in multiple spots if I'm going to be in a city long enough – it gives me a way to experience different neighborhoods and to return to the ones I love later on. It also gives me a better idea of the layout of a city and helps me to not spend too much time in one area. In the past I've stayed in the Marais, the 5th, and the 1st, mostly in Airbnbs. This time we went with hotels and it made for a lovely change.
For our first hotel, we chose the Grand Pigalle Hôtel – just south of Montmartre. It's in a lively area with so much to do that you likely won't feel the need to wander too far. The restaurant on the bottom floor is incredible as is their whole space. It's just such a cool and unique hotel that feels like an update on a traditional Parisian apartment.
We stayed in one of their 'Henry Monnier' rooms which I was pleasantly surprised to find a beautiful window in, overlooking the street below. While technically not a balcony it still felt like having one and we spent many a morning with the windows open, enjoying the view. We had the extreme fortune to be allowed into one of their corner balcony rooms to shoot a few photos, so if you're planning a visit for a special occasion, try to book room 505. It's the most STUNNING view and you'll love spending time on the balcony that wraps around the corner – if you're planning a proposal pick this room for your stay cause it's just WOW.
For our second hotel we headed over to the 11th to stay in a newer hotel called Maison Bréguet. It was stunning. It definitely feels like a newer hotel with plenty of modern touches, but still perfectly cozy to retreat to at the end of a long day of walking. We stayed in one of the Superior rooms, which is actually their entry-level room for the hotel, with 3 tiers of rooms above that (deluxe, jr suite, and deluxe suite). Our room absolutely felt like a suite (and probably would have been in a lesser hotel) and it was a space that I really had a hard time leaving.
We were situated on the top floor under the eaves with this incredible view through a massive skylight. With light blocking curtains and a mechanical grate to cover it, we were able to sleep quite cozily (despite the jetlag) and to sort of 'open up' the room when we wanted to. Plus any hotel that has Replica by Maison Margiela toiletries is an automatic win in my book.
The ground floor has a gorgeous restaurant (also with a glass ceiling like our room), a terrace for dining, a really cool bar, and an excellent continental breakfast that we stopped at most mornings of our stay. They have a spa as well on the lower level, and we stopped by for a dip in the pool and a little sauna visit. Overall a really lovely stay and one that I would recommend – especially as it is walking distance into the trendy Marais as well as nearby some really new and incredible restaurants in the 11th.
Shopping
Rouje | A completely Parisian brand, Rouje makes some of my absolute favorite wrap dresses that just feel effortlessly sexy to wear. I picked up this sleeveless version for one of the warmer days and wore in immediately. If you have time to stop in, do it! It makes learning their sizing a little easier and the shop is just fun to have a browse through.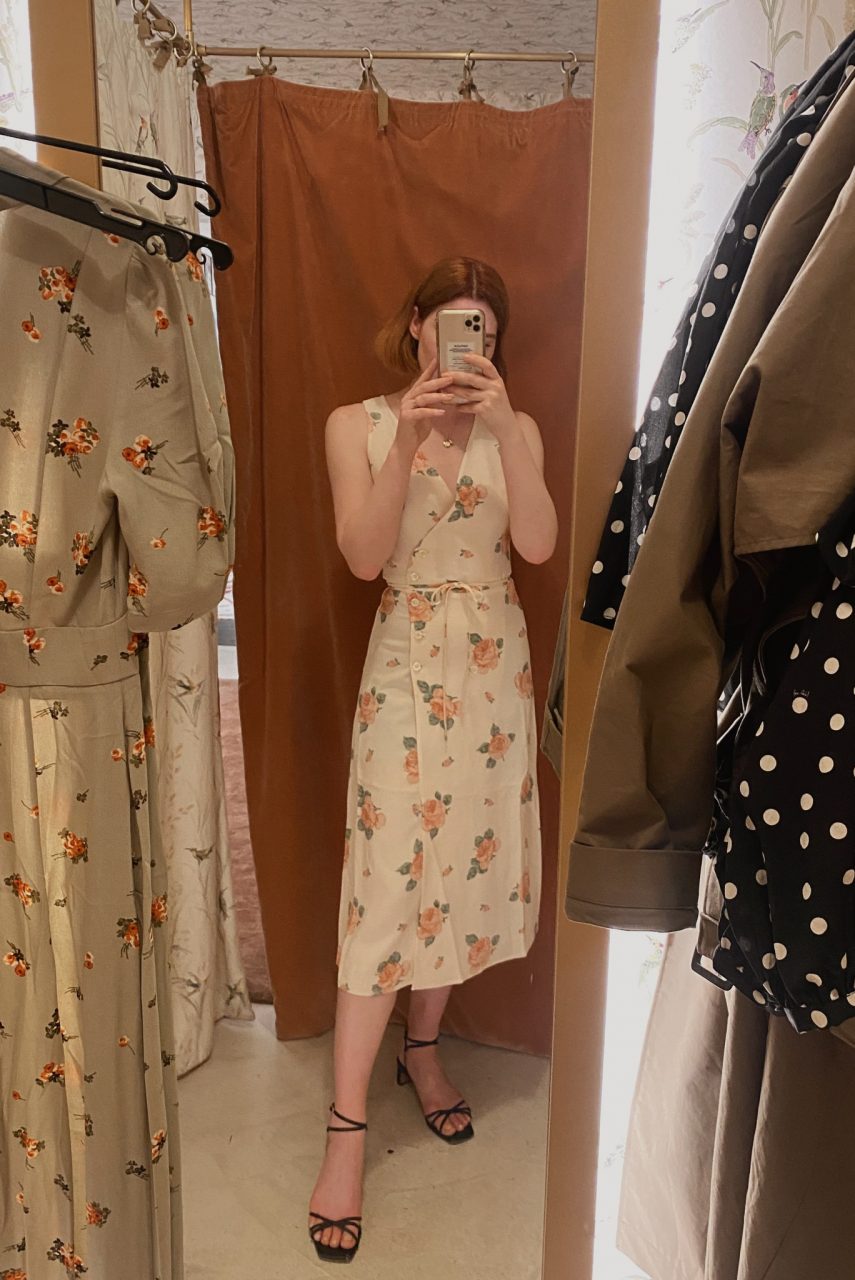 Officine Universelle Buly | It feels like stepping back in time whenever I visit and while I've yet to make a purchase, I am hopelessly in love with this shop and everything they make.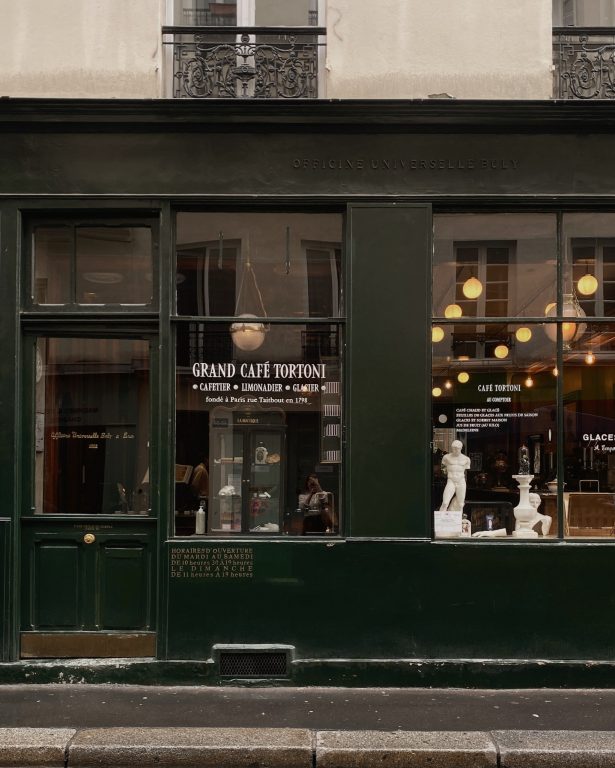 Carel | Carel makes some of the chicest little flats and heels, and while I only have one pair, I wear them constantly. I didn't leave with anything on this trip, but oh did I want to.
Polène | While I wasn't able to stop in on this trip, I did spot many Polène bags on the arms of chic French women, so it's safe to say they are the bag of choice in Paris. Their shop is lovely and their designs are just so spot-on. Would make for a really great present to bring home if you've been thinking about investing in one of their designs.
Sézane | Like I wasn't going to include my favorite shop on here! I had the immense pleasure of coming back to this spot after a few years and it felt like coming home. I love all things Sézane and their shops feel like such a beautiful home that you've popped in to visit. They carry some pieces they don't have online, and it's just a fun experience. There are other locations in the city, but this one remains my favorite for nostalgia reasons.
Librarie Jousseaume | In galerie Vivienne (which is worth a visit all on its own), this shop specializes in antique books of all kinds. If you go, have a browse, make a purchase, and definitely ask permission to take a few photos. We did a quick shoot here and made sure not to bother anyone shopping, and would recommend doing the same and being a customer first.
Galeries LaFayette | I've never been the type to do a big designer haul on a trip but if I was this is where I would go. Multiple levels in the most gorgeous setting with just about every name brand you can think of. I had a free afternoon and giddily purchased the Céline belt of my dreams. Plus they gave me a chic glass water bottle with my purchase so I felt v. fancy when I left.
Eating + Drinking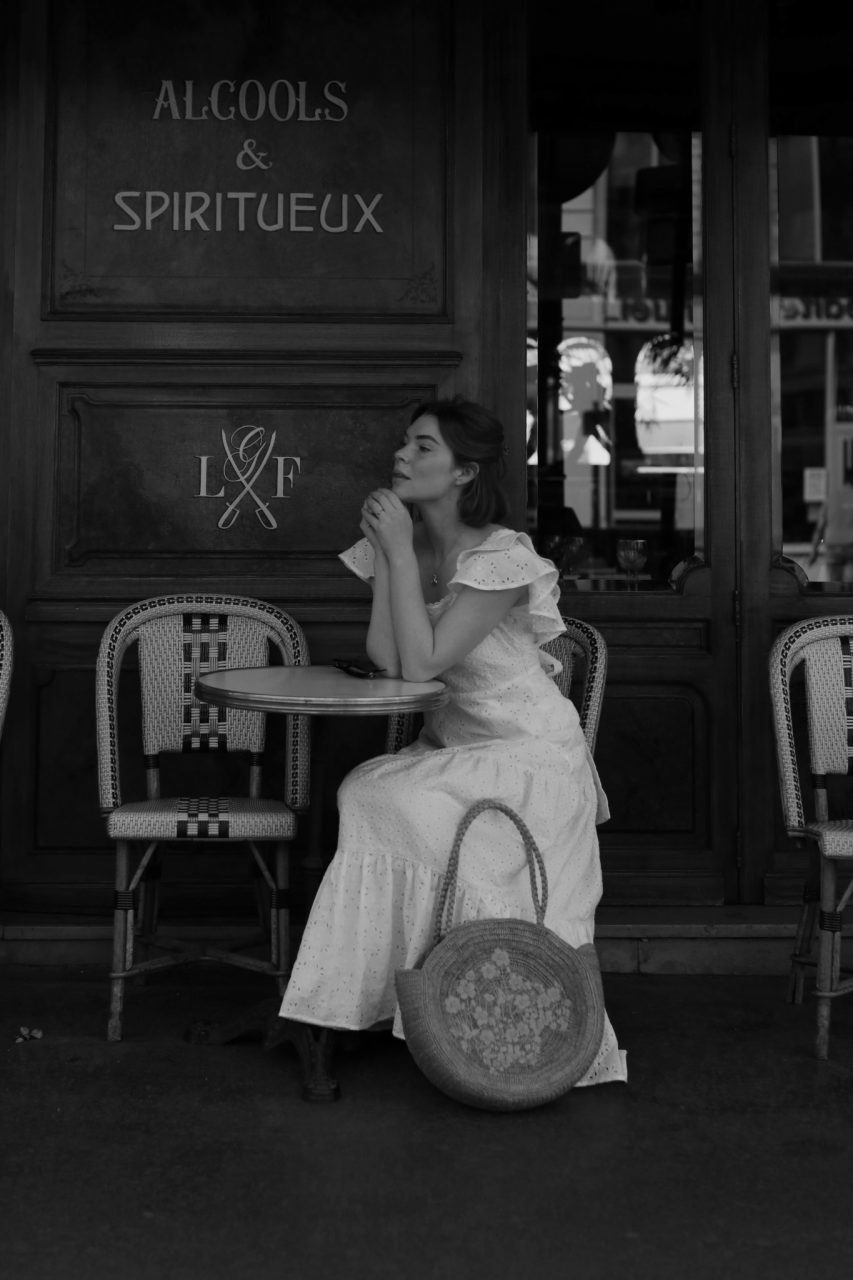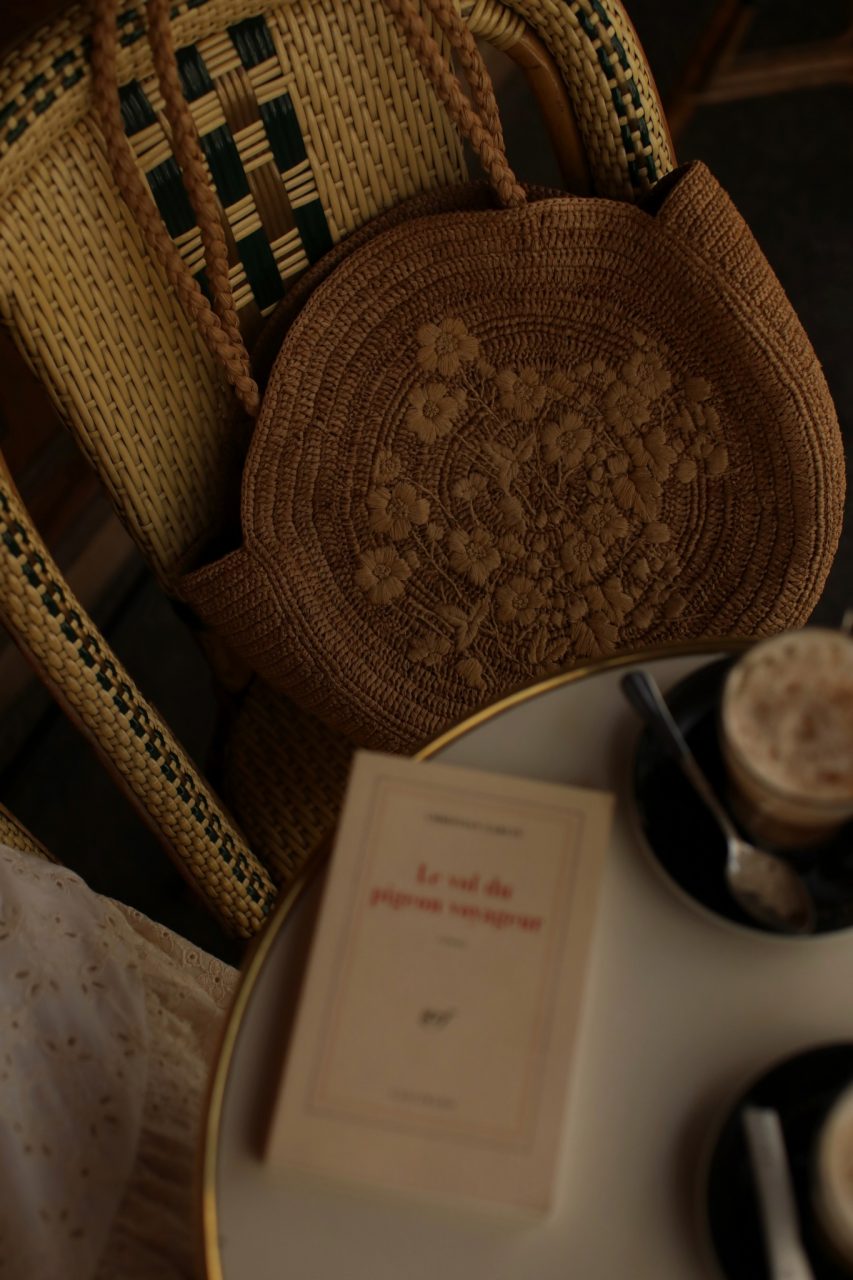 Les Maquereaux | Located along the Seine (and in it, really), Les Maquereaux is a boat turned bar that stays docked along the river. We sat under the trees on the banks, had a few spritzes and did a lot of people watching. And dog watching. It's just a really pleasant spot to spend some time and catch a breeze if the weather is nice.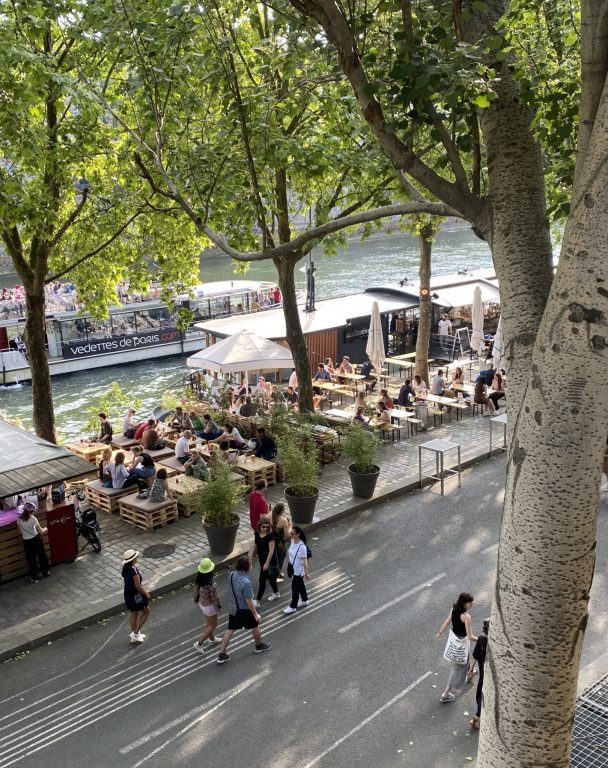 JONES | One of my favorite restaurants in the world, we talked about coming back to JONES a few times over the last two years. Mostly in the darkest days of staying at home, I remember thinking about how lovely it would be to go back one day. We finally did and it was lovely. They have some really great natural wines, beautiful dishes, and the menu is always changing. Definitely make a reservation here, and enjoy!
Laïzé | Eric is usually the one in charge of finding really good coffee on our travels and this spot was AMAZING. Possibly the best iced oat mocha I've ever had in my life, and nestled in a really charming shop that was just very pleasant to have a sit in. They have multiple spots but we ended up at the Marais location.
Café de Flore | Obviously not an earth-shattering recommendation and certainly one you've seen MANY times, but it is a classic for a reason. We waited maybe 10 minutes for our table, and it was just so fun. Kicking myself for not buying their dishware that they sell to take home, but may have to spring for buying some online. Get a bottle of wine, some snacks, do a breakfast here – it's a tourist trap but it's fun.
La Bascule | Another spot that we just sort of wandered over to and had a snack and a drink. It was really lively and a great spot to recharge before continuing to explore Montmartre. Plus I'm always a fan of a place where you can take your wine outside and have a little sit on the curb with it, but hey – that's me.
Bleu Bao | We went here the first night Eric arrived in Paris (on a whim) and it was great! I love xiaolongbao and noodles and dumplings, so we got a bit of everything to try.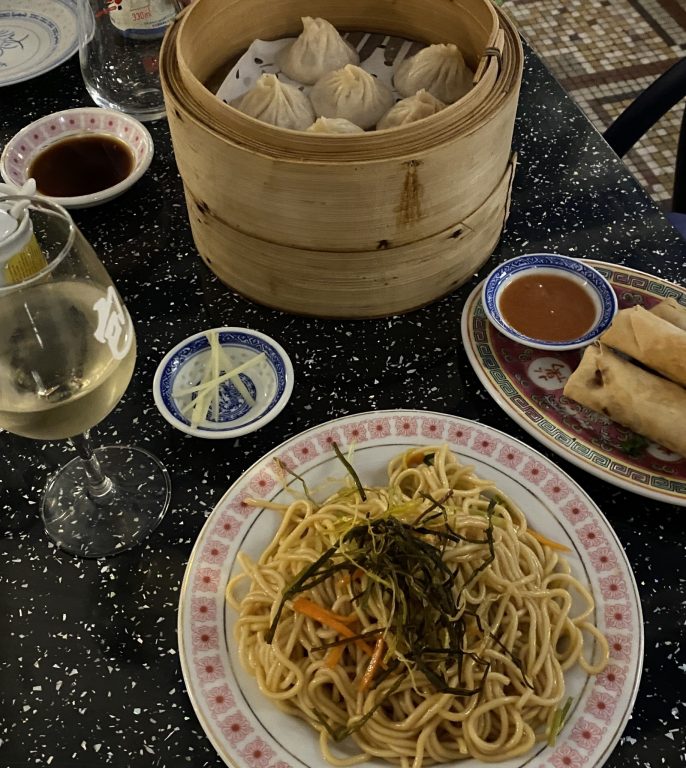 LouLou | I shared this restaurant in my roundup of my favorite spots in Paris the last time we went, and we had to go back. We got there (without a reservation) right at opening and got a table inside near a window. It seemed like everyone in line was trying to get a table outside, and while they are beautiful, I actually preferred the indoor spot next to the window! So don't be discouraged if there's no space outside, you'll have a beautiful view from indoors.
Camille | Yet another spot we grabbed drinks + snacks from that was great for a little break in the middle of the day. If you order fries (which you should) ask for mustard with them because it's always the right move.
Le Pétrin de Pigalle | This was right underneath our hotel (Grand Pigalle) so we stopped by a few times. Beautiful pastries, fresh squeezed orange juice, and sandwiches that we took with us for a picnic one day. Their selection was incredible, and it made me want to try so many things.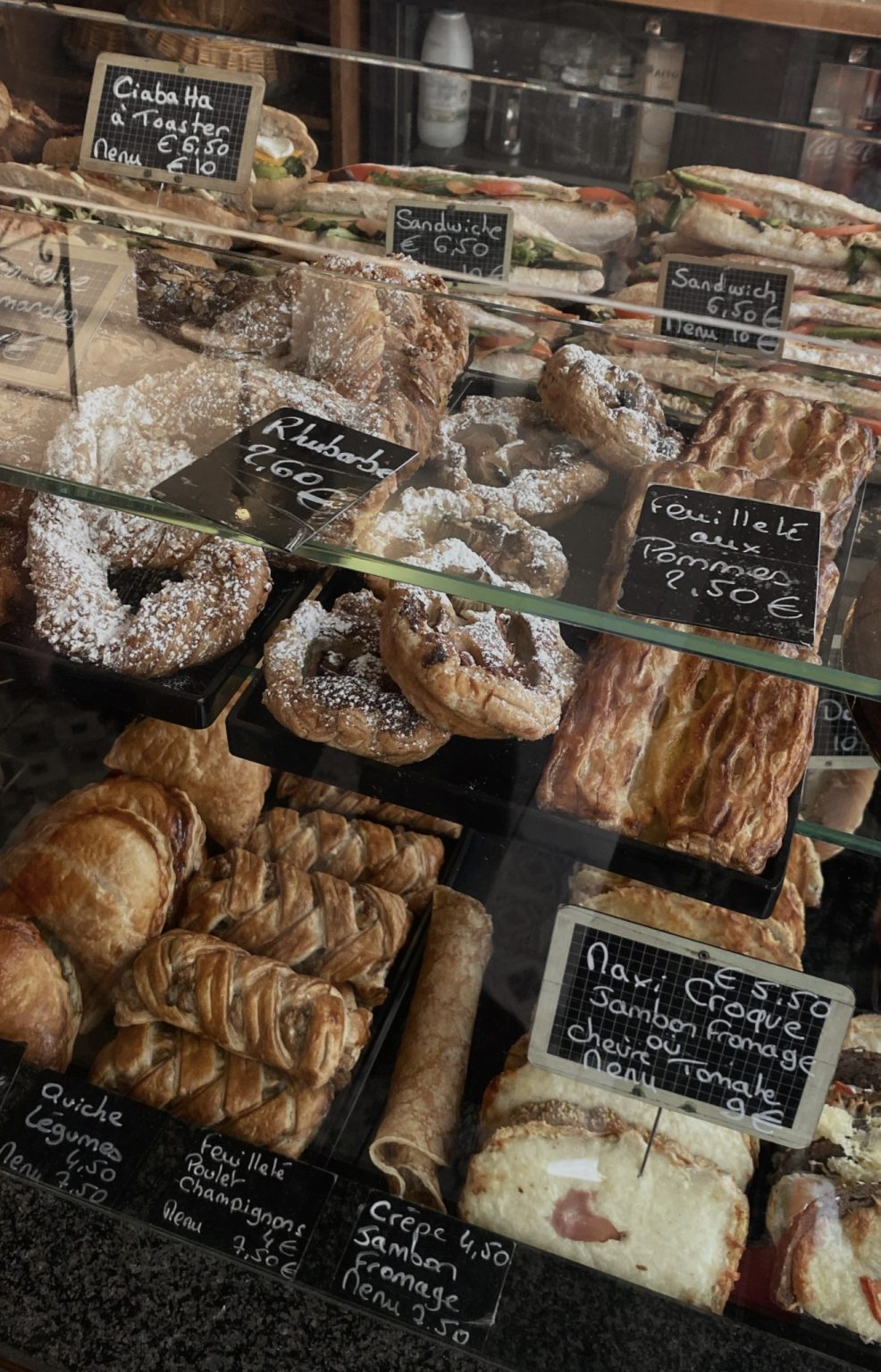 YOOM | Grabbed a late-night meal here after visiting nearby Montmartre and it was lovely. Another good spot for dumplings and dishes to share.
Pink Mamma + No Entry | One of those often-instagrammed spots that I've been wanting to go to for ages. The lovely Krystal Bick made a reservation for us right at opening time, and it was perfect. I was worried it would be too early but we actually got to see parts of the restaurant (and the beautiful staircase) completely empty which was a nice treat. The truffle pasta was amazing as was the speakeasy (No Entry) on the bottom floor.
Marché Des Enfants-Rouges | This market is a bit like a food court with so many little restaurants and counters to choose from. Have a little wander, and grab multiple dishes if you can. It's just fun and a nice quick option on a day with lots of walking.
Café Ventura | Because this was close to our hotel we ended up here a few times. Just a really great spot for a spritz, a wine, maybe some cheese, and of course lots of people-watching. It's a busy corner so you won't be disappointed.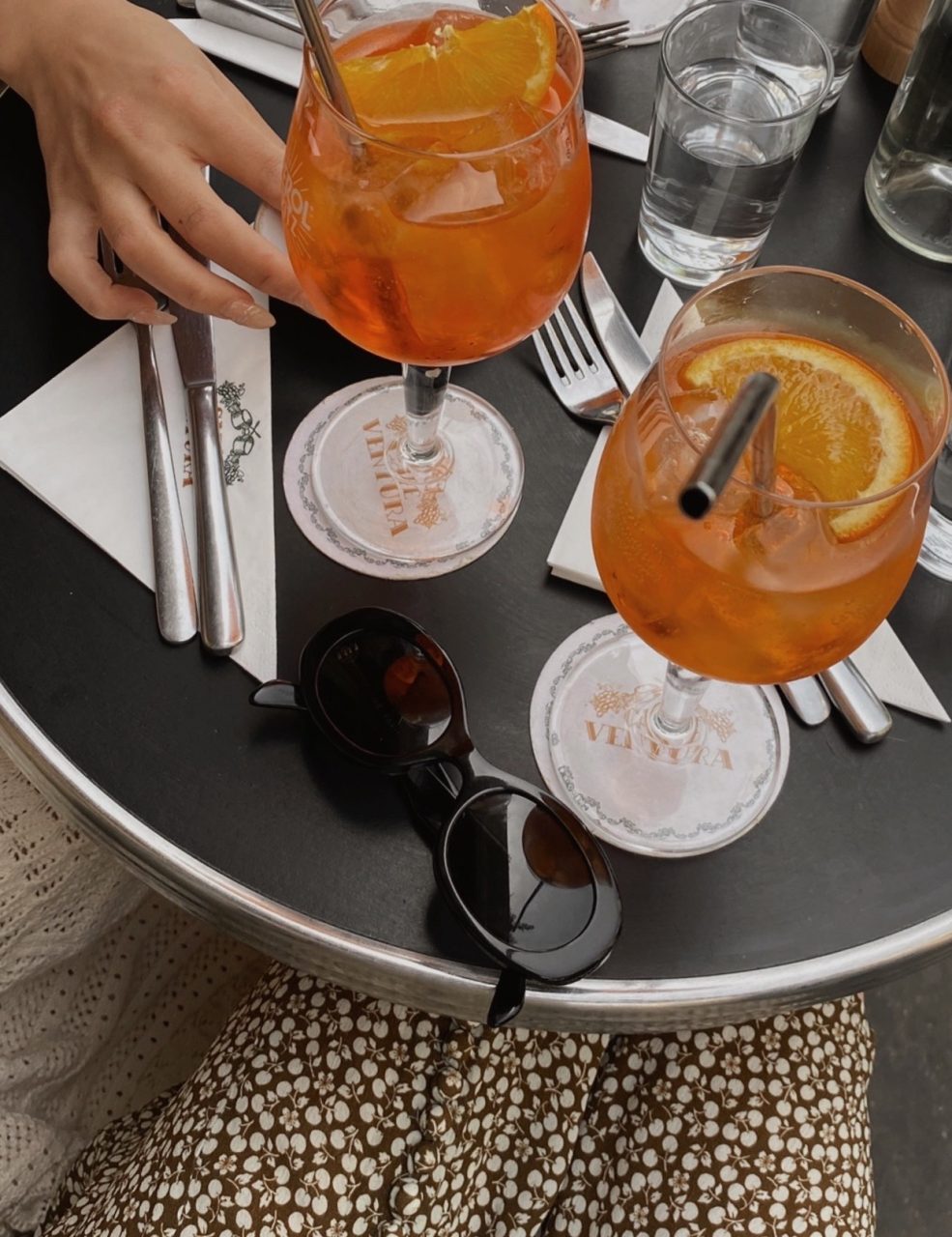 Panade | This boulangerie was highly recommended and it was incredible. I think we got every type of croissant they had and honestly, I wish I had one right now as I'm typing this out. If you go, pls mail one back to me, thank youuu.
Café Kitsune | They have locations throughout the city, but I especially like the one near Palais-Royal. Grab a mocha or a cappuccino and have a sit on one of the benches throughout the garden before you start your day.
Pizzeria Popolare | A solid spot for pizza and pasta, with many tables. Make a reservation (they're always busy) and enjoy. And don't miss the photo booth next to the bathrooms, we didn't, and it makes for a cheap + fun souvenir to come home with.
Boulangerie Utopie | Another spot that Eric found for a breakfast, we walked here in the rain and it was well worth it. The sesame pastries and croissants were lovely.