It's not often that I talk about things beauty related. For starters, I don't consider myself to be a beauty blogger. There are plenty of amazing bloggers out there who know tons about makeup, wear it daily, and are legitimate experts at making themselves look like goddesses. That's not me. I still haven't mastered a cat-eye, and I only recently found out about highlighter.
But today I'm going to talk about my beauty routine – because while I may not be an expert, I am constantly searching for products and lines that I like and that work for me. Here's what I'm currently using and loving.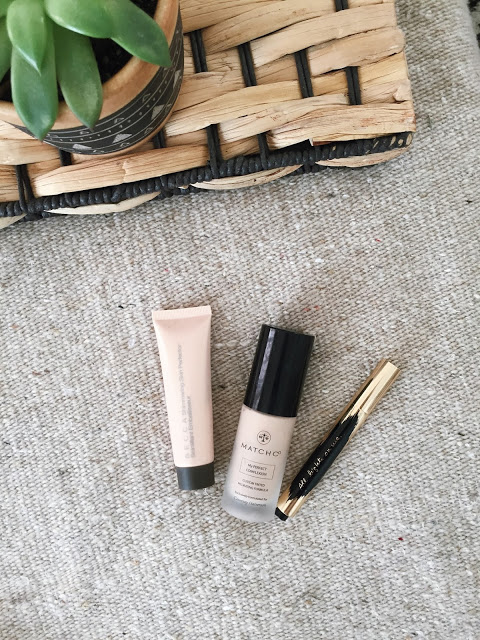 MAKEUP
For foundation, I wear MatchCo custom foundation. I've mentioned it before on my IG, but I get a lot of questions about it. Basically through the use of their app, you can create your own perfectly matched foundation that arrives to you in the mail. Yep. You use an app to match your skin-tone, and then scientists mix it up and send it to you. Brilliant. Plus, my name is on the bottle, and that's fairly nifty.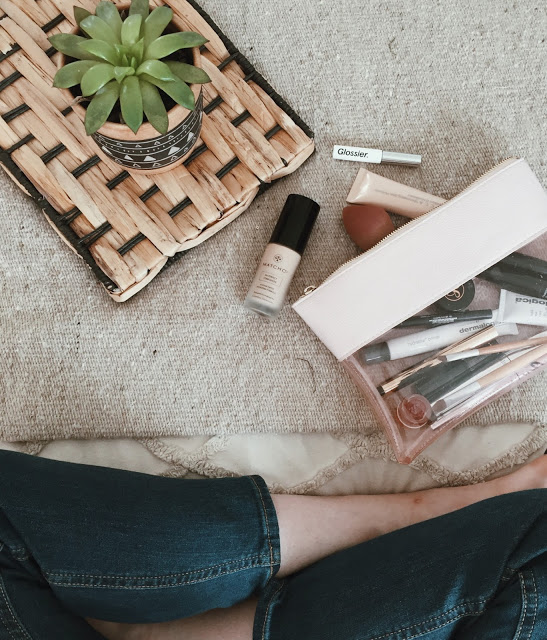 Under my eyes I'll usually dab YSL Touche Eclat to combat circles and brighten things up, and if I have a spot that needs covering, I'll use Cle de Peu Beaute concealer. Both of these products are price-y, but since I don't wear them every day, I've been able to justify the splurge, and with my sensitive skin they've been perfect. I dab Becca Shimmering Skin Perfector on my cheekbones, on my cupid's bow, and on the bridge of my nose for a subtle highlight, and finish with Josie Maran Coconut Watercolor Cheek Gelee as my blush.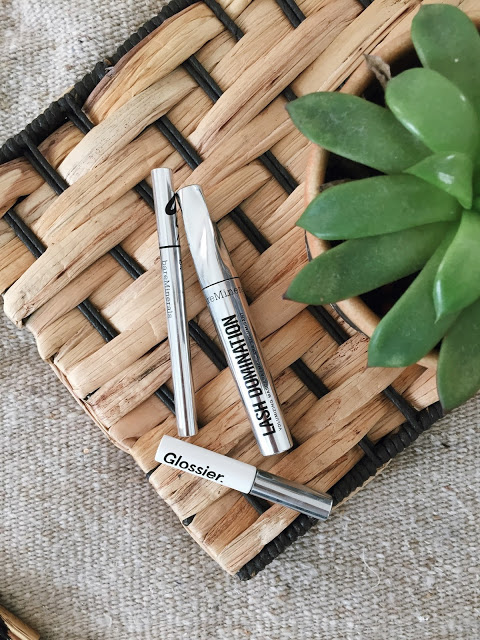 My daily mascara is bareMinerals Lash Domination, and if I'm feeling sassy, I'll attempt to do a little eyeliner with their ink liner. I never wear eyeshadow, so if you're looking for advice there, I can't help you! I think I'm just too lazy for that step, and I have flashbacks of my Jr. High frosted eye shadows that still cause me shame. My new favorite thing is Glossier's Boy Brow (I got it in brown). I was skeptical at first (had been using Dip Brow for a while), but gave it a whirl. My favorite thing about it is how QUICK it is. Just a quick sweep of the little brush, and little fluffing, and I have thick SASSY brows. Seriously love it.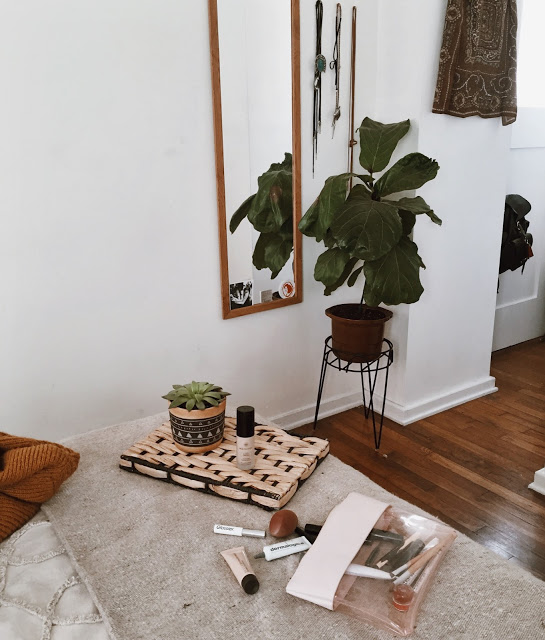 SKINCARE
Let's talk skincare now. I have always had sensitive skin, and I am constantly searching for the right products for my face. I've tried a LOT of different products, but my current routine is leaving me pretty satisfied. A few weeks ago I got my first ever facial from Dermalogica, and an opportunity to try their full line. I've been using a lot of their products lately, and I get the hype. My skin feels so much softer, and it just looks better lately. I still have the occasional spot or dryness, but I feel better about leaving the house makeup-free lately.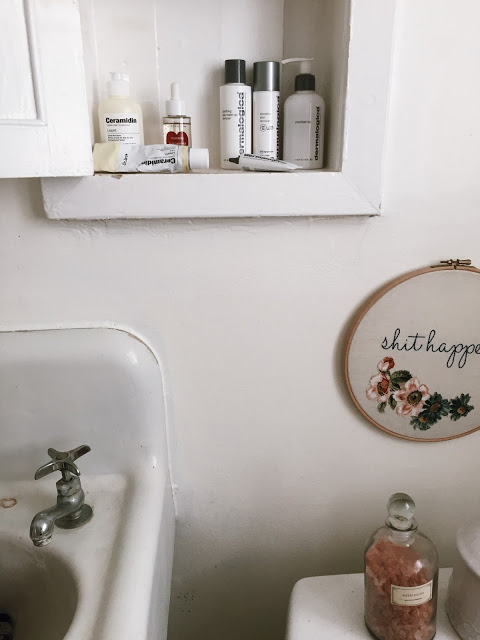 For cleanser, I use Dermalogica's Pre Cleanse to remove makeup and get things going. It's oil based, which scared me at first, but it does a great job at the end of the day when my face feels cakey and especially dirty. Makeup, GONE. If I need to remove eye makeup that's a bit more stubborn, the Soothing Eye Makeup remover is effective and gentle.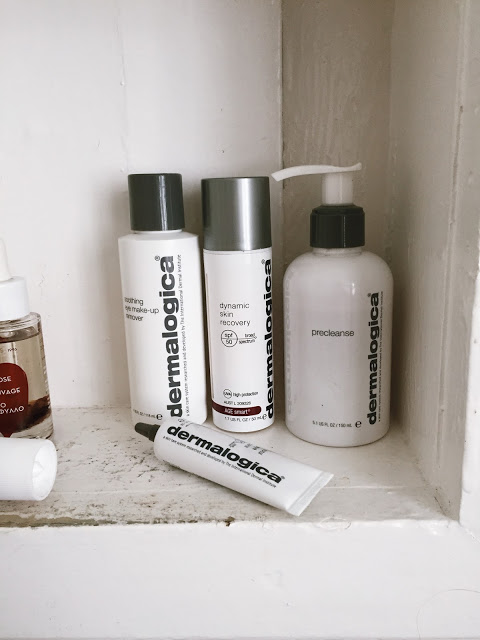 After that I use my go-to face wash from Fresh. I've been using this one for ages, and I always come back to it. I like to use it with my Clarisonic MIA2 a few times a week for a little extra scrubbing. At night I moisturize with Dr. Jart's Liquid and Dr. Jart's Ceramidin Cream. I dab Korres Brightening Rose Oil around my eyes and on my forehead before sleep.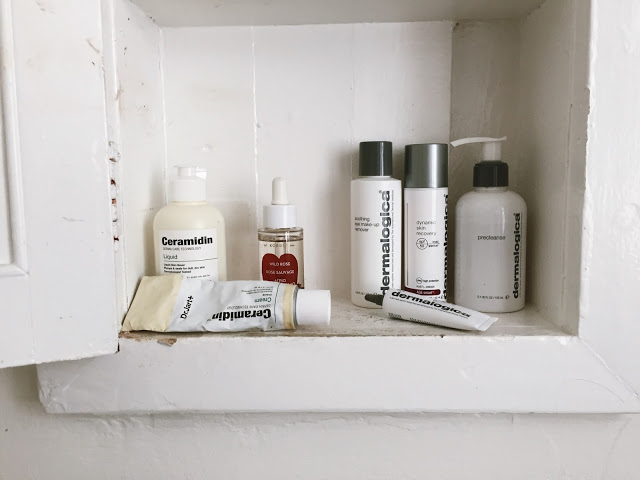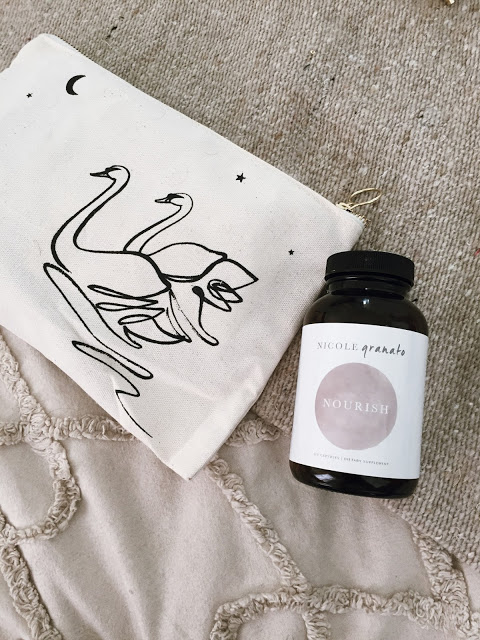 During the day I protect my face with Dermalogica Skin Recovery SPF 50 lotion. It's plenty moisturizing and has done an amazing job of protecting my fair skin (even during a full day outside at Disneyland). For sun protection around my eyes I use Dermalogica Total Eye Care which has SPF15 and comes in a brightening color to help with circles.Another key with my beauty routine is my Nicole Granato Nourish supplements. Because when I feel healthy and like I am getting my vitamins, it really shows in my skin. Plus, I think the bottle is just about the prettiest vitamin bottle I've ever seen.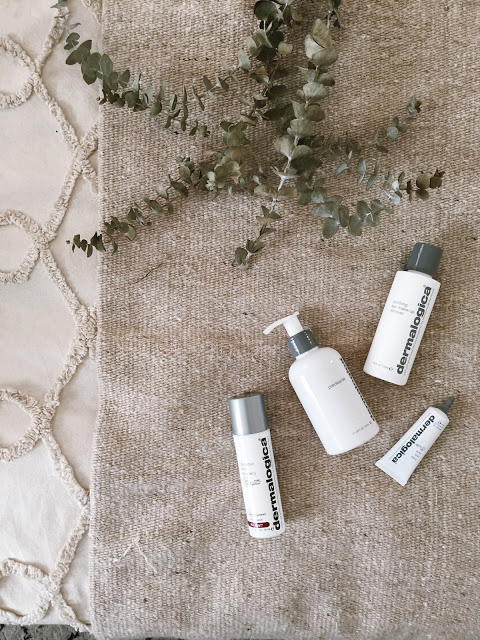 And that's it! Hope that this is all helpful, and please leave a comment if you have a question. Happy to chat more!