In times like this, I'm sure something as seemingly frivolous as beauty products is maybe not at the top of your mind.
It certainly isn't the first thing I'm thinking of when I wake in the morning, but I will admit it does provide a nice distraction as my day gets going. And because I am not leaving the house other than for the infrequent essential trip, things have become more simplified when it comes to my routine. In a lot of ways I feel like my skin is its happiest right now, with less makeup and more water, and a scaled back amount of products I'm applying. So scroll down if you want to see what I'm loving at the moment.
No Makeup Makeup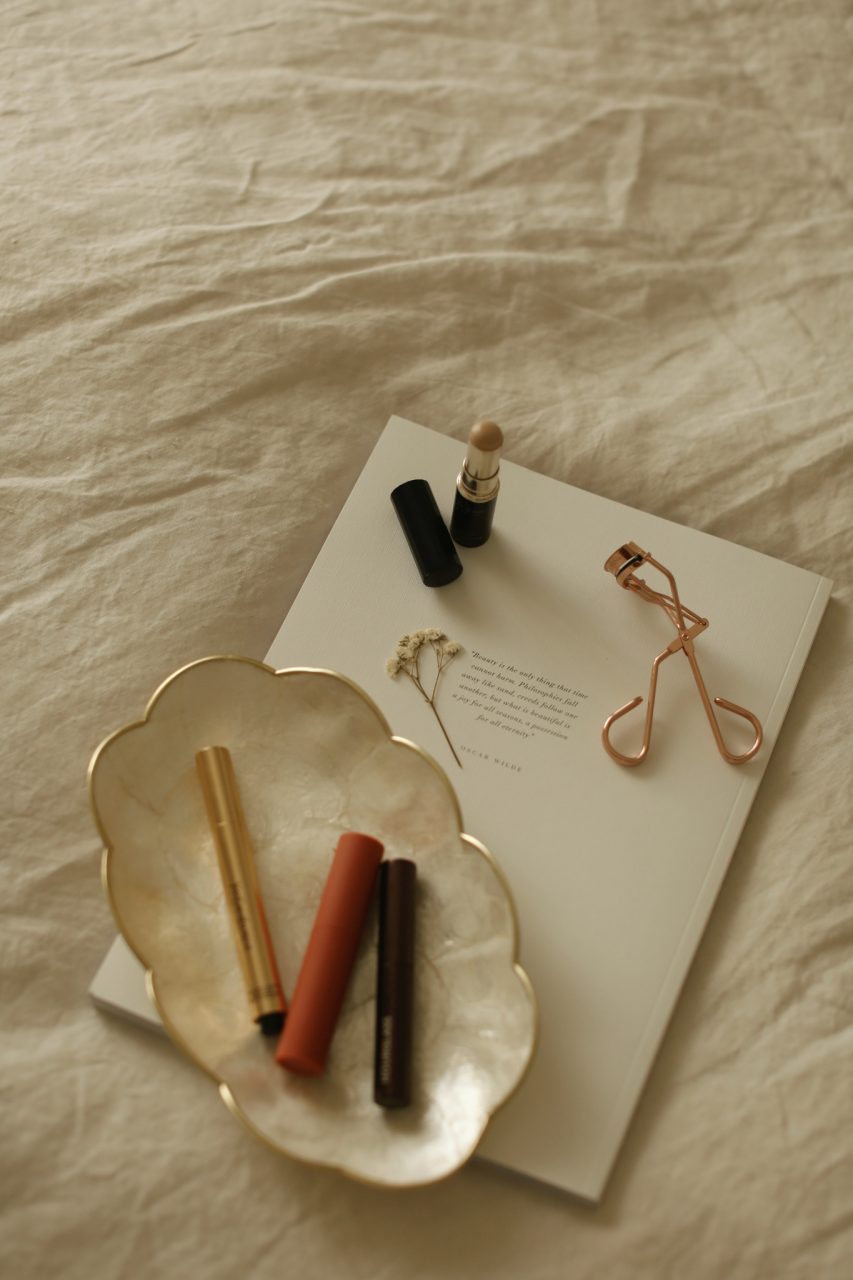 For the look below, I am just using a handful of products, to really let my skin show through. To start, I always pat on a bit of face oil. The one I'm really loving and have been using daily for a few months now, is Mara Beauty Universal Oil. After I let that sink in for a few minutes, I'll use a concealer brush to lightly cover problem areas with Clé de Peau Beauté concealer. I've been using this concealer for YEARS, and while it is pricey, one tube provides excellent coverage and lasts a long time. I purchase about twice a year and always come back to this concealer. I use this to cover blemishes and old acne scars, as well as around my mouth and nose to help combat redness. Normally if I was going somewhere I would add a touch of foundation, but as I'm staying close to home, I find I don't need more than this minimal amount. I blend it in with my finger after dotting on with a brush.
After applying concealer, I will put a few dots of YSL's Touche Eclat (in shade 1) under my eyes. I deal with dark circles and this seems to help bounce the light back and make the area appear brighter. If I'm esp needing coverage, I'll layer Touche Eclat over a bit of the Clé de Peau concealer. I use a beauty sponge to gently blend this in. For a little extra oomph, I put Touch Eclat on my nose as well as around my mouth because it can help with my natural pink complexion.
For my eyes, I have mostly just been curling my lashes, and skipping mascara all together. On the days where I do decide to put it on, my favorite is this one from Saie. After that, I use volumizing brow gel from Hourglass (in shade Auburn) to thicken my brows. If I am shooting photos or taking a call, sometimes I will use this pencil (in shade warm blonde) to thicken my brows and draw them in a bit. Lately, I haven't felt the need to do this much, but it is a look I prefer generally for myself, as my eyebrows are veryyy arched.
The final step (and what I think makes the biggest difference) is a swipe of this new lip color I am wearing CONSTANTLY. My lips tend to be very pale and colorless most of the time which can make me just look dreary in general, so a bit of color is always a good call. The one I'm using is by Sunnies Face and is called 'lip dip'. It goes on with a wand and looks a bit like lipgloss – except it is perfectly matte and can be blended out using your finger for a subtle look. I've been wearing the shade 'Peachy Kinda' and while SF doesn't sell directly to the US, I was able to order a tube from this site. I am hooked on this color!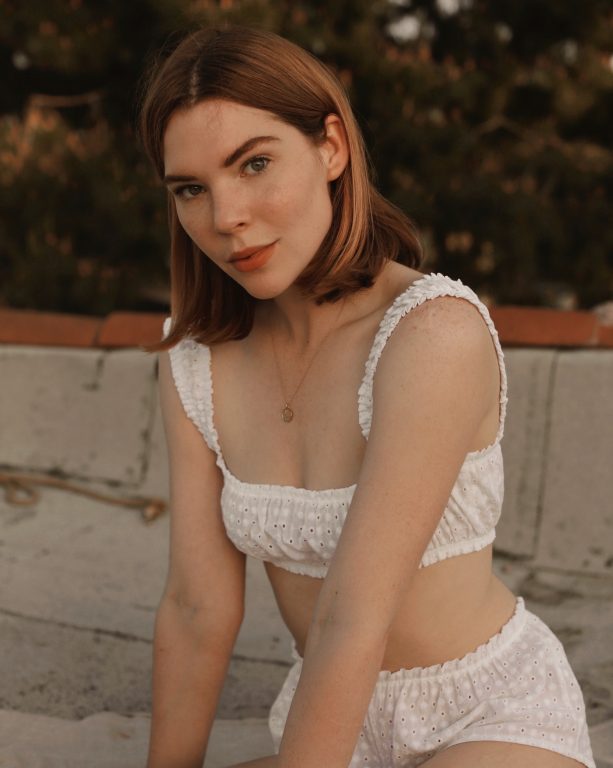 And that's about it! It takes me less than 5 minutes, and has done wonders for me in feeling 'put together' especially on days where I have no plans to leave the house, but still would like to feel like myself. If I'm feeling 'extra' I'll dab a bit of the lip color on my cheeks for a subtle blush, or else dust on a smidge of Ilia's new highlighter. Easy enough!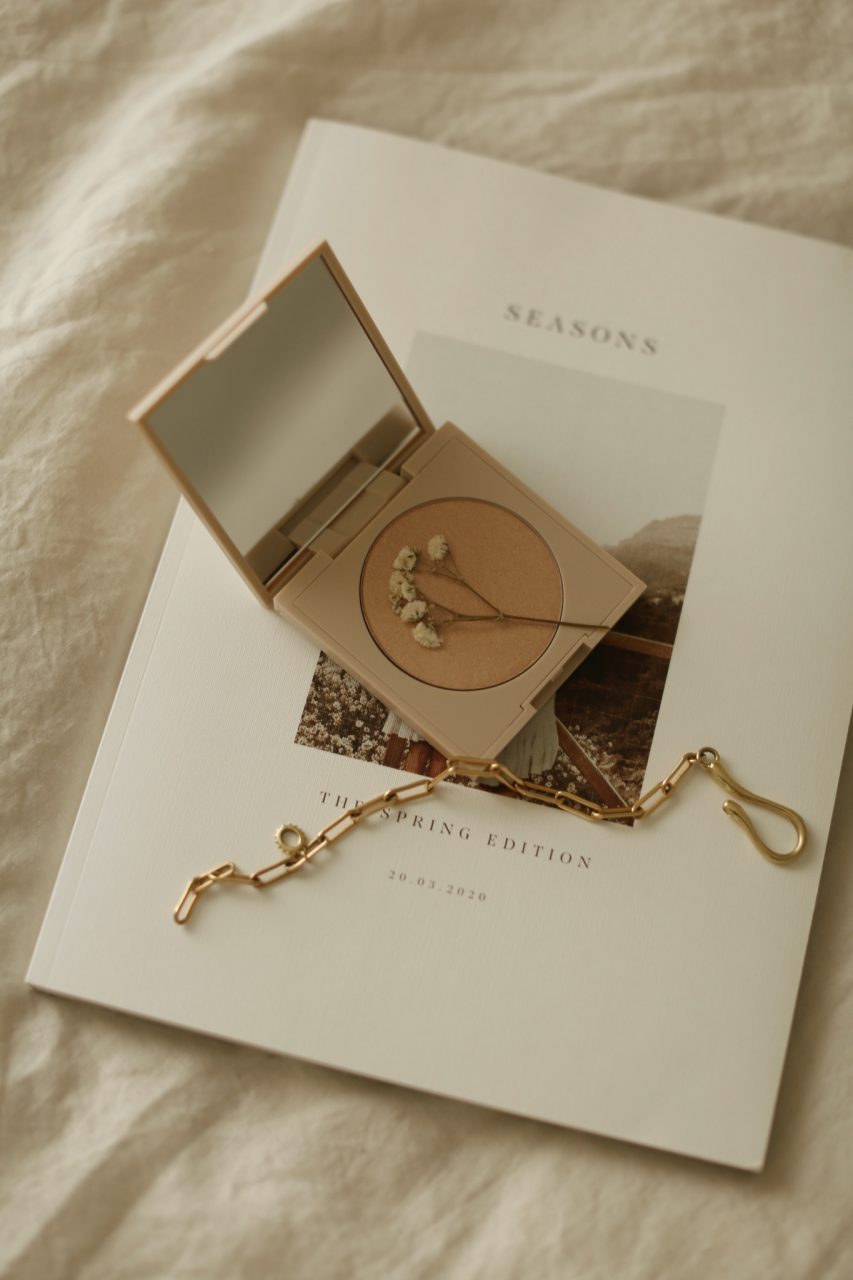 Simplified Skincare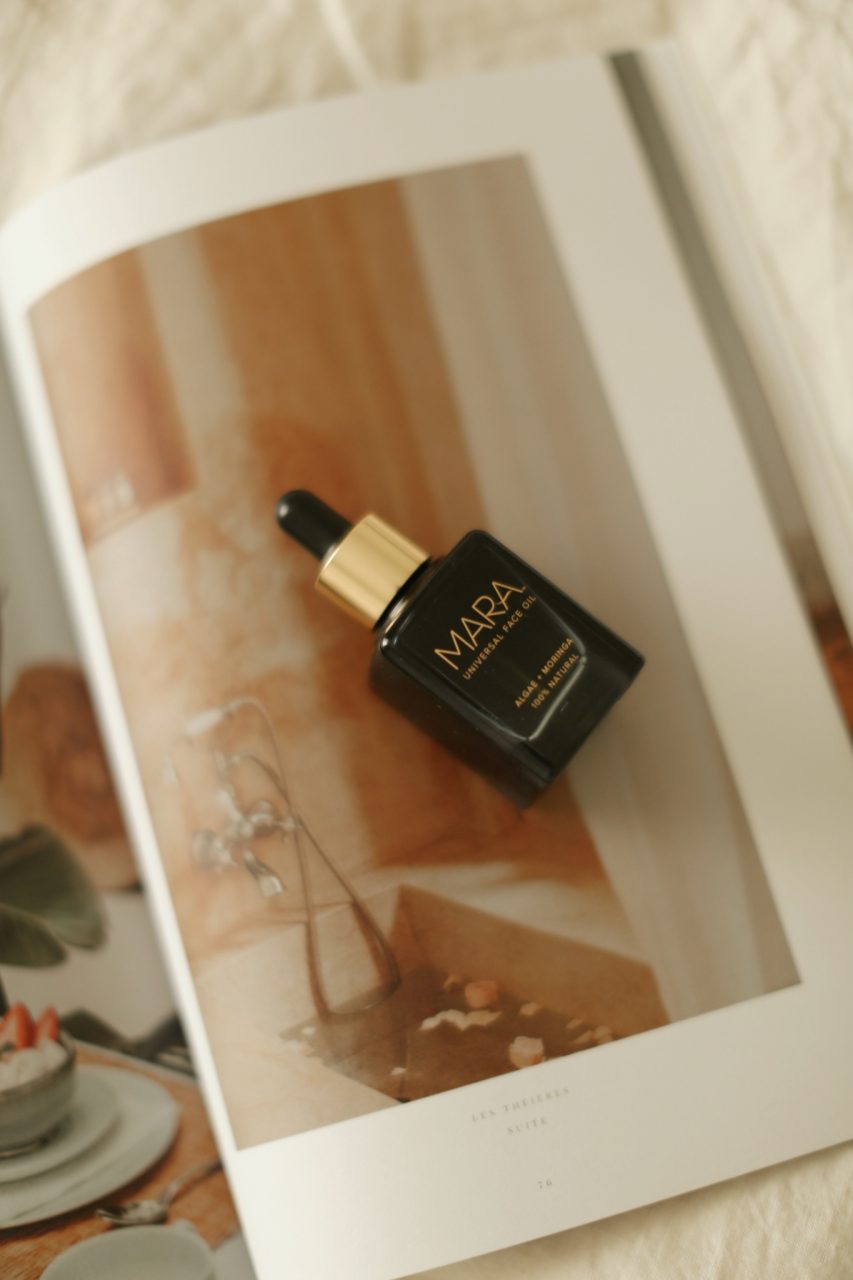 Skincare is another area that has been really streamlined and simplified for me lately. I'm still enjoying pampering my skin at night on occasion or else applying a mask, but for the day-to-day, my routine is pretty minimal. As I mentioned above, Mara Beauty Universal Oil is my daily must have, and then after that, I like to add moisture using a bit of Furtuna Skin's Face and Eye Serum. I'm starting to use this one every day, and when I do, I notice that my skin just feels more plump and moisturized. Plus I love that this is a one step product that can help the eye area as well as the rest of the face. I especially like to use this one on my neck as well.
In the mornings I apply probably the most lux product in my vanity right now, which is Susanne Kaufmann's eye cream from Violet Grey (that they very kindly sent over). I've been testing out this eye cream for a few weeks now and all I can say is wow. It immediately handles any puffiness I may be experiencing from the night before (thank you, red wine) and is working to smooth the fine lines I've seen creep in at the corners of my eyes. Overall, I am mightily impressed with this eye cream and a excited to continue to use it.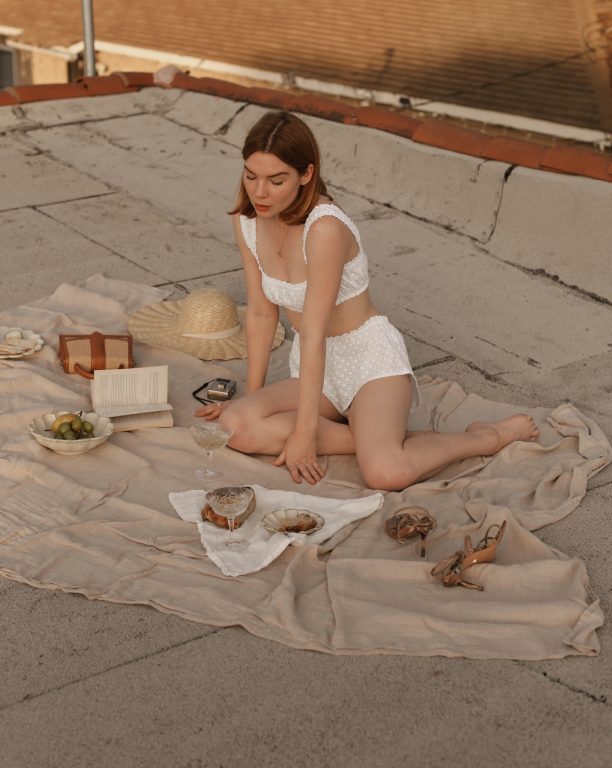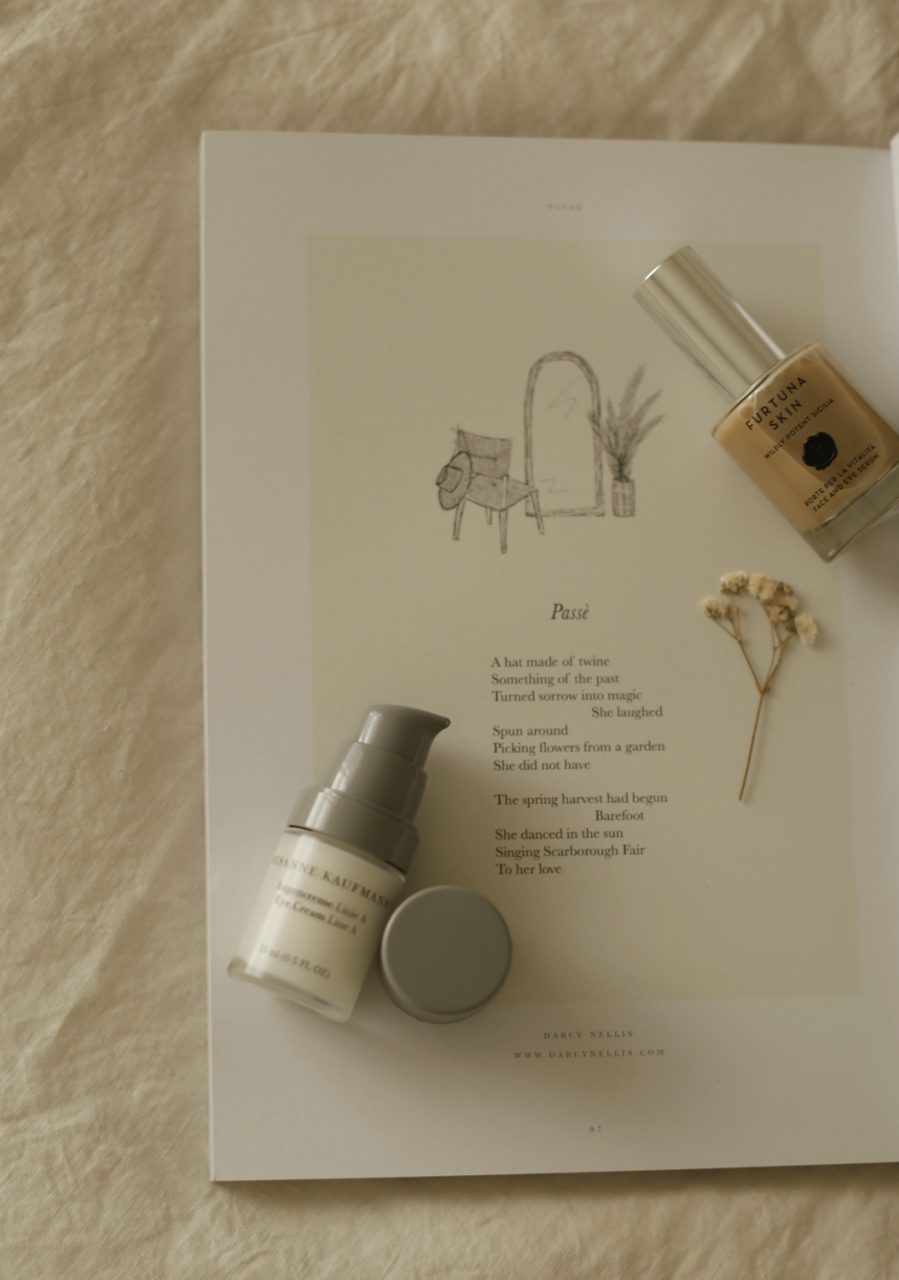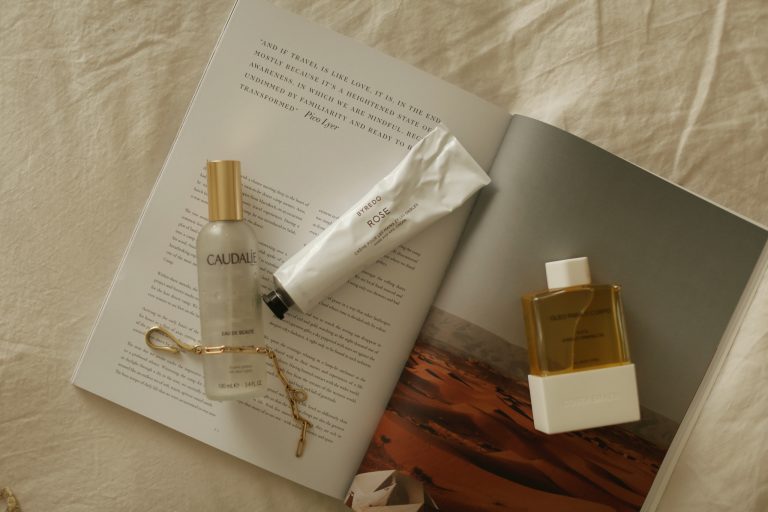 For my body, I have especially been hooked on this oil by Costa Brazil – something I thought I'd never say. I tend to ignore the skin on my body (oops) but lately have been paying it more attention by either exfoliating or slathering it in lotion. I don't love the way lotion sits on top of my skin, so this oil has been a great alternative. It smells amazing and sinks in perfectly. It's a treat for me to use so I tend to reserve it for days when I am going to wear a floaty dress and just lounge around, rather than when I'm planning to get a workout in or else clean the kitchen. It's all about balance, right?
For my hands, it's been this byredo rose hand cream, and for perfume I've been loving this new scent from Chloé (which I can share more about soon). I love all of their scents but this one I started using around the beginning of sheltering in place, and for some reason it just makes me think of adventure and travel, even though I've only worn it at home.
And the final product I've really been using a lot of lately is Caudalie's Beauty Elixir mist. Funnily enough, this was the first thing I ever purchased from a Sephora (like 15 years ago) and it's just a product I always come back to. The smell is nostalgic for me, but on top of that I just find so many uses for it. I spray it on my face mid afternoon when it's warm out, when I take a bath I mist it on top of the bubbles, and I even use it on my beauty sponge to blend in my makeup. A bottle can last a while for me, so I always find it to be totally worth the indulgence.