Over the last few months, I've been traveling quite a bit. Not all of them have been long trips – but I've been doing a lot more weekend getaways lately. It's been made easier because I work from home, and it's been pretty uncomplicated to pack up and go.
Except for the fact that until recently, I didn't own a practical handbag for travel. Sure. I have purses, every girl does, but I didn't have something meant entirely for travel. And when I first started looking into handbags for travellers, I was immediately scared off. Think : bulky, drab, businessman-like satchels and bags. The sort of thing you don't want to carry on your arm. But when I found this little number from Beside-U, I was stoked.
It was exactly what I was looking for. Utilitarian, sure, but still my style, and chic. They had a bunch of colors to choose from, but this one was calling my name. It's lightweight, so I can pack it easily in a suitcase, water-resistant (hello rainy Portland), and even has an RFID guarded pocket. For those of you who don't know what that means – no worries. I actually didn't know until I started traveling more, that identity theft can happen without a thief even having to get your card and info – they have Radio Frequency thingies that can pass through most materials and take information off of credit cards and ID. This pocket protects against that, so even if you didn't know that was a thing – now you do.
The other thing I knew I wanted was some leather detailing. You know me. I love me some leather. But traveling with a heavy leather bag just isn't practical. It's bulky, and not great for all weather. This bag has just a bit of leather trim, so it still feels totally me. The hardware is sturdy and well-finished, and I know these zippers will be able to take a real beating – which is good because I'm constantly opening and closing my bag and searching for every little thing. It has tons of pockets, so that everything I have to travel with (camera, cables, earphones, wallet, planner, makeup) has a designated home. Goodbye jumble of mess at the bottom of my bag.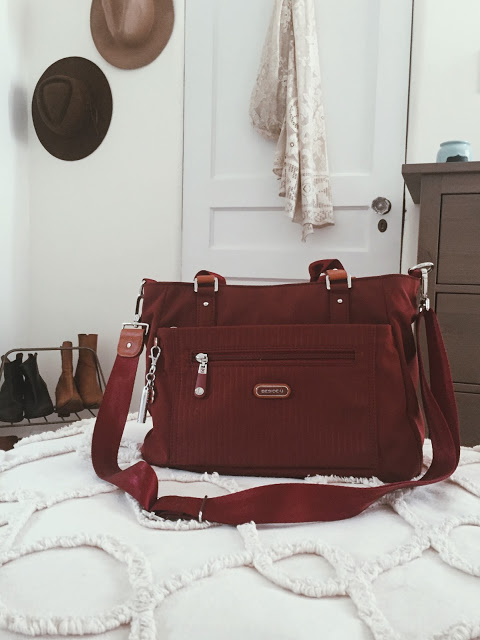 Okay, and lastly – see that? That my friends, is a whistle. I travel by myself pretty often, and while I usually feel safe out and about, it's good to know that this bag includes this handy little guy. Plus it's really fun to play around with and bug my fiance with. Bonus points.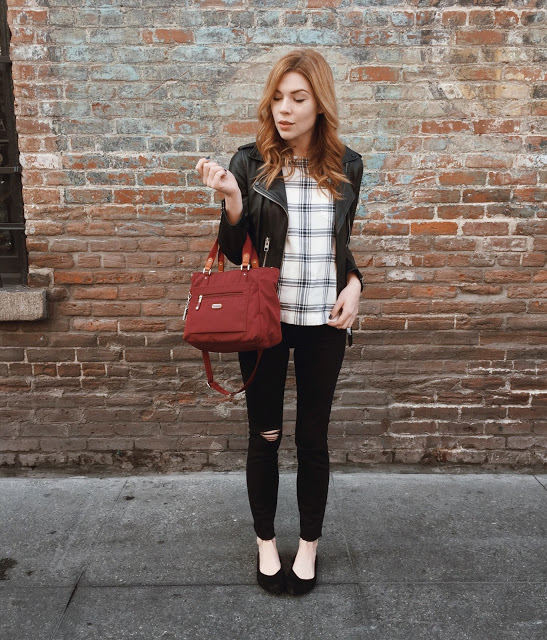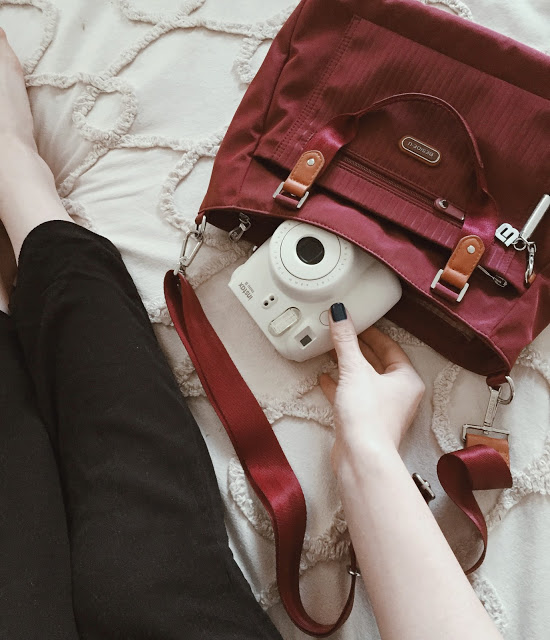 So if you're a girl on the go, and have been looking for a travel bag, this one is my new go-to. Take a look at their Satchel bags for more inspo here, and let me know if you have any questions!