The holidays are fast-approaching, and for the first time in my life, I'm NOT getting all of my gifts last minute. I already have a little stack of gifts saved up, and am really starting to get a jumpstart. And just in case you want to do the same, here are a few suggestions featuring some of my favorite brands.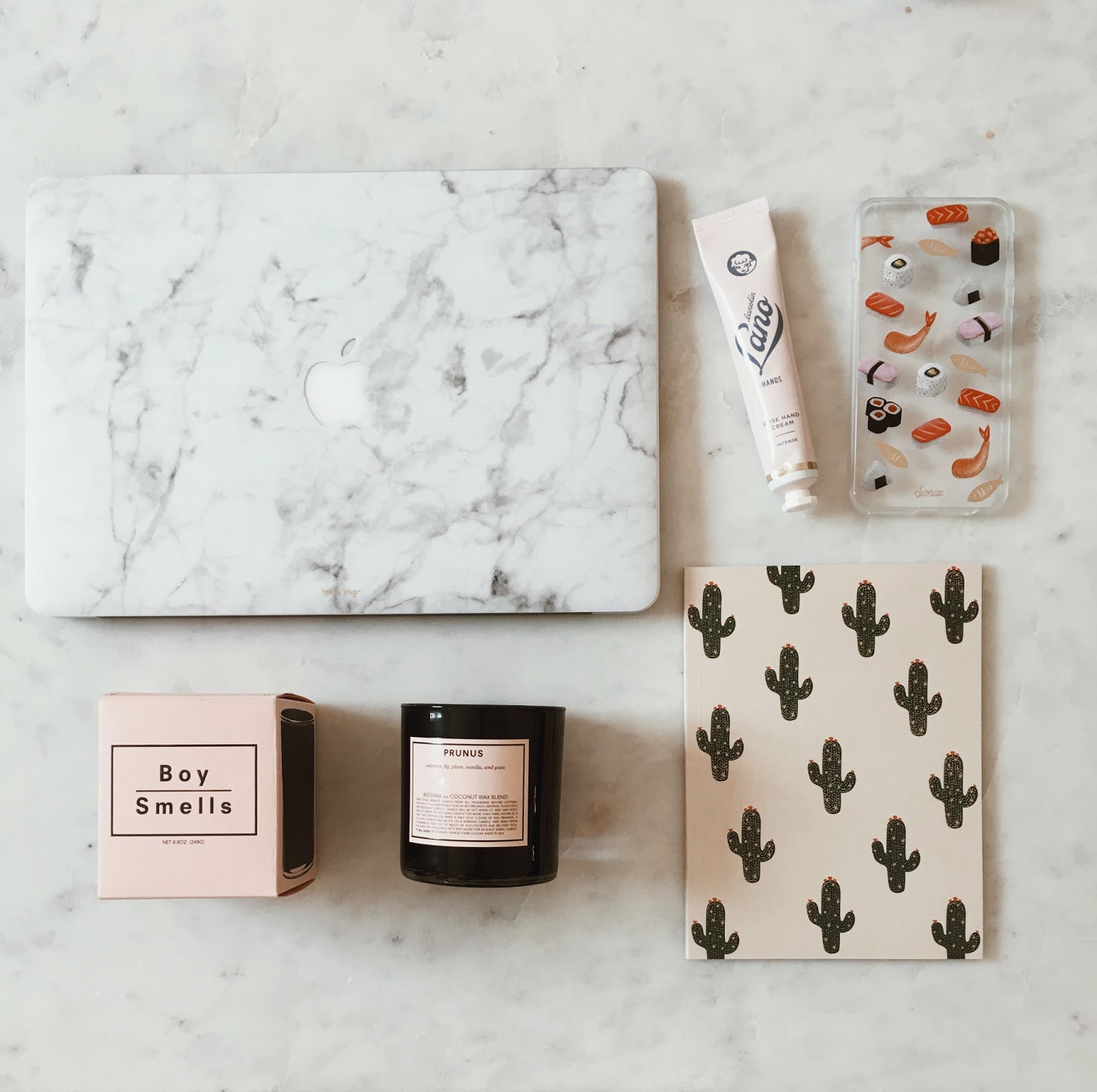 happyplugs laptop skin // I'm all about dressing my tech up, and this laptop skin makes my macbook look like a million bucks. Such a simple gift (and wallet friendly) for any of your tech-loving friends.
lano hand cream // Love this hand cream as a stocking stuffer – it smells perfectly rosey, plus the packaging is just so cute!
sonix sushi case (iPhone7 / iPhone6 / iPhone 6+) // Okay, this is the case that is currently on my phone, and I think it would make the cutest gift for your sushi-loving pals.
boy smells candle // This candle is burning in my office as we speak, and it is one of my favorite scents. Not to mention the packaging is so cute on this candle, you won't even need to wrap it. That's what I call a timesaver.
sonix notebook // I'm a bit Sonix obsessed and this notebook basically stole my heart. Give it to any of your friends who work in an office, are in school, or just like to doodle. For $20 you get a set of 3, so you can give 2 away, and keep one for yourself. I won't tell.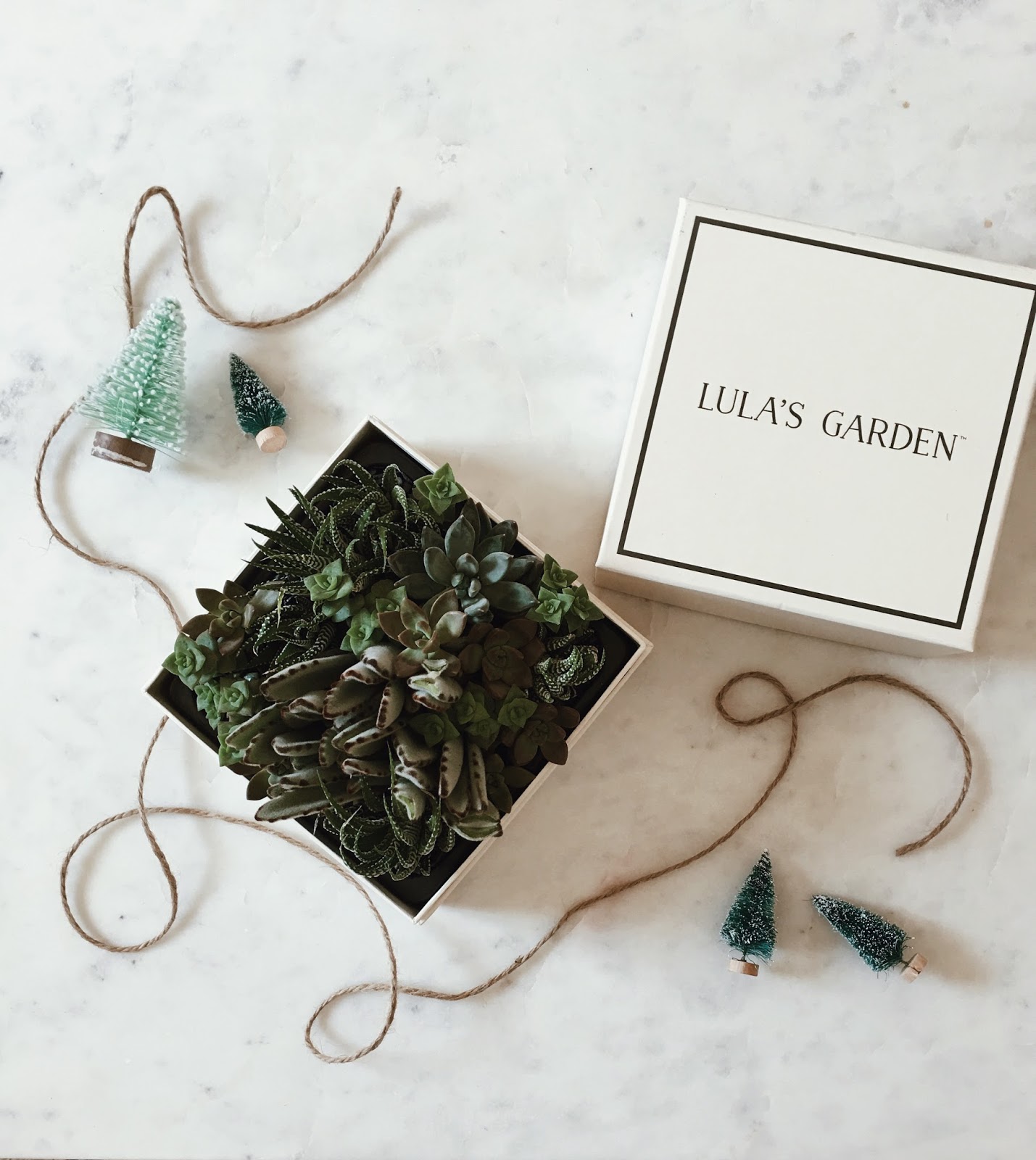 lula's garden square garden succulent gift box // How AMAZING is this? It's quite literally a boxed garden that you can have delivered to your friends and family. WAY better than a bouquet, plus it's actually alive, so you can keep it for a long time after the holidays.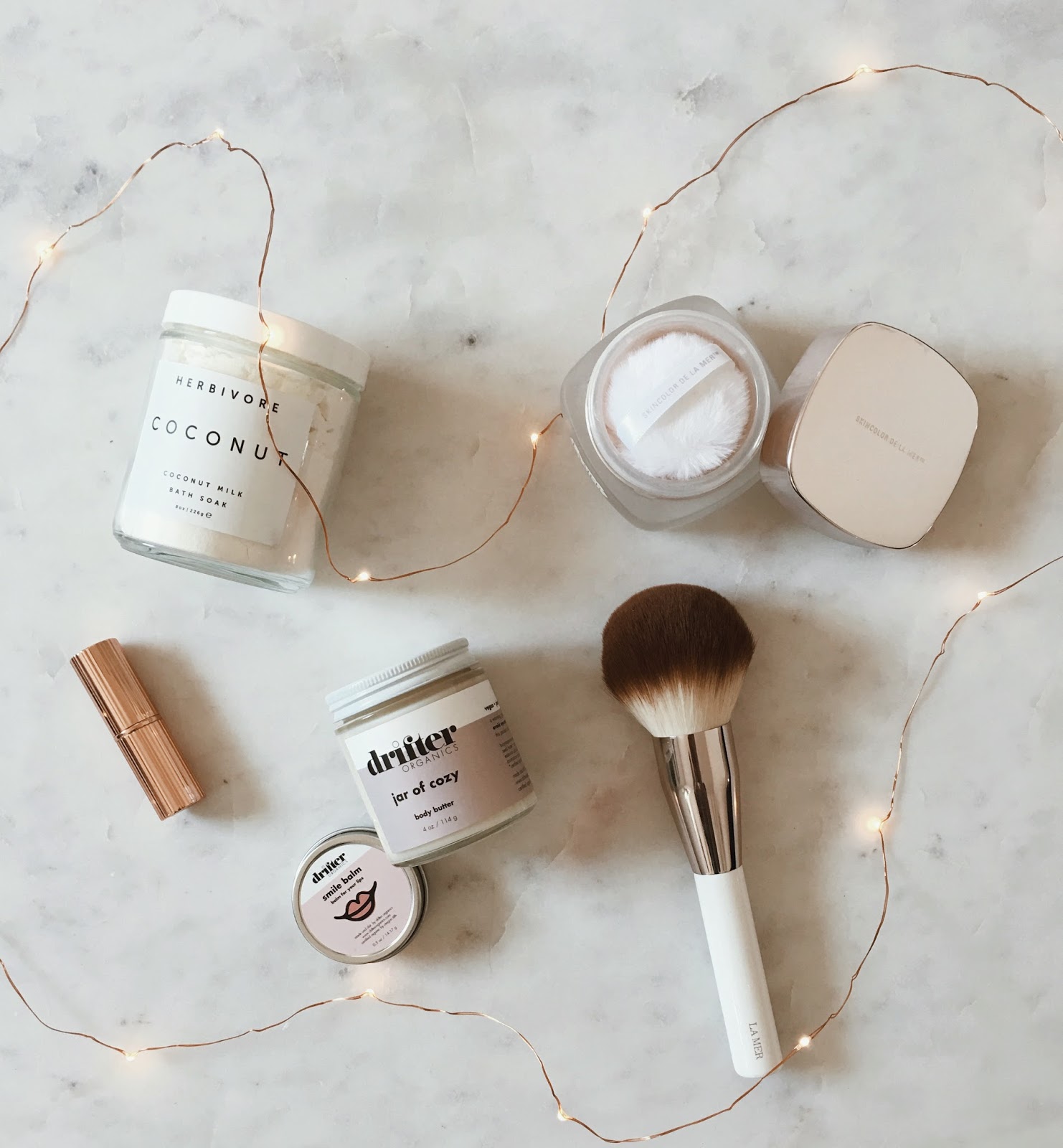 herbivore bath soak // You guys know that I'm bath obsessed, but this is by far my favorite bath soak. It's simple, with not a lot of scent, but makes my skin so soft. I usually use it with a splash of rosewater. The best part – it's under $20.
charlotte tilbury lipstick // Charlotte Tilbury is one of my new makeup finds this year, and I love the formulas. On top of the the packaging is lovely. This lipstick comes as part of a set (with eyeliner) and is perfectly holiday chic.
drifter organics body butter // Cruelty-free, all natural, and smells like heaven. I have super sensitive skin (especially on my legs) so this is about one of the only products I use on my legs post-shave. It smells like the holidays, and is made by a small businesswoman, so I cannot recommend it enough. Shop small!
la mer brush + la mer powder // If you've read through my skincare posts, you know that I am a BIG fan of La Mer. I've been using it for almost a year now, and have noticed a dramatic improvement in my skin. They recently launched a makeup line, and naturally, I'm hooked. This powder creates the perfect blur, makes a great gift, and looks lovely set out on top of a dresser.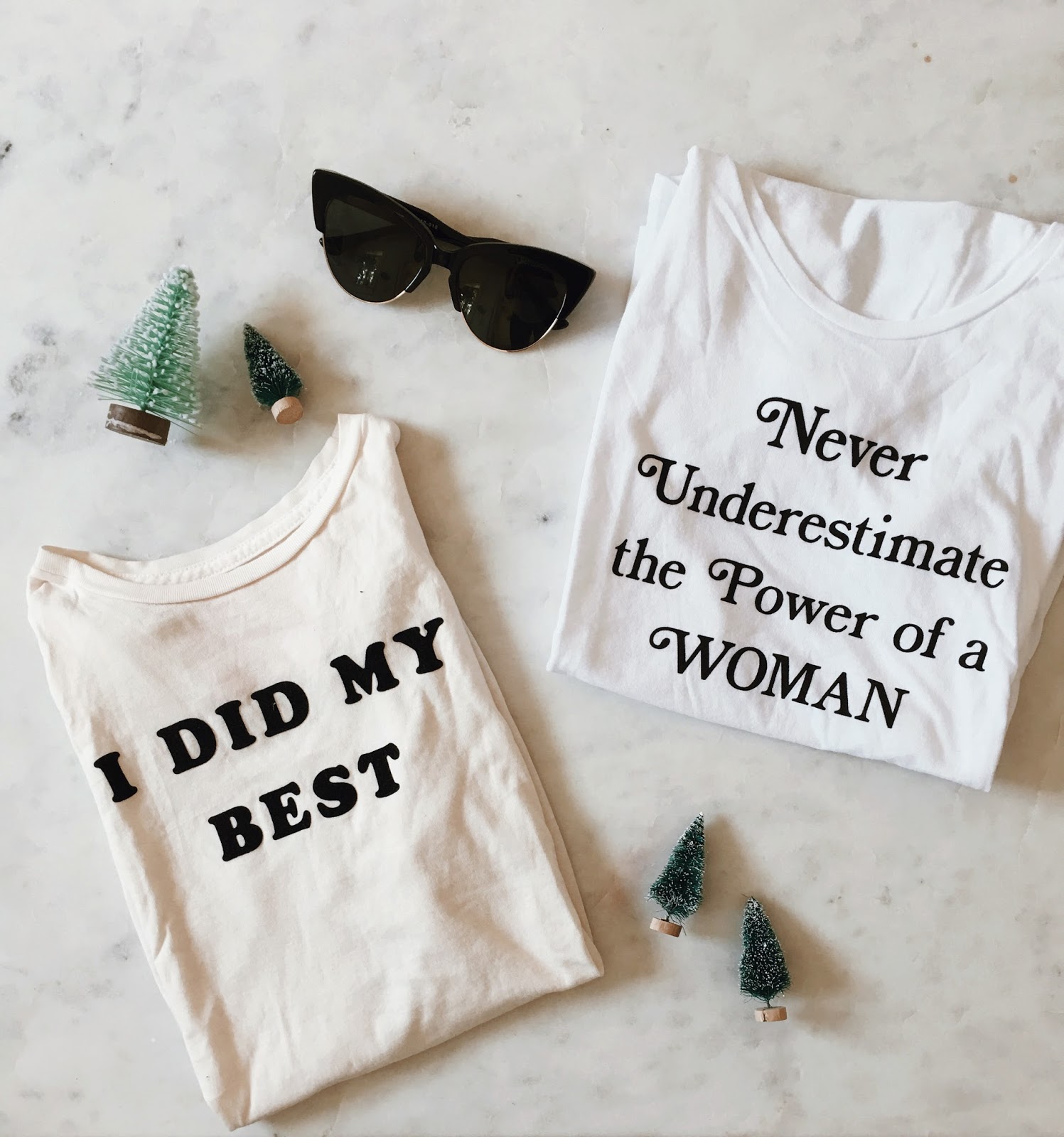 sonix sunnies // If you have a lady in your life who likes dramatic sunnies, these are the perfect gift. Add red lipstick and you're g2g.
ban.do tee // Ban.do is one of my favorite brands, started by ladies, and run by ladies. They carry incredible brands, are constantly growing, and have recently launched their own apparel line. Which I think makes for a pretty cool gift.
the bee & the fox tee // Another business run by a woman, and carrying some of the cutest styles out there. And just in case you have any little ones in your life – they make baby / childrens clothing as well. One stop shop!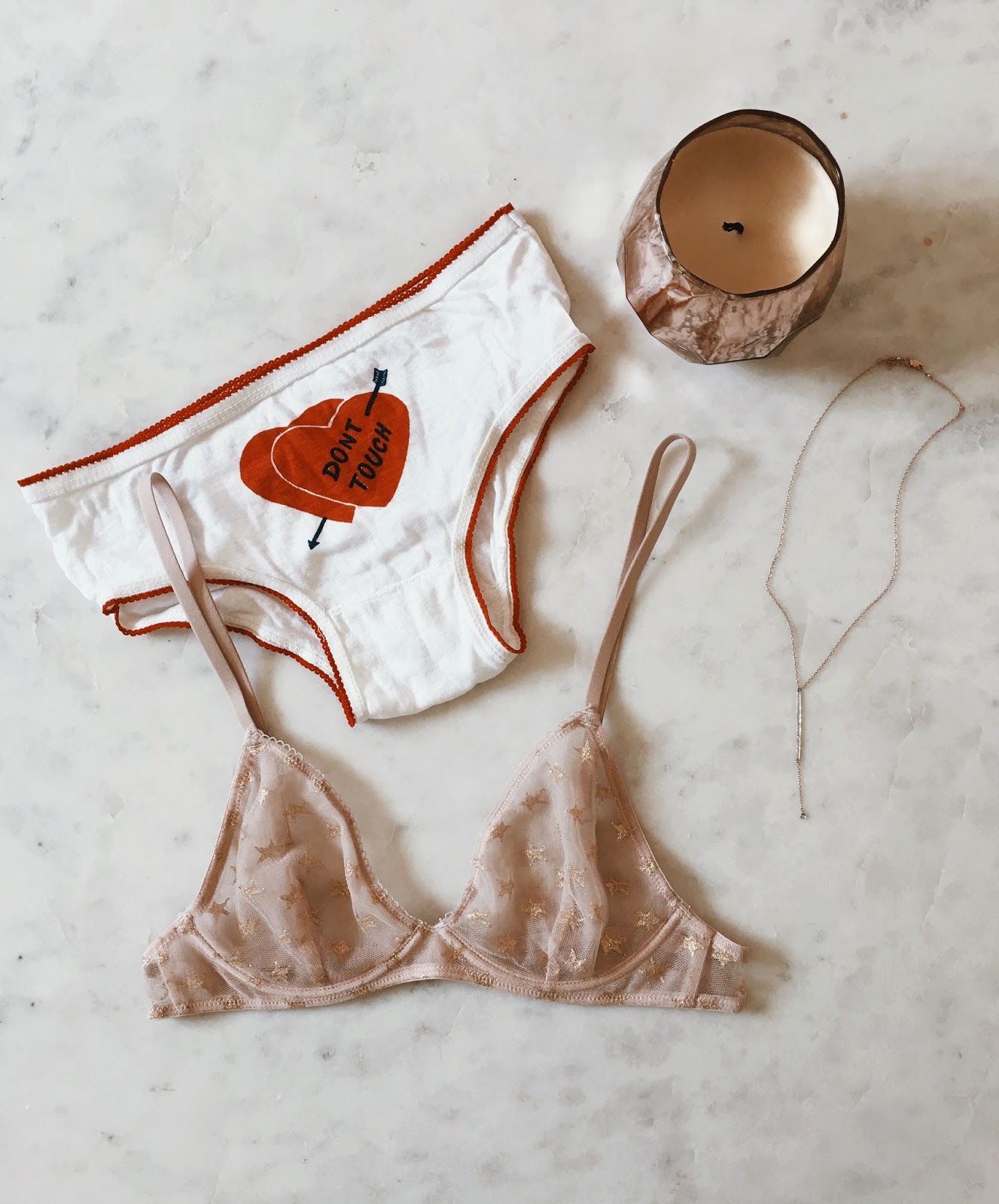 tuesday vintage panties // You read that right – vintage panties. But completely unworn deadstock panties from the 60s/70s. SO COOL. Get yourself a pair and grab one for the ladies in your life who need a little downstairs flair.
free people star mesh bra // Yes, you could buy this bra for someone on your list. Or you could just get it for yourself because, hello, stars, SO CUTE.
bridgewater candle // If you've seen pictures of my apartment you know that most surfaces are covered in candles. My favorite candles to have burning are ones that look pretty too – and Bridgewater is my go-to (specifically the sweet grace collection). Buy one now, or stay tuned for a HUGE giveaway with them coming at the end of the month.
eriness necklace // Okay, I couldn't make a gift guide without including at least one big ticket item. This necklace is stunning, rose gold and diamond, and will surely make you the hero of all holidays if you give it.
//
So that's it! My first gift guide of the season. Leave a comment below and let me know if you think I should do more of these – or just tell me your favorite piece from the list!