For this edition of Monday Inspiration, I'm sharing a bath time playlist alongside some of my favorite bath products. If you've followed me on Instagram even for a short amount of time, odds are you've seen a #PLFBathtime photo. I love baths – always have and always will. I take baths in the morning, afternoon, or evening, and make a point of not just saving them for 'special occasions'. It's a space for me to unwind and relax, and it's a great opportunity for a little self care in a simple way. I've developed a real love of baths and the products that revolve around them, so scroll down for some of my favorites.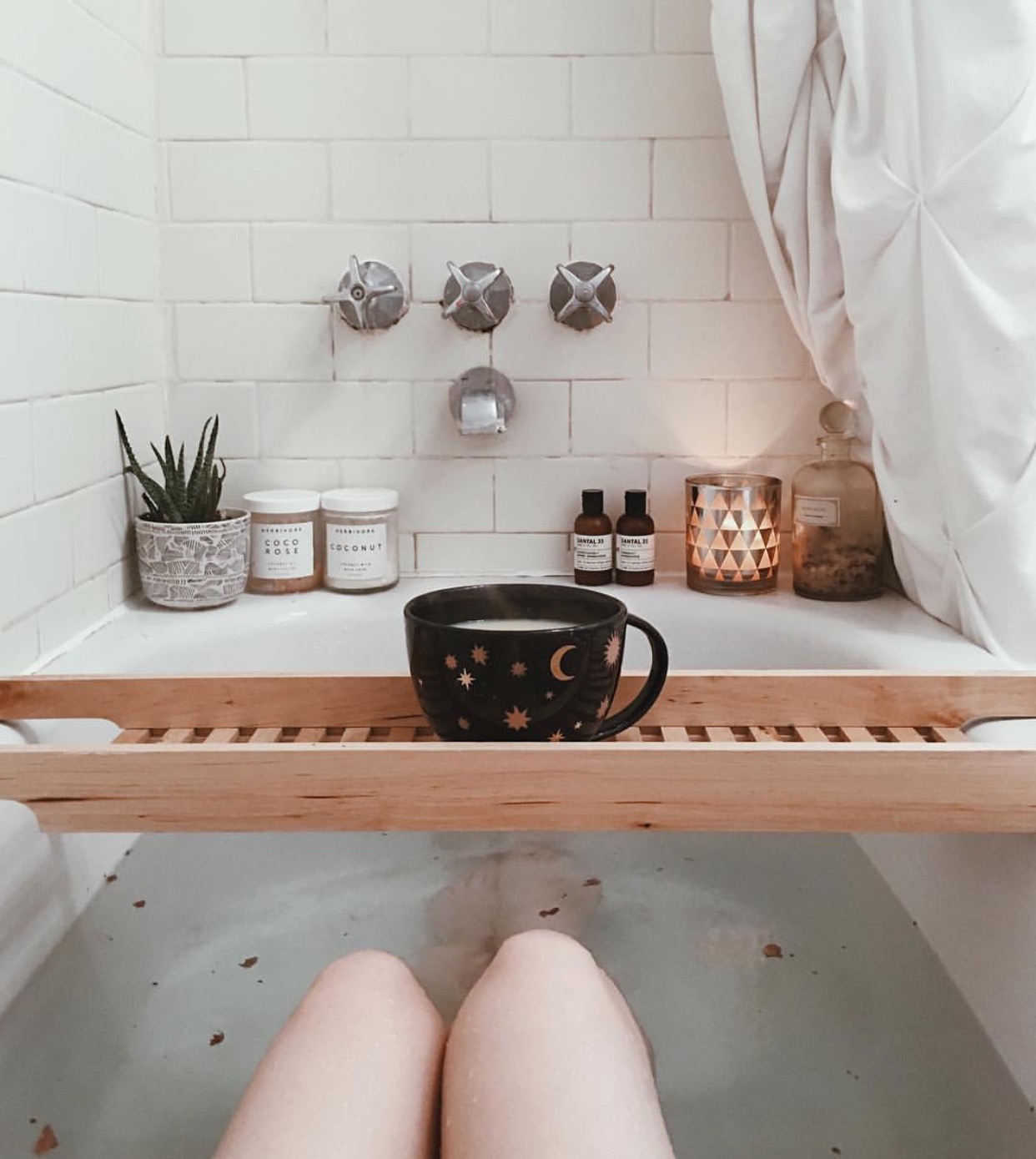 Setting the Mood: One of the keys for a relaxing bath is setting up your space. I have this simple wooden bath tray that serves as a surface for my phone, cup of tea, even a cocktail if it's the evening. I usually will have a podcast or music playing out of my phone, or if it's early in the morning and my husband is still asleep, I rely on my wireless headphones (I've been using the iam+ buttons in rose gold for months).
I'm currently on the hunt for a new bath tray, preferably something in brass or copper, maybe with a little mirror. I put a lot of face masks on while I'm soaking, so this would be key. Plus I've started finding ones with little cupholders and phone stands, so you can realllyyyyy overspend some time in the tub.
Soaks and Salts: Now that you have your mood set, it's time to start filling the tub. There are a lot of options when it comes to salts and soaks, bath bombs and oils. And honestly? My favorite thing is combining several of them. My go to bath always has salts in it, which should be put in at the beginning with the hot water so that they can fully dissolve before you step in. My favorite salts are by Mullein & Sparrow, specifically the Rose soak, but honestly all of their salts are great.
After adding some salt to my running bath water, I will either add some bubbles (Mr. Bubble is cheap and delivers on the suds) or a bath bomb from LUSH if I'm feeling like splurging. If your skin is feeling dry, add a little oil to the water like this floral one from Oak & Ashland. The last thing I do before getting in, is spritz some rosewater on the surface of the water. It just makes the whole thing feel like a ritual and the smell is so relaxing.
Scrubs and Masks: While you're in the tub is a great time to do any serious scrubbing. I'm a big fan of anything by French Girl Organics, especially their 'Sea Polish'. It smells amazing and is perfect for removing any dead skin you have built up. Another fav, if only for the name (jk, it also works) is Anese's 'That Booty Tho'. It's a booty and thigh scrub, so ya know, if you want a smooth booty for bikini season, it's a must have. And they also make a great oil for spraying on when you get out of the tub called 'Fuck Bad Vibes' that smells perfectly almondy.
While you're in the tub is also a great time for a face mask. The steam from the tub will open up your pores, and since you're already in there getting your body all glowy, you may as well do the same for your face. My favorite mask for in the tub is this one from Farmacy. It's moisturizing and less of a pain to deal with than a sheet mask while soaking, plus I leave it on for about 25 minutes so it lasts longer than a clay mask which can start to crack at 10 minutes.
Little Extras: Last but certainly not least is another part of setting the tone. Turn off those overhead lights, and start lighting a few of your favorite candles. I have three (pictured below) that I love for bath time, depending upon what time of day it is. I usually like my Diptyque rose candle for mornings alongside a cup of peppermint tea, Craft+Foster's Leather & Teak if it's a night time soak with a cocktail, and I find the Le Labo Palo Santo candle is good for just about any other time.