Barcelona has been at the top of my list for travel destinations for years. I don't know why, but something about Spain has always called to me, and this Summer, I decided to answer the call. Eric and I hopped a plane to Barcelona (by way of Iceland) and spent a few day exploring the city.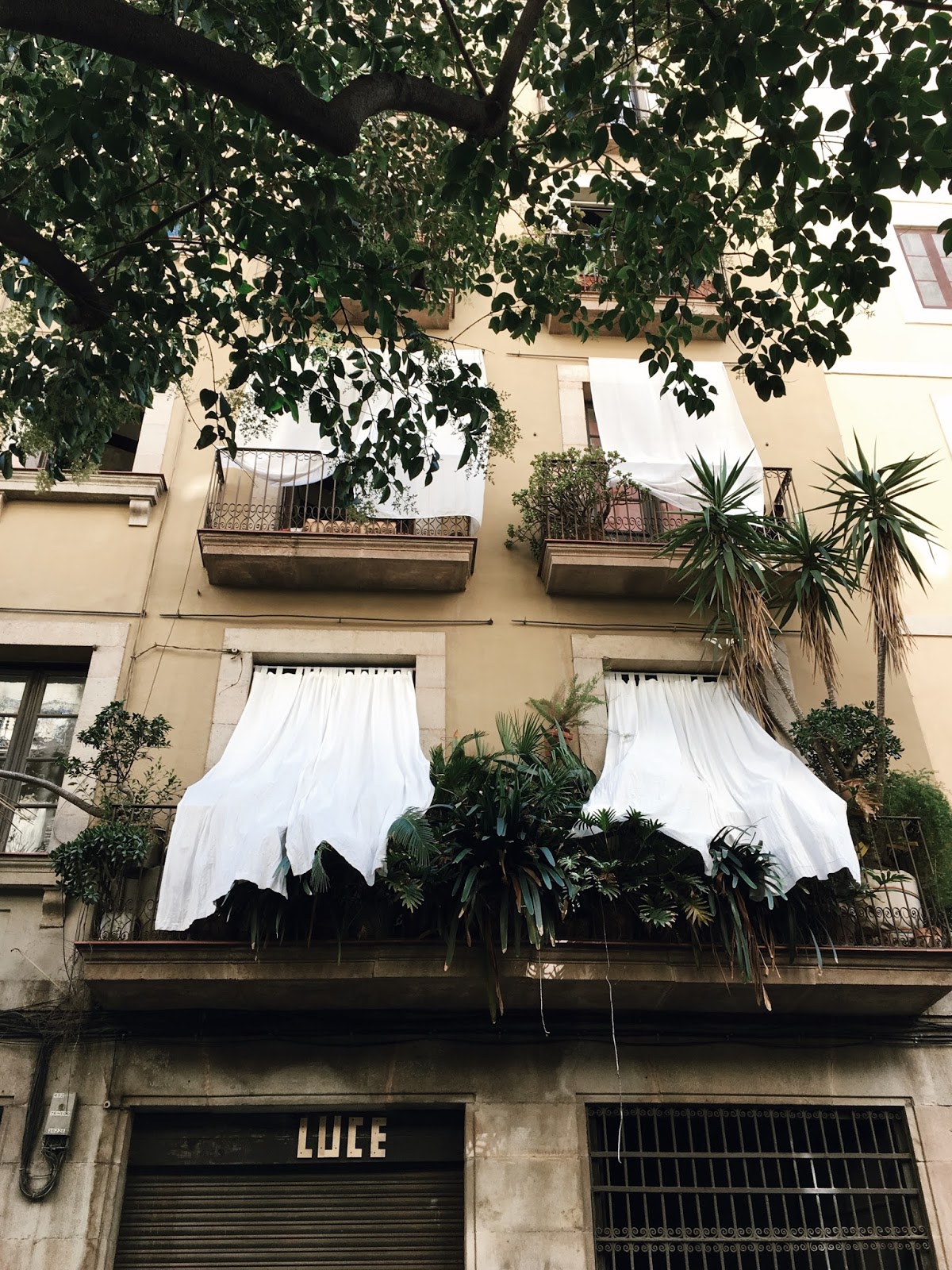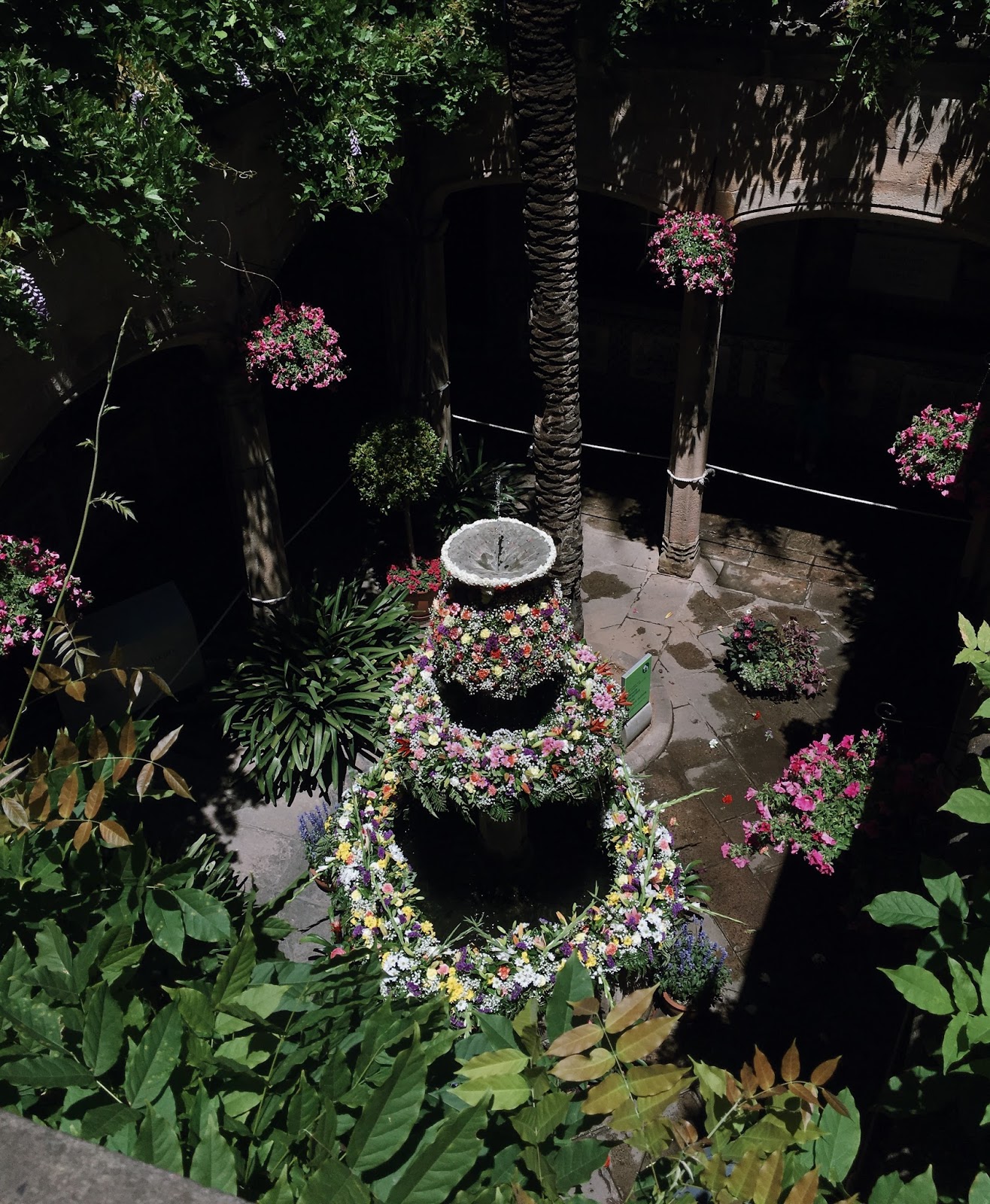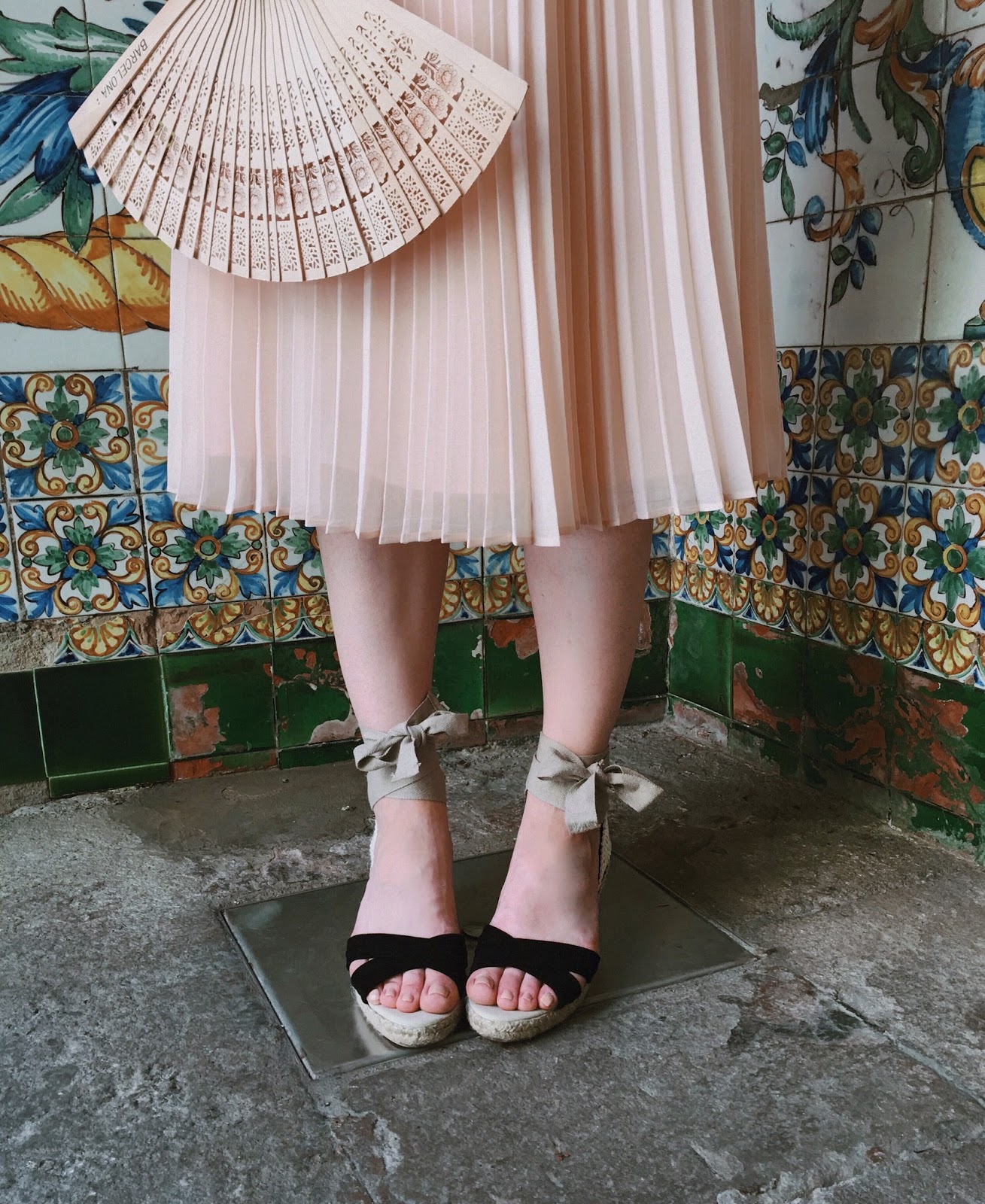 For our first day in the city, we explored the Gothic Quarter. It's one of the oldest parts of the city, and is home to some of the best sights Barcelona has to offer. Churches, museums, large marketplaces – all of it navigated by winding alleys and streets. I was immediately in love with the plant covered balconies and small tapas bars around every corner.
For the first day, I chose to style Espadrilles – Spain's very own shoe trend that has been a classic for decades. This pair is from Sezane, and I paired it with a flowy Sezane skirt and purse, Reformation tank, and this necklace that I received upon checking in at our hotel from Irish jewelry maker, Chupi. Part of the reason why we visited Barcelona in June was to celebrate my birthday, so the symbol on the necklace is my zodiac sign, Gemini. I've been a fan of Chupi for a while so was over-the-moon to receive one of their designs for my birthday.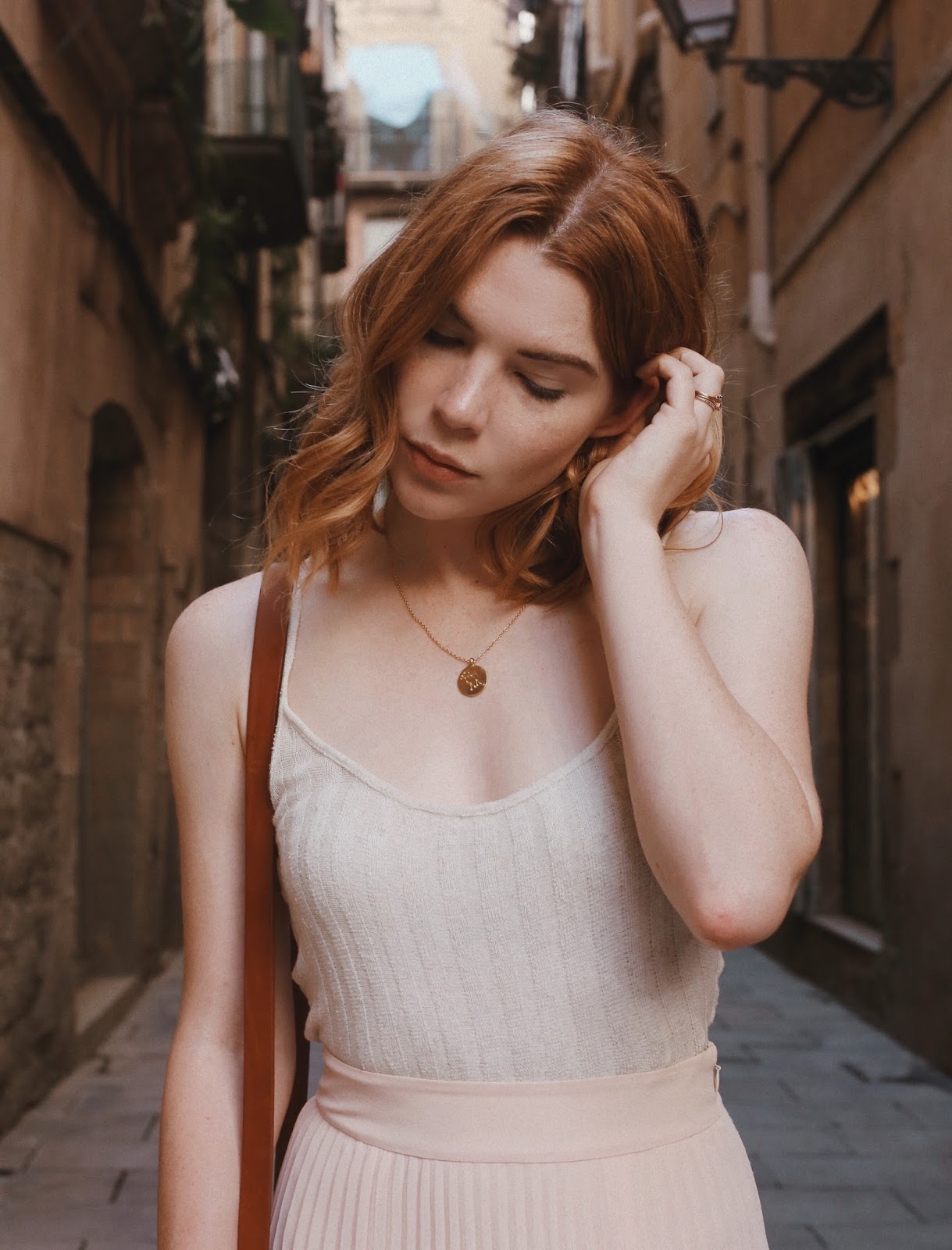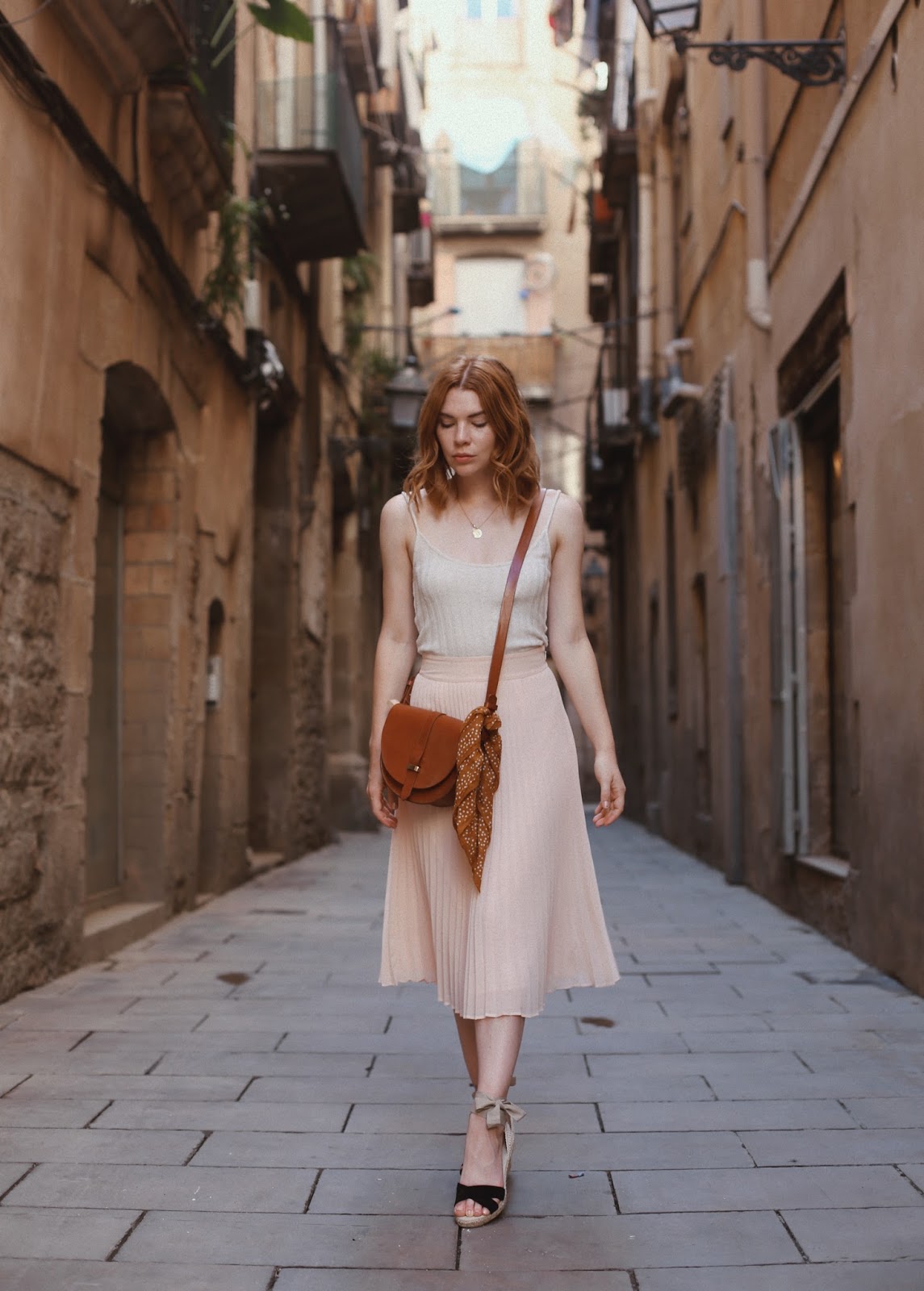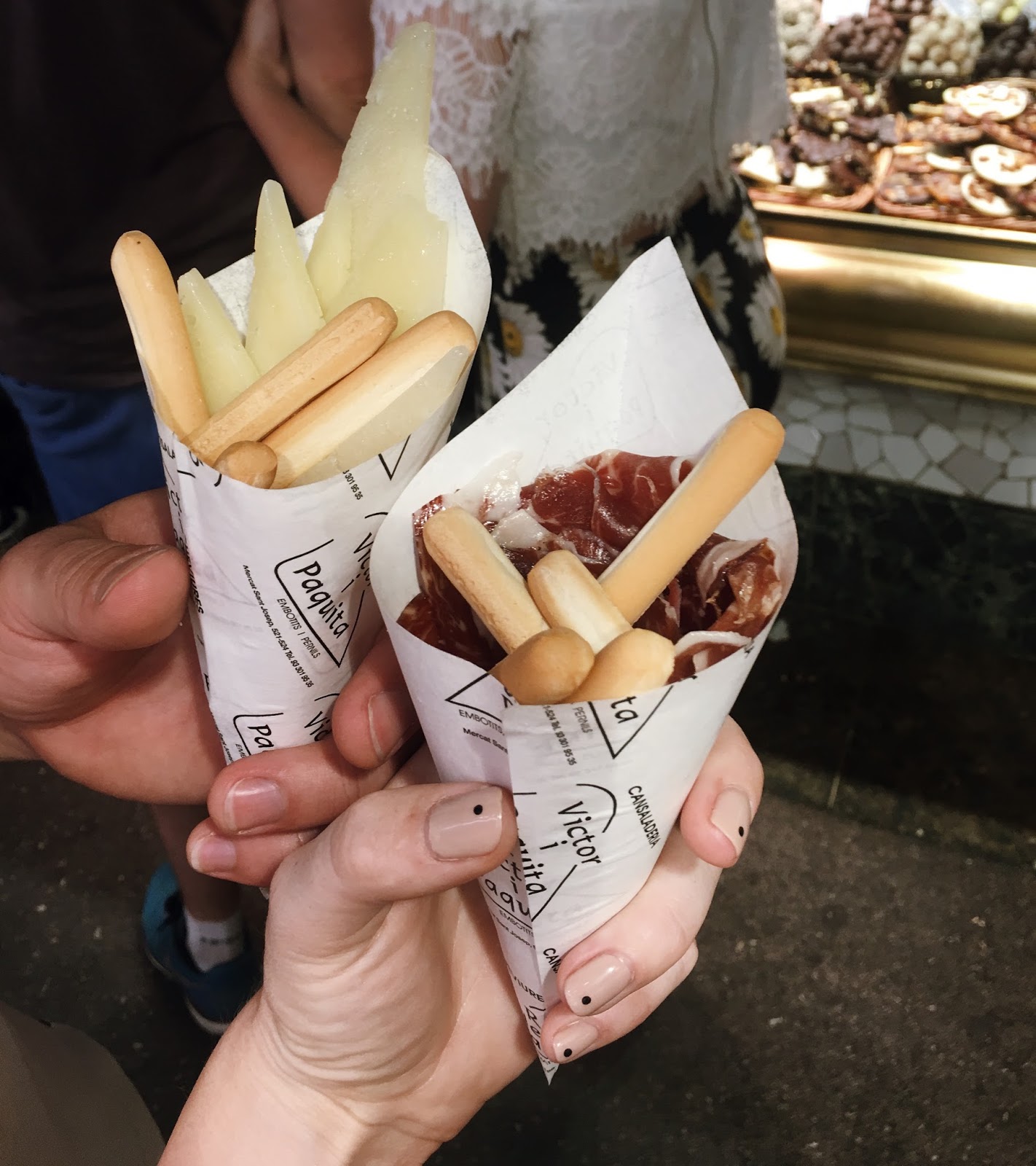 One of the best things about Spain, and Barcelona in particular, is the food. Jamón ibérico hangs from the ceilings in almost every bar, Cava is an expected drink to order, and the cheese is heavenly. You don't have to go to fine dining restaurants to get something incredible either. Most little tapas restaurants are unassuming and completely delicious, so Eric and I stopped frequently for small bites and drinks and to avoid the heat. We fell in love with tomato bread, a staple dish that is simple but surprisingly delicious.
On our first day we visited the famous Mercado de La Boqueria – a gigantic market filled with hundred of stalls of different foods. Sweets, produce, meats, fish, spices, bars – there was a little bit of everything around every corner. We grabbed a small paper cone of Jamón ibérico and some cheese and continued our walk around the Gothic Quarter, stopping several more times for a glass of cava here or a gelato there. It's a busy city, so we found it easy to just keep moving and bouncing around.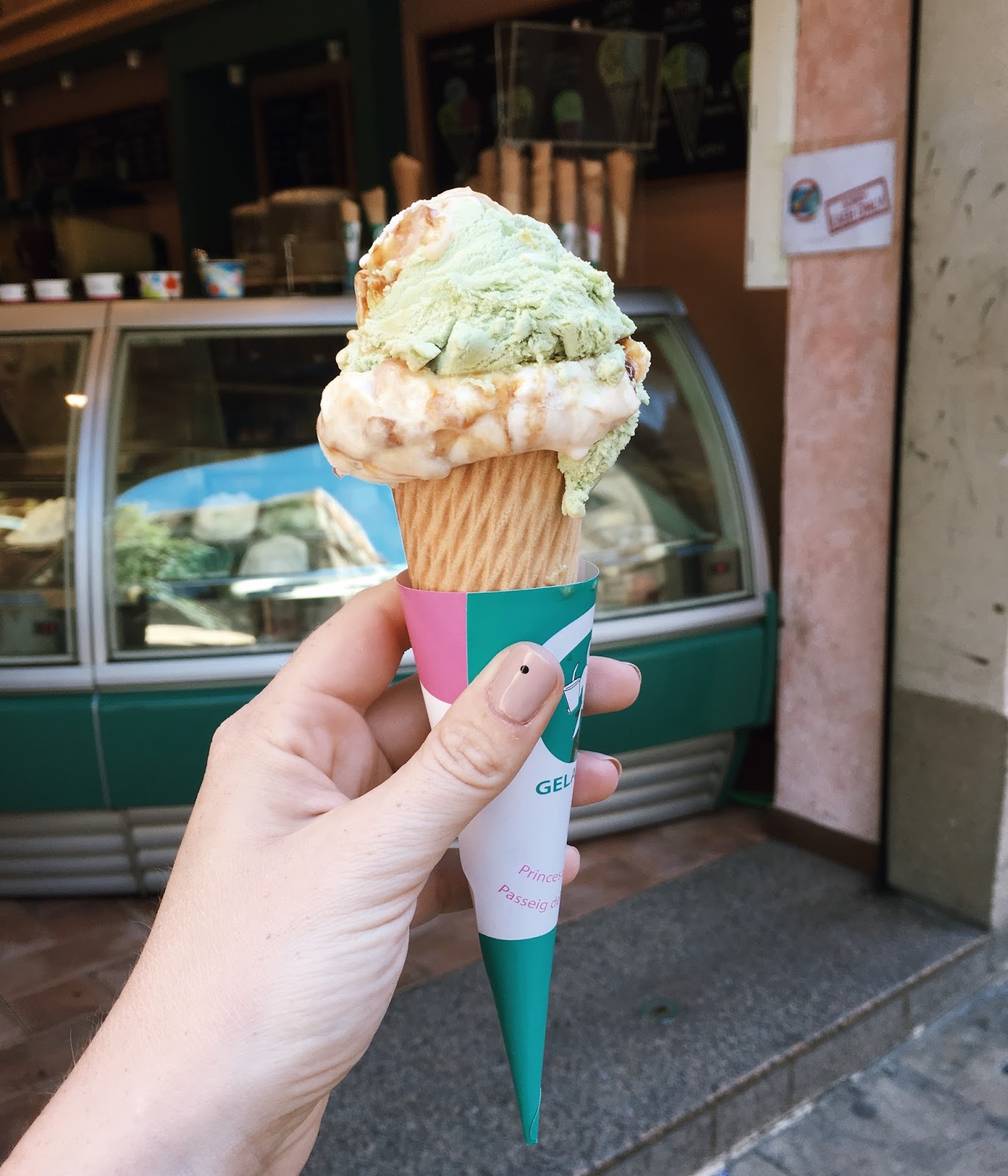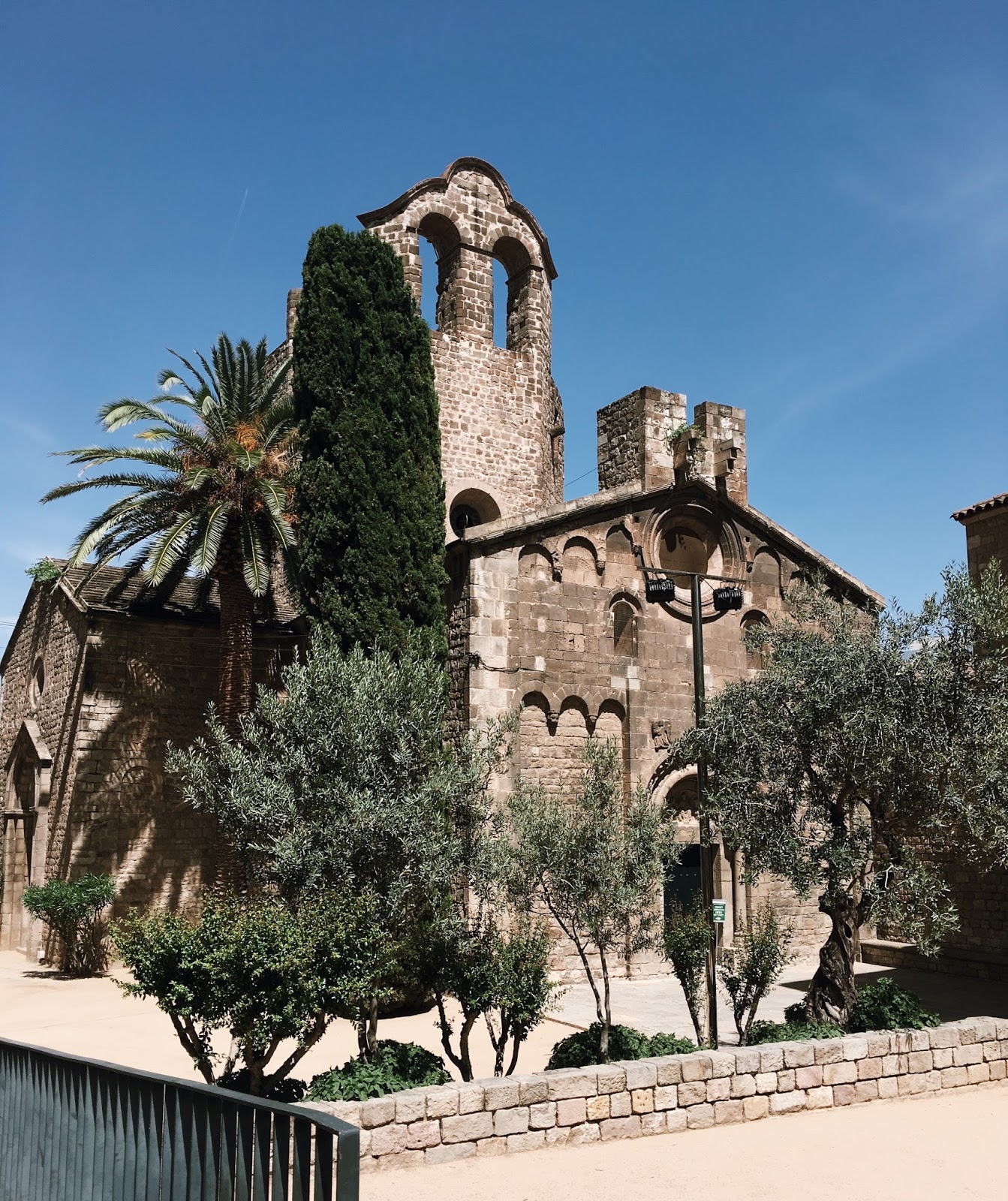 After our first long day of walking (we walked about 11 miles the first day) we headed back to our hotel for some downtime and to change for dinner. I chose Casa Bonay for our digs and cannot recommend it enough. It's hip and modern, but in an old building with original tall ceilings and gorgeous tile. We had our own little enclosed balcony area to wake up to every morning, and the roof top restaurant was perfection.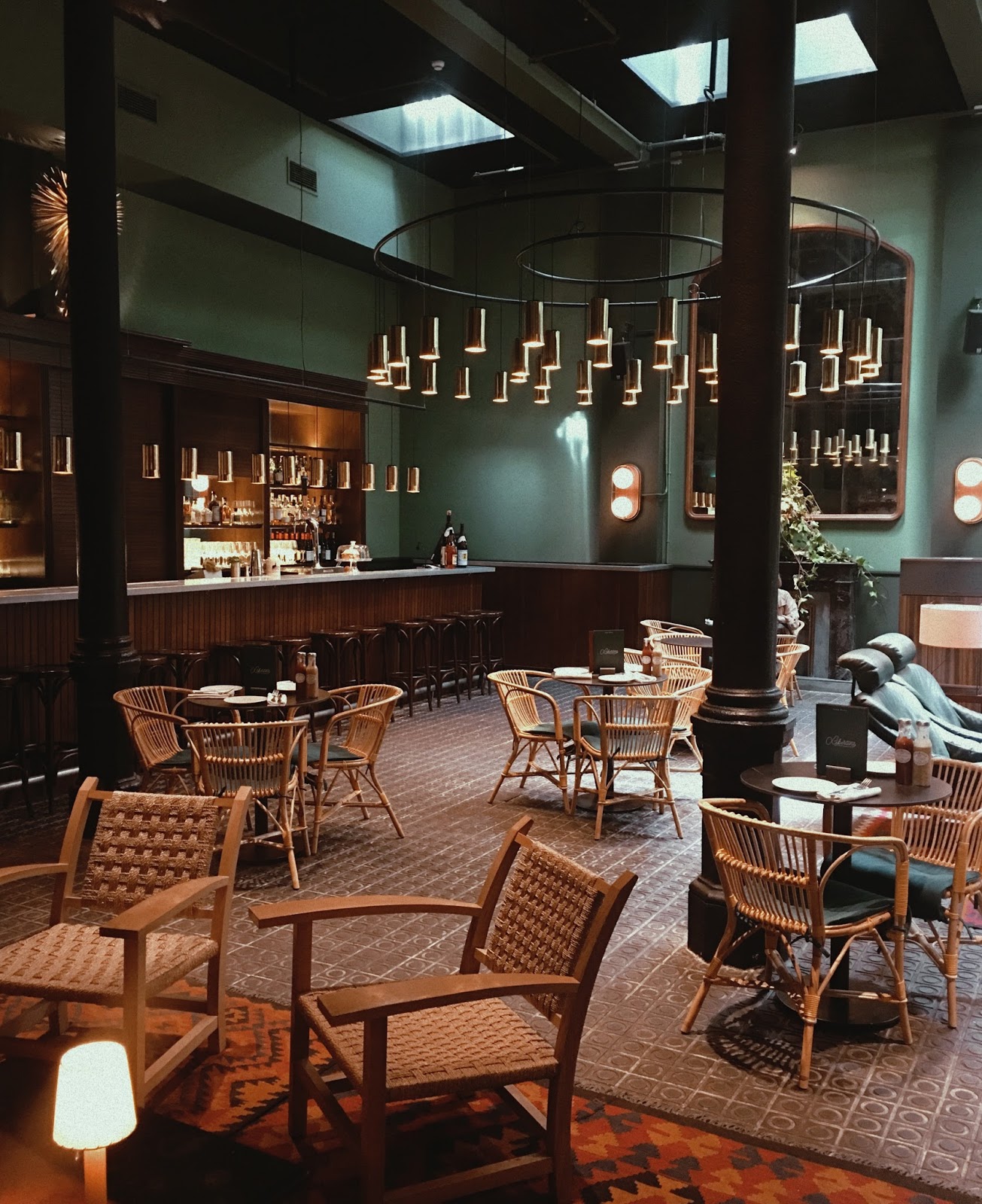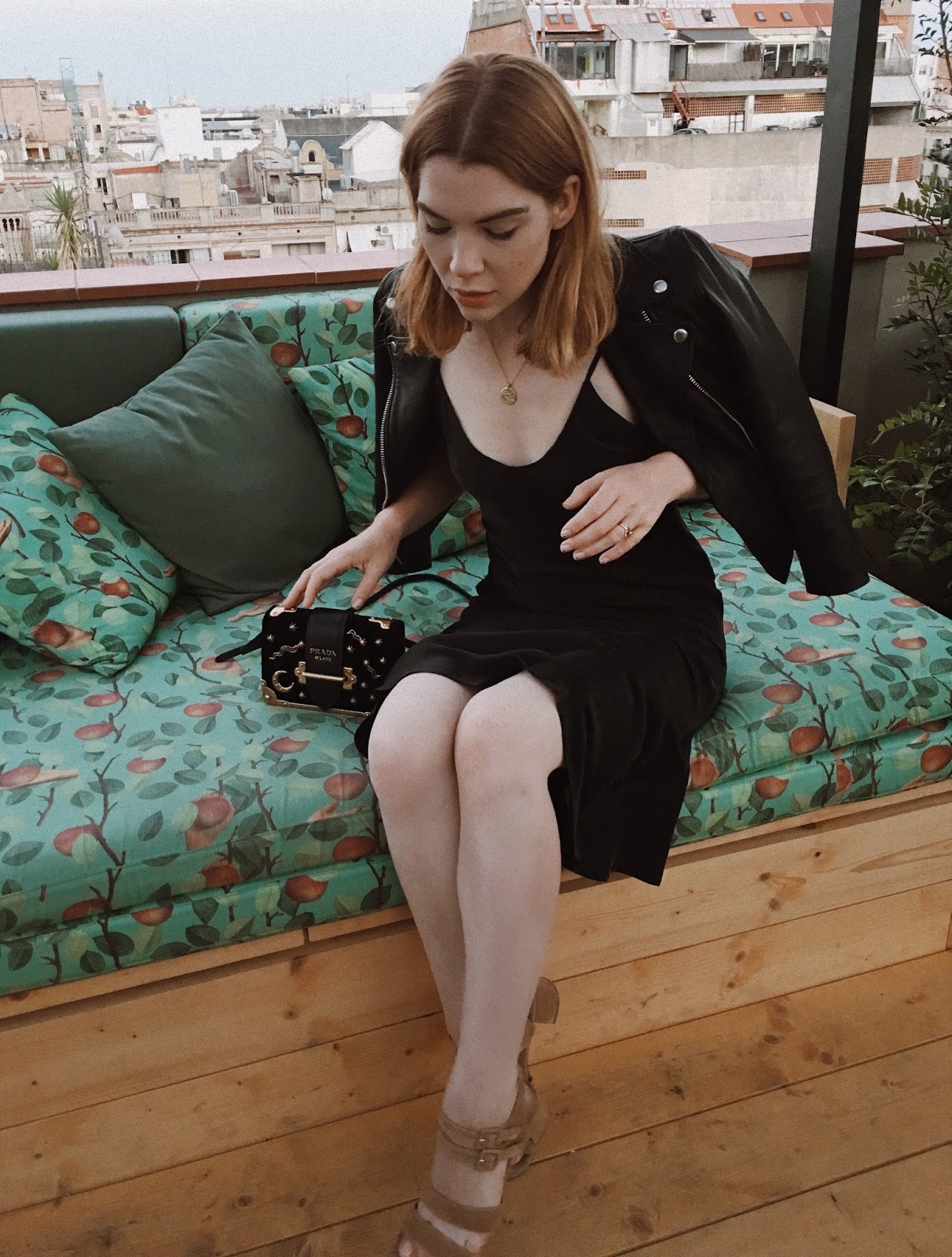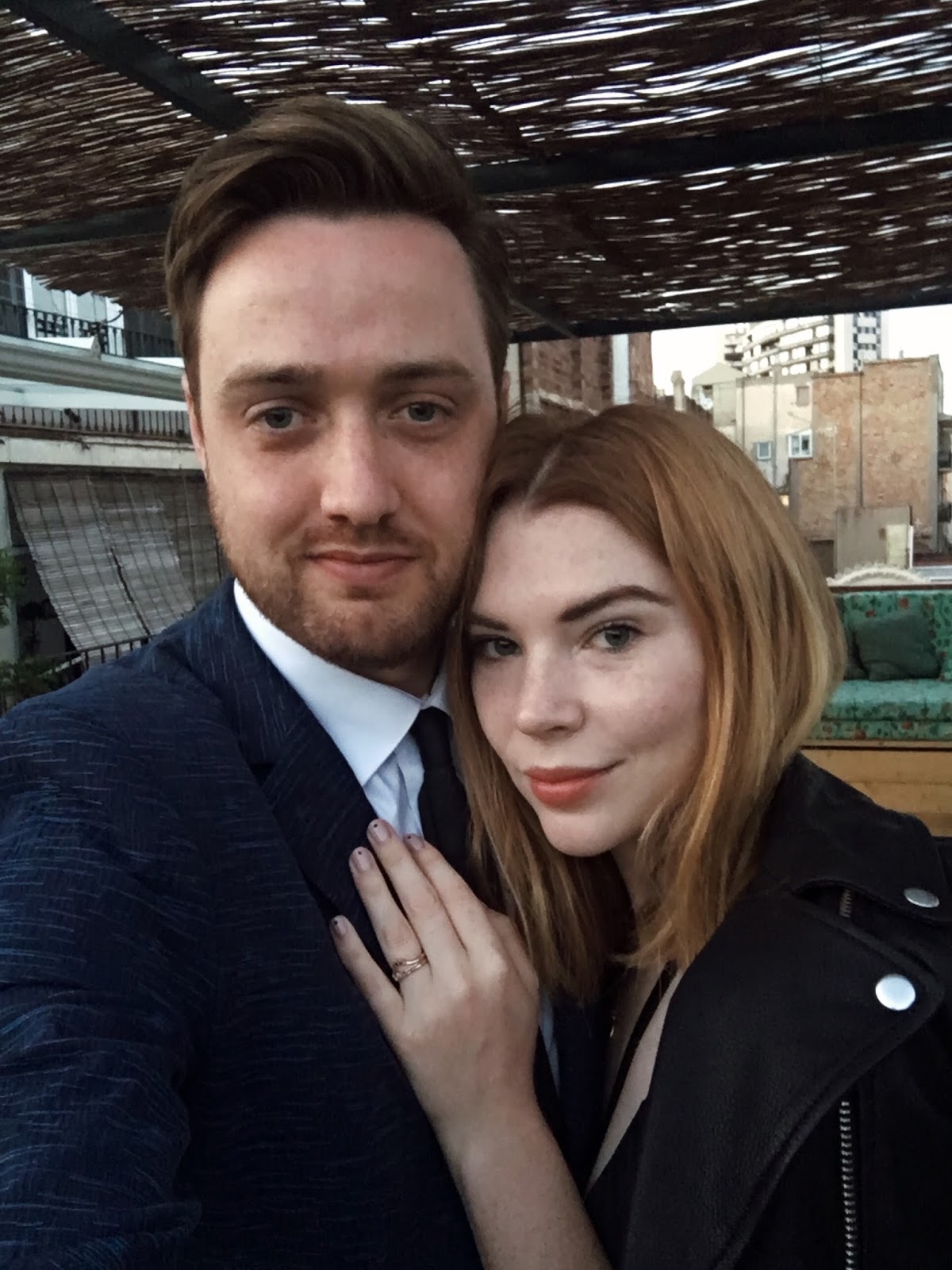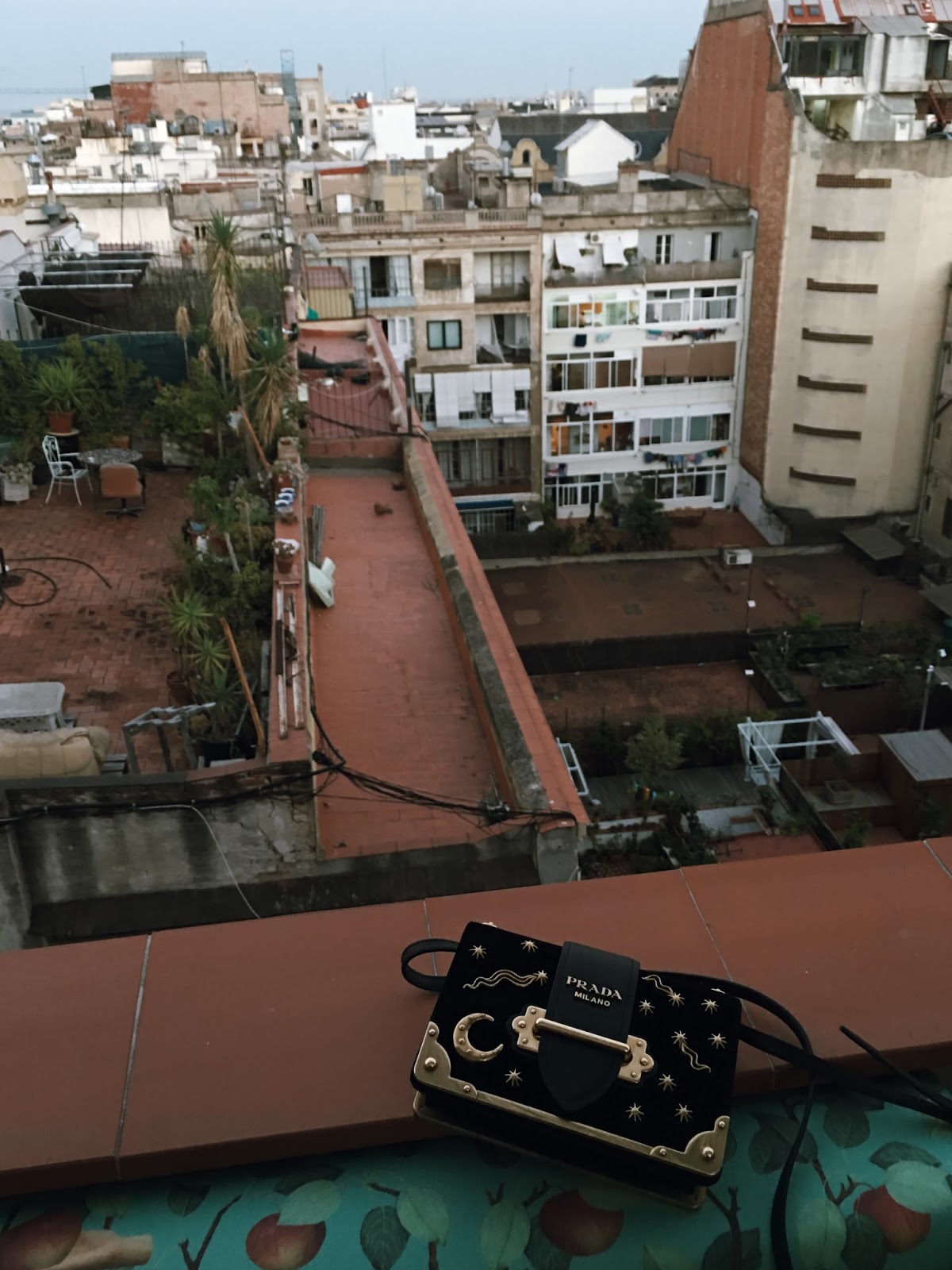 For our first night, I wore a new dress I picked up from Realisation Par. I've been a fan of the label for a while, and my collection of their pieces is ever growing. I paired it with this new Madewell cropped leather jacket that I picked up (and have worn like 15 times since) and my special occasion Prada purse. We ordered drinks to the roof top of Casa Bonay and drank in the late night sunset.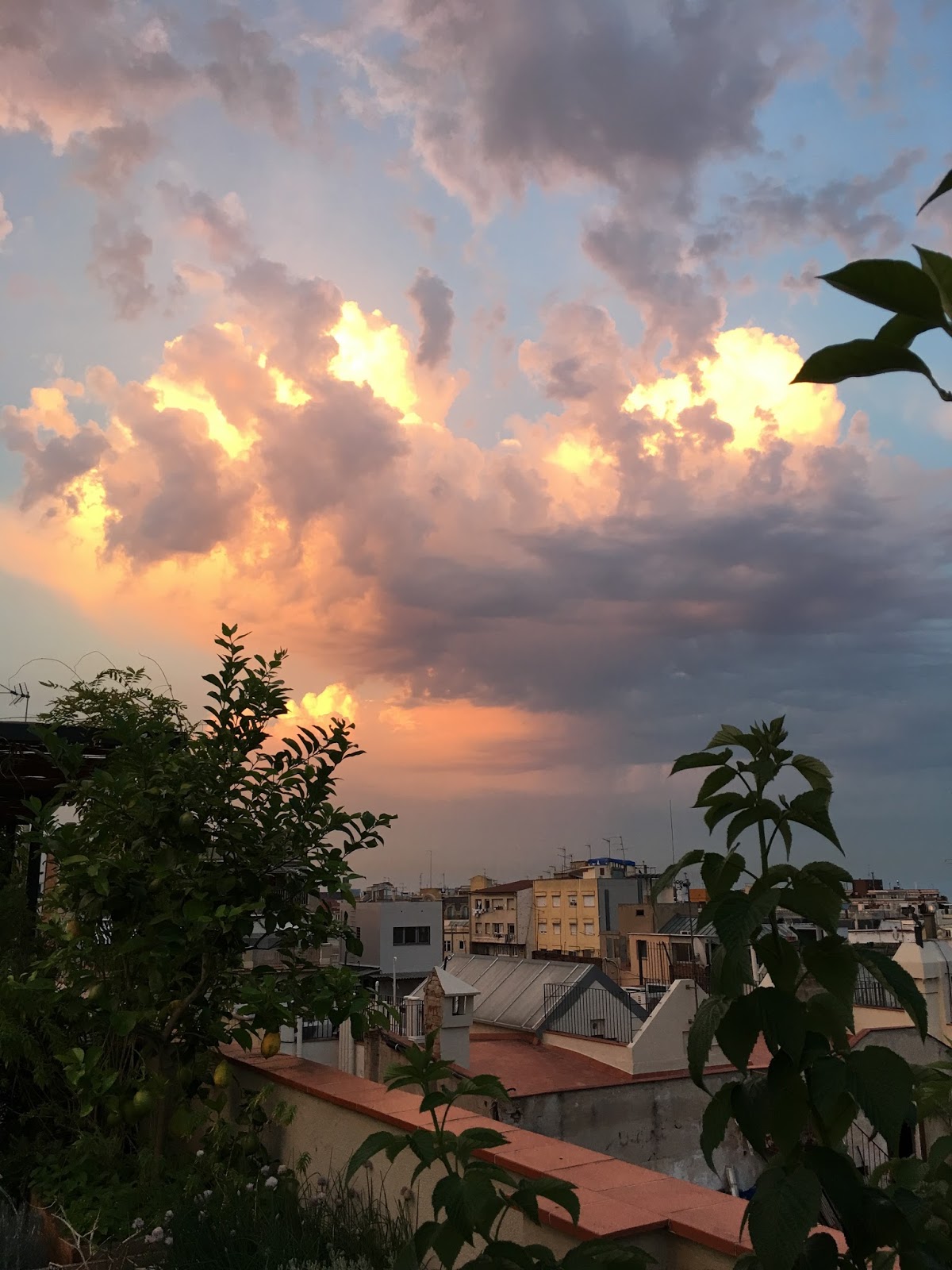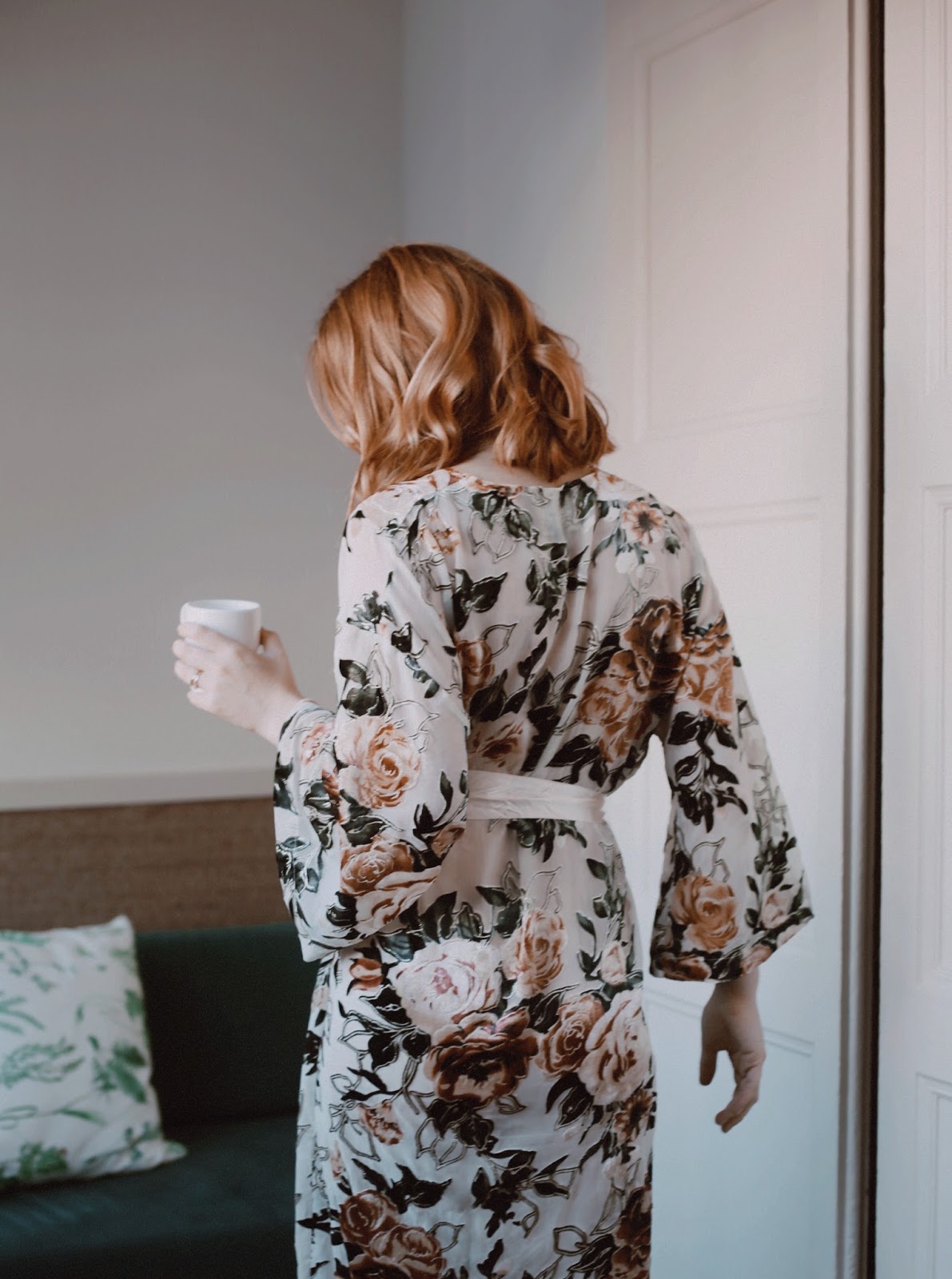 The next day we slept in a little bit. Okay, a lot bit – but in a city where dinner starts at 10pm, you're expected to feel sleepy if you try to rise when the sun does. I wore this BHLDN robe pretty much any time that we were in our hotel room, and when I answered the door for room service, I got a few compliments from staff too, so I'm saying it's a good investment piece.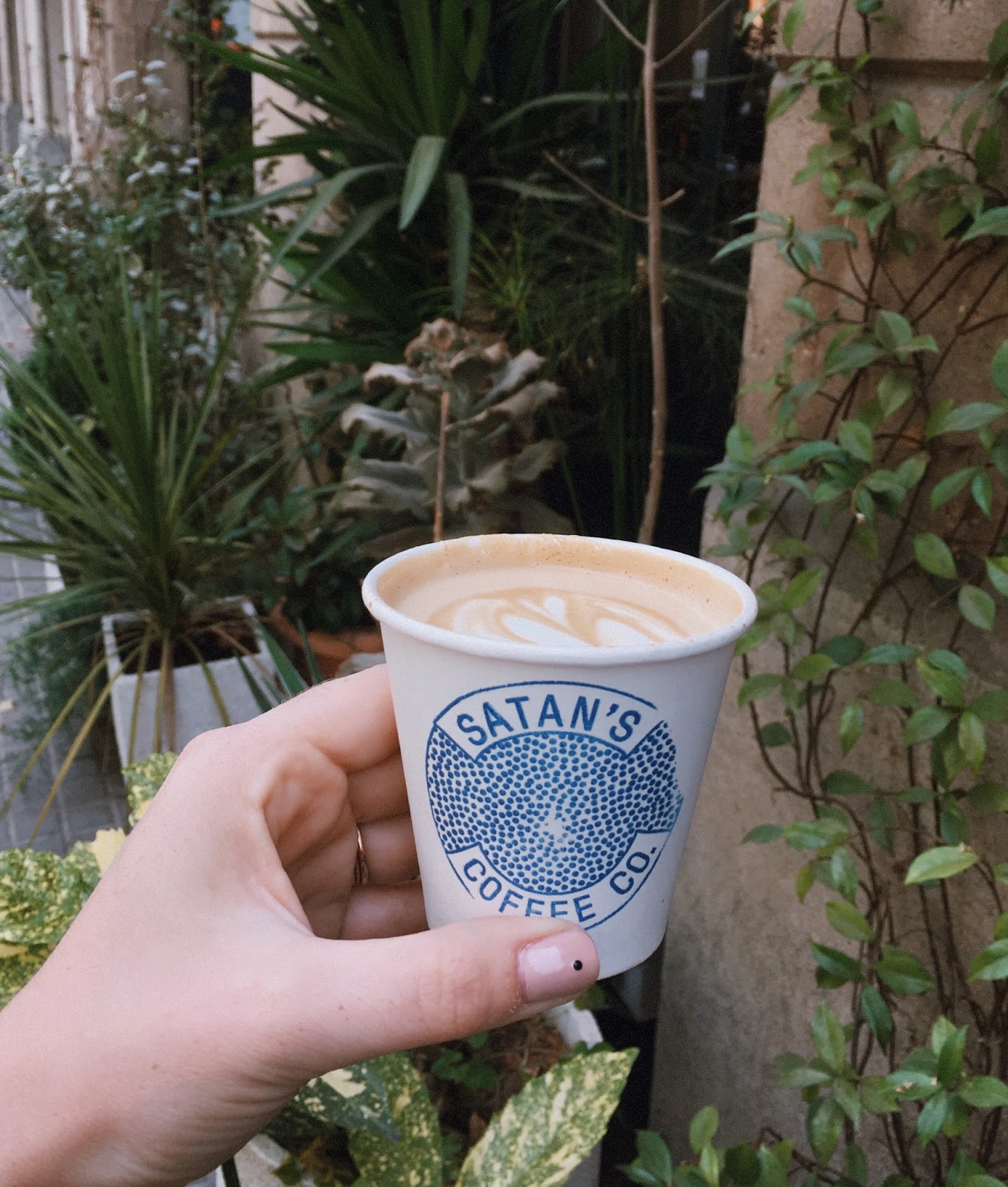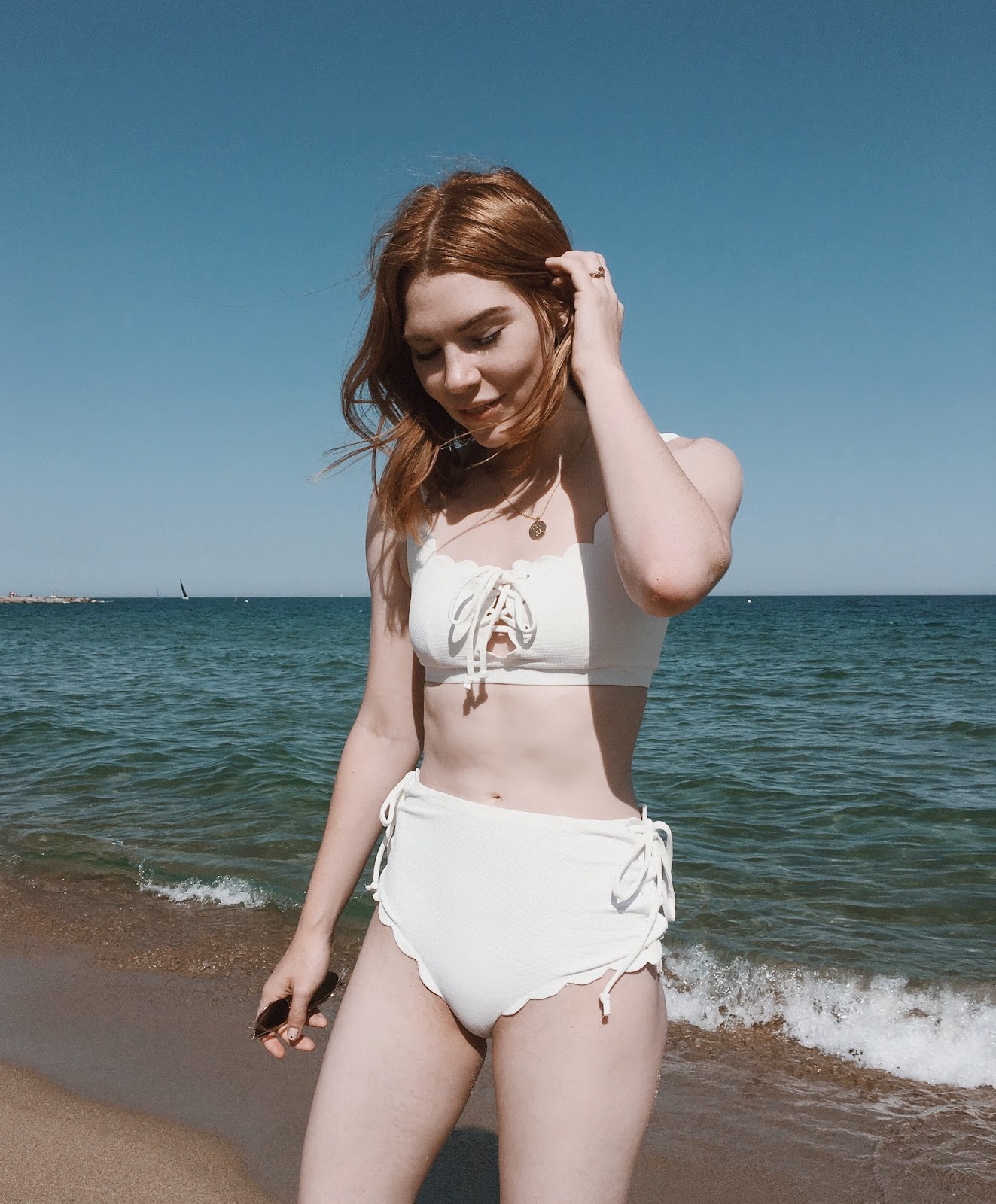 Our second day in Barcelona was my birthday, so we celebrated at the beach, lounging in front of the Balearic sea. When we got hungry we stopped into Xiringuito Escribà, a place right along the sand with the most heavenly paella and rosé. It was exactly how I wanted to start off my birthday.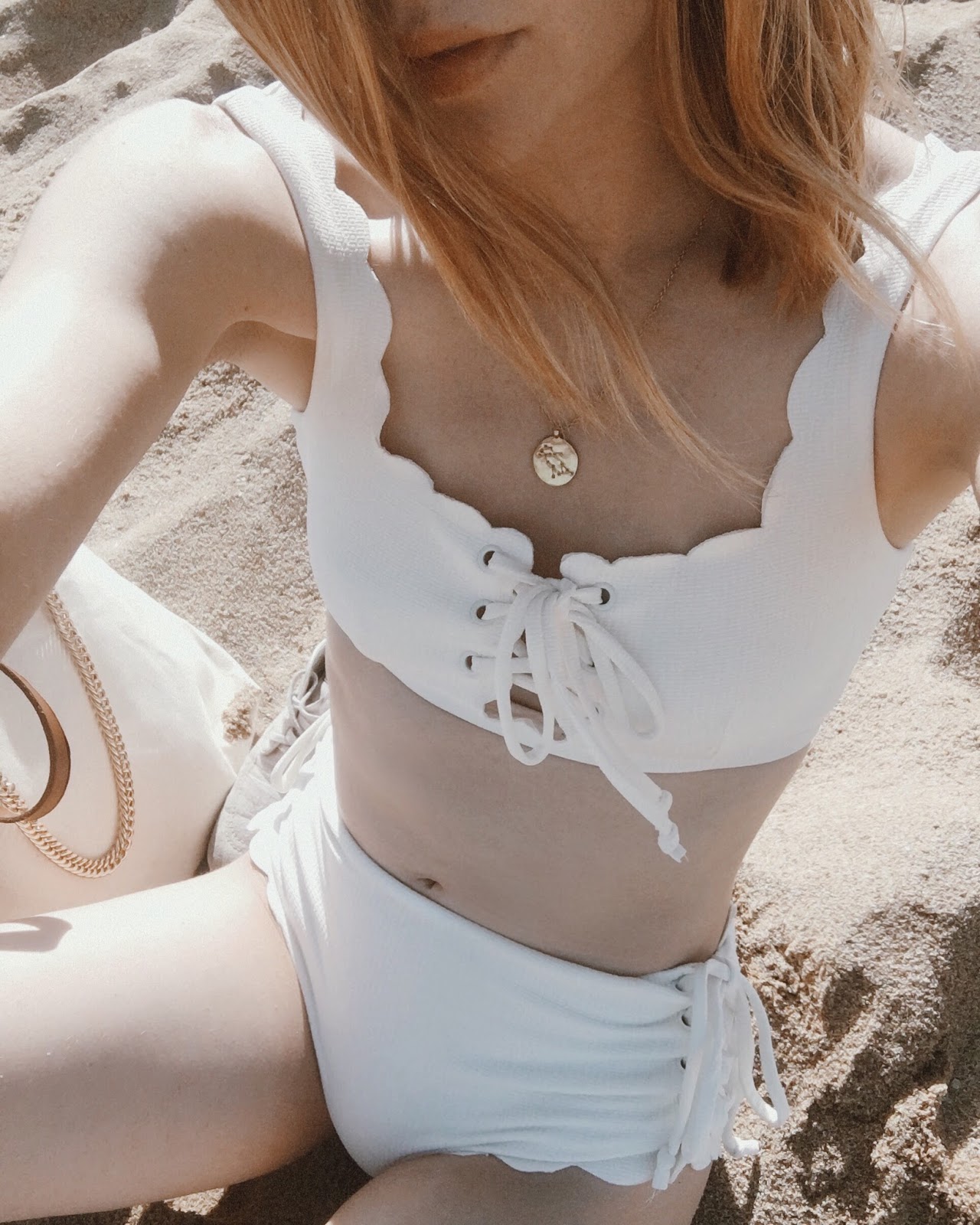 marysia swim suit / chupi necklace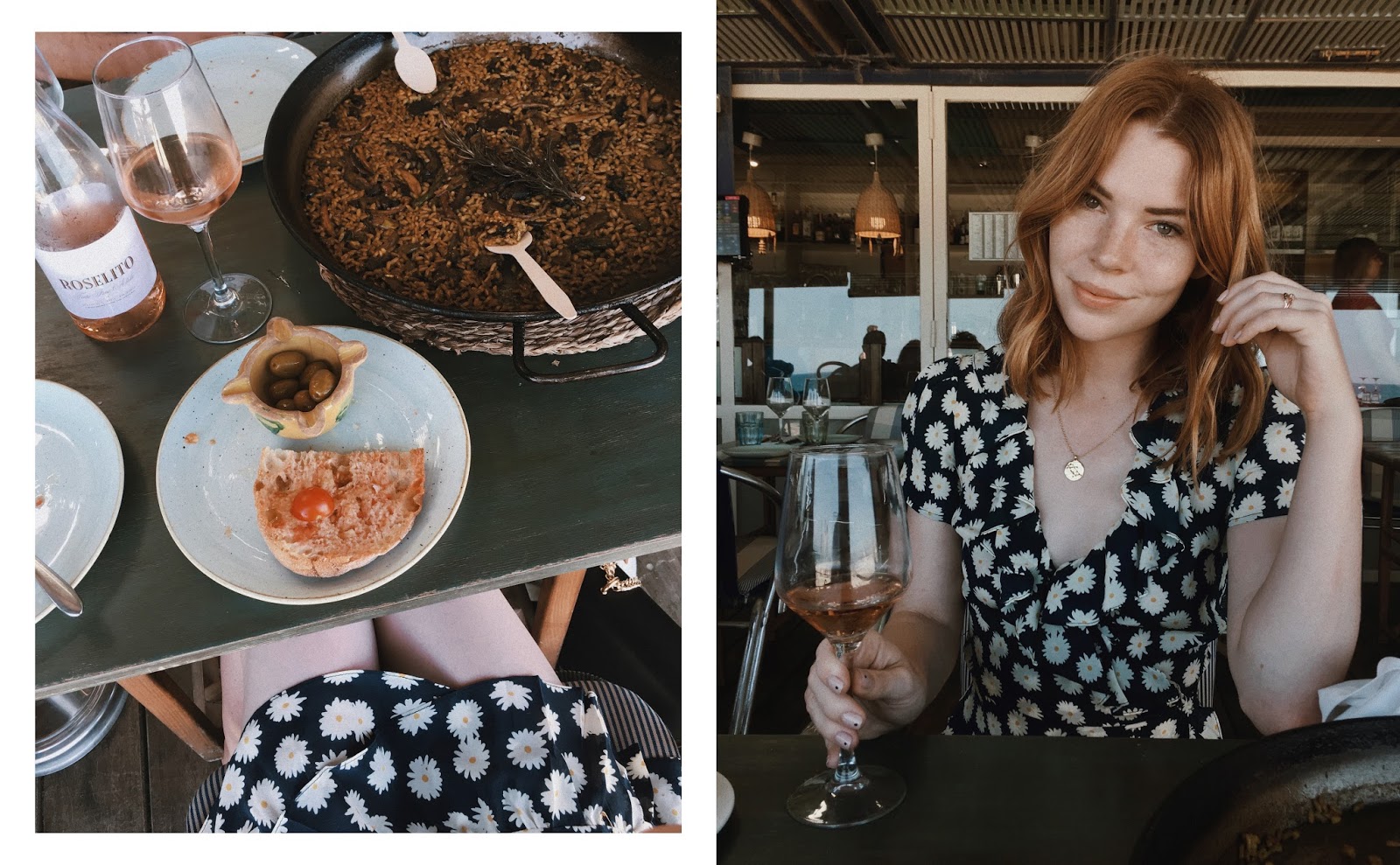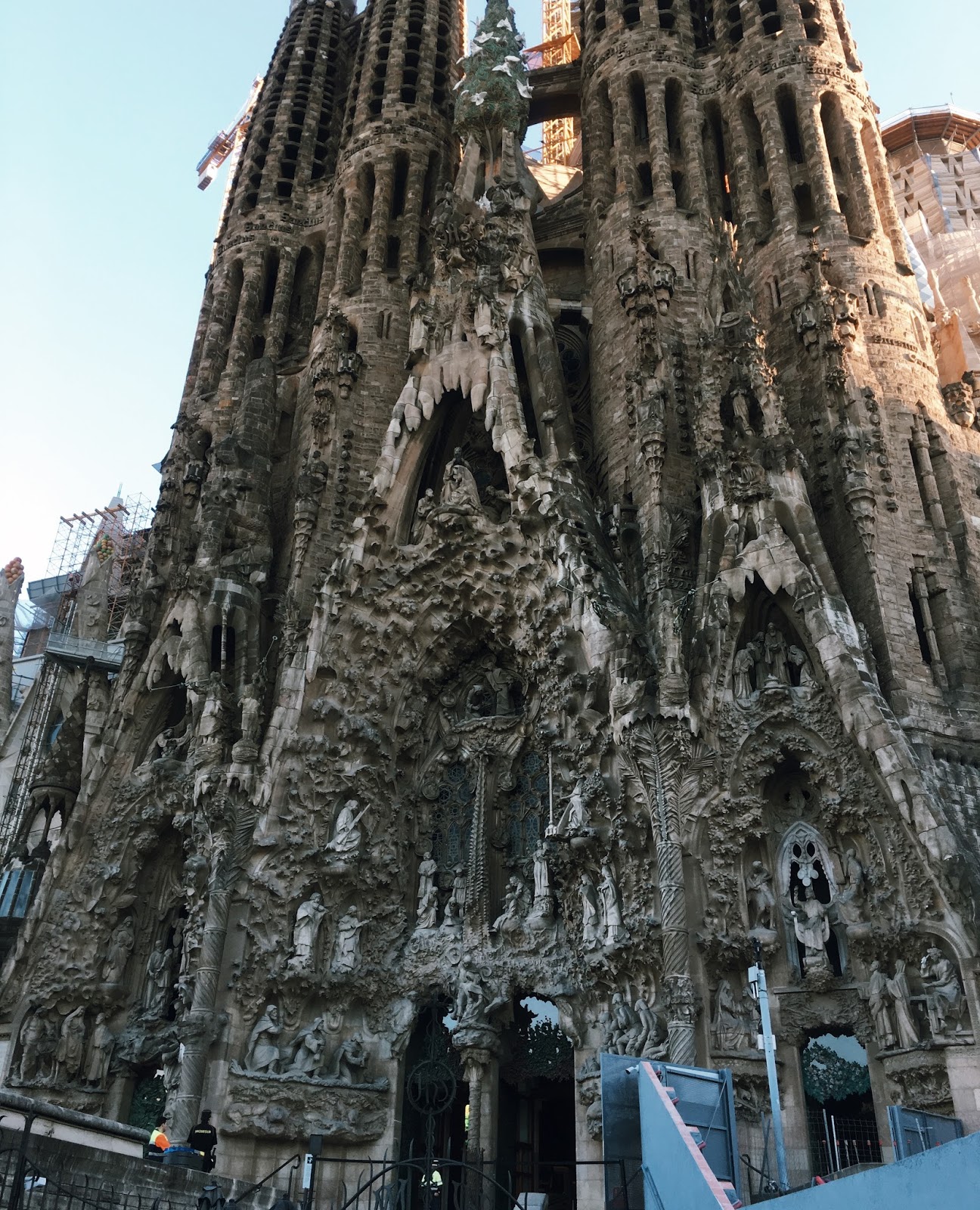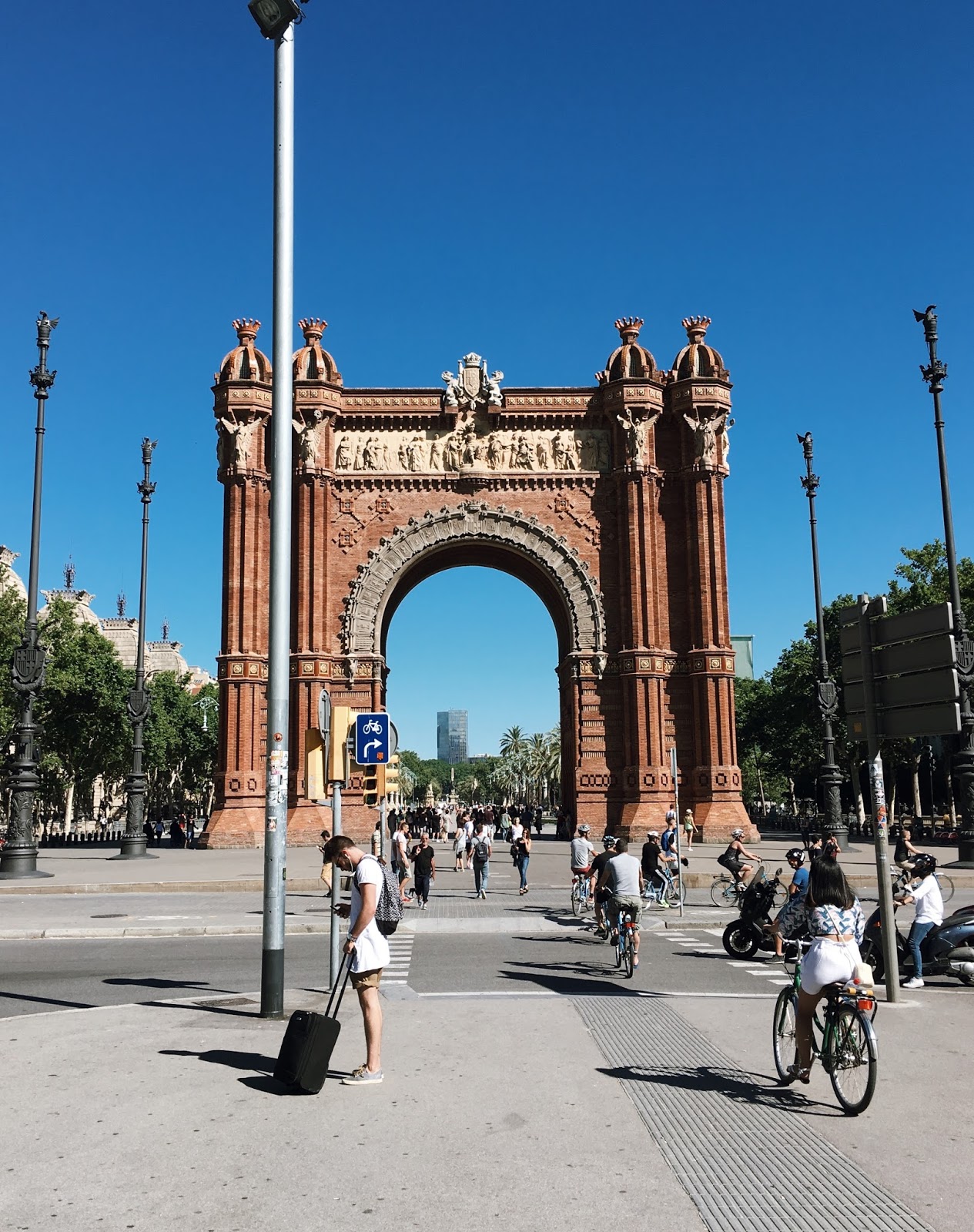 After lunch, we wandered around and saw some more sights that were suggested to us. Old churches, the Arc de Trimof, the incredibly famous La Sagrada Familia, built by Gaudi and under constant construction. If you only get to see one thing in Barcelona, make it La Sagrada Familia. I was in awe.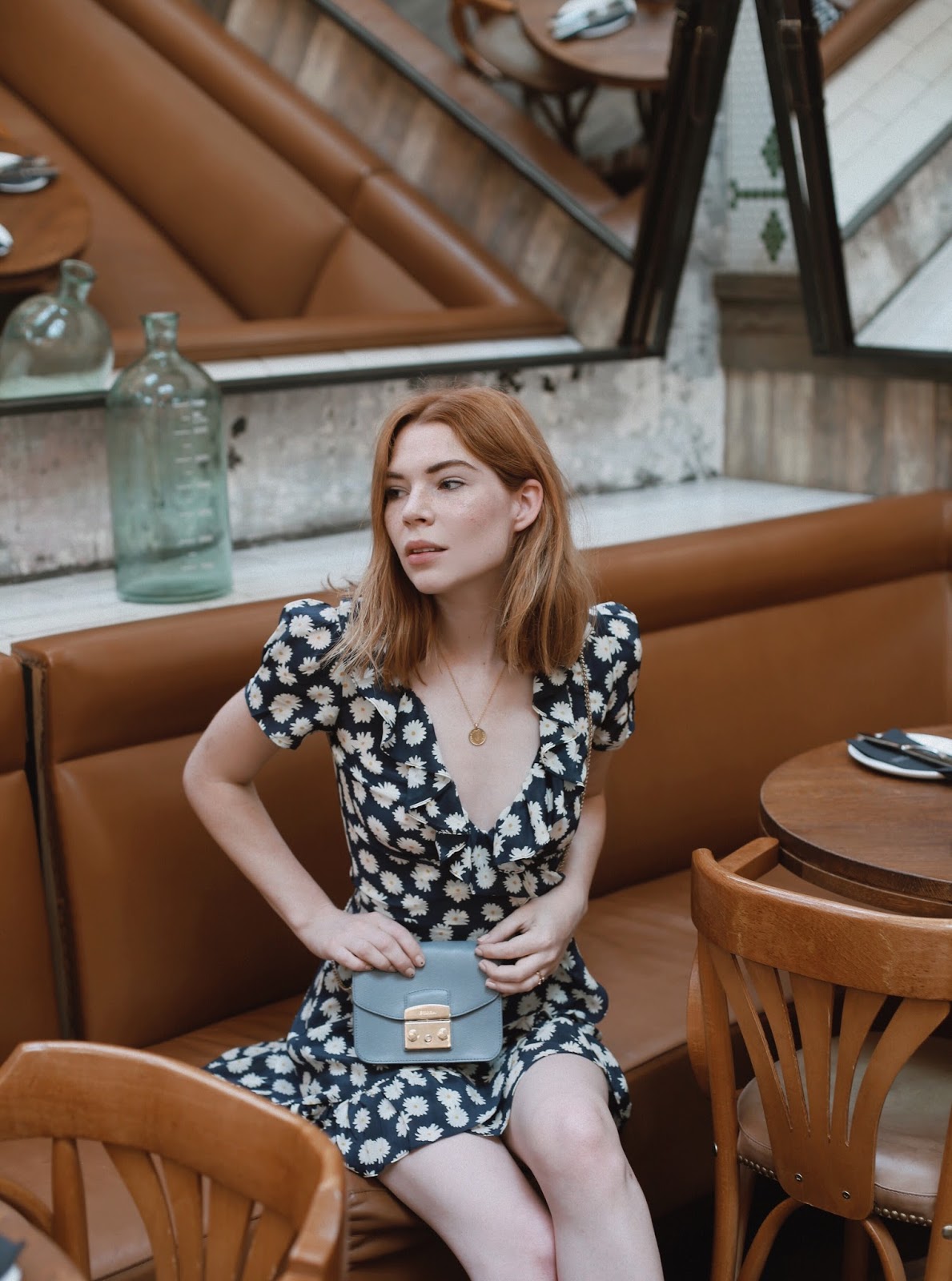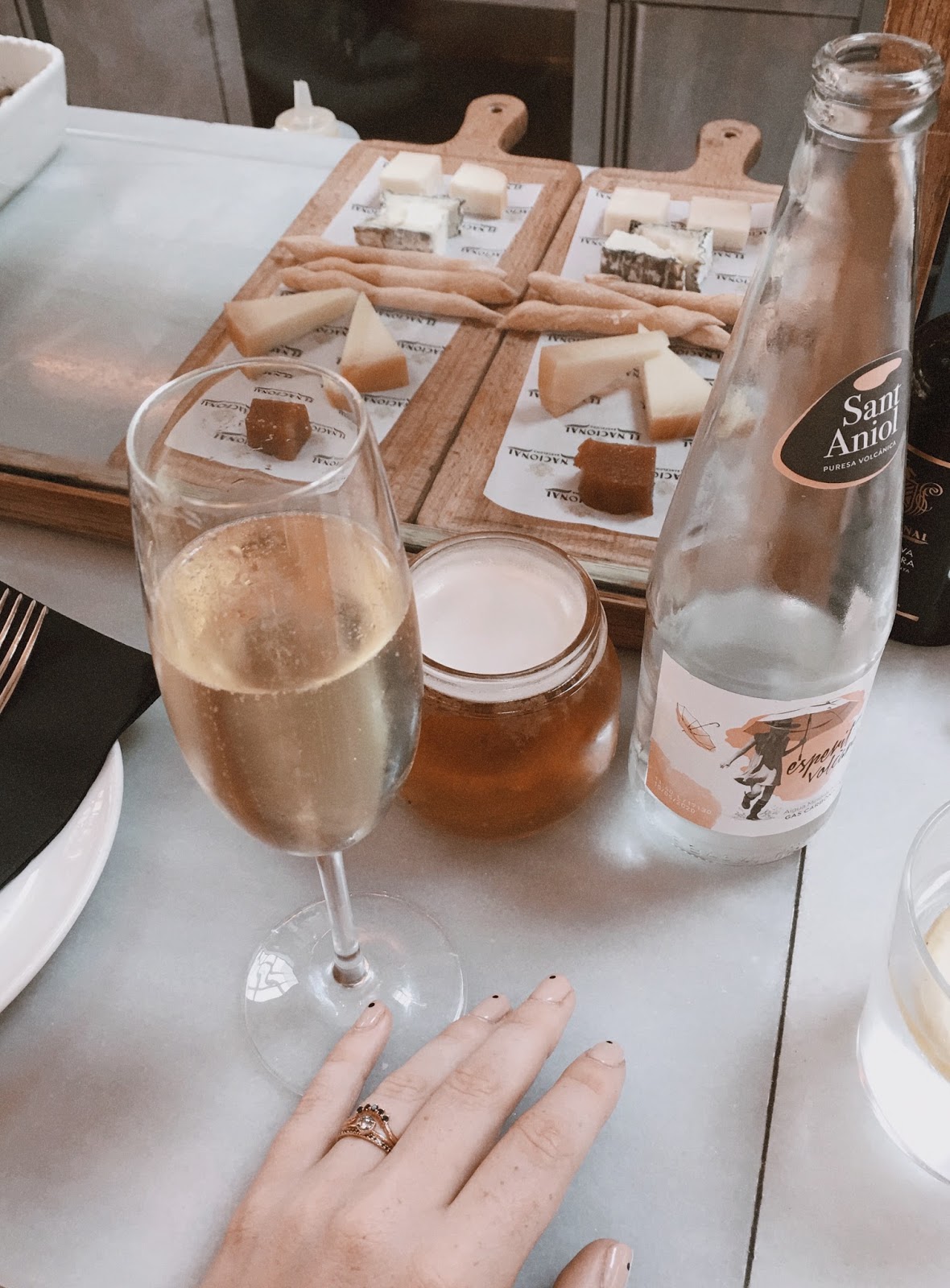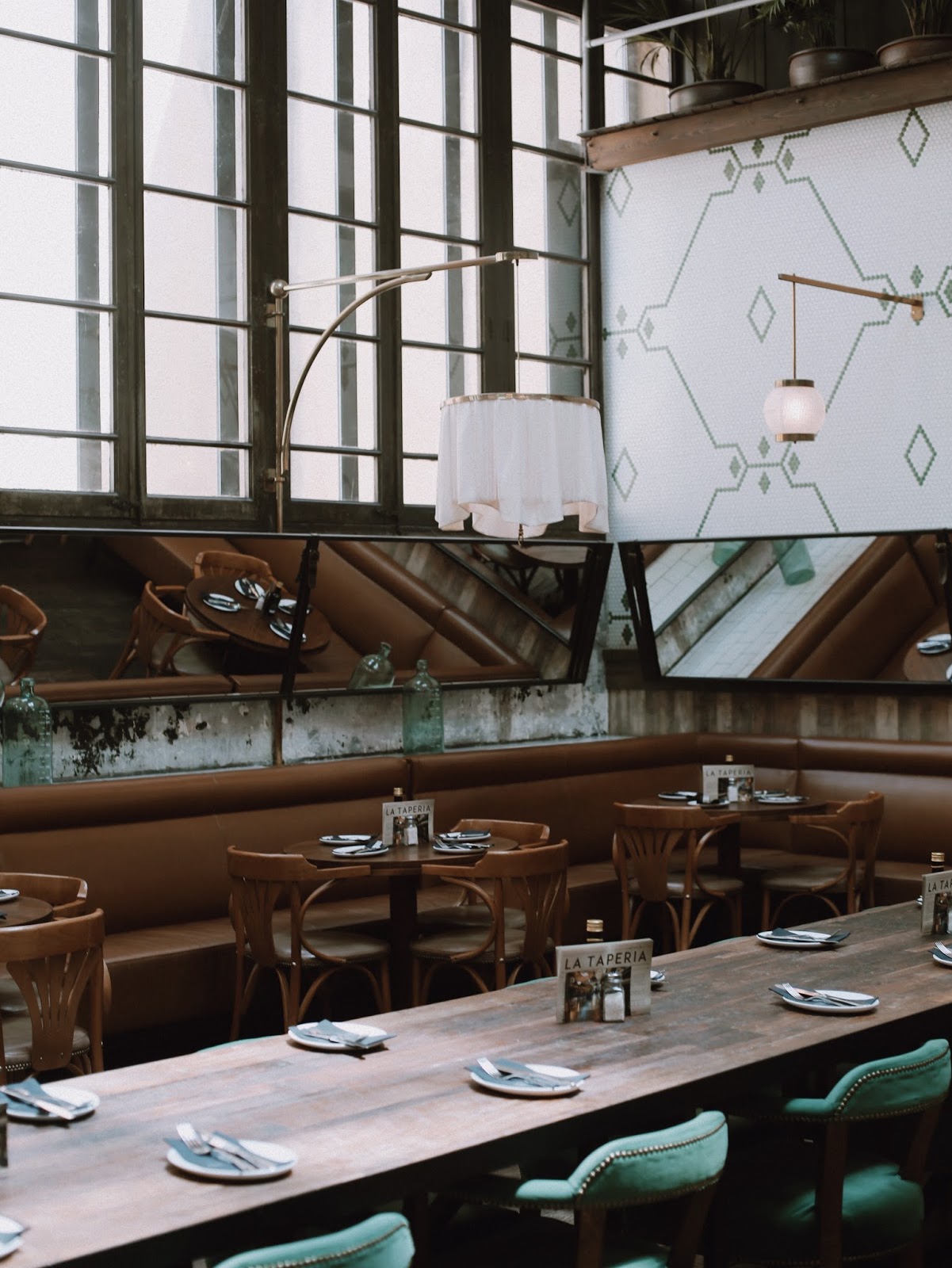 For a mid afternoon snack we went to El Nacional – another spot that came highly recommended. It's sort of like a food court, but only if it were a very very fancy foodcourt. It's one large illuminated space with 6 or seven restaurants, bars, and coffee counters inside. I was in love with the color scheme, and of course was in love with my choice of cava and tomato bread.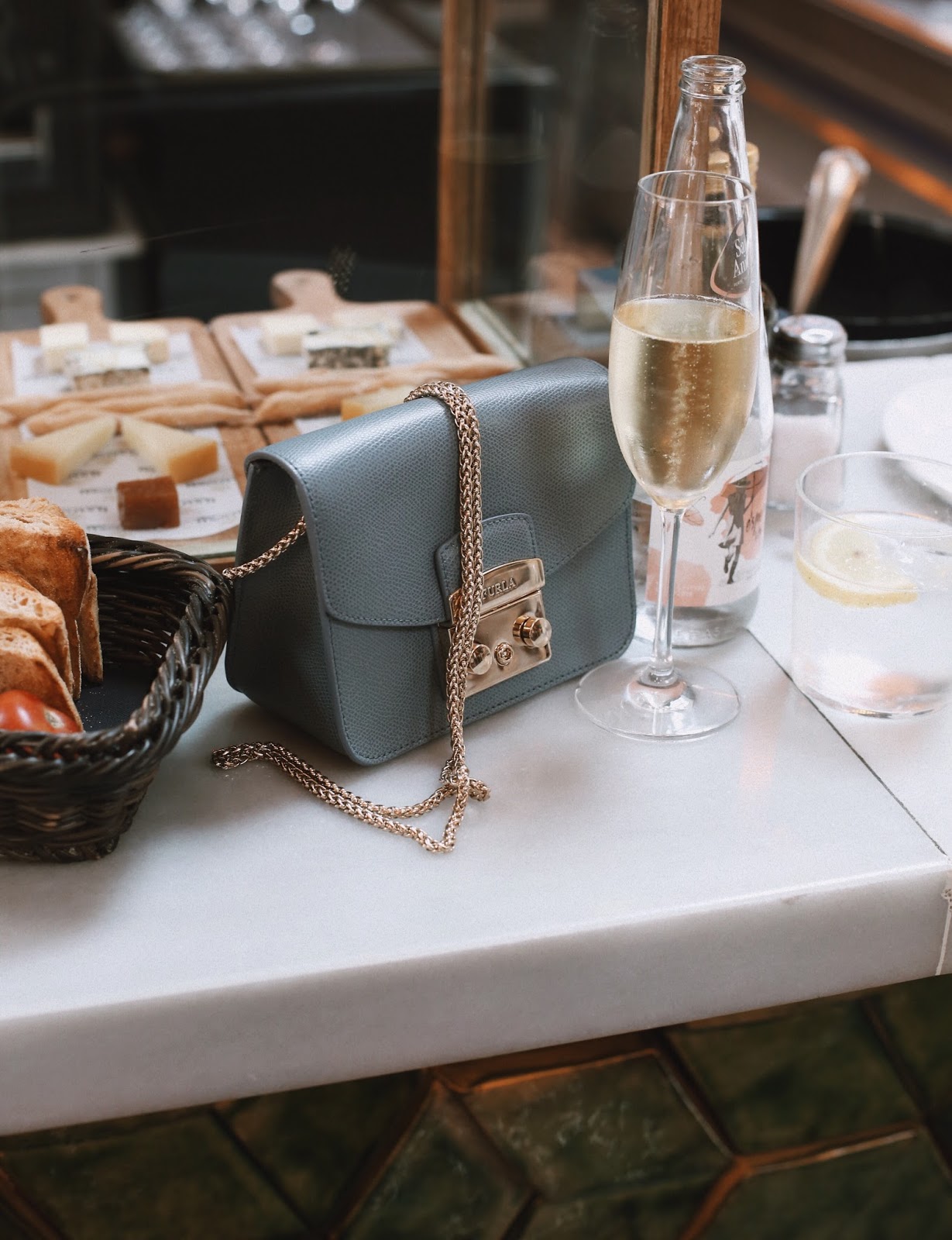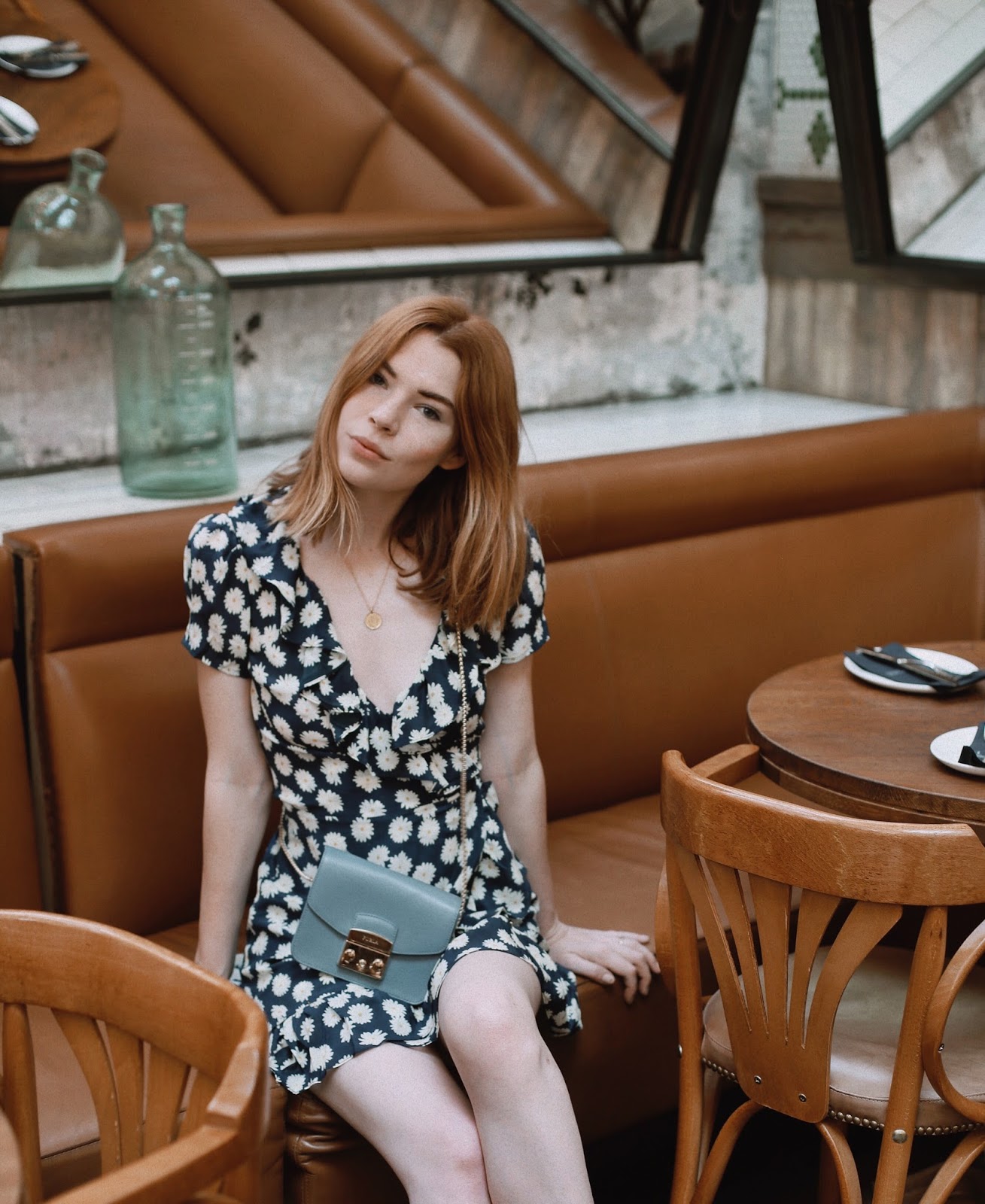 réalisation par valentina wrap dress / furla crossbody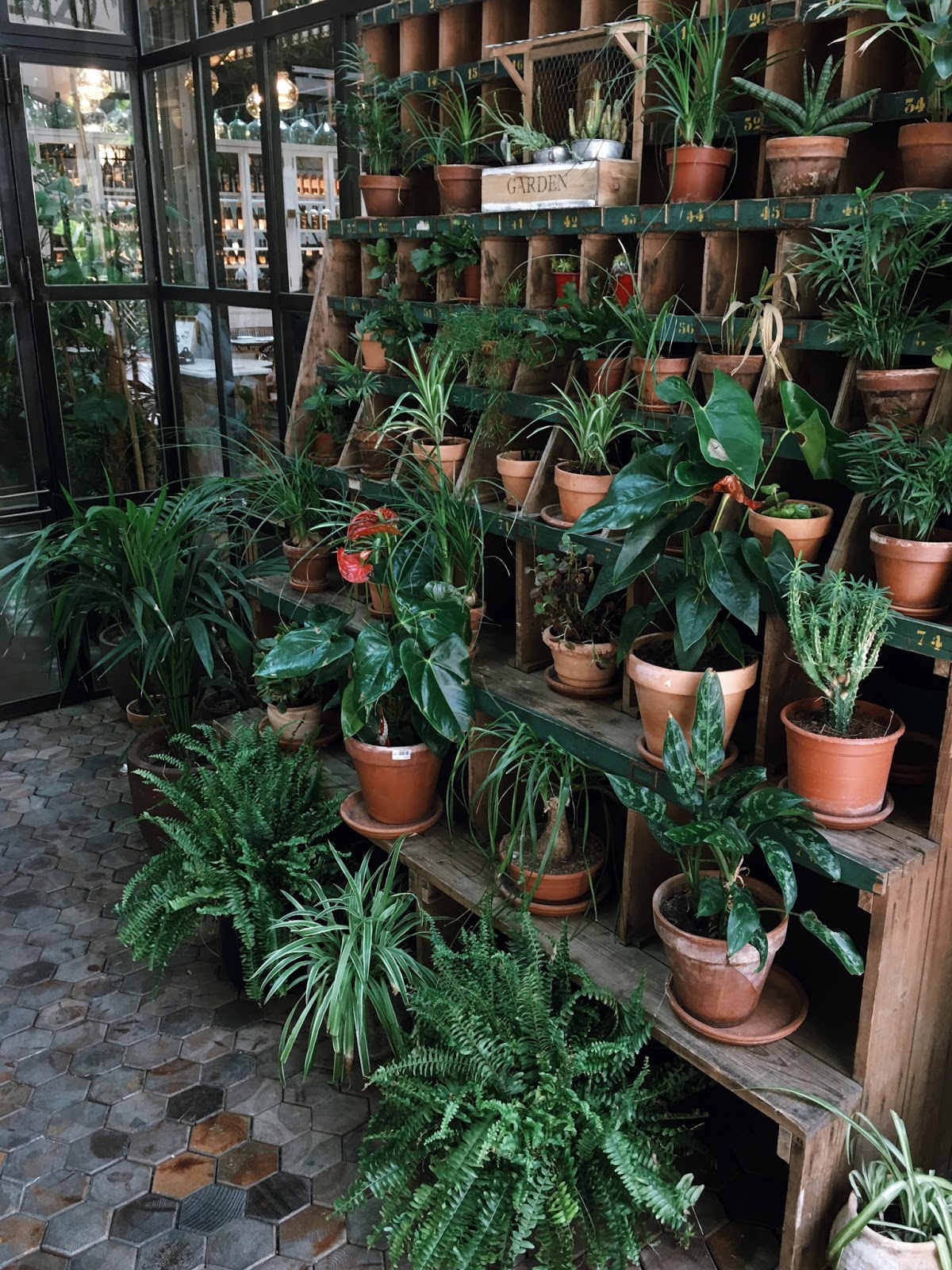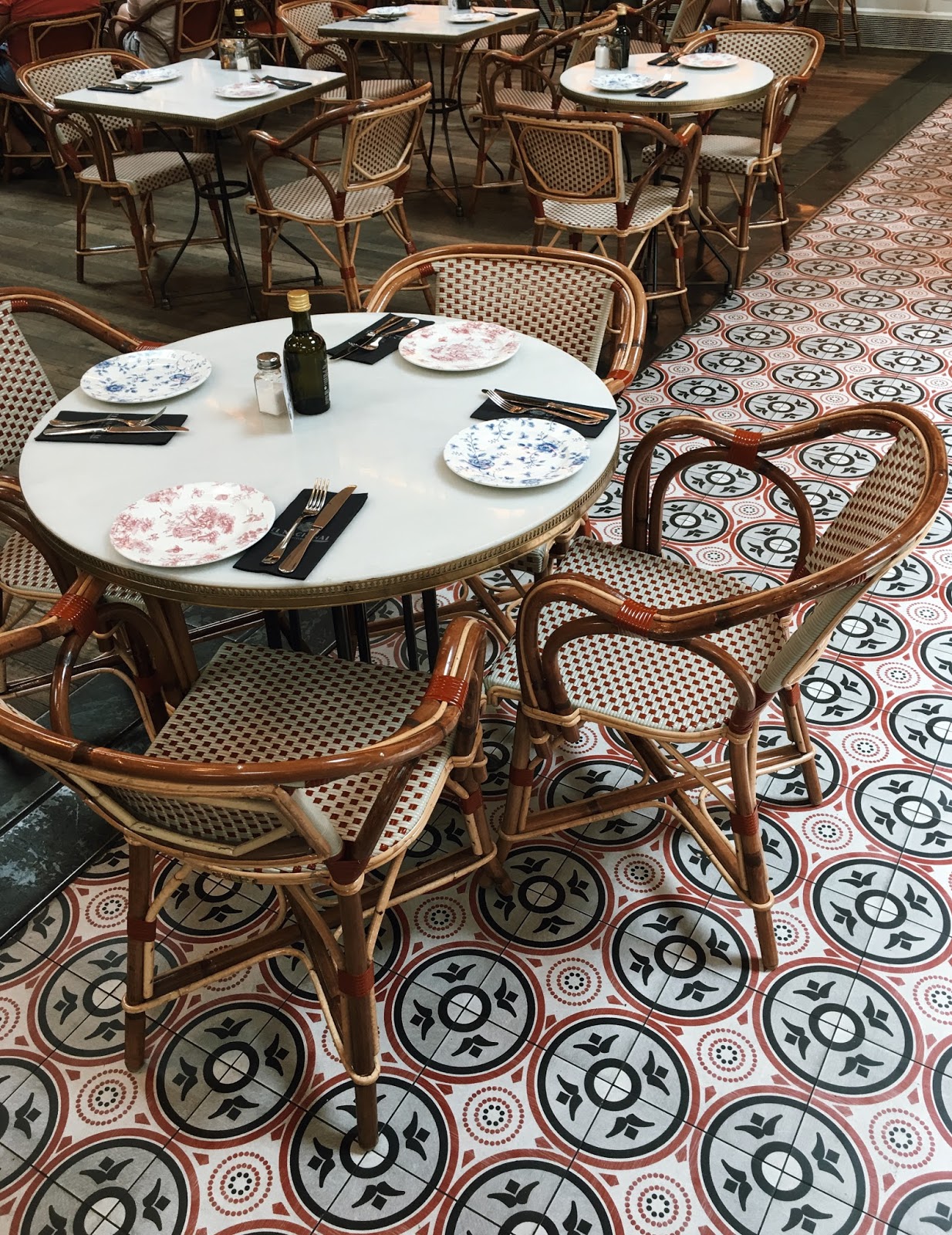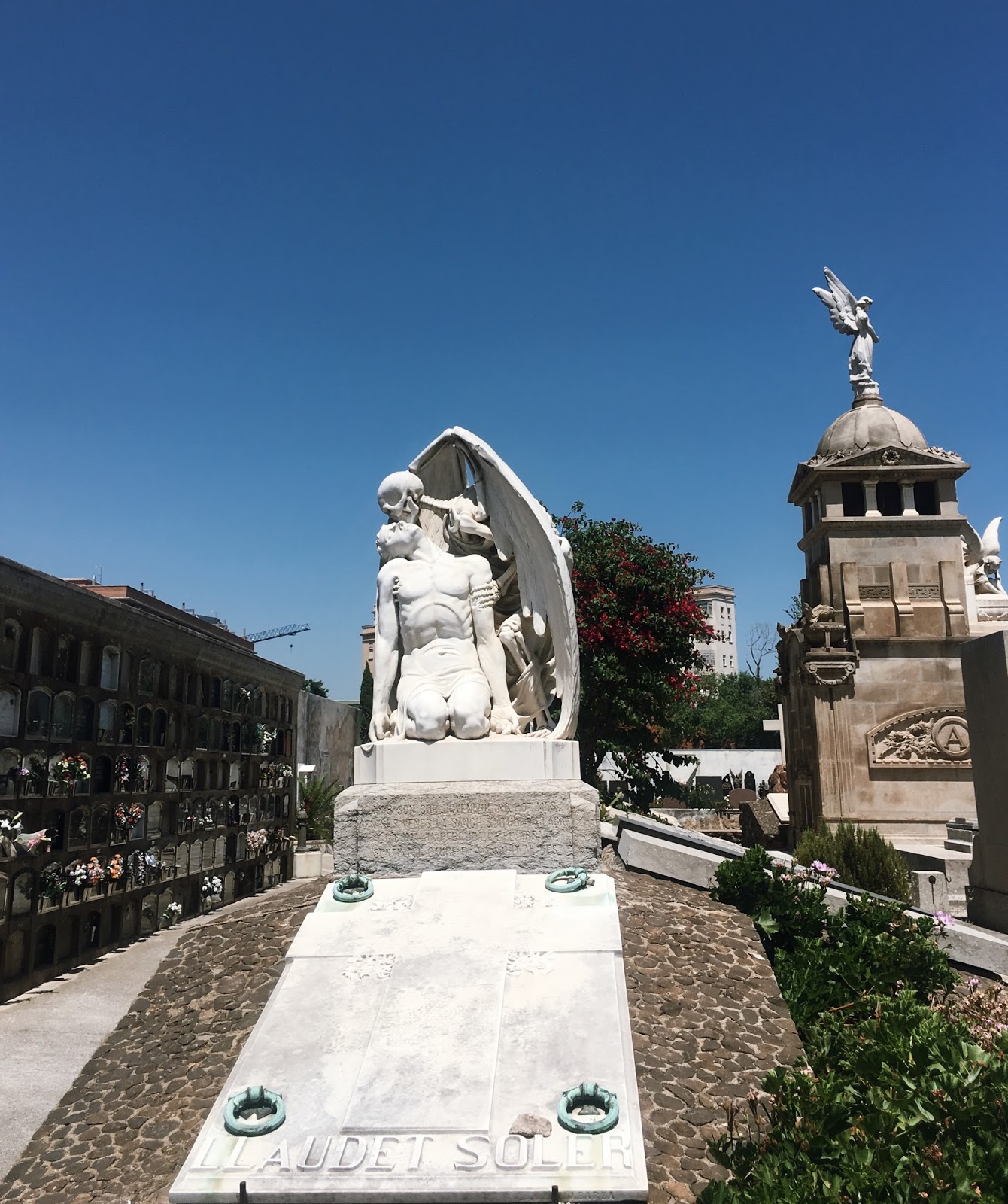 There are so many places we visited that I could easily devote a whole blog too, but as I would prefer to keep my travel posts brief and let the pictures inspire you, I've included a list of my must-see spots, must-eat-at restaurants, and must-have-a-drink-at tapas bars. Scroll down to see the full list!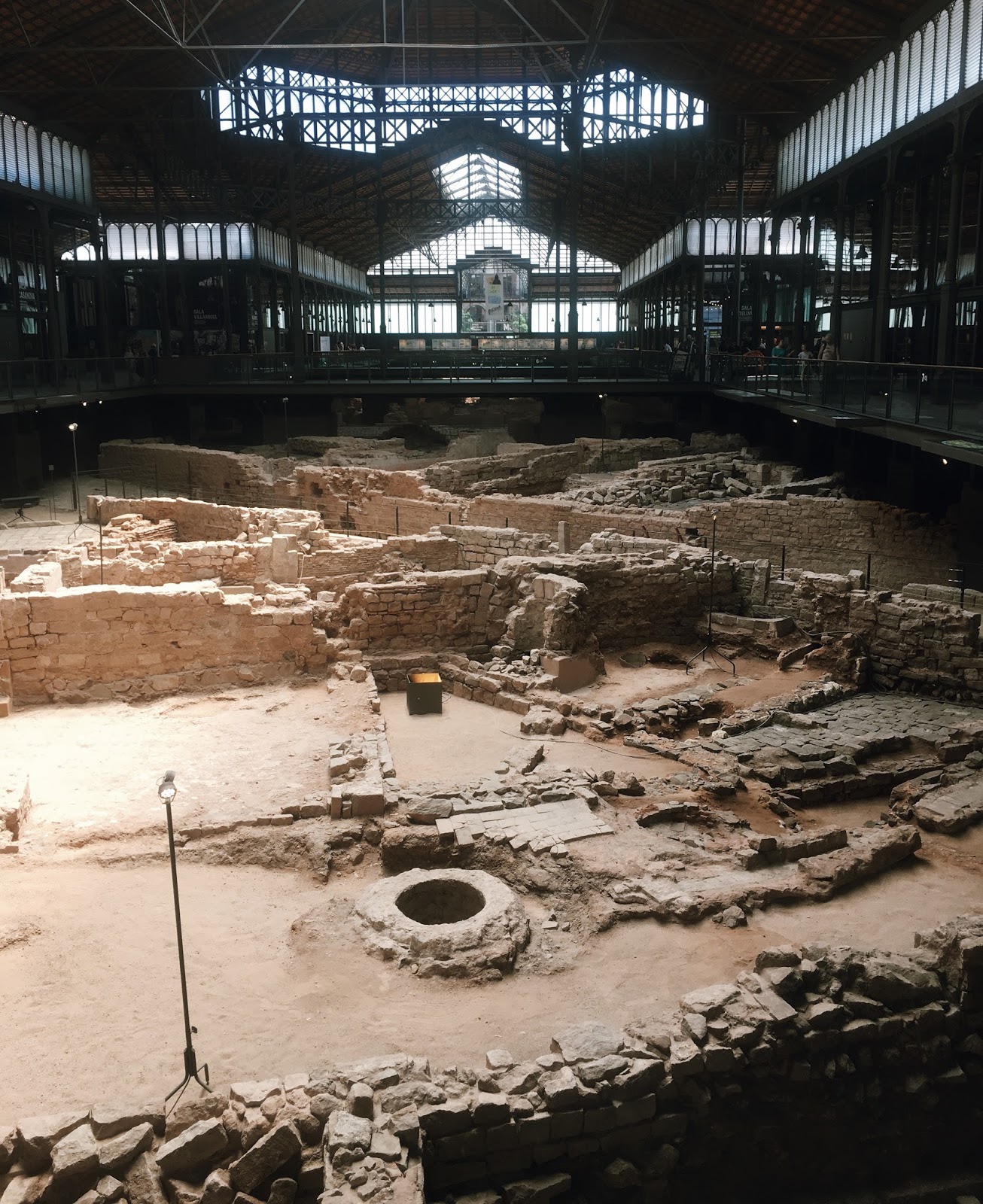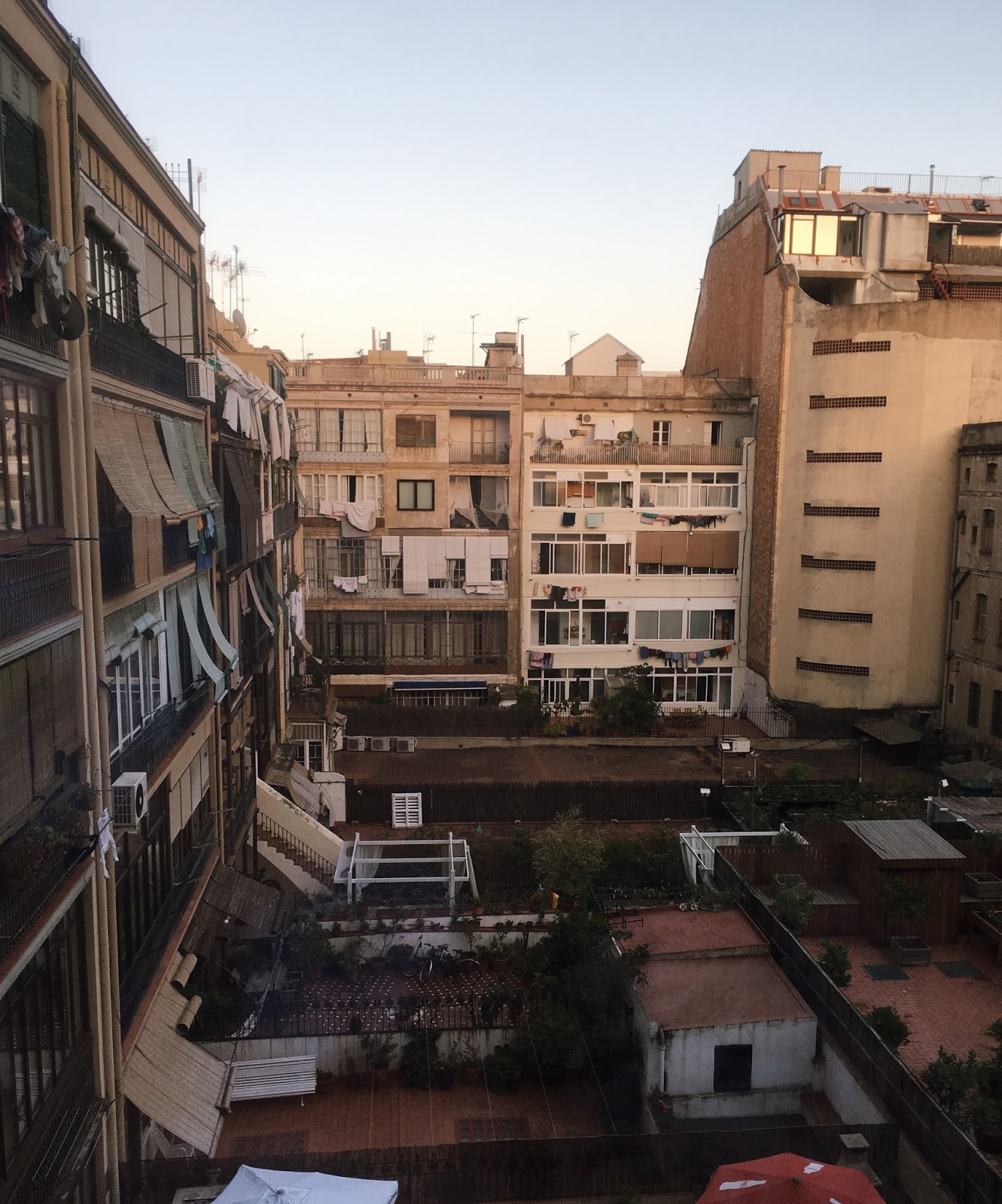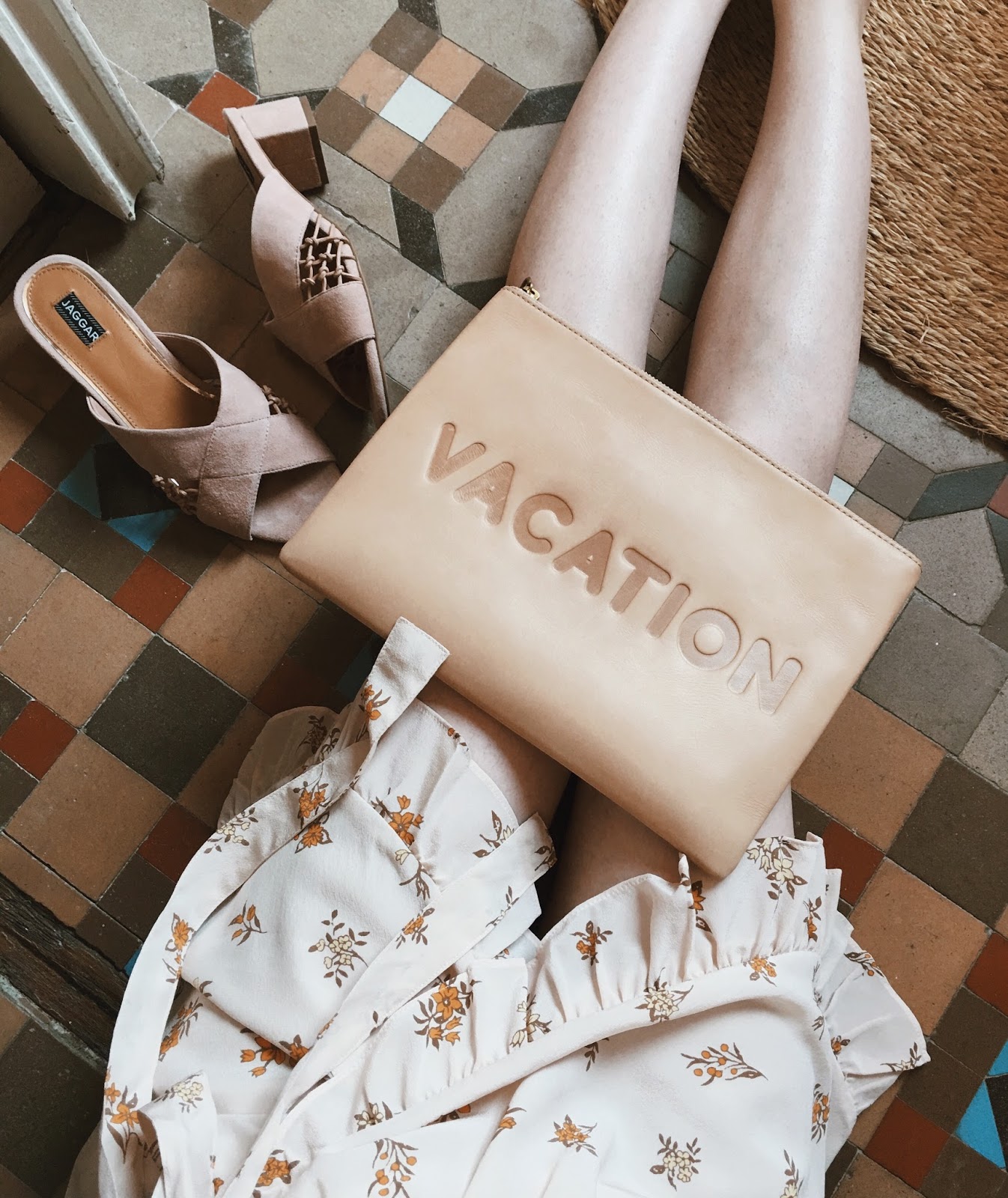 madewell meadow ruffle skirt / jaggar mules / vacation clutch
Sights:
+ La Sagrada Familia // You have to, have to, haaaave to see this incredible Gaudi church. Words cannot express what it looks like, and you can easily spend several hours here.
+ Arc de Triomf // We passed by this landmark a number of times – you're sure to go by it if you're in the city.
+ Cementiri de Poblenou // We went here specifically to see the famous headstone 'The Kiss of Death'. It was hauntingly beautiful.
+ Basilica de Santa Maria del Mar
+ El Born Centre de Culturia
+ Cathedral of Barcelona
+ Museu d'Història de Barcelona // A museum dedicated to the history of Barcelona that takes you underground to see the very foundation of the city. I think this was my favorite thing that we did for the whole trip, as it really gave the city context for me.
+ Casa Batlló // Another incredible piece of Gaudi architecture that you should make time for if you're in the city.
Food:
+ El Nacional
+ Elsa y Fred
+ Mosquito // Asian tapas in Barcelona for the win.
+ Garbo // We had some lovely tapas seated at the bar here.
+ Xiringuito Escribá // Make a reservation to ensure you get a table facing the ocean. Huge servings of paella are a must.
Drink:
+ Bar Marsella
+ Cotton House Hotel // Visit this fancy hotel and head to the bar they have upstairs. There's a gorgeous outside area for drinks and food – we went twice and loved it.
+ Bar Cañete
+ And pretty much any tapas bar you pass by that looks good. Play it by ear, and don't over plan it.
Coffee:
+ Nømad Coffee Lab
+ Satans Coffee Co. // This was in the bottom of our hotel, with another location nestled in the Gothic Quarter. Perfect cappuccinos, iced coffee, and snacks to take on the go.