I used to say that I just wasn't that into jewelry. I would wear necklaces occasionally, and aside from my wedding rings, I really didn't think that much about rings at all. But in the last year, I've started to develop a real taste for jewelry – even prompting me to get my first jewelry box to house it all in. I never thought I'd be one to turn into a magpie, but lately I'm finding myself drawn to all kinds of baubles and rings. Read on to see my current collection.
Okay, so I'm fairly late to the game when it comes to layering necklaces, but since I've been adding to my collection, I've found myself stacking a few up with outfits and liking the look. My current favorites are:
MISSOMA GOLD ARC COIN NECKLACE // This was my first piece from the Lucy Williams x Missoma Collection and I love the quality. The necklace is a heavier weight and the chain is more substantial too. I love layering this necklace but it looks great on its own too.
MISSOMA GOLD OCTAGON MEDALLION // Because I fell so hard for my first Missoma necklace, it was inevitable that I would have to get a second. When I fall for a brand I tend to go all in (hello Sezane / Doên / Musier obsession) and this piece layers just as well as the first necklace. It's a bit longer so hits lower and works really well with some of my more revealing wrap dresses.
CHLOÉ FEMININITIES NECKLACE // I received this brass necklace from Chloé during my desert trip with the brand, and I have to admit, at first I thought it was a necklace I wouldn't wear. It's a bit different from my go-to coin necklaces, so I didn't plan on really incorporating it much into my daily life. But when I reached for it a few weeks ago, I found a new appreciation for the shape and the way it looks with those coin necklaces I can't get enough of. It's a real talking piece and I love that it reminds me of such a special trip – it's my own little reminder of how far I've come, that I am in fact a #ChloéGirl.
WOLF CIRCUS ROSE NECKLACE // This gold necklace is also new to my collection, and despite its simplicity, has received a lot of compliments when I've worn it out and about. I love how classic it is, and I'm sure it will be a part of my rotation for a while.
Eric Buterbaugh candle / Sezane jewelry box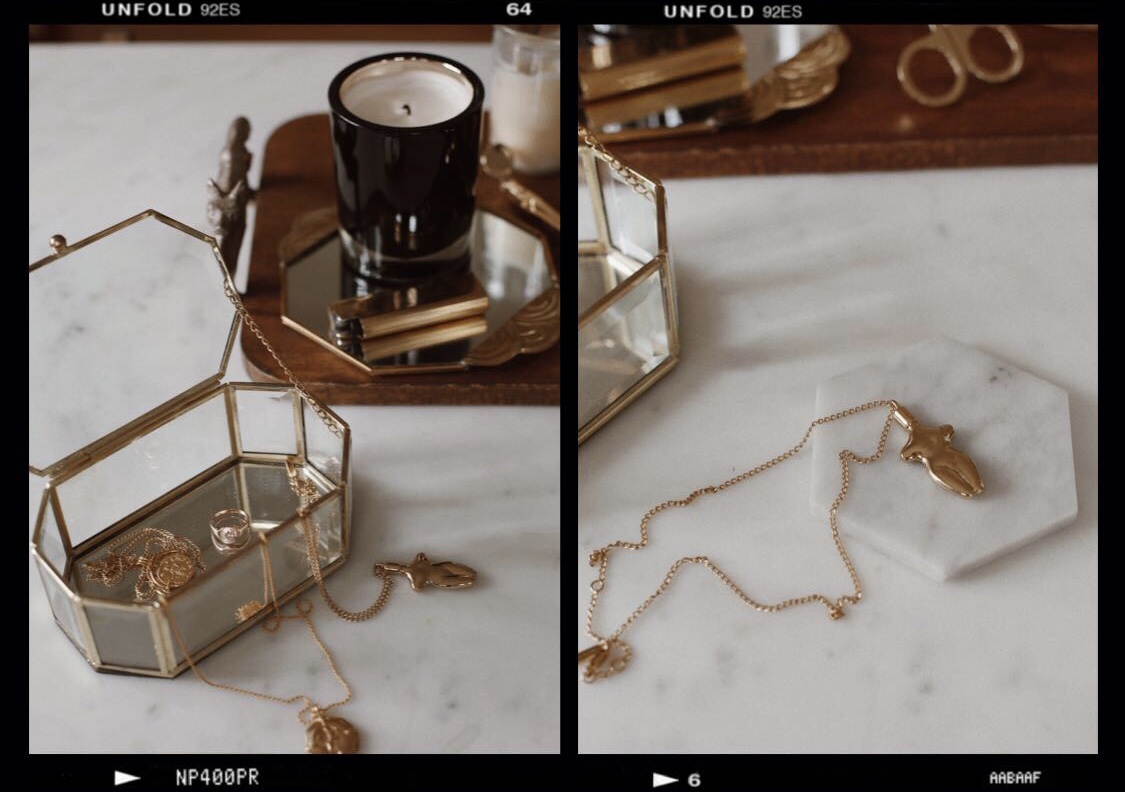 As I said before, really, the only rings I owned up until recently were my wedding rings. I talked about them more in this post here, but other than those rings, I really didn't wear much jewelry on my hands until these two new pieces entered my life. I love that my wedding rings are all slim stacking rings, but have found myself drawn to larger signet-style pieces for my right hand – I think it just balances everything out nicely, and still matches the rose gold on my left hand.
BONDEYE JOSIE RING // I mentioned how I discovered this ring on my last Sunday Snapshot, and have since been wearing it quite a bit. I just love how victorian it looks while still being modern.
MARROW FINE QUARTER MOON SIGNET // Of all the pieces in this post, this is the one that feels the most personal to me. I've worn a Marrow Fine ring on my left hand as part of my wedding stack since our anniversary last June, and was excited to add another MF piece to my collection. This ring has a Quarter Moon on it – the exact phase the moon was in on the night of our wedding.
It's just so special (and sparkly) and I get excited every time the light catches it. It's definitely the biggest piece of jewelry I own, and I love that it is such a statement. Marrow Fine makes this ring in all the moon phases, so if there is a special night you want to remember, they have you covered. I'm also really excited to announce that I will be giving away one of these rings in the coming weeks, so definitely stay tuned for that announcement.