At the beginning of this month, Eric and I had the opportunity to head back to Barcelona. We had visited once before (almost exactly 2 years ago to celebrate my birthday) and it was one of the cities we vowed to return to. Something about the whole vibe just felt perfect to us when we first went, so I'm glad we got to go back for a longer trip. While our first few days were spent on a press trip with an incredible local brand (ISDIN), I want this blog post to be more like all of our other photo diaries, to share where we went on our own and what things we really enjoyed. I love getting to go on press trips, but my focus on here is always tips and places that I think you may want to visit, as well as a round-up of what I packed and wore. Scroll down to see some photos from the trip and all of my recommendations!
To Stay
For this trip, Eric and I spent about a day looking up hotels. July is peak season, so finding something that was both chic and not overpriced was key. We eventually stumbled upon a group of hotels in the city called Praktik Hotels. They have multiple locations in Barcelona, and each has a different theme (including one that is right above a bakery so you can have fresh bread delivered to your room). We chose the Praktik Rambla hotel because we loved how historic and chic the building looked. They have a large common area (the round room below) and each of the rooms in the hotel have gorgeous details, like colorful tiles and floor to ceiling windows you can open to catch a breeze. I found the hotel to be centrally located, affordable, and still quite luxe. I think when we go back, we would pick another one of their locations, just to get a different experience, but I loved the Rambla location.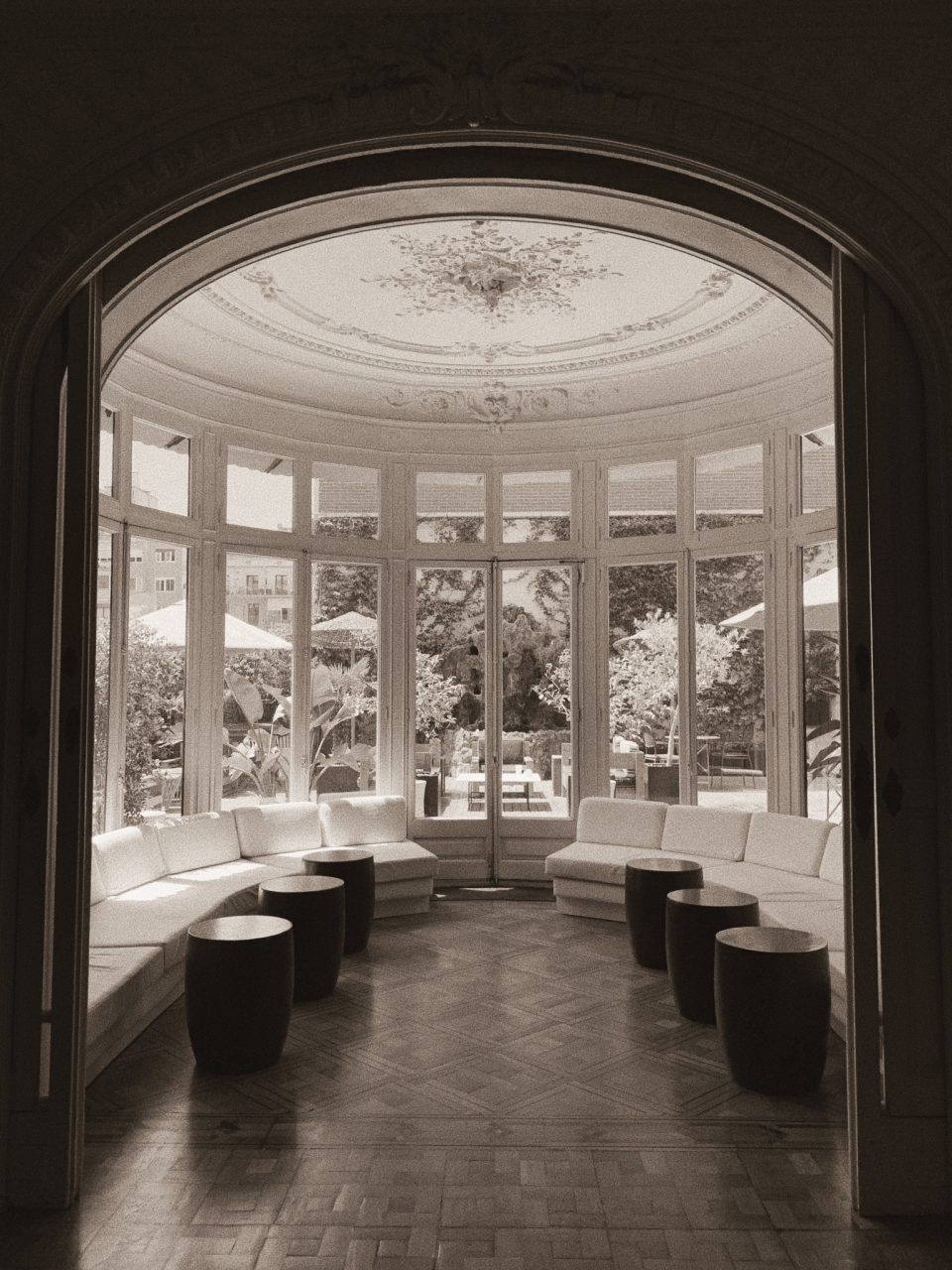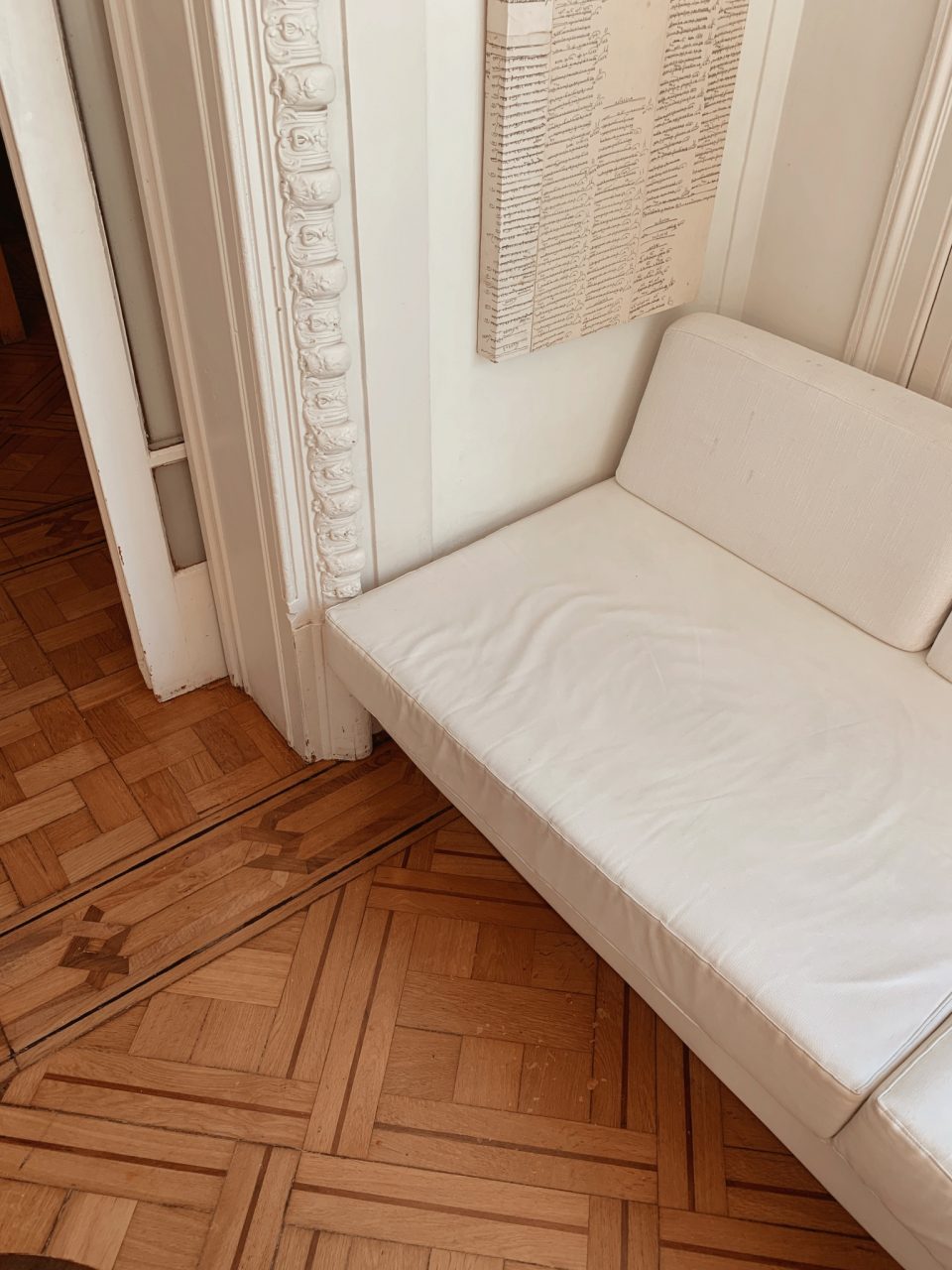 To Eat + Drink
Garbo // We actually found this place on our last visit, and saved it on our maps in case we were ever in the area and in need of a bite. I love the idea of tapas, mostly because I like eating many small meals throughout the day, so finding a good tapas spot is gold in my books. We pretty much ordered the same things at every spot, and found that Garbo had really lovely ingredients / it was a pleasant spot to sit. Our typical tapas order is cava, toast bread with tomato on top, padron peppers, and if they have it – a burrata and tomato salad. We don't really eat much meat, so finding things outside of jamon iberico was key, and Garbo had plenty of choices.
El Nacional // Okay, this is another spot we have already been to, but it was the first night we arrived, and after a 12 hour flight, we wanted to go somewhere easy. El Nacional is kinda like a big food court in a mall – if every shop inside was chic and a bit more upscale. There are about 5 spots inside, some bars, and a variety of menus. If you like seafood, there is a place for that. Want oysters? There's a whole raw bar. We sat at the bar and had cava (we had a lot of cava on this trip) and had a small snack while waiting for a table at one of the restaurants. We chose the one with the most vegetarian options and ended up splitting some pastas (we are predictable). Obviously this is a bit of a tourist trap, and of course there are much more authentic choices, but when you're hungry and looking for something easy and pleasant, this is a great choice!
Frankie Gallo Cha Cha Cha // This was a spot we stumbled upon by accident. We were on our way to another restaurant, and only noticed this place because of the amount of delivery drivers milling outside waiting to take orders off to other parts of town. We peered inside the window and saw that it was a pizza (!!!) place and it looked popular, so we took a seat at the bar and rolled the dice. I think sometimes with travel, Eric and I spend WAY too long researching restaurants and just end up burnt out and overwhelmed with choices, trying to pick the PERFECT meal. Sometimes you need to just give something a try without staring at their Yelp page for a while, you know? We were served quickly, the pizza was SO good, and it was just all in all a real pleasant restaurant. We were so happy that the chili oil was actually spicy (you'd be surprised how often it isn't) and the dough on the pizza was so perfectly done. We ended up coming back on our last night in town (after our flight was cancelled) and it was just as good. I'd maybe recommend a reservation (it's a big place!) but we were lucky enough to grab bar seats both times we visited.
Ocaña // A restaurant set inside of a large plaza with good vegetarian options and lots of drinks. I highly recommend getting an Aperol Spritz and their hummus + this carrot appetizer that I can't remember the name of. Sit outside and people watch as the sun sets.
Bodega La Puntual // Another tapas place we happened to walk by, liked the looks of, and just popped in for a drink. That's the great thing about Barcelona, you don't have to feel pressured to order a WHOLE meal every time you sit down. Sometimes we would just sit down somewhere, order a drink each and one snack, and just move on if the menu didn't look quite our speed. Here we had the padron peppers (always), cava, tomato bread, and a little cheese board. This spot is right in the middle of the Born neighborhood, so if you are visiting any of the churches or museums in the area, it's a great place to sit down, use the wifi (yaaaay) and have a snack and drink.
Soho House // This is one of those suggestions that feels a bit like I'm trying to be fancy, but hear me out! I am NOT a member of Soho House, but on this trip met up with another lovely couple who are, and they were kind enough to invite us up for a drink (Thank you Tylynn and Bee!). This location is close to the water, overlooks the whole city, and in general is just the loveliest spot you could imagine. The rooftop was full, but we found a cozy corner to have a glass of wine and unwind, and it was heaven-sent. Obviously this isn't a spot you can just walk into, but if you happen to be visiting with friends who are members, don't miss the opportunity to visit. I'm so glad we got to experience it!
Satan's Coffee // If you're in the city and looking for good coffee, this is a must. Multiple locations, no wifi, no bullshit (their words, not mine), and great coffee. Have seat or take it to go, it's all good.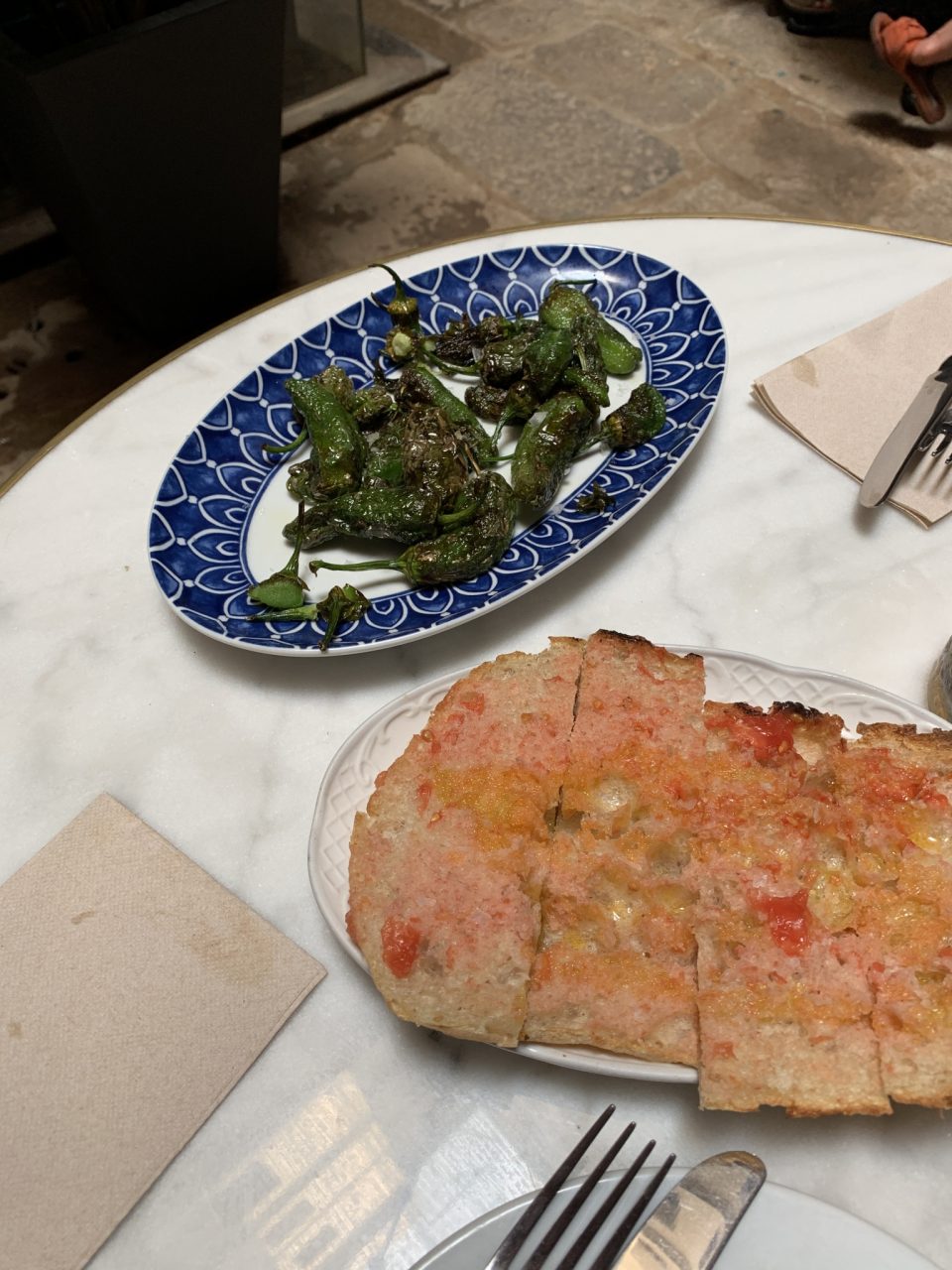 Robata // A follower suggested Robata sushi, and at first I thought "Sushi in Spain?" but then of course realized that Spain has excellent seafood, and of course would have a really lovely sushi restaurant. We ran here in a Summer rain storm without reservations, and somehow got a seat. This place is popular, and you are going to want a reservation. Aside from that, OMG was it good. The quality of the fish, the service, some of the more inventive dishes – it was all incredible. It was not cheap (and we knew it would not be) but the price was absolutely worth the quality and the experience. We viewed this meal as our one big splurge and it was so worth it. I cannot recommend Robata enough, if you love sushi, this is going to be a peak experience for you in a beautiful setting.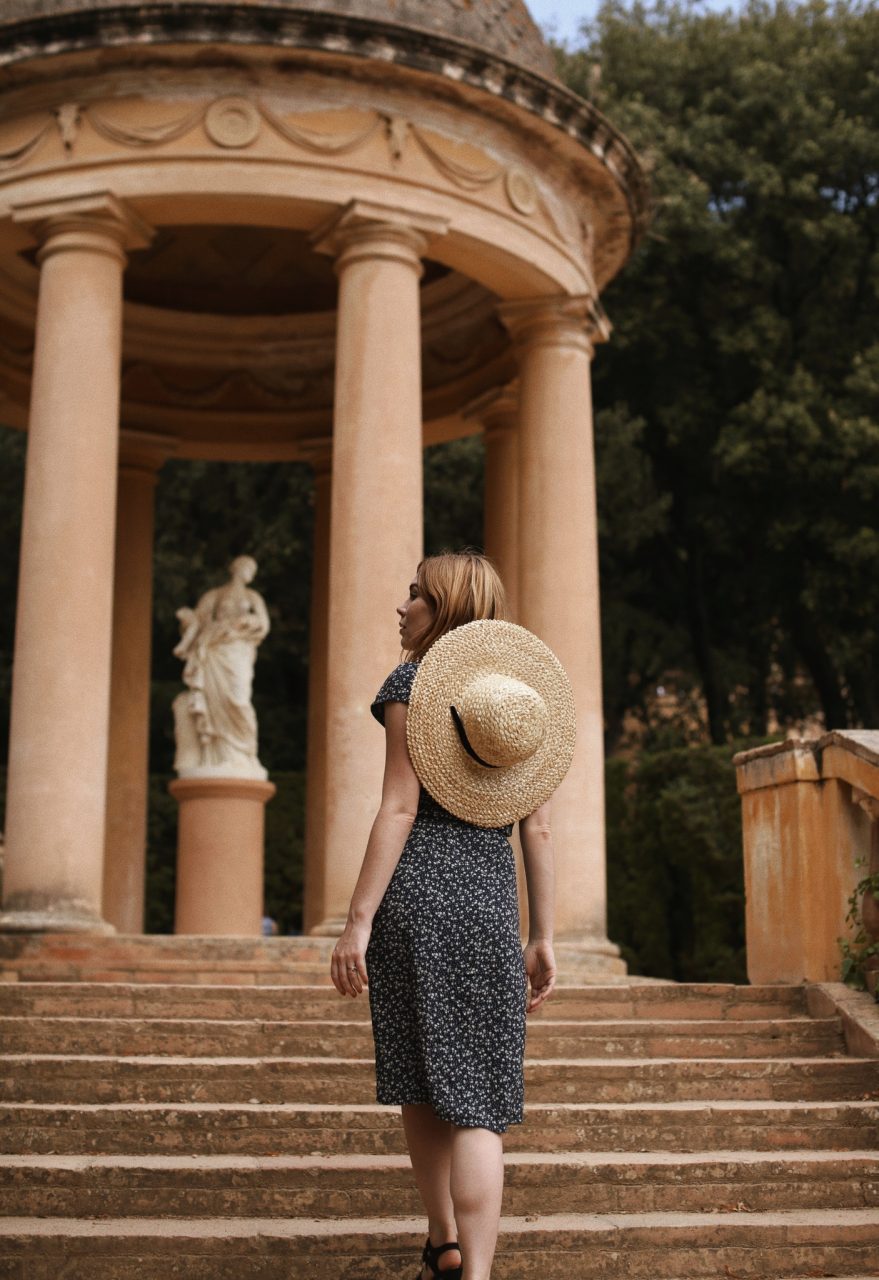 To See & Do
Labyrinth Park of Horta // These grounds and gardens were so lovely to visit. With a full hedge maze and little ponds and sculptures throughout, it was just such a perfect spot to walk around. It's a bit north of where we were staying, but by subway was a very quick ride and super easy to get to. We happened to visit on a free day (Wednesdays!) and it was really nice to see. Pack a snack and have a leisurely walk through the grounds.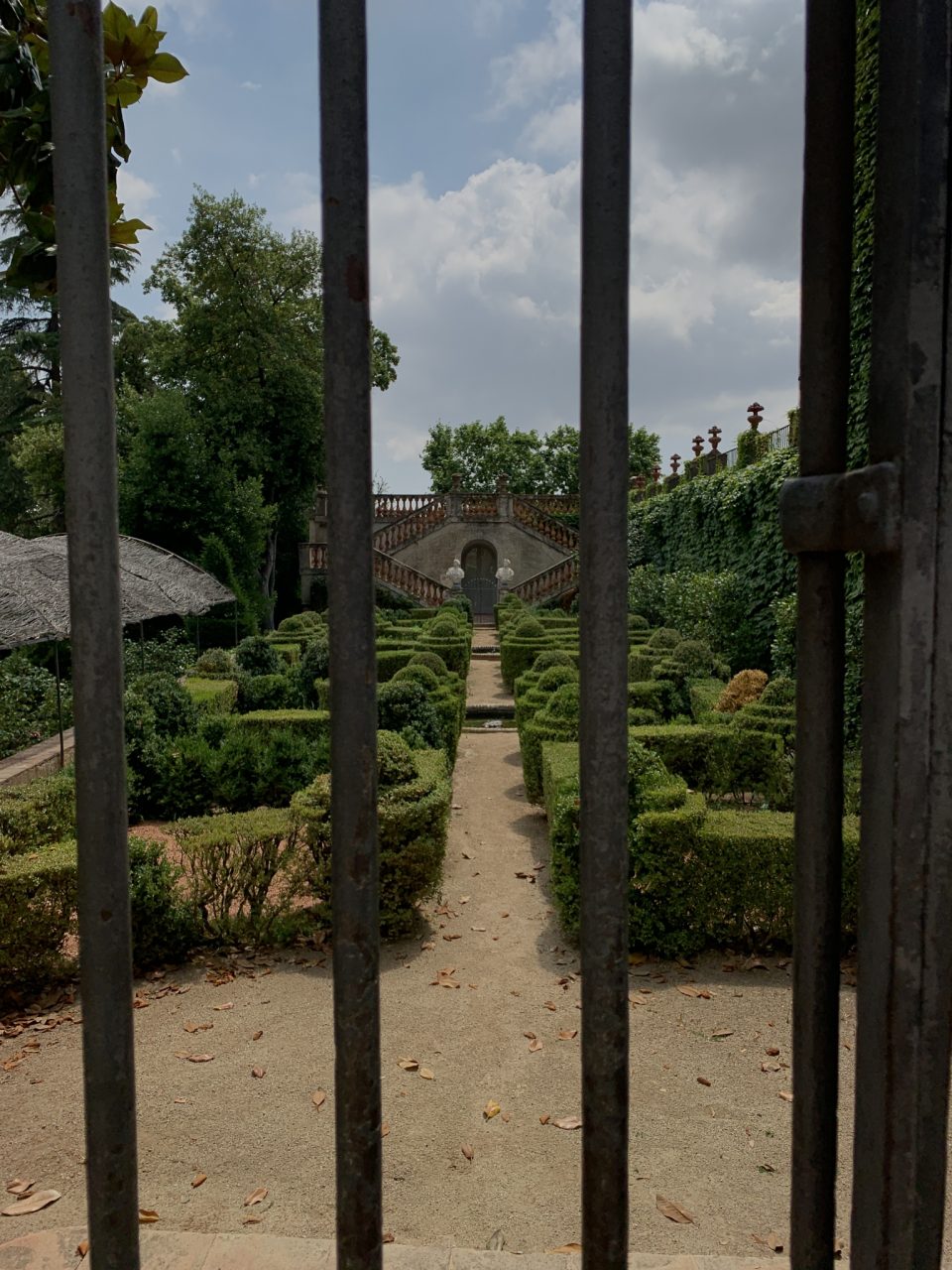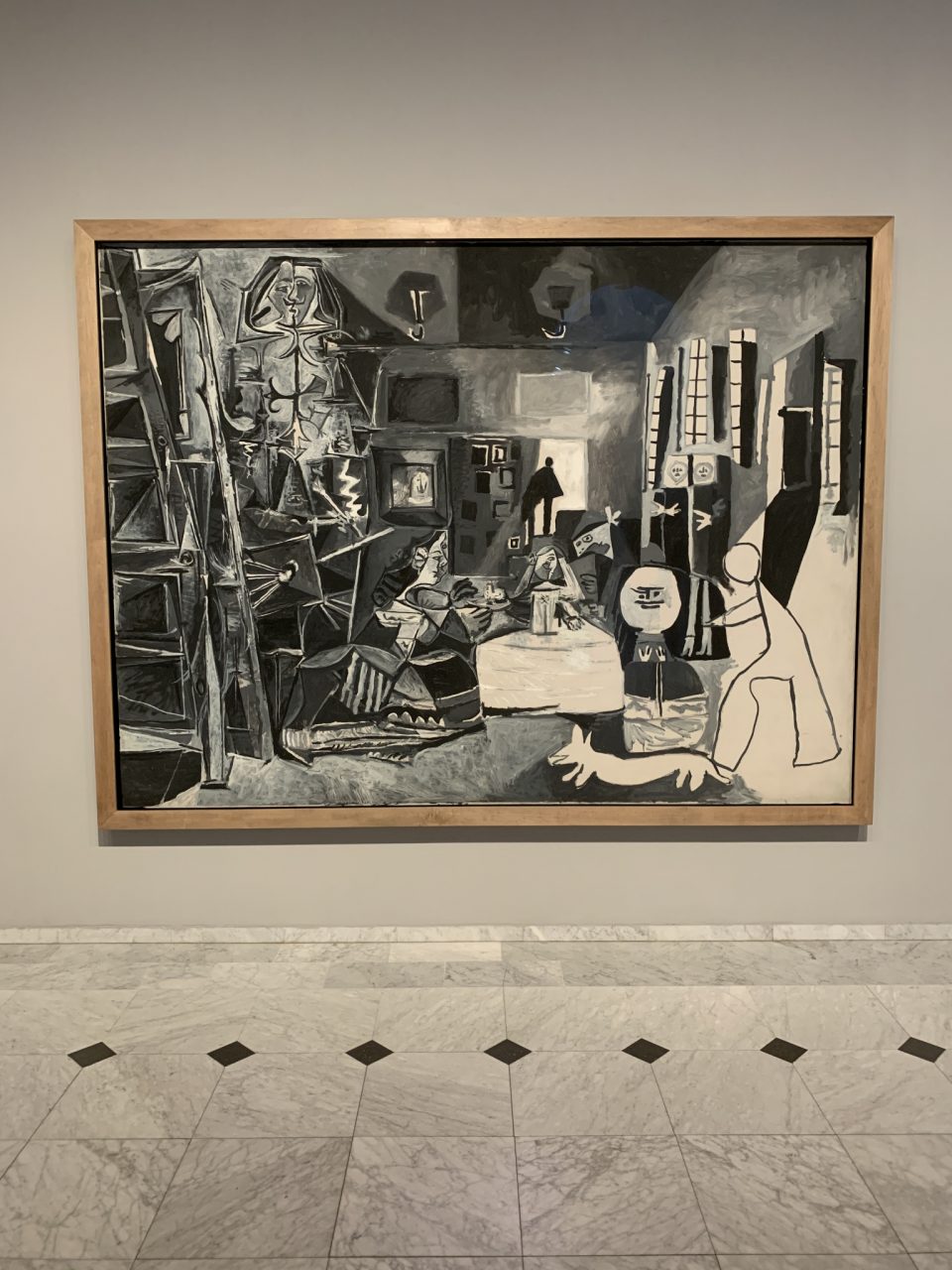 Picasso Museum // We visited the Barcelona City History Museum last time and it was INCREDIBLE, so this time we decided to see the Picasso Museum. I've seen Picasso's works at museums throughout the world, but seeing the collection was so special. Getting to see all of his early work before his more experimental years was eye-opening. The museum itself is a gorgeous building, and strolling through all of his works in an air-conditioned space in peak heat was ideal. I highly recommend checking it out!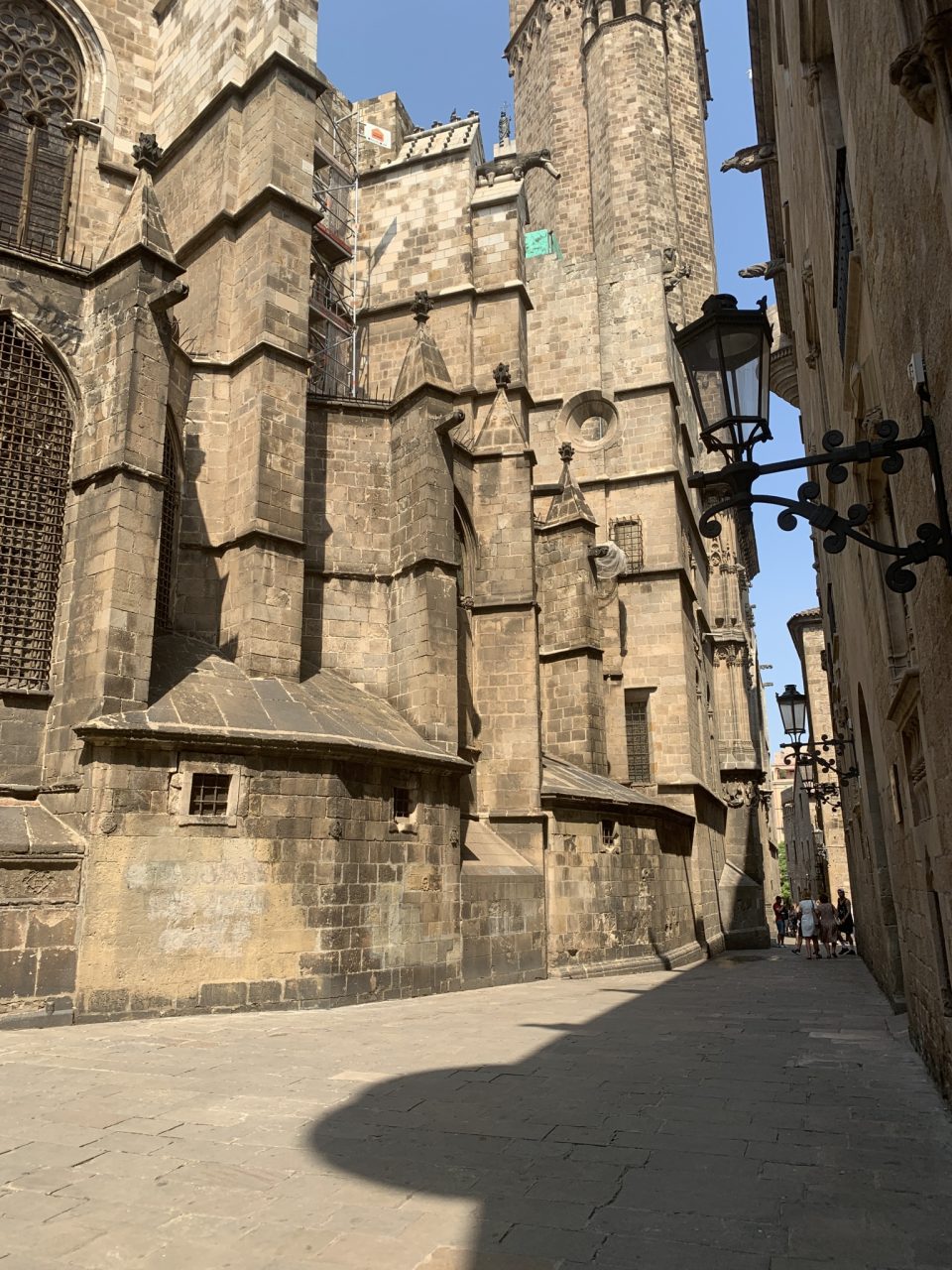 Casa Battló // Chances are you've seen photos of this iconic home, designed by Gaudi, before. If you're in Barcelona, you'll likely walk past this house multiple times, and ask yourself 'should we do a tour'? The answer is yes. Every detail is so surprising, and so unique, and the best part is, you can add a 'rooftop experience' in and get to have a glass of cava (MORE CAVA) on the rooftop overlooking the city as the sun sets and Catalan musicians play. If you have the chance and the time, do it. It's all so incredible. They did have an interactive video set that they handed to each person visiting, and while I didn't like that (who wants to stare at a phone while seeing architecture) if you have kids they may really like it. It's just such a unique experience, and worth it in my opinion!
Shopping! // Normally I'm not one for shopping while traveling, but since I avoid it most times, I decided to give in in Barcelona. All of the top designer brands are along Passeig de Gràcia, so if you've every wanted to see it all in one afternoon, this is an easy way to visit Chanel, Dior, Bottega Veneta, Céline (I refuse to drop the accent mark), Burberry, and about a million more. Eric was very patient, and hey, each store has AC, so why not have a look at some bougie pieces while you're in town.
La Sagrada Familia // The last time we visited, we didn't buy tickets in advance, and thus were only able to see the outside. This time we went in and oh my word was it breathtaking. I think this is just one of those places that is so hard to describe other than to say it is other-worldly. It is perpetually under construction (it's a building like no other) but that doesn't take away from the experience. The way that light moves through the windows is especially beautiful in the late afternoon, so try to book your visit for that time.