Eric and I moved into our house late last year, but have taken our time finding the right pieces to decorate and fill the space. Since we came from a small apartment, there were plenty of things we had never considered and now suddenly needed – like rugs! We had just one dingy rug in our last apartment, but since it was so small? No one could tell. But now, with a larger space and a more open layout, details like rugs and accent furniture really start to matter.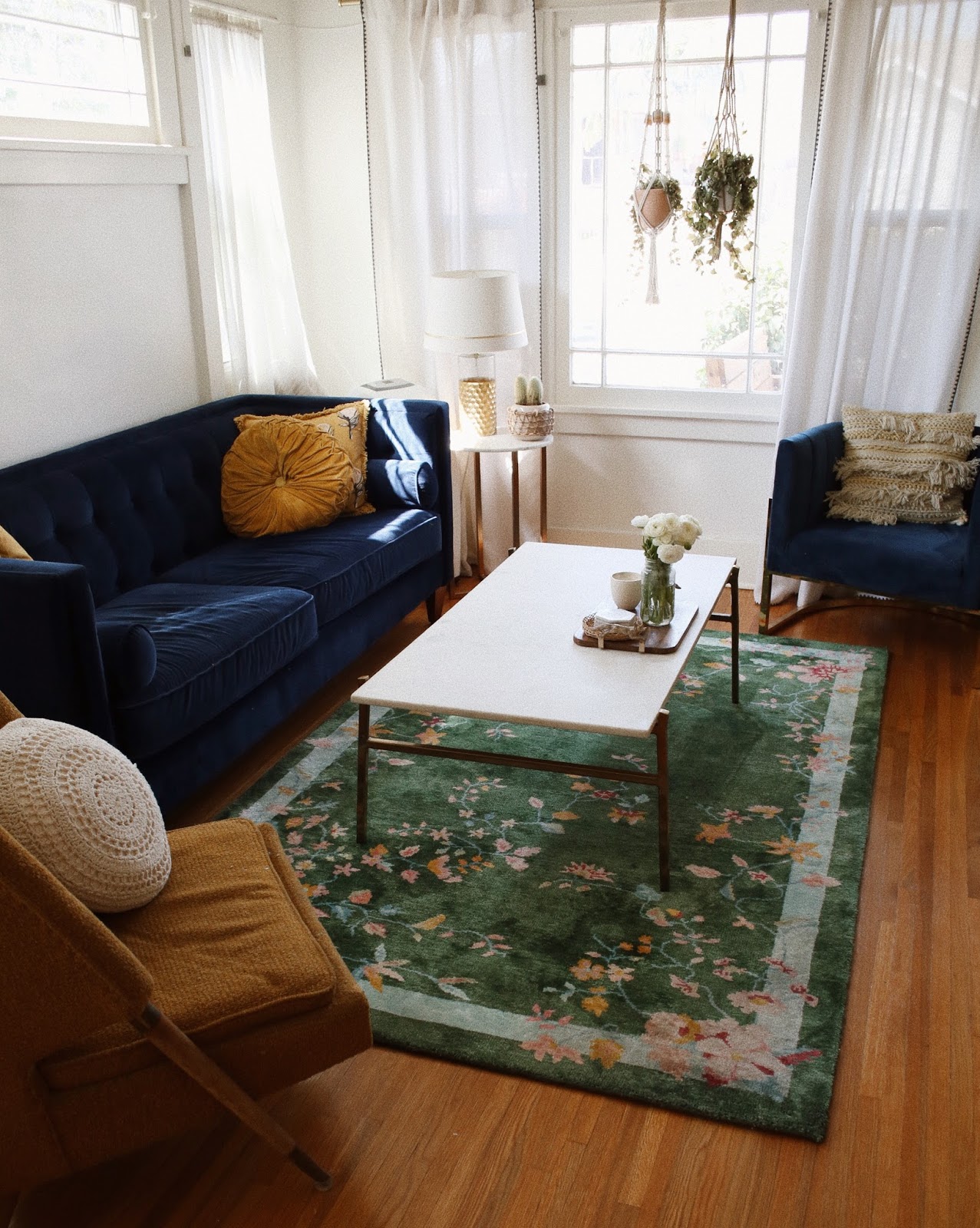 When we first started looking into filling out the space, I went to one of my favorite shops to gather inspiration – Lulu&Georgia. Not only is their IG filled with dreamy images of their pieces, but it seems like every person I know who has picked up something from them has found a way to make it uniquely their's. I was really hesitant to head to a site like Target or IKEA and end up with a space that felt either too bland and generic, or like someone else's vision of me.
So, thinking I maybe would just gather a little inso, I innocently started browsing their rug section, and oops, found not one, but TWO rugs that worked perfectly for our living room / dining room. The Marceline Rug was something that jumped out at me almost at once – even though it's a bit of a departure from my usual neutral tone lifestyle. While I do love love love my brown tones, it's nice to have something to offset that, and if there's anything our last apartment taught me, it's to avoid having a light colored rug in the room you'll spend the most time in.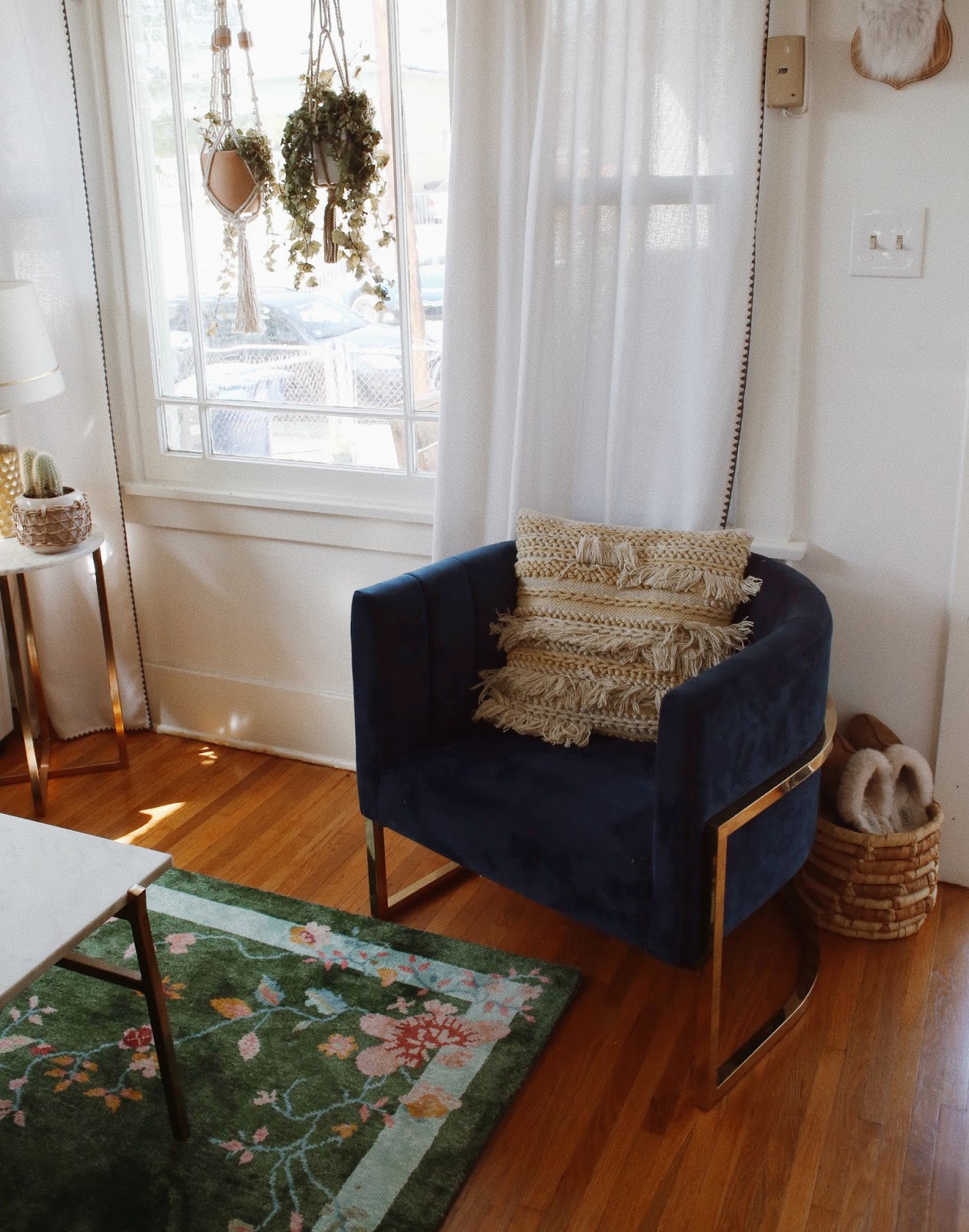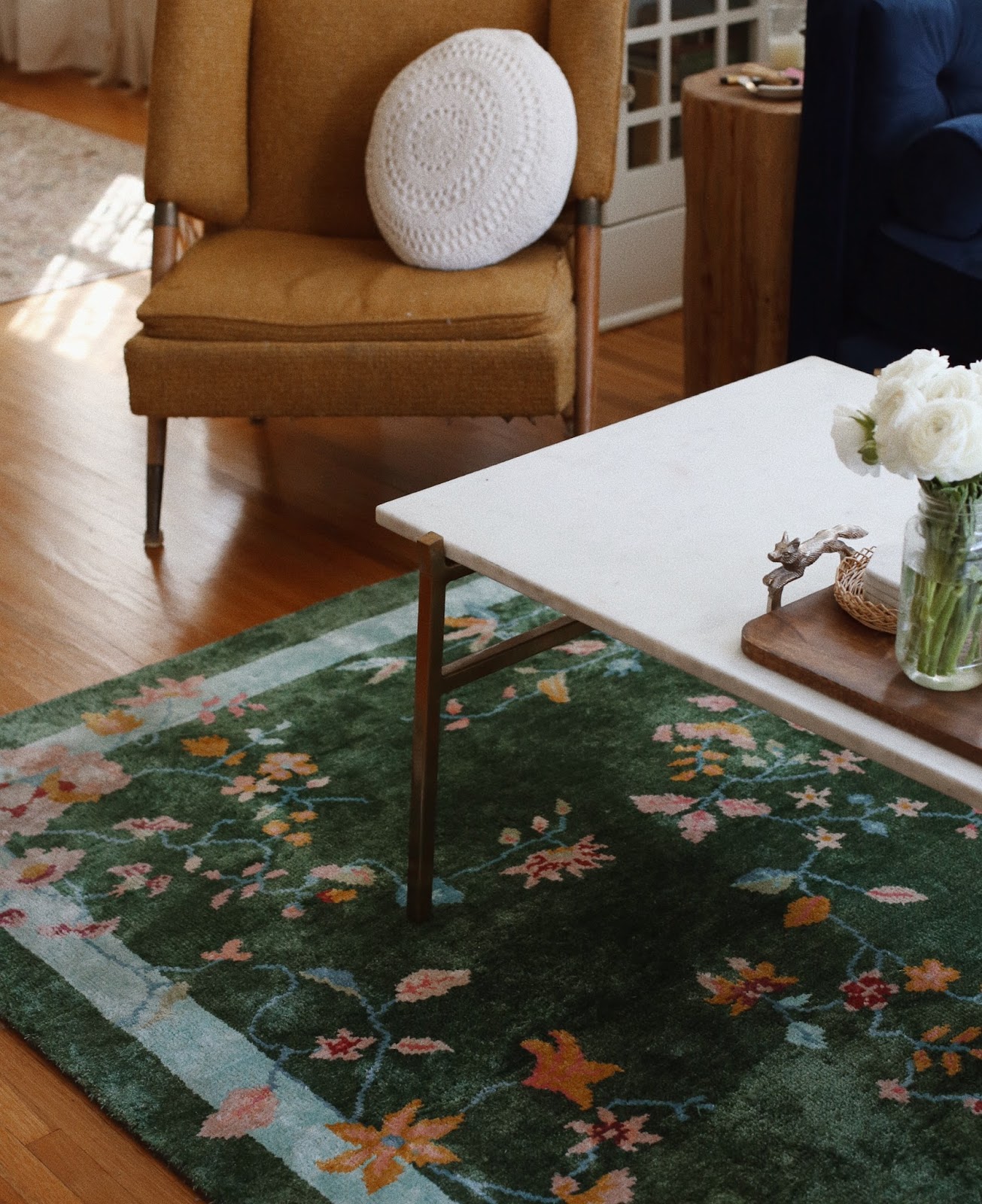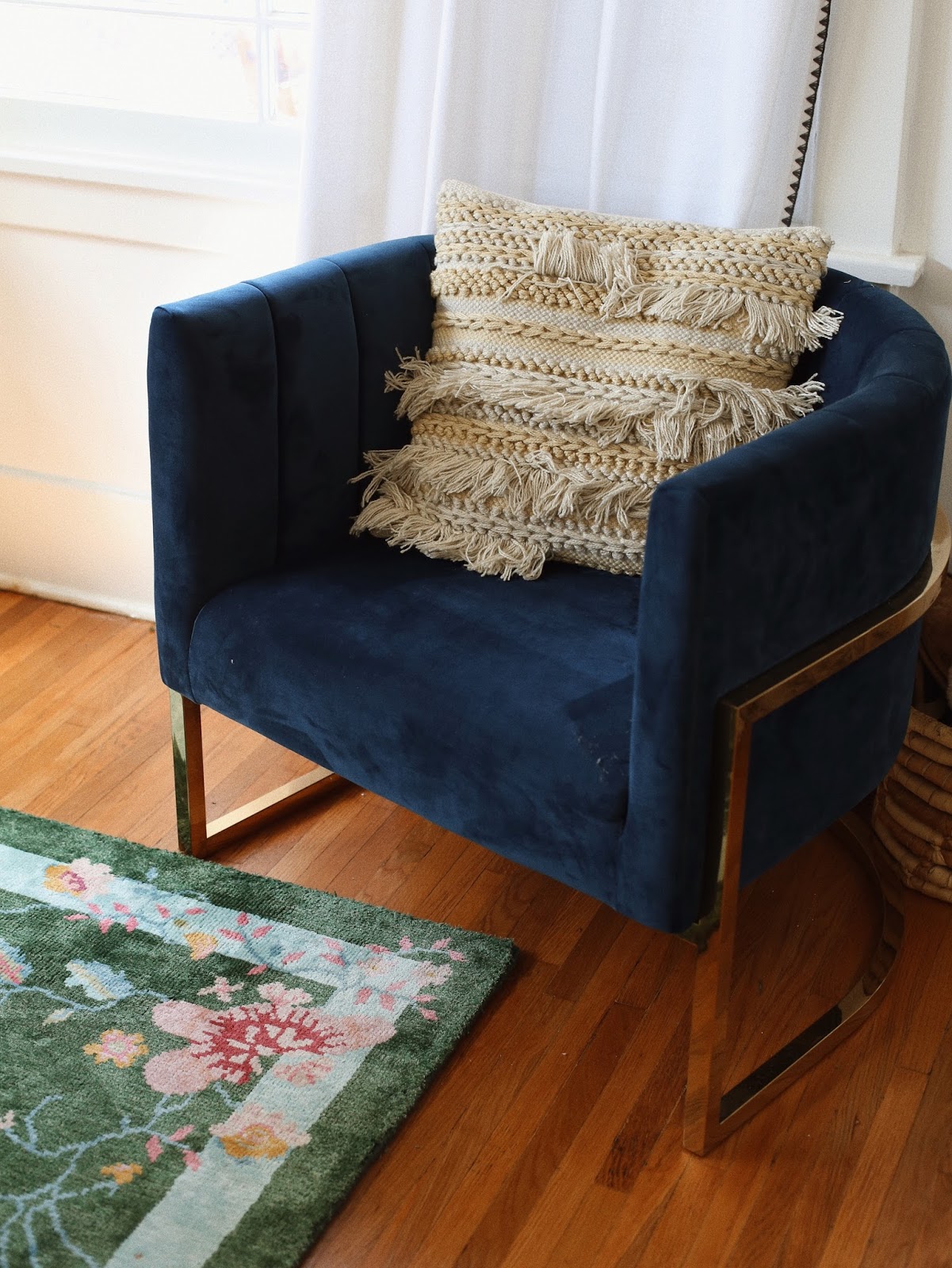 And heck, while I was knee-deep in planning the rug for our living room, I thought it couldn't possibly hurt to look at some accent furniture. Enter the Chavela Chair in Navy – something so uniquely mid-century and fun, and YET also something that perfectly matches our couch that we've had for years. The size is what sold me initially, and while I do have to fight Mops for it (it's her fav seat in the house), it is the most amazing size for curling up with either a book or my laptop. I added the Massey Pillow to brighten it up a touch and bring a more neutral element to the space.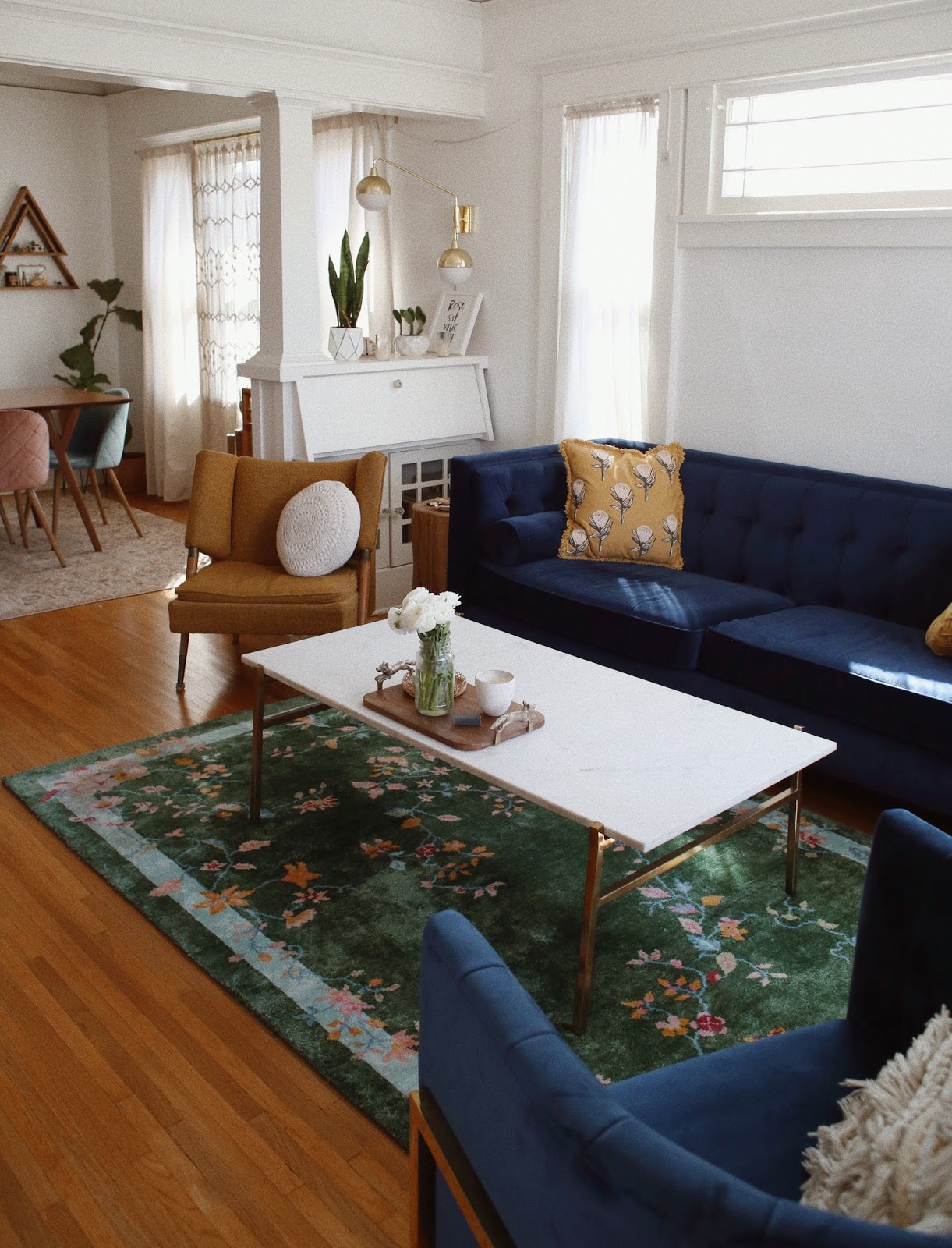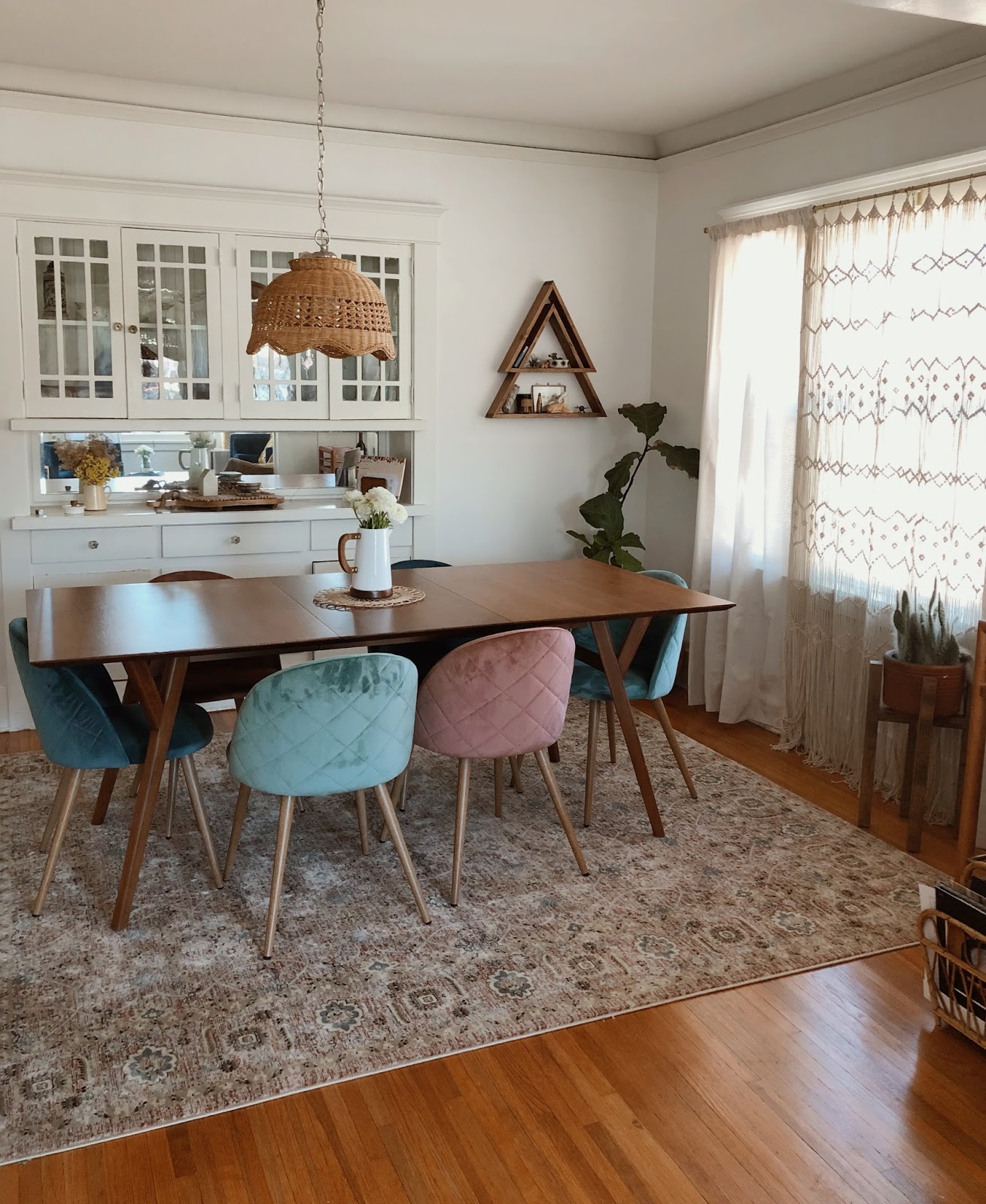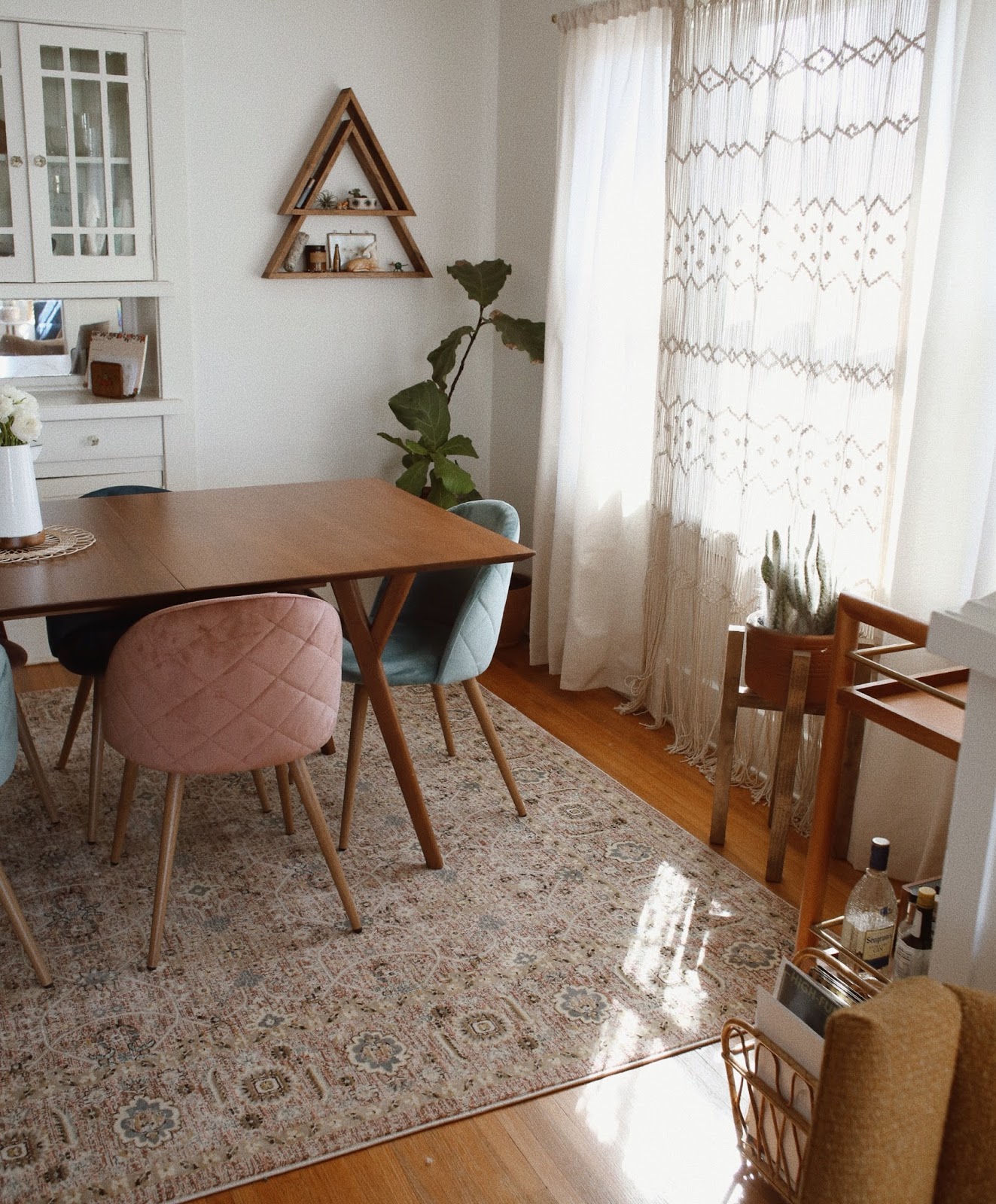 Now, remember when I said I was onlyyyy going to look for one rug? Yeah, no, I knew I was lying on that one, because the Nonnie Rug stole my heart pretty fast too. As I said, we lived in a small space before, so we've never ever had a dining room table. So once we did suddenly find ourselves with not only a table but SIX chairs (see the details for both in this post) I quickly learned that you simply must have a rug to go underneath all of that. It just means less scraping chairs and it helped to separate the wood floor from said wood table. I love the pattern of this rug for a lot of reasons, but most of all because I know it's not going to show signs of wear right away – it will grow with the space without ratting me out for spilling food here and there. Score.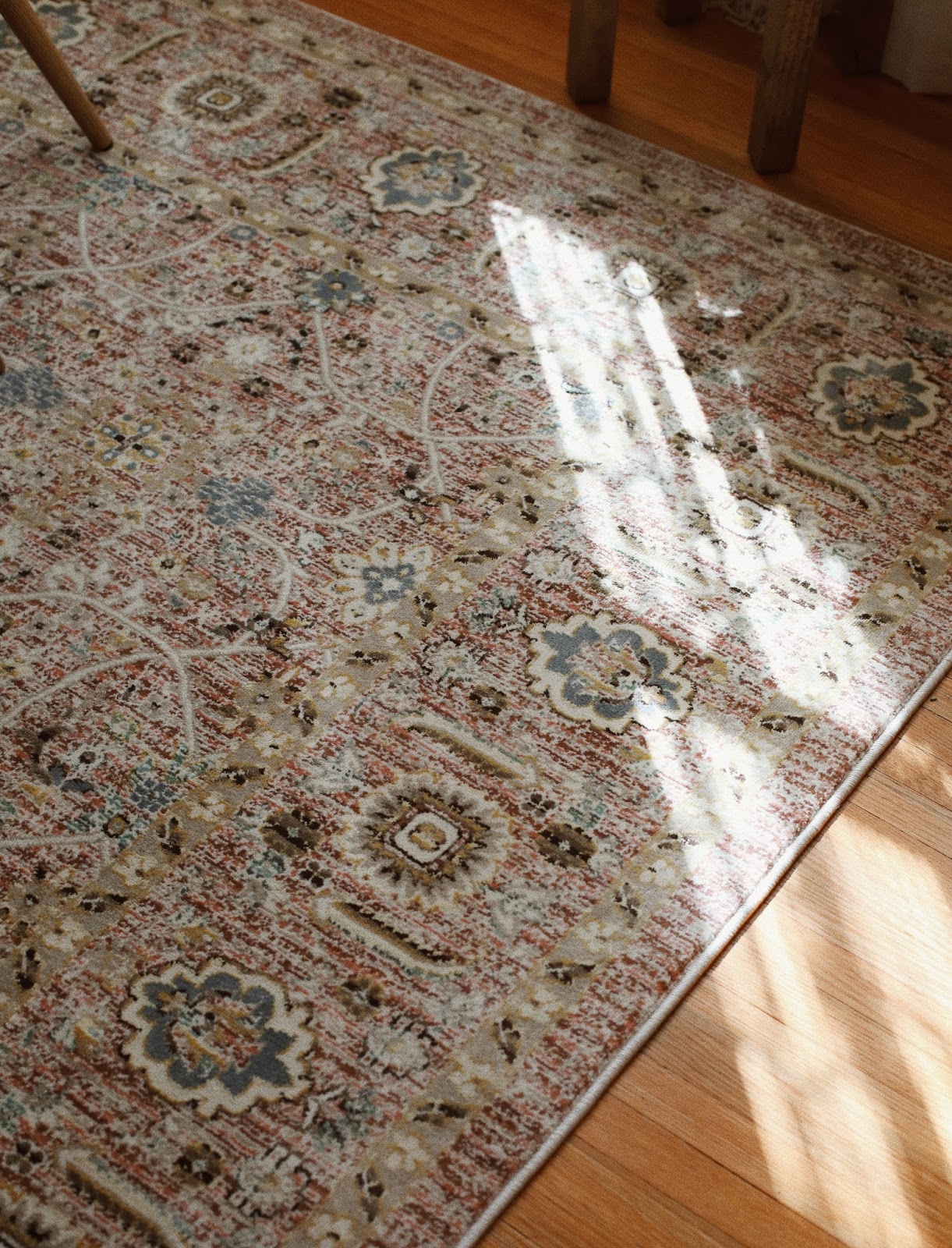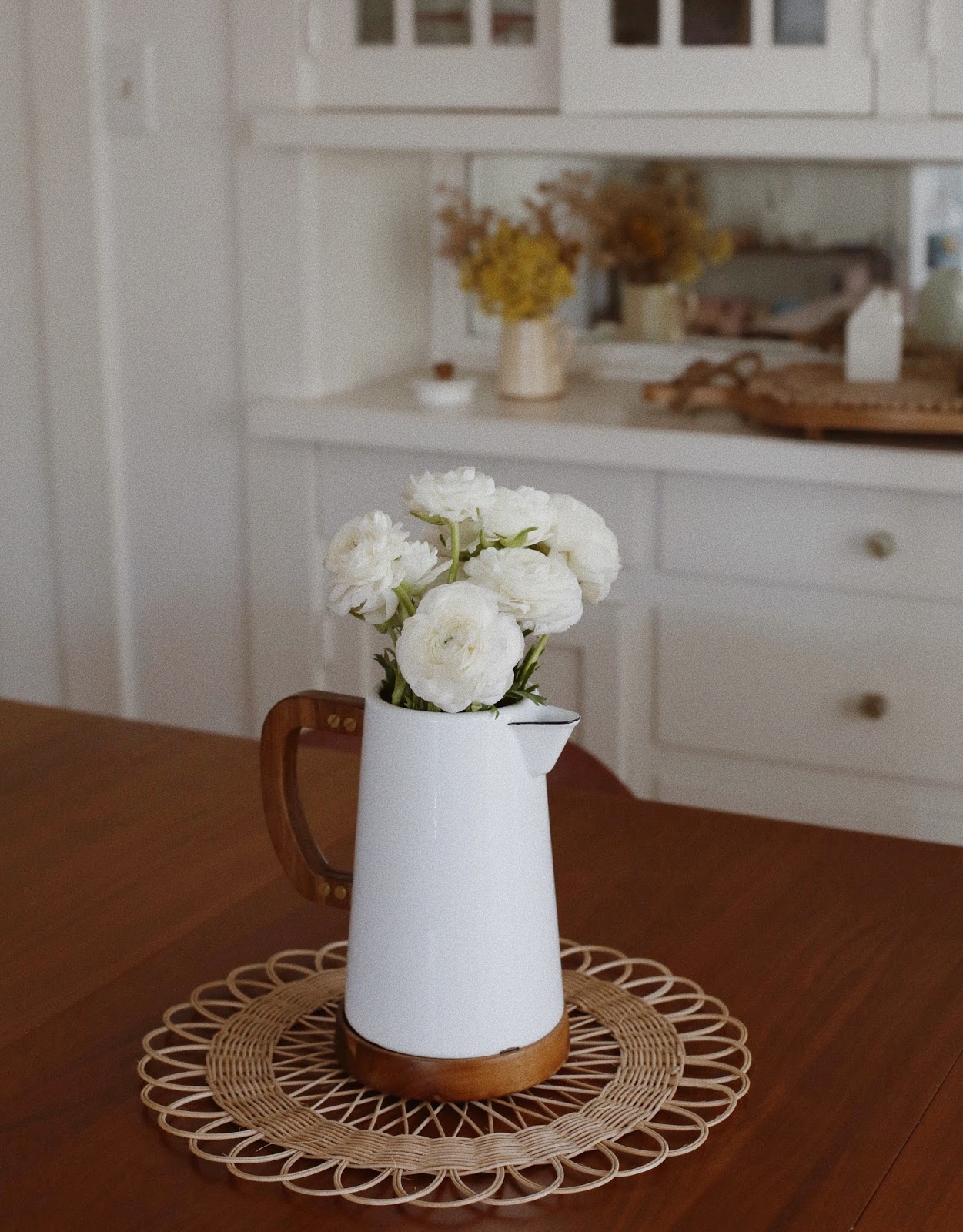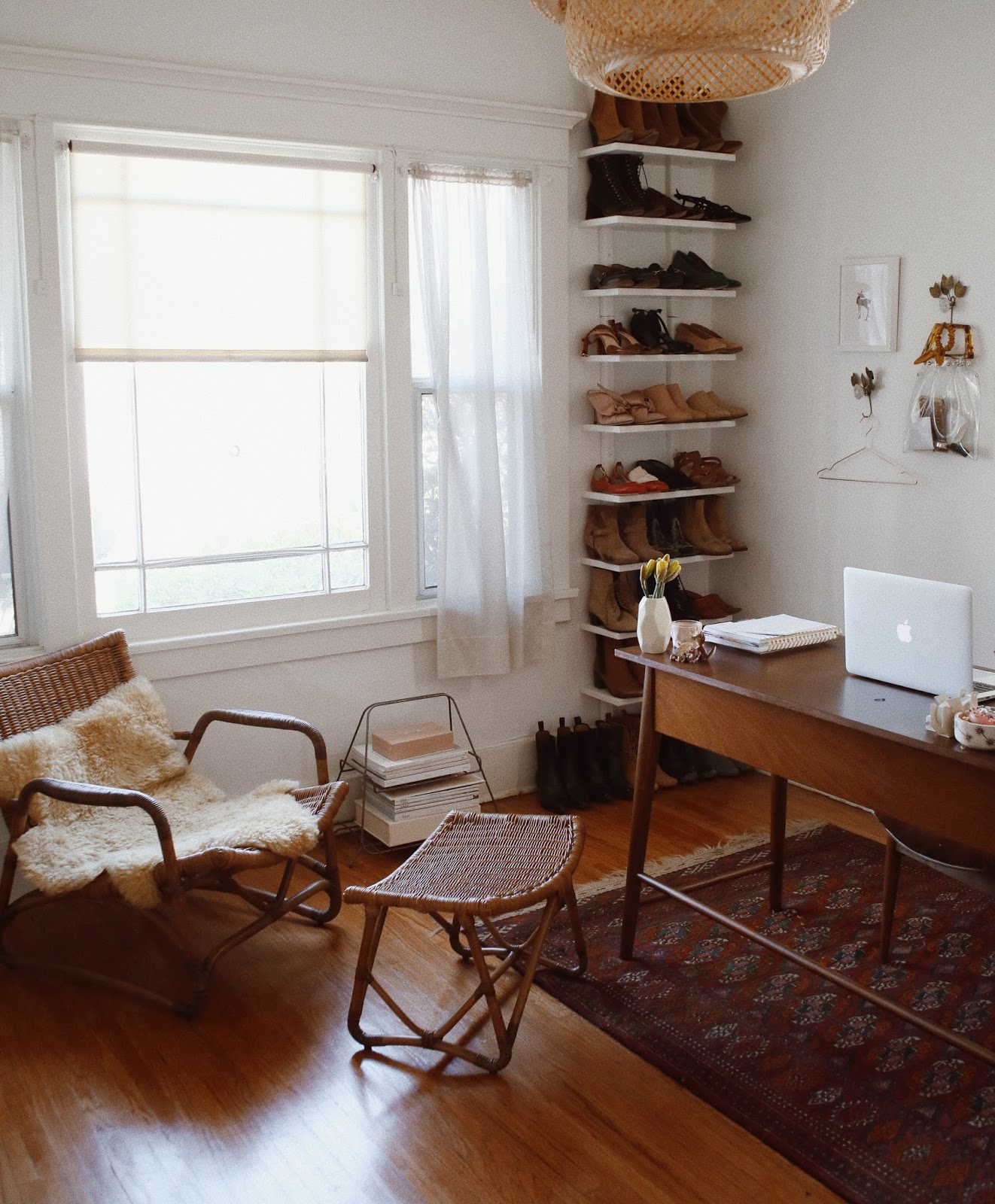 The last piece (okay two pieces) I picked up from Lulu&Georgia were the Brigid Lounge Chair + Footstool – but since they're sold together, I'm counting it as one piece. I was looking for a more loungey and relaxed chair for in my office, to give myself a break from times spent behind my desk. At first I wasn't sure if I would need something like this in the office, but once we set it up, I've found it to be one of my favorite spots in the house. It feels like my own little retreat away from work, and is an amazing spot to take breaks in – plus, it gives Mops a spot to lay when she 'visits me at work'.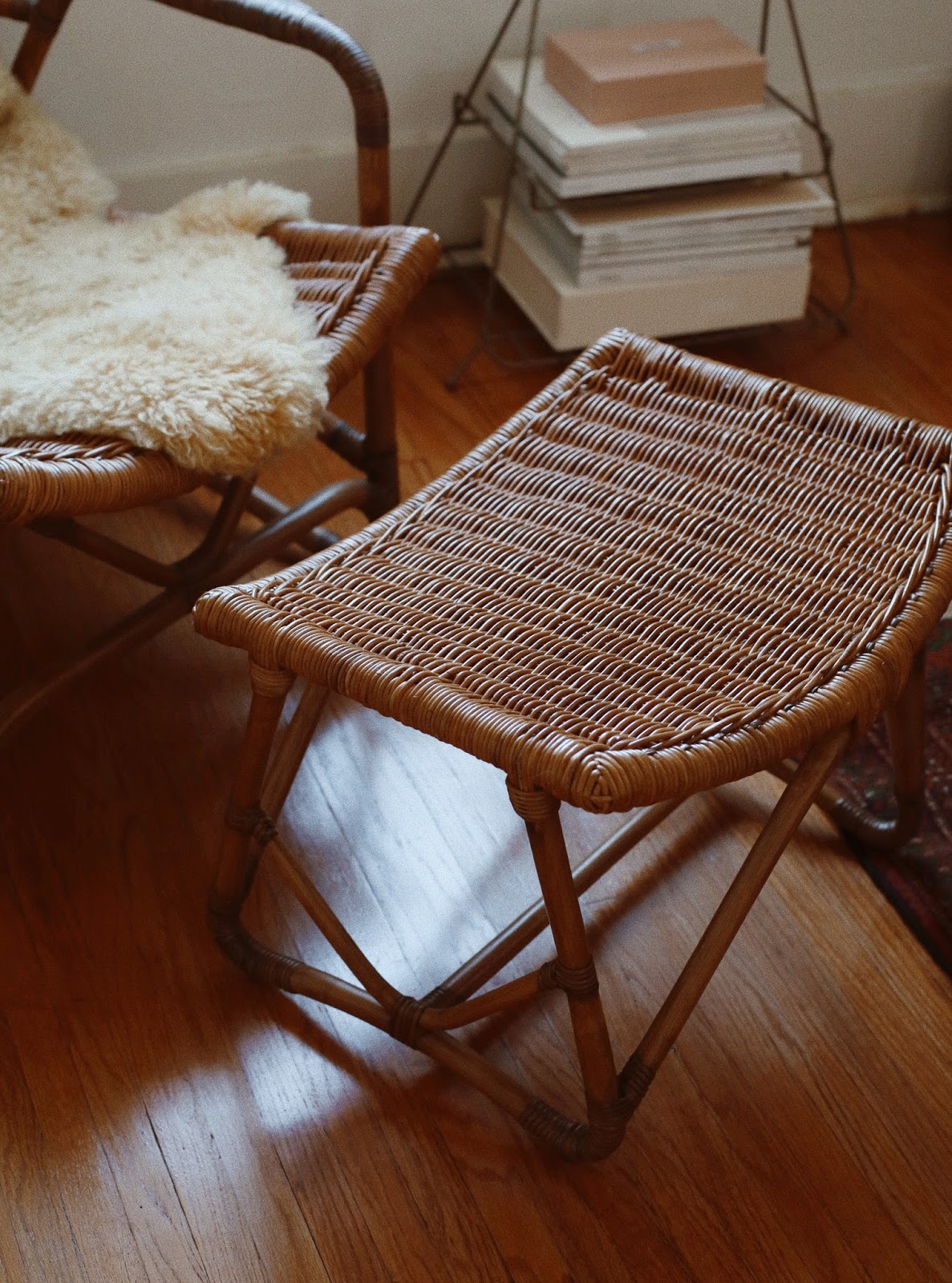 The items featured in this story were sent c/o Lulu&Georgia, however all opinions expressed are my own.