For long haul flights, I usually board the plane without a stitch of makeup on, and then spend the rest of the flight trying to keep my skin moist. It's a constant battle, and at the midway point of any flight, I can feel my face really drying out. So for my most recent flights, I started to bring along a few more products than just my usual face oil and lip balm – and I really noticed a difference. Scroll down to see my picks!
Biossance Face Wipe (not pictured) // These have been a staple in my skincare arsenal for a while. I hate most face wipes because of how drying they can be, but these ones are made with oil soaked into them, so it's not a harsh way to remove dirt and makeup. Plus the squalene oil helps condition and treat your eyelashes + eyebrows as you're using them, so it's a major plus for me. On a sidenote, I carry these in my gym bag to use occasionally, and keep 2 or 3 in my bedside table drawer for those nights where I'm too tired to complete my usual 6 step skincare routine.Sisley Paris Floral Toning Lotion // Because this comes in such a large container, I keep a travel squirt bottle in my toilet bag that I refill before traveling. When I'm at home I use this as a morning toner soaked into a reusable cotton pad, but during travel I use it as an additional wipe for pre or post face mask. It just helps my skin to feel clean and not dried out.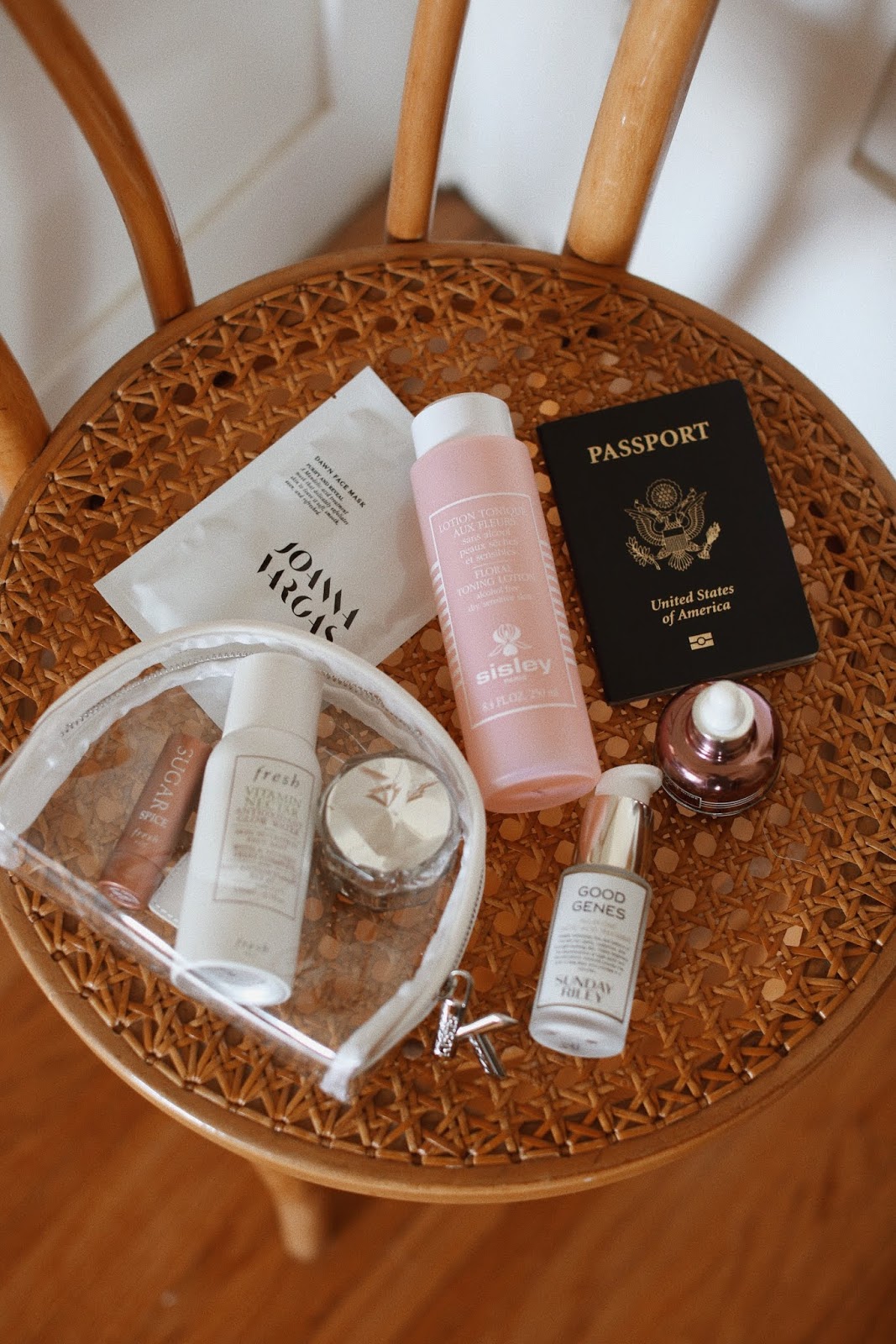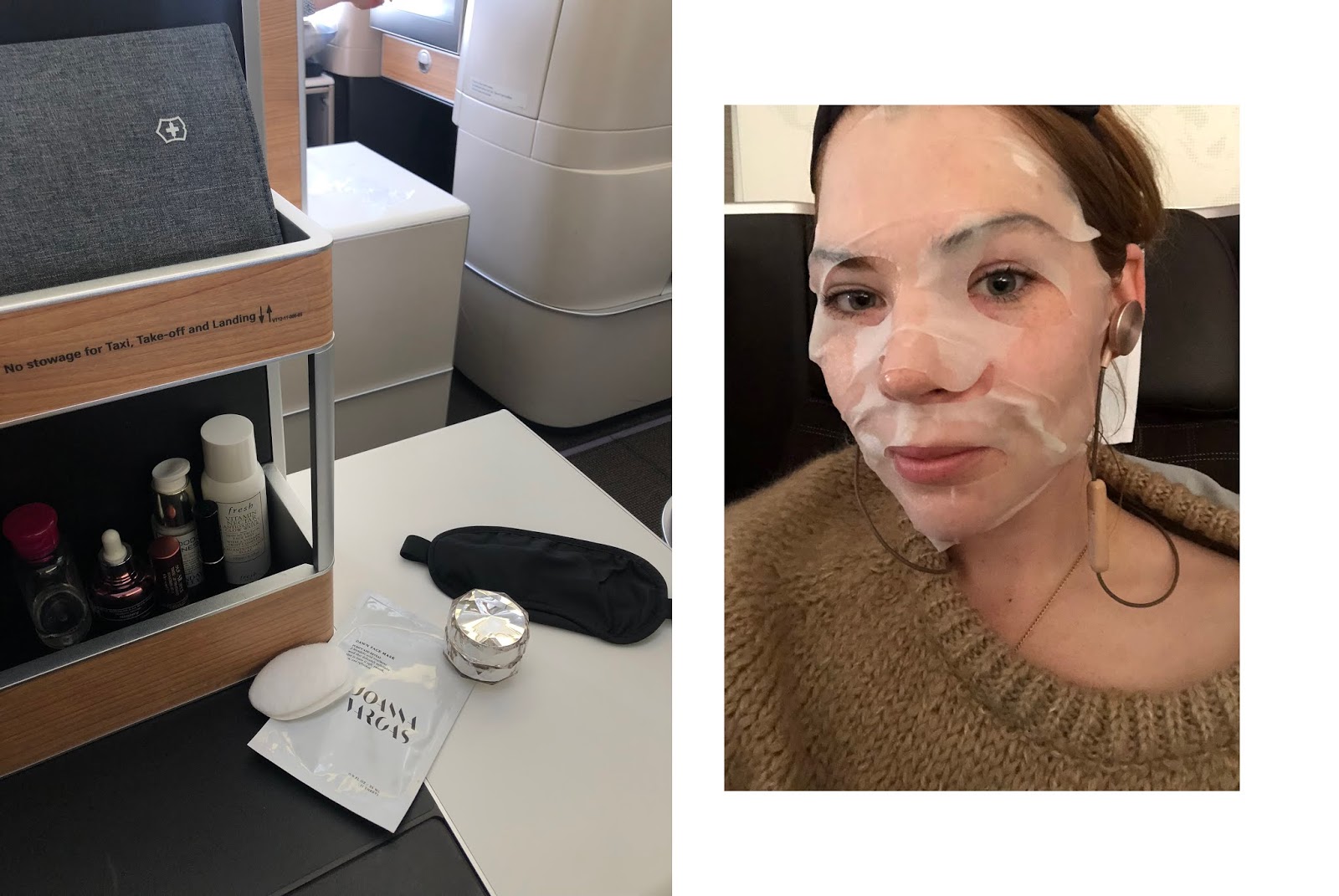 Joanna Vargas Dawn Face Mask // I am not the biggest fan of most sheet masks (they can be a bit clumsy to put on) but this one is ABSOLUTELY worth looking like a nut on the plane while wearing it. My skin felt brand new after taking it off, and the extra product that was in the bag was enough to apply to my neck too. Long flights can be dead boring, so it's a great excuse to really spend some time on your skin. Plus it's fun to scare fellow passengers with your sheet face.
Fresh Vitamin Nectar Antioxidant Glow Water // I love a good refreshing mist, and while my Caudalie spray is a huge favorite, I was afraid to travel with the glass and risk breaking it. Plus I think the bottle is too large for TSA anyway. I was sent this glow water from Fresh and have been using it throughout the trip, not just on the plane but as a makeup refresher mid day. During the 11 hour flight from Switzerland to LA, I spritzed this on my face several times. It has a pleasant smell that's subtle enough to not bother other passengers.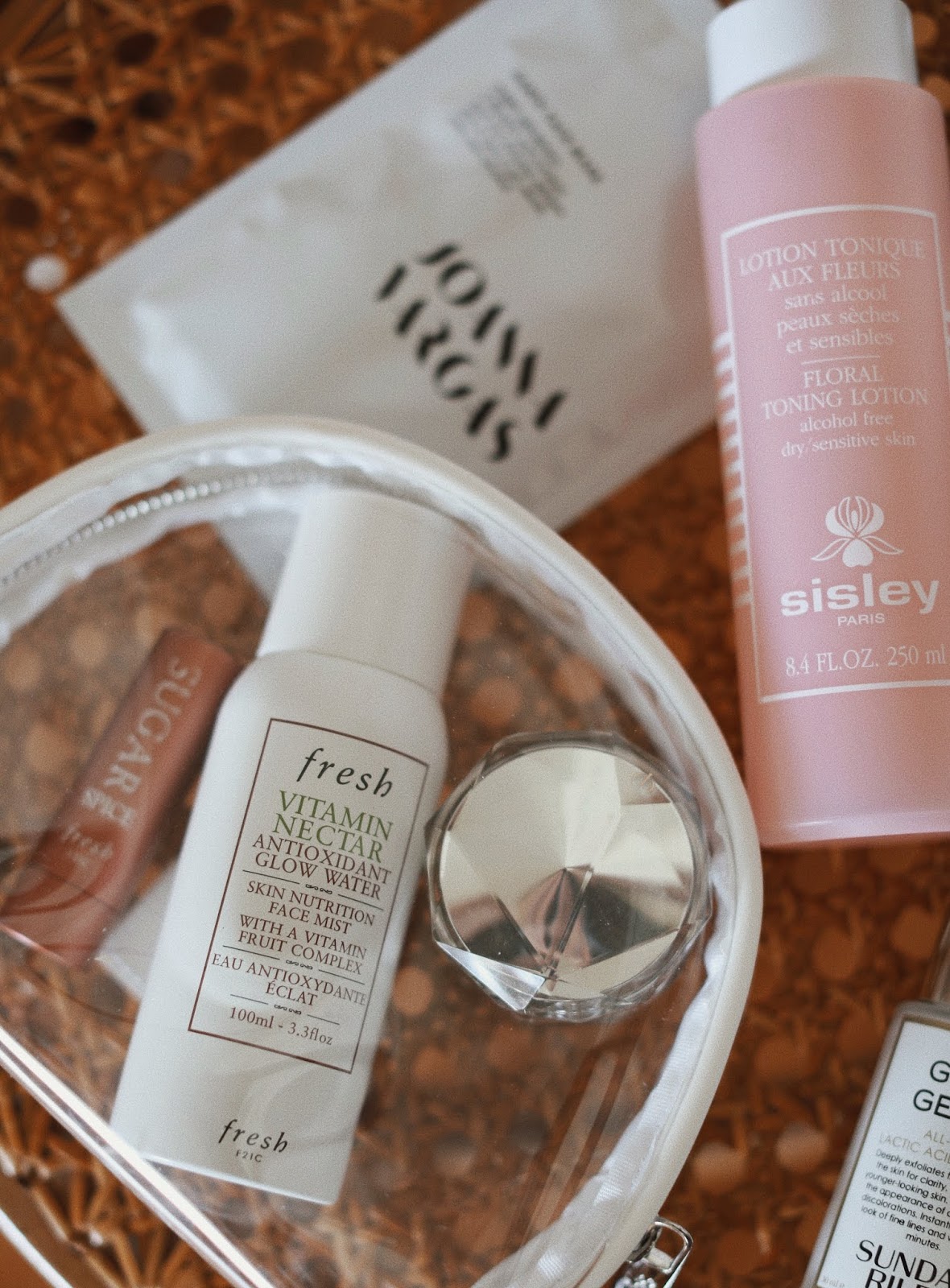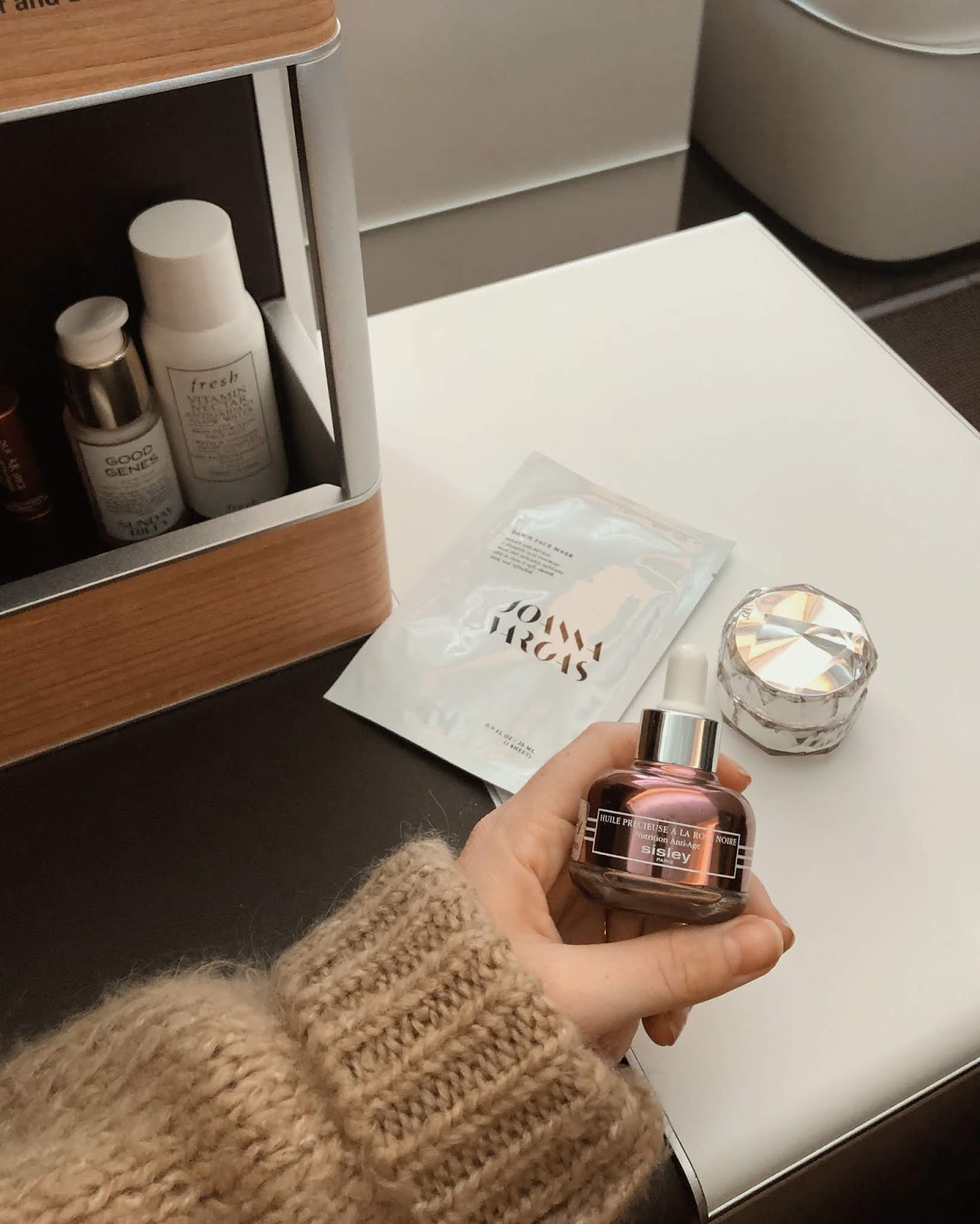 Cle de peau eye cream // I've dealt with under eye circles my whole life, so eye cream is a non-negotiable for me. This one from Cle de Peau works beautifully and looks like a gem sitting on your in-flight tray table. I had a flight attendant ask about it too, so it must mean it's working! Or she just liked the container.
Sisley Black Rose Precious Oil // Are you guys sick of hearing me talk about this oil or what? I use a Biossance Vitamin C oil during the day, and this is my nighttime oil (as I use retinol treatments at night that do not pair with vitamin C). It is SO luxurious, and it's really hard for me to not go through a bottle in a month. But, a little goes a long way, and it always makes my skin feel soft after using. I can't imagine traveling without it.
Fresh Tinted Lip Treatment in Spice // This is a product that a follower actually sent me the info on, prompting me to make a rare trip to Sephora just to get it. I love lip treatments, and even more so, I love a good warm lip color. Because of how fair I am, my lips can often appear super pale, giving me a tired or sick look. Not cute. So even though I skip makeup while traveling, this helps me avoid looking totally dead for when we land.
Sunday Riley Good Genes // While I did pack this to use on the flight, I ended up liking the afformentioned Joanna Vargas sheet mask so much, I decided to skip using it on the flight. But I did pack it, and I did use it the night I landed, and I doooo love it, so I figured I should include it. It's a great treatment to travel with, and it has a pump that you can twist to prevent product spilling out, so it's safe to pack.