LA is just a bit landlocked when it comes to traveling to Europe, so the flights can be long. Over ten hours long. And while I usually just plan on spending a full travel day being uncomfortable / staying awake all night in a small seat, on this last trip, I decided to do things differently with a stopover flight. I was first introduced to the idea of a stopover last Summer when Eric and I visited Iceland for 2 nights on our way to Spain. It ended up costing about the same amount as having a layover flight – we just extended the amount of hours we spent in our layover city to turn it into an overnight stopover stay. So rather than jetting straight to Paris for fashion week and having to shoot photos with a serious case of jet lag upon landing, we elected to spend the weekend in Boston.
I've never been to Boston before – and for the most part my knowledge of the east coast is pretty limited to New York. So when we first started looking into the idea of a stopover, New York was my first idea. I've traveled there a lot, I know the city, and have my favorite spots to visit, so it felt like an easy solution. But once we started delving into the logistics of staying in New York for under 48 hours, the idea seemed like a bad one. The airport is far from the city. Cabs are expensive, the Subway takes a while, and once you're in the city? Everything is expensive. I love NY hotels, but when it came to planning a visit around essentially being able to rest and relax and adjust to a time zone change, it started to become extravagant.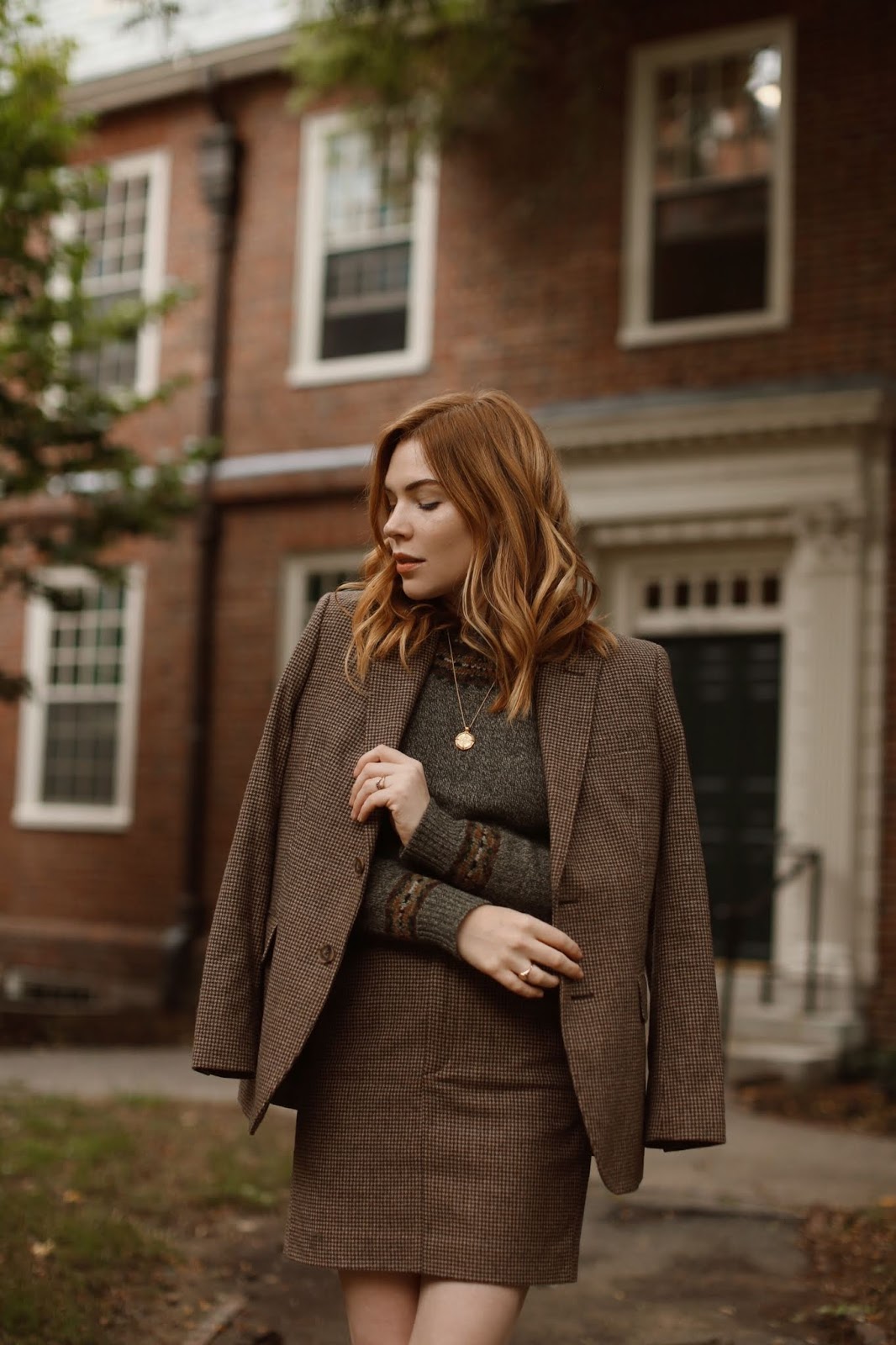 polo ralph lauren skirt, blazer, and knit. Necklace by missoma
Shot these collegiate photos on Harvard campus!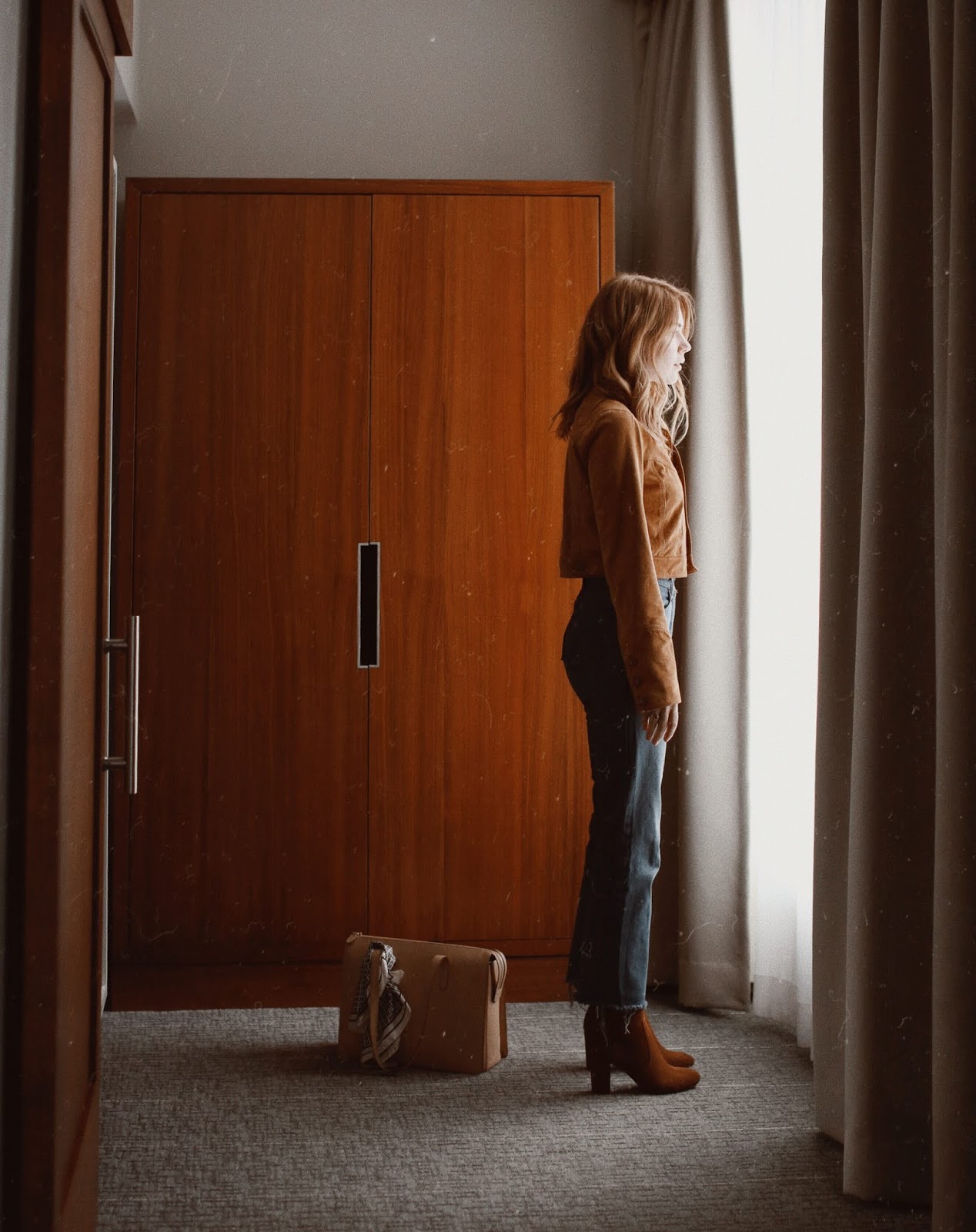 creagh laptop bag, frilly jacket, vintage denim, and rouje boots.
Fortunately I follow a few bloggers who are based in Boston, so I had already saved a folder of Boston locations in the 'Saved' tab on Instagram. I had seen Gabbymbeki post photos of rad restaurants and chic cafes. I had seen Eva Emmaline post stylized outfits shot on the streets of Boston. So it was on my radar as a city to visit, and why not do that while on my way to Europe?
I looked into hotels in Boston to start the process, and found a lot of choices. There were a lot of airport-esque hotels and some big brand names, but I knew I wanted something comfortable, easy to get to from the airport, not over-the-top, and near good coffee. Eric has made me into a bit of a coffee snob (I'M SORRY I HATE ME TOO) so we plan a lot of our life while traveling around how we can get a good cup of coffee or an oat milk cappuccino. Everyone has their needs, ours are just very caffeine-centric. So when I found the Godfrey Hotel I knew I was in the right place.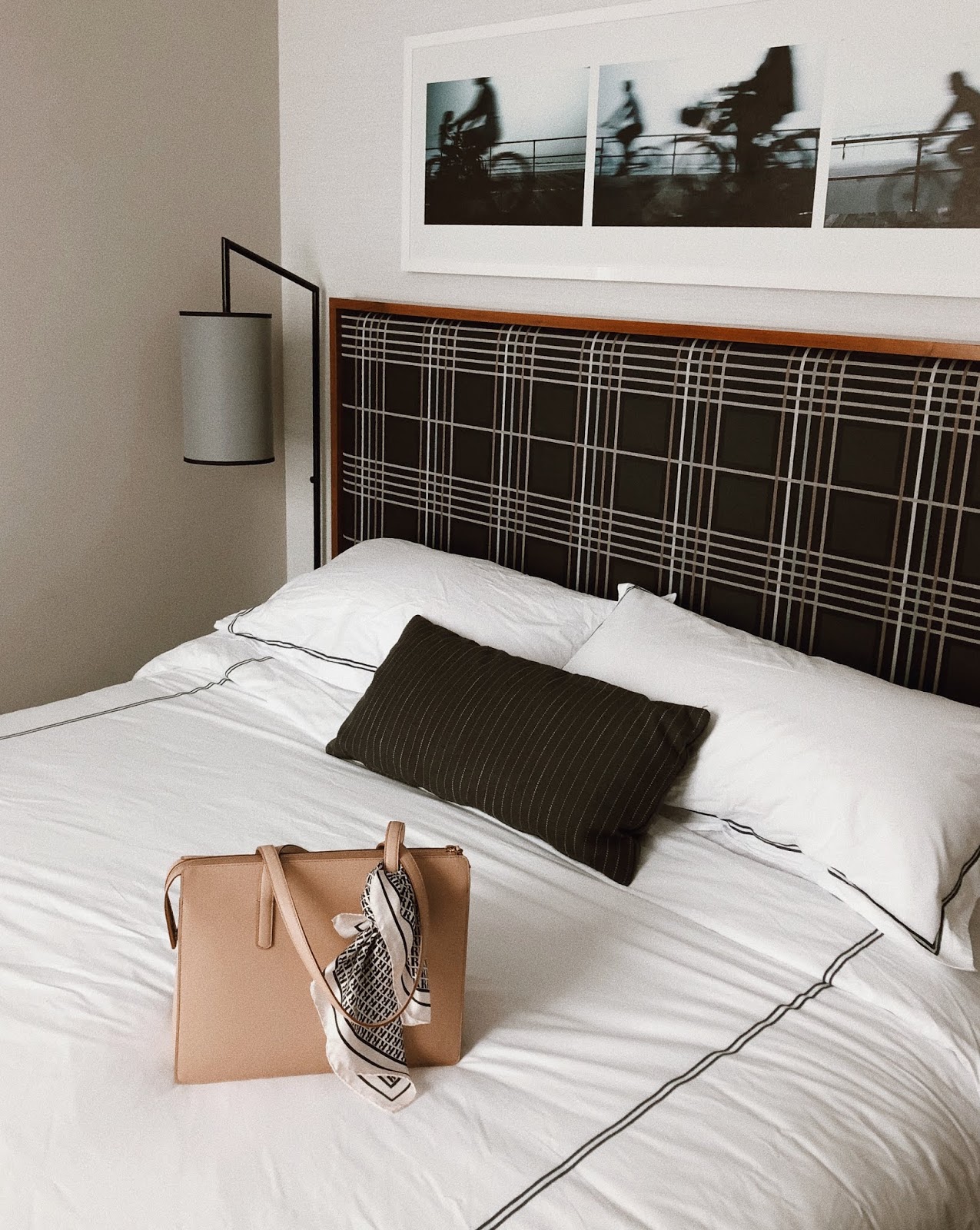 Very much wanted to steal the headboard at the Godfrey.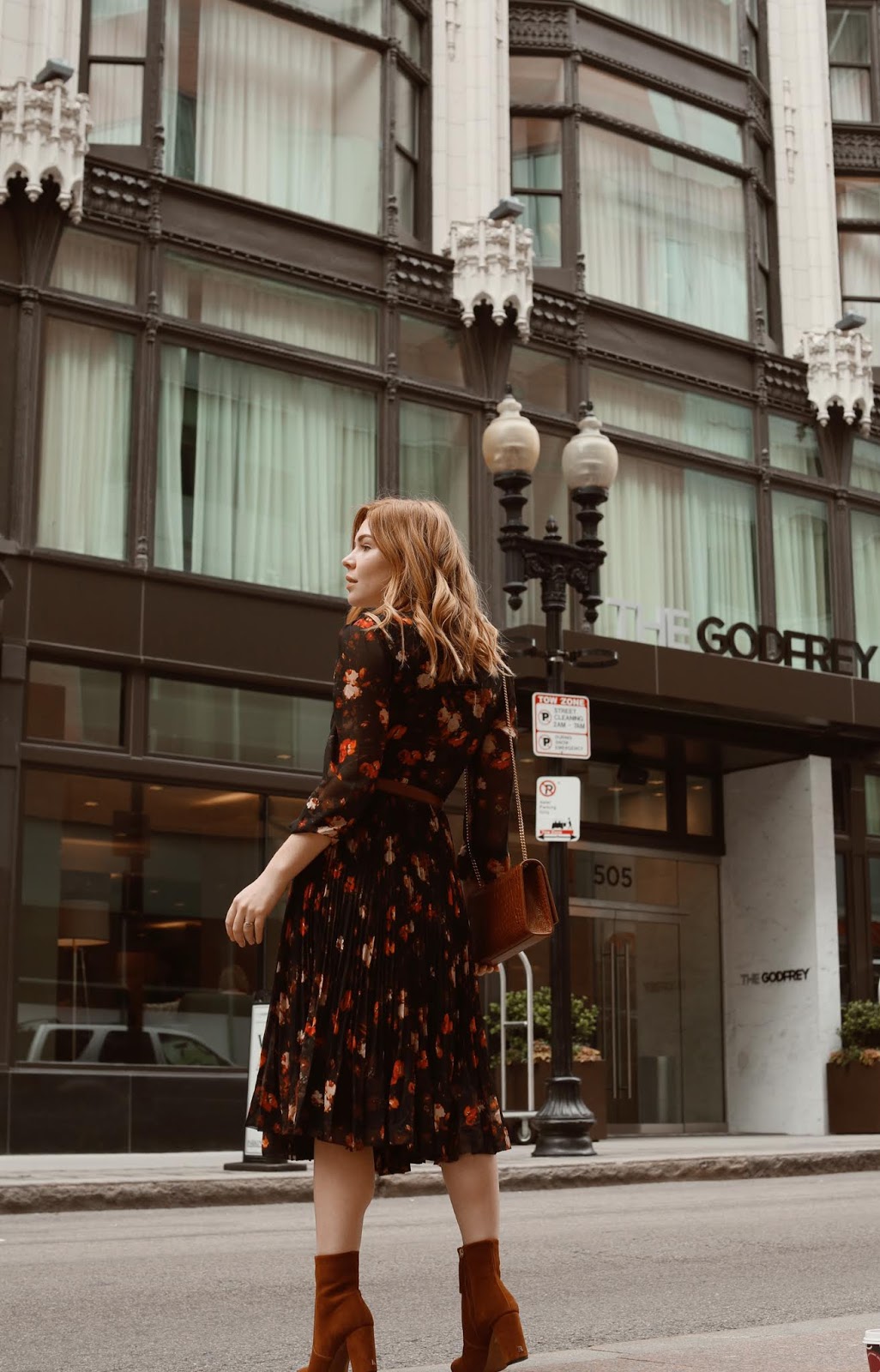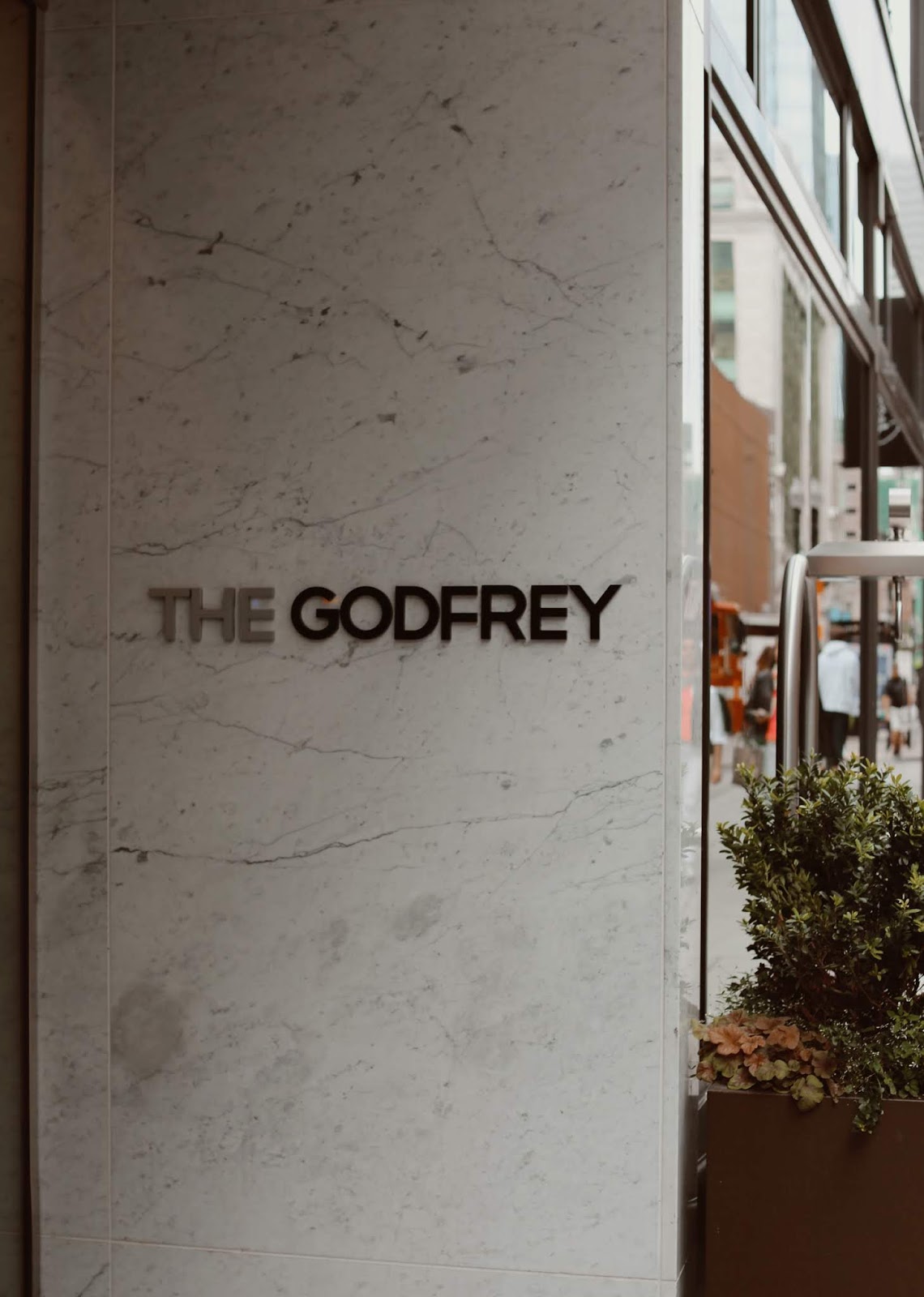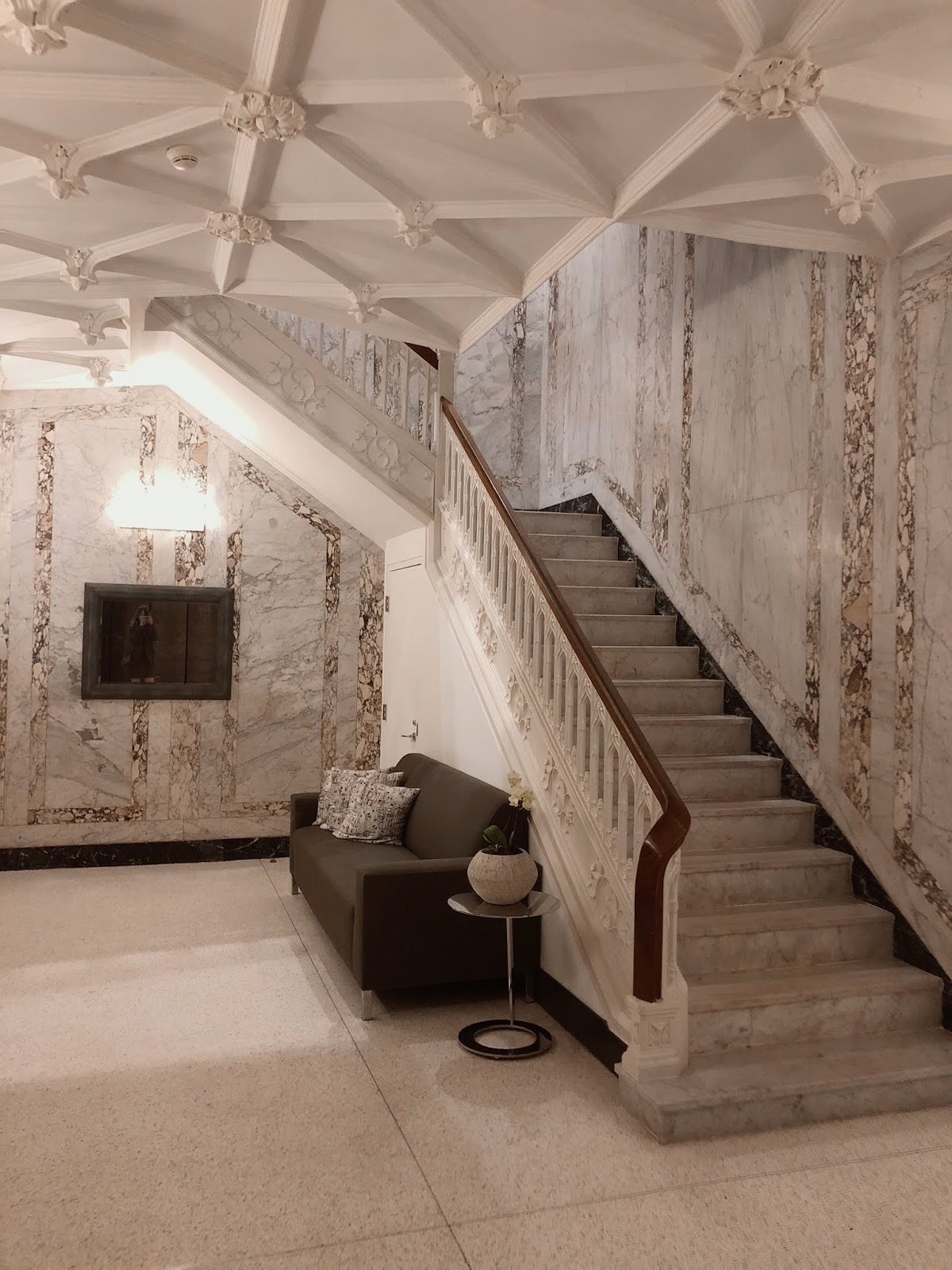 They have a great coffee shop downstairs (they have Oatly, alert, they have Oatly), they're near to a lot of major businesses and amenities, and getting to and from the airport would be a breeze. Check, check, and check. The rooms looked comfortable, and the whole vibe felt very us, so we pounced on booking a flight (LA to Boston, Boston to Paris) and then a room. Once we had those major pieces down, all we had to do was decide how to fill in our time while there.
Since our plan was to use the trip to adjust to a new timezone (hopefully to circumnavigate the 8 hour time difference between LA and Paris), we elected to keep our plans pretty lowkey. We went to a few restaurants (listed below) and spent a lot of downtime relaxing at the hotel. It wasn't our usual go-go-go get the pictures weekend trip, but we still found plenty of locations to shoot content to ease our shooting schedule in Paris. And we had a great chance to see some historic US locations, so it was really the idea weekend away, without the dreariness of having to turn right back home at the end of it.
So below are the places we visited and the spots I would recommend, along with a few of my tips and stories along with it!
Shot these images on the streets of Boston – so many good photo spots to be had.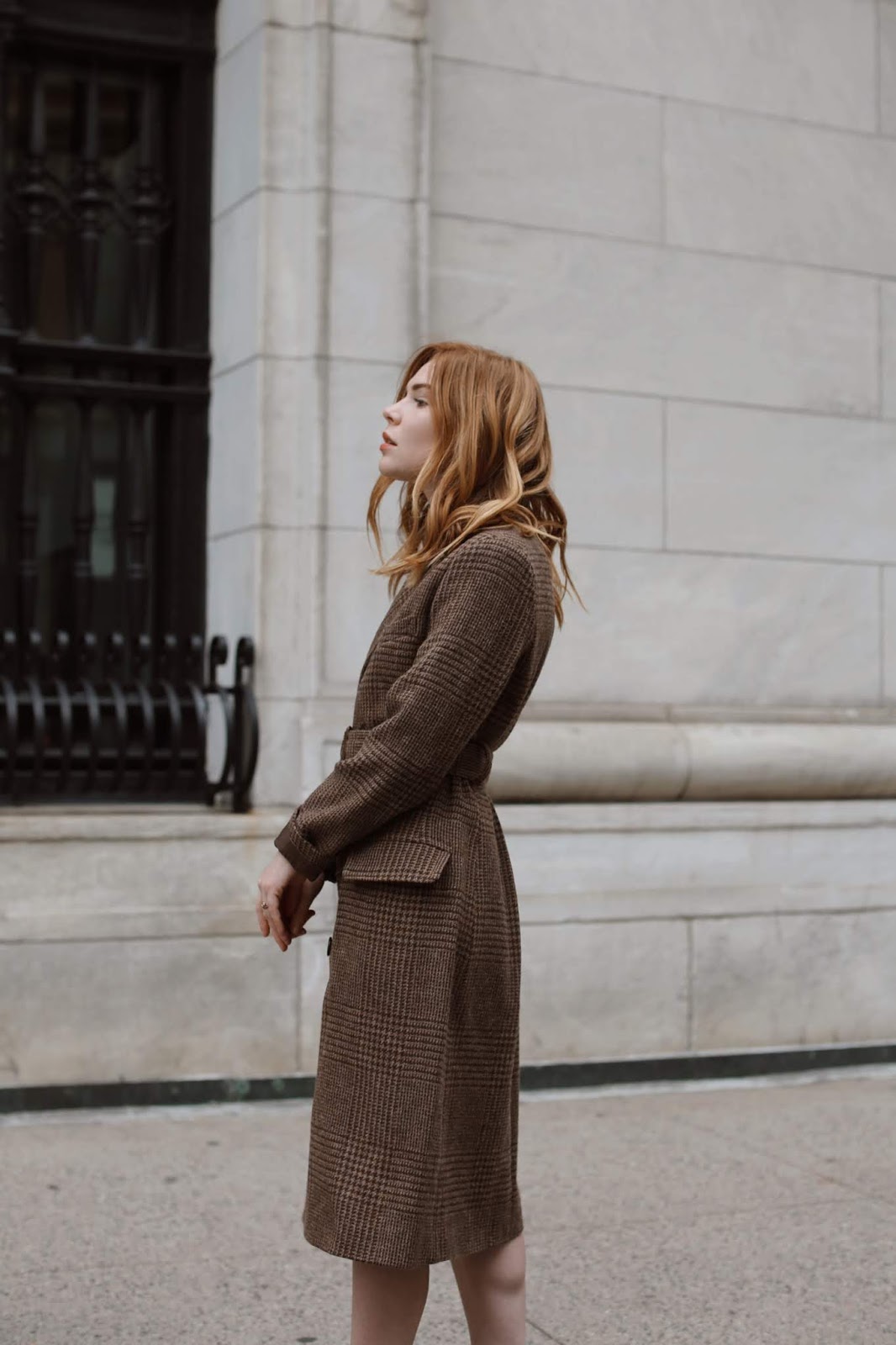 To Stay:
Godfrey Hotel // I stay in a lot of hotels as a part of my travel-blogging, so I have a lot of things I look for when it comes to a stay. I want comfort, quiet, and nothing too fussy. A good lobby bar, an attached restuarant, and a great view areal helpful too! We loved our stay, and were really happy with how centrally located we were.
Coffee:
George Howell Coffee // As mentioned above, this coffee shop was actually in the bottom of our hotel, so it was insanely convenient. Add to that their excellent selection of coffee and tea (and the OATLY!), and you have a great spot to recharge. We went a few times a day and had one last tea before our late flight to Paris, and it was great each time.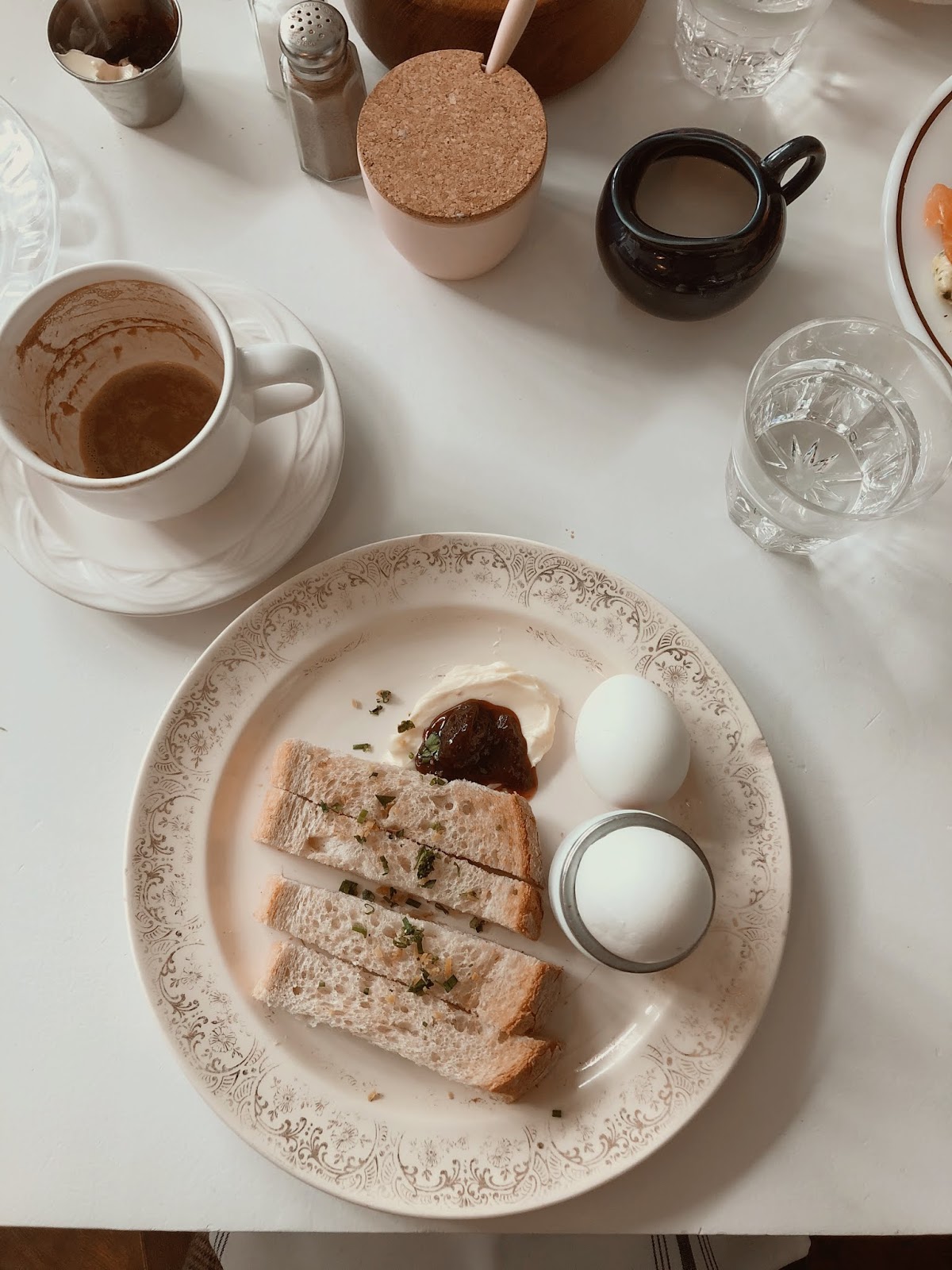 At Juliet.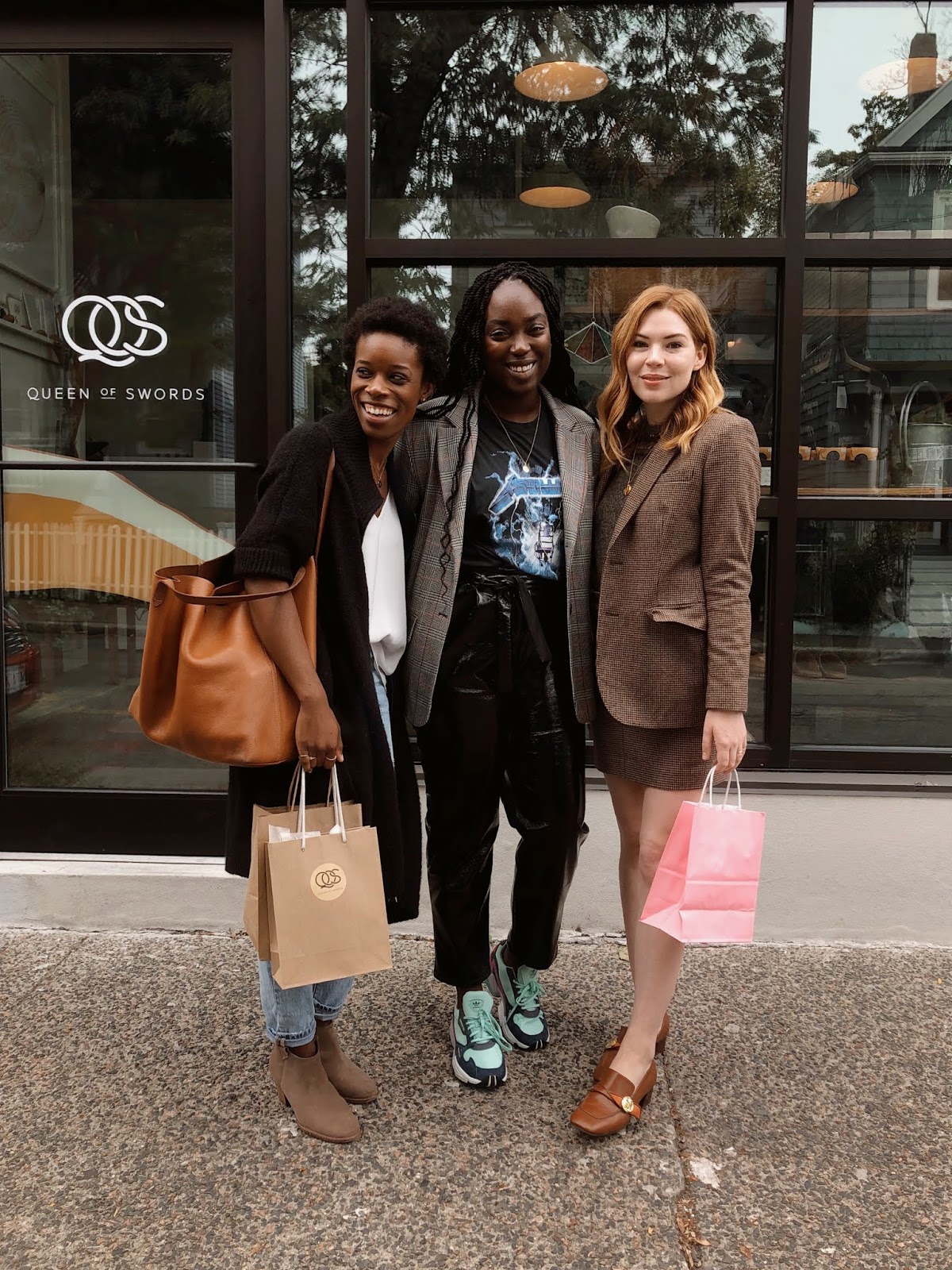 These ladies are so rad.
Restaurants:
Juliet // I had this spot recommended from a number of people, and actually got to go with some local Bostonians, Gabby and Bethany (of @gabbymbeki and @twentysomethingplus). The food was great, the conversation was better, and I all around would recommend it for a charming brunch. I got the Parisienne and struggled a bit with the egg cup, but it did make for a pretty picture and a great breakfast once I got the hang of it.
Row 34 // We visited this restaurant for (you guessed it) oysters. Our flight got in at about 8pm, so we made late reservations for 10pm. It's a really popular spot, so reservations seem like a must-have, but maybe if you are open to a late dinner you could pop in. We loved everything we had, and the wine was great too.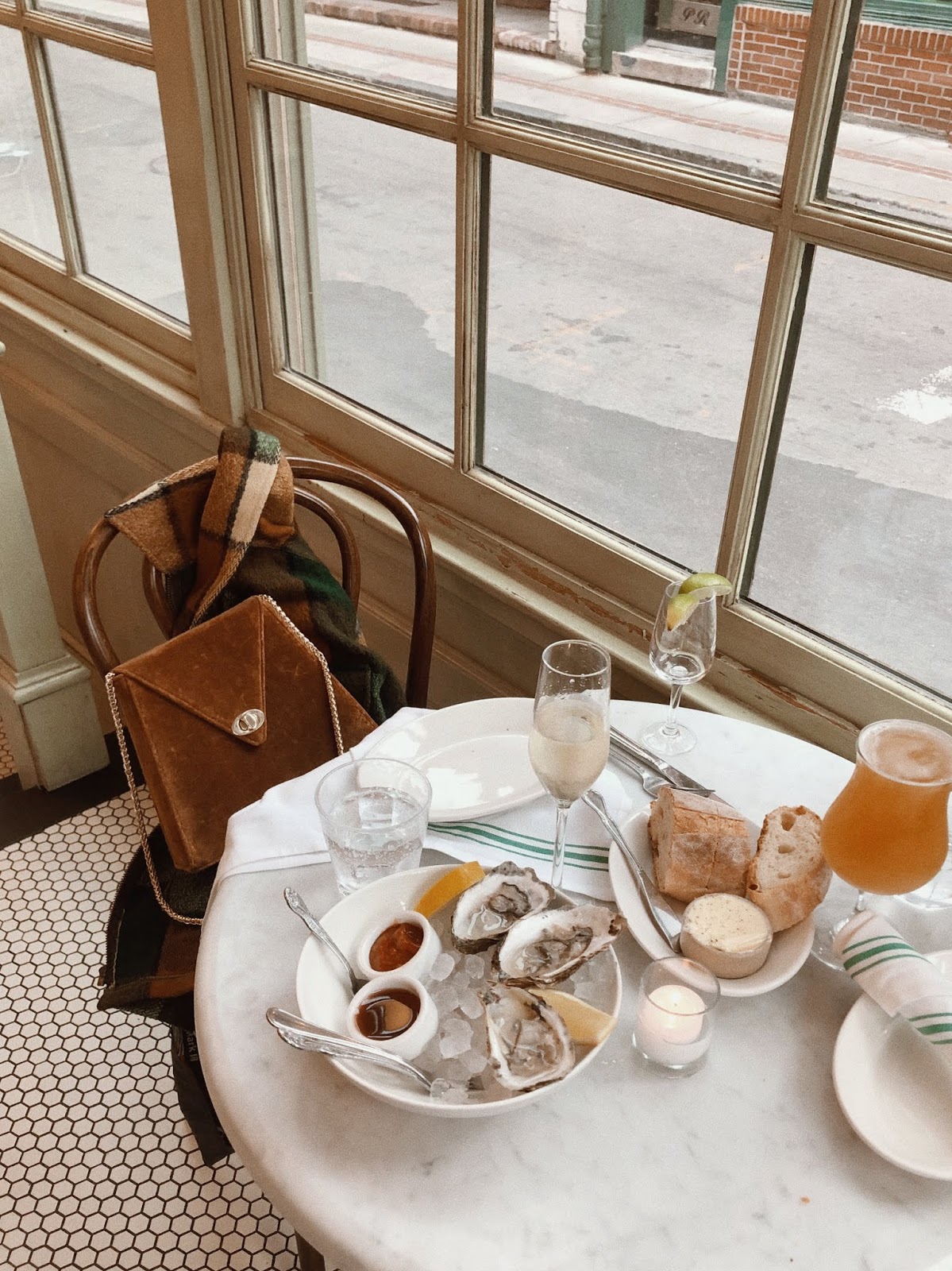 North Square Oysters was my favorite spot from the trip.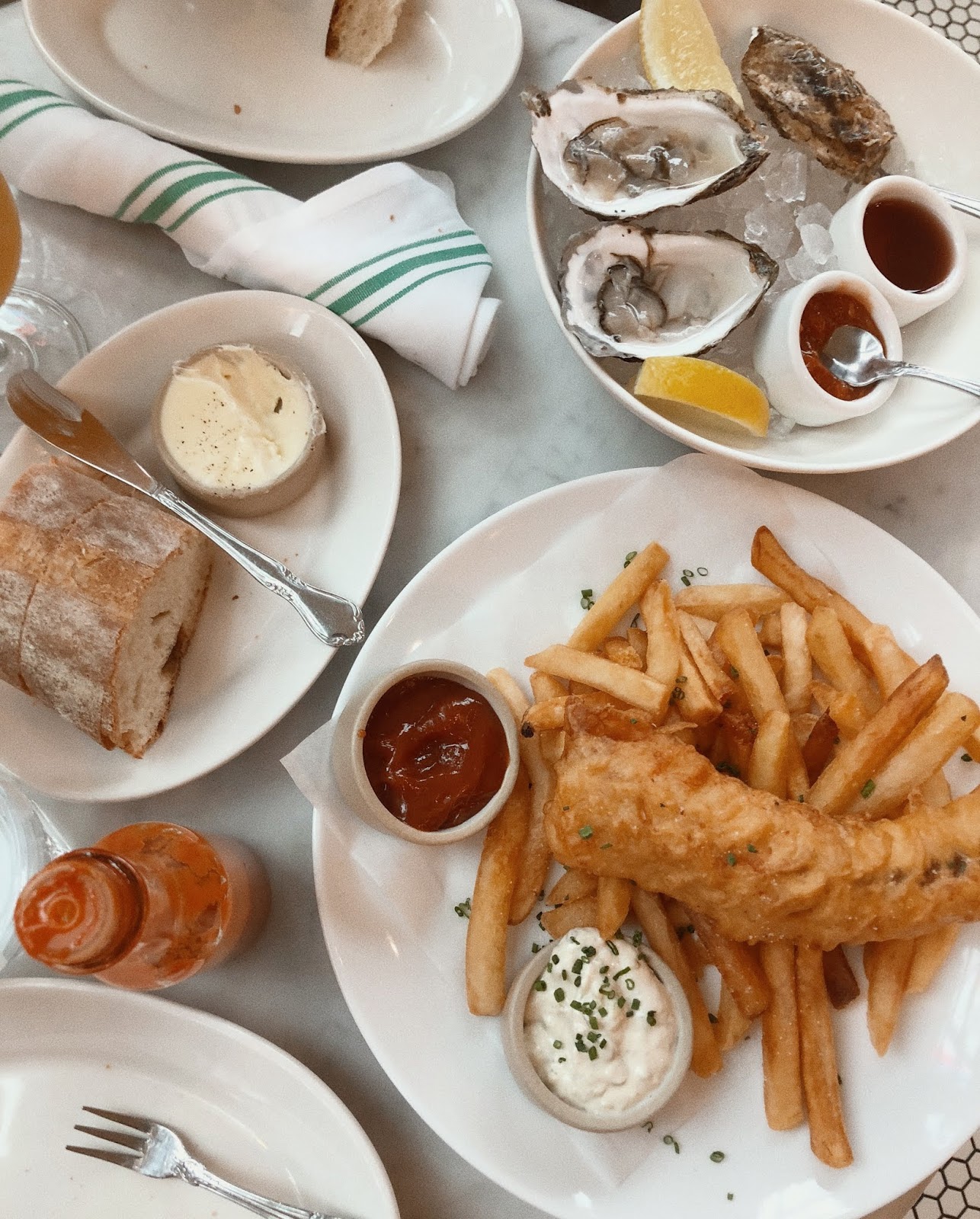 North Square Oysters // We visited this Oyster shop while at the end of our journey on the freedom trail. It wasn't on our list of spots, but as it was our last night in Boston, I was really wanting to have juuuust a few more oysters. Not only was the food great, but the interior was absolutely gorgeous. Show up when they open and you can grab this little table we sat at by the window.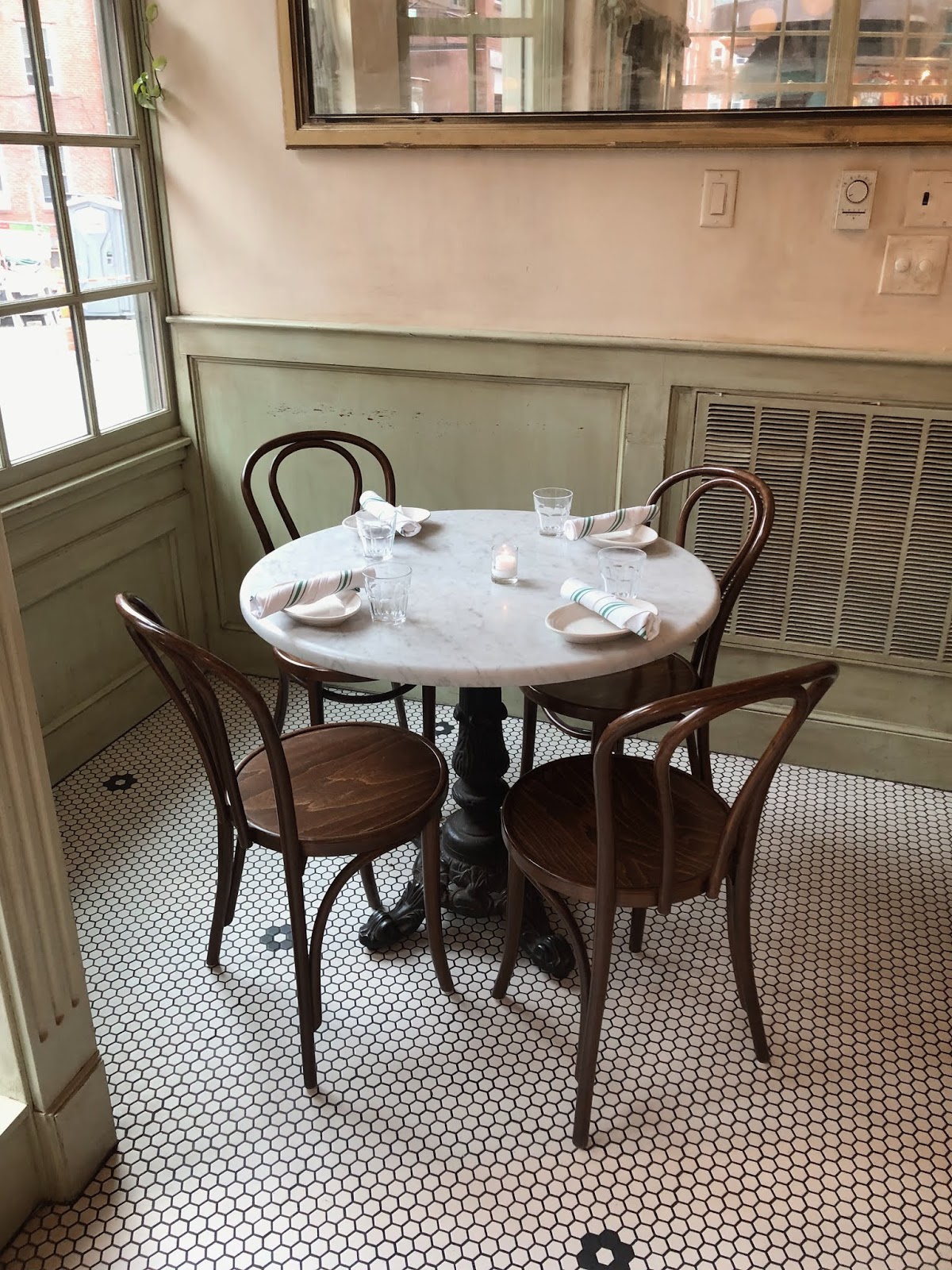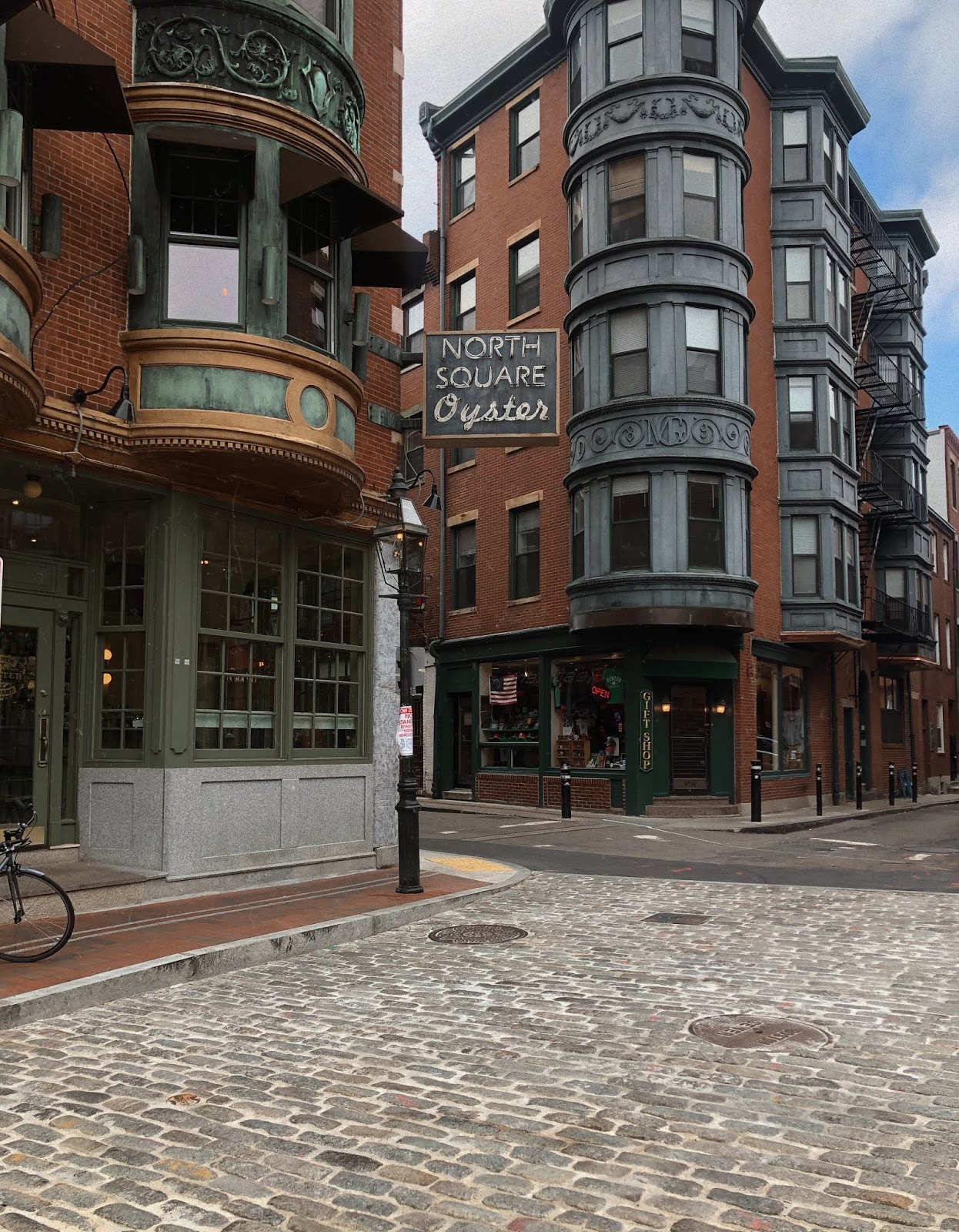 Sweetgreen // I know, I know, this is not a local little-known-place, but a total chain salad and bowl shop that's available in a lot of major cities. But, in the middle of all of the oysters and drinks and walking, it felt really nice to sit down and have some greens. Not sure if this is even worth putting on the list, but to me it's helpful to know Boston has a bunch of locations, so if you're in need of some health, make a stop in.
To Visit:
The Freedom Trail // while technically not one place, The Freedom Trail is a must-visit if you find yourself in Boston and with some time for walking. It comprises of over a dozen stops including cemeteries, churches, and other points of historical interest.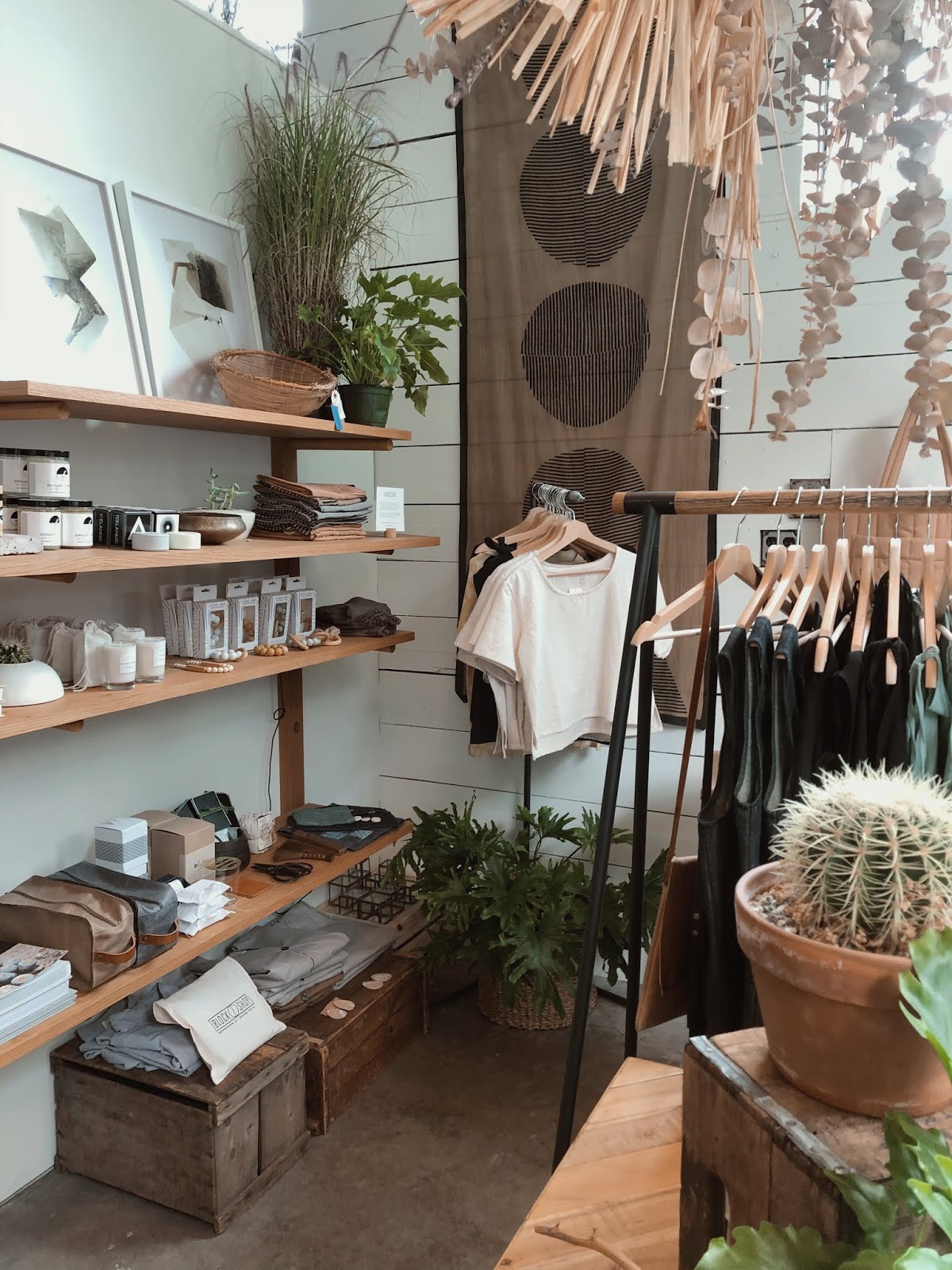 Inside Queen of Swords.
Queen of Swords // Loved this little shop, and if I'd had more room in my suitcase I probably would have splurged. Next time!
Bow Market // This was a great little outdoor mall featuring tons of independently owned shops that Gabby took us to! Plenty of vintage, handmade pieces, and a little plant shop too.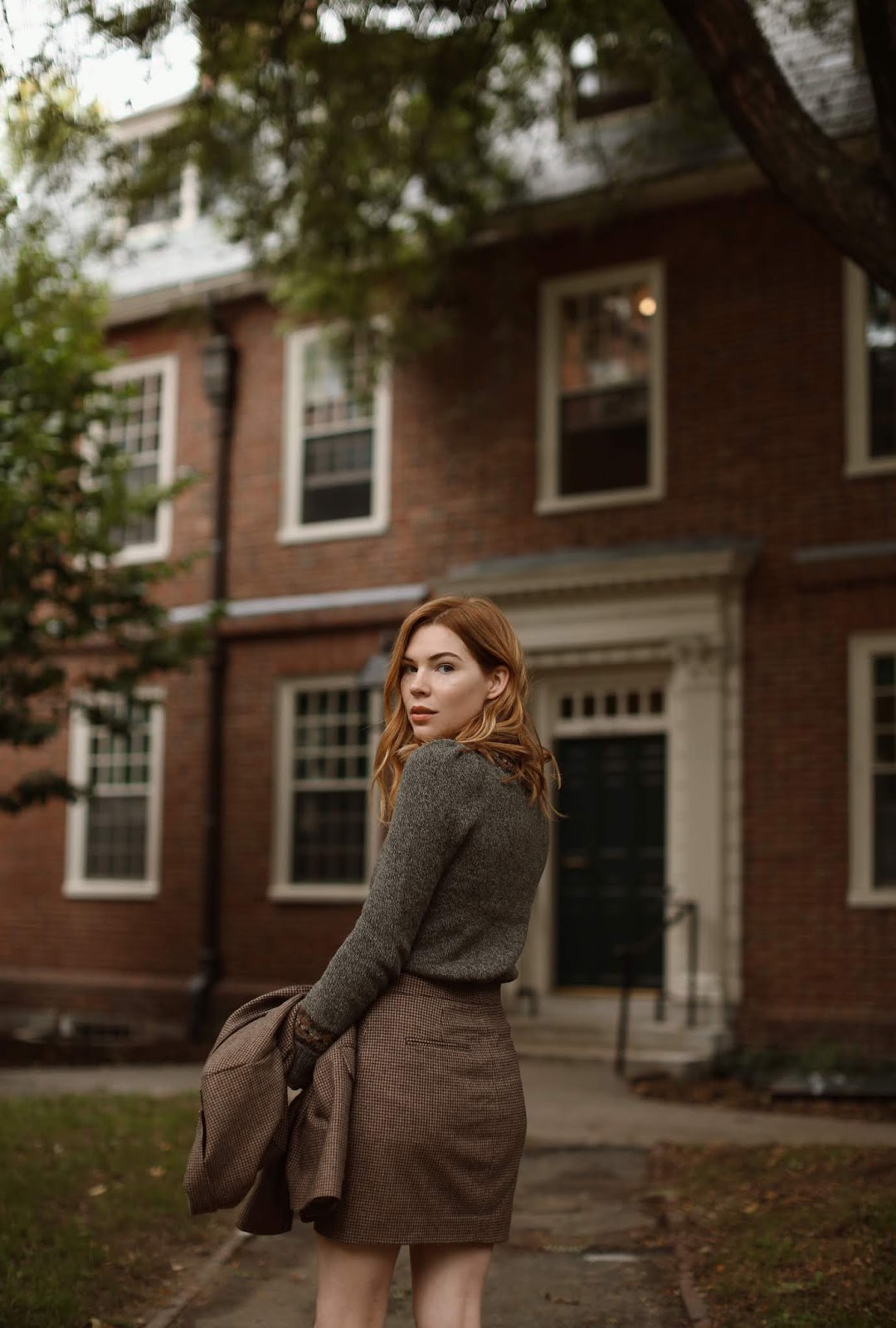 Harvard // "You got into Harvard??" "What, like it's hard?" Okay, there are more reasons to visit Harvard then just to recreate scenes from Legally Blonde (although, 10/10 highly recommend doing this), not least of which because it's a beautiful campus. We went by on the weekend and walked around the grounds, and even snapped some 'collegiate-y' photos of a Ralph Lauren look. It just felt all too appropriate of a setting, and all in all was a really peaceful place to walk around.
And that's all I had time to do during our short stay! I wish it had been longer, but I feel fairly certain we will be back again soon. Until next time, Boston!