I'm convinced that Rome is just one of those cities I'll never get enough of.
Much like how I feel about Paris, it's just a place that I plan to visit again and again. There's so much to see, so many restaurants, and beautiful historic locations dotted throughout the whole city. This time we spent 3 days and 3 nights and managed to pack a lot into that time without feeling like we were trying to see it all. I didn't want to be stuck in a large tour group the whole time, shuttling from the Pantheon to the Colosseum to the Vatican, so we picked and chose what we would see. We saw the Colosseum from the outside while walking, passed by the Trevi Fountain just to have a look (having shot photos there the last time we visited), and chose only two museums to actually go inside and visit.
The rest of the time was filled with eating, drinking, and a LOT of walking. We only took a cab to our apartment and to the train station when we left, and the rest of the time was spent on foot. We averaged about 7.5 miles of walking each day, so while we didn't necessarily see everything, we definitely got to see a lot.
It seems to be the perfect city to just plot out a few places you'd like to see, and then just leave the rest up to chance. Make a few dinner reservations, but also be open to just grabbing a few small plates in a piazza somewhere. Grab an Aperol Spritz or a glass of wine and do some people watching as the sun sets. There's no wrong way to do it, and while I'm no expert, I have put together a list of where we stayed, what we did, and a few spots I liked for food and drinks. Enjoy!
To Stay
Okay first up, my friendly reminder that if you're new to Airbnb, click this link and sign up. You'll get $40 off of your first stay, so it's definitely worth it if you've got some travel coming up. Now that that's out of the way, we stayed at this apartment in Rome and loved it. We actually stayed in the same spot back in July, and rather than spend the better part of 2 hours sifting through the countless options on Airbnb, we decided to stay again. It's comfortable, clean, quiet, and centrally located. Walking distance to plenty to see, and the perfect spot if you'd like to spend time across the river in the Trastevere neighborhood. Plus they've put in a new shower since we last stayed, so it's even better. It's a small spot, but most are in the city. Great for a couple traveling and not too expensive.
To Eat
Rimessa Roscioli // Having already visited Roscioli on our last trip, we knew we would be coming back to dine again. Since they were full for dinner reservations, we looked into their newest restaurant – Rimessa Roscioli . They specialize in wine tastings, natural wines, and of course, delicious pastas. We ate here on our first night in the city and it was perfect.A bit on the pricier side, but well worth it if you want a great meal. I highly recommend the cheese plate – was a great way to start off the night.
Roscioli // We absolutely had to come back to this restaurant after visiting in the Summer. Make sure to get a reservation (it fills up fast and walking in doesn't seem to be an option). We ended up eating at the bar counter (you get to pick where to sit when you reserve) and I actually liked it more than sitting at a table. The cacio e pepe is of course my favorite dish, but their desserts are pretty great too.
Pastificio Guerra V. Della Croce // This was recommended by fellow pasta-lover @Alilabelle as a good option for a quick lunch. Basically you line up and they have a few large pastas ready to go and to be served deli style. It comes in a takeaway container, but you can eat in the shop too. They also sell bags of dry pastas to bring home so we bought a few bags. Was a nice quick lunch – plus they have little cups of wine for 1 euro, so obviously we got that too. The to-go pasta place. Just a heads-up that they do use single-use plastic containers in order to be speedy, but have a recycling bin specifically for them
.
Dar Poeta // We didn't get to visit this pizza spot on this trip, because when we went by the line was a little too long for our hangry-levels. However having been before, I have to say, it's pretty good. Sit outside, get a carafe of wine, and btw, they have a Cacio e Pepe pizza. I'm obsessed.
To do
Sit by the River Tiber // This is one of my favorite things to do in Rome (and Paris too) – simply spending some time sitting along the river. I think there's this idea that vacations and trips have to be jam-packed with "activities" and destinations, but some of my favorite times are when we wind down, go a bit slower, and try to experience somewhere the same way we would if we actually lived there. We grabbed some to-go Aperol Spritzs (most convenience stores in the country have these and they're very handy!) and just sat on the steps along the Tiber. I like the spot near the Ponte Sisto most, plus it makes for a pretty great photo location. You can grab a bottle of wine and sit down here, maybe even get some pizza or gelato for takeaway and have a cheap and romantic dinner. Not every night has to be spent wine-ing and dining at a restaurant, get creative!
Vintage shopping // On one of our days we decided to do a bit of shopping in Rome. While there are plenty of designer shops and such, we opted to see what Rome has for vintage shopping. We visited Humana Vintage, Pifebo, Flamingo, and Twice Vintage Shop. Twice was definitely my favorite and had the best selection. I didn't end up buying anything but was sorely tempted by a Dior clutch.
Basilica of Our Lady in Trastevere // We visited this church in between services and loved seeing the interior and architecture. Make sure to cover your shoulders and knees to be polite, and go in to have a look. It was absolutely stunning. Outside is a large piazza that you can sit in, grab lunch, or drinks from the many restaurants. It's free to visit and was worth having a look inside!
Hendrick Christian Andersen // This may have been my favorite museum visit of the trip, mostly because we were entirely alone while inside. We visited on a weekend at around noon, and there wasn't a single other person there. It's a bit of a walk, but the museum is free and INCREDIBLE to see in person. Tons of statues and works all by Hendrick Christian Andersen. The upper levels are under construction at the moment, but there was plenty to see on the ground floor. Well worth a visit!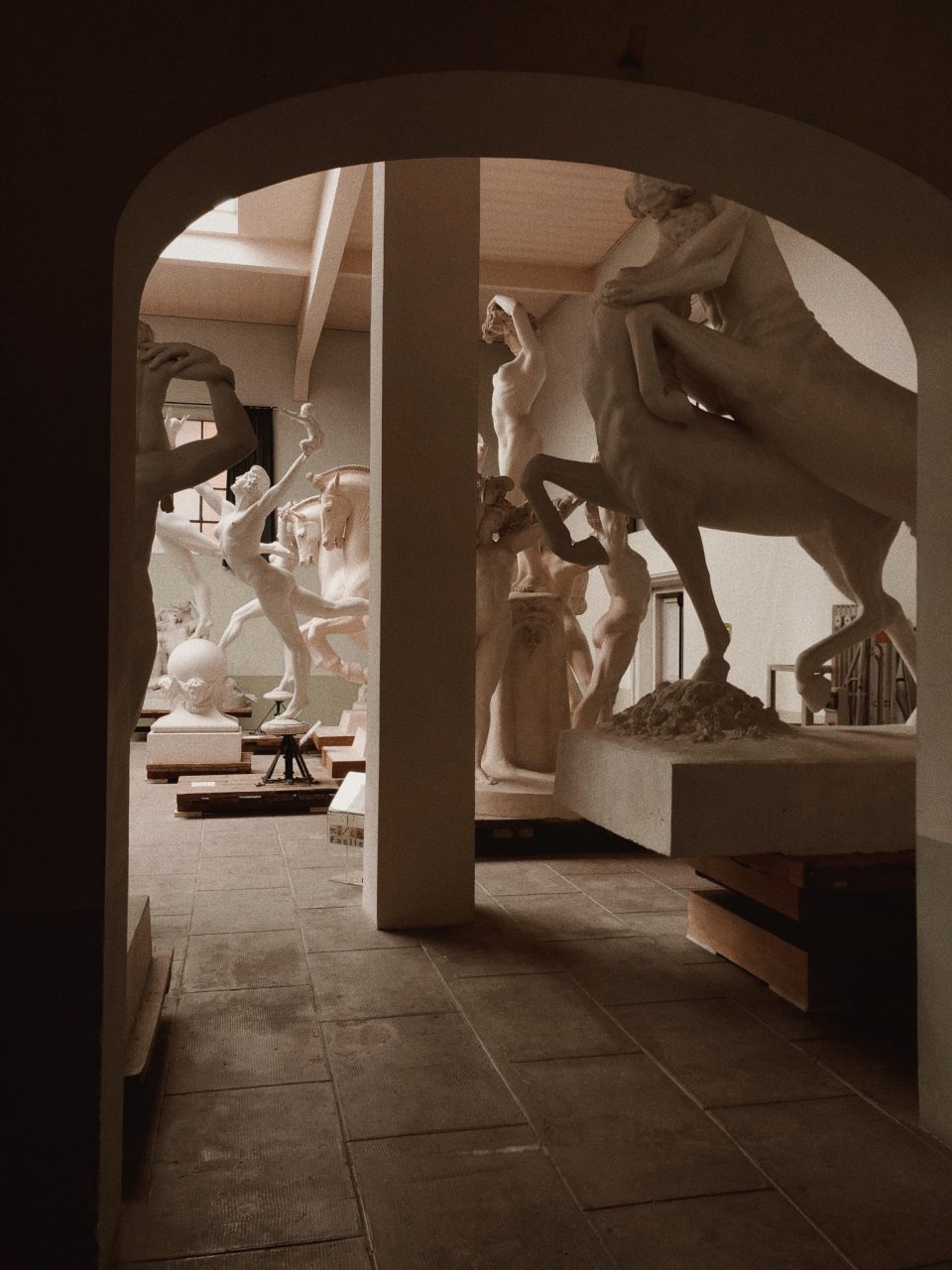 Vatican City // We wanted to visit Vatican City the last time we were in Rome, but only realized when we arrived that booking tickets prior is the best way to avoid a long line. We booked this guided tour which allowed us to bypass most of the lines and get right into it. It's a lot of walking, the tour lasts for about 3 hours, and it's crowded inside – but all of that is to be expected. I'm not a big fan of being in a group, but it was a smaller group, and seemed like the best way to not only learn but to see it all in one day. Everything was breathtaking, and seeing the Sistine Chapel in person felt like a once-in-a-lifetime experience.
Borghese Gallery // I'm putting this one here not only as a recommendation for you but for myself as well! This is another spot you need tickets for in advance, and unfortunately we didn't book in time. I'm kicking myself, but I know we will be back. This was the spot that SO MANY of you messaged and said to go to. It's in a beautiful park with incredible views, so we did go and see where it was. It's on my list for next time, but add it to yours too!
We had the best time getting to see Rome for a second time, and while my feet definitely hurt after all of the walking, I feel like we got to see so much. Feel free to leave any comments below, and I'd be happy to respond to any questions if you have them!