I've said it before, and I'll say it again. Shopping for parents can be hard.
Especially shopping for dads. It's something I've struggled with pretty much since age 12. Before that a hand-written card or a crayon drawing with 'Word's Best Dad' would suffice, but as I got older I realized just how hard it is to show your dad how much he means to you. Mother's day has always come a bit more naturally. Flowers and brunch, maybe a shopping trip, and some small piece of jewelry always seemed to do the trick. But for me, shopping for my dad has always been tricky.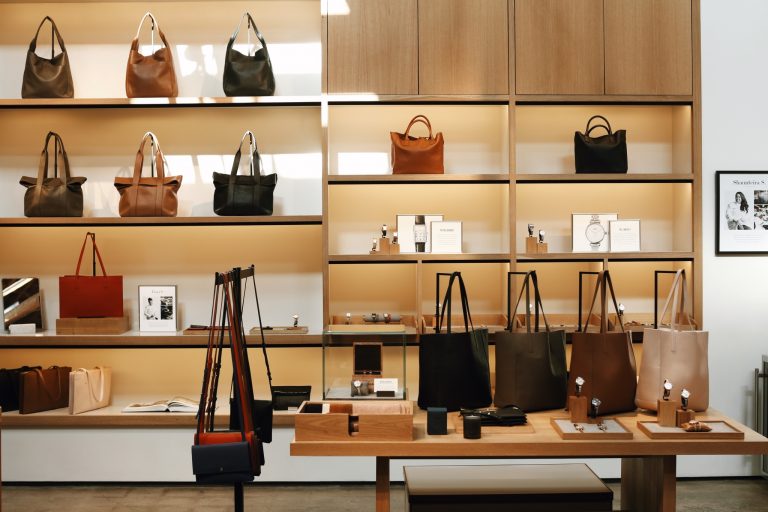 I think it's because most gifting that surrounds Father's Day centers around things my dad isn't interested in. He doesn't watch sports, he doesn't like to golf, and I think I've only seen him begrudgingly wear a tie on a handful of occasions. All of those trope-y dad gifts that are advertised each year never quite seemed to fit him. But at the same time, he's my dad and I always wanted to find a way to make him feel special. So when I spotted some of the options available at Shinola, I knew I had struck gold.
My dad has actually been a fan of Shinola for a few years. He doesn't own any of their pieces, but I knew he was familiar with the brand. He recently started a new position at his job, so I wanted to get him something for the holiday that he could use or wear at work. Something that might show him just an ounce of how much he means to me. Dads are complicated by nature, so finding just the right piece would be tricky. Fortunately the Shinola store near me in the Arts District has a lot of options to choose from.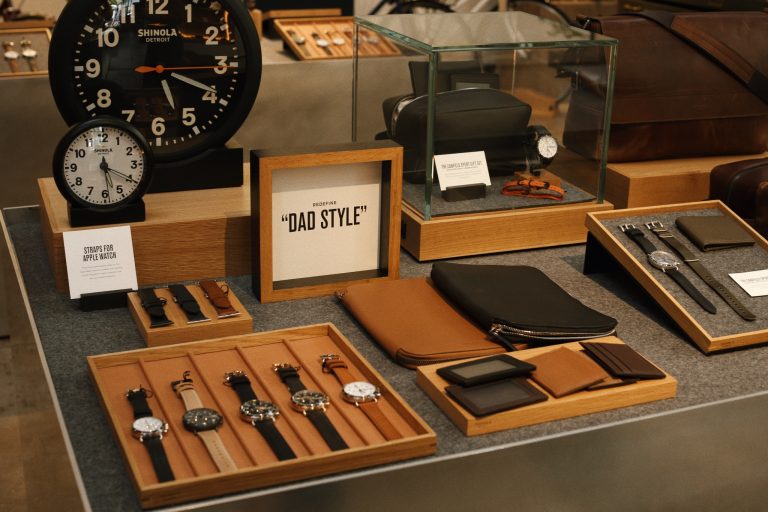 If you're not familiar with the brand, Shinola is headquartered in Detroit. They make watches, leather goods, bikes, and a whole lot more. Their entire brand identity revolves around not only the timelessness of their pieces, but also the craftsmanship that goes into them. Every detail is looked after, and nothing about their style feels overly-complicated or contrived. Everything just feels so perfectly classic.
At first I toyed with the idea of getting my dad a wallet. They have some really lovely leather wallets and a whole station in the shop to have their pieces monogrammed. I loved the way the leather felt, and while I know my dad is probably in need of a chic new wallet, the watches are what really caught my eye.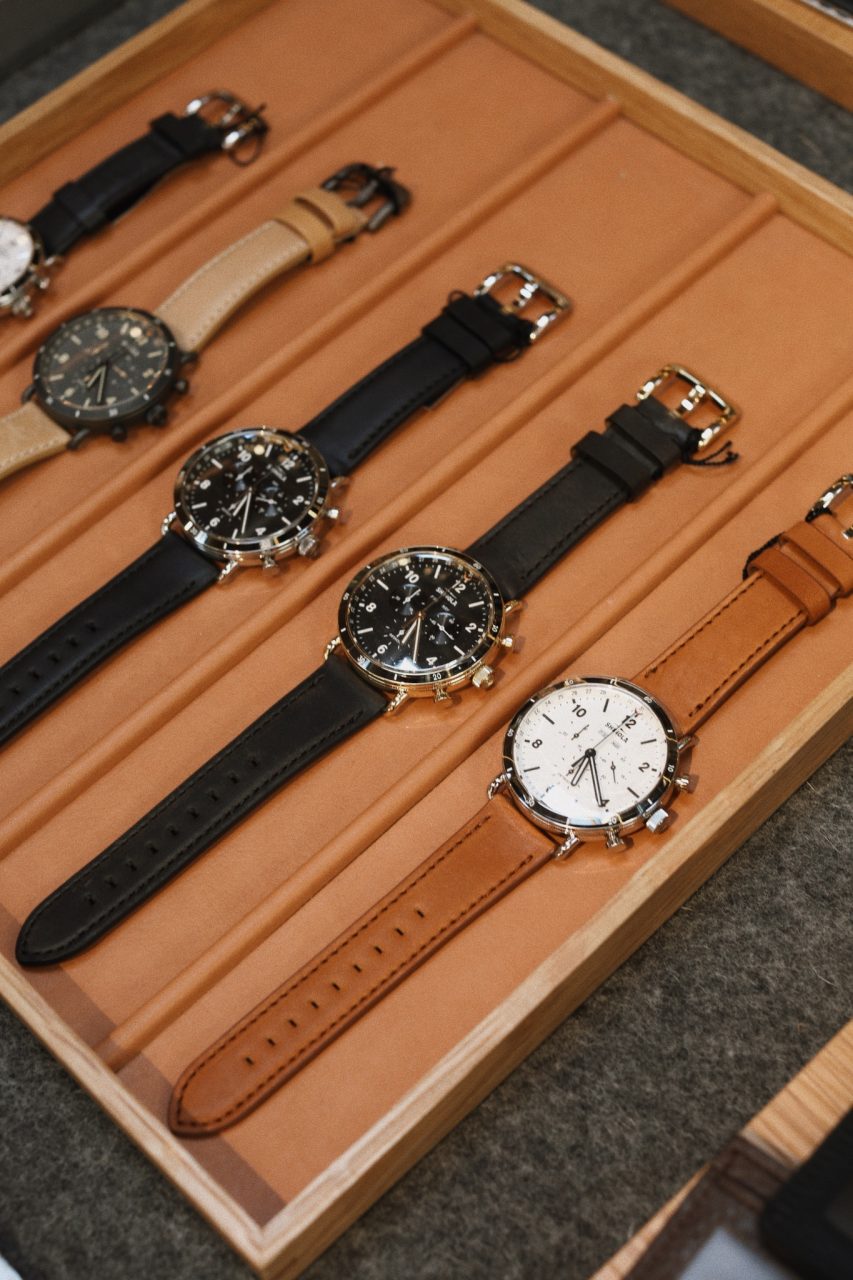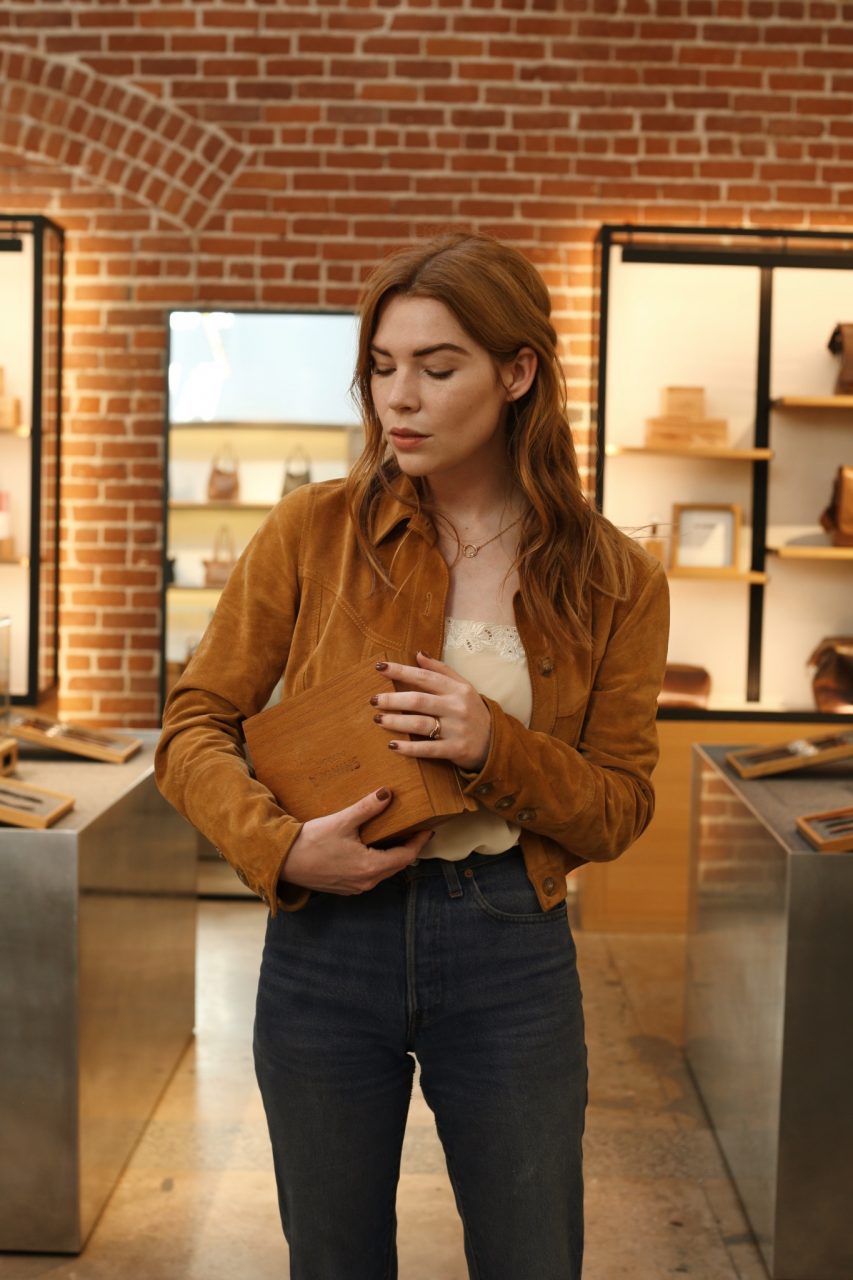 My dad always wore a watch when I was a kid. I don't remember exactly what the watch looked like, but I remember it being bulky and clunky. It definitely wasn't stylish, but it served the purpose of telling the time. With my dad starting his new position at work, I wanted to gift him something special. Sure, something to tell the time, but also something personal and meant for him. A classic gift, for a classic dad. I looked at their selection, and narrowed in on their Runwell Automatic watch collection – specifically this watch with a beautiful leather strap and a black watch face. Everything about it felt so understatedly lux, and I could immediately see my dad wearing it. I debated a few other styles, but with the help of a sales assistant, we decided on the one I fell in love with first.
It was placed into a gorgeous wooden box, wrapped up, and I was on my way. Finally with a gift that felt worthy of my amazing dad.