I feel like I've been talking about skincare a lot as of late.
Maybe it's because I'm turning 30 (!!!) next week and focusing on combating the early signs of aging has become a part of my routine. Or it could be because I had a pretty bad breakout 6 weeks ago and now that my skin feels glowy again I want to share all of my favorites that brought it back to life. Who knows, but what I do know is, I love every single product featured in this post. Some products were gifted, plenty of them I've purchased on my own. This post is in no way sponsored, but I did want to make that clear up front.
And while this is a good amount of what I have at home in my skincare drawer, this definitely isn't everything I use. I have a few products I substitute in here and there depending upon what my skin needs. Also, I don't use ALL of these products every single day! I've included notes on how I incorporate each product into my routine, but remember, everyone's skin is different, and what works for me may not work for you.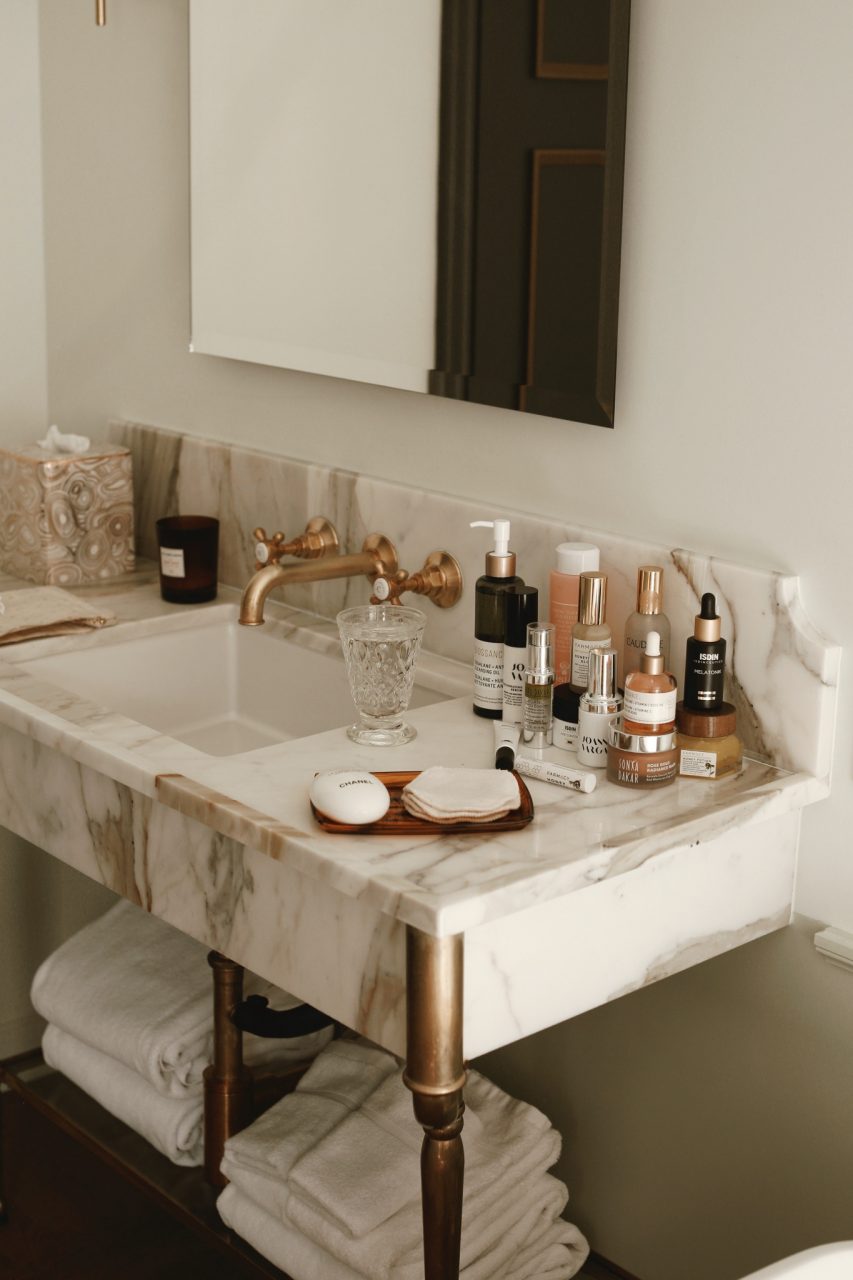 Biossance Cleansing Oil // This is something I've used every single day for about 3 years now. This is my FAV wash, and it's oil based. It goes directly onto your skin without water, and melts all of your makeup off. I then splash some tepid water on my face and pat my skin dry. A big bottle like this can last me about 6 months, so I think it's a good deal!
Biossance Squalane + Vitamin C Rose Oil // This is another one that I use every single day, and one that you've heard me talk about. I don't use creams for moisture very often, but I do use oils. This Vitamin C one is great for in the morning and it really helps to brighten my complexion. I feel like it's also done a good job of fading my acne scars too.
ISDIN Melatonik Serum // This is a brand that I'm new to as of about 2 months ago, and I am loving it so far. This serum is meant to be used at night to help repair the skin and combat against the signs of photo-aging. I LOVE how it feels and my skin does look so much more moisturized when I wake up.
ISDIN K-Ox Eyes // I ran out of my usual eye cream while in Morocco and made the switch to this one from ISDIN. Not only is the price tag a lot better than my last eye cream, this one also helps brighten dark spots. A little goes a long way, and I like the way my under-eye concealer goes on after using it.
Joanna Vargas Rejuvenating Serum // This was a repurchase after I ran out last month. This serum is fantastic, and I really love JV products. It goes onto my skin smoothly and just sinks in. I use it most morning and love how it just plumps my skin up without being greasy.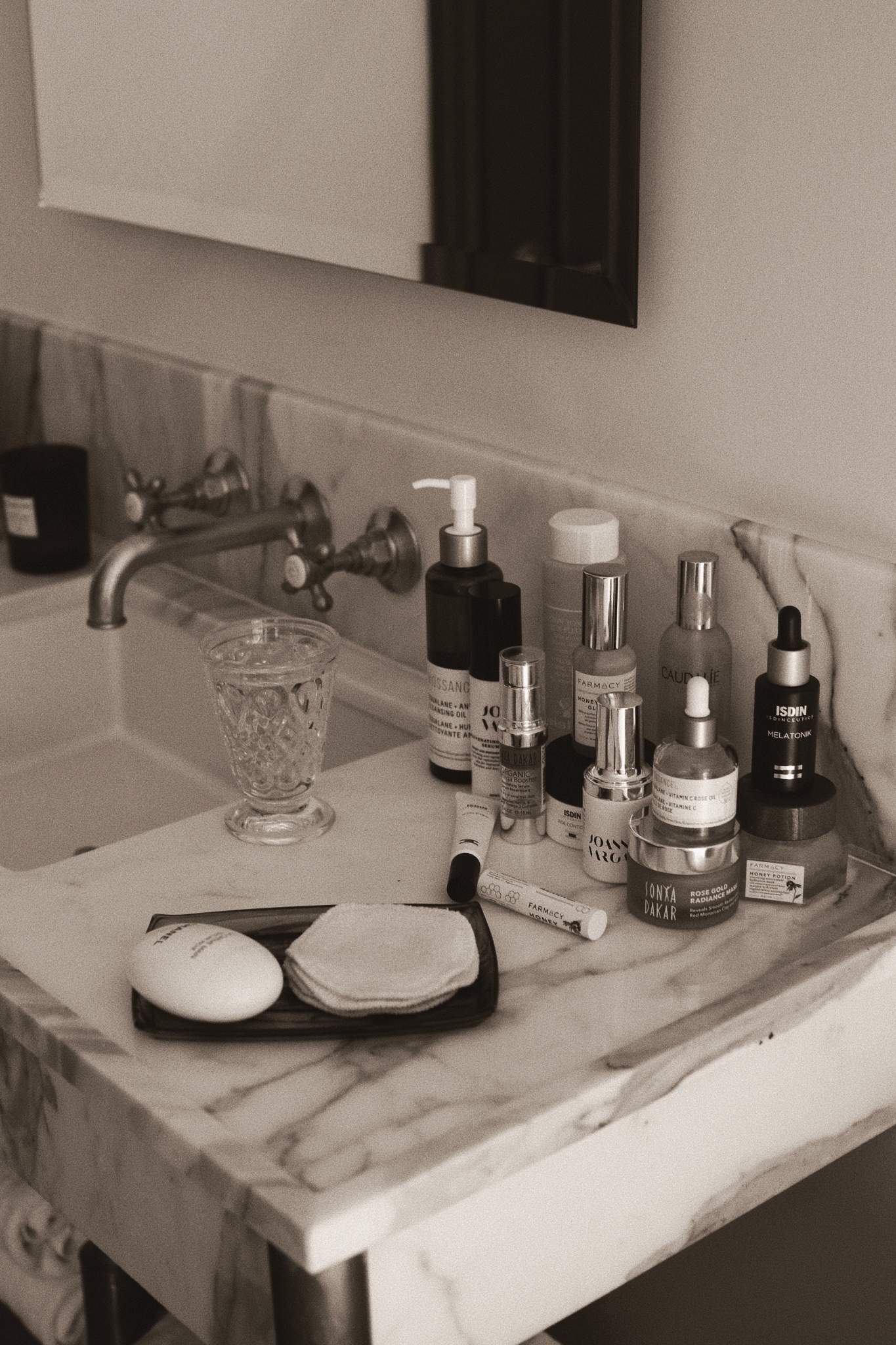 Sonya Dakar Organic Omega Booster // Ah, this is another newer one to my routine and I love it! I picked this up after a facial with Sonya in March and packed it along for my trip to Morocco and Italy. It smells incredible, is vegan, and my skin drinks it up. I'm almost out of it because of how much I used it in the last 8 weeks, but it will definitely be something I repurchase. I like to use it on days where I don't wear makeup because I feel that it makes me skin glowy and dewy.
Joanna Vargas SuperNova Serum // This is a bit more of an intense night serum as it contains some really great ingredients designed to help cell turnover and brightening. Because it's on the pricier side, I use this one only a few nights out of the week. I love it and will be SO sad when it's run out. It's the second time I've bought it and I can safely say it's a good serum.
Farmacy Honeymoon Glow // I love Farmacy products and this is a new treatment that I've started using twice a week. I use it at night after washing, and it's the first thing I put on. It's got AHA so it's a great one for evening texture and skin tone. Love love love this one.
Sisley Floral Toner // If you look closely at the photos, you can see that this bottle of floral toner is empty because I just ran out this week! A sad day for me, because this is something I use every morning. I skip washing my face in the morning, and use a few drops of this on a reusable cotton pad. It sweeps away all of the dirt and gives me a fresh canvas. It doesn't feel like a toner either, because there's no alcohol in it at all.
Sonya Dakar Rose Gold Radiance Mask // After my last facial with Sonya, I was sent home with this rose gold radiance mask. It's so precious to me because it's one of the treatments that Sonya uses in her facials at her office, so it feels like I get to bring a bit of that professional facial experience home with me. It looks beautiful on too (I'll post a selfie this week) and it makes my skin feel so soft after using. I love Sonya's products and this one is definitely one of her most popular – for good reason.
ISDIN Age Contour Cream // As I said above, I don't wear creams very often as I prefer to stick to oils for moisturizing. That said, if my skin is on the dry side, this has been a great addition. It's very light feeling, and it really quenches my skin. On days where I don't feel like I need it on my face, I still apply it to my neck to help reduce any wrinkling. Never skip your neck!
Farmacy Honey Potion Mask //I was first introduced to Farmacy while filming in Georgia. I needed a great face mask and this was the one recommended to me at Sephora. It's warming, feels incredible, and delivers an immediate glow every time I use it. I've bought it multiple times, and it's one that Eric likes too.
Caudalie Beauty Elixir // I've shared this spray before but it's still one of my essentials for at home as well as travel. I spray it on my face throughout the day, and also use it on my makeup sponge to blend my concealer in. The scent is just so comforting to me, and it's a must have.
Farmacy Honey Butter Beeswax Lip Balm // I feel like I always forget to properly moisturize my lips, so I'm trying to be better by making sure this is in sight at all times. I slather it on in the morning and at night, and try to remember to have it in my purse when I'm out and about.