Essential oils play a large part in my daily life.
I was first introduced to essential oils in the form of my Vitruvi diffuser. I got my diffuser nearly a year ago, and it immediately changed my home life. Every time I come home, or before bed, I choose which oils to diffuse. And over time, I've learned which blends work for which moods or times of day. I love a bit of bergamot and cedar wood during the day, of course lavender at night, and when I'm cleaning the kitchen, I like to diffuse citrus like sweet orange, lemon, and grapefruit.
But over time I've learned of ways to incorporate essential oils into my daily life outside of simply diffusing them. Part of my journey to discovering how to use oils at home was sparked by comments left on my instagram after I shared photos of my Vitruvi diffuser. I realized how many of you have been using essential oils for years, and how many different applications there are. After that revelation, I picked up the book 'Essential Well Being' by Sara Panton, the creator of Vitruvi. Slowly I began to find new ways to make oils a part of my life, so here are just a few of my favorites.
And just as a friendly reminder, if you're interested in anything in this post, don't forget to use my code, prettylittlefawn, for 20% off of any purchase at Vitruvi.
Ditching Dryer Sheets
After learning last year that dryer sheets are for the most part not great for the environment, I looked into an alternative. I found that wool dryer balls could easily take the place of disposable sheets, would help reduce static, and keep things moving in the dryer. They worked like a dream, but I was definitely missing that 'fresh scent' that dryer sheets offered when I removed my laundry from the dryer.
That's when I learned that by simply adding a few drops to my dryer balls before each load, I could easily get the scents that I want imparted upon my linens and clothing. I personally like woodsier scents for my clothing, so often I turn to cedarwood oil or ceremony blend, but for our bed linens, I love a mixture of bergamot and lavender.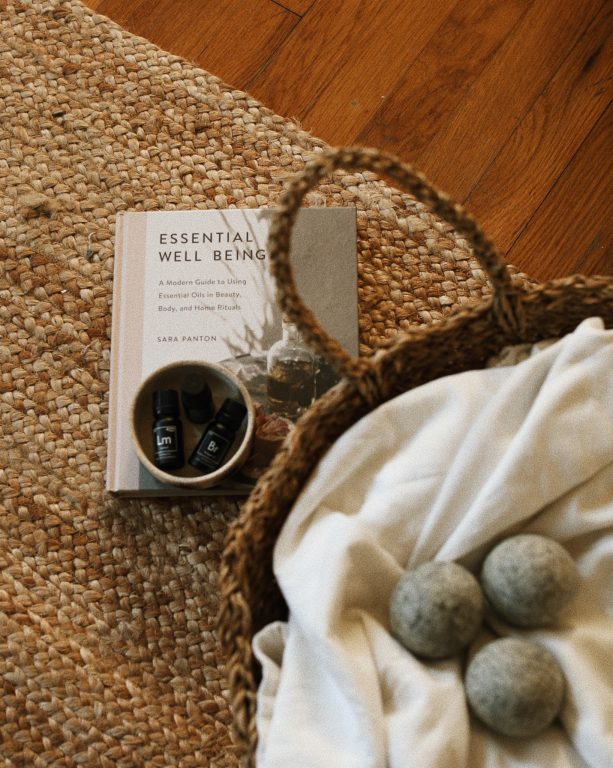 Adding Oil to Dish Soap
After the revelation of adding essential oils to my laundry routine, I eagerly turned to Sara Panton's book to see where else I could add a little touch of fragrance and soothing. Because I like to lose myself in household chores from time to time, immersed in podcasts and the lack of being able to email + check my phone, I checked the table of contents and saw an option for dishwashing.
While we do have a dishwasher (!!!) in our new home, I still have a fair amount of dishes that are too delicate and need to be hand washed. We try to use the most environmentally friendly dish washing soaps, but a lot of the ones that are better priced don't have any fragrance. And while it's not something I need, I did miss that smell of something while doing the nightly washing up.
Turns out you can easily add a few drops of essential oil to your dish soap, or even directly to the warm water while your dishes soak. I really like sweet orange oil and lavender for this, and it makes a mundane task more of sensory experience. Plus, they're both known to have antibacterial properties, so it's a win win.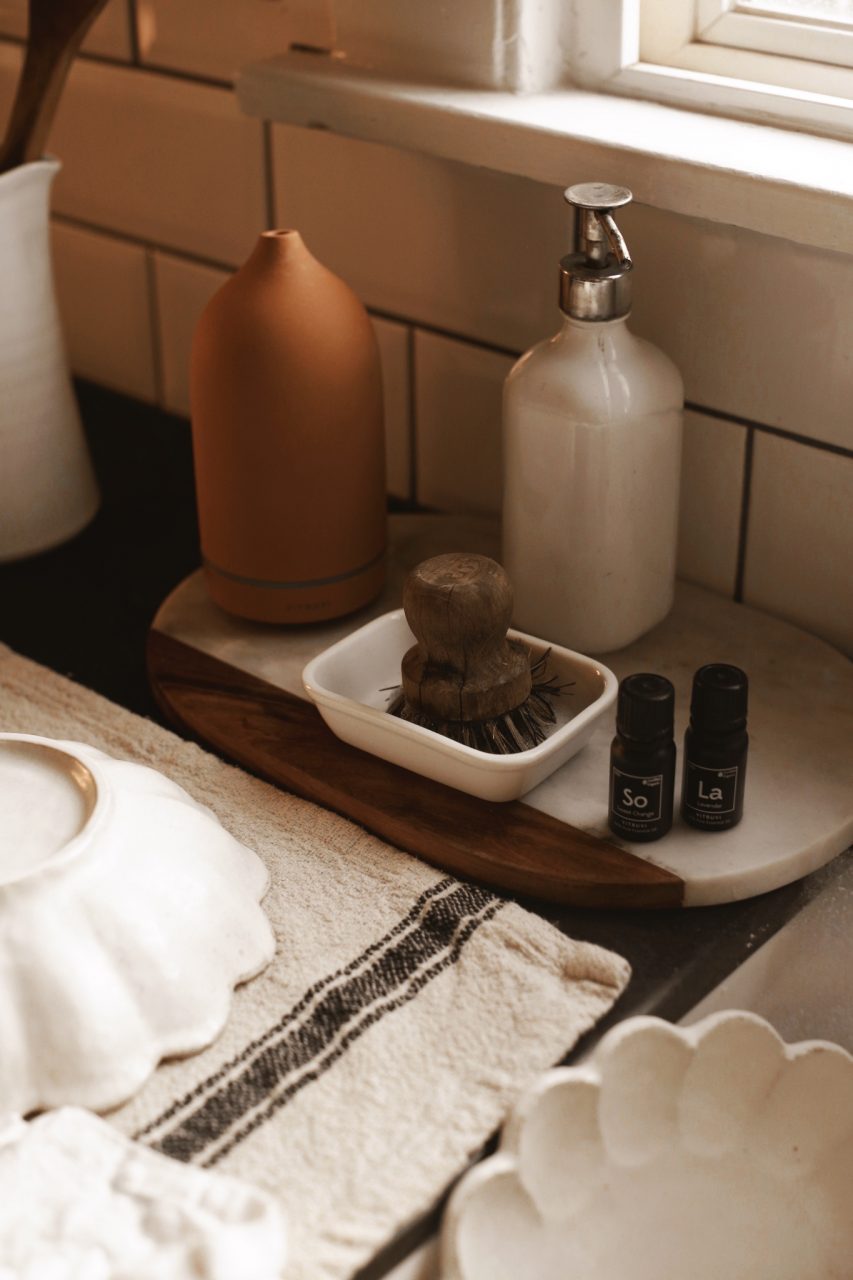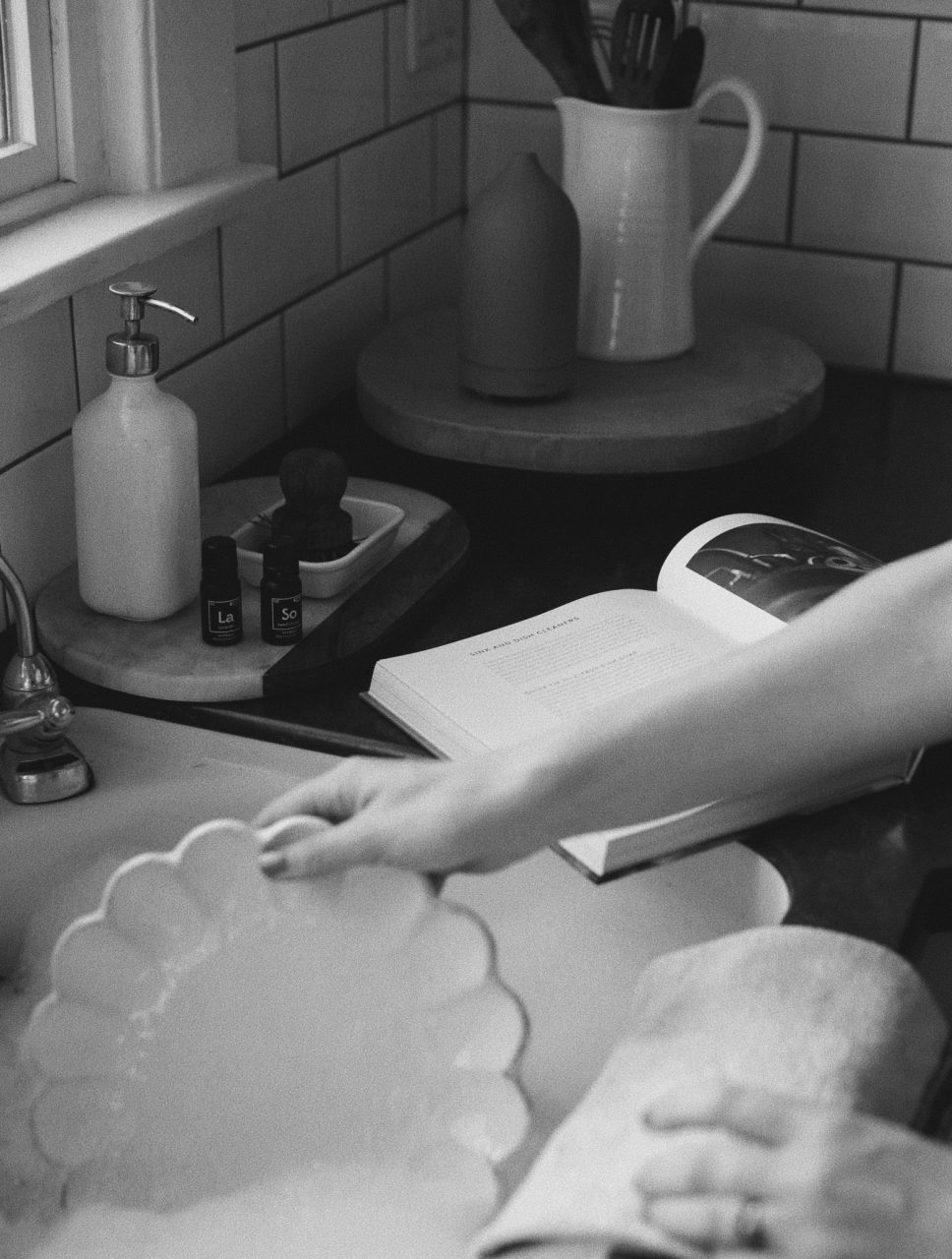 Towel Refreshing Spray
Some of my linens just don't always smell as fresh as I would like, particularly our towels. Often when they sit and are too damp, they can smell stale or worse, mildew-y. Having a linen spray on hand is perfect for this, and the one from Essential Well Being has been great. It's a very simple blend that you can make yourself at home, that combines simply water and essential oils that can be stored in a glass spray bottle for an instant boost to any of your towels
Bath Soak
Because bathing is an important ritual in my life, having a way to up the luxuriousness is always on my mind. One of my favorite ways to soak is in a milky bath, but I've found that bath powders can be quite pricey. Turns out, you can create your own version of a milky bath for a lot less with things you probably already have in your cupboard. One of my favorite recipes in the book is the coconut milk and honey bath – which pretty much sounds exactly like what you think it is. You combine coconut milk, honey, and a blend of oils (I like geranium, cedar wood, and lavender) for truly indulgent bath that leaves your skin silky smooth.
This post was sponsored by Vitruvi, however all opinions are my own.