Just an hour and a half outside of Manhattan is a vastly different world.
It's something I've learned since moving to upstate NY last year, and discovering just how opposite my home life can feel from my work life. After a busy day of shooting projects and attending showroom appointments in the city, I climb aboard the train and watch the buildings slip away to be replaced by nature. And while I've had plenty of time to appreciate the beauty of where I live, nothing about it ever feels ordinary or tiresome to me. I'm continually in awe of try surroundings and feel grateful for how tangible it all feels.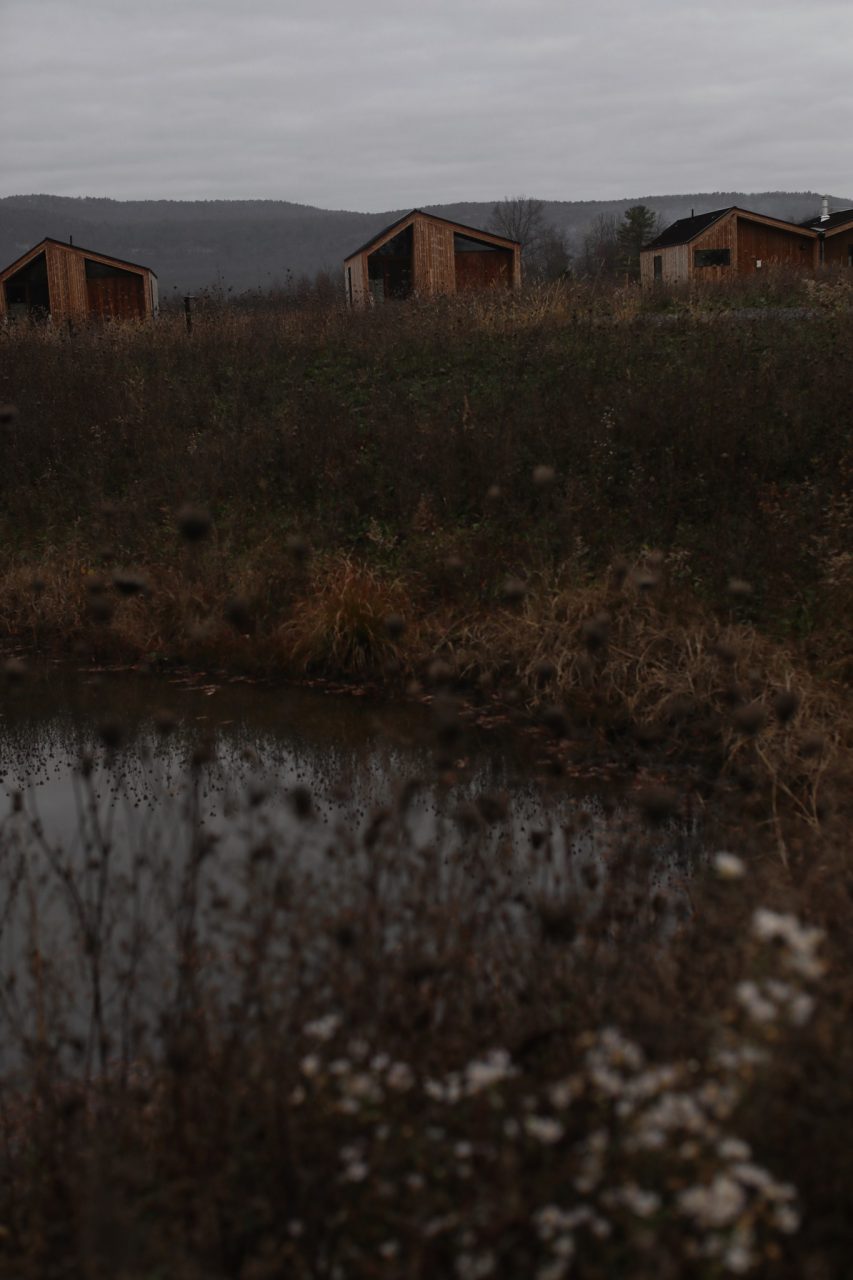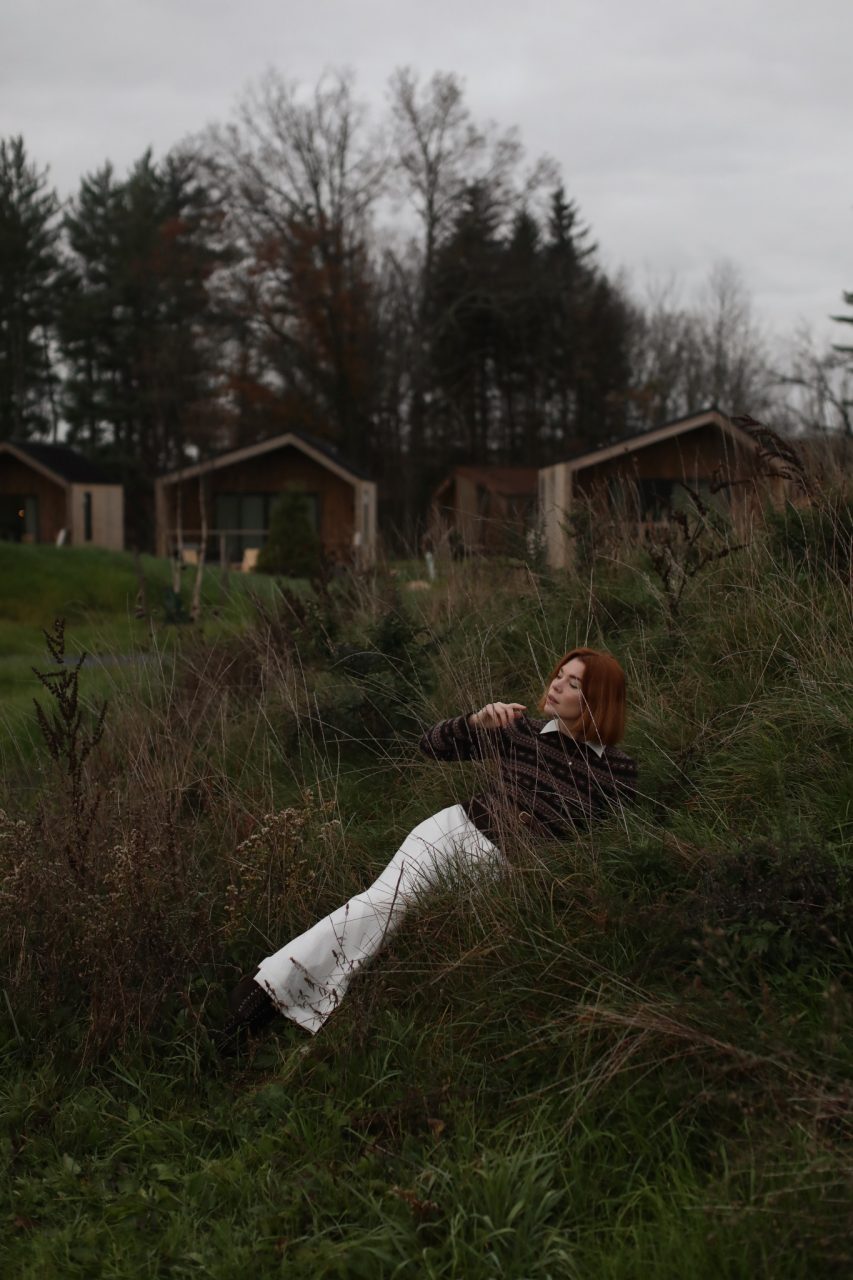 doen sweater | brochu walker dress | chupi necklace
So when a message landed in my inbox, inviting me to a beautiful new property called Wildflower Farms, I knew that despite its relative closeness to my home (less than an hour away) it would still feel like an absolute escape from the ordinary.
And oh, was I right.
The property is part of the Auberge group of unique hotels and stays available throughout the world. I'd be lying if I said it wasn't a dream of mine to visit one someday, and to have the newest one land essentially (not quite) in my own backyard felt like a sign.
What makes this newest stay so special is that nothing about the design detracts from the natural environment, and in fact allows it to take center stage. All of the cottages have their own stunning views of the surrounding mountains, of trails and meadows – and the common areas (like the Great Porch that greets you when you arrive) have been left open to allow you to freely pass through on your way for a hike, or else to grab a drink around the fire while you just soak it all in.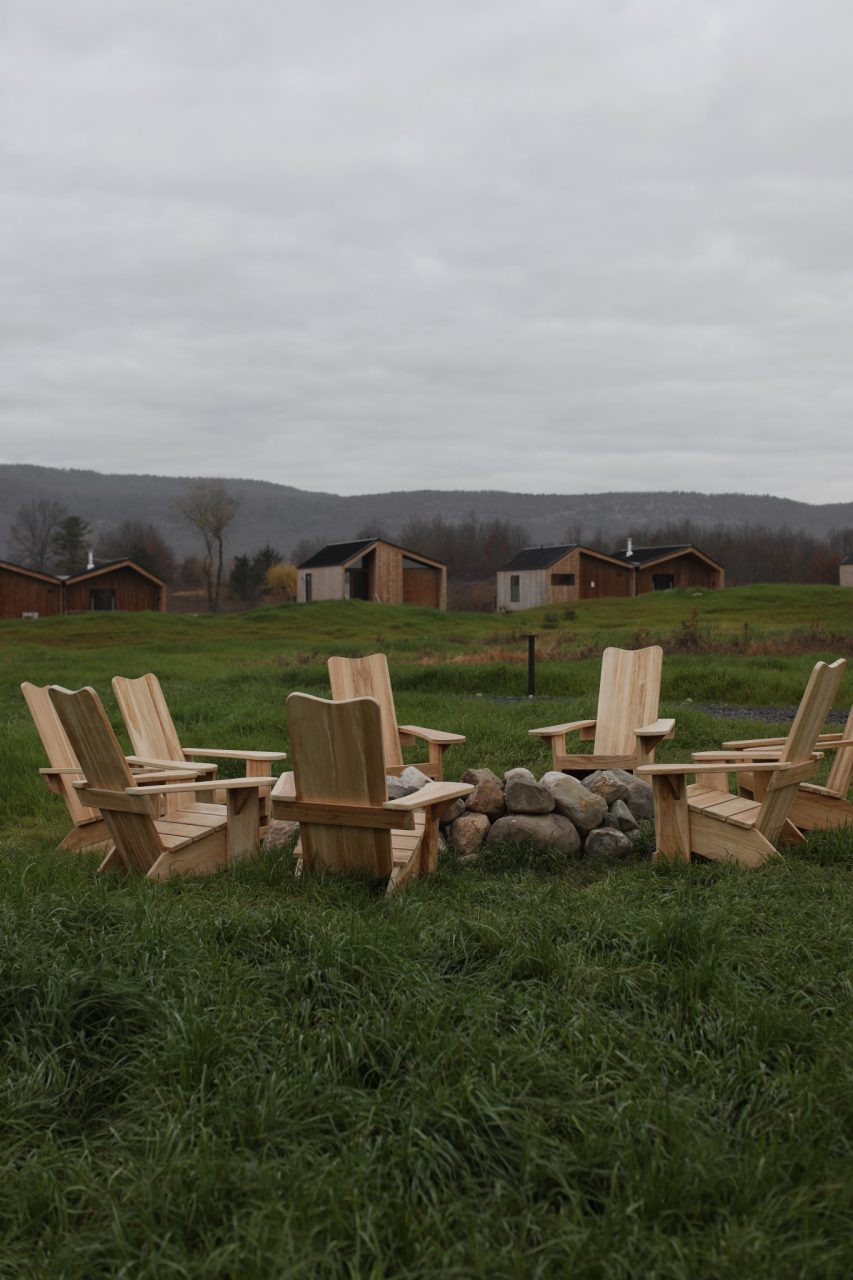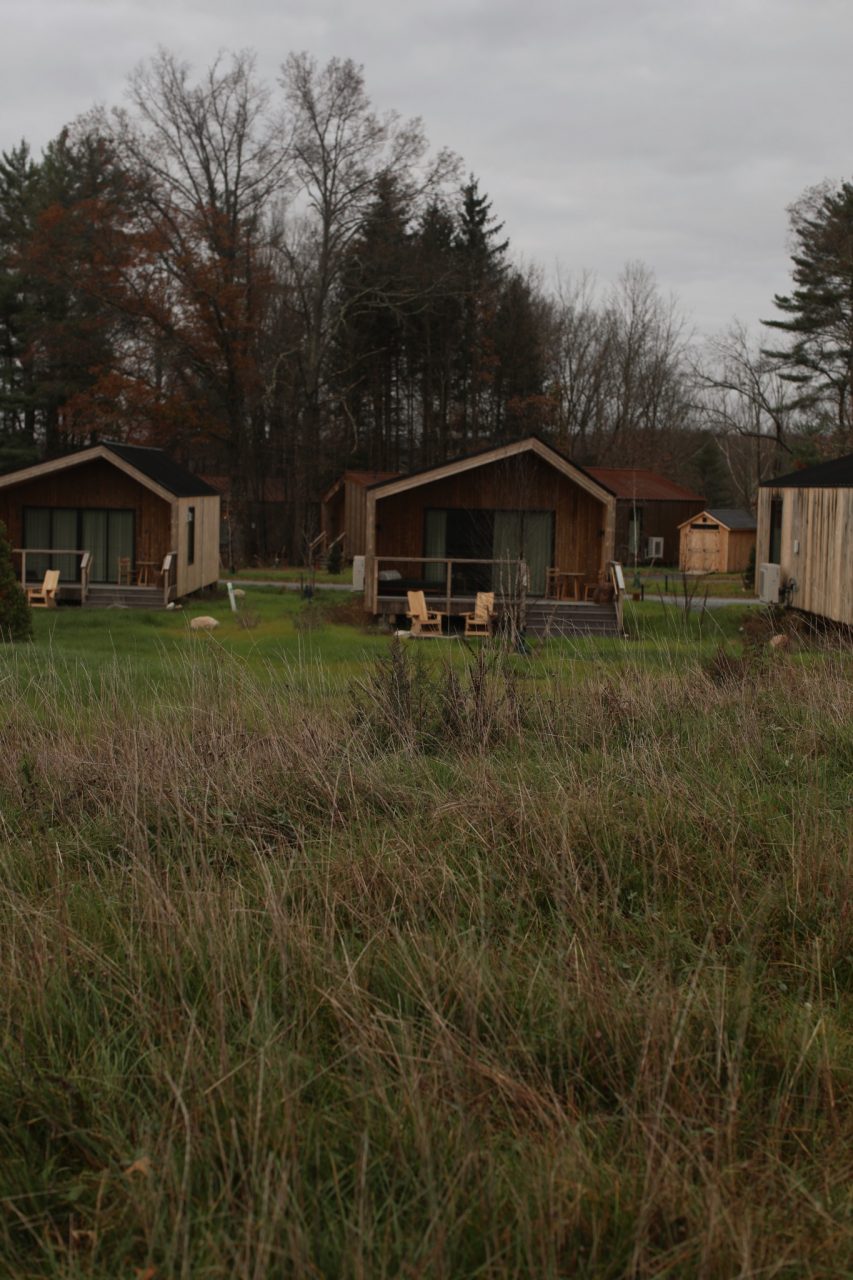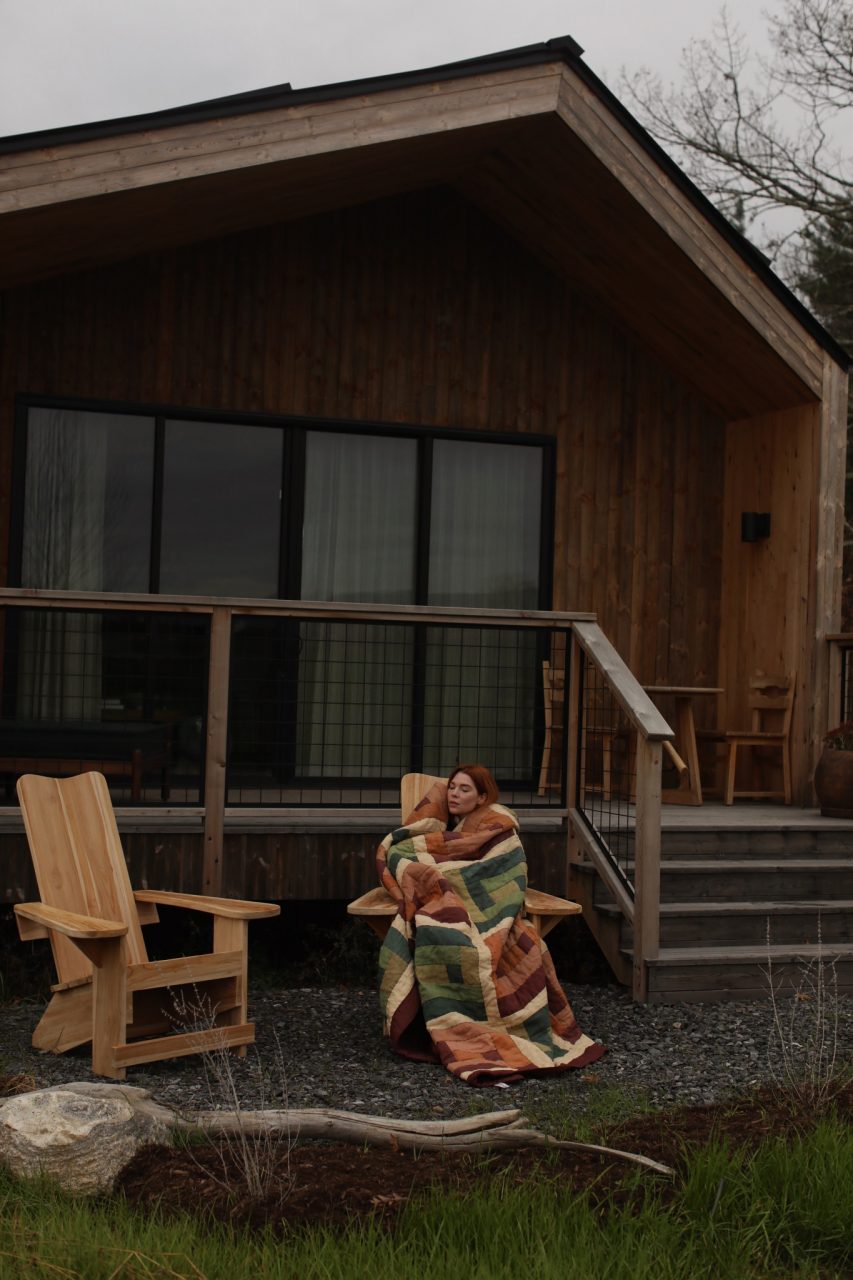 The Room
Wildflower Farms is comprised of 60 individual cottages, making it the ideal escape for just about anyone. Couples visiting feel like they have their own refuge, families have enough space to make it feel like a home, and if you happen to be bringing a pet (Mops came along with us) there's not a worry of shared walls and barking being an issue.
We had our own little cottage with a porch, with just about anything we could have possible needed at our fingertips – but it never felt like an 'overdone' experience. Yes, the bathroom is spacious with a beautiful soaking tub and shower, and the bedroom has a large glass window that gives you a front row seat to sunrises or sunsets, and there's even a little fireplace for you to gather around in the evening. Auberge properties are luxurious and exquisite by design, but this property skips on obvious or overdone glamour in favor of something that feels more like quiet luxury; natural, cozy, and comforting.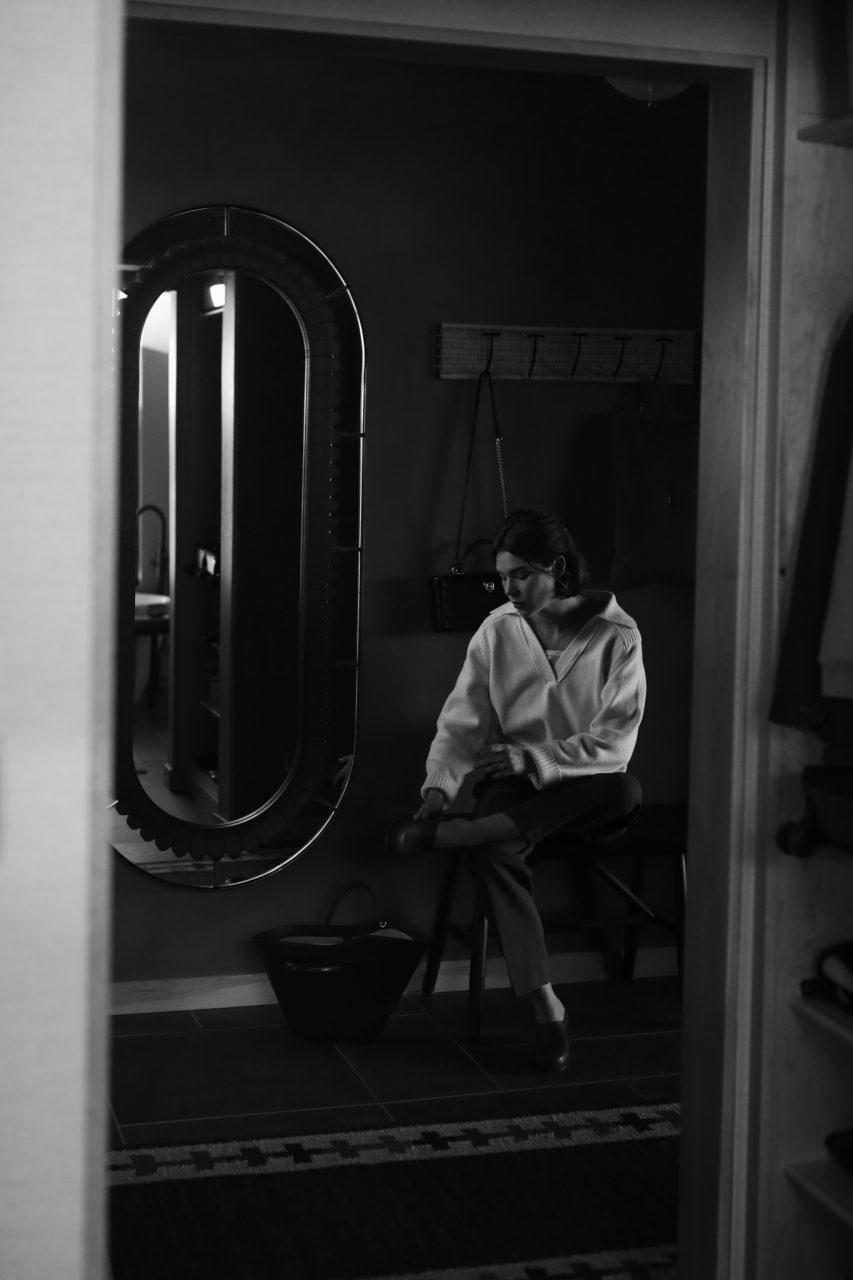 brochure walker sweater | little lifner tote | recycled hemp clogs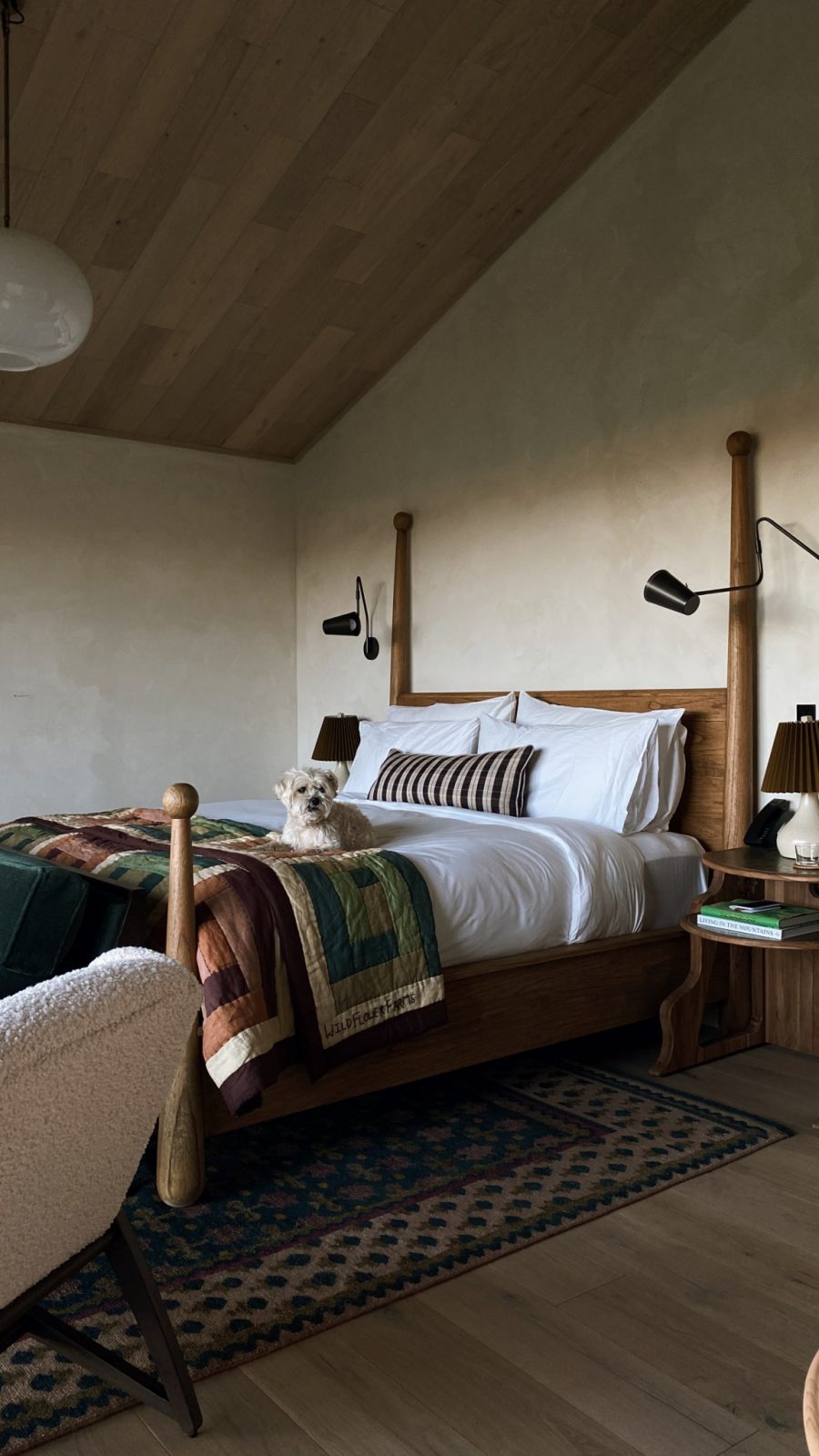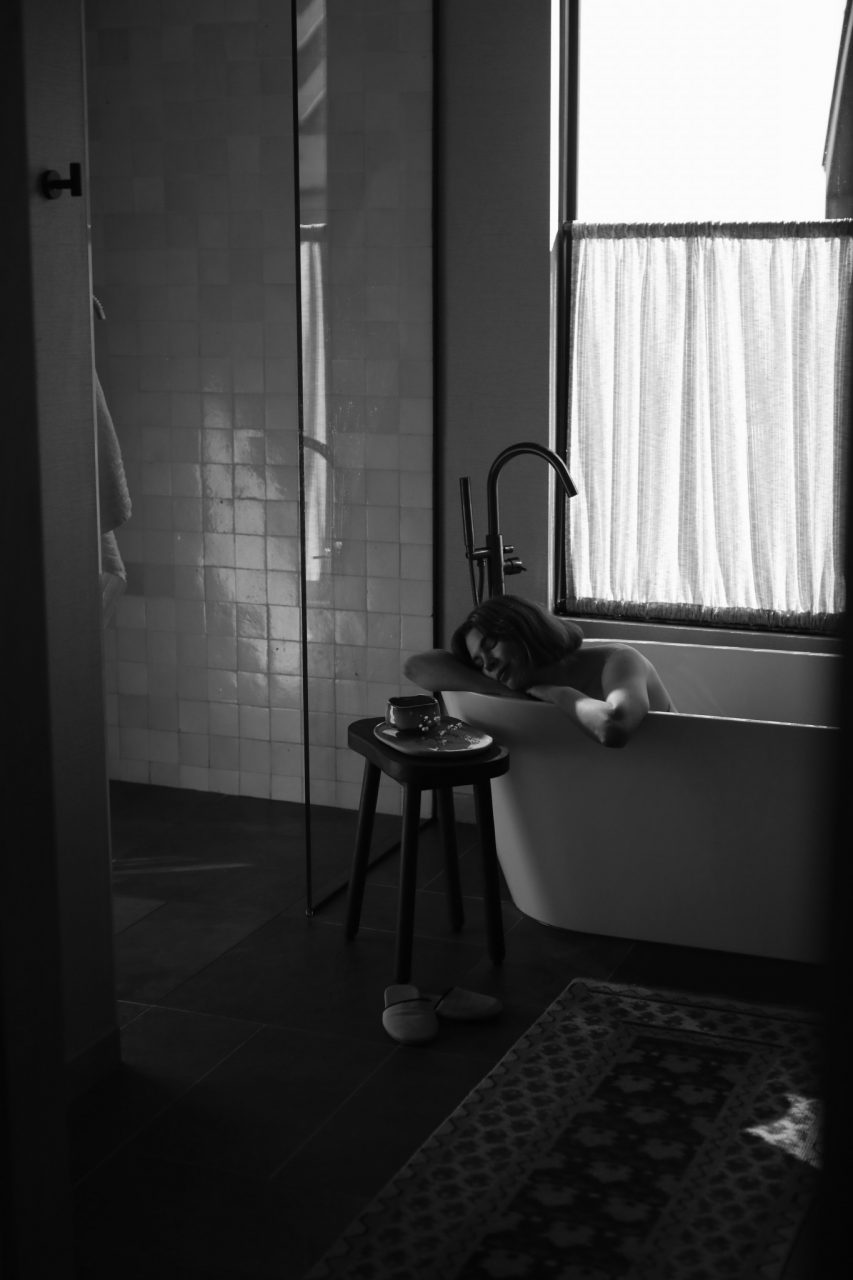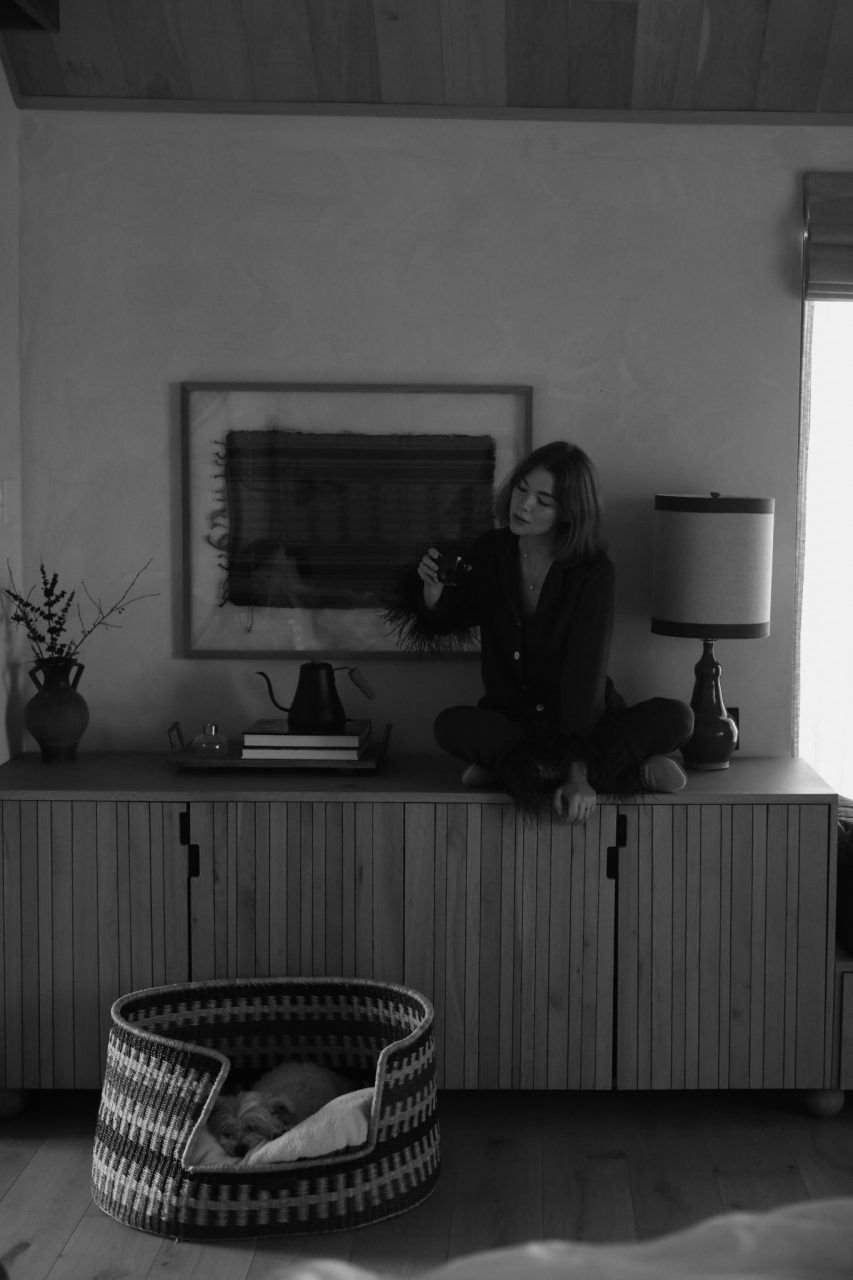 The Farm
As the name suggests, Wildflower Farms does in fact have a farm right at the heart of their property, and so much of the experience is designed around this. You can take a visit to the chicken coop in the morning (bring a cup of coffee with you and take a stroll, we loved the walk over) and feed the chickens that provide eggs for the restaurant. We were even able to gather a few eggs to bring in a basket up with us to have cooked fresh right there. And yes, I did get to hold a chicken (or 3) and it was delightful.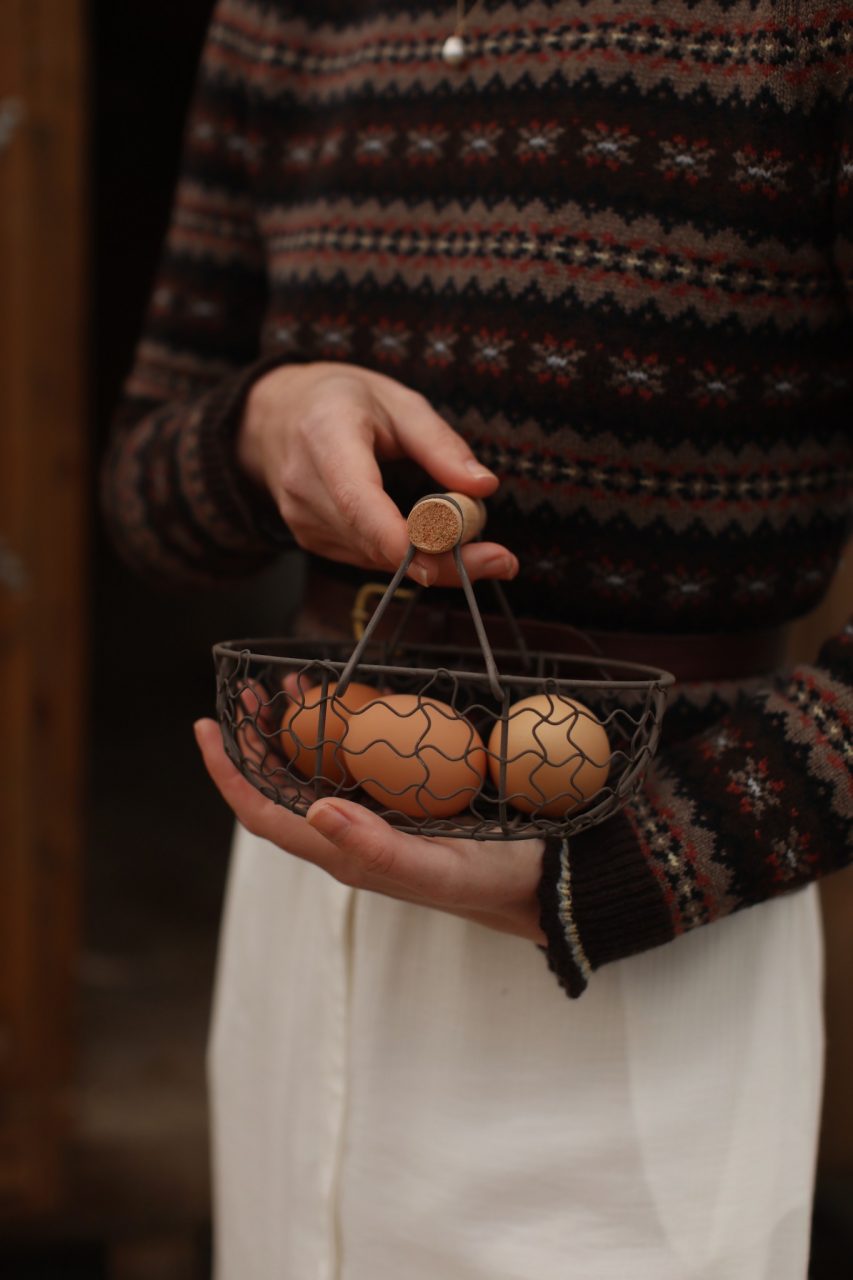 You can take a tour through their greenhouses and see all of the vegetables they have growing to provide for the property, and there's a real sense of what the land will become. In the spring I imagine the variety of vegetables and plants and flowers (of course) will be staggering, but even now as winter approaches there was plenty to see. Seasonal produce is the basis of the menu at Clay (the name of the restaurant at WF) so the importance of what you see growing around you is apparent, and it makes you that much more excited to order dishes in the evening.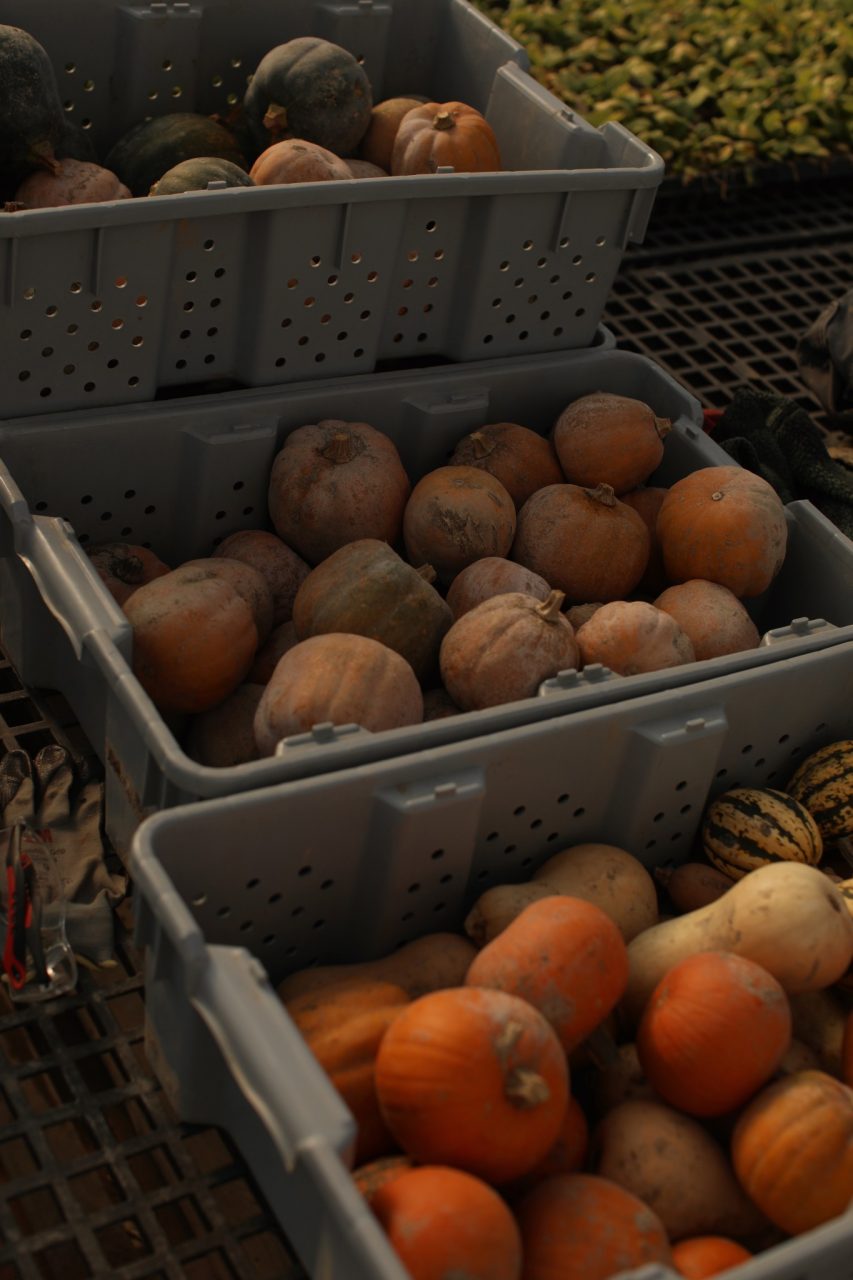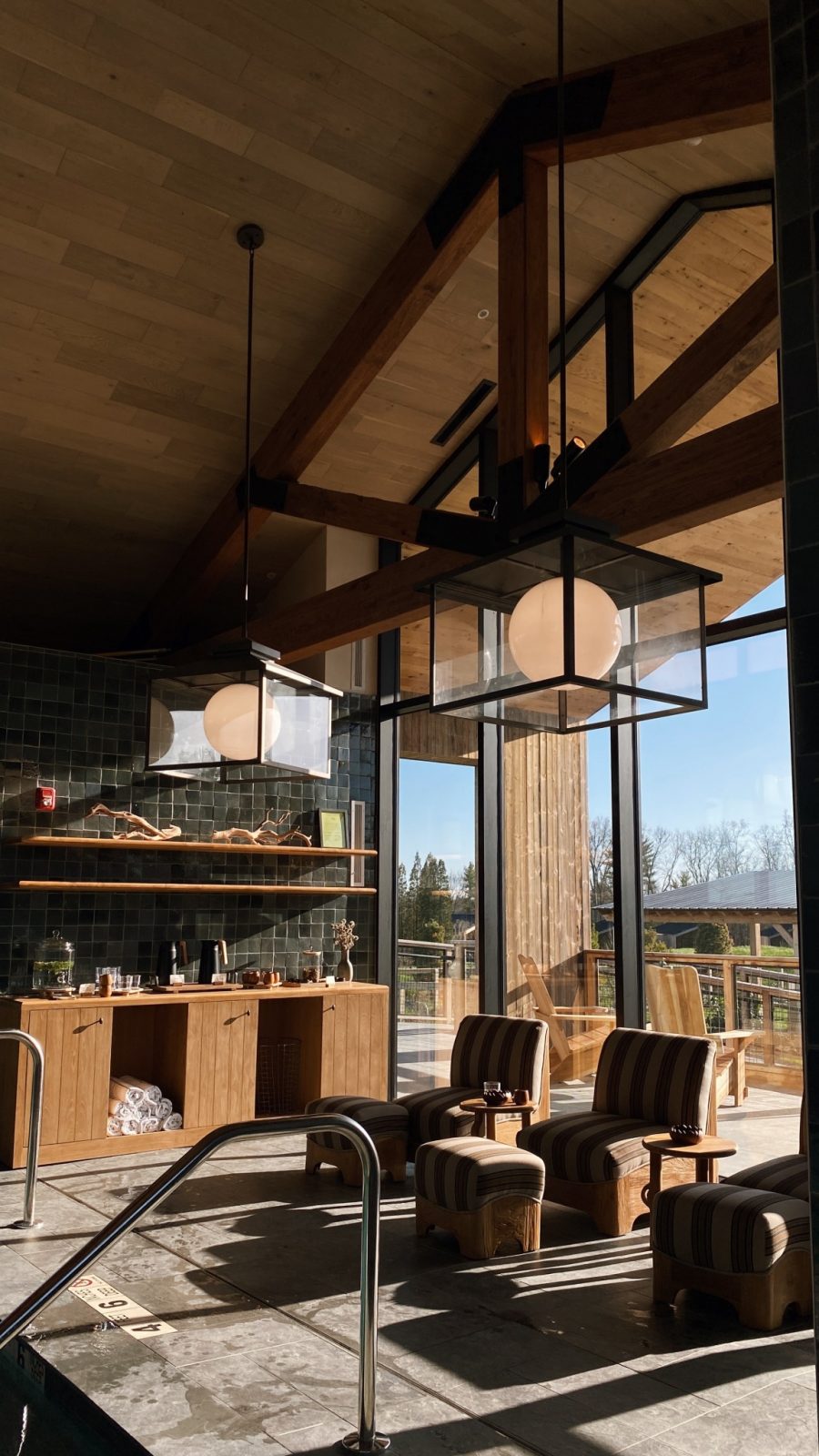 The Spa
While I didn't book a massage or a facial on this visit, I still had plenty of time to enjoy the spa on the property, and this alone will make it a destination for plenty of people looking for a real escape. They have a stunning outdoor pool (heated!) with comfortable chairs to lounge and read a book in. And in the colder months when the snow sets in, you can retreat indoors to the pool just outside the massage rooms, or else to the two hot-tubs that have a view of the mountains. Hot tea and bone broth are available to sip, and the whole setting feels perfectly minimal and chic.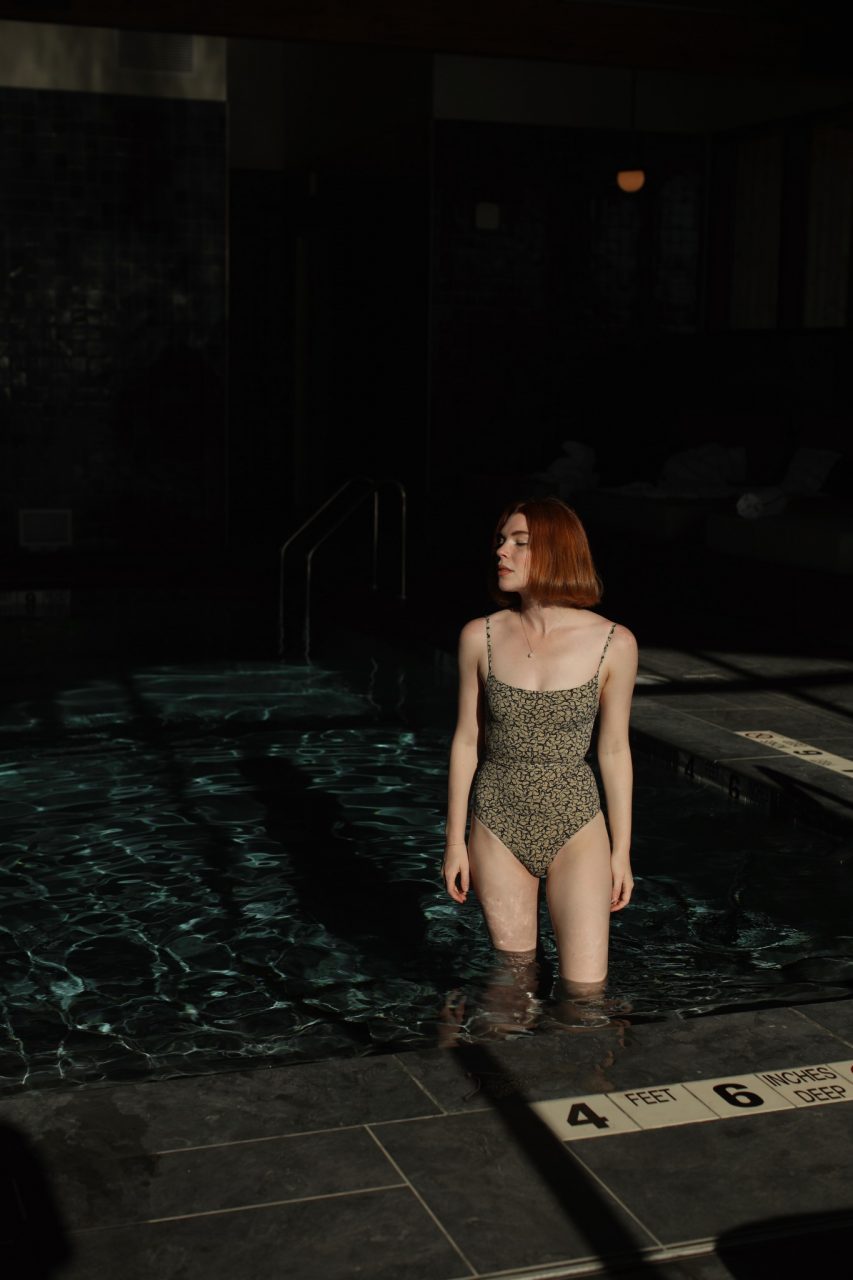 Dining
And finally (but probably most importantly) is the food experience at Wildflower Farms. Clay, their large restaurant, is a cozy retreat complete with a fireplace and intimate tables, with raised tables set closer to the bustling kitchen for a chef's tasting experience if you'd like. The menu changes both seasonally and shifts daily based on what is fresh, and everything we had was incredible, both for dinner and breakfast. There's a bar inside and tables set on a deck outside – that I already am plotting coming back to sit at in the Spring for a view of the sunset while sipping a martini, because I am a planner, and really it's not that far from our house, so why not, right?.
In the afternoon, Eric and I opted for a glass of wine and snack on the Great Porch just outside of Clay, and it was probably one of my favorite moments of our visit. A quiet moment with a beautiful view, Mops at our feet, and a real feeling of escape.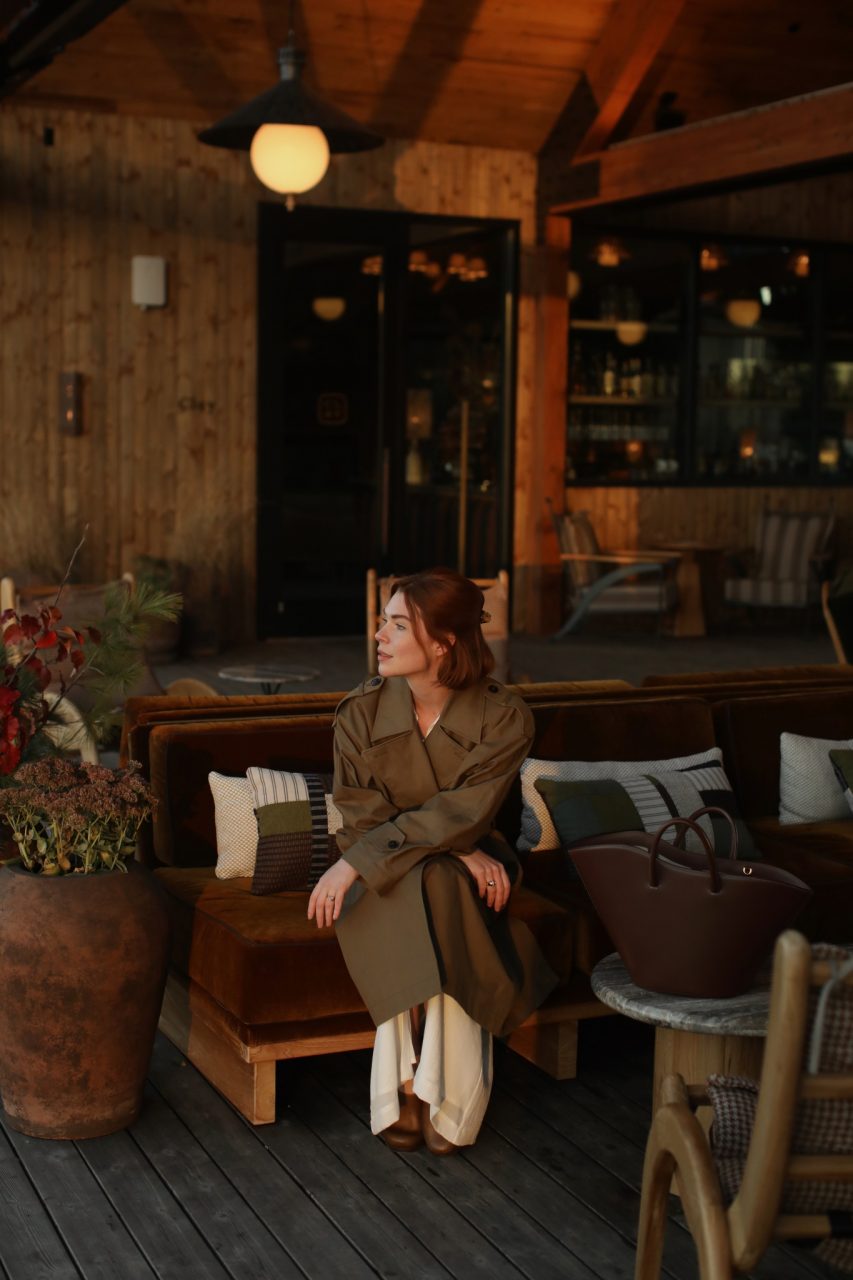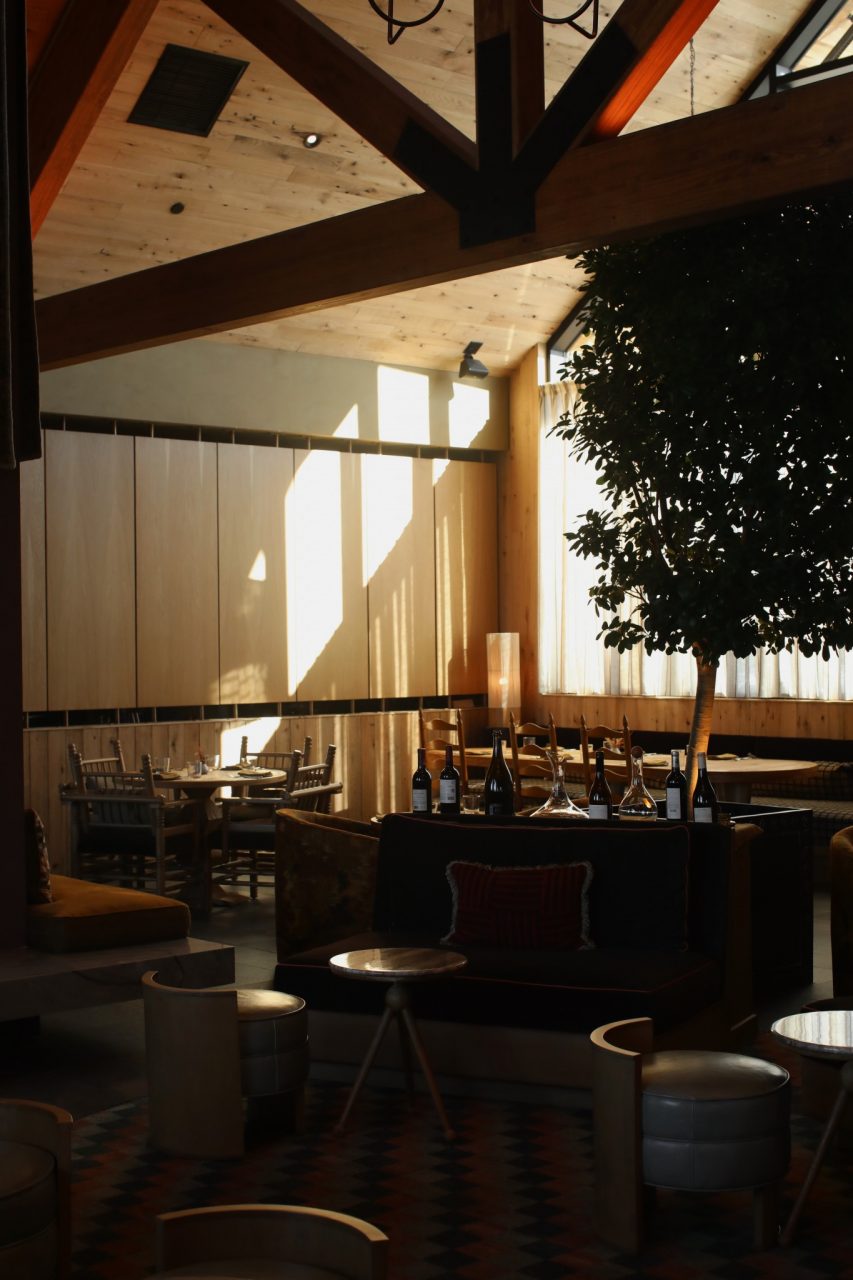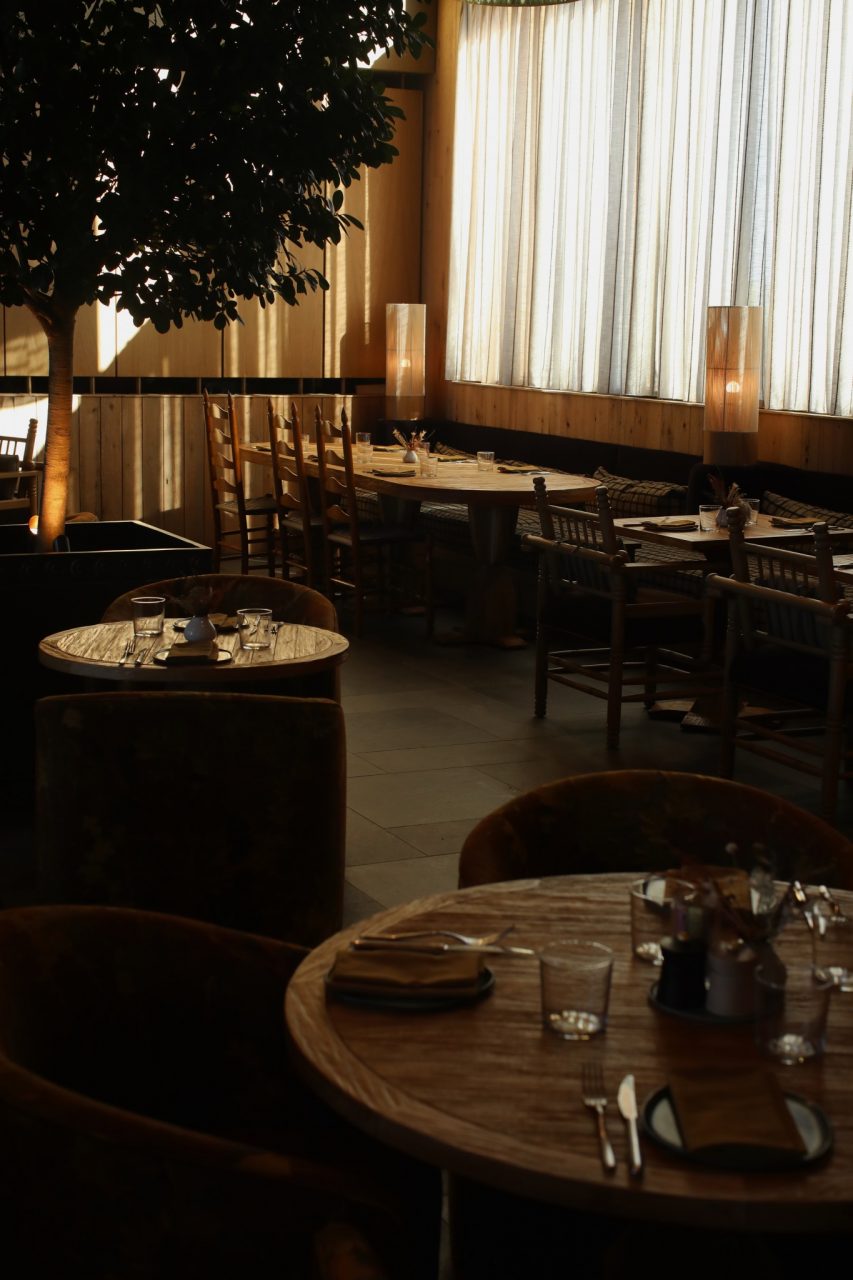 So if you're looking for a retreat and an escape – something that is equal parts quiet luxury and cozy comfort, Wildflower Farms should be at the top of your list.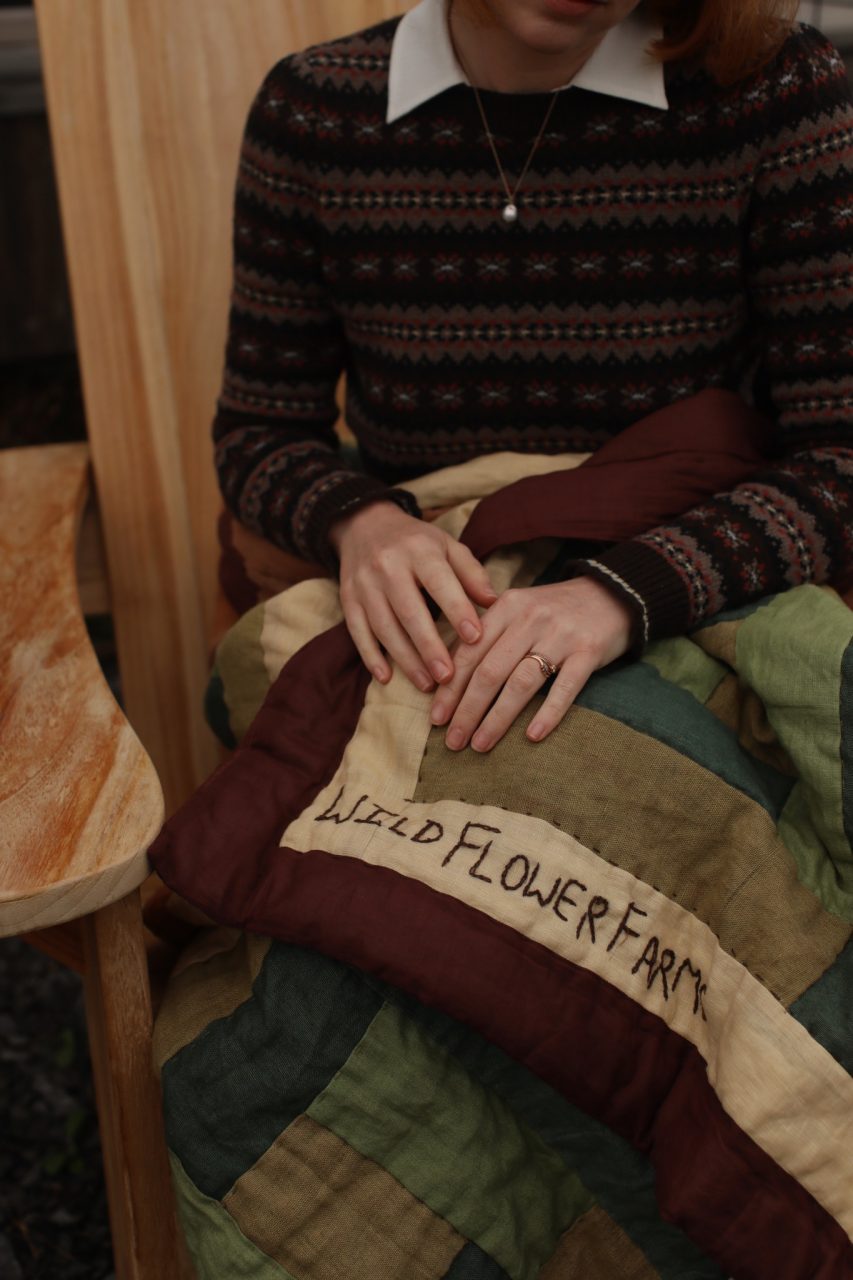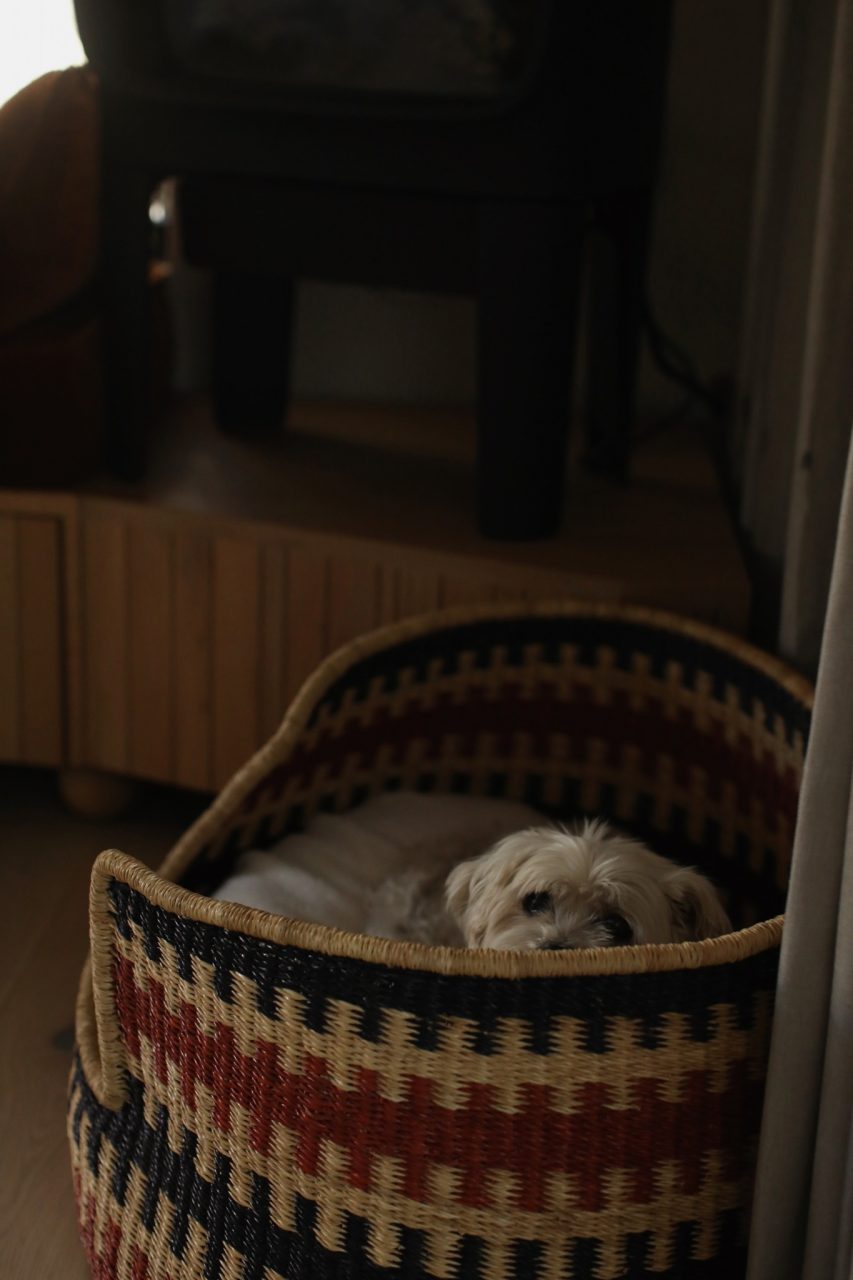 While this experience was a hosted stay, all opinions expressed are my own. Thank you to Auberge for allowing us to come and visit!