Face masks come in all shapes, sizes, and formulas these days. And it's no secret that I absolutely love putting a face mask on (and usually taking to snapchat to document how weird I look). I've tried many different kinds, from sheet masks to clay, but below is a list of my absolute favorites!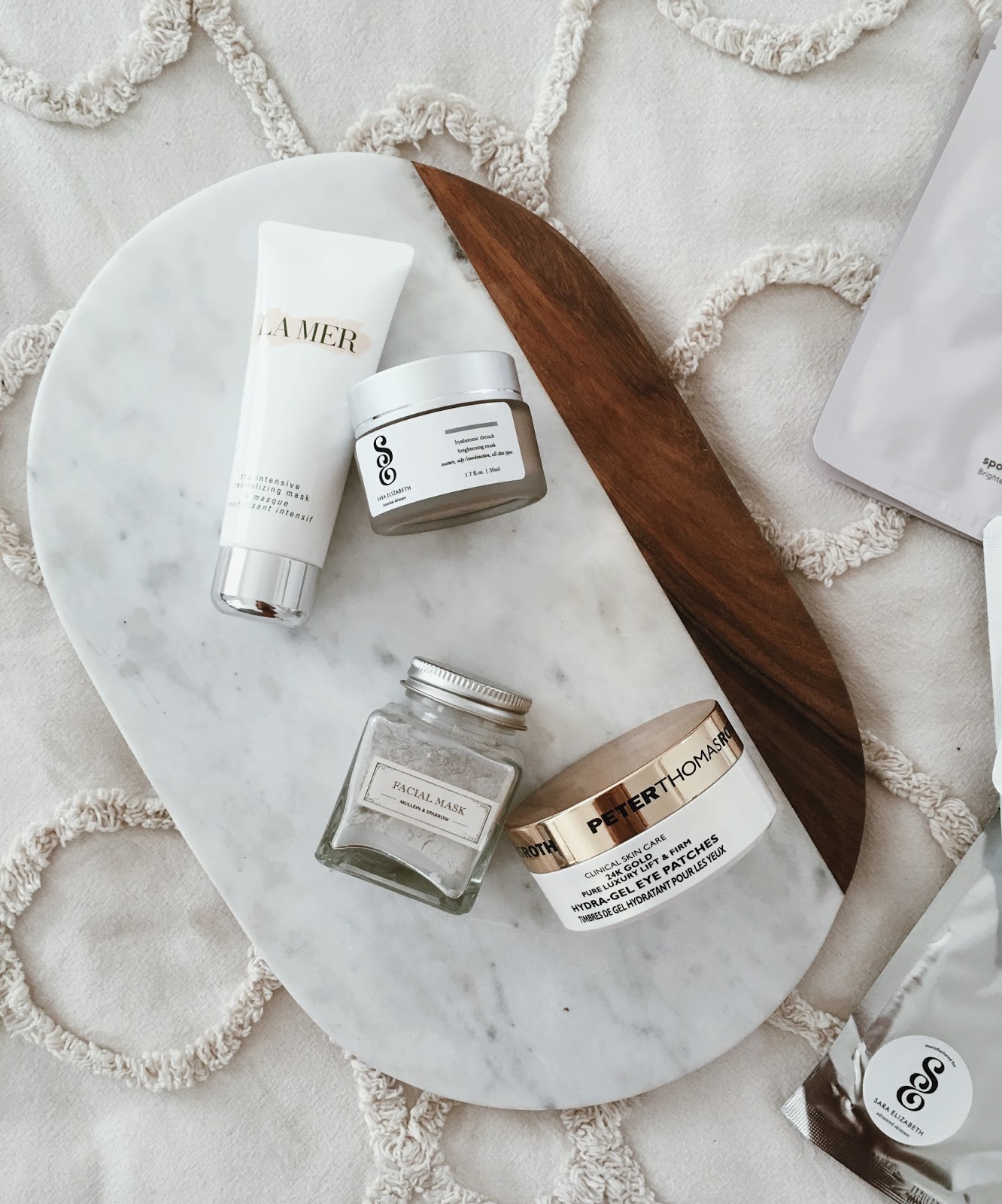 1. La Mer Intensive Revitalizing Mask
This mask is my go-to for when my skin needs moisture, but I don't have a lot of time. It goes on like a thick lotion, and isn't as 'mask-y' as the other choices. Your skin isn't a different color while it's on, nor do you look like a serial killer (sheet masks = instant murderer). In fact, after the time is up for you to have it on your face, you rub it in, and wipe off any excess. It's a good mask for traveling, as the clean-up is almost nothing.
2. Sara Elizabeth Brightening Mask
This one is a great option for when my skin just looks dull. It brightens, tones, and feels amazing on. Plus it smells pretty good too.
3. Mullein & Sparrow Clay Facial Mask
If you're all about a traditional clay mask, this one is like that, but way better. It comes in powder form, so you take a small amount, mix it with water in a bowl, and paint it on. I love the container that looks straight out of an apothecary, and I love adding different things to the mask itself to boost it. I'll usually spritz some rose water into the mask once I've mixed it for a little extra oomph.
4. Peter Thomas Roth Hydra-Gel Eye Patches
I probably use these eye masks more than any other mask I've owned. My eyes can be a problem area, especially when I'm running low on sleep, or had a salty meal before bedtime. I put these on in the morning before a photoshoot or filming, and love the way they feel. Plus, they're GOLD. Who doesn't love that?
5. Sara Elizabeth Coconut Cell Sheet Mask
It's a sheet mask made with coconut – what's not to love? Sheet masks are great because they really lock in the moisture, and this one is perfect for when your skin is thirsty.
6. Saturday Skin Spotlight Brightening Sheet Mask
I've gotten a few packs of these masks, and I really do love them. Korean sheet masks are the best, and these ones are great for events. I put one on before the last wedding I attended, and my skin felt so much better, and my makeup looked great even after a whole evening of dancing.
7. La Mer The Hydrating Facial (Upper and Lower Masks)
Okay, if you're looking to splurge, these ones are the ones to get. La Mer just knowwwws skin care, and these masks are like the holy grail. They come in two parts, an upper and a lower, which makes putting them on a lot easier than traditional sheet masks. Your skin GLOWS after, and it feels like an actual trip to the spa.