Festival season is a thing. It took me a long time to accept this. Sure, Spring fashion makes sense to me, but to have a whole season called Festival Season (with the capital letters and all)? After a few years of this, I have learned to not only accept it, but to embrace it. Music festivals are the first sign of warming weather, and have created fashion trends of their own.
I'm not one to don a fringe suede vest and low-rise shorts with a flower crown, so here's my take on the style, featuring what I would actually wear to a festival. I chose this Urban Outfitters ensemble for a number of reasons;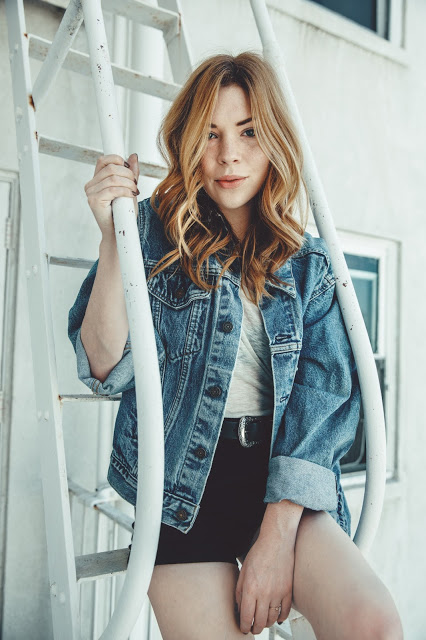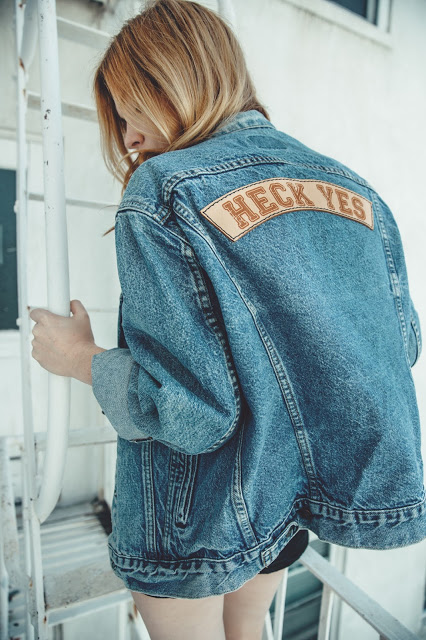 For starters, I'm extremely fair skinned, and festivals are ALWAYS outside, with little to no shade. Which is no good for me, lest I burn to a lobster-shaded crisp. So covered my shoulders is key, even if it means the only one wearing a jacket. Drape it over your shoulders, use it to sit on ground of varying degrees of comfort, tie it around your waist to invoke 90s nostalgia – having an outer layer is key. Especially for when temperatures drop in the evening and you're still dancing your ass off in a field somewhere. Bonus points for customizing with a patch or pin or two. Or 100. Your choice.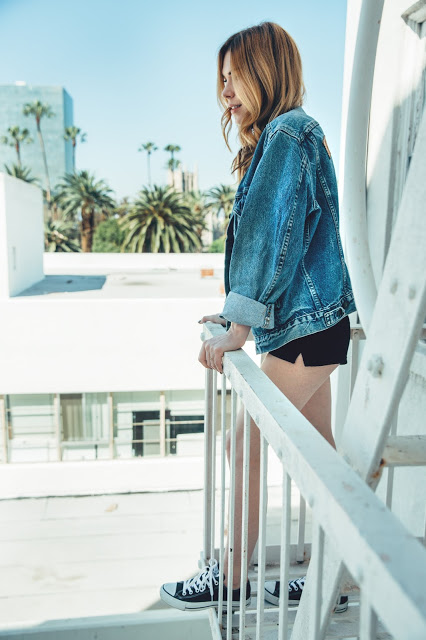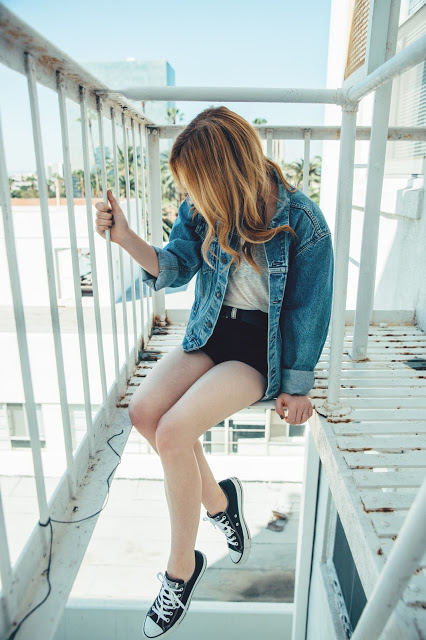 Next up as a requirement? SNEAKERS. No sandals for me. Festivals are crowded. Your toes will get stepped on. I repeat. They WILL get stepped on. Some girls brave the elements with bare feet, and while I say "You do you" to that, I will stick with a classic pair of Converse. Comfy, stylish, and most of all, toe PROTECTING. I know that a pair of cute little ankle booties may seem appealing – heck, even with a little heel – but after 9 hours of stomping around in those you will be begging for the comfort of sneakers.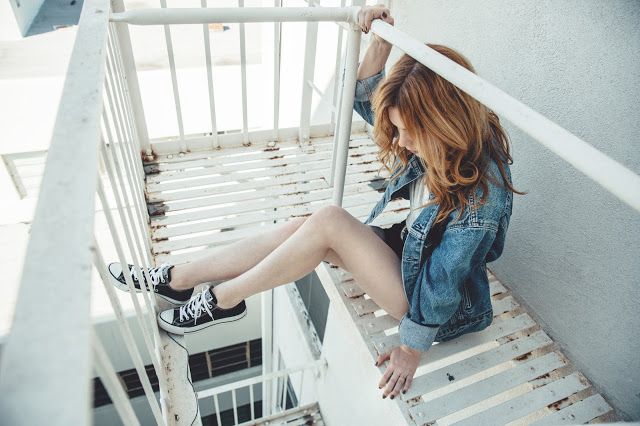 My next clothing choice item? Shorts! But for me, I can't do low-rise. Maybe it just makes me think of the thong flashing days of the early 2000s too much, but low-rise anything bums me out. High rise! Forever and always. These little pin-up-y shorts have my heart, and will mercifully keep my sunscreened legs cool. Apologies to everyone around me for how pale my legs are, but they simply cannot help it. No amount of sun will change that.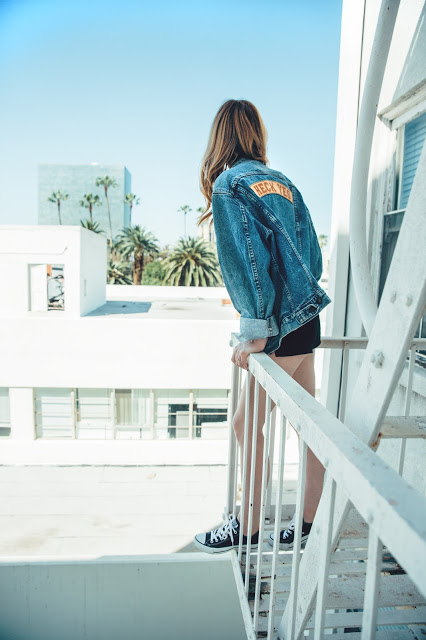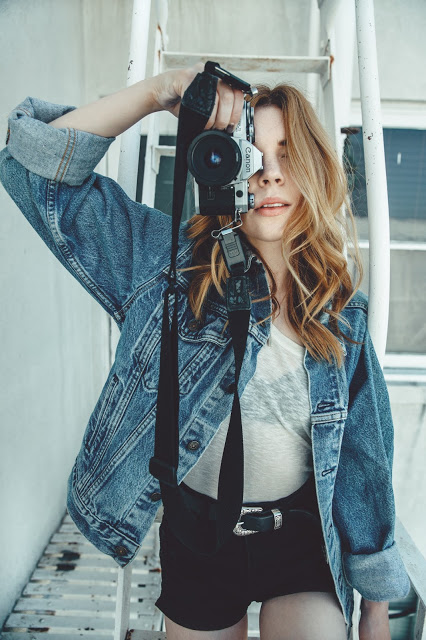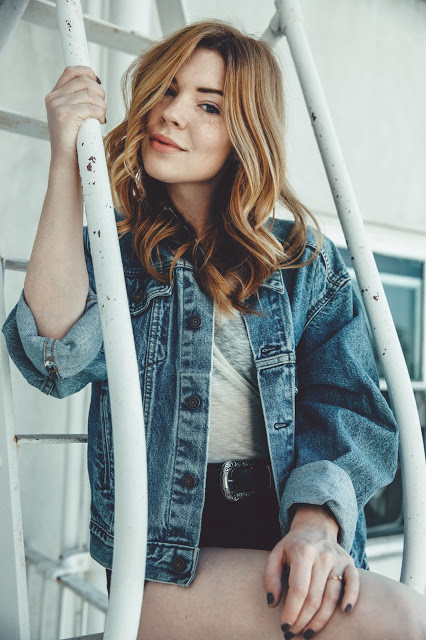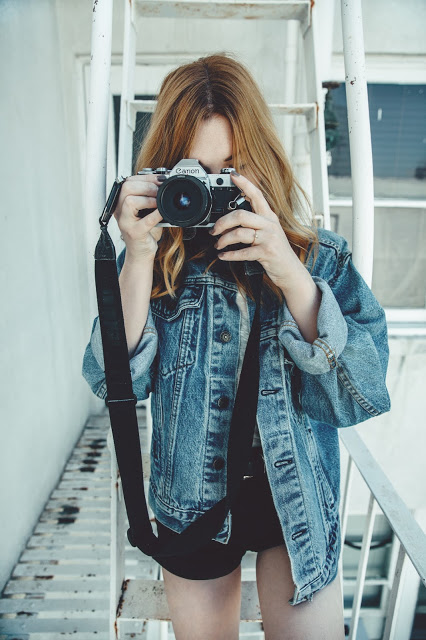 So there you have it. My outfit of choice for Festival Season survival, as brought to you by my favorite – Urban Outfitters. If you're in need of some festival gear yourself, check out their selection of clothing, gadgets, and things you didn't know that even needed but now you TOTALLY need for your next music fest.
All photos shot by Champagne Victoria.
clothing c/o Urban Outfitters : understated leather x UO jacket / pin up shorts / converse sneakers