Last month, my travel partner in crime Stephanie (of Honey&Silk) and I hit up Austin with our friends at SOREL to experience the lively music scene. This month we visited Charleston South Carolina for one of my favorite things in the world : food. Charleston has long since been a foodie destination, and lately that has only expanded. We packed our suitcases with SOREL shoes, our cameras, and some roomier clothing to indulge in the local dishes.
For our first day in town, Stephanie and I rented bikes to really be able to roam around. Charleston isn't too large, but the streets are narrow, so a car can be a bit of a pain. A bike is the perfect way to see the city, so we started our exploration south of Broad, along the piers. It was early in the day, and the city hadn't reached high temperatures. I paired my SOREL Joanie wedge sandals with some high rise jeans and a little striped tee for some slightly French vibes.
SOREL Joanie Wedge sandals / Rebecca Taylor jeans / ASOS tee / ZARA purse
Now I'm not normally the kind of girl who bikes in heels. Make that bikes at all. Mainly because I'm clumsy, but with how much of the city we wanted to see in a short time, biking was in order. I was nervous at first, but after we had been at it for an hour, we both we're cruising Charleston in style. We passed by so many cute little houses, narrow alleys, gas lamps, couples walking their dogs – I can see why a lot of people are moving to Charleston at the moment. It's pretty magical.
We decided to kick off our Charleston food crawl by indulging our sweetooth at Sugar Bake Shop. Yep – it was just as heavenly as it sounds. It's a cute small little shop filled with some of the prettiest cupcakes and cookies I've ever laid eyes on. Fresh berry filling, just the right amount of frosting – I definitely don't feel guilty about having dessert for lunch when it tastes this good.
After all that biking around and exploring, you guys know where my mind goes – cocktail-o-clock. Charleston is filled with some of the cutest, swankiest cocktail spots, and the one we found calling to us was the Gin Joint. We watched our bartender craft some of the loveliest drinks (scroll down and look at that pink strawberry one!) while we sat up at the bar. I had one of the best Old Fashioned cocktails I've ever had with some local bourbon, and Stephanie opted for a sweeter drink that I can't remember the name of. We relaxed for a bit, and plotted out our next destination : dinner.
Chances are, if you're planning a trip to Charleston and have any sort of foodie-tendencies, you'll have heard of Husk. Husk is one of the most famous new restaurants to hit the town, and it's reputation is that of authentic Southern cooking with some modern updates. The location is perfection, a two story house with porches all around, sitting directly across from an all pink building. Pretty much the most picturesque place to have a meal.
Stephanie and I decided to go no-holds barred when we placed our order. A tall gooey cheeseburger with fries, deep fried chicken, lettuce cups with crispy pork ears – we went all out. And I can safely say that while my jeans waistband wasn't stoked by the indulging, I was. The food was everything everyone had described to me, and my only regret was not being able to eat more of it. I really can't wait to take my husband back. But be warned, if you're planning a trip, make sure to get a reservation in early! It was packed when we got there, and we were told it's like that most days.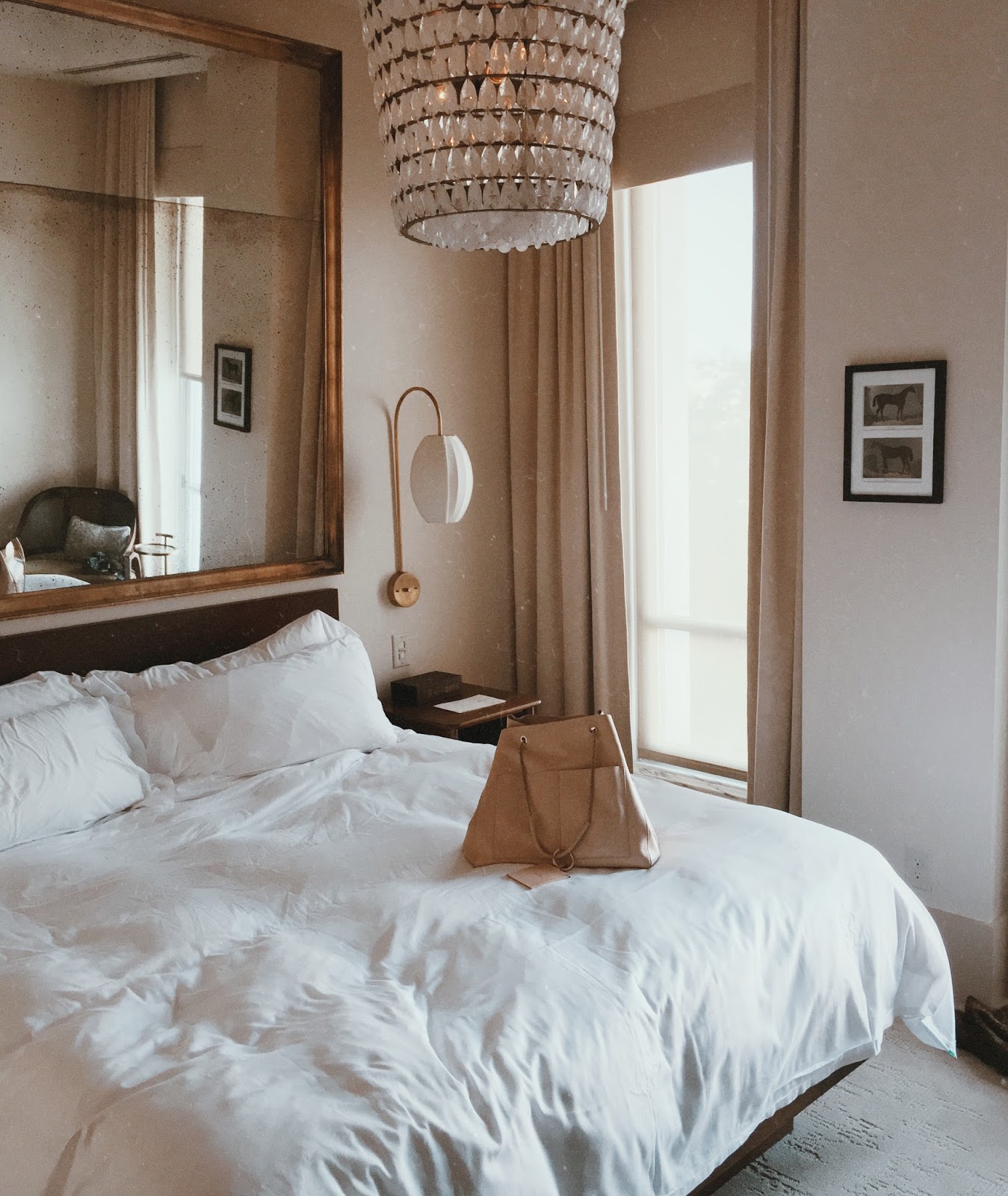 The next morning Stephanie and I woke up early at The Dewberry hotel, and left to have a picnic just outside of Charleston. We found so many of these gorgeous tree-lined lanes, and being able to set down a picnic blanket and indulge in our leftover cupcakes seemed like the perfect way to start the day. South Carolina is definitely heating up already for Summer, so I'm glad we got an early start. We shot photos under sun-drenched trees, walked around looking at the horses in a nearby field, and I got the perfect chance to break out this very 1940's-esque dress I picked up the day before while exploring the city.
We both wore our SOREL wedge sandals for the occasion (this chestnut shade just goes with everything), and despite the amount of walking and picking our way through uneven ground, we both left without having aching feet. Score. We also somehow both got the memo that since it was a picnic we obviously needed to carry our basket purses. Our minds have pretty much melded at this point.
SOREL Joanie Wedge / H&M dress / Bembien purse
On our way back into town we passed by this gigantic fresh fruit stand. I grew up in Orange County, surrounded by strawberry fields, so a big part of my childhood was spent snacking on freshly picked berries. I just had to know if Southern strawberries are just as good, and spoiler – they might be better. I know, I know, I'm a traitor, but they were all so perfectly red and ripe and sweet. I took a whole basket back to my hotel and ate handfuls while watching a little TV and waiting for the sun to sink. At this point in the afternoon the city gets pretty humid, so taking a break is always a good idea.
After our afternoon rest, Stephanie and I changed for our epic food crawl night. That's right, we planned a true food crawl to be able to sample as many Charleston hot-spots as possible. I paired my SOREL cuff sandals with this swishy skirt and Reformation tank that I can't stop wearing. I tend to go for dresses more than skirts, but since my tee and tank collection is ever growing, I might as well find new ways to wear them!
Our first stop on the food crawl? Come on, I bet you guys know the answer. Was it an Oyster Bar? Ding ding ding! But not just any oyster bar, no sir, we visited The Darling Oyster Bar, and can I just say – it's accurately named. The space is so pretty with white tile, retro booths, and wood details. It was such an inviting space to walk into in the early evening, and I could see myself spending a little too much time there if I was a local.
SOREL cuff sandals / Sezane skirt (sold out – similar here and here) / Reformation tank
And sure, we got oysters, but that wasn't even the half of it. The chef stood at the bar in front of us and treated us to a live demo of some of the most popular dishes. Ceviche, clam chowder, this gumbo of sorts with an egg yolk in the middle and Brussels sprouts. It was heavenly, and we ate a little more than we had planned to on our first stop, but hey, it's a vacation right? Time to loosen your belt a bit and dive in, so to speak.
After the Darling Oyster Bar, we hit up 5Church restaurant. So named because it is in fact in an old church. Such a cool location with vaulted ceilings, kitschy artwork, and it goes without saying, delicious food. Stephanie and I actually got to go into the kitchen and watch the chef prepare a rest burrata and tomato salad. It was gorgeous, and all of the different Heirloom tomatoes made for a colorful dish. They had braided ravioli, a tuna tartare, and of course, some tasty cocktails.
Our final indulgence on our food crawl was hitting up Cannon Green in downtown. We were treated to this beautiful outdoor space that I could totally picture a lovely wedding taking place in. The sun was setting, and Stephanie and I tucked into pasta, a burrata and micro-greens dish, and a little bit of a tropical cocktail. Not only was the setting sublime, so was the food. The grilled bread was calling to me, but after indulging as much as we did, I tried my very best to stick to the micro greens. It worked – for like a minute before I dove into the pasta. Vacation complete.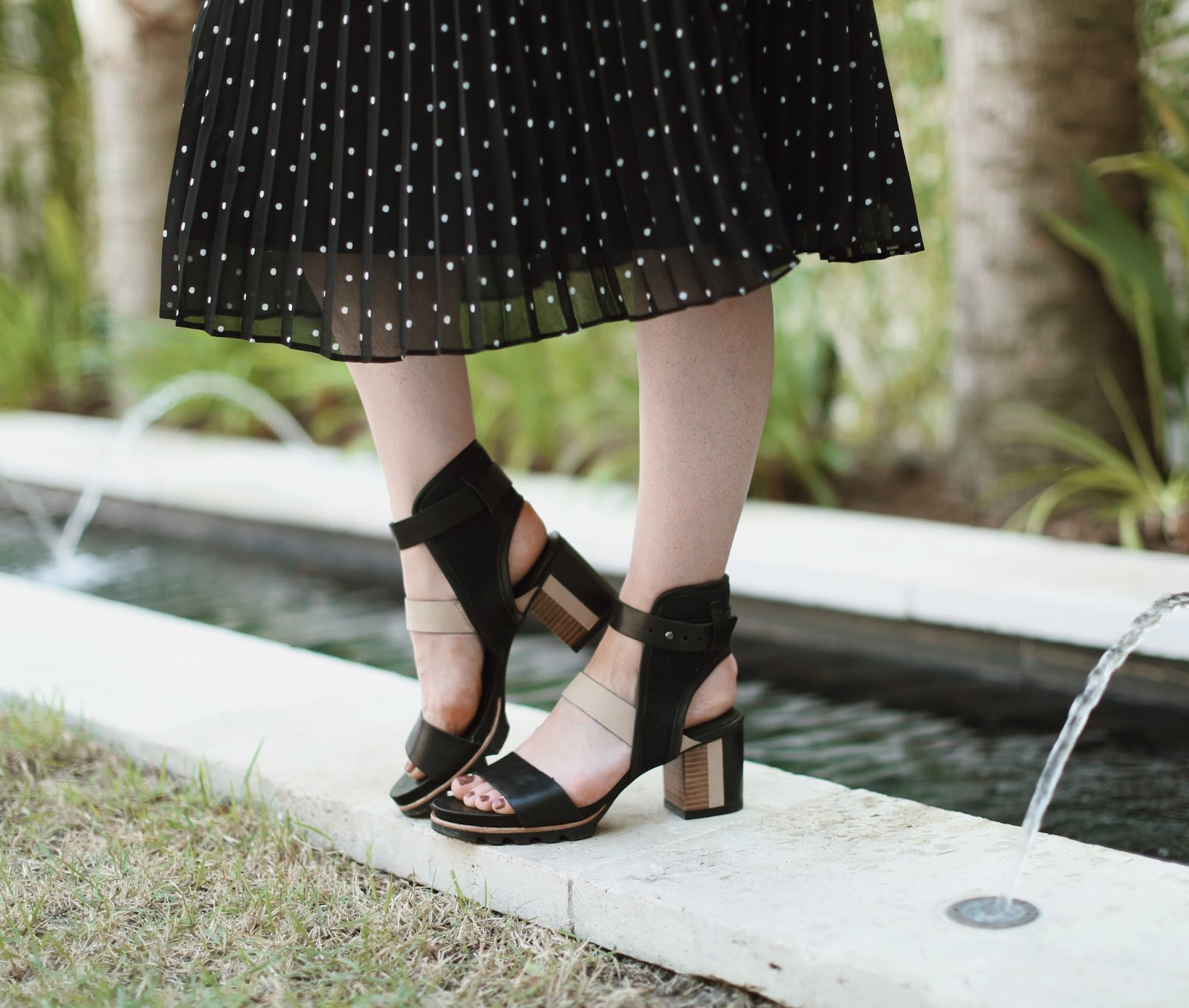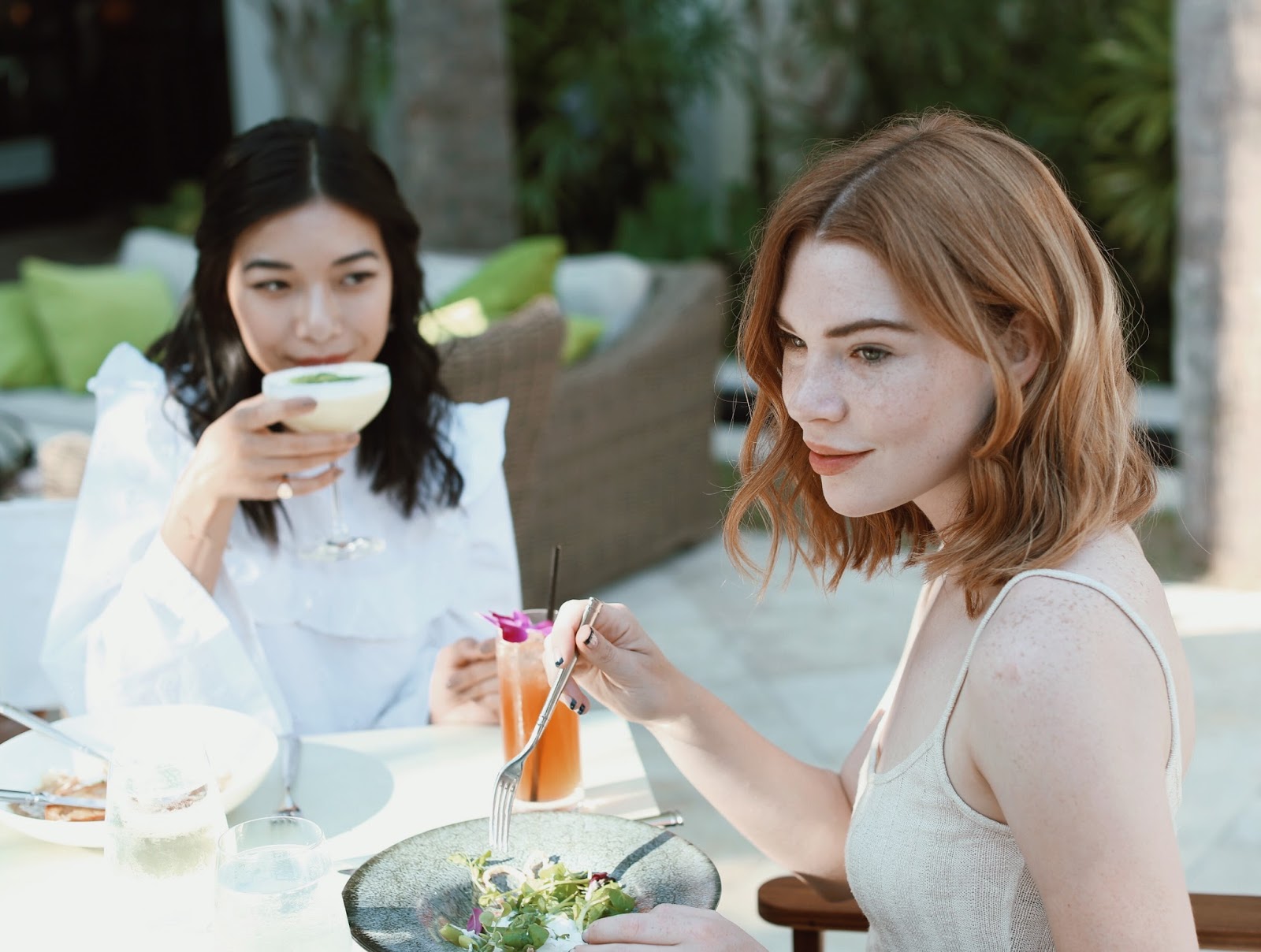 This post is sponsored by SOREL – all opinions expressed are my own