I've added some beauty products to my collection recently and decided I'd share a few of my favorites. I'm always trying new things, and while not everything makes it into my bathroom medicine cabinet (it's tiny, guys), these are some products that made the cut.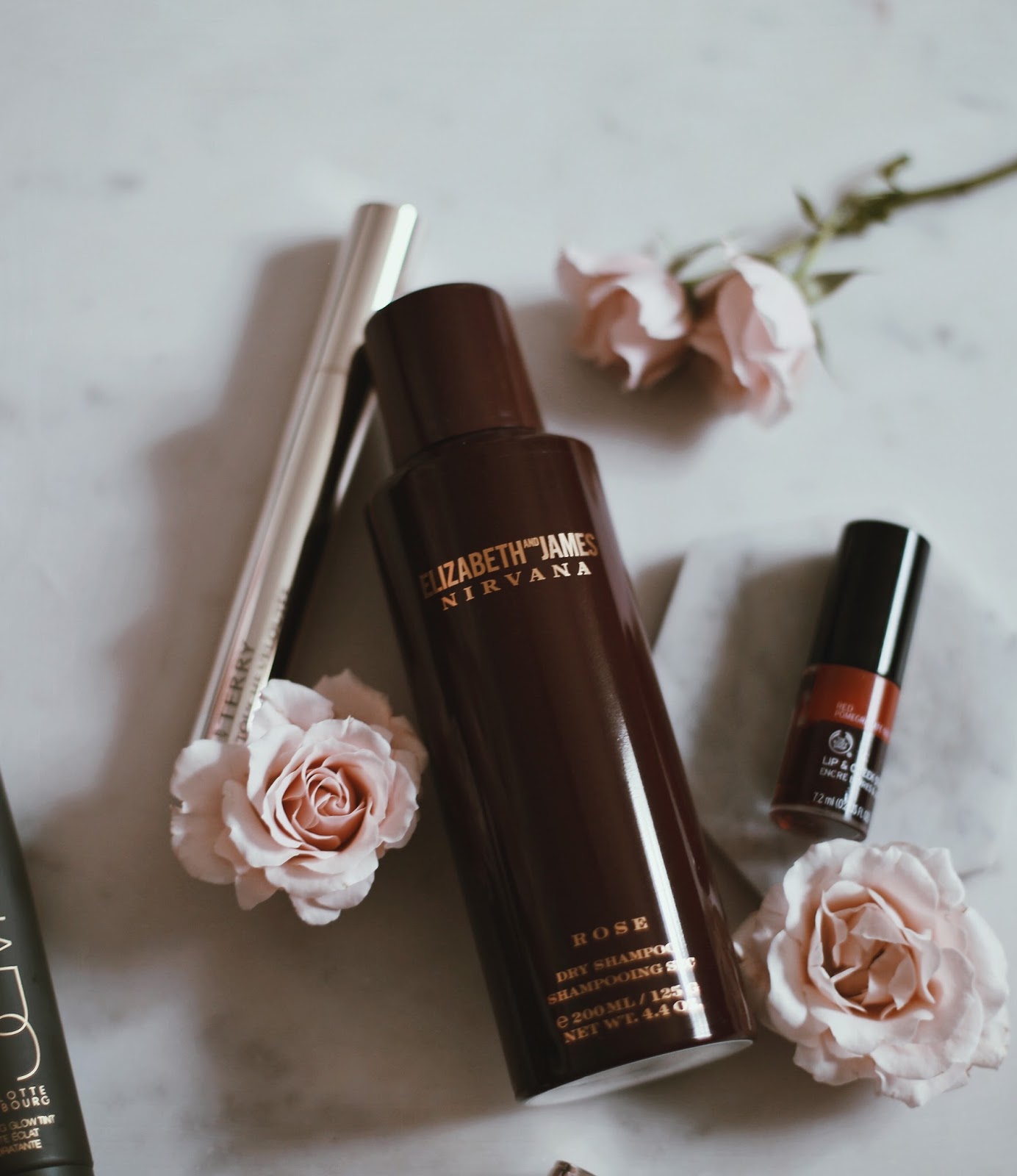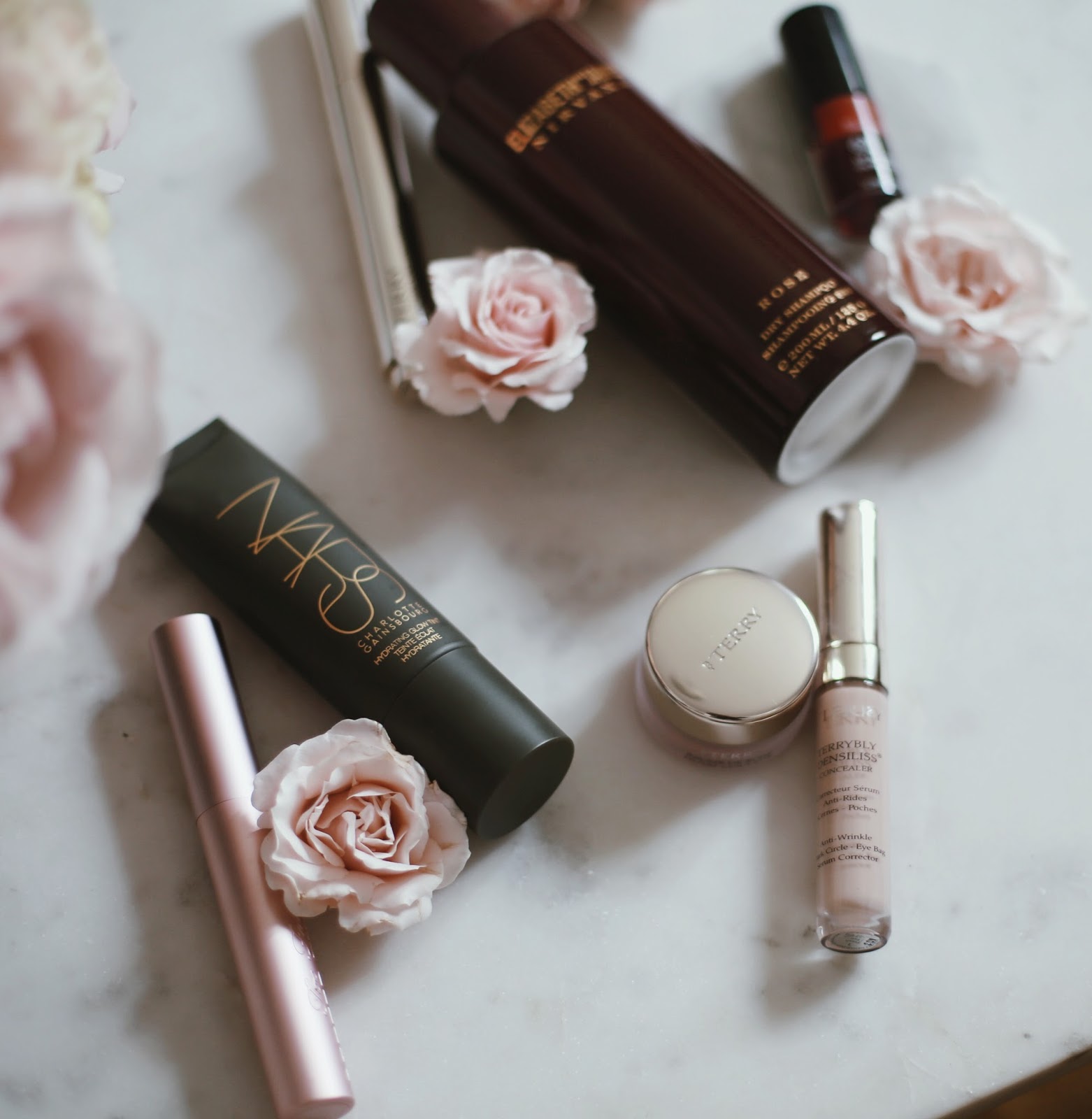 Elizabeth & James Nirvana Dry Shampoo – Rose // I love dry shampoo. I love rose scented products. And I've been wearing Elizabeth&James perfume on and off for the last year, so this product was a natural choice for me. It's a great dry shampoo that does wonders on my hair, and the scent is SO incredible. Really negates the need for perfume and as the scent lasts all day. Cannot recommend this enough – I have the Bourbon scent as well that I think will be lovely in the fall.
By Terry Touche Veloutte Concealer in Porcelain // If you've been following along on my Insta-stories, you might have seen that last month I dealt with some serious redness around my mouth. I don't typically wear concealer as my La Mer foundation does the trick, but I found myself needing a little something extra. This not only covered the redness, but it made my skin look glowy and not cakey. Since the redness has gone away, I've found myself using this solo on days where I don't want to wear foundation, but have some spots I'd like to cover.
The Body Shop Lip & Cheek Color // Okay, I'm admitting it, I bought this because I saw that Emma Watson recommended it as a product that she swears by, and let's face it – every girl secretly wants to be like Emma Watson. I bought this in both the Dusty Rose and Red Pomegranate colors because there was a sale, and have been using both daily. It's the easiest way to add some color to my lips which can be quite ghostly, and I love it as a cheek color. I keep one in my purse at all times, and really love how a little goes a long way.
By Terry Baume De Rose Nutri-Couleur – Rosy Babe // I've talked about my love of By Terry Baume De Rose in the past, but this is a new color that I've added. This formula feels so much more like a luxe lip treatment than a gloss, and seriously makes my lips soft. It's perfect to have for on board a long flight (i.e. drying recycled air) and it has a lovely rose scent.
Nars Charlotte Gainsbourg Hydrating Glow Tint – Fair // I bought this tinted moisturizer on a whim and have been so happy with it ever since. It's sheer coverage, great for days when I don't want to wear makeup, but would still like to even out my reddish complexion. Even on days when I wear foundation, I will use this on the parts where I need lighter coverage, like my cheeks and forehead, to allow my freckles to show through. It's glowy, moisturizing, and easy to apply.
Too Faced Better than Sex Mascara // Okay, it's got a silly name, but dang is this mascara good. I used to get eyelash extensions, and while I'm no longer able to do that, I find that this mascara gives me perfectly bambi-like lashes.
By Terry Terrybly Densliss Concealer – Fresh Fair // I have under-eye circles. Serious ones. Raccoon like eye circles. So when I say this concealer works, please trust me. Moisturizing, doesn't crease, and has replaced the previous Urban Decay one that I was using. IT'S SO GOOD.
So that's it! My current makeup and beauty favs that I have added to my regular repertoire. And as always, if you're looking for what I'm currently loving, head to the Closet tab at the top where I'll always add what I'm wearing, accessorizing with, or beautifying with.