Just last week, I got to pair up with one of my favorite brands, Chloé, to celebrate the launch of their latest perfume. Chloé was the first perfume I ever purchased as an adult, so being able to travel all the way to Paris to partner with them really was a dream come true. And the new perfume? It's heavenly.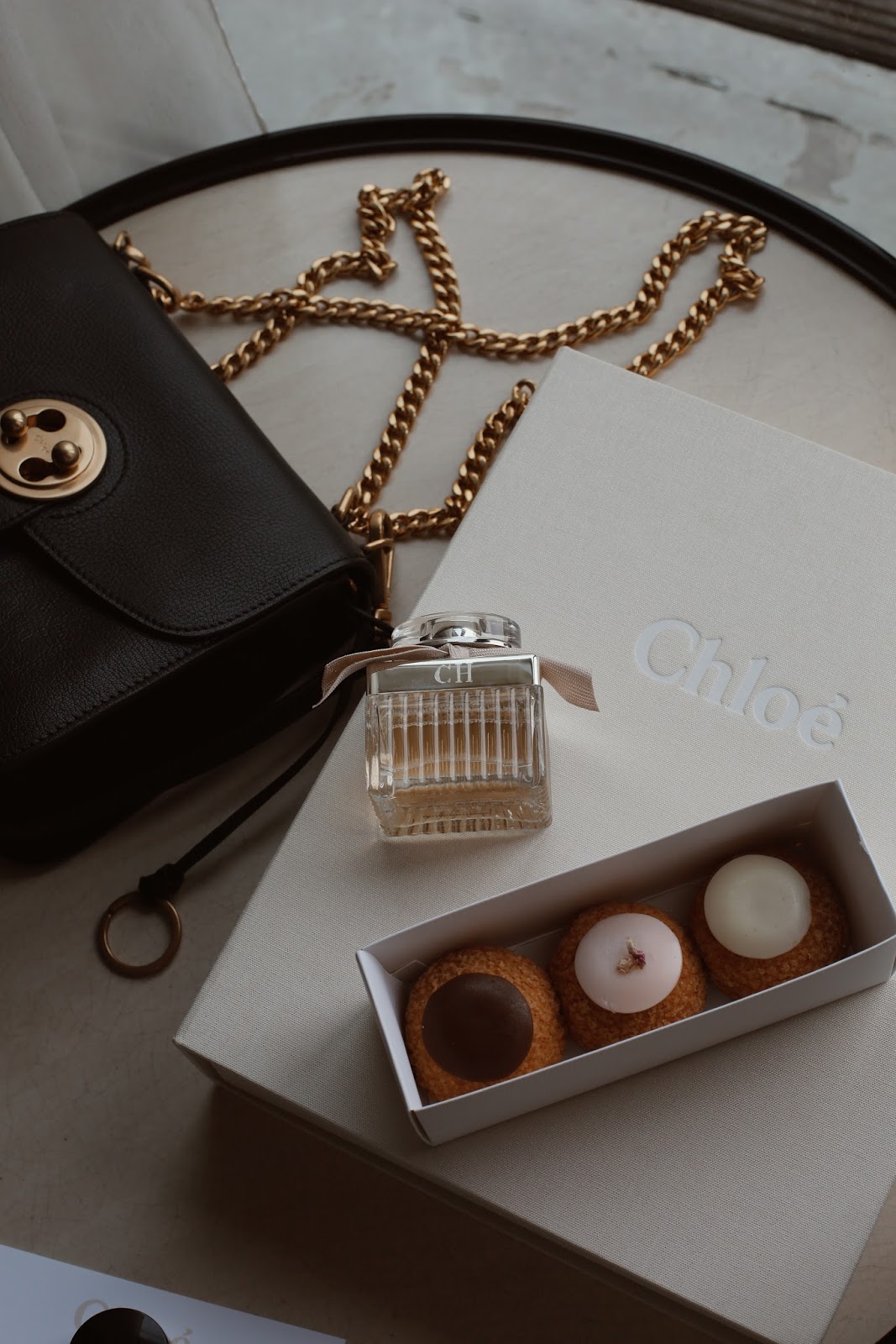 I arrived in Paris last Wednesday evening, and after a late dinner and a long sleep, I woke up for the morning of the Chloé perfume launch. Eric and I visited Le Jardin des Tuileries along the way, and snapped these photos with the original Chloé perfume. It's no secret that I love a good floral scent, and this one has the best subtle rose aroma mixed with peony, cedarwood and amber. Just being able to really breathe that in while walking through the garden got me so excited for the day ahead.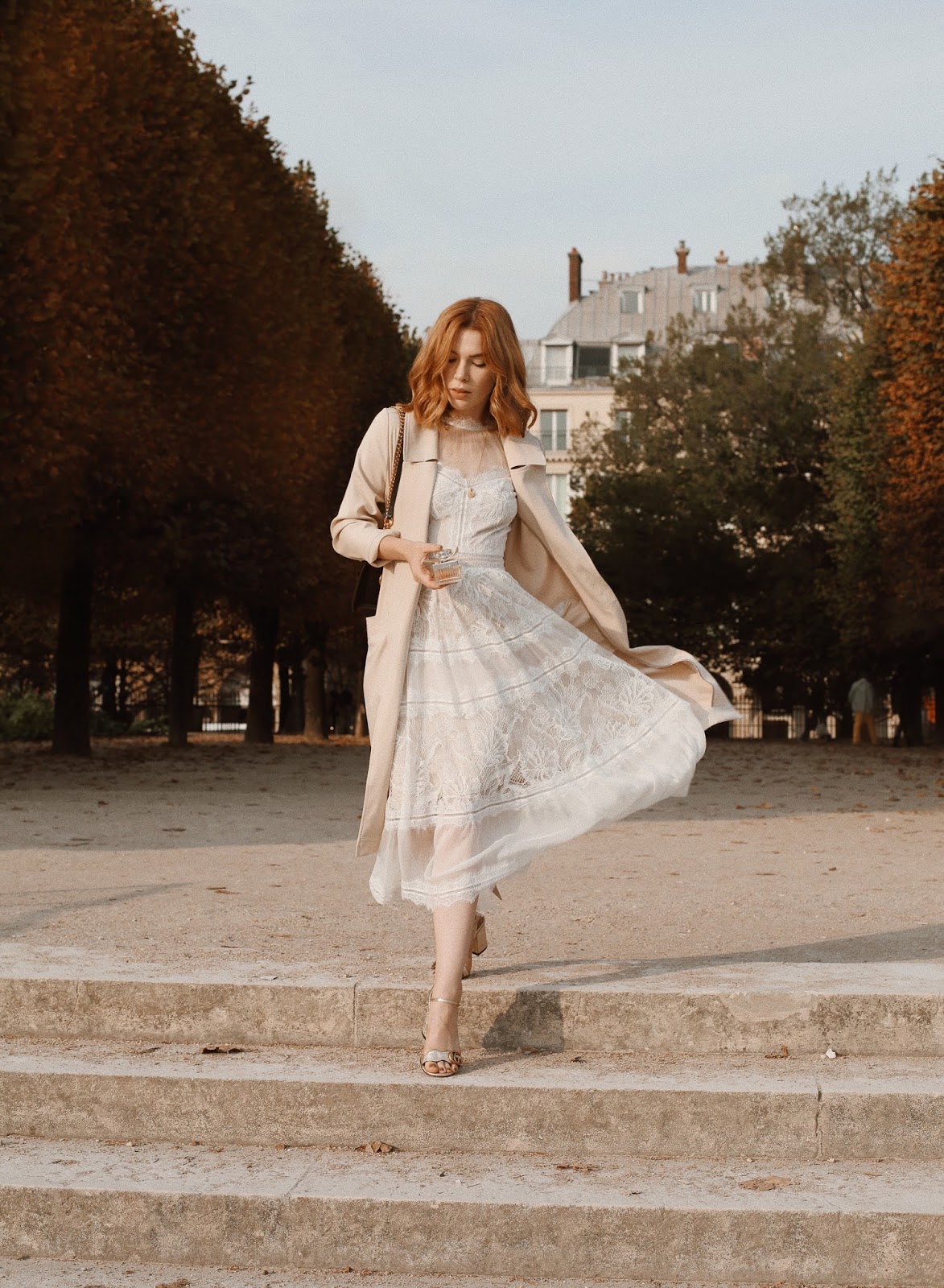 Gucci Heels / BHLDN dress / Chupi necklace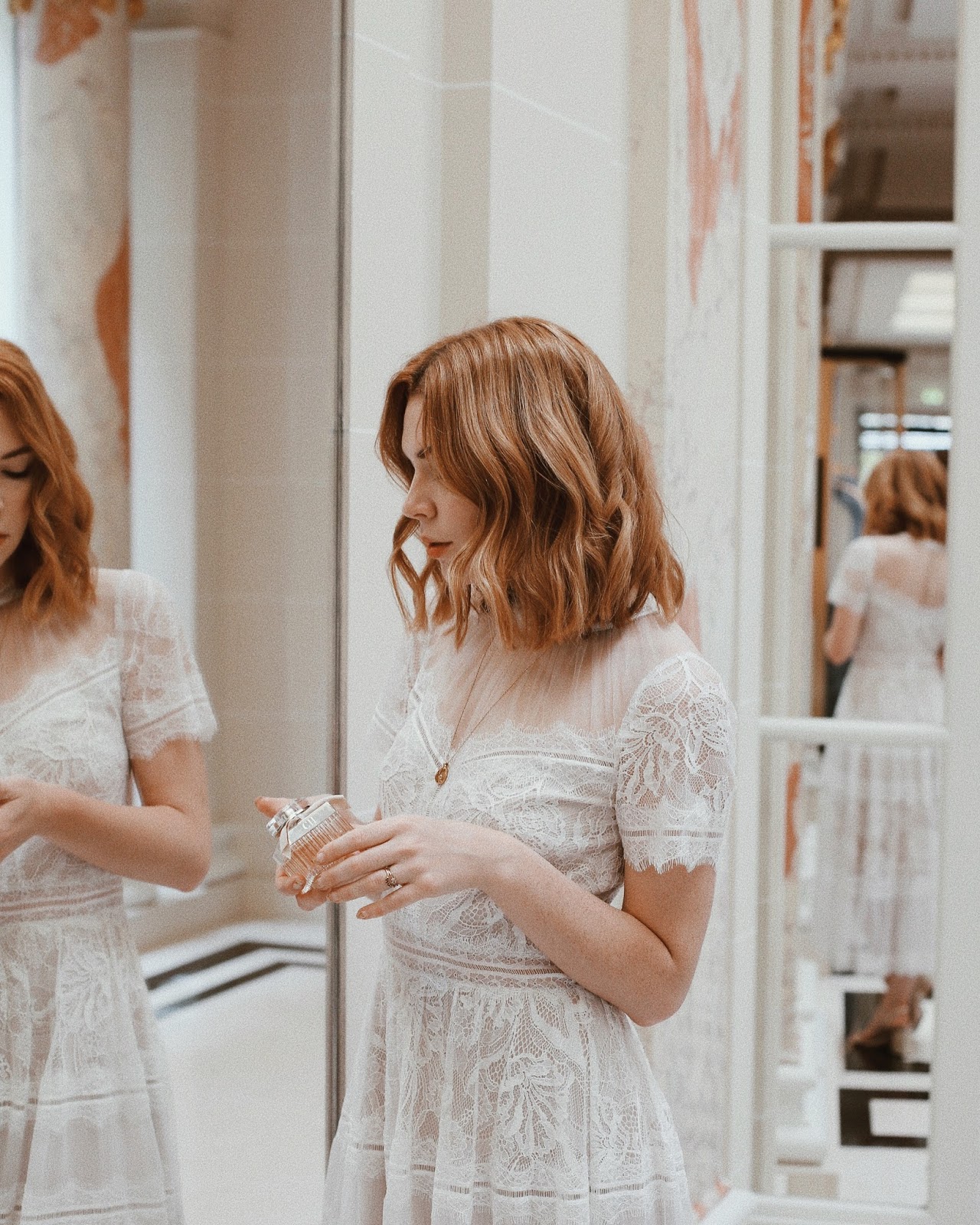 After our walk, I headed over to the stunning Peninsula hotel to have a luncheon, meet some of the team behind the fragrance, as well as the new face of Chloé fragrance – Haley Bennett. Every surface was covered in flowers, perfume, and champagne, with delicious trays of sweets and food floating around. It was surreal – especially to think that a little over a day ago I was just in Los Angeles – in the polar opposite of this lush and romantic setting.
At the event, I received my very own, monogramed bottle of Chloé Eau De Parfum. It made me think back to years ago, when I had saved up after going through several samples of the fragrance, to finally buy a brand new bottle of Chloé. The little ribbon, the packaging; every detail was perfection, and I displayed that bottle proudly until it was all finished. And now, with so many life experiences in between, the scent still feels so familiar and friendly – all in my very own bottle. One of those things I never could have imagined, that really made the experience special.
Chloe Purse via Reebonz / Gucci Sunglasses / Gucci Heels / Chloé Eau de Parfum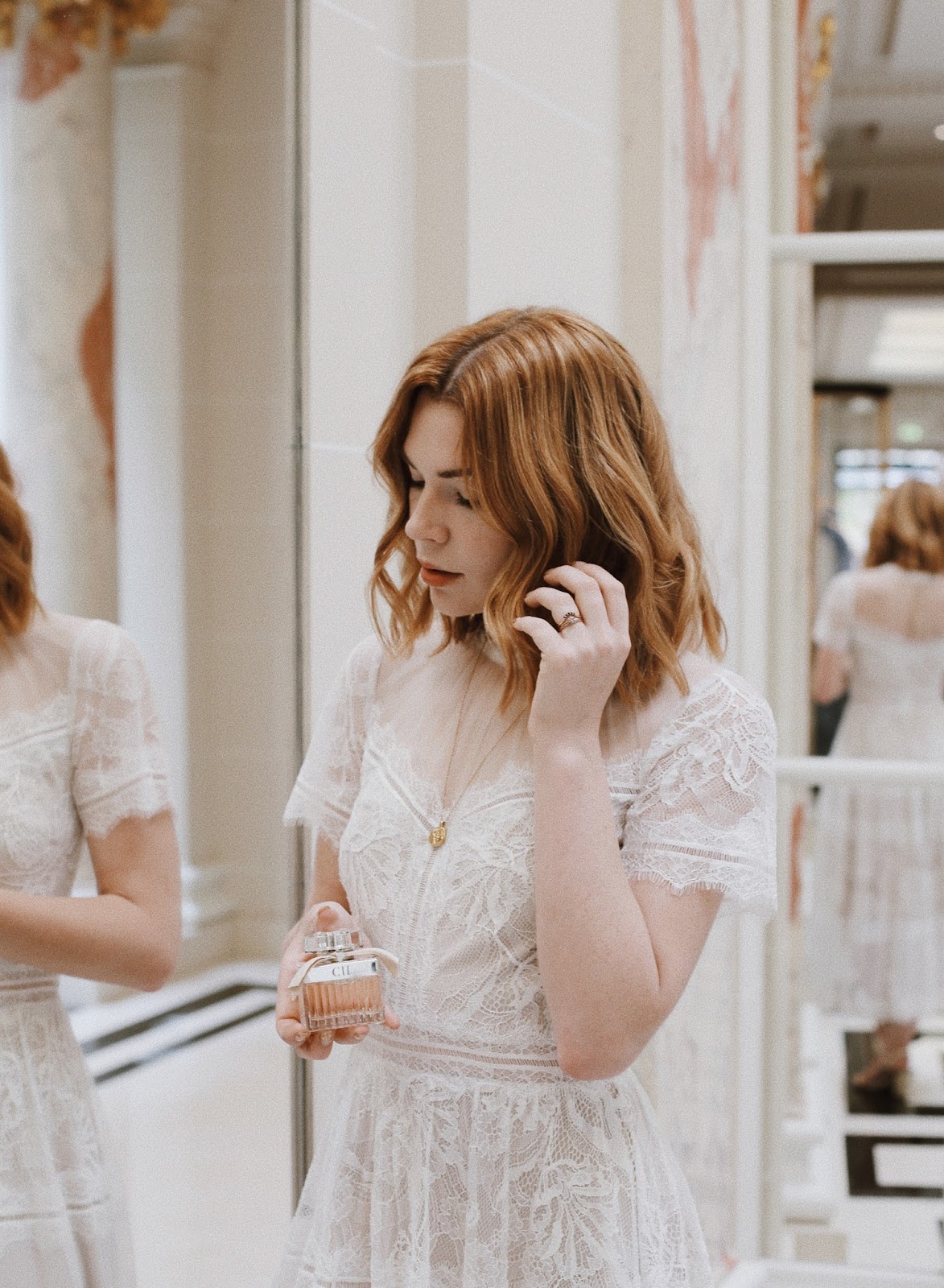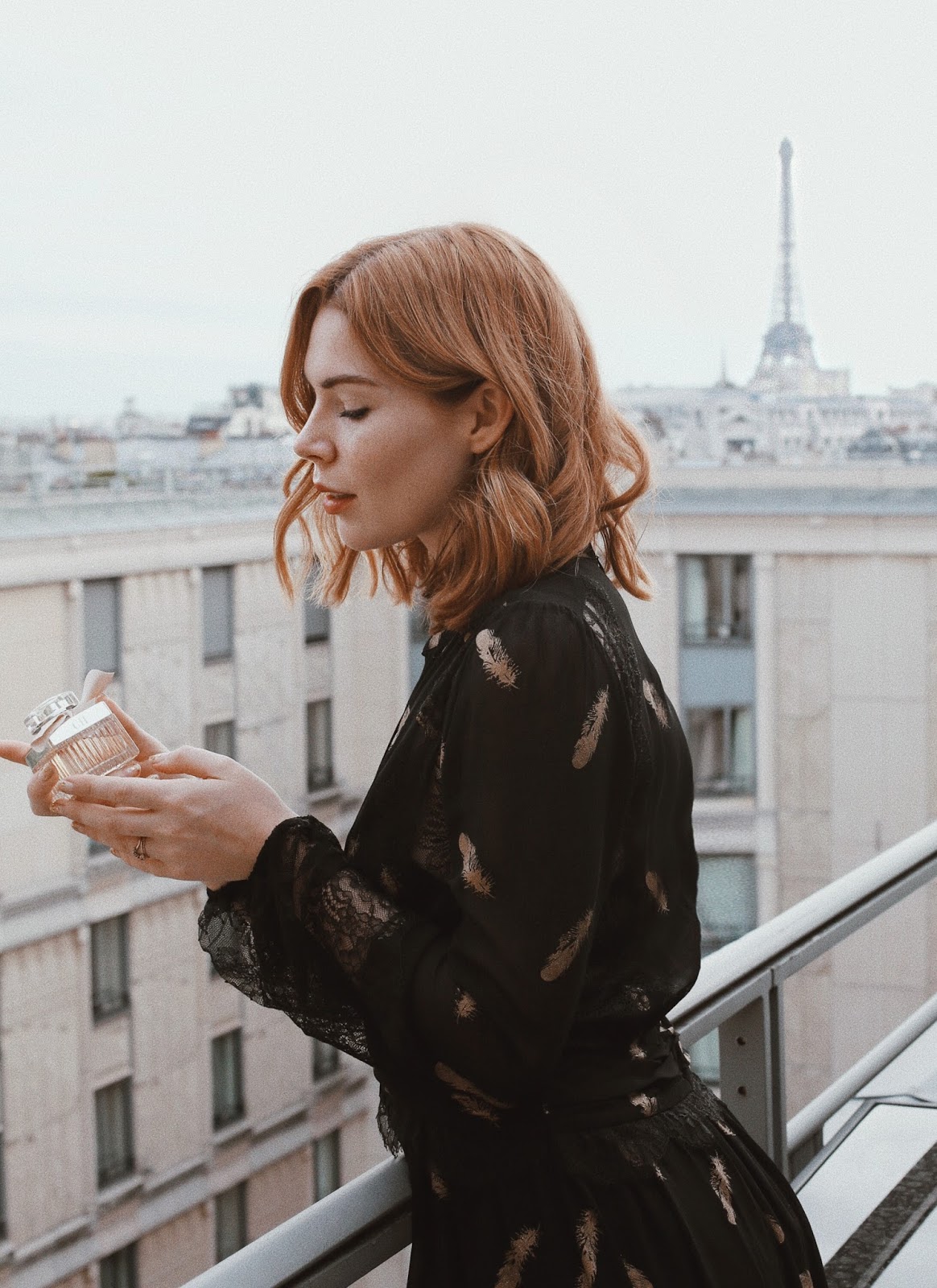 After a bit of a rest (and a lot of coffee), I got ready for the nights event. I picked up this dress at a shop just down the street from the hotel, put on my gold heels, and spritzed myself one last time before jumping in the car to go to the new Chloé Maison.
And what an arrival it was – we stepped out of the car to be greeted by the most lovely building, drenched in shiny balloons. The perfect setting for a party and a chance to view the new campaign commercial starring Haley Bennett. But first – an opportunity to view the new clothing collection up close and in private, which only hours before had walked the runway.
The collection was stunning, and while I wish I had taken more photos, I'm really glad that I took the chance to live in the moment. To be able to see such intricate designs up close was a real treat, and once again something I had only dreamt of before. I've been a blogger for a while, but experiences like this still make me feel special and humbled to be included.
After that we all watched the commercial for the new campaign (it's stunning, btw), and then headed into the party itself. More champagne, more beautiful displays, and finally a chance to smell the new scent – Chloé Absolu de Parfum. While I have been a fan of the signature fragrance for years, I think I may actually like this new take on it more – which makes me want to stock up as it is limited edition. To me it has more of a spice and a smokiness to it. A more mysterious and wild version of the signature. Plus the bottle is gold and oh so lovely, so really, an all around winner of a perfume to me!
After all the glitz and the glamour, I headed back to the hotel, took off my gold shoes, and wondered if it had all been a dream. But then I smelled the perfume on my skin as I drifted off to sleep, and knew it was real.
This trip was sponsored by Chloé, but all opinions expressed are my own.