Yesterday I asked on Instagram for any and all questions you guys have for me. There are some that I get frequently (like how I edit my photos and if my hair color is natural) but some were a bit more unexpected. I had a fun time answering your questions, so scroll down to read.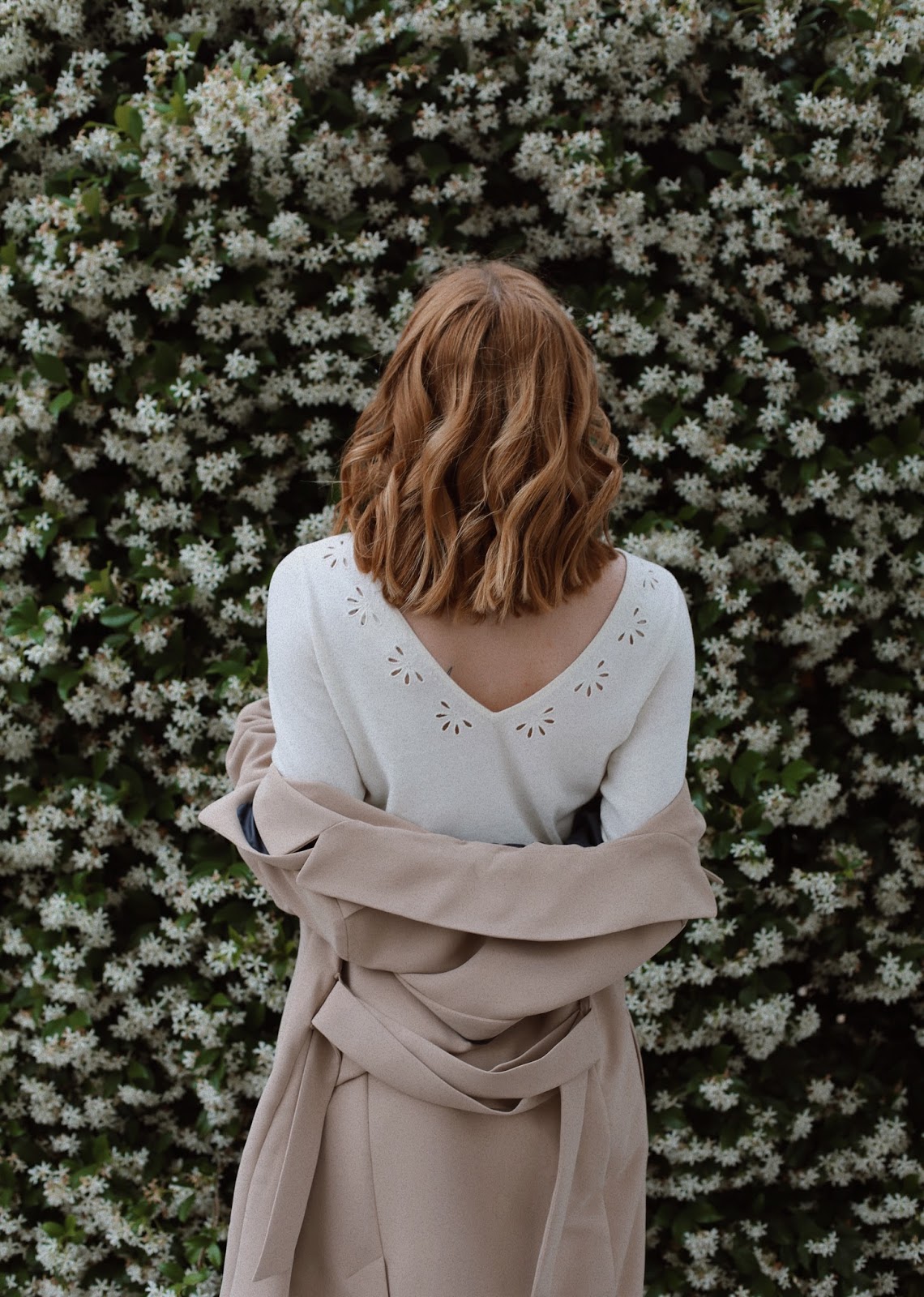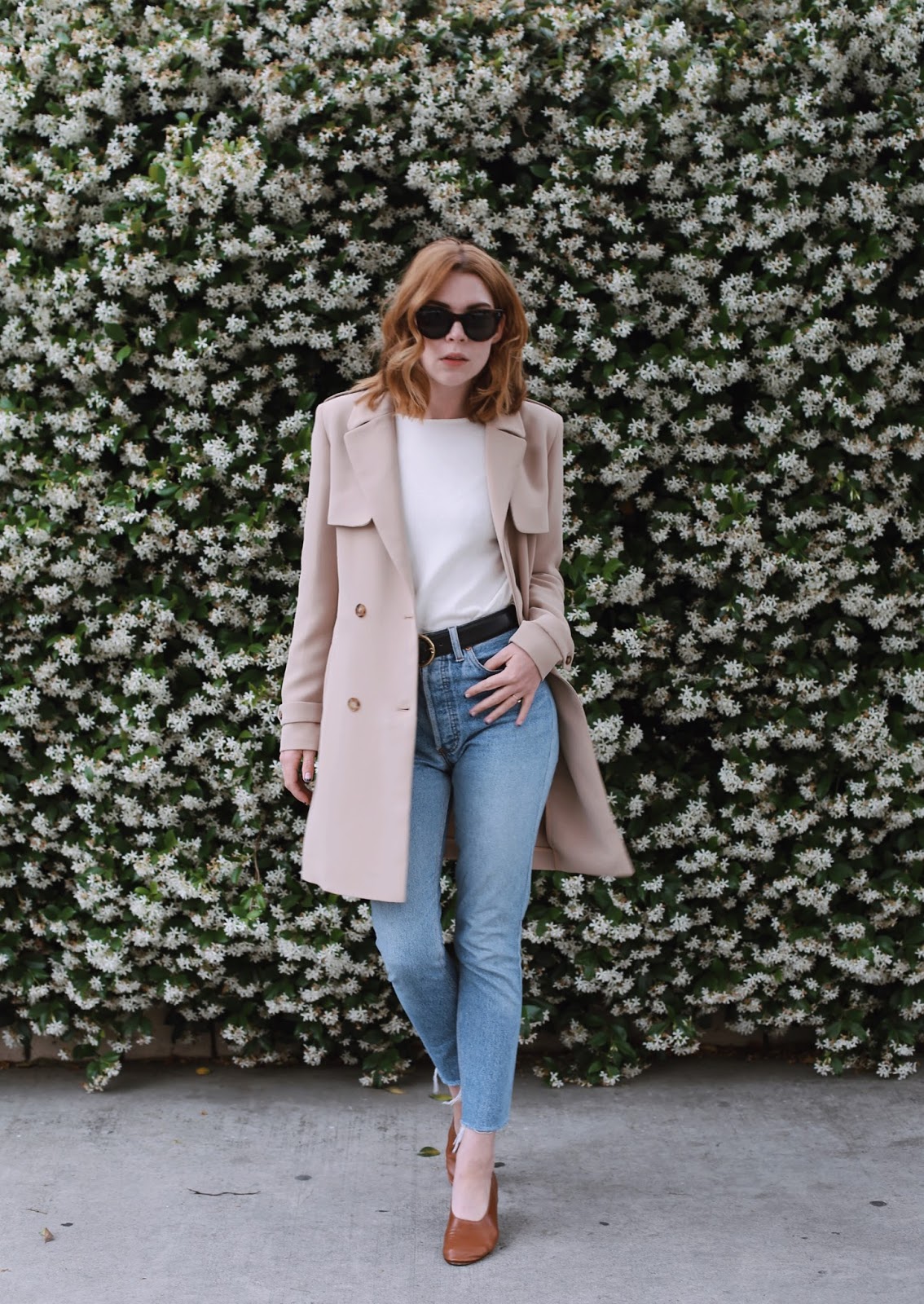 sezane trench (sold out) / sezane knit / redone high rise ankle crop jeans / martiniano glove shoes / wyeth sunnies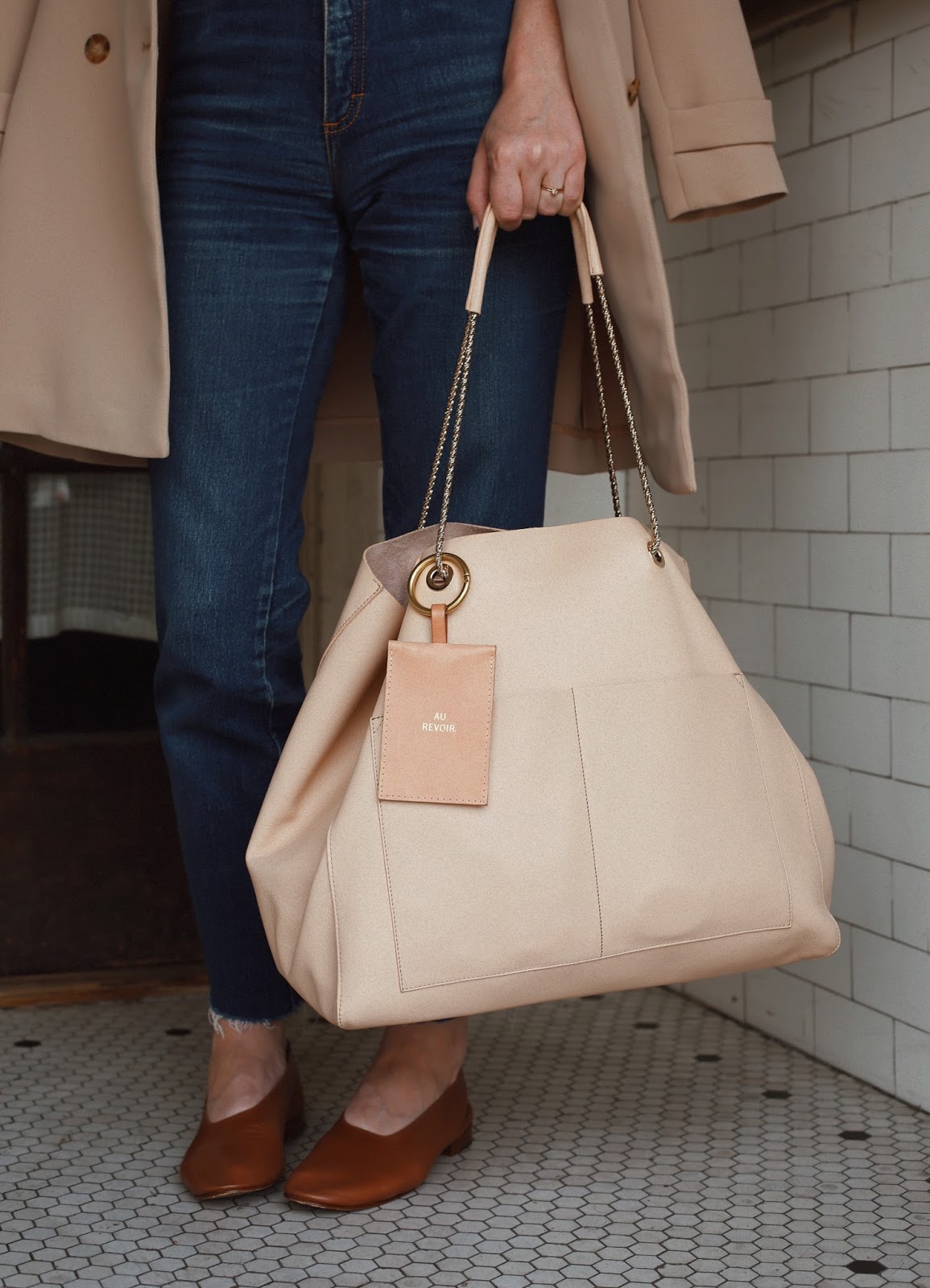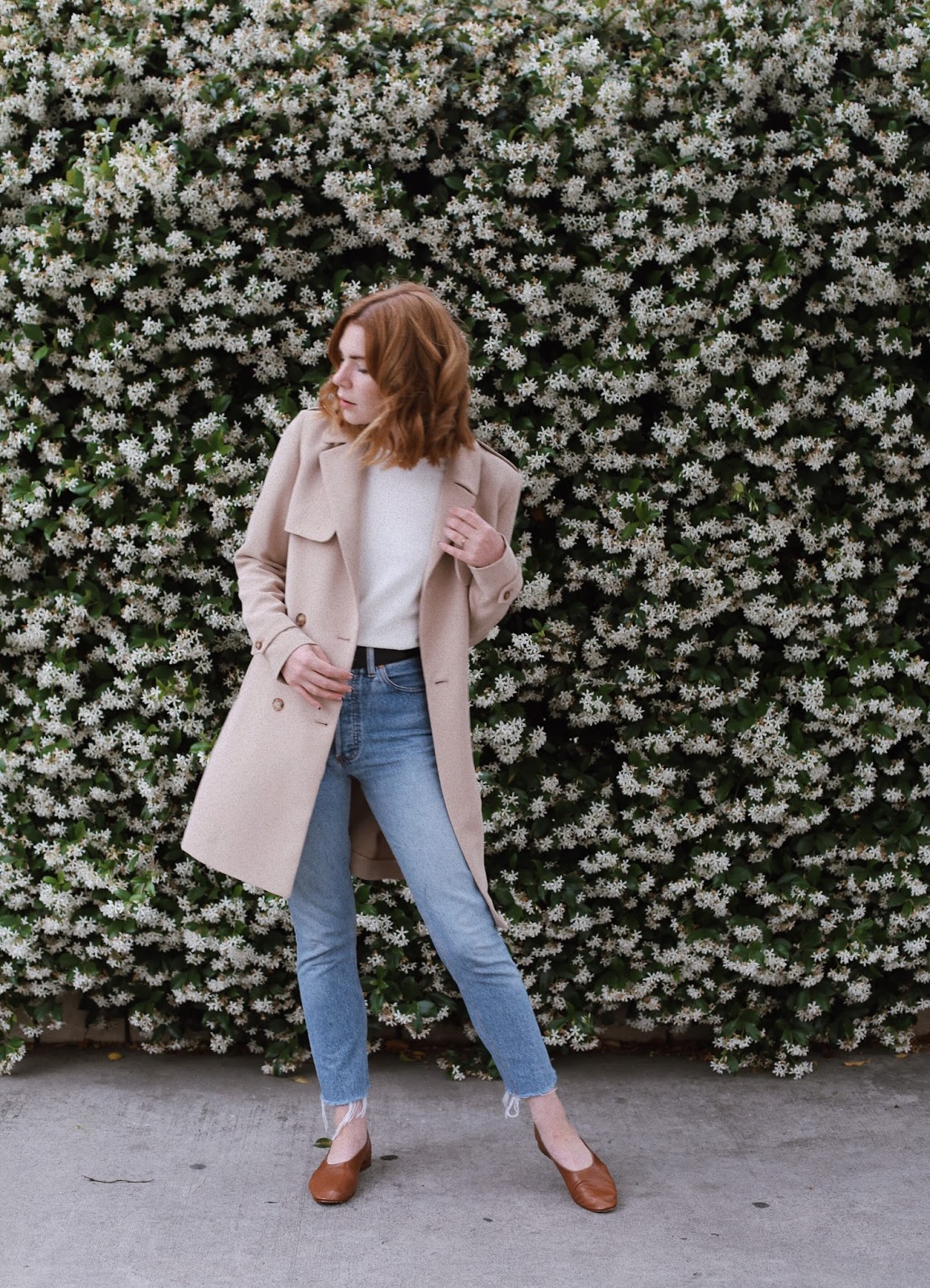 "What is your morning routine?" @tresscult
My morning starts pretty much the same way every day. Sometime between 5 and 6:30am, Mops will leap out of bed and run into the kitchen to ask for breakfast. I will very groggily pour her some kibbles, and try to go back to sleep for 30 minutes to an hour. Some mornings it works, some mornings it doesn't. After that, it's a 20 minute walk with Mops to let her do her business – we don't have any outdoor space so this is a non-negotiable.
On my walk, I'm listening to a podcast – every single time. I refuse to walk without my headphones (I use the rose gold Button headphones and swear by them) and I'm usually listening to a true crime podcast of some kind. After that I head home, sit in my office, and start answering emails that came in the night before. When my husband wakes up, we have coffee together, a pour over served black for him, with foamed milk for me.
"Any plans to start a Vlog on Youtube?" @s.samuseva and @bduke257
This is one that I get asked fairly often, and unfortunately I don't have a solid answer yet. I would love to start a Youtube channel if I could have a clear direction, and right now I don't know what that would be. I would love to be able to share my personality more with you guys, and that's hard in photos – but at the same time I don't want to start a channel of just 'Here are some outfits I'm wearing.'. To make a long answer short, I'm trying to come up with a format that is new and unique to me, so if I do, you will be the first ones to know!
"How did you come up with your IG name?" @lzpencils
It's actually based on a tattoo I have on my back – the outline of a doe. I had originally started a Tumblr with the name PrettyLittleDeer, but when I went to create a blog, I realized that that name was already taken, so I switched to a fawn. I've always just loved deer!
"If you had to give up one for life would it be oysters or cocktails?" @littlevestigen
Ha! I love this question. Well since I only recently started my love affair with #oystersacrossamerica, I would have to give them up. I can never be parted from my love of cocktails.
"How did you start your acting career?" @megcoooper
When I was a kid I did a lot of musical theater. The problem was, I couldn't sing. Like at all. So I would be stuck with parts that had minimal to no singing, and in the musical world, those are parts like 'Dogcatcher' and 'Orphan child'. Not so fun. I begged my parents to let me start acting in film, and when I was 13 they gave in. I started with student films, submitting myself online with a black and white headshot, and eventually started auditioning for independent films.
I got a manager and an agent early on, was able to join SAG, and go out for larger projects. In the beginning I did a lot of music videos (I was in the Fray's How to Save a Life video and still get recognized from that to this day) and some TV. As I've gotten older, I've worked on more films and larger scale TV production. I have my management team and agent to thank for that – they've been my partners for a long time!
"What is one fashion item that you wish you had in your closet?" @from.elisha
I have a list in my office called 'The Dream List' and on it I put things that I want to buy. Some things like the Martiniano shoes I'm wearing in this post have become a reality, whereas other things are just out of my budget. The biggest thing I want is a dress from the recent Dior Cruise show – but I would never be able to justify the cost.
"How do you create partnership relationships?" @thehouseofmag
One of the easiest ways I create relationships is by purchasing from a brand I want to work with. I never assume that someone will want to gift me something without a little legwork on my end, so I try to show my support and tag them. It's a good way to get noticed by a brand and shows that you're a real fan.
If it's something I can't afford, I will occasionally email or DM a company on IG. I keep it brief, let them know what I genuinely love about them, and then offer an idea for a partnership. Multiple IG posts, tagging them, a blog post – whatever I can do to make the exchange mutually beneficial so that they can benefit too. Over time if I work with a brand long enough it can grow into something long term. For example you'll see a lot of Sezane on my blog – and that's because I am a genuinely HUGE fan and we work well together!
"What camera do you use?" @destinee_nicholson and @tinselandoak
I use a Canon EOS 5D Mark III with this 50mm Lens. I actually only have ONE lens, and need to fix this ASAP. We purchased the camera back in November, but prior to that the majority of my posts were done with an Iphone 6+.
"What is your hair routine / how do you style it?" @kristenn_young and @bunny_breath
I did a post on this a little bit ago, but my biggest tool when it comes to my hair is my t3 Micro wand. It's a bit pricey, but I've had mine for over 2 years and swear by it.
"How are you and your husband celebrating your one year?" @lifeinariel
This is actually something we just planned – we will be spending our first wedding anniversary in Iceland!! We got an amazing deal on a flight, and will be spending two days in Iceland before heading to Barcelona for my birthday. Can't wait to share the pics with you guys!