You guys know me – I'm not exactly the beachy type. Or at least, I didn't think I was. But when Hawaii calls, you answer. And I have to say, from the moment I landed, I think I understood the idea better than I ever have. To be able to see so many different landscapes on one small island, to be able to lounge in the sand with a book – it really is paradise – and has maybe, just maybe converted me into the beachy type. With lots of sunscreen of course.
How we got there // Our trip kicked off in the best way possible – first class plane tickets. I'm so happy we were able to partner with Alaska Air on this trip, because truly it was a once in a lifetime experience thanks to them. We were able to fly Eric's parents First Class for the first time in their life for their first trip to Hawaii. I honestly never imagined we could be so lucky, and it really was everything to be able to share one of our trips with family.
Alaska Air has been one of my favorite airlines for a while – mostly because of the amount of flights they offer from the West coast. We've flown them to NY, Alaska, Portland, Seattle, and more – and they always have so many choices. This time we left from San Diego, which is closer to Eric's parents, and the experience was beyond my dreams. The food was FAB on the plane (we had curry chicken noodles and this gelato that blew our minds), the service was great, and it was so much fun to feel pampered in flight, since that is such a rarity! So a huge thank you to Alaska Air for taking us somewhere we never thought we'd experience.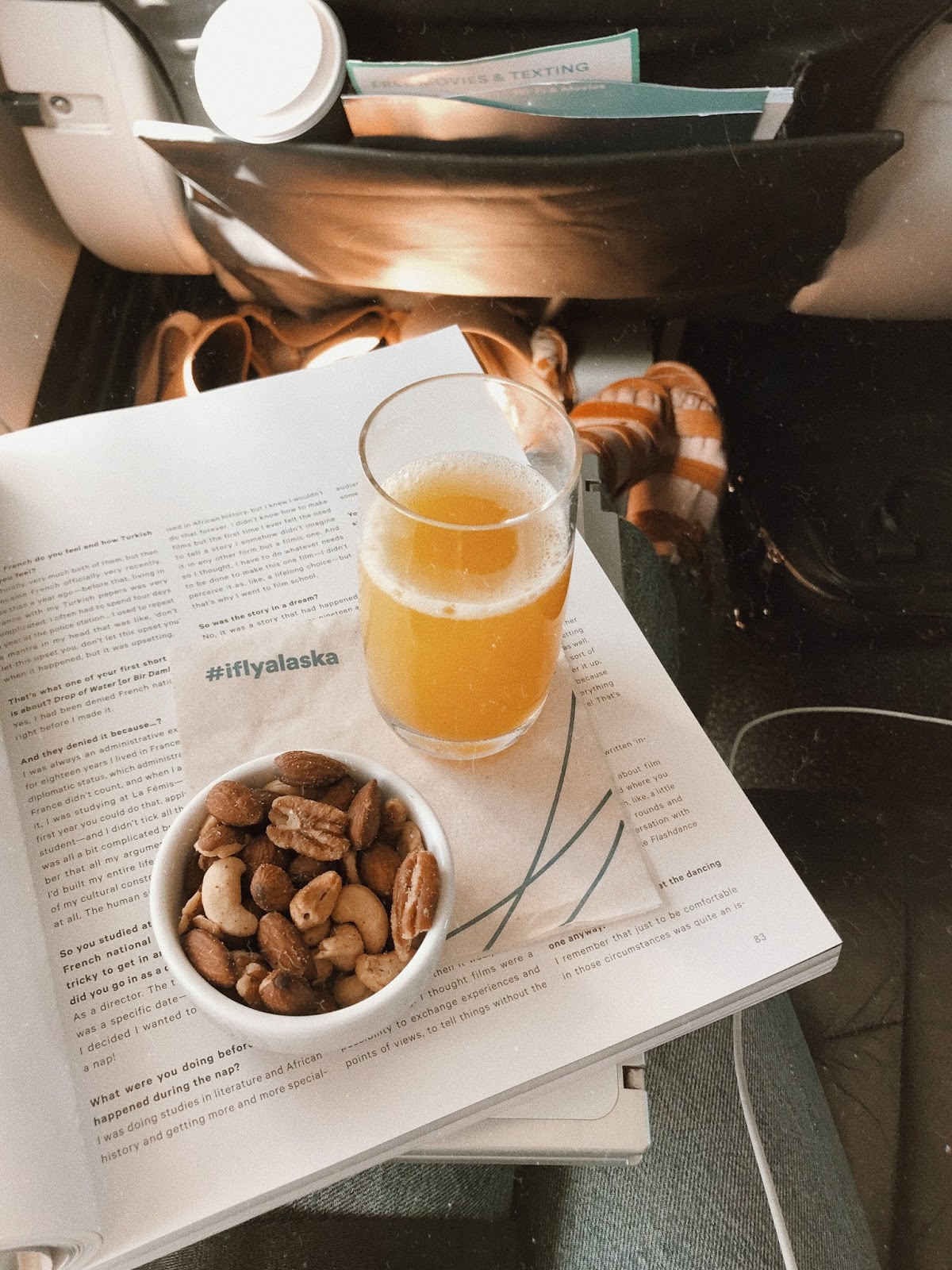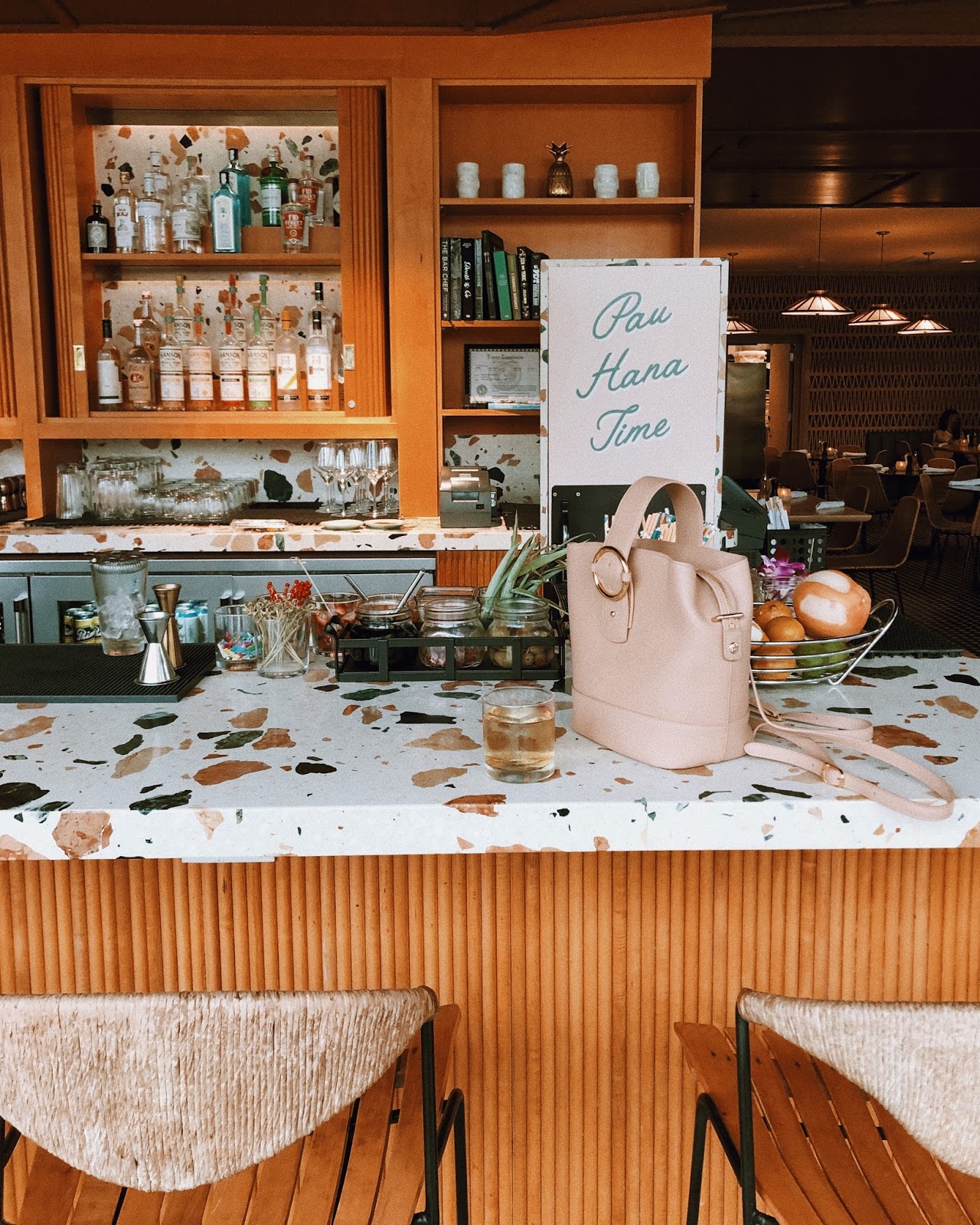 Where to stay // When we first started planning our trip, I already knew where I wanted to stay. Usually finding our hotel is one of the last things we do, but in this case we worked in reverse! I had seen the Laylow Hotel featured on Bando's Instagram, and knew it would be the perfect spot. The decor was dreamy of course, but the hotel itself was also crazy comfortable. Because we were taking this trip with Eric's parents, we didn't want to pick a party hotel or somewhere inconvenient. The Laylow was perfect in that it was walking distance to plenty of restaurants (and the beach!) but also had it's own incredible restaurant and bar on property. The salt water pool was also top notch, and I cannot recommend staying there enough!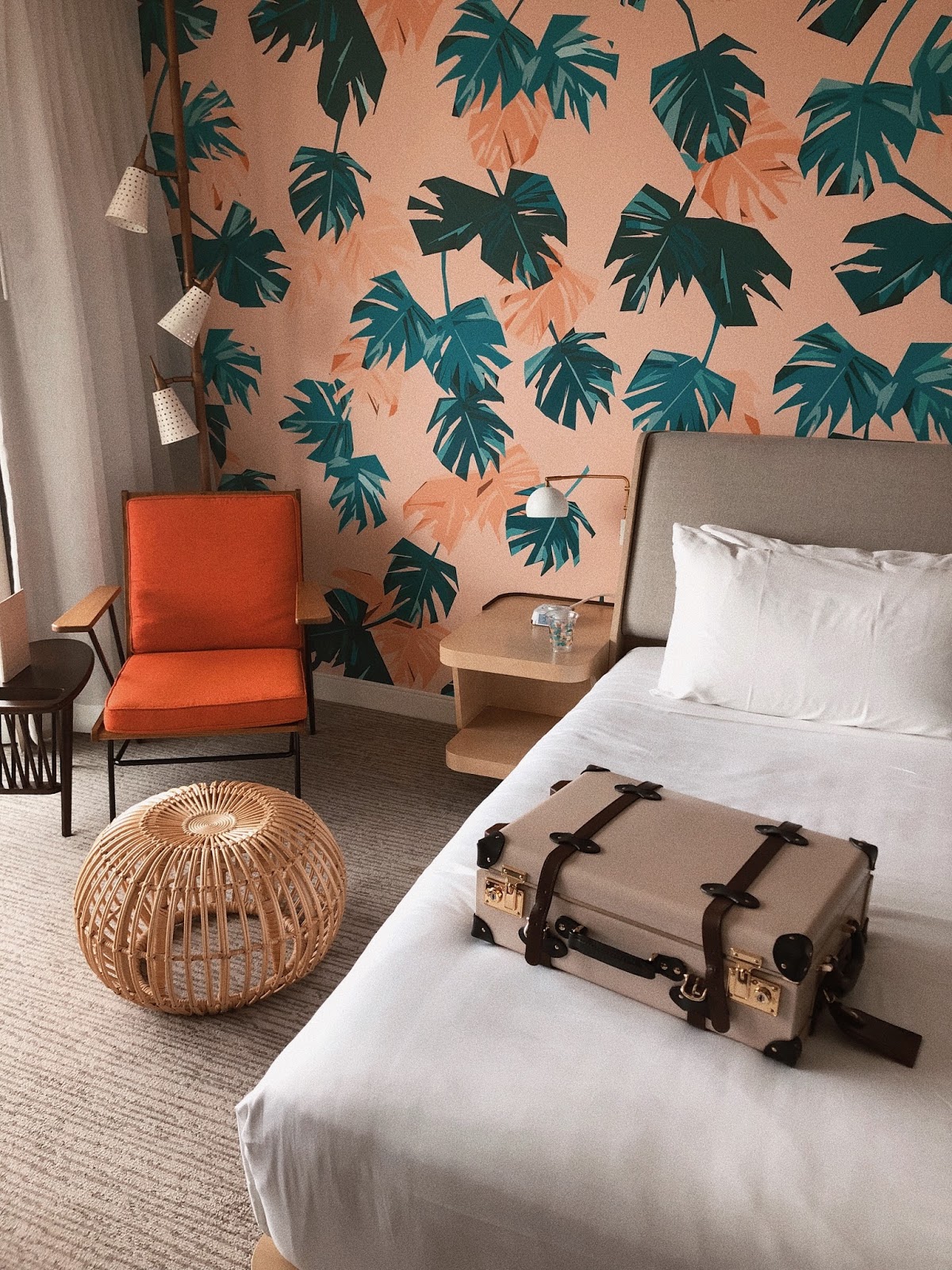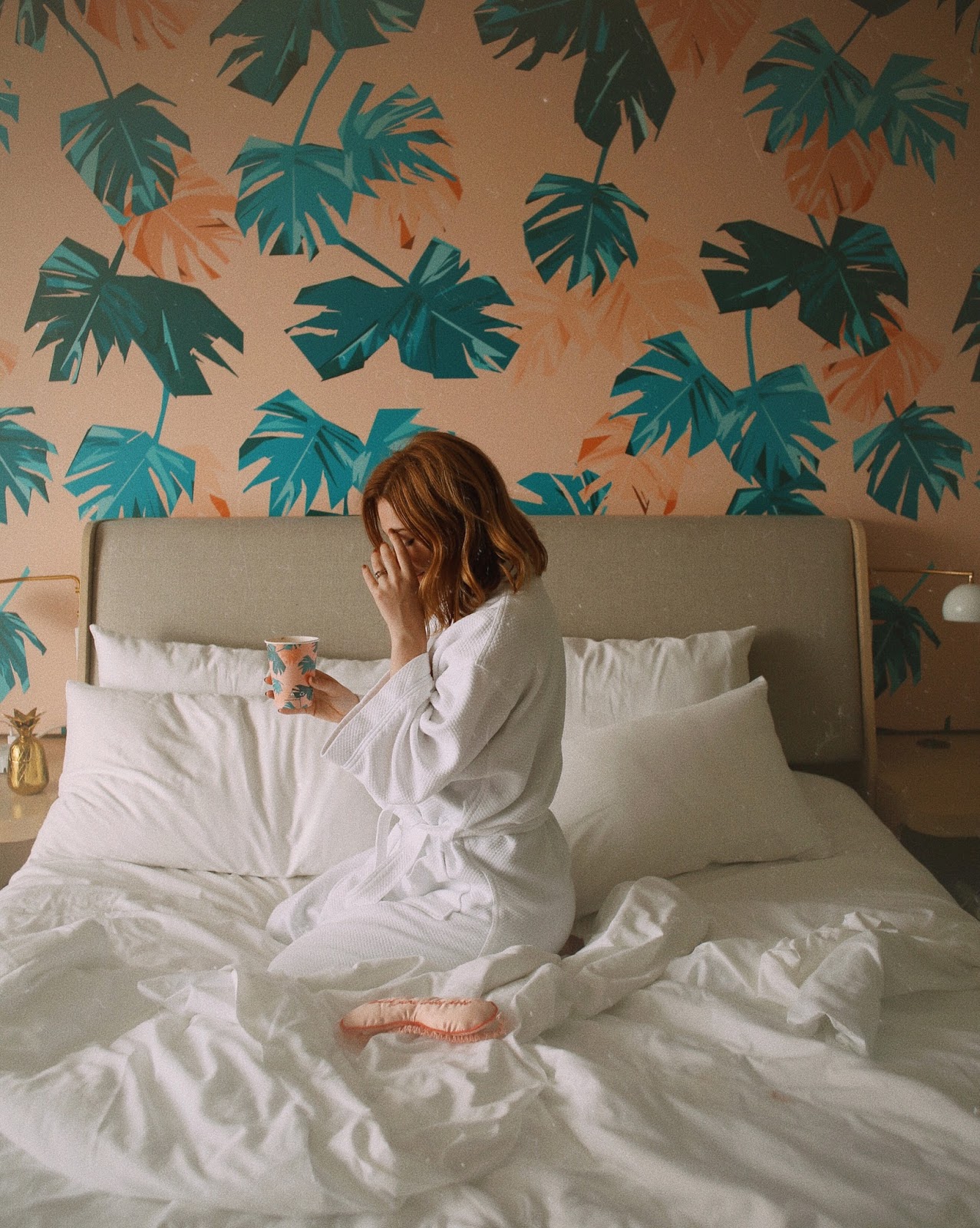 What I packed // I like to build outfits from 'the bottom up' so often I will think about my shoes first. When I went to the UK that meant multiple rainboot options, but for Oahu, I knew sandals would be the shoe of choice. I own some cutesy leather sandals that are fine for a lunch out in LA, but for the amount of walking we had planned, plus being able to wear something in AND out of the water, Teva was the natural choice.
Eric and I packed somewhat matching shoes for the trip. I chose the Original Universal Sandal in a Sun and Moon print and he went with the Original Universal Sandal in Peaks Print. They were perfect for everything we had planned. Hiking to a waterfall and diving in (okay, I didn't but Eric did, with shoes on for foot protection), walking around the city, and even wearing them out to most dinners. They just look so cute with sundresses and still are comfortable enough to climb up the side of a crater in (which I actually DID do, thank you very much).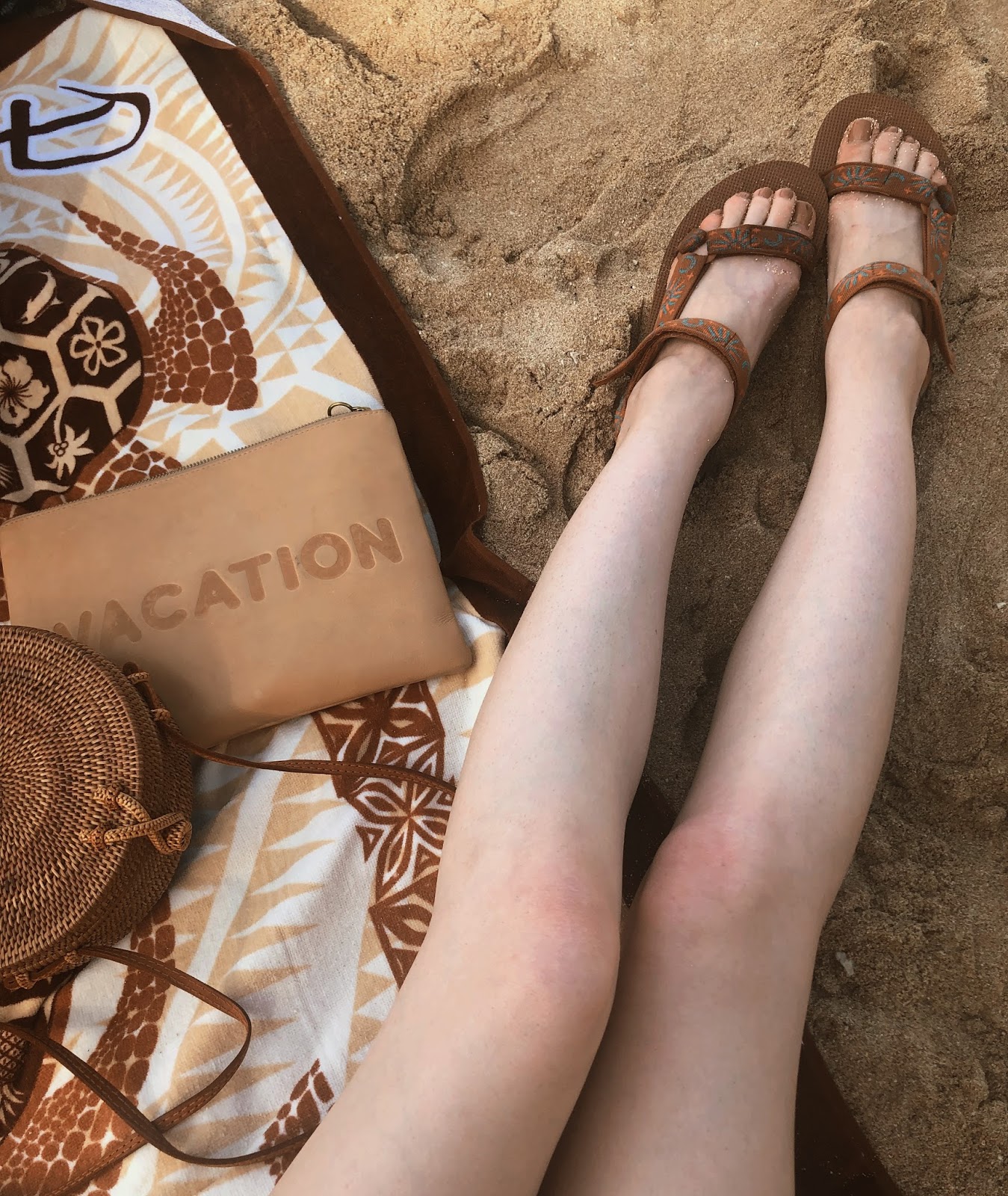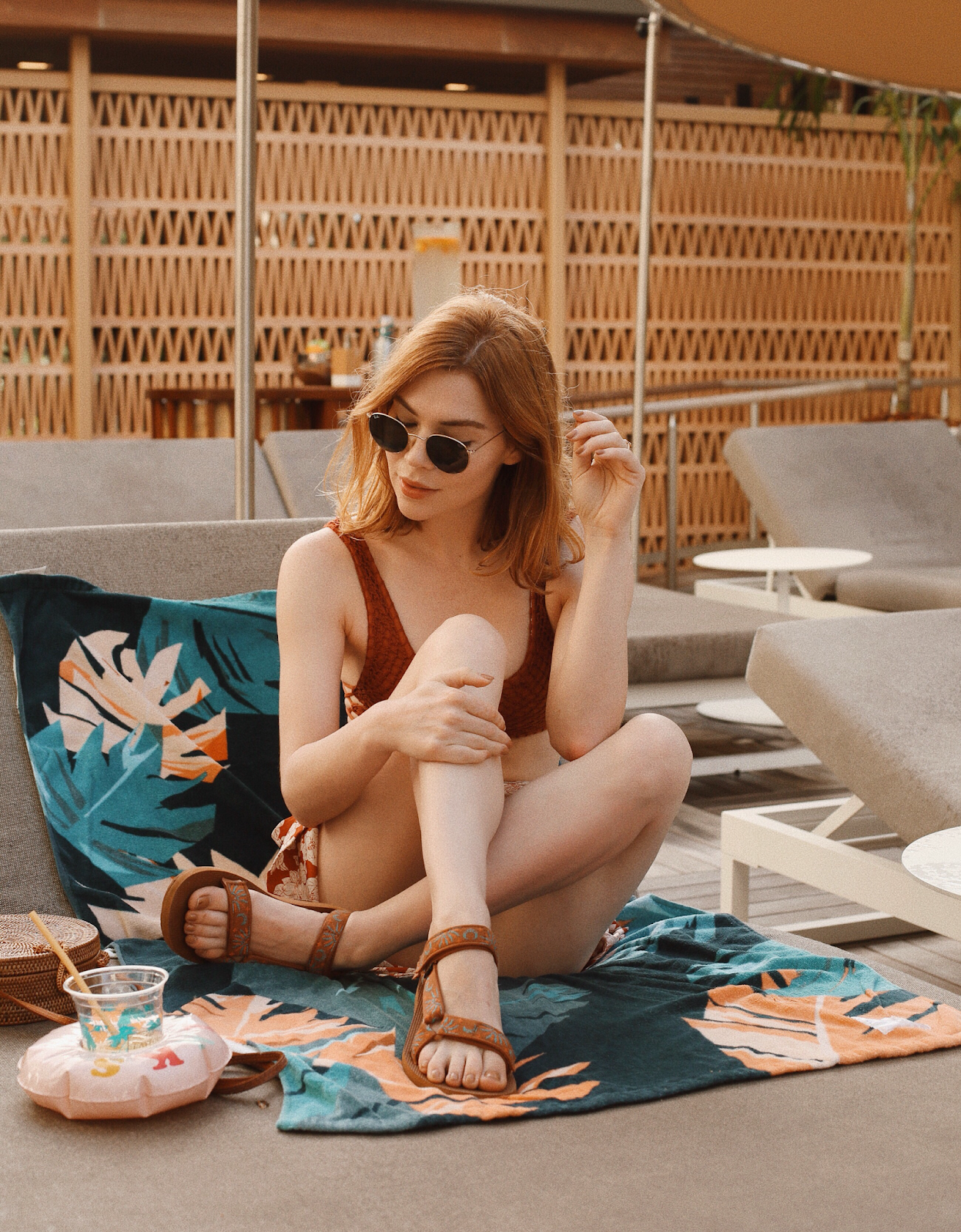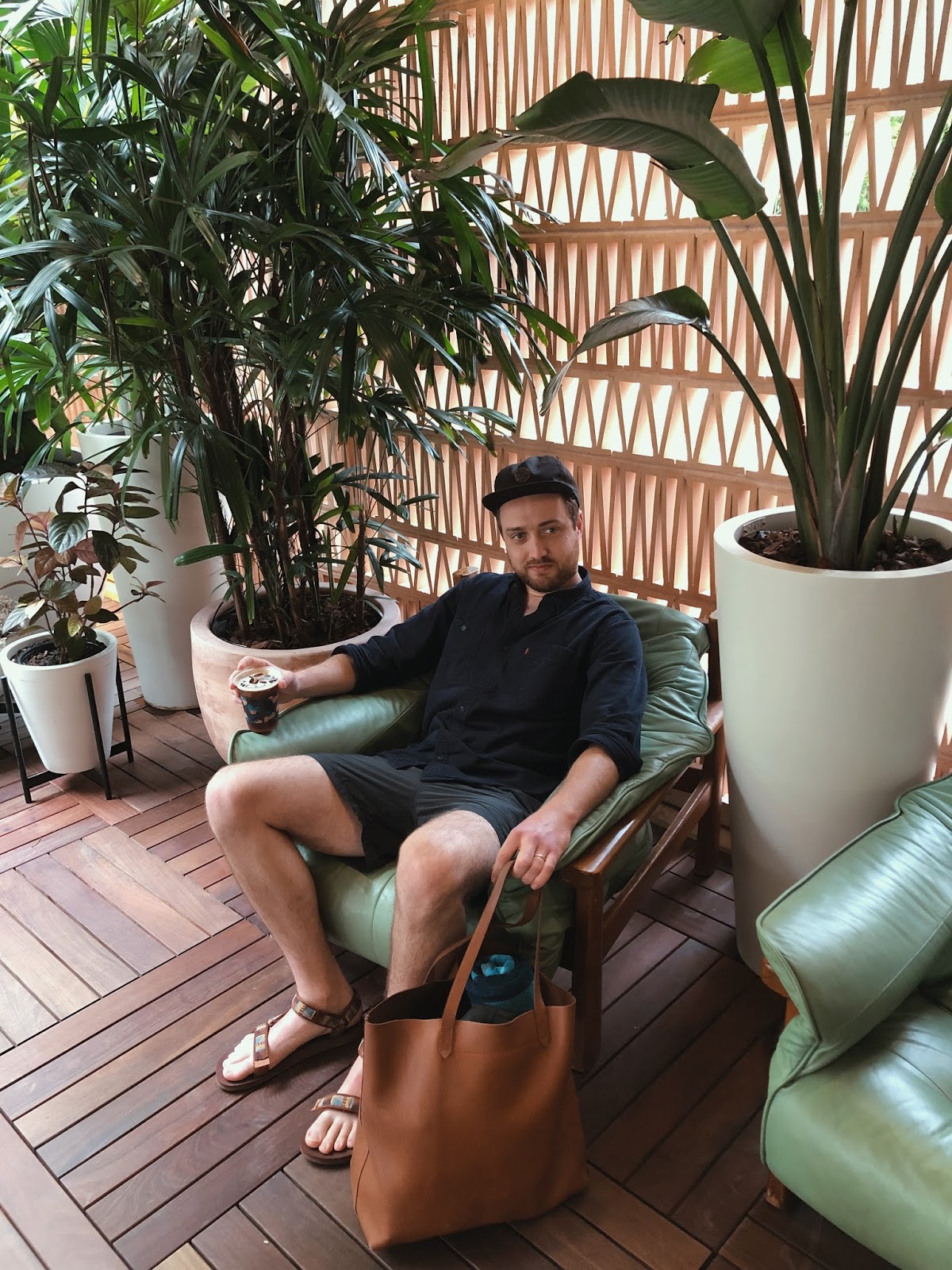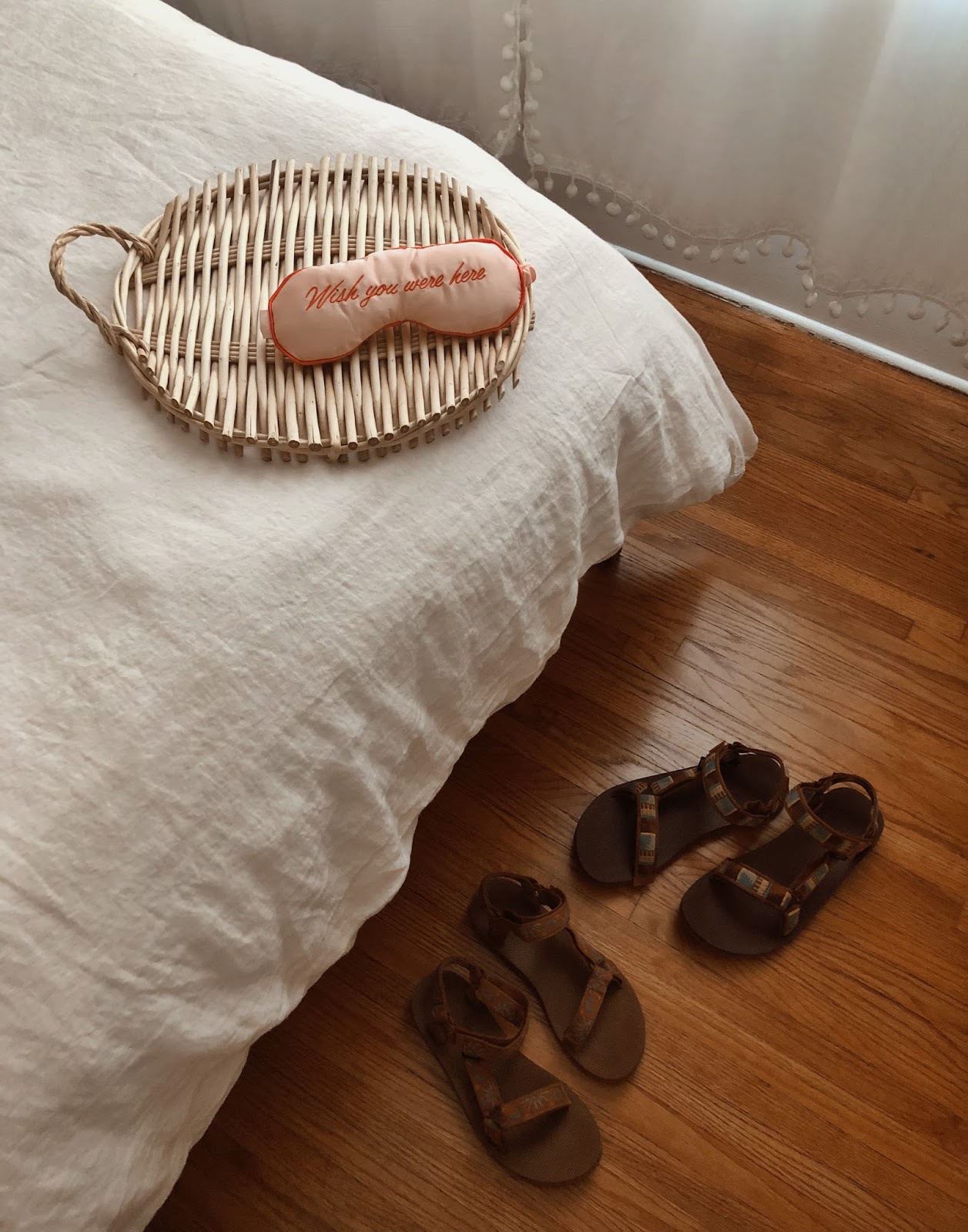 Some other honorable mentions for what I packed were :
BAGGAGE
Suitcase by Steamline Luggage // Got ENDLESS compliments on this number on and off the plane, and the color is so chic. Planning on taking it with me on my next two trips for sure.
Bartaile Backpack // The ultimate laptop purse because A – it's leather, and B – it actually protects my laptop. We use this every time we travel and keep the camera and our cables inside too.
Parisa Wang Backpack // Another slam dunk item for this trip was my Parisa Wang backpack! I only received it a few day before the trip, but I am now inseparable from it. The top strap can be used as a handle, but I used it mostly as the CUTEST backpack ever.
Bembien Rose Bag // I've had this little circle purse for over a year and still swoon for it every time I style it.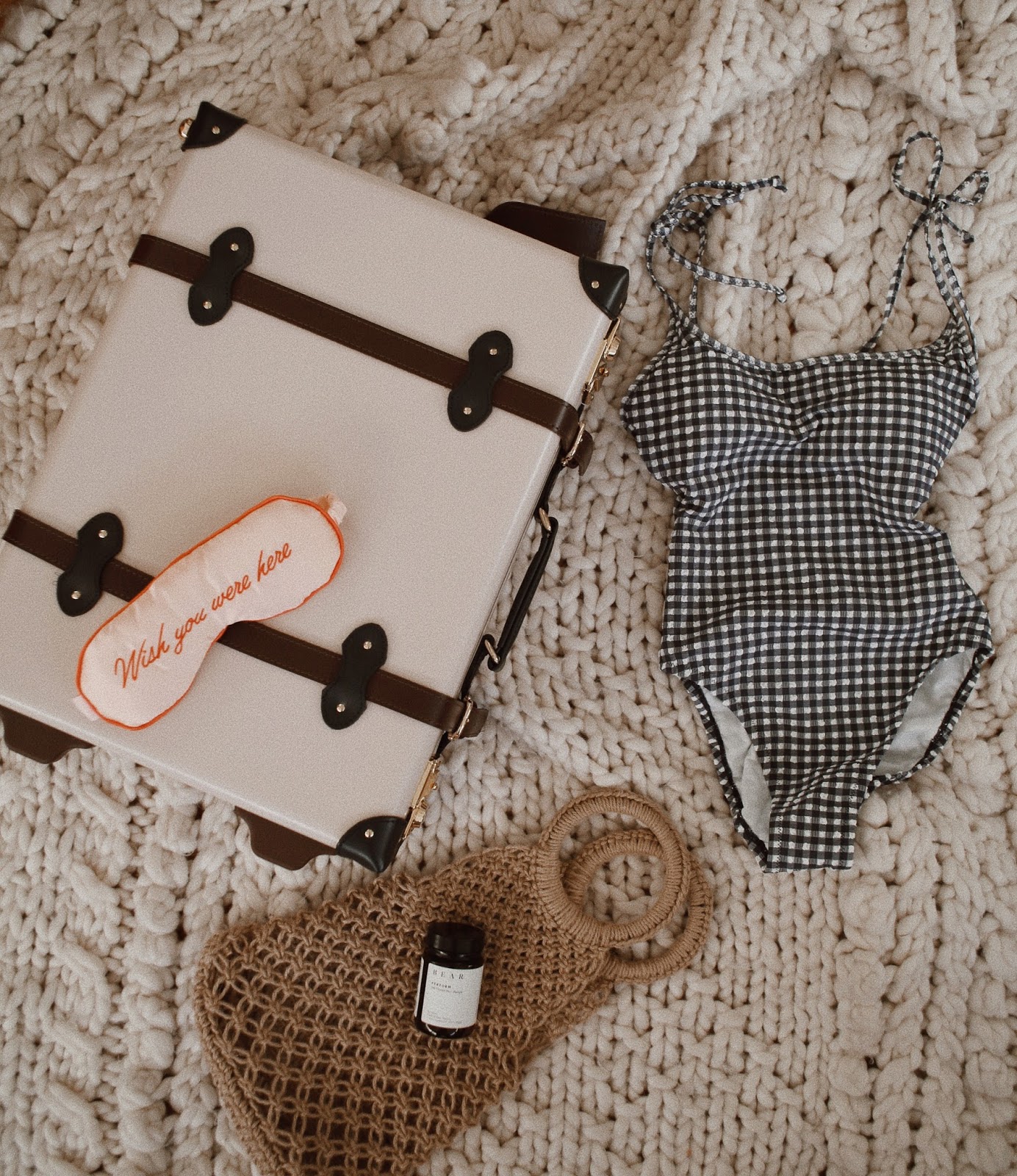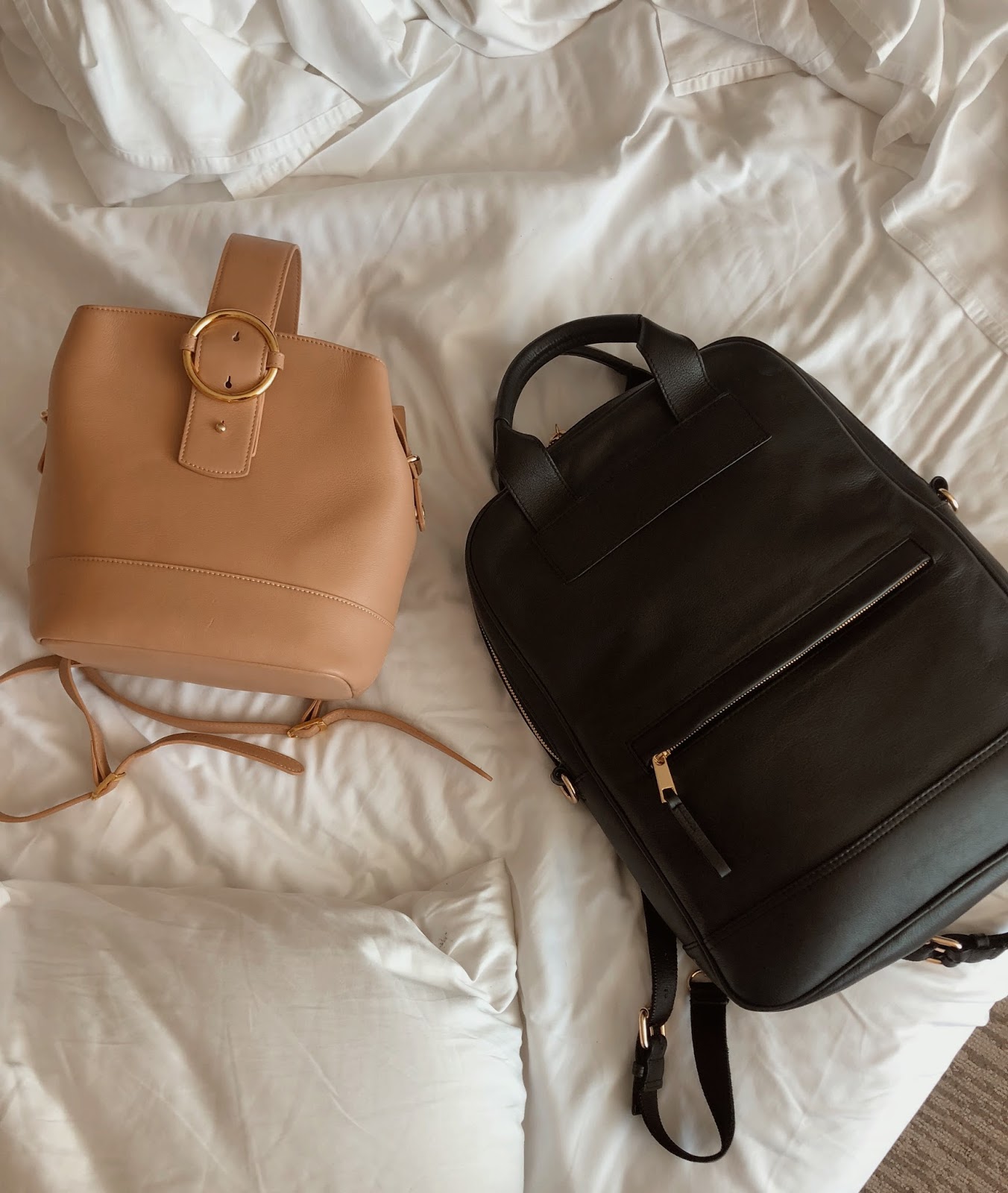 SWIMWEAR
Acacia Swimsuit // On the first day of the trip, I styled a swimsuit by Acacia with a matching skirt in my favorite rusty shade. And since the designer is from Hawaii it was a no-brainer.
J Crew Swimsuit // Gingham is my jam, and this suit felt v. chic to style with one of Eric's button-ups over it. I don't really have many photos of it, but it was a winner in my books.
Gap Swimsuit // A simple black suit with a square neck will always be in style. Plus I was able to pair it with my skirt and wear it easily to dinner – totally passed as a bodysuit, and the price is incredible.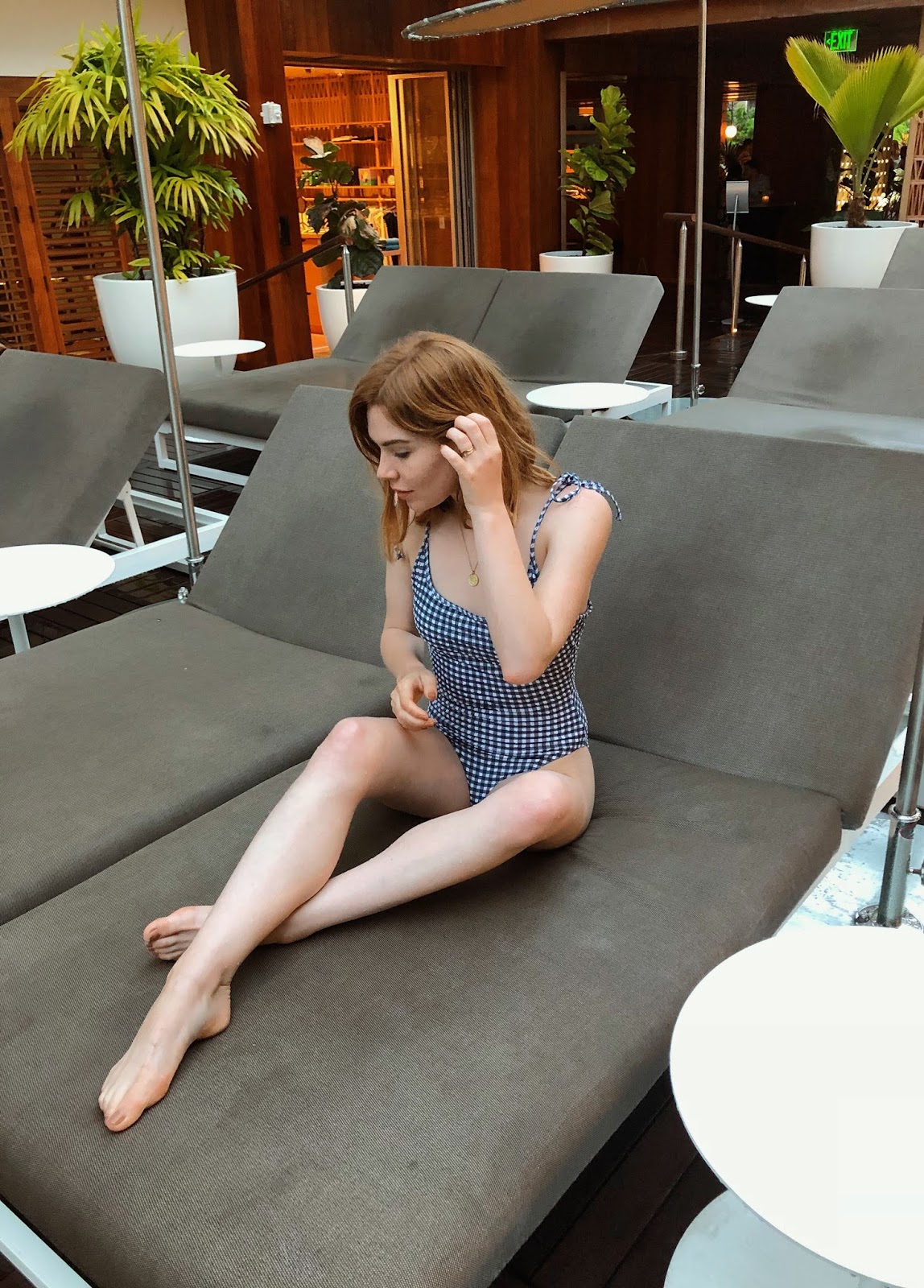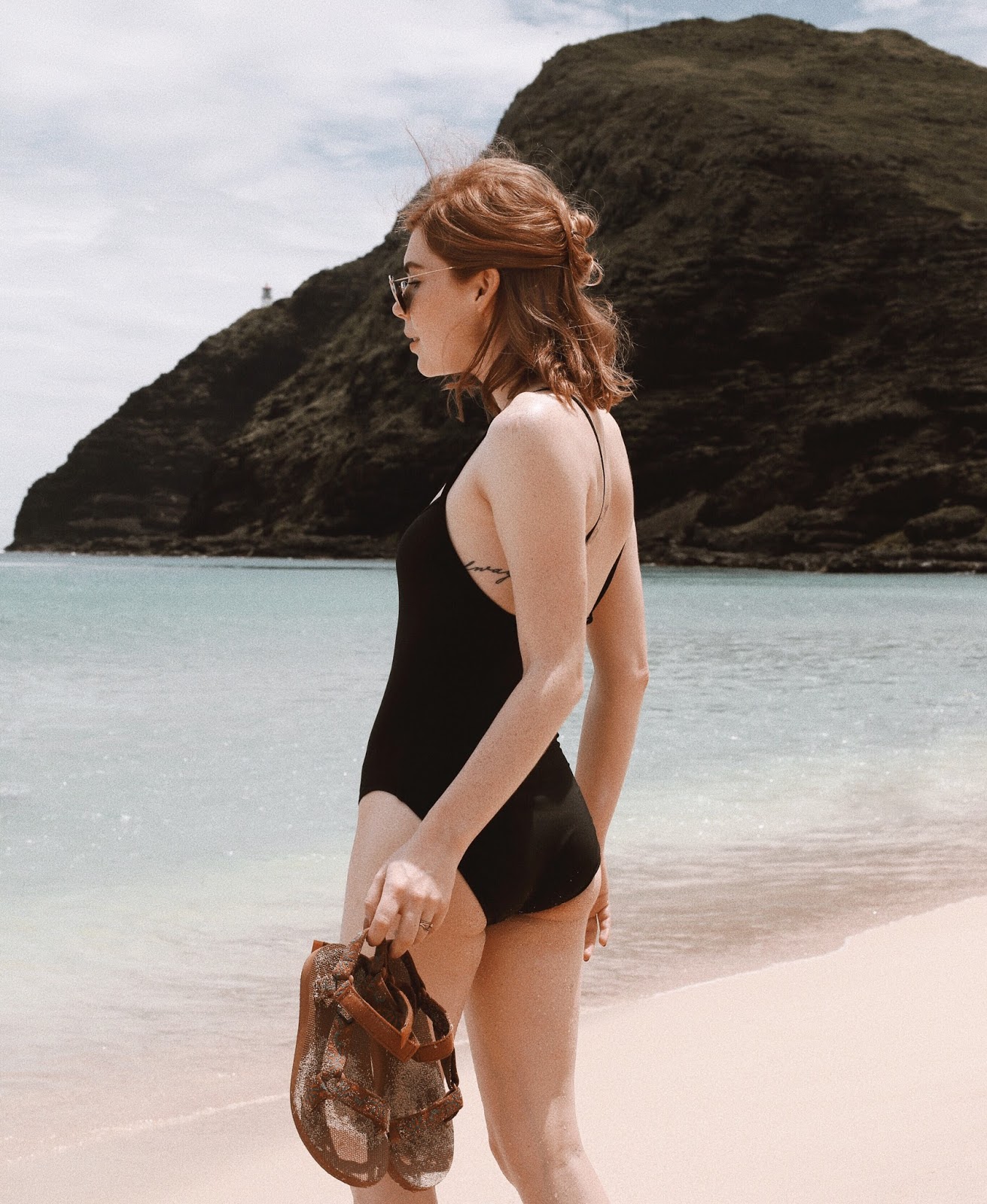 DRESSES
Reformation Dress // I loved the length of this piece, plus the lace-up detail on the bust made it feel so much more chic than just any old vacay dress.
Realization Par Dresses // I own about 4 pieces from them, but for this trip I packed the Violette dress and the Valentina Dress. Both are silky, easy to throw on, and make the look every time. I've never regretted a purchase from them, period.
Doen Dress // Sun protection in a maxi length plus an all too appropriate print for Oahu. It's just dreamy, like everything Doen does.
Lykke Wullf Dress // The cutest little 70s style sundress for an island vacation.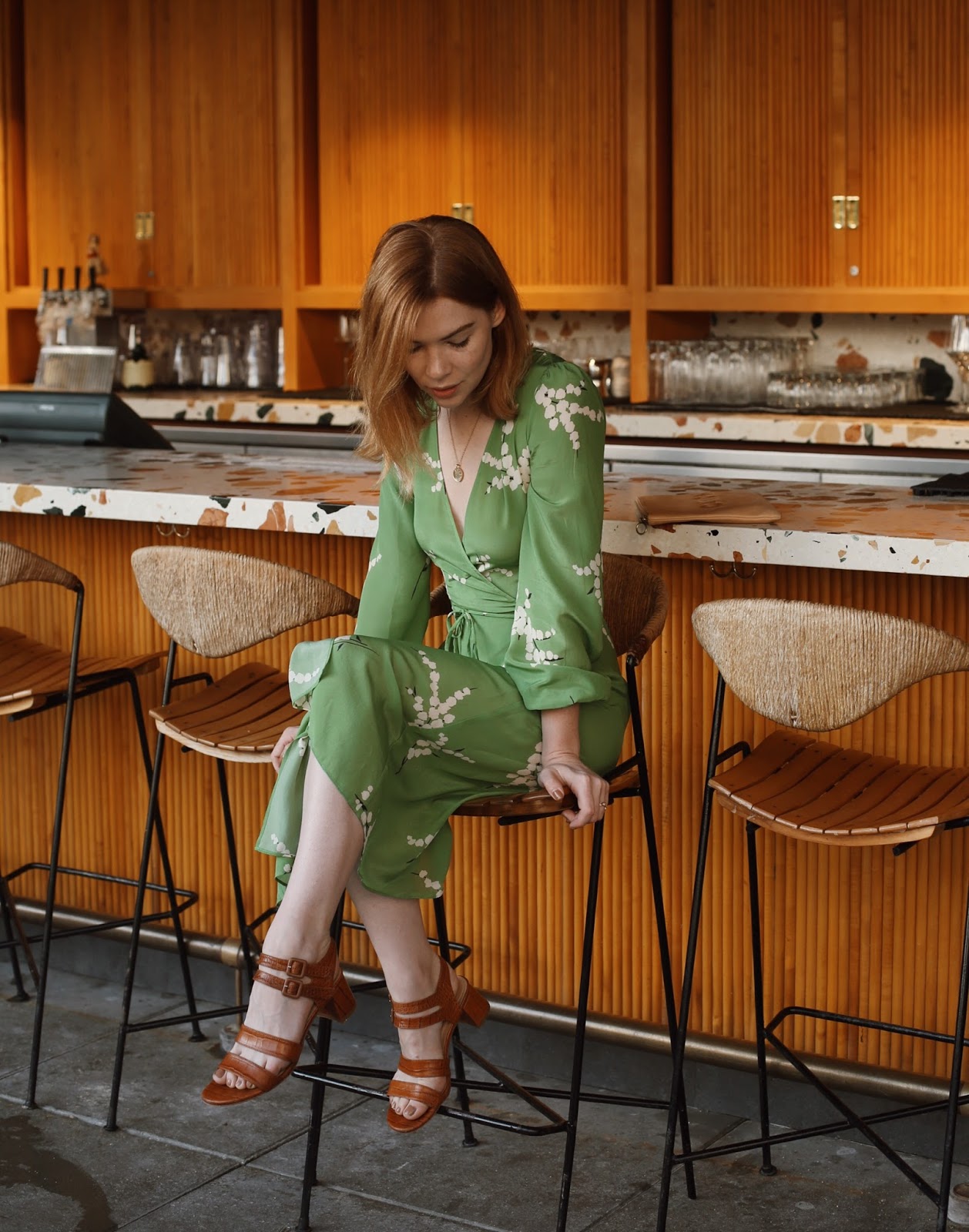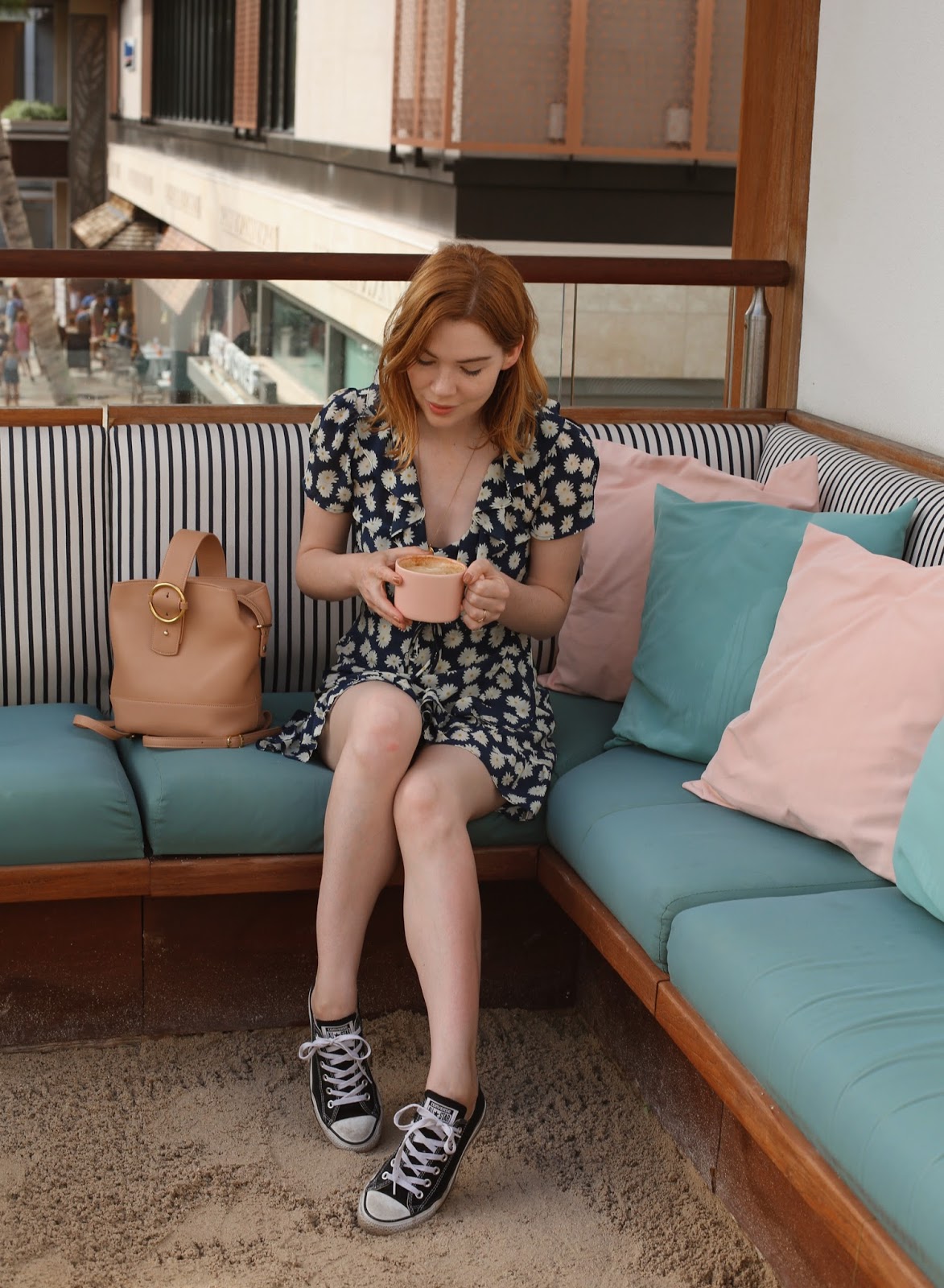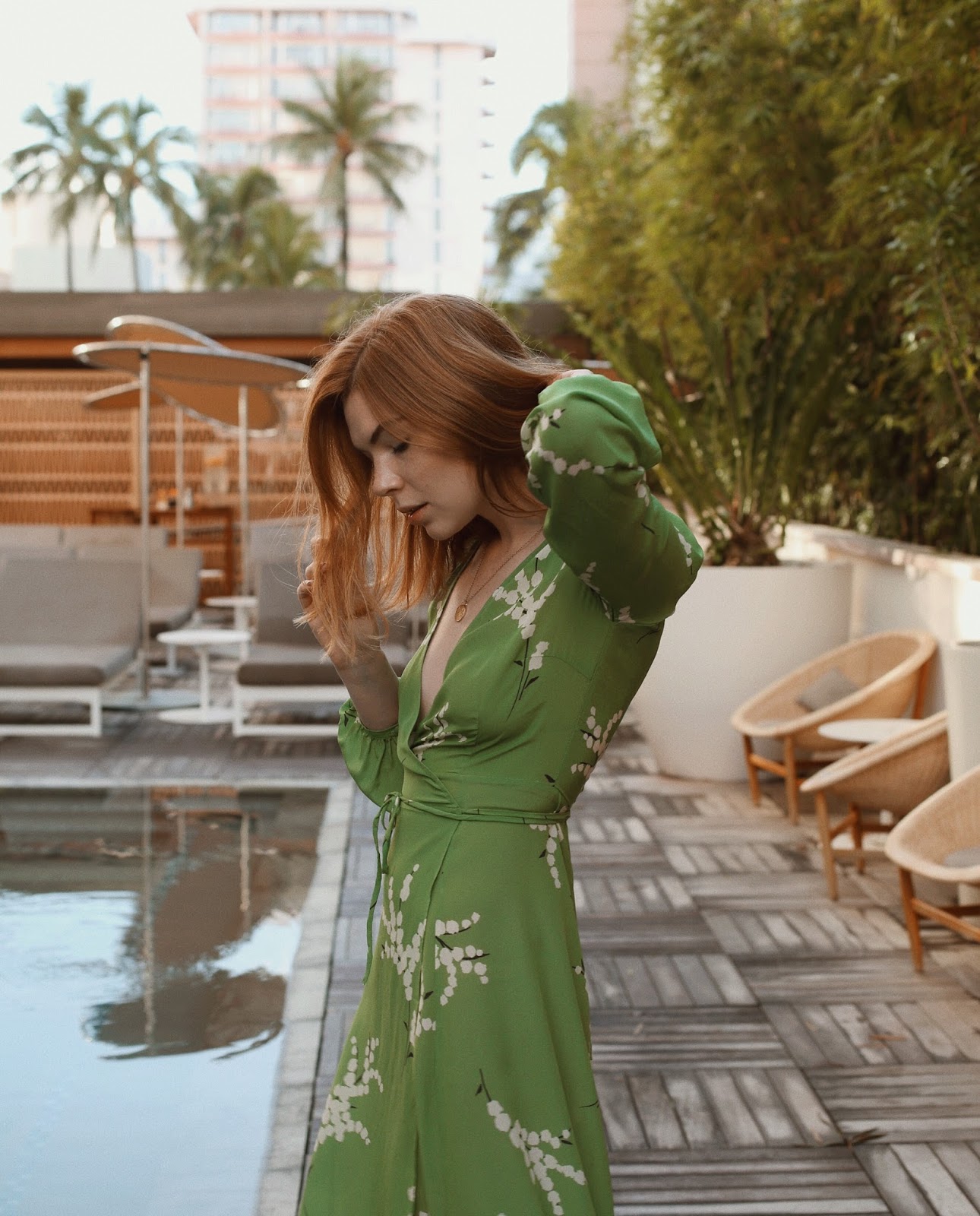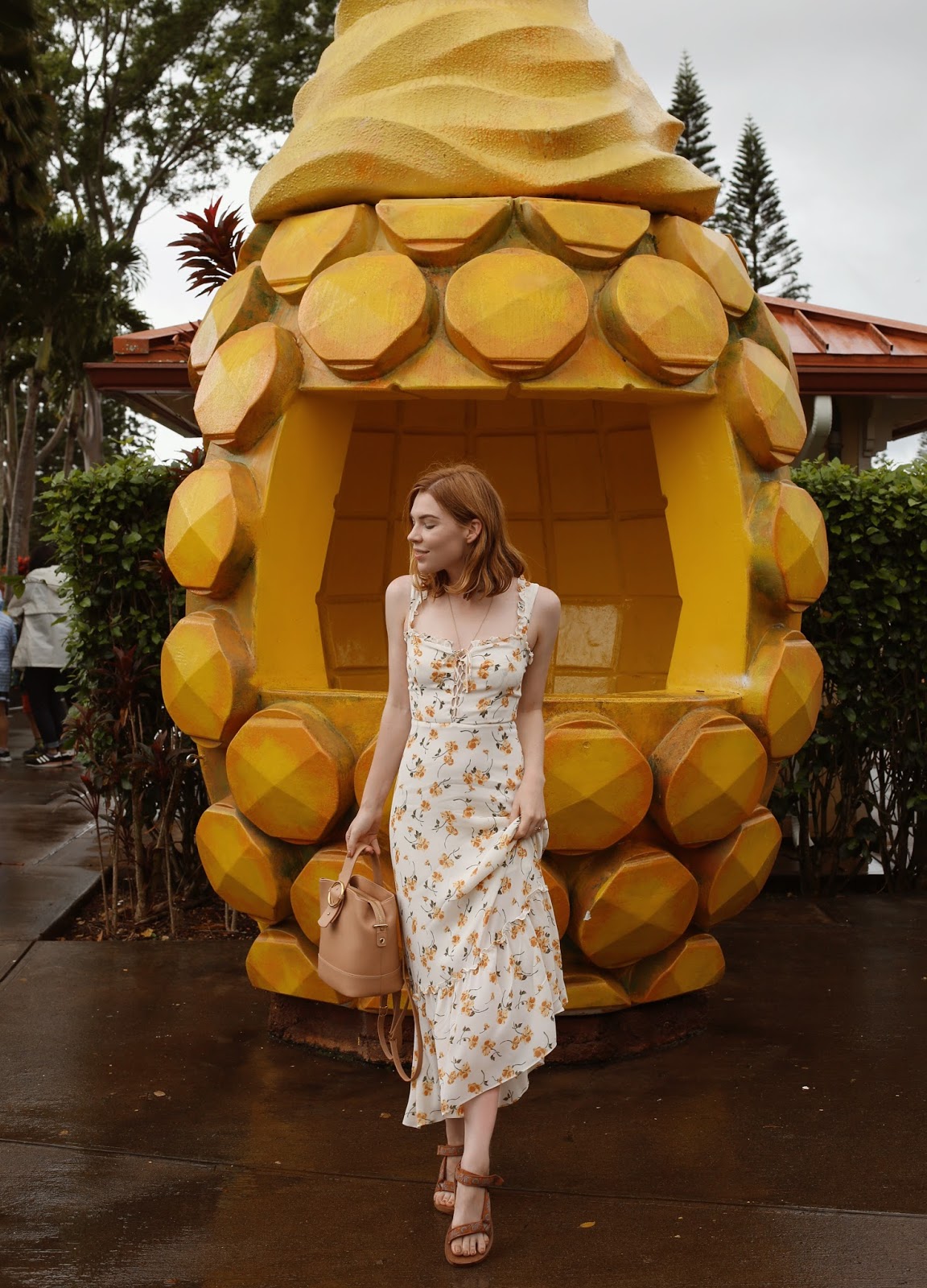 BEAUTY
SuperGoop Sunscreen // I don't know how I lived without this spray sunscreen in my life, but it is perfect for re-upping your coverage throughout the day, even over makeup. This stays in my purse year-round and is my holy grail of beauty items.
Barbara Sturm Sundrops // I put these on my décolletage and under my makeup on days with heavy sun exposure. Never heavy and perfect for anyone afraid of sun damage.
KOSAS Lipstick in Rosewater // You guys have heard me talk endlessly about my love of their color Stardust, but for this trip I packed Rosewater. It's similar in tone, but for me a bit brighter which I loved for the island life.
By Terry Baum de Roses // My go-to lip treatment and favorite to travel with. Perfect for combatting the dry air on longer flights.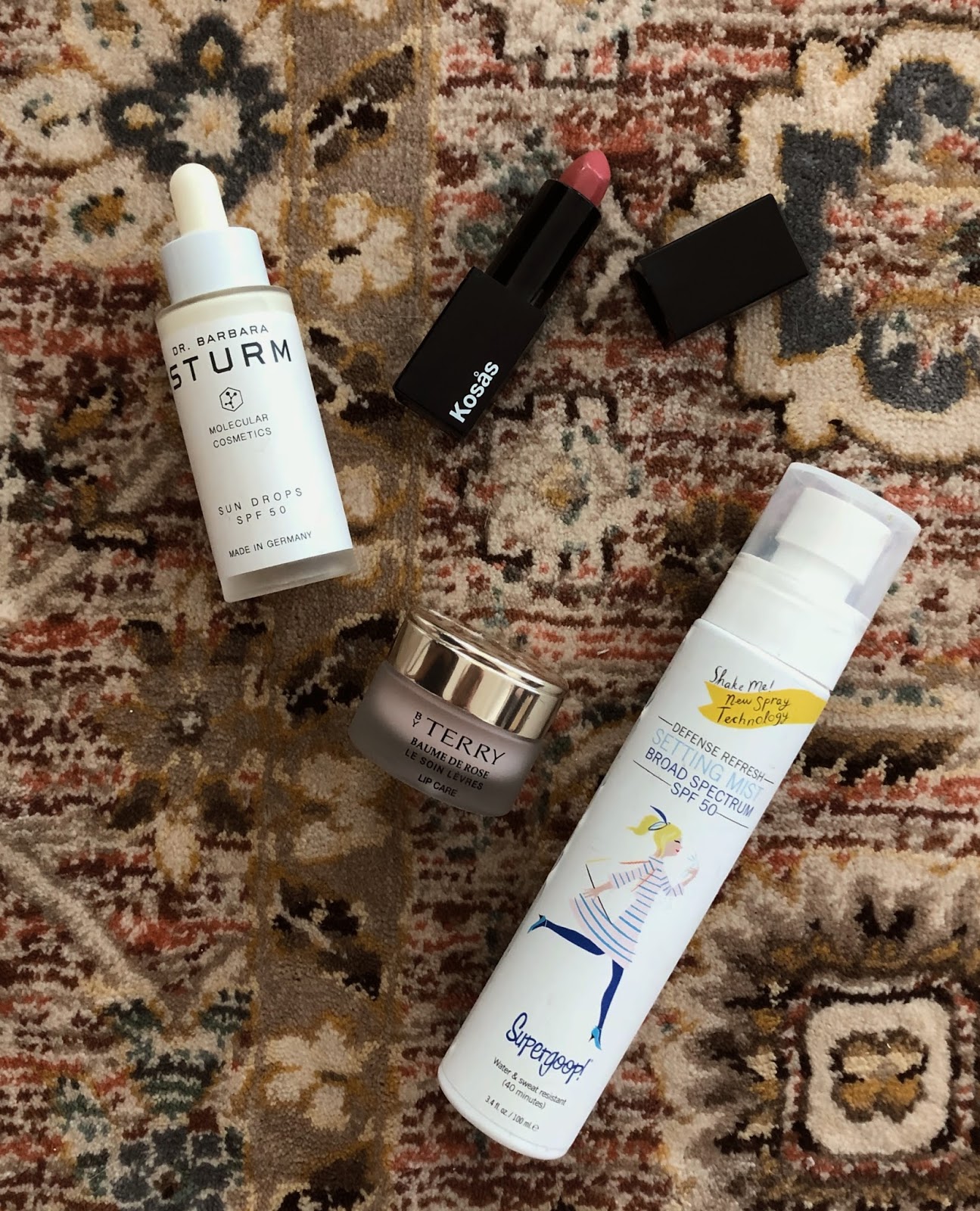 MISC
Marais Sandals // I packed both this flat red pair as well as my faux croc heeled sandals. Great for dressing up any warm weather outfit, and easy to slip on to head to the pool.
Doen Tee // I packed two of their Brigitte Scoopneck tees for the trip and love how they fit. I'm tee obsessed, so I tend to look at most tees with a critical eye to really debate if I need another. The scoop on these makes them feel a bit chicer than my normal crew necks.
Where to eat + drink // While in Honolulu we ate at Hideout at Laylow, got happy hour at Top of Waikiki (a very silly but fun rotating bar overlooking the whole city), had dinner at Tsukada Nojo, had incredible udon and tempura veggies at Marukame (it's worth the wait and the line moves fast), and had drinks + snacks at Surfjack. Sadly we didn't get to visit Leonards Bakery for their famous Malasadas, but I am vowing to return.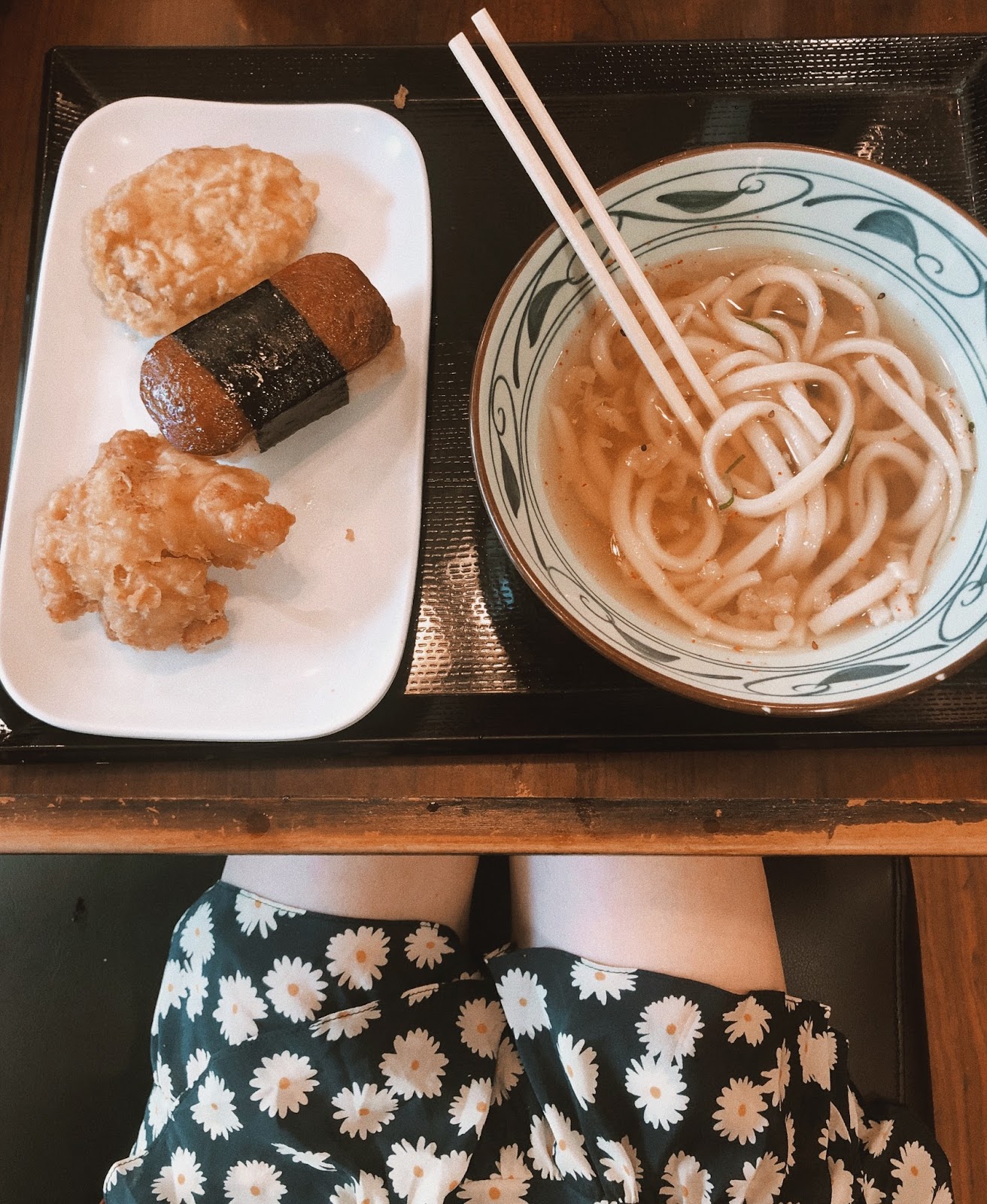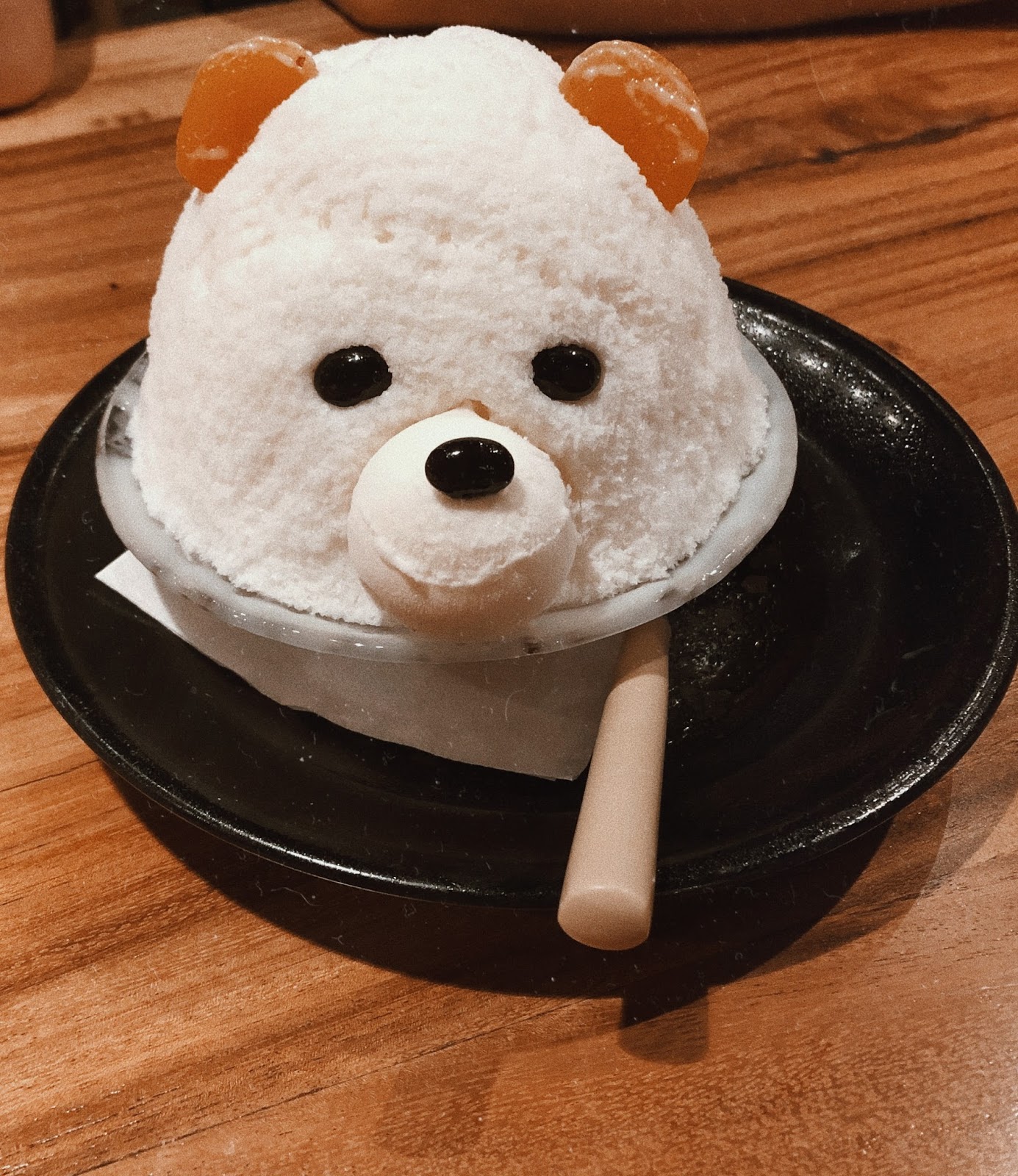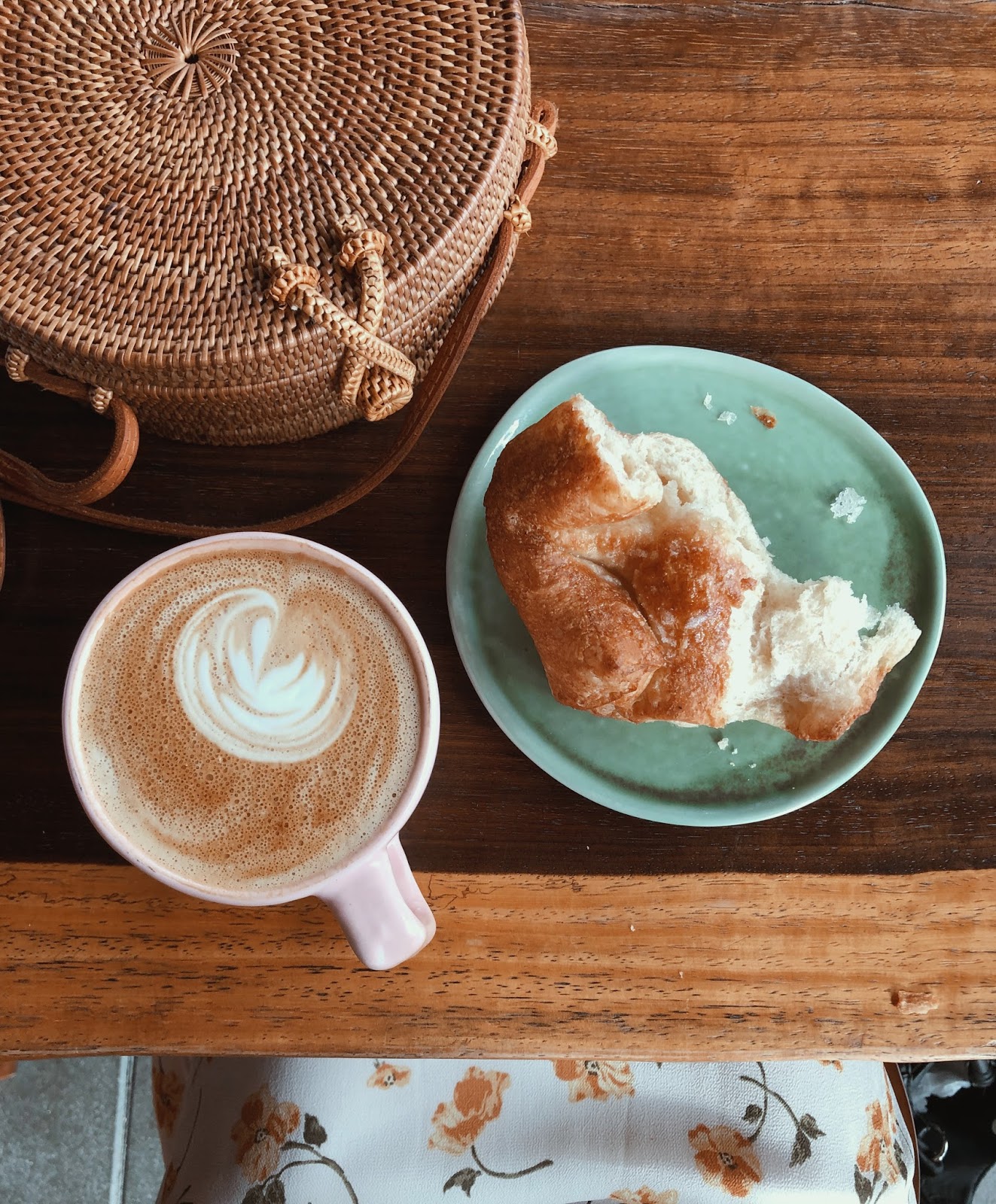 Outside of Honolulu we visited Hale'iwa Bottle Shop and sat out back on their really cute patio with beers and rosé. I love bottle shops for always having a huge selection and WAY better prices than visiting a bar or restaurant. Just next door were all of the famous North Shore Food Trucks (a whole parking lot of them), so we brought back plates of tacos, crepes, and poke to have with our drinks. Another honorable mention for cool spots outside of the city was Grace n Growlers for a fun 'pour your own beer experience'. Don't worry – they have wine too.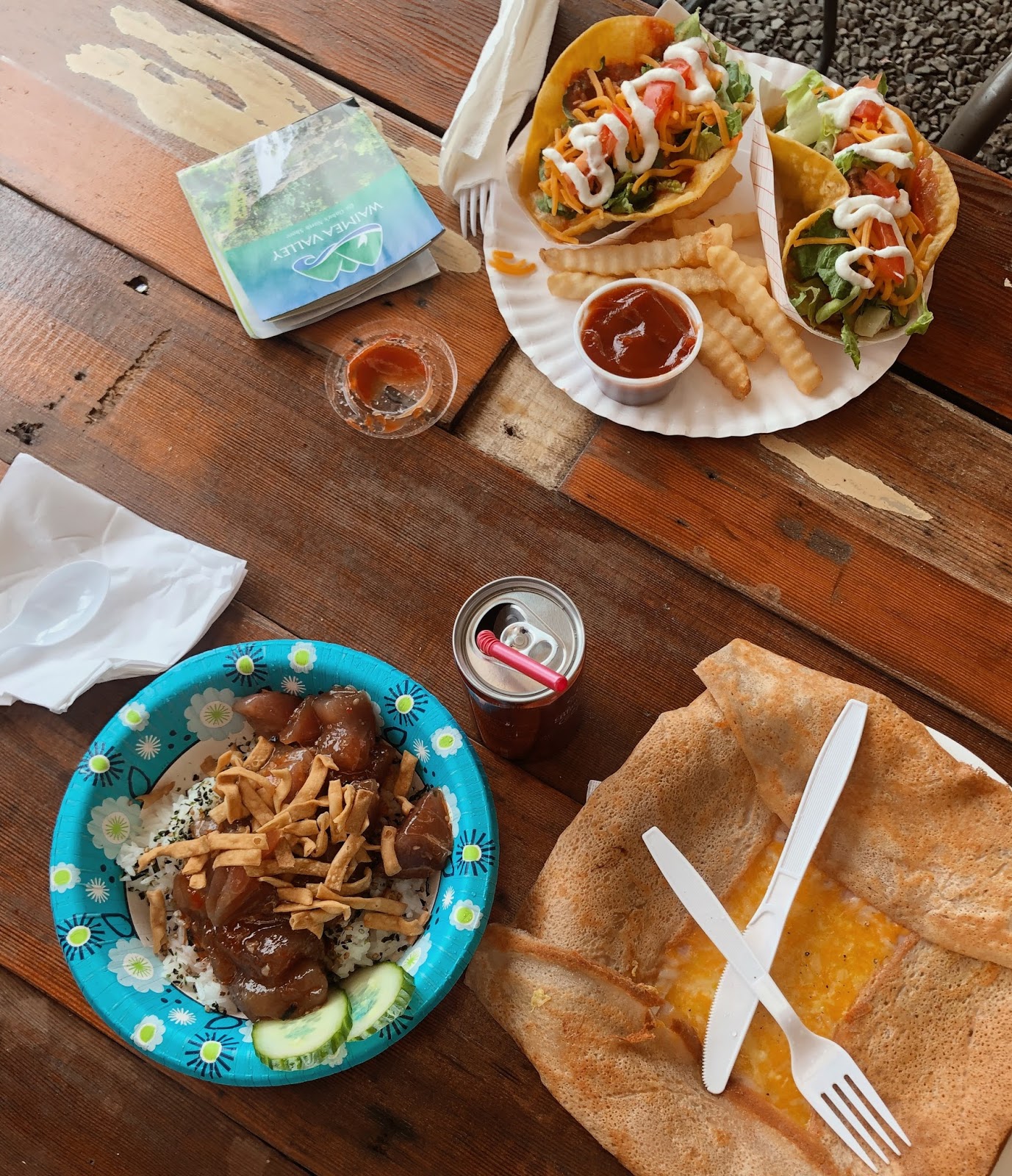 Where to visit // We drove all over and visited quite a few spots, but my favorites were the Dole Plantation for requisite Dole whips, Diamond Head to hike to the top of a crater and see the views, Makapu'u Lookout for the views, North Shore for the food trucks, waterfall hike, Moana Surfrider in Honolulu to see the gigantic Banyan tree, and Pearl Harbor and Iolani Palace to learn more of Hawaii's past. Both felt very heavy in their own ways, as Hawaii has known some true tragedy, but I think it's a must visit to understand the culture on the island.