Last week, Eric and I celebrated our first wedding anniversary in the most magical location possible – Iceland. I never imagined that I would get the opportunity to visit a place like this, and somehow, magically, it all came together as part of a larger trip we had planned for Barcelona. We only spent the weekend in Reykjavik and the surrounding area, but it was just enough time to decide that we have to come back soon.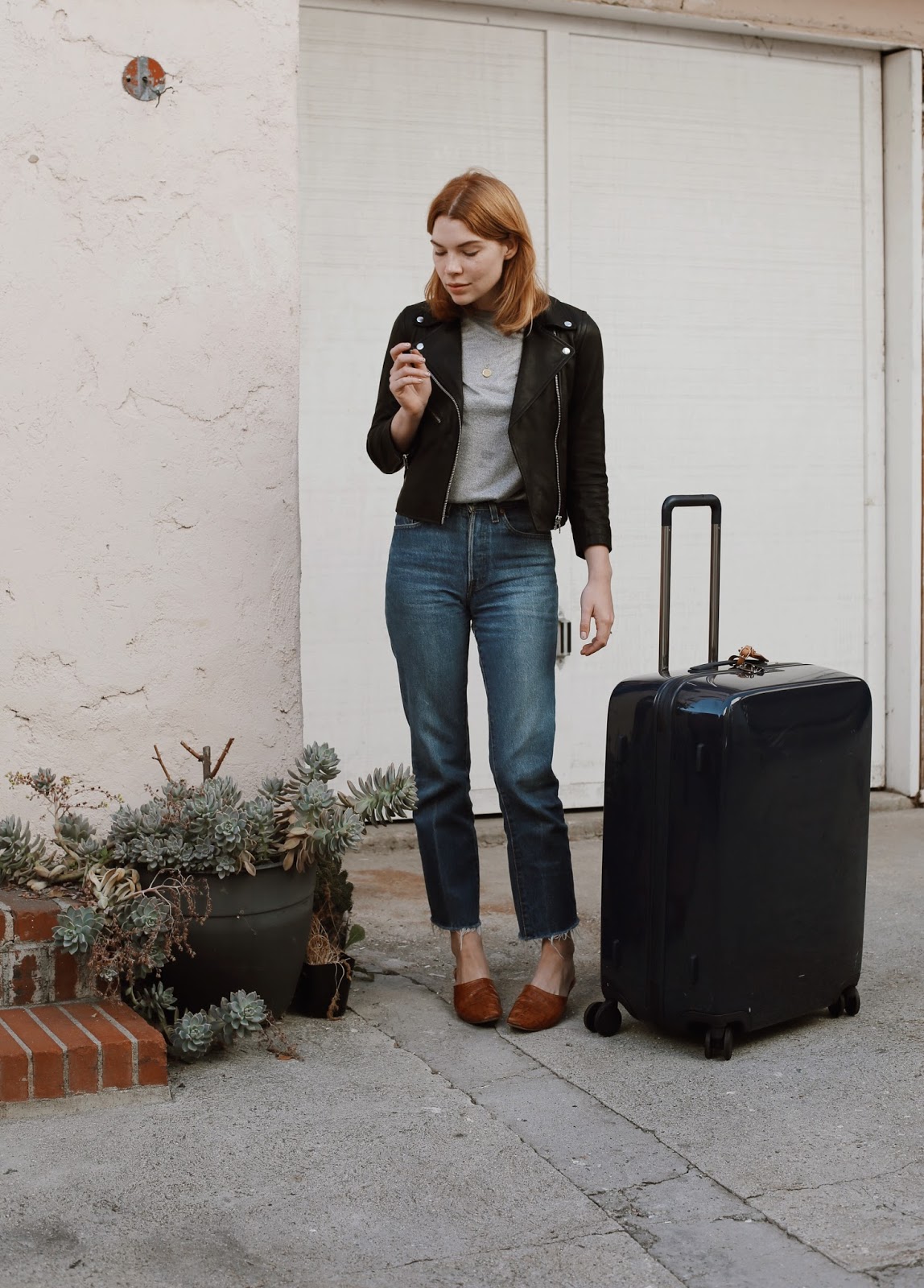 vintage denim / fifth label tee / madewell crop leather jacket / byfarshoes mules / raden suitcase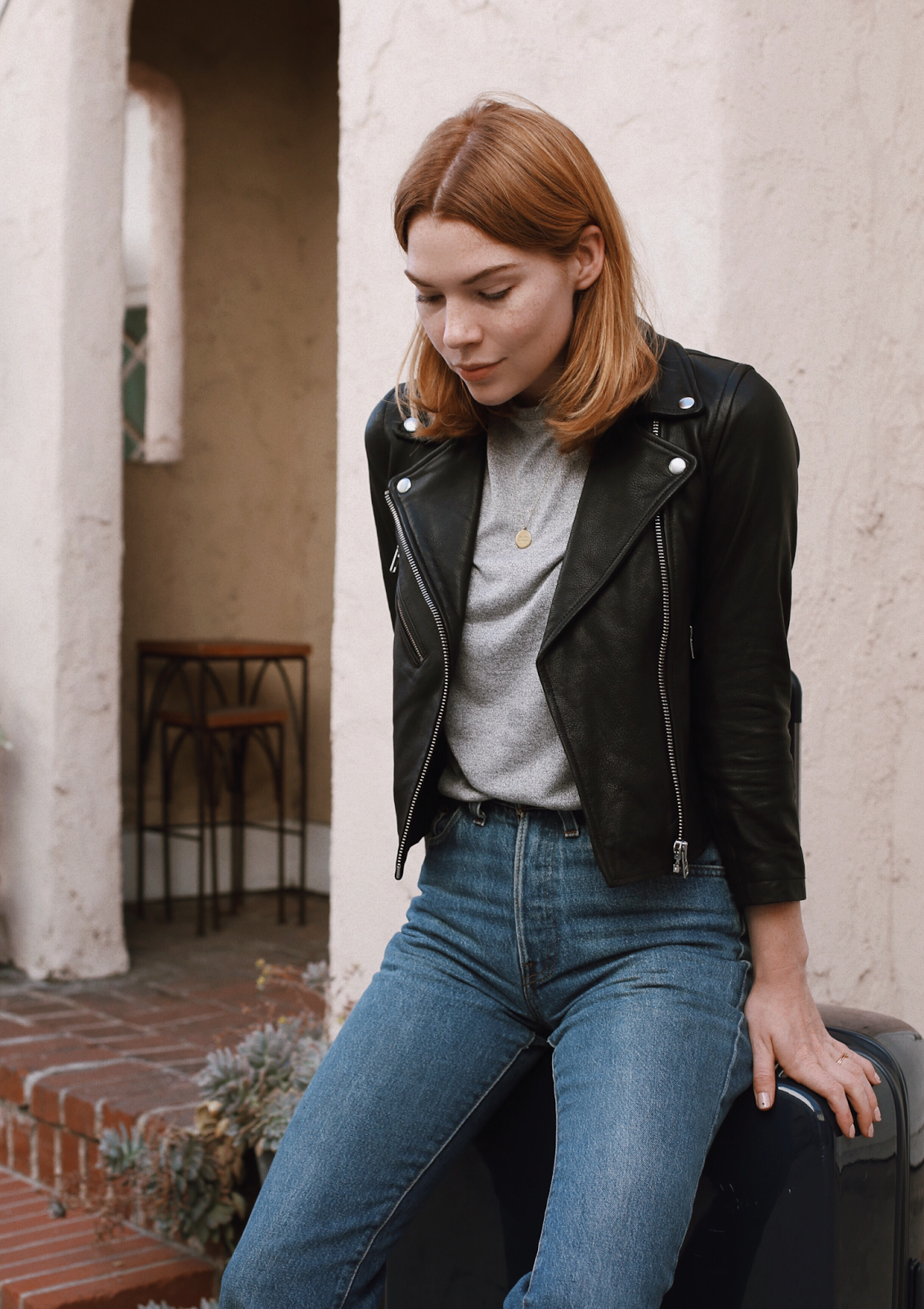 Eric and I had been planning a trip to Barcelona for a while, and when we found WOW airlines, we learned that not only do they offer inexpensive flights to Europe, they have an option for a free 'stopover' in Iceland where they are based. It's basically a long layover in which you can leave the airport, take your luggage, and explore the small country. We jumped at the opportunity to see somewhere new that we really had never considered.
When I began researching Iceland, I knew we wanted to find somewhere in Reykjavik, the capital city, to stay. I had already assembled a large list of places to eat, drink, and shop at, so having somewhere centrally located was key. I found the Publishers House hotel and knew it was the right fit. It's right in the middle of all the action, but feels like a home. A small kitchen, a balcony, and a view of the multi-color houses outside the large windows. We stayed for two nights, and I cannot recommend it enough!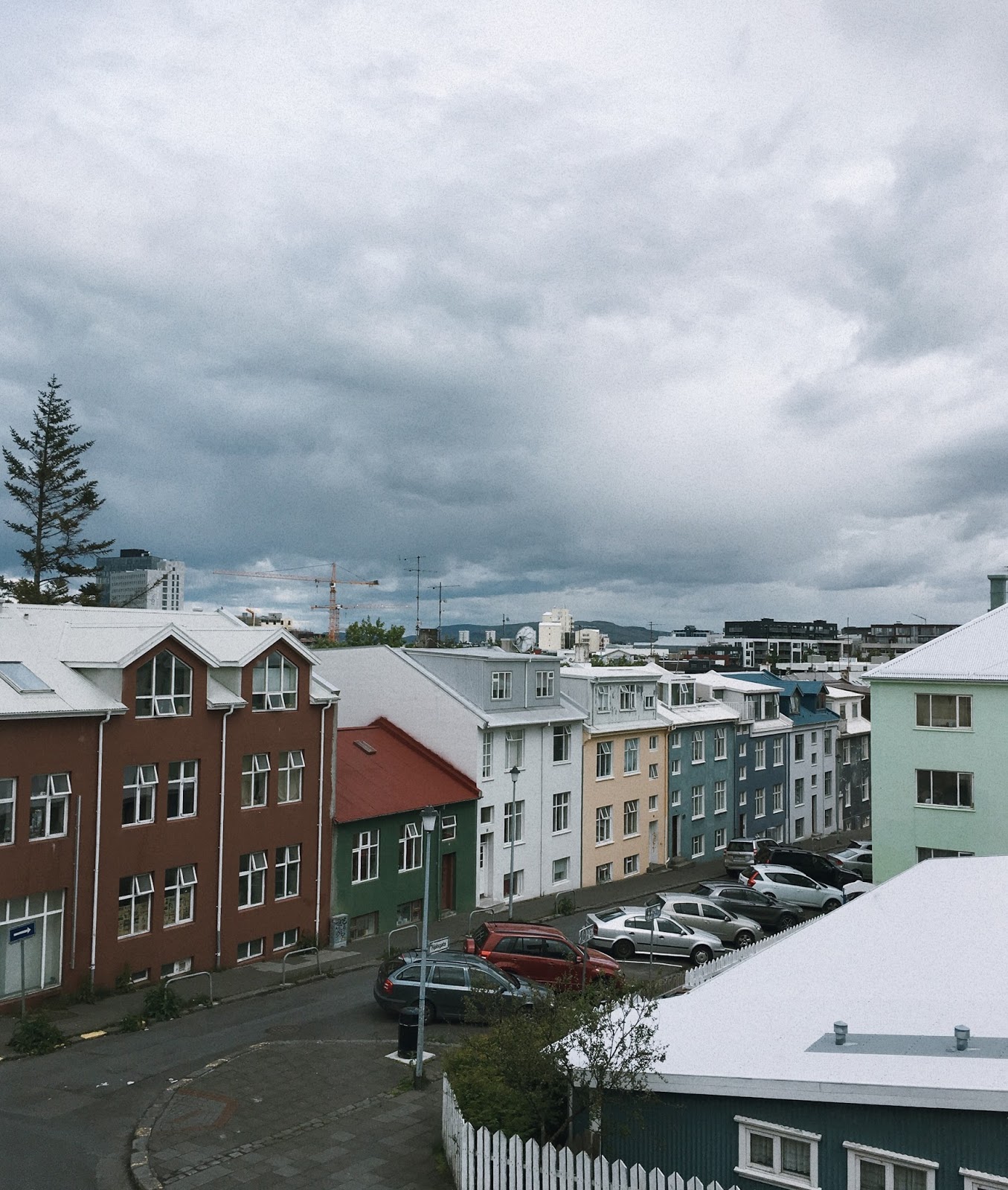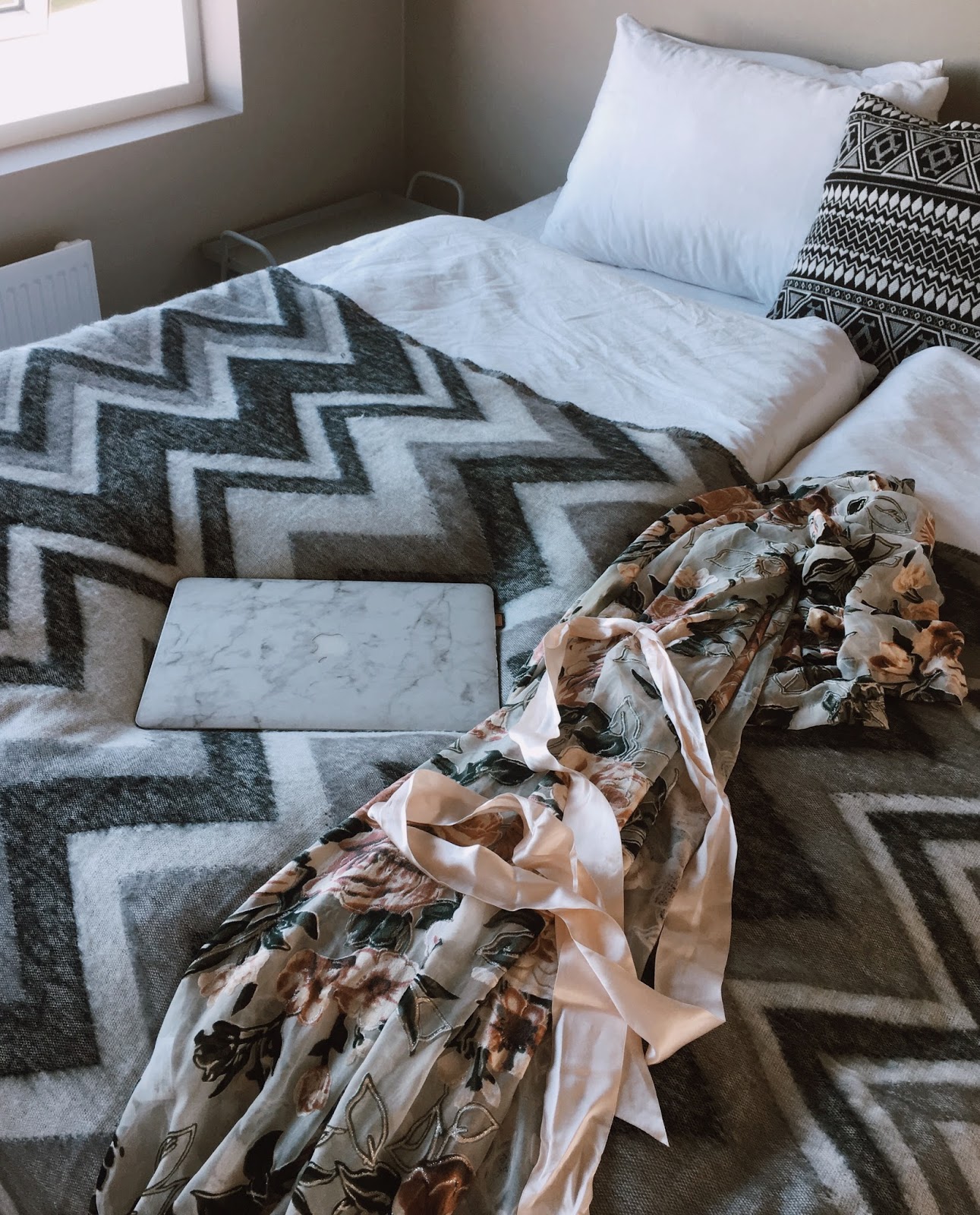 After landing on Saturday and freshening up at the Publishers House, we headed out to grab a bite to eat and walk around all the spots that had been recommended to us. Whenever Eric and I travel somewhere, I save all of the places we'd like to visit on my google maps, so that we can just walk out the door of our hotel and start finding everything organically. We rarely rent a car, and since it's a small city, it was easily walkable.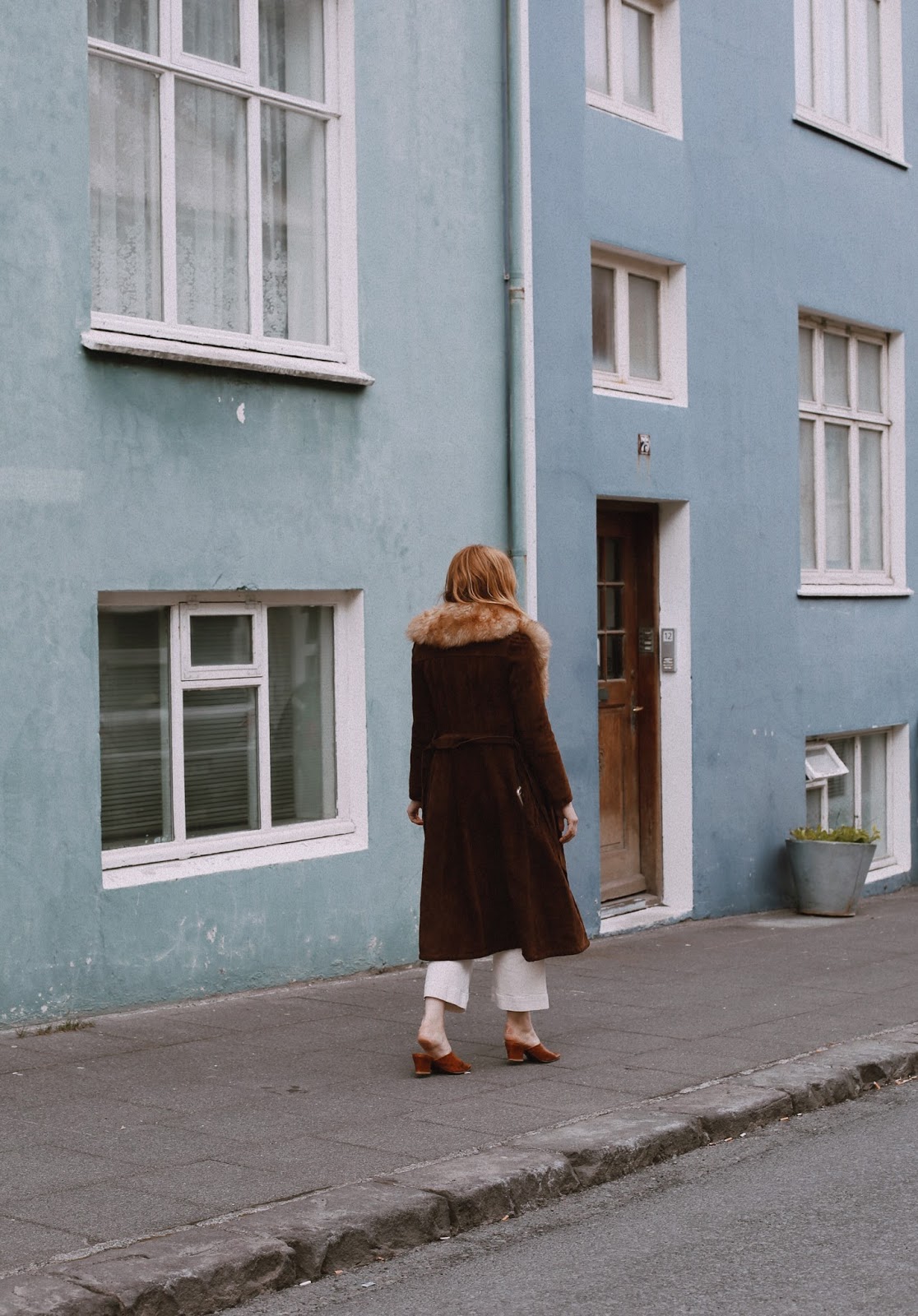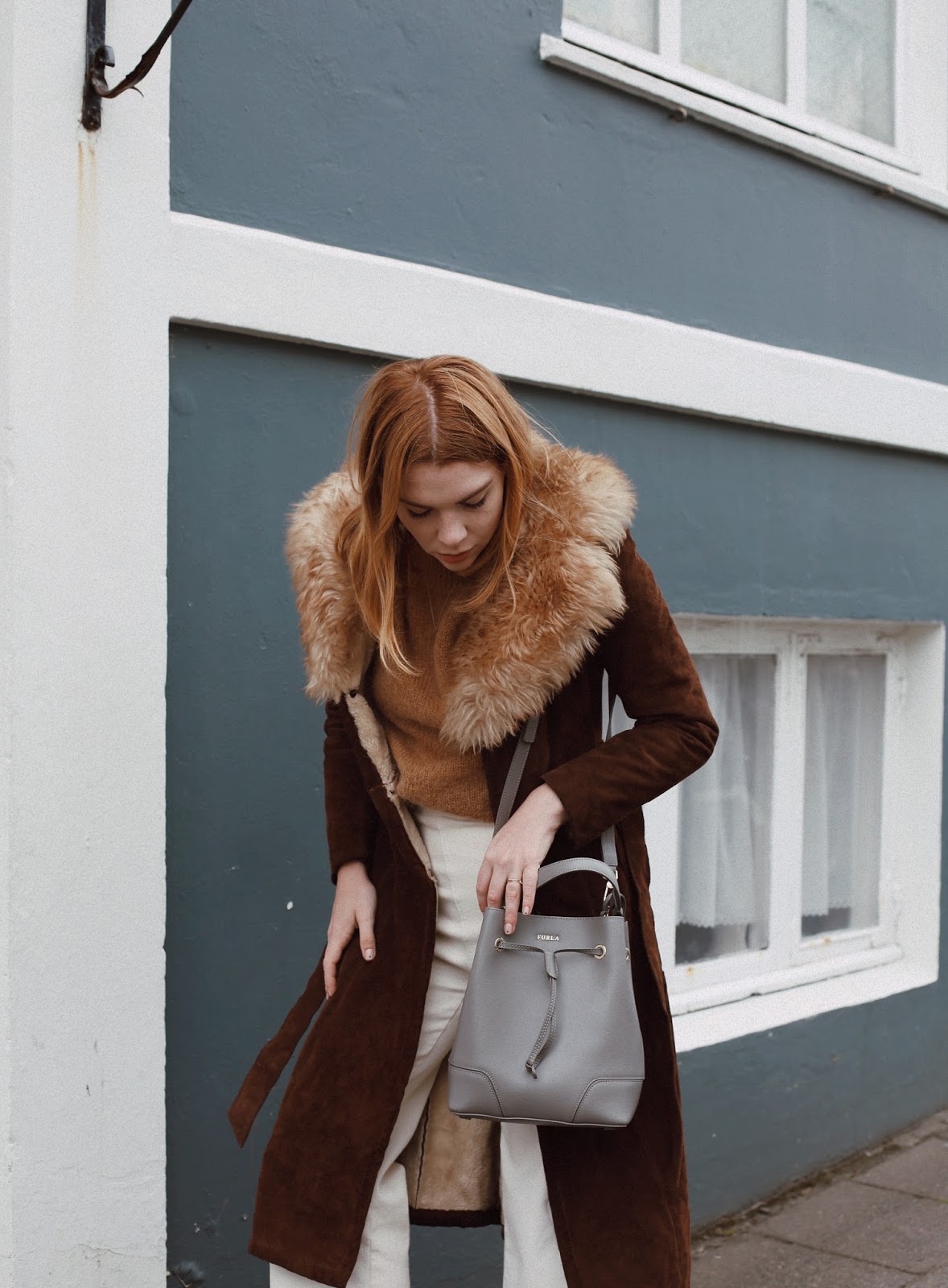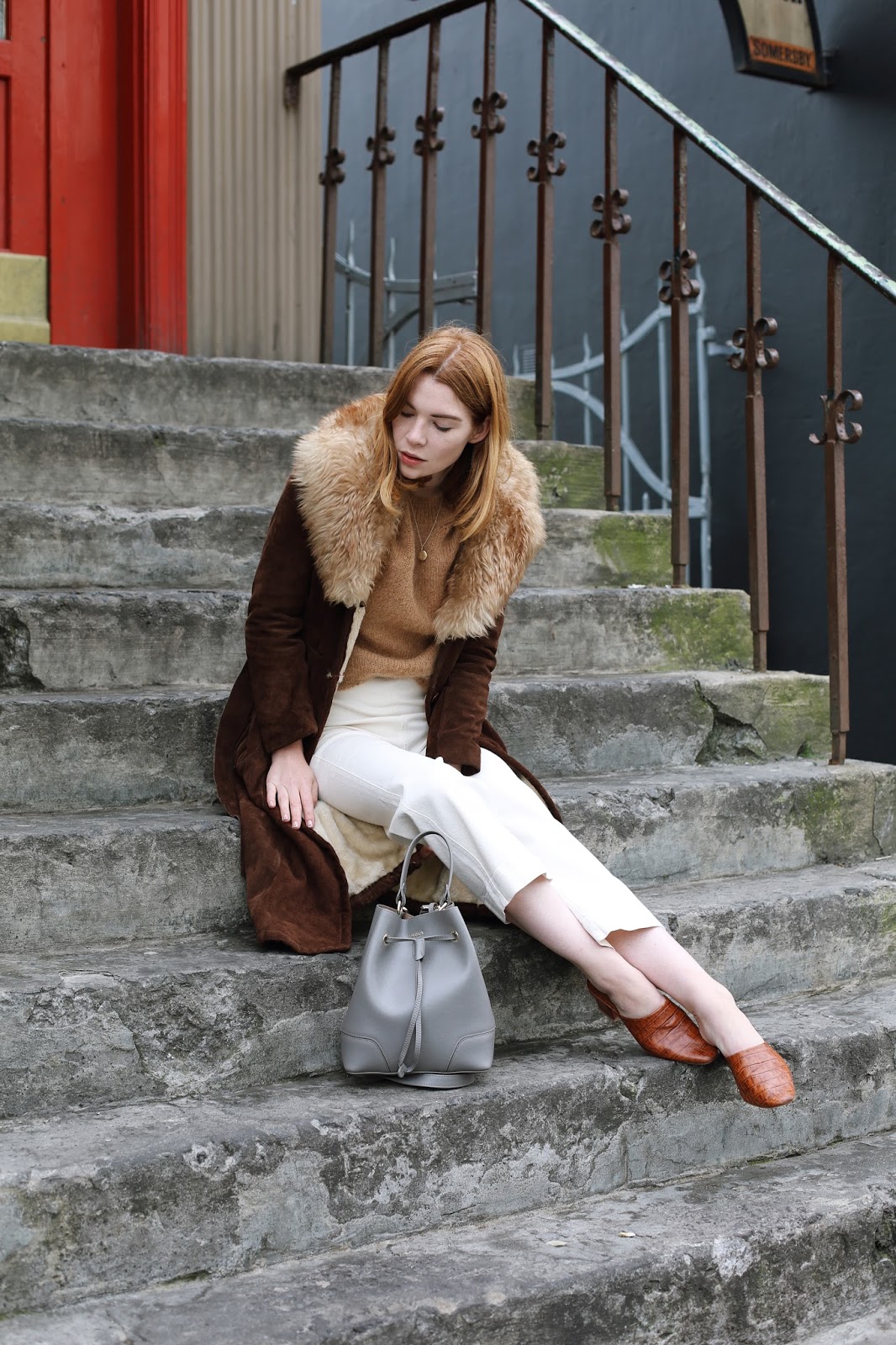 vintage coat / &otherstories knit / ali golden pants / furla drawstring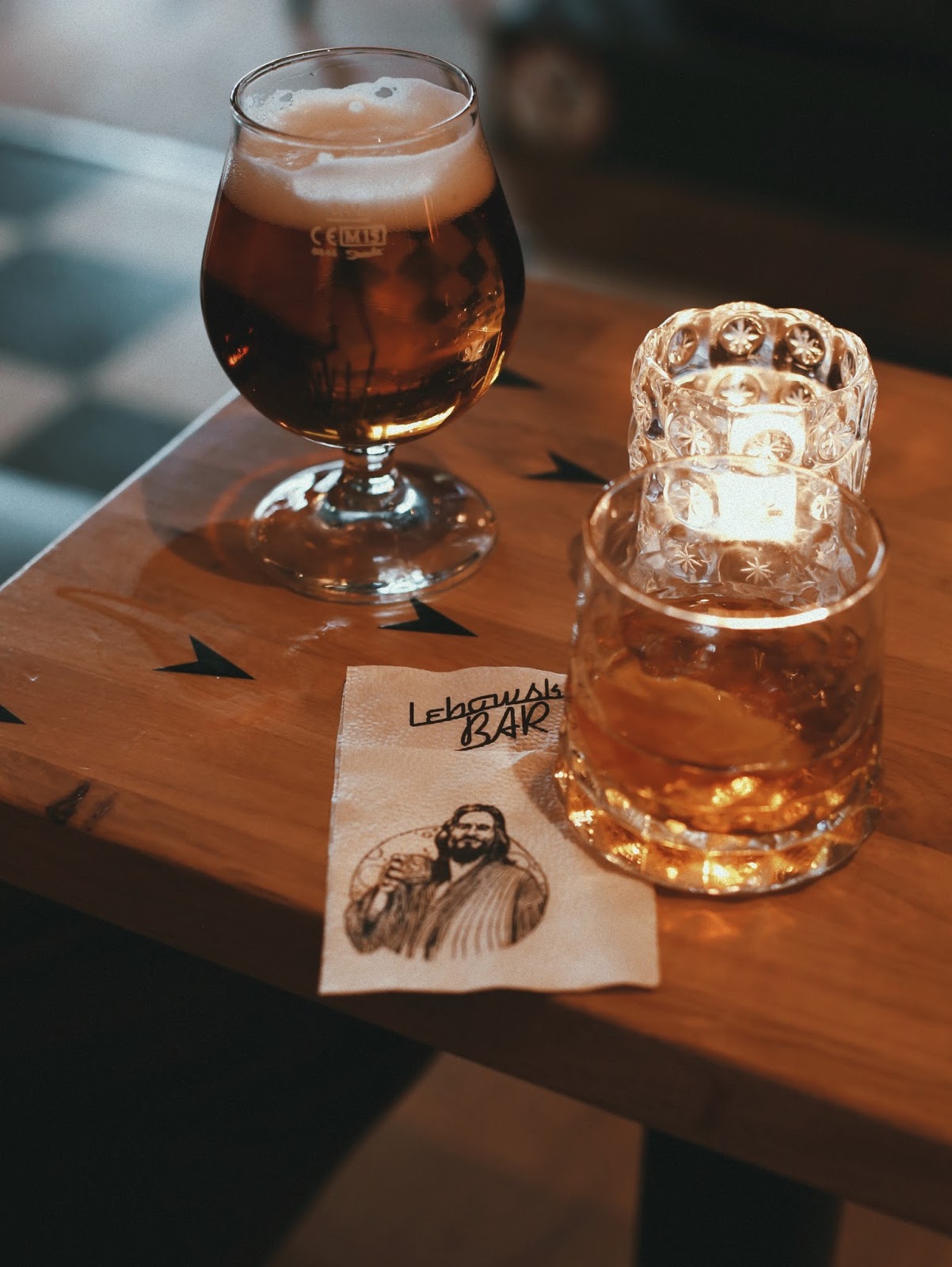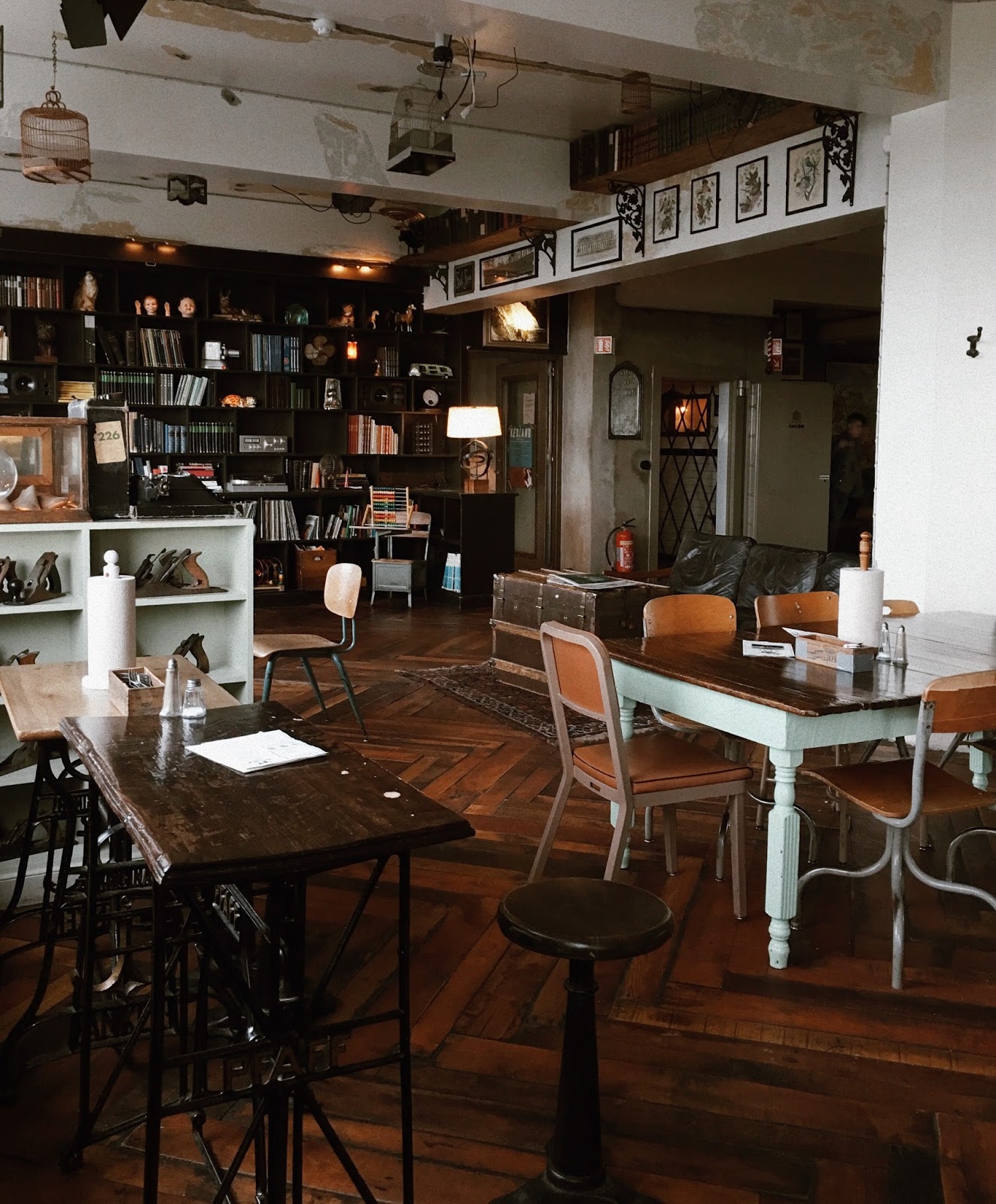 Eric and I like visiting as many places as possible, which means that any time we are in a new city, it's not uncommon for us to visit a dozen different shops, bars, coffee shops and restaurants in an afternoon. We call it 'bopping around' a city, and it's the best way to get to see as much as possible. The secret is not sitting down and having a big meal, or spending too much time in one spot. We'll pop in somewhere, order a drink and a snack, and then move on. Go grab a coffee from somewhere else, and then pop into two shops. Then, hey, maybe it's time for another cocktail – it's a vacation after all!
If you've followed me on IG stories, I'm sure you've seen this method from us in practice. Maybe we're both restless, but I love being able to tick off as many spots as possible. And, if we really like a place, it's not uncommon for us to go twice in one visit. For this reason, I've included a list below of all the places we visited. Reykjavik is small, and you can definitely visit all of the spots that we did!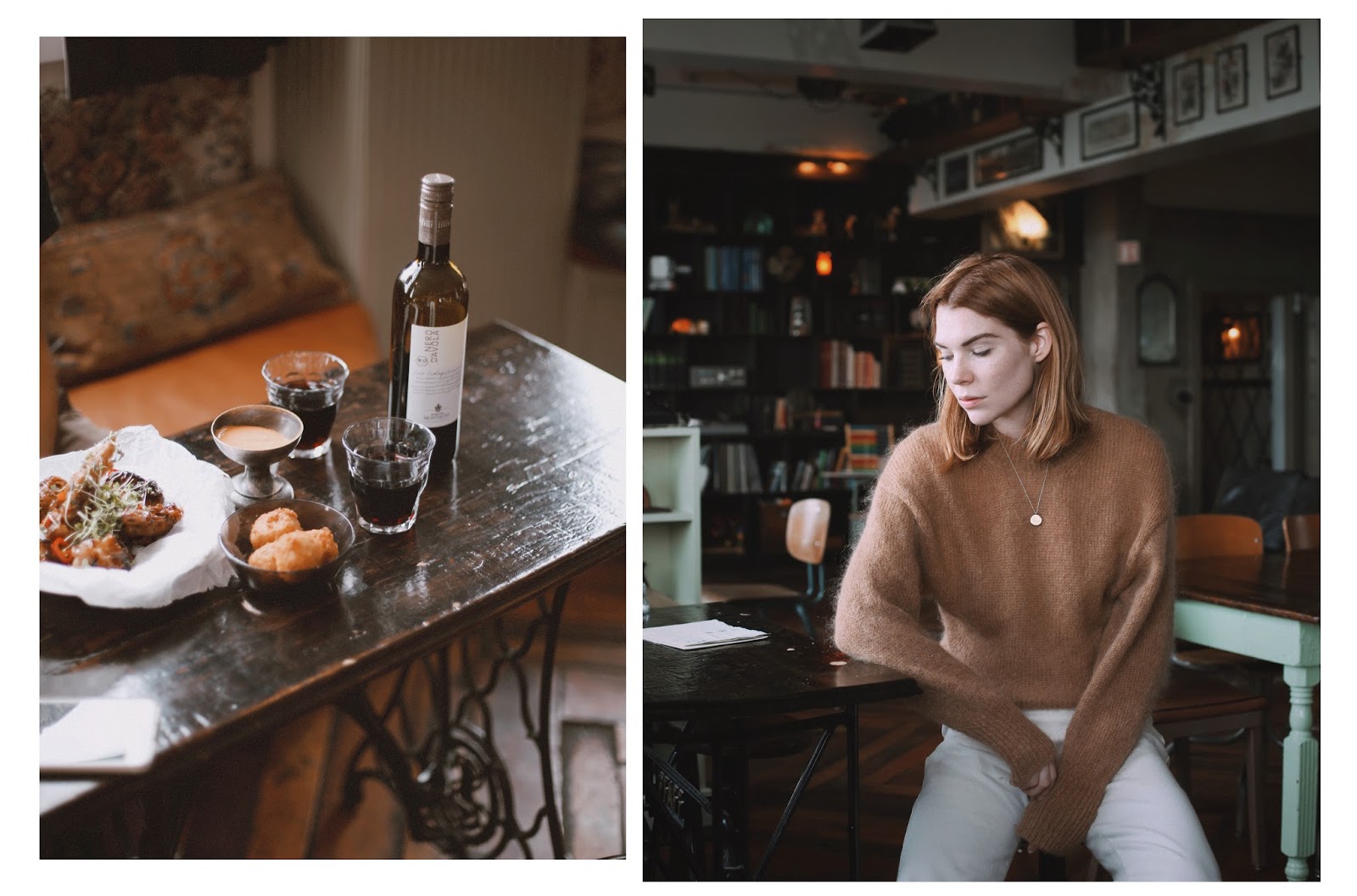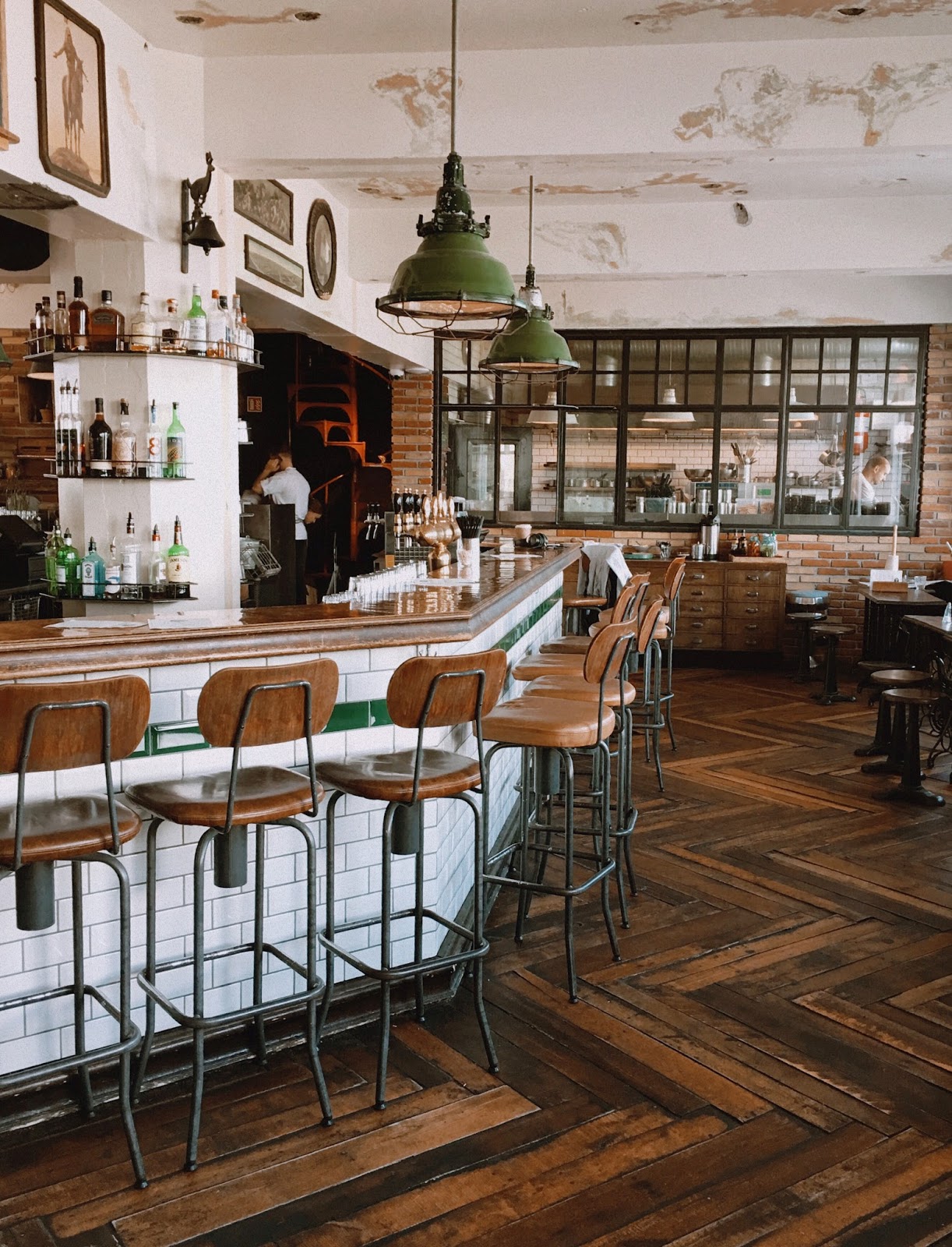 Kex Hostel // Don't be fooled by the name – this place is more than just a hostel. There's a gorgeous bar and restaurant downstairs with wooden floors and many couches and tables to relax. We actually went here twice – once for wine and snacks, and once again for a cocktail and the excellent wifi. I sat in the lobby and edited photos for a very peaceful hour.
Mikkeler & Friends // Part restaurant, part bar, and filled with tons of craft beer options that Eric loved. We had breakfast here one morning, and stopped by for drinks the night of our anniversary. It's got three floors and is such a cozy spot to sit.
Braud & Co. // This is a really famous pastry shop that you HAVE to go to. Get an Icelandic bun from here and thank me later – or a croissant, either way you can't go wrong.
Reykjavik Roasters // If you're already getting the aforementioned pastry, you may as well get a coffee or cappuccino to go with it, right? There's a location just a few steps away from Braud & Co. that Eric and I visited about 4 times for coffee. There's two locations in town, so you're sure to be near one.
Geysir // This shop (there's two locations – each with different vibes) is incredible. They had local Icelandic clothing and wools, but also super chic shoes and clothing. I nearly bought a Ganni dress while I was in, and the store is so perfectly decorated that you'll probably want to spend a little too much time perusing.
Lebowski Bar // Yep, it's exactly what it sounds like. A Big Lebowski themed bar.
Seabaron // This is a casual spot to grab something to eat, and oh my goodness is it tasty. We had the lobster soup and it was crazy good. It can be tricky finding a spot to sit down, but it's definitely worth cozying up next to strangers at a communal table for.
Micro Bar // Another spot perfect for finding rare craft beers or just a cocktail if you're like me.
Bryggjan Brugghus // This is where we had our Anniversary dinner, and it was lovely. There was a live band playing, we stuffed ourself with fish & chips and mussels with fries. There were some more traditional Icelandic dishes on the menu, but as Eric and I were craving something simpler, this spot was great.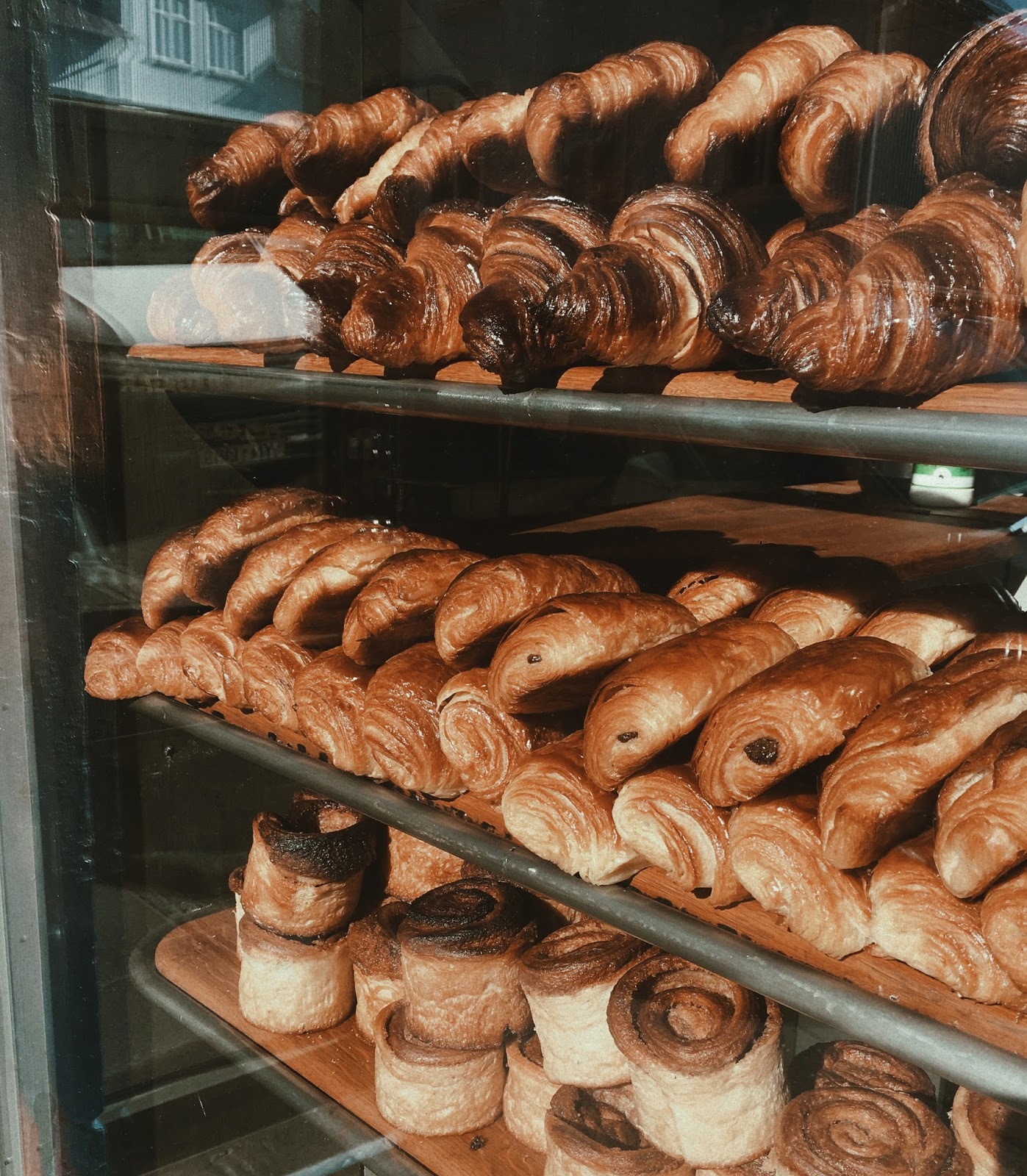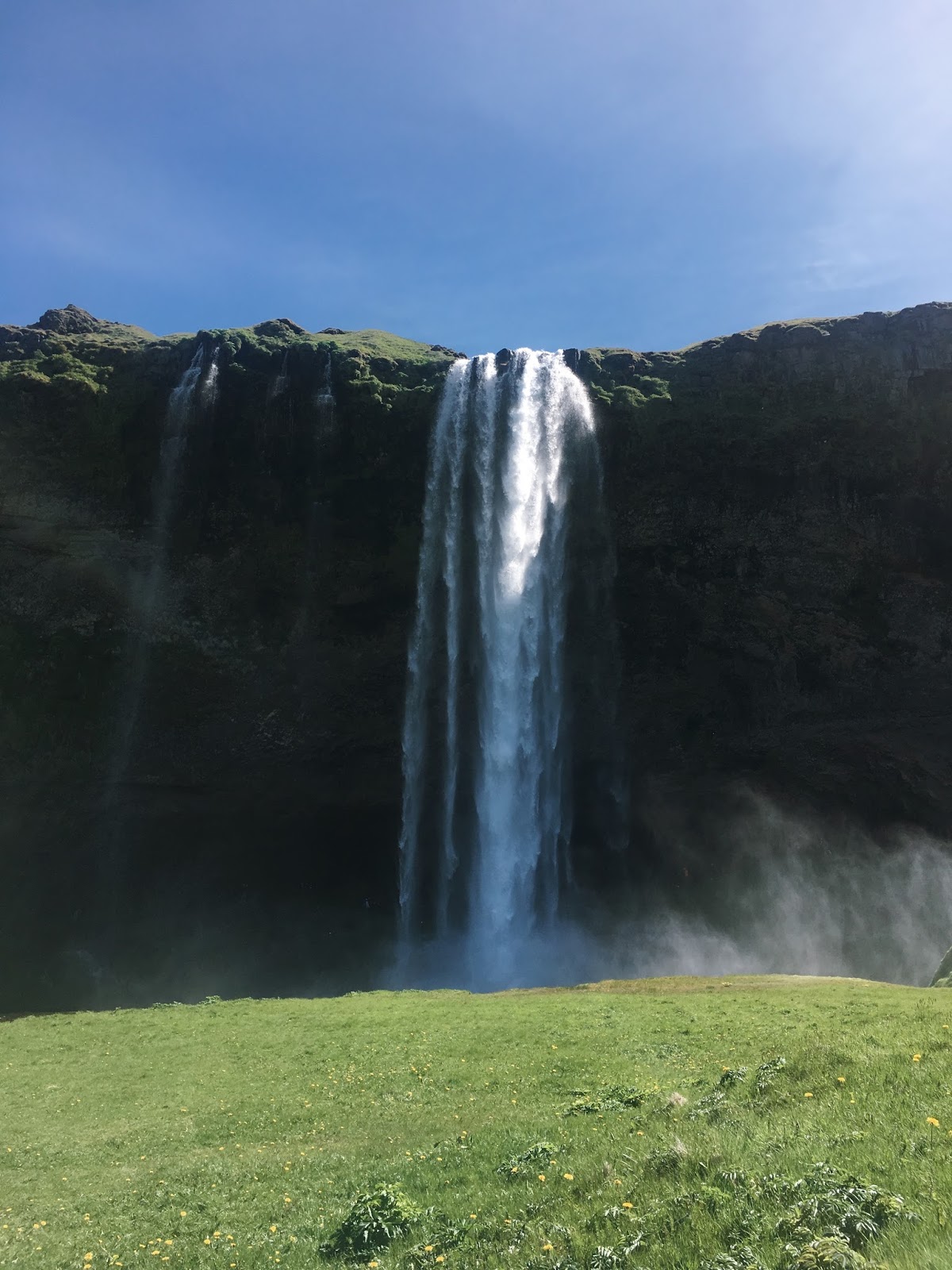 If you're in Iceland, I cannot recommend getting out of the city more. I loved Reykjavik so much, but I was definitely itching to get out and see some of the natural sights that Iceland has to offer. We rented a car on our second day there, and drove out of the city. Even an twenty minutes out there are amazing sights, so we packed a picnic and set out to see a few spots.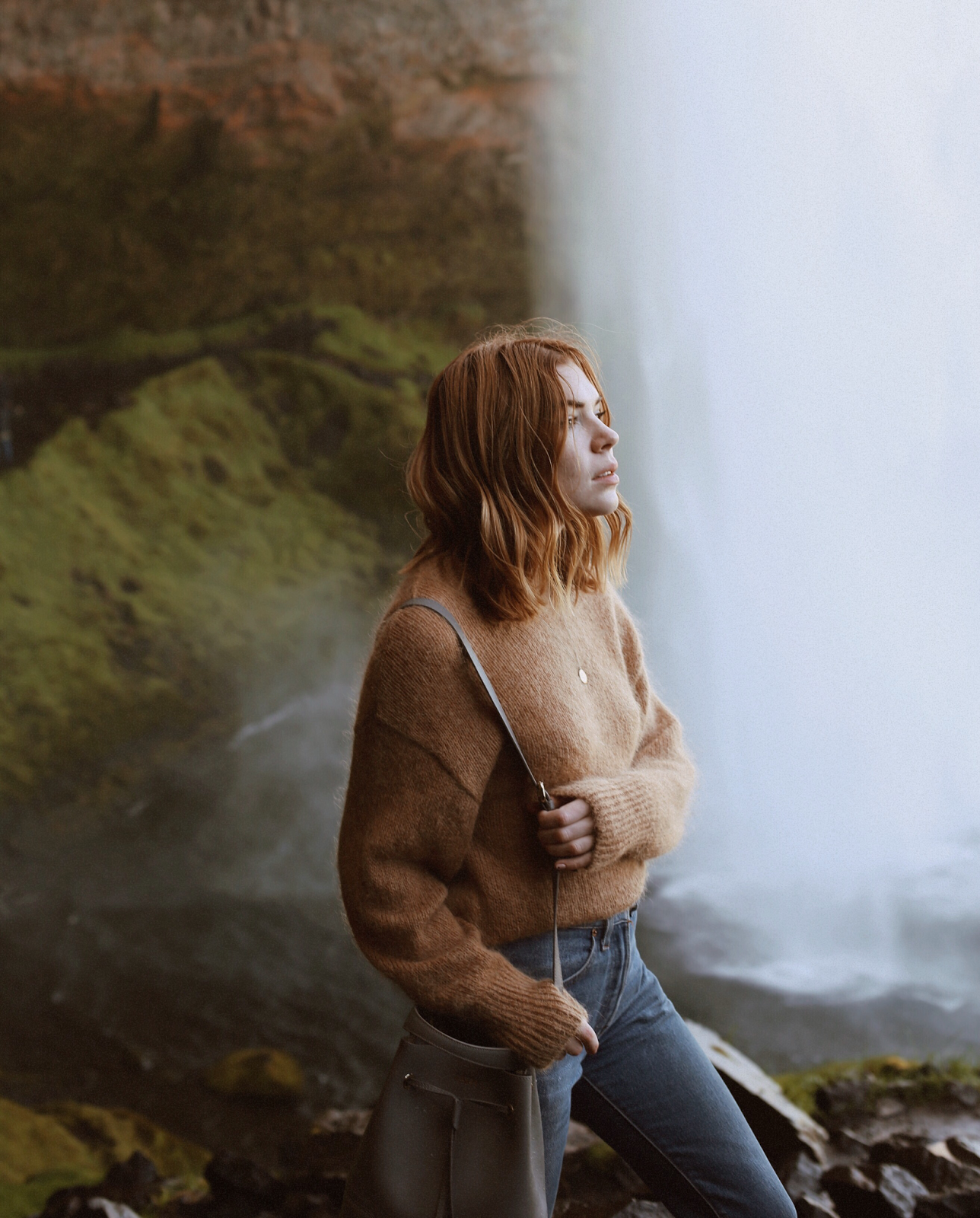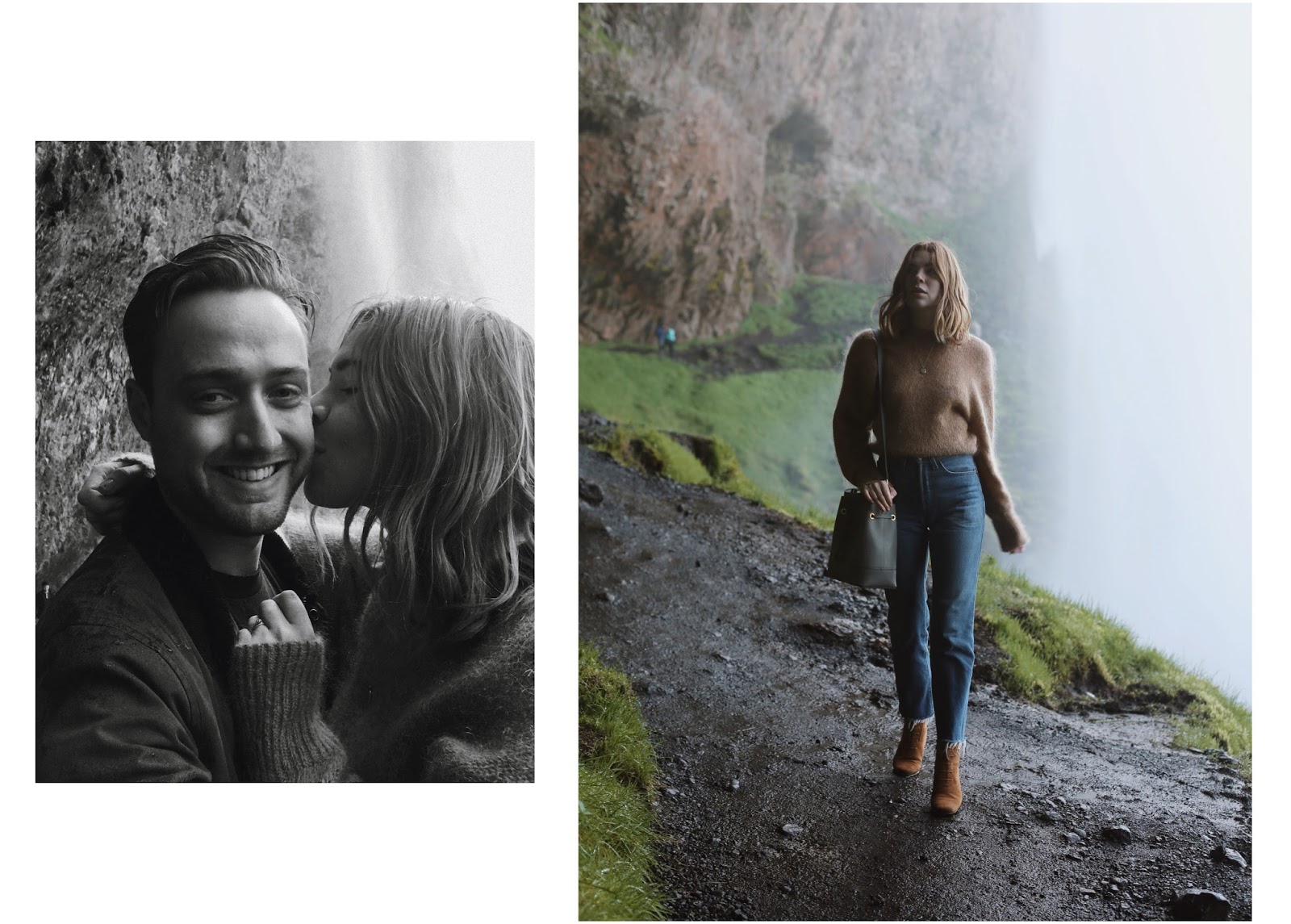 Seljalandsfoss falls was incredible. You can walk right up to the pool the waterfall has created, and even walk all the way around the back of it and get sprayed by the mist. We weren't really dressed for it (angora sweater and suede boots, not my smartest move) but it was worth the risk of wardrobe damage to get to kiss my husband behind the waterfall. It was surreal to think that exactly this time a year ago we were saying "I do" and now we are smooching in Iceland. We've come a long way, baby.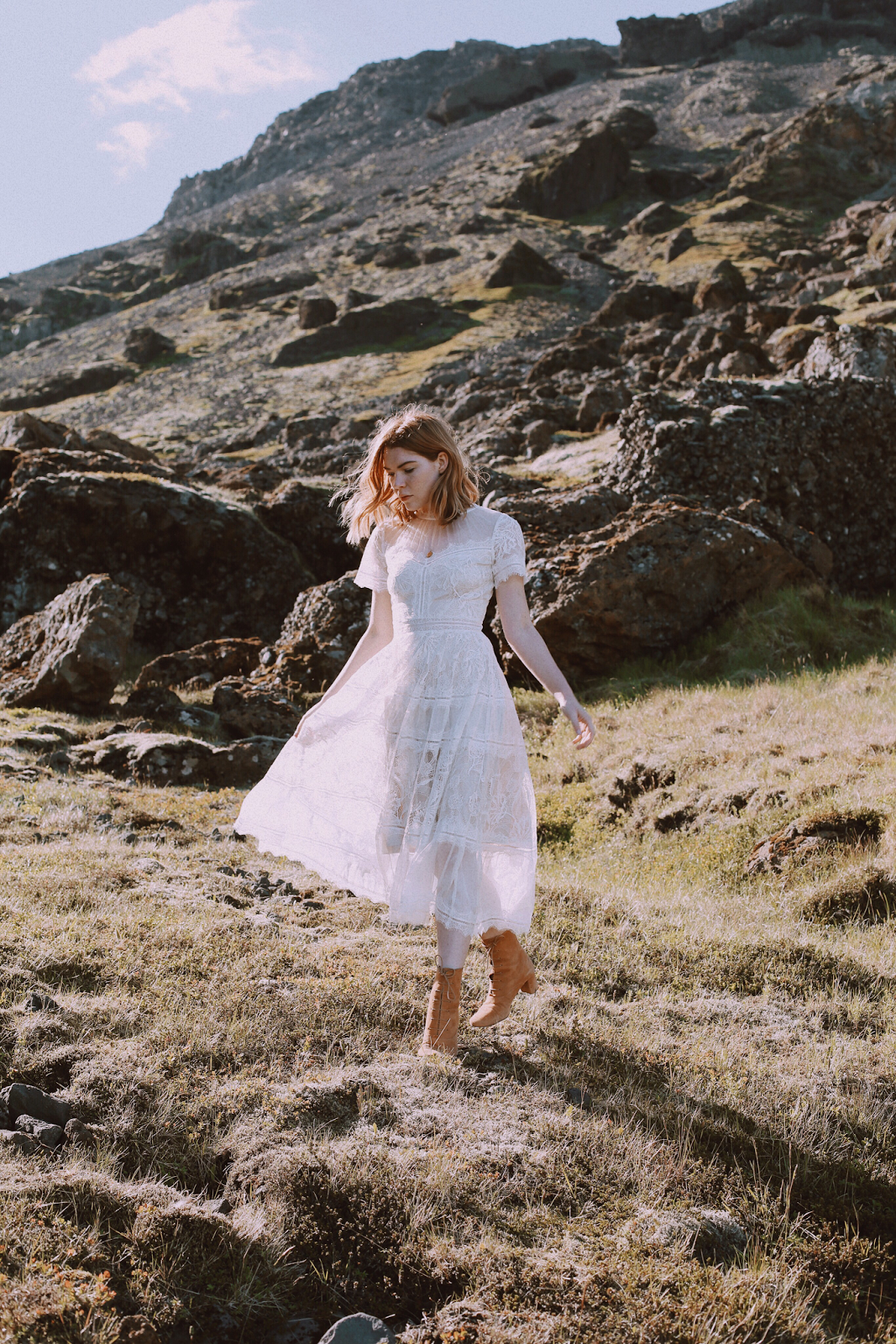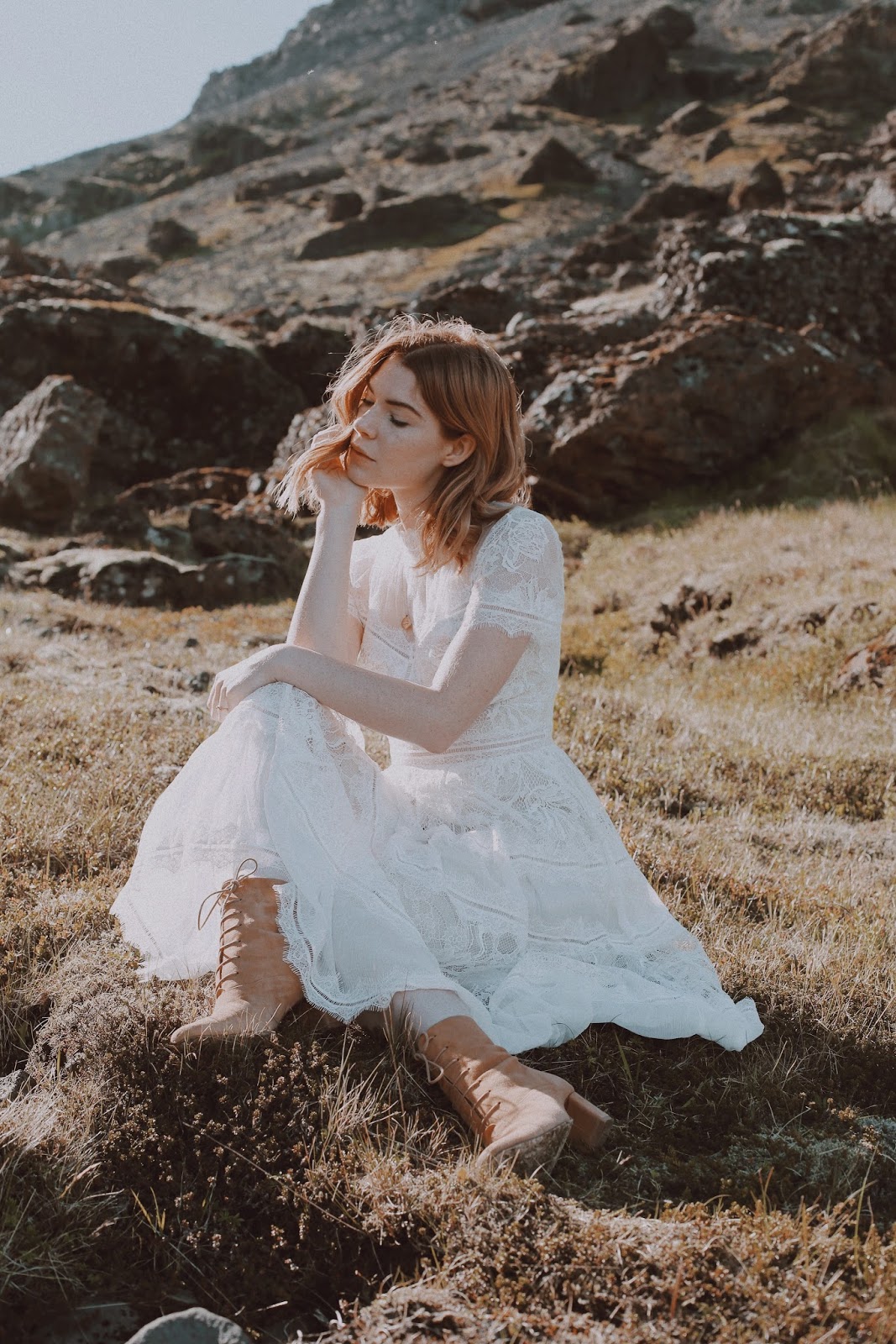 BHLDN dress / byfarshoes boots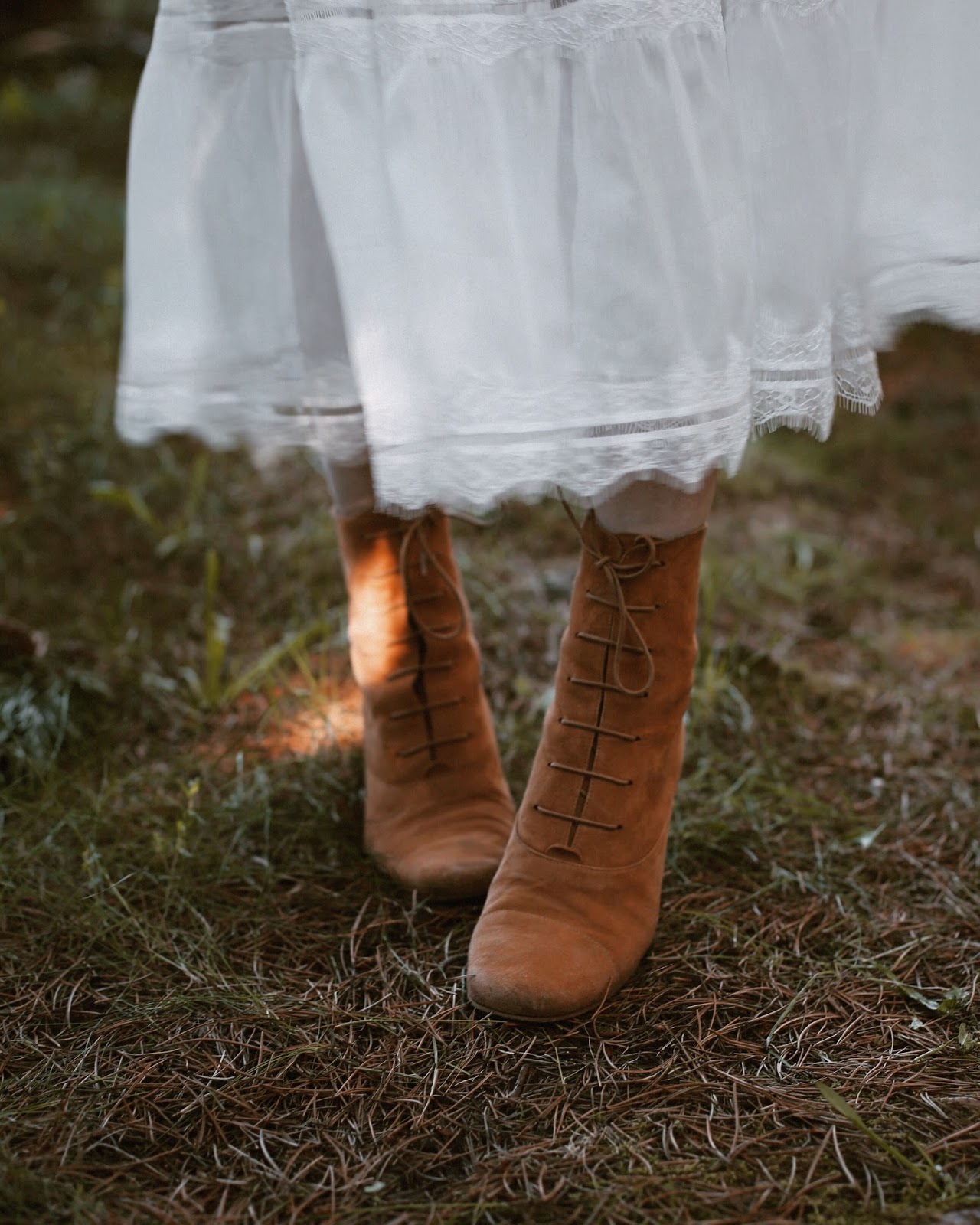 For this trip, I was lucky enough to be able to partner with BHLDN once more. They supplied my lovely rehearsal dress for our wedding last year, so being able to wear something from them again a year later was special. Eric and I drove around and found this empty hillside to shoot on. The sun was out and I felt like I was in a fantasy movie, frolicking about in a long dress.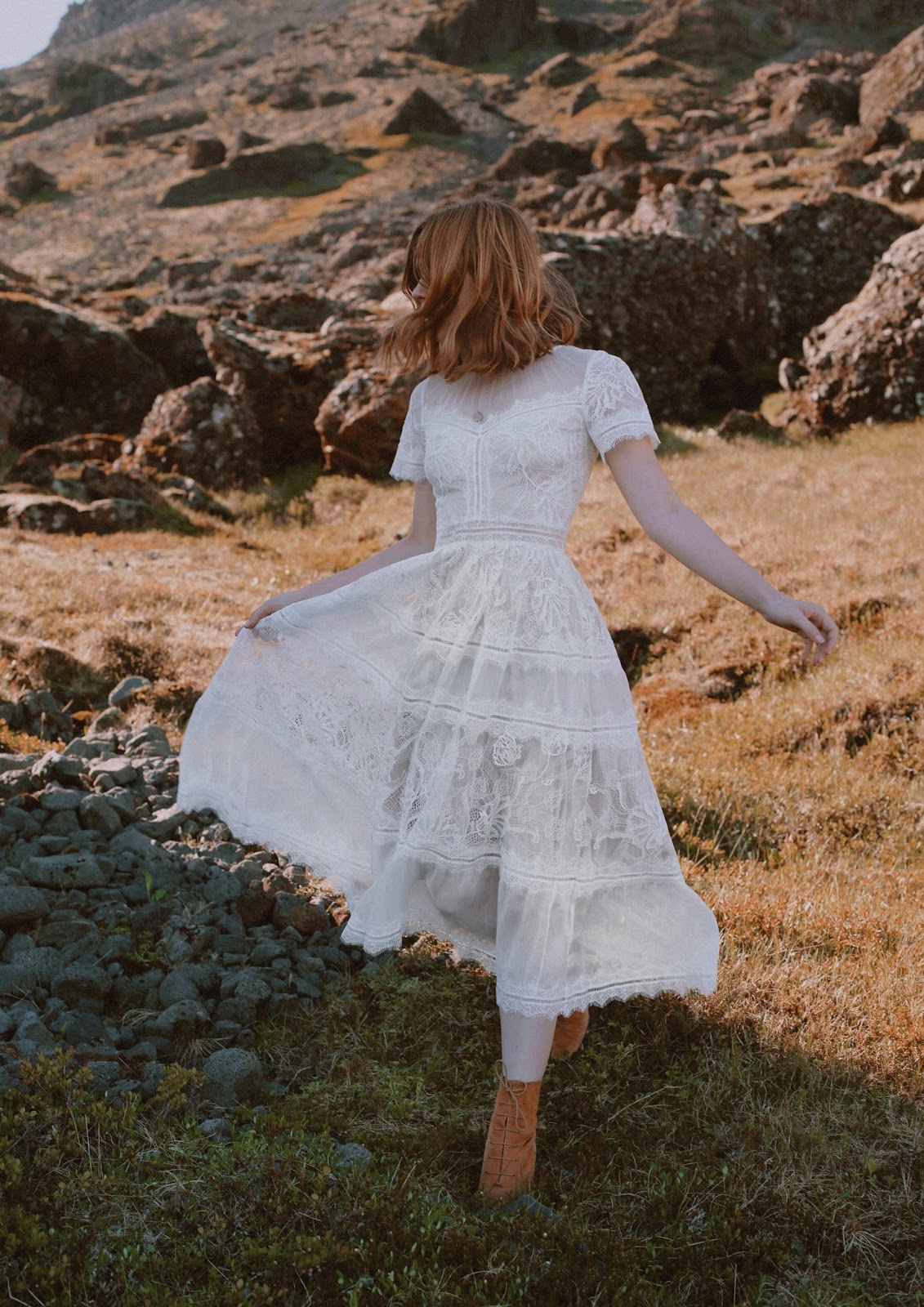 I can't imagine a better setting for our anniversary, mostly because I had no idea what Iceland would have to offer us before we planned this trip. It was magical, one-of-a-kind, and I know we'll be back. We had limited time on this trip, so we didn't get to see the Blue Lagoon, so that's definitely on the list for next time.