Last week on the blog, I shared Part 1 of our UK Roadtrip. This blog post picks up right where the other one left off – crossing over the border from England into Scotland.
At first there wasn't a perceptible shift when we left England behind, but by the time we reached our first stop, Gleneagles Hotel, we felt like we were firmly in Scotland. The mist had rolled in, there was a light drizzle, and after driving on more than one winding country road, we had arrived. Rather than sinking into emails and photo editing, and countless things I kinda needed to do but didn't want to, we decided to have an afternoon tea at the hotel.
The first thing you should know about Gleneagles hotel is that it has stood for almost 100 years. It was built in the 20s, and every inch of it is so chic and cozy and basically my idea of heaven on earth. It recently underwent a renovation and while the furniture and decor has been refreshed, it still feels like a hotel steeped in history.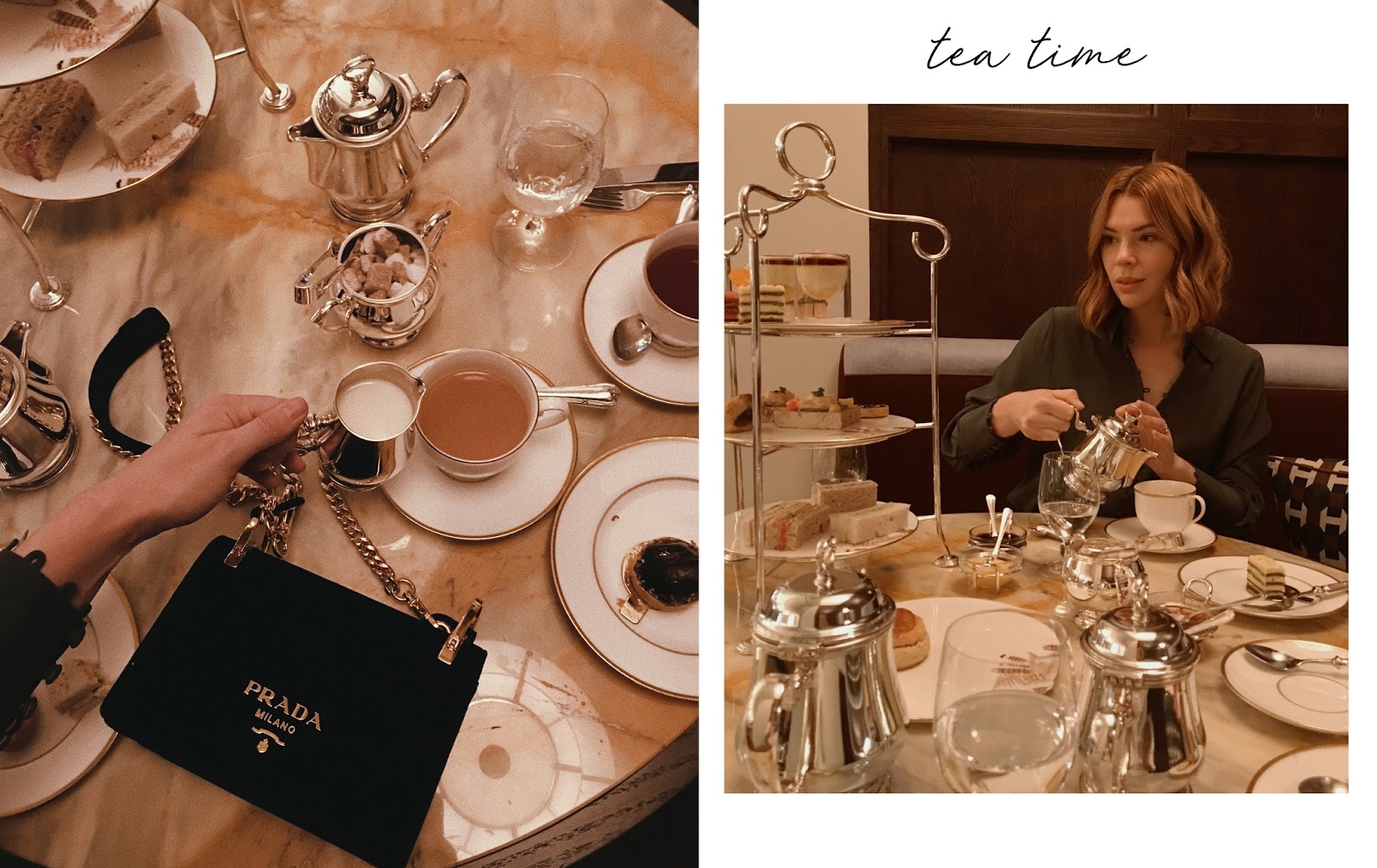 And speaking of things that are steeped, our tea was everything I needed after a long drive. We started with champagne, moved on to tea and sandwiches, and I had my first taste of haggis (wrapped in puff pastry, bite size, and not at all scary – totally tasty in fact). After moving on to scones and clotted cream (my FAVORITE part of tea every time), we finished up with another pot of tea and pastries.
Afternoon tea is one of my favorite things in the world, and it's something that I always look forward to. There aren't many places in LA that offer a tea service, but I love the ritual of it. Everything has an order to it, there's no hurry, and you get to try a bit of everything. Gleneagles tea service was the best I've ever had, and even from this first glimpse of the hotel, we knew our stay would be luxurious.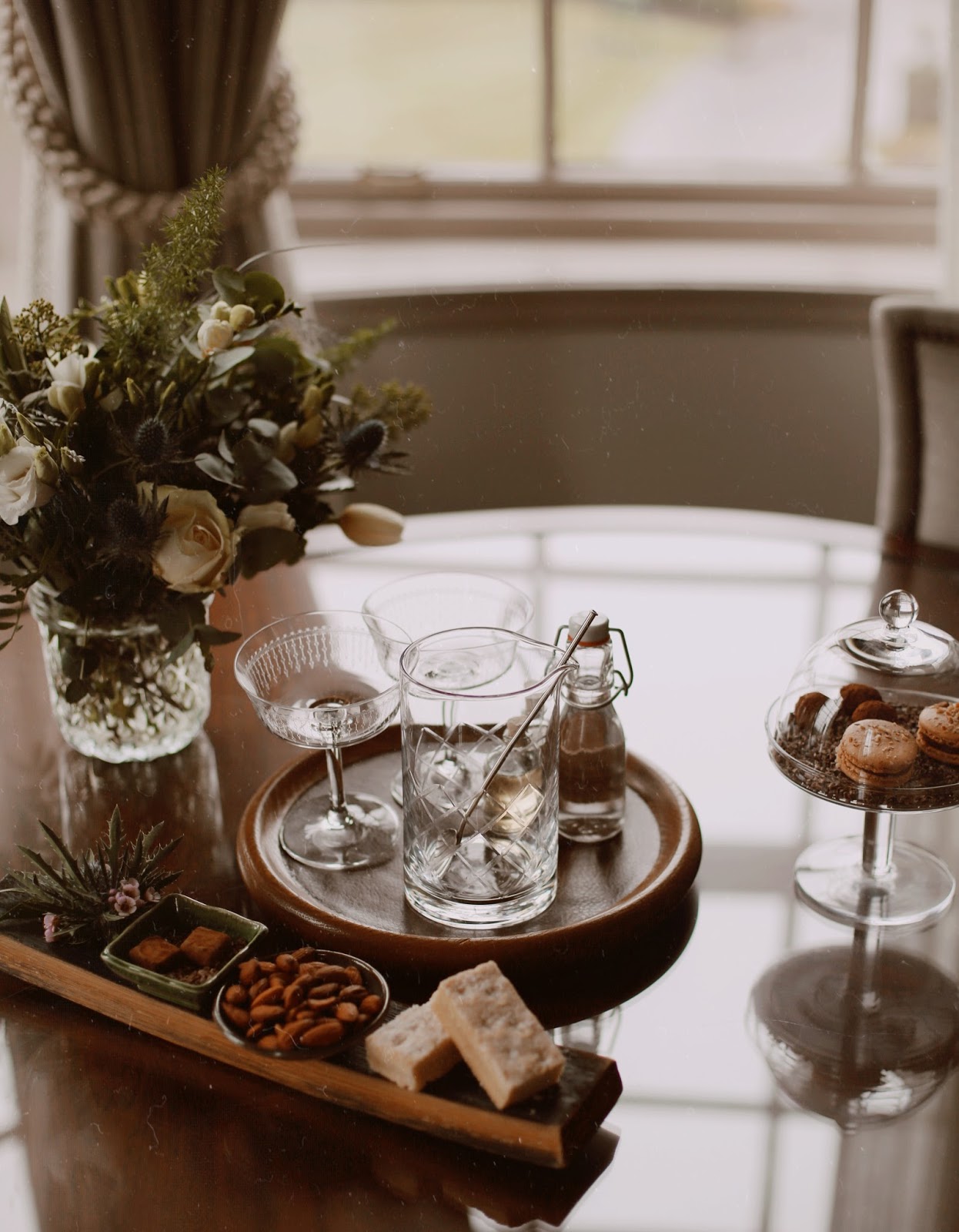 But here's the thing – I didn't realize just how luxurious everything would be. After tea, we checked into our suite, and I started to really get a feel for how special this stay would be. I can easily say, hands down, it is the nicest place I have ever had the privilege of staying at. Our suite was not only massive, but beautifully decorated and comfortable. We had cocktails, biscuits and almonds waiting for us upon arrival, and despite being chock full from tea, we made room for a G&T and some shortbread, cause why not.
After unpacking and getting settled in, we headed downstairs for a cocktail before dinner. It was all very Downton Abbey feeling, that ritual of having a drink before dinner, and really taking our time. Throughout our stay we got to visit every restaurant on the property (there's 3) and both of the bars. Every space was unique and had it's own theme and style. I could see easily being able to stay somewhere like this for days on end and never really needing or wanting to leave.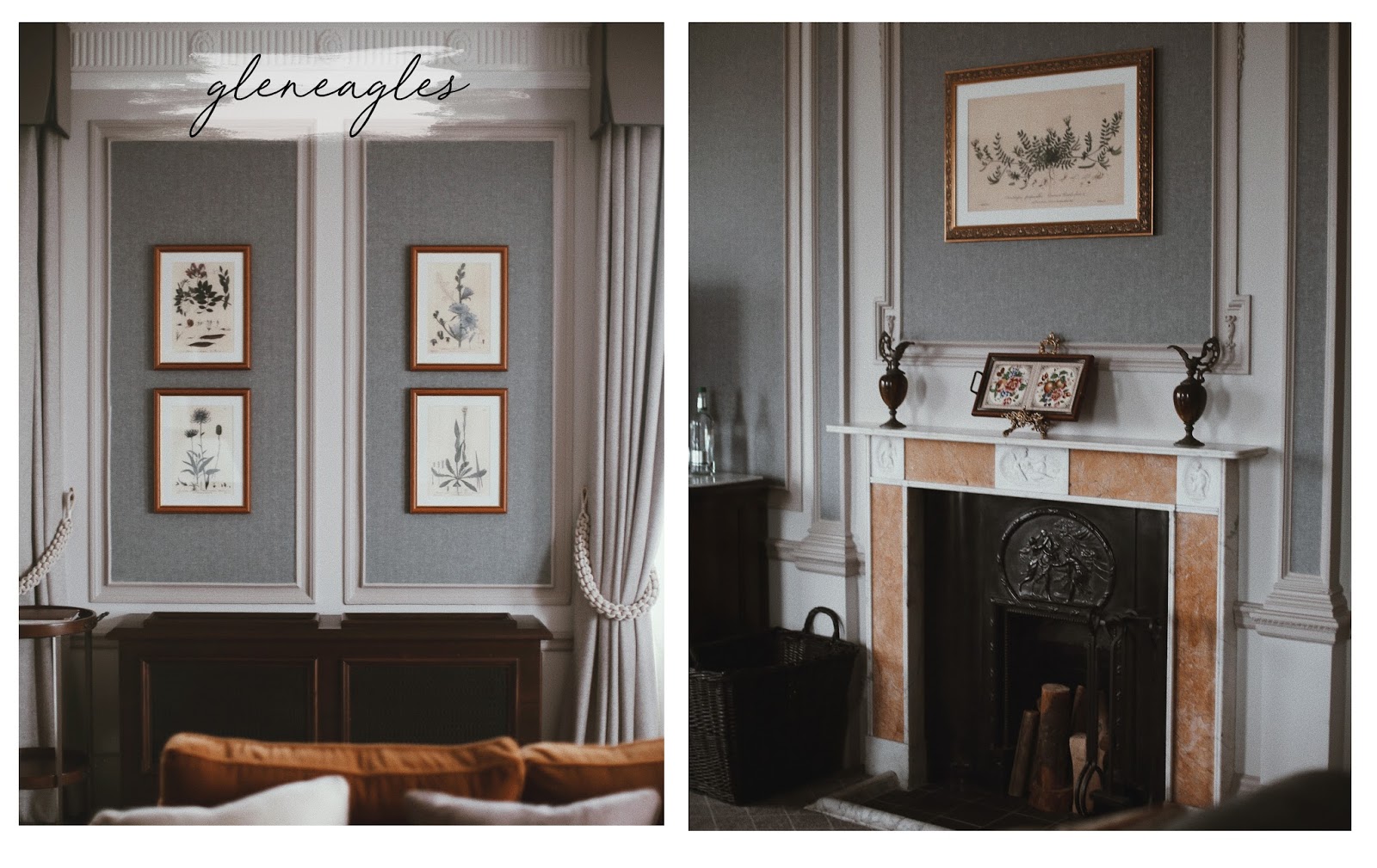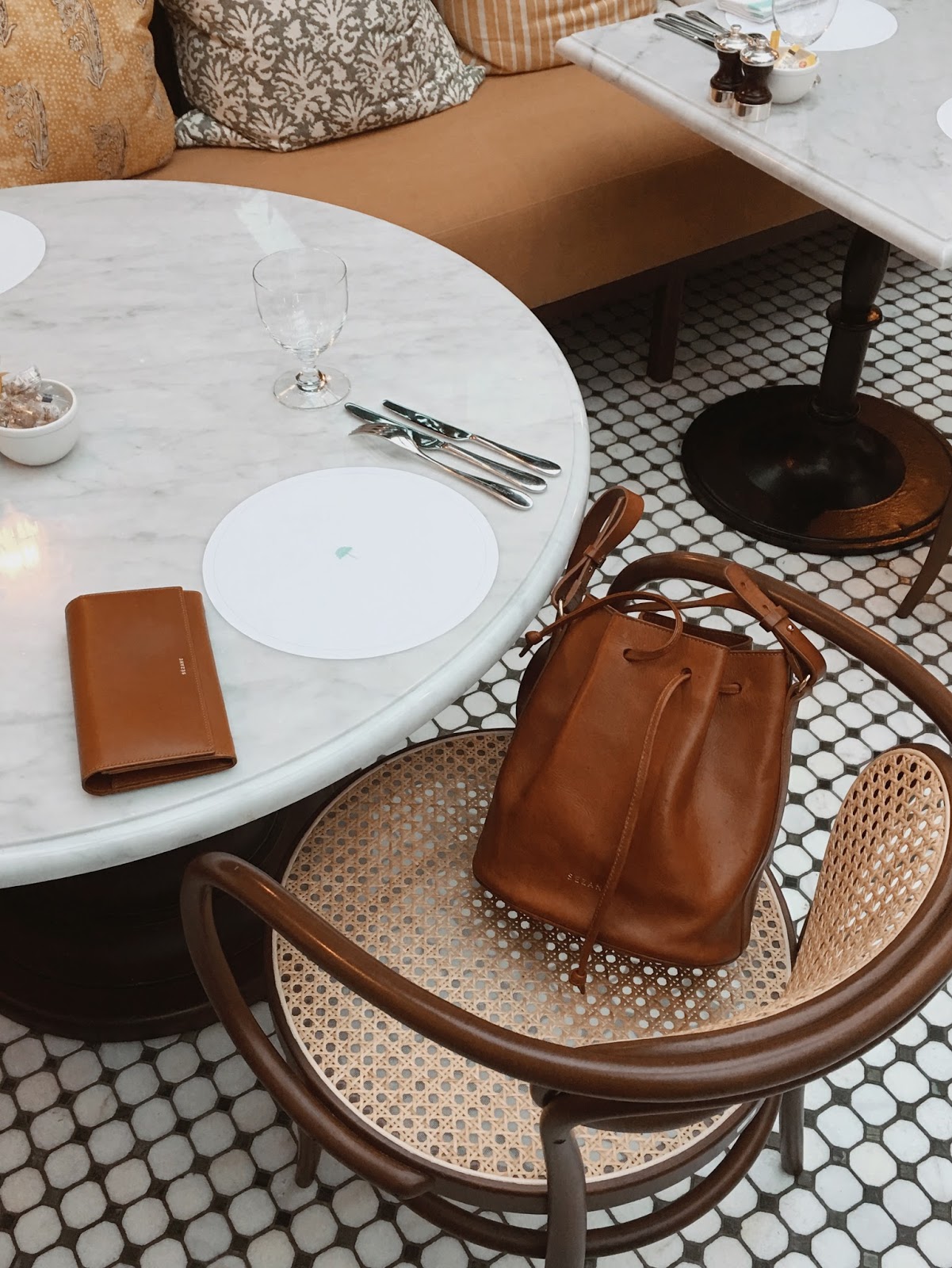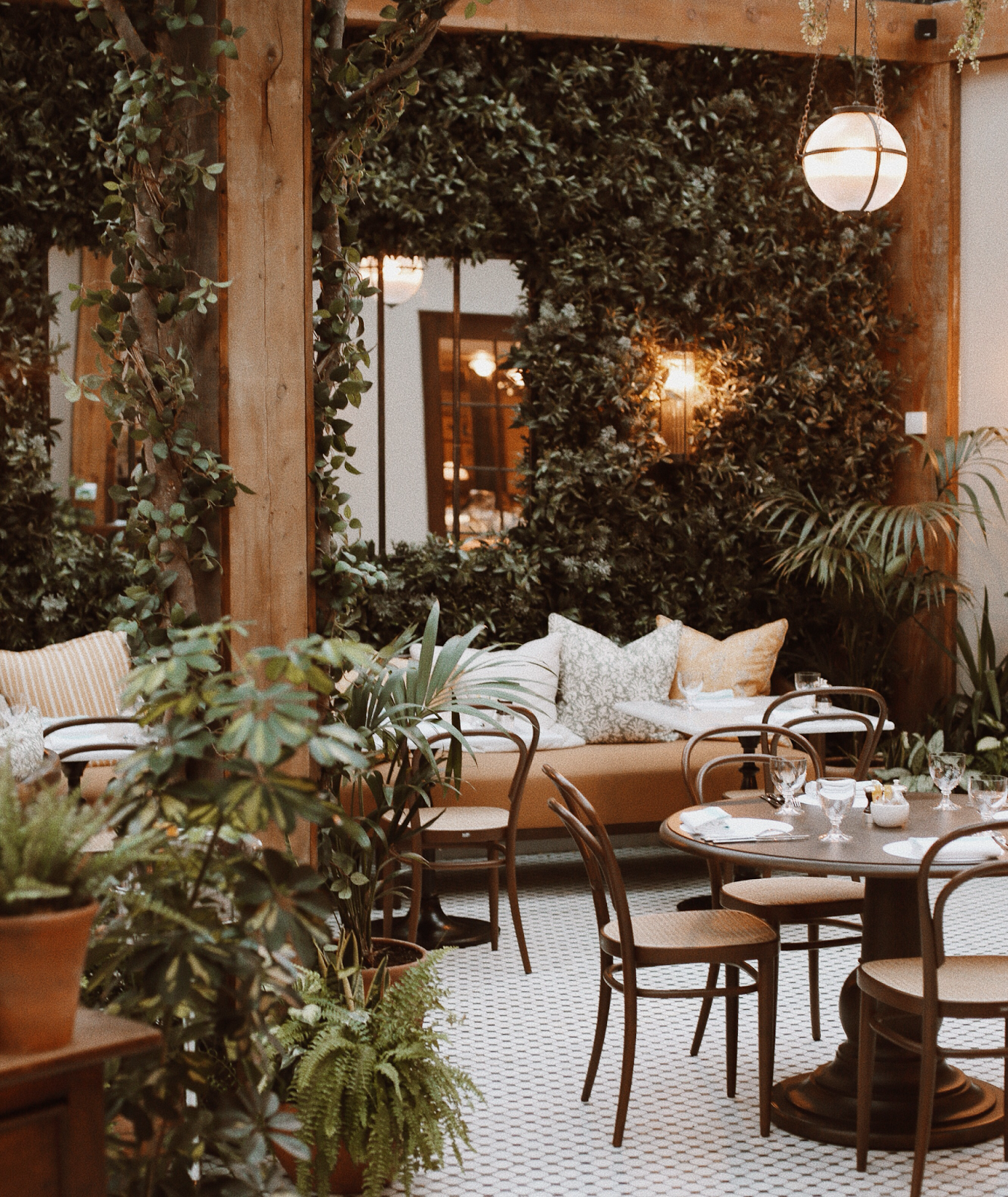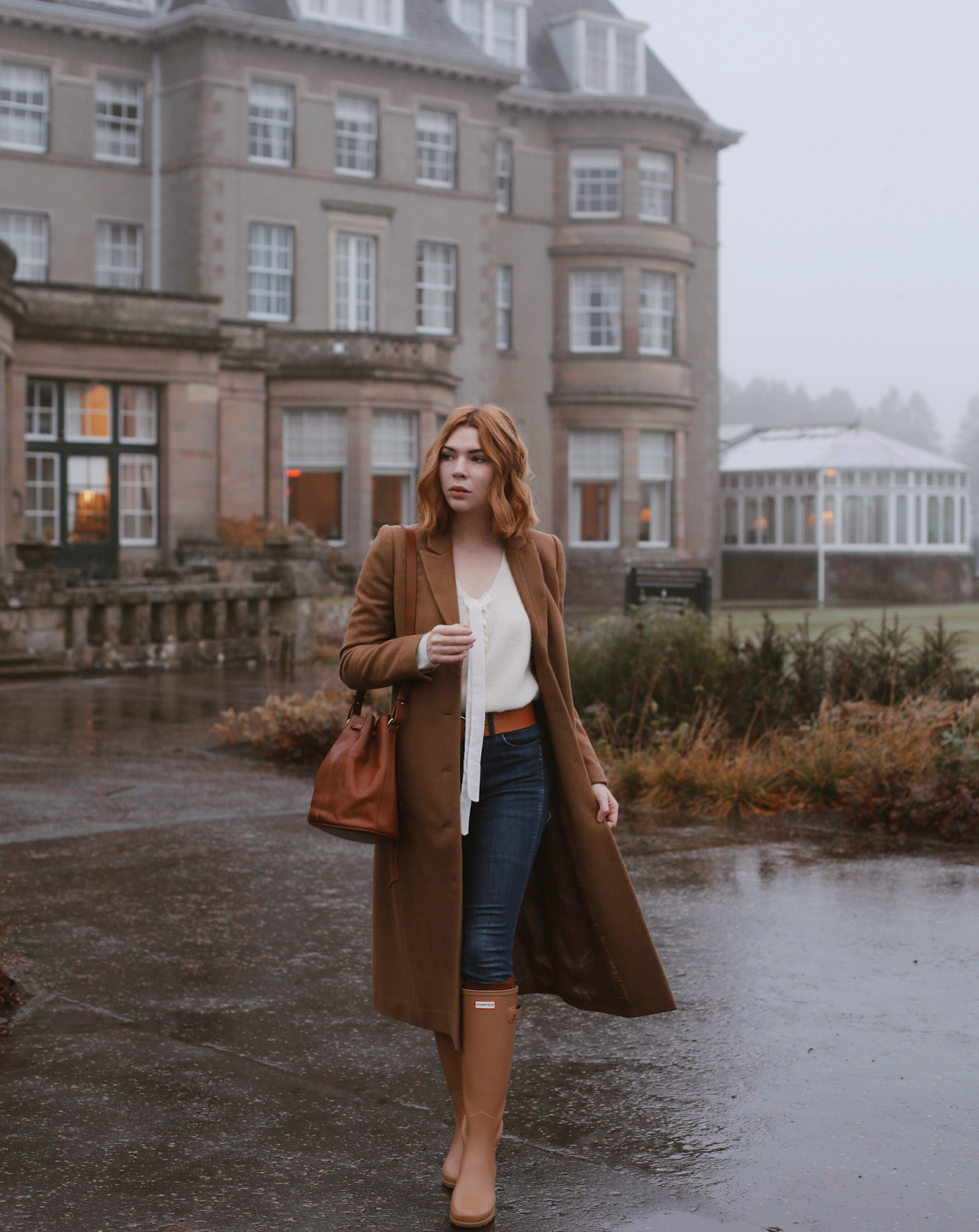 madewell jeans / the frilly coat / sezane knit / hunter boots / sezane purse
The next morning we slept in a bit, grabbed some coffee and pastries, and headed outside in the light drizzle to shoot some photos. Since this was our first full day on the property, we really got to experience everything. The hedge maze, endless hallways, and cozy corners in every space. Just being able to curl up in a cozy armchair in the lobby, or grabbing a snack from the little coffee shop – everything was so relaxing.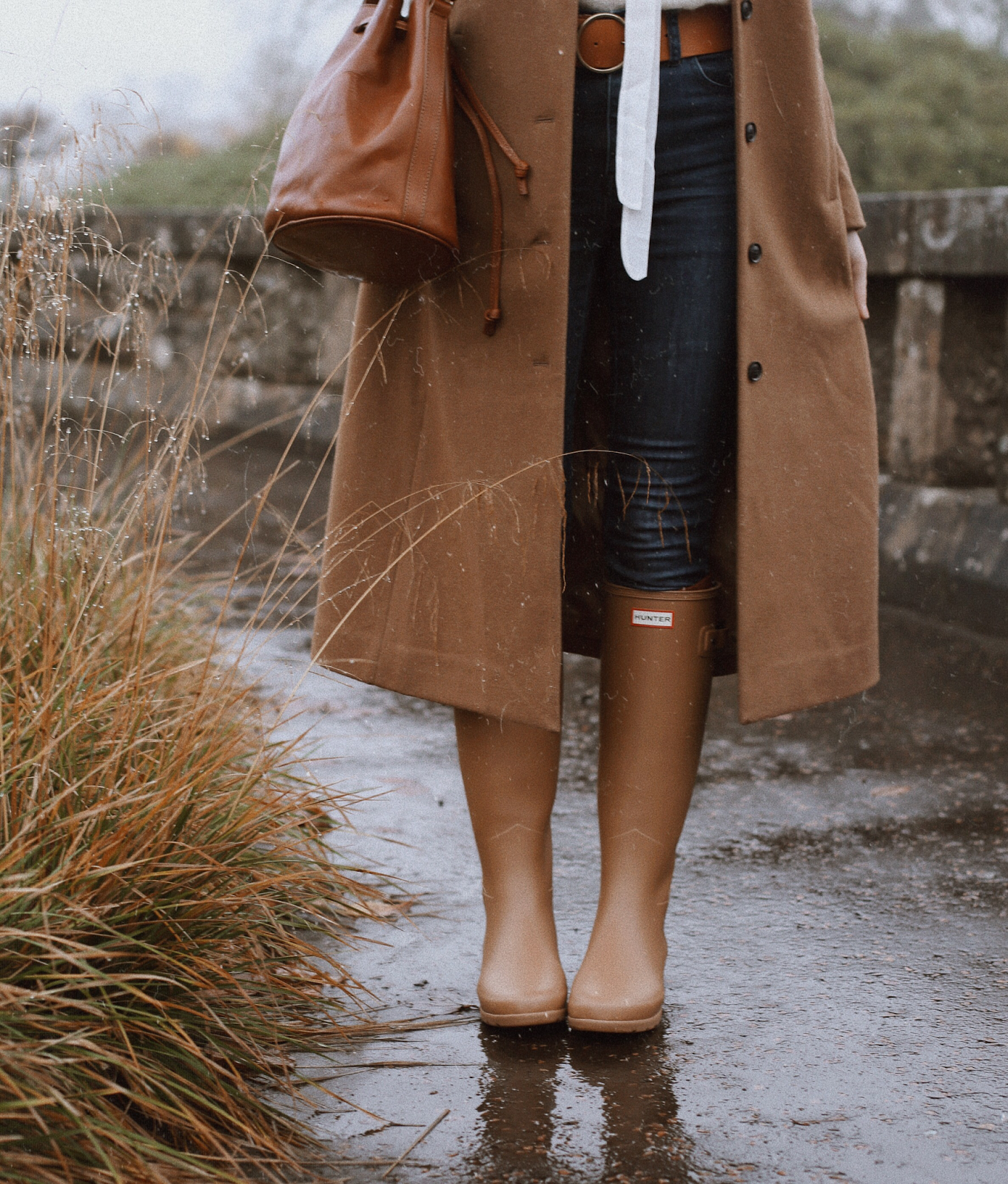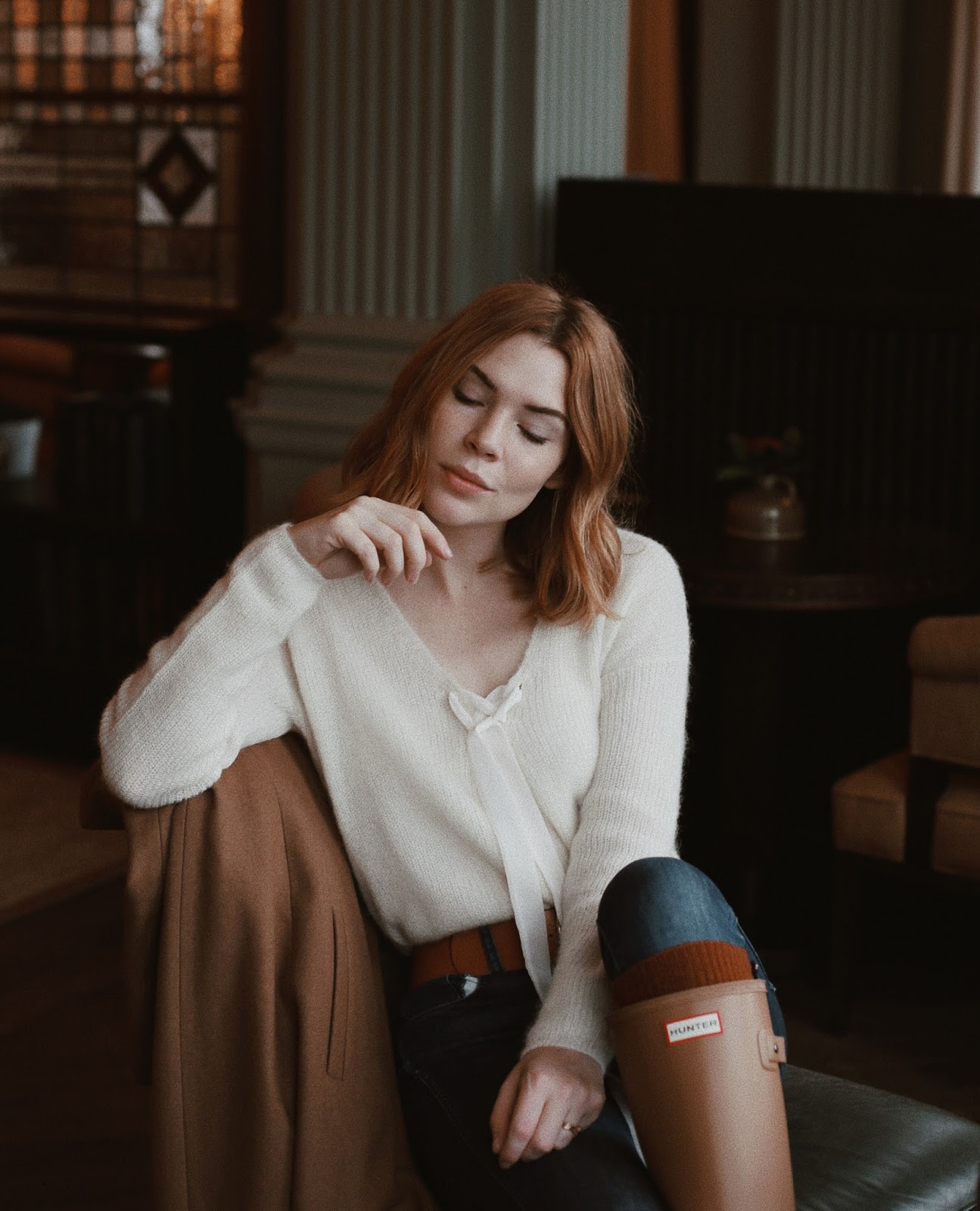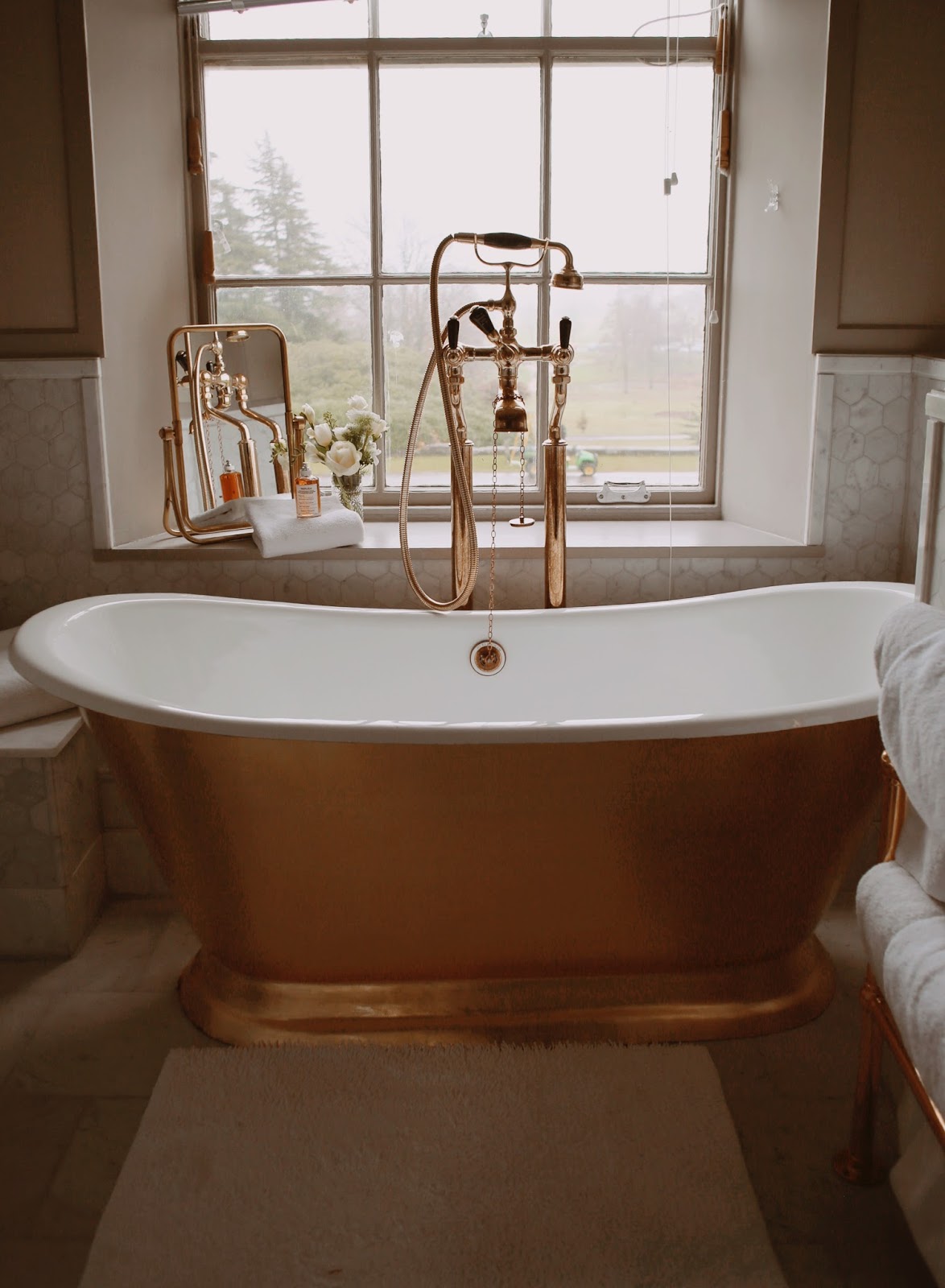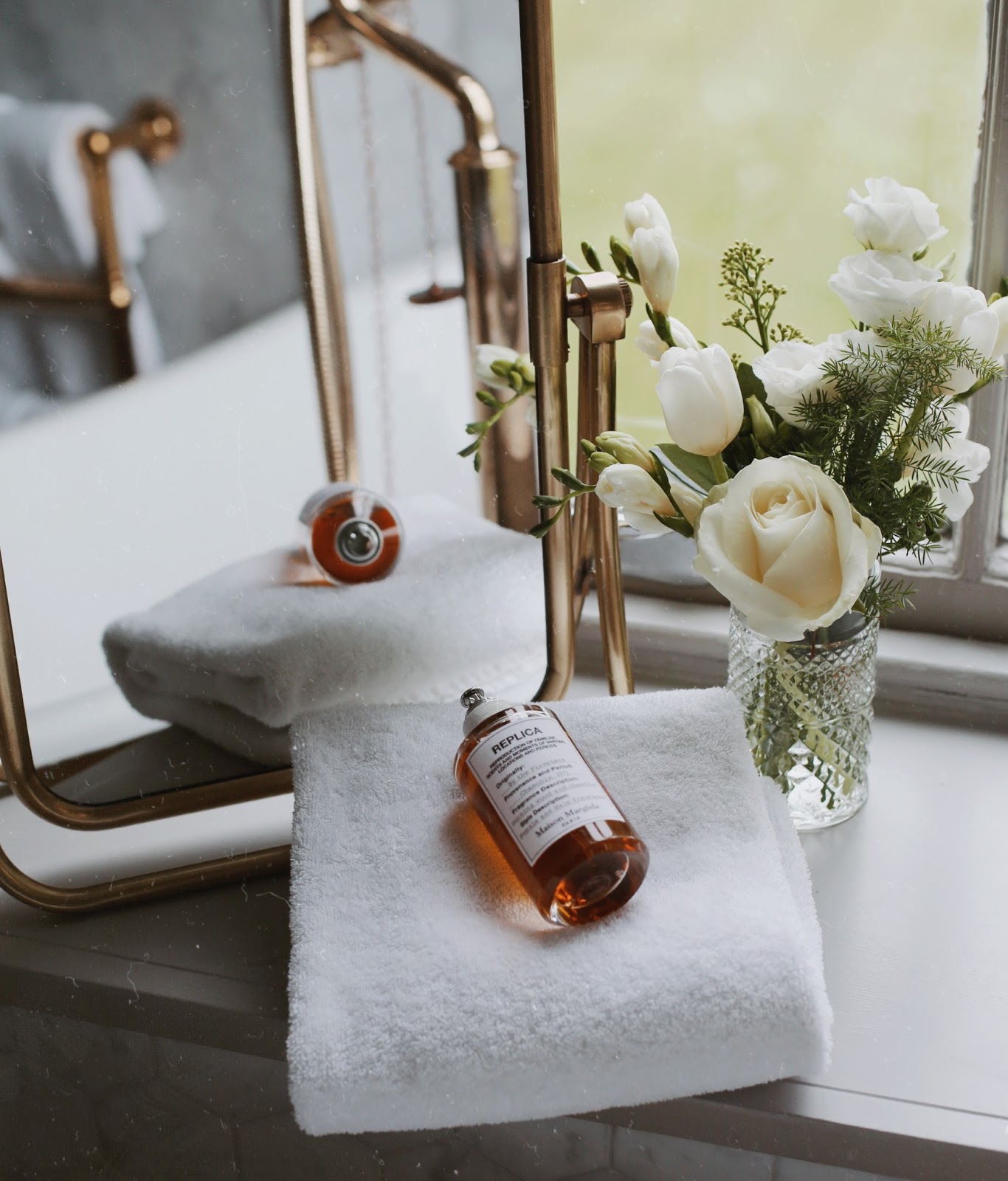 I made time for a bath in this GOLD bathtub in our room, and luxuriated in every moment of it. I have to admit that being born and raised in California means that I can be a baby when it comes to cold weather. I love it, but I can definitely wimp out faster than anyone. So sinking into hot water and bubbles was high on my list of things to do after exploring the grounds.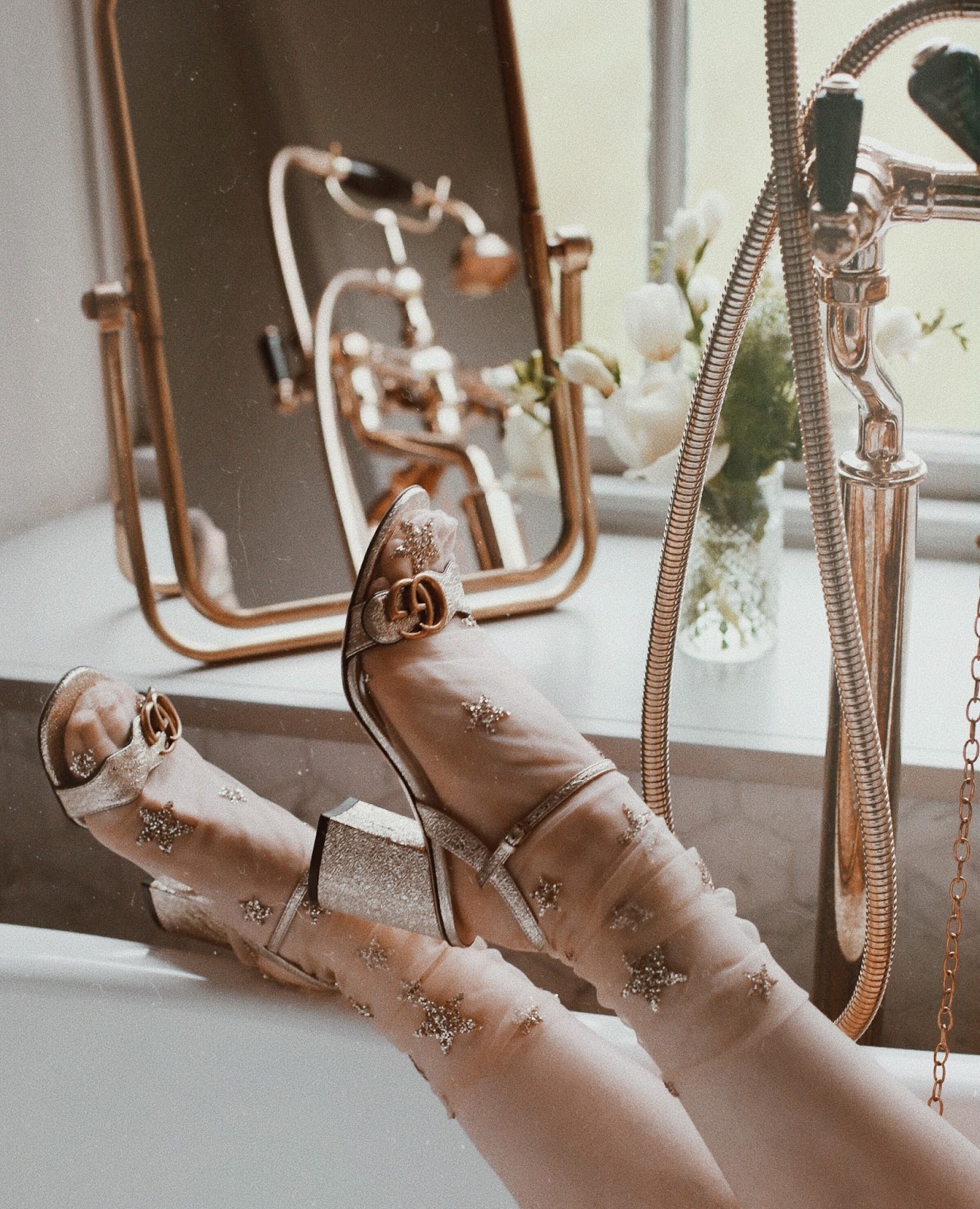 gold gucci heels / sparkle socks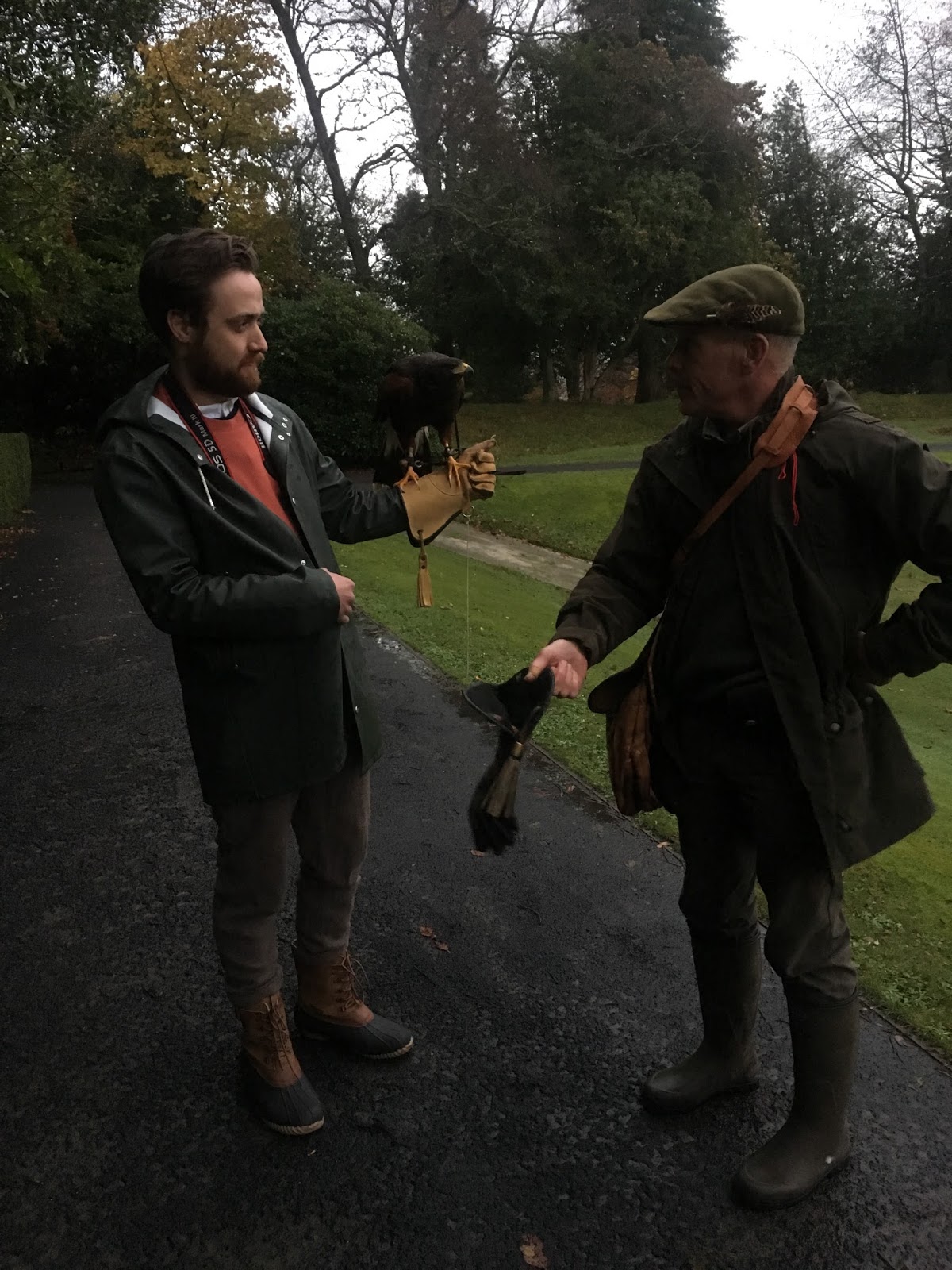 In the afternoon, Eric and I were lucky enough to take a one-on-one falconry class with their resident expert. I wish I had taken more photos, but truth be told, I was just too into the class to be buried in my phone or camera. We both had the chance to work with a few of the birds, and have them land on us (scary at first, but so cool to learn how they hunt). It felt like something out of a movie, putting my arm up to have this striking bird land lightly on me – and while I wasn't very graceful at it, Eric was. Be still my heart, my man looks good with a hawk on his arm.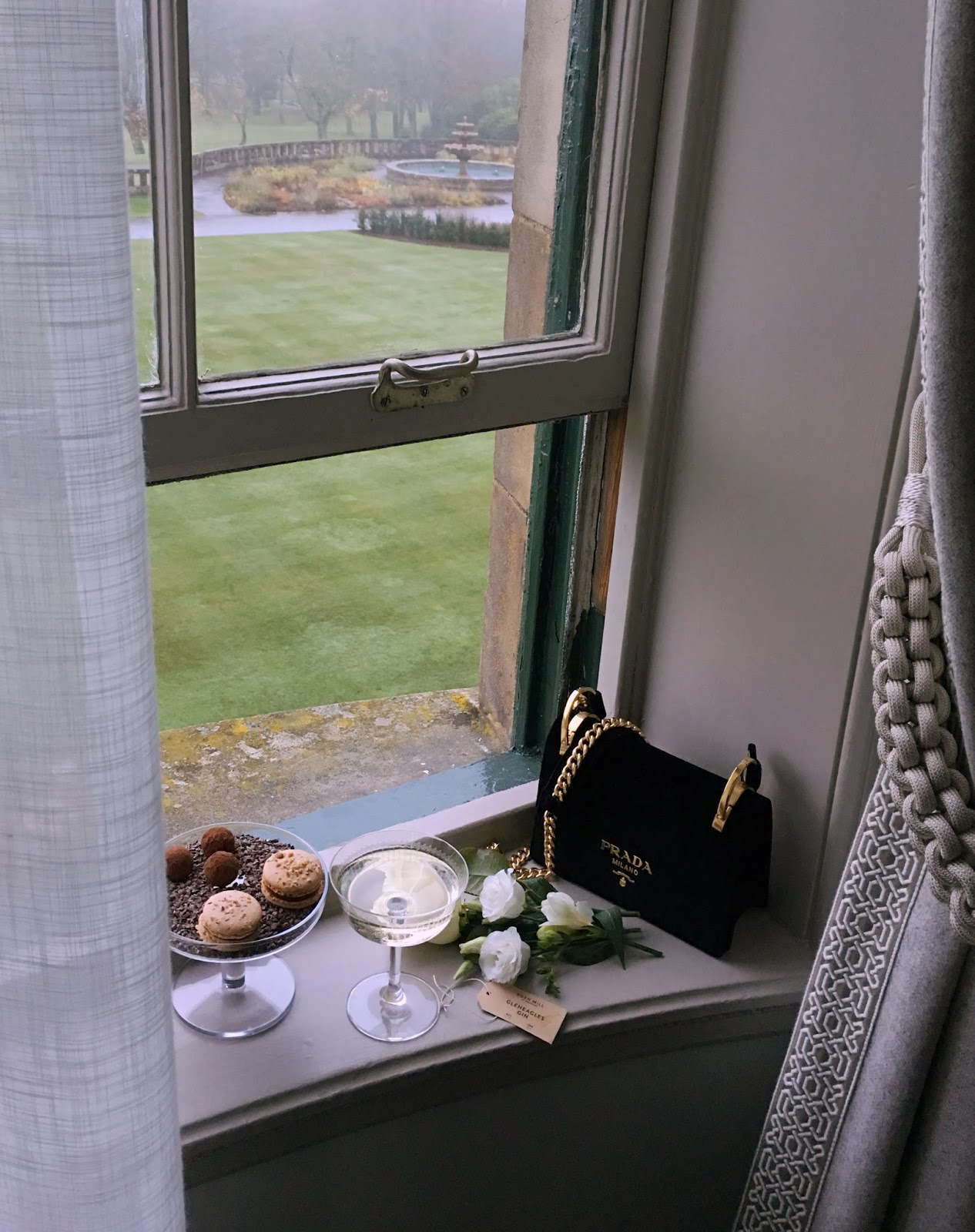 After our falconry class, I had the chance to visit the salon on the premises (remember when I said they have everything? they really do) for a bit of sprucing up. A blowout and a manicure were in order at Bob&Cloche to be followed by drinks and dinner. We got to have cocktails at their newest bar – the American Bar. Inspired by the glam of the roaring 20s, this was my favorite space in the whole hotel. It was dim and chic, covered in chandeliers, and oh-so romantic. I don't have photos of it, simply because Eric and I really treated our last night at Gleneagles as a true date night – and I gotta say – it was perfect.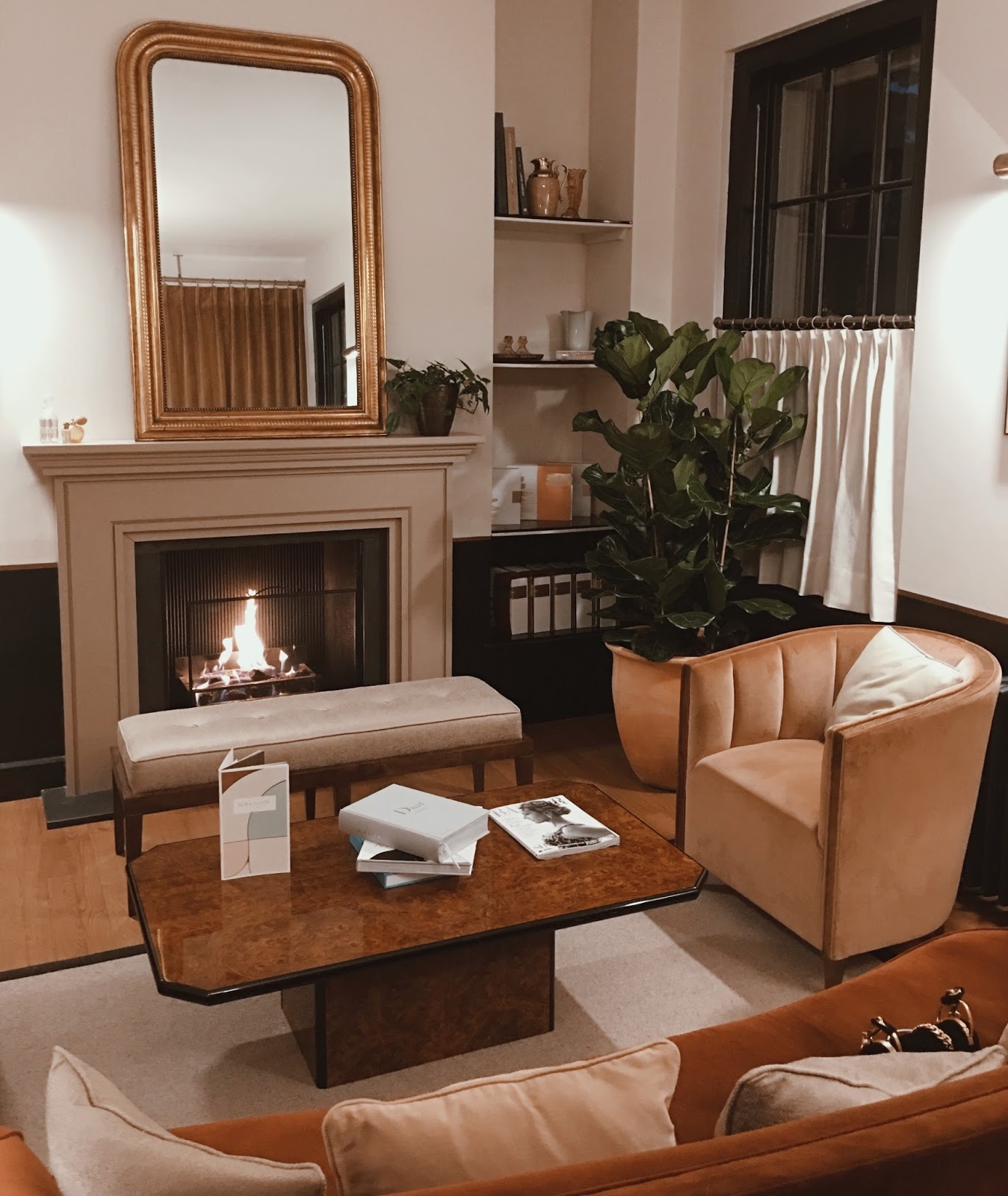 I know this blog post is starting to read like a love letter to a hotel, but I genuinely loved where we stayed so much. So often we spend our trips running all over a city, and really only coming back to our hotel to crash. We did things differently this time, and it was legitimately relaxing in a way that I know I needed. Delicious food, cocktails, pampering, and some light exploration. What more could a girl ask for?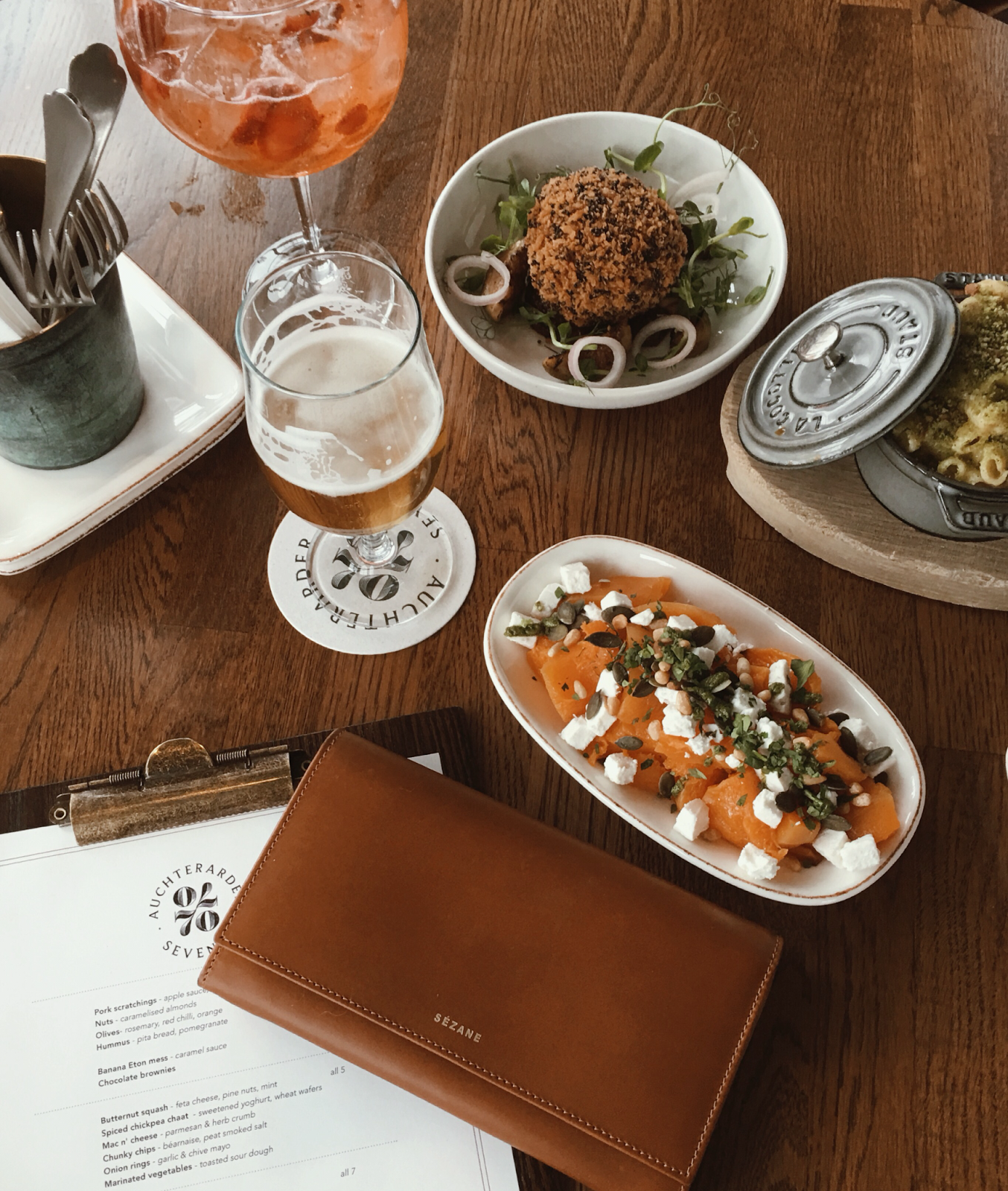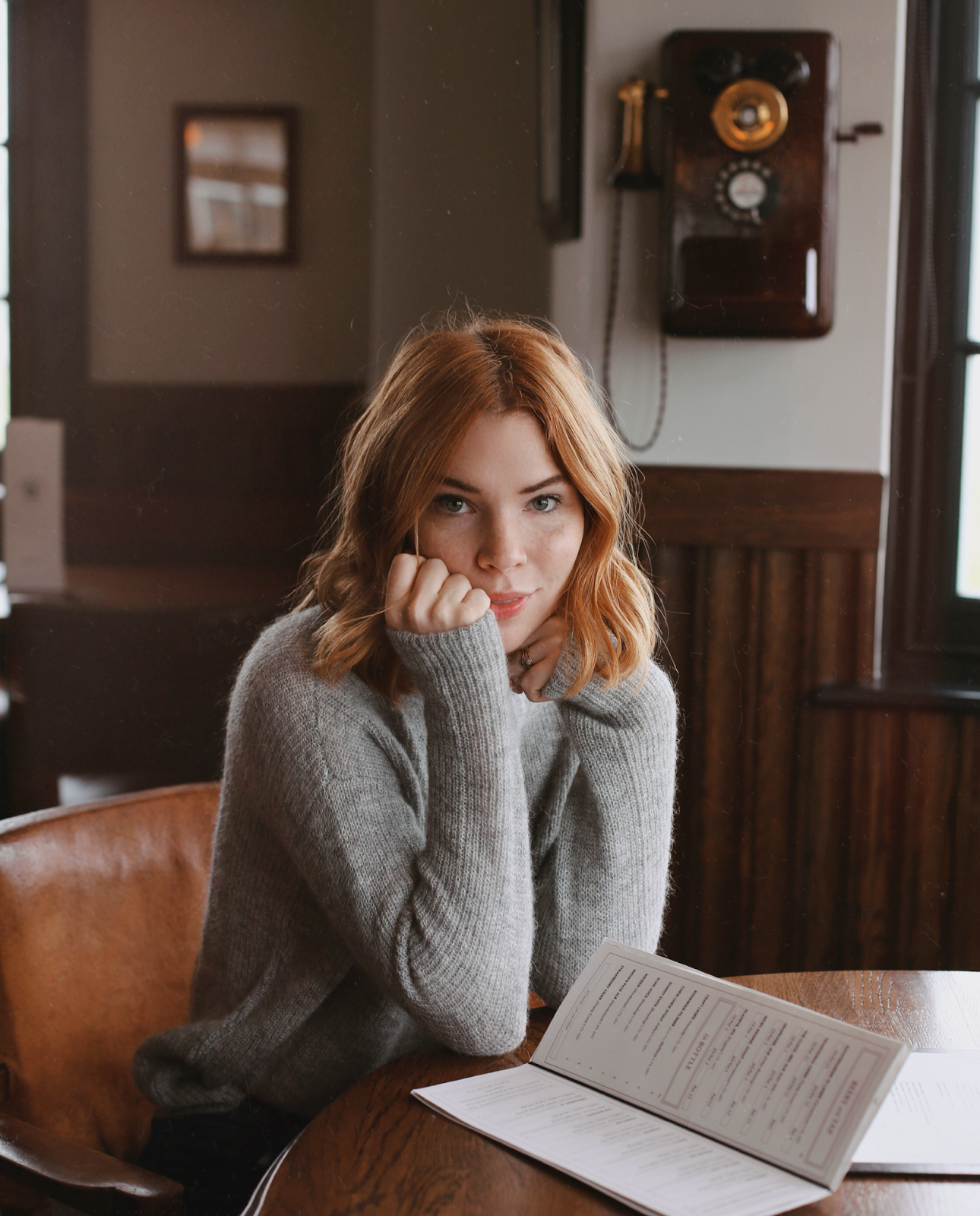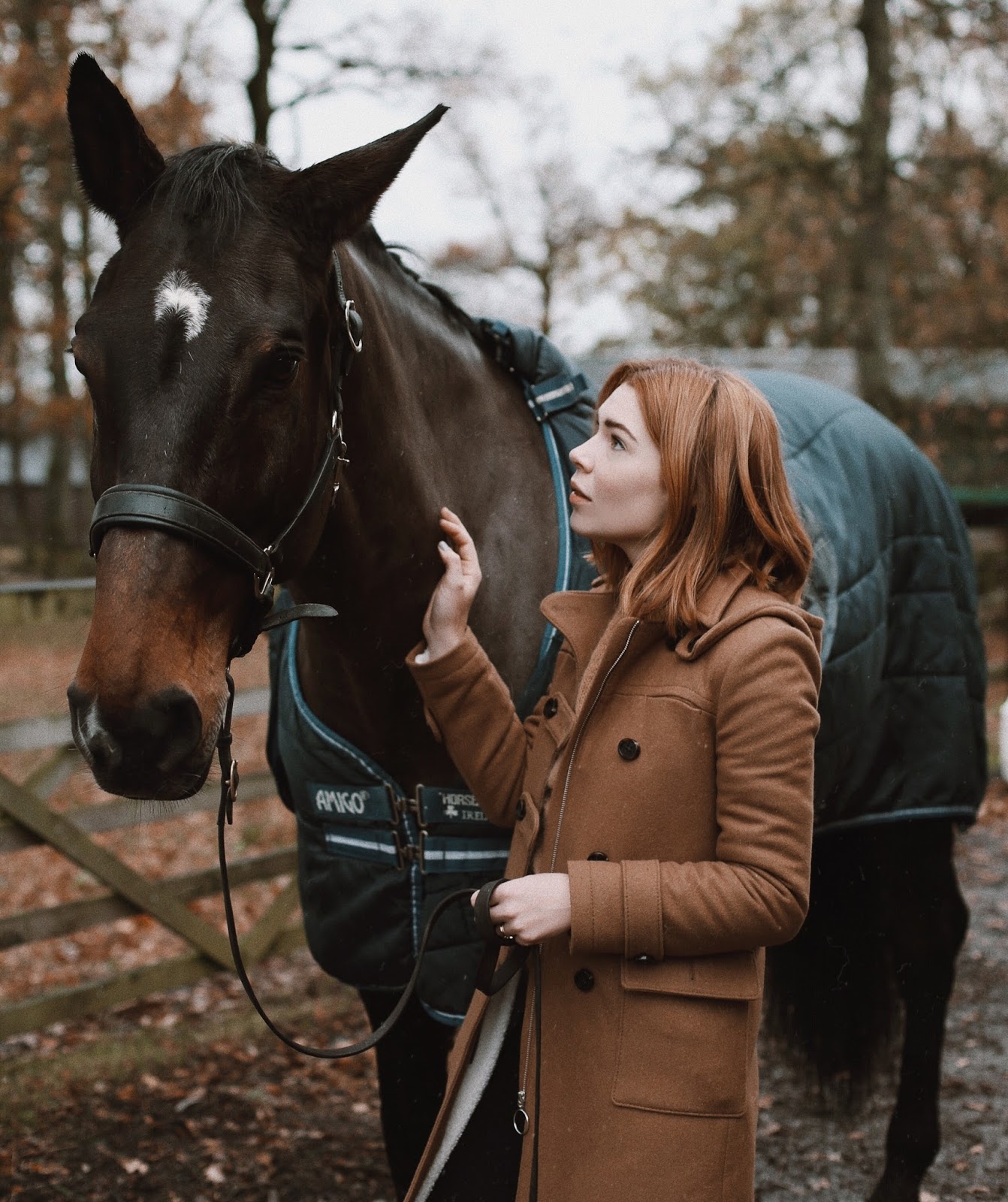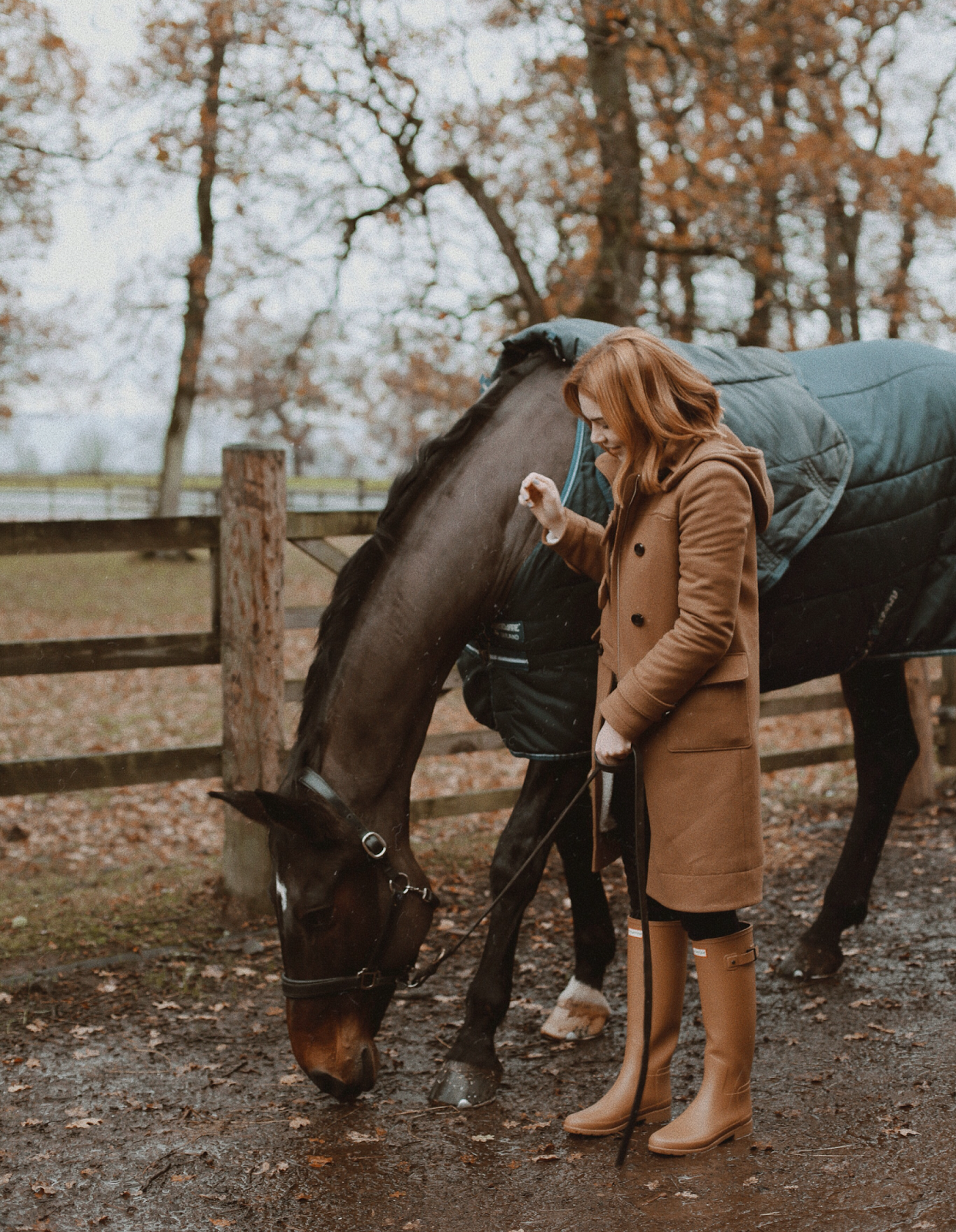 the frilly coat / hunter boots
The biggest thing that I wanted to do while on the grounds was to visit with some of their horses. We got to go into the stables and meet this gorgeous horse, Brenda. And while she was more interested in the mints in my pockets (I think she legit wanted to chew through my coat to get at them), it was really lovely getting to spend time with her and to see the other horses. I'm planning on riding the next time I visit for sure – but on this trip there wasn't time.
All too soon we had to check out and head out to our next destination, Fort Augustus on the shore of Loch Ness. We made the scenic drive through the Highlands and Glen Coe per your suggestions (thanks guys) and the drive was breathtaking.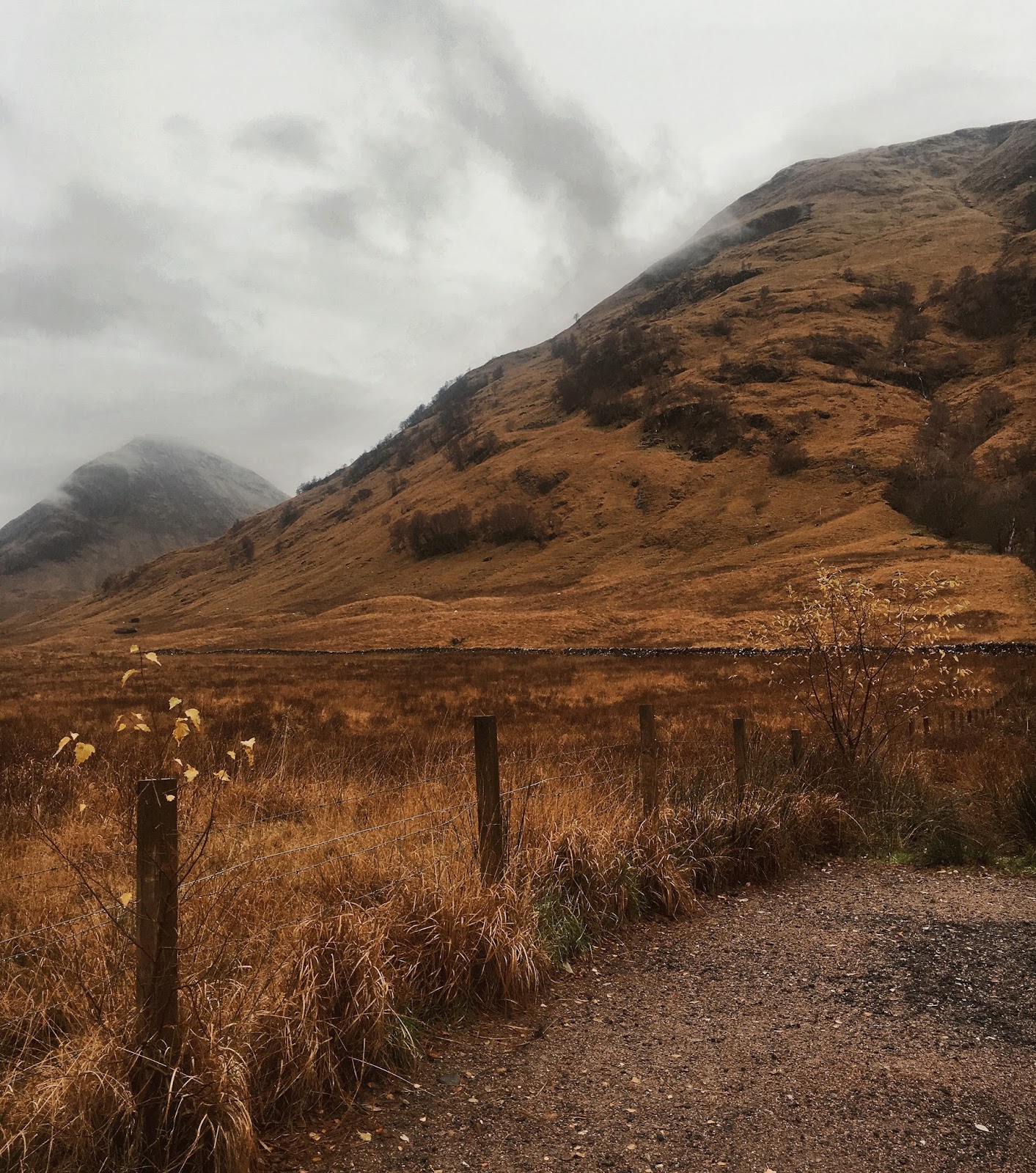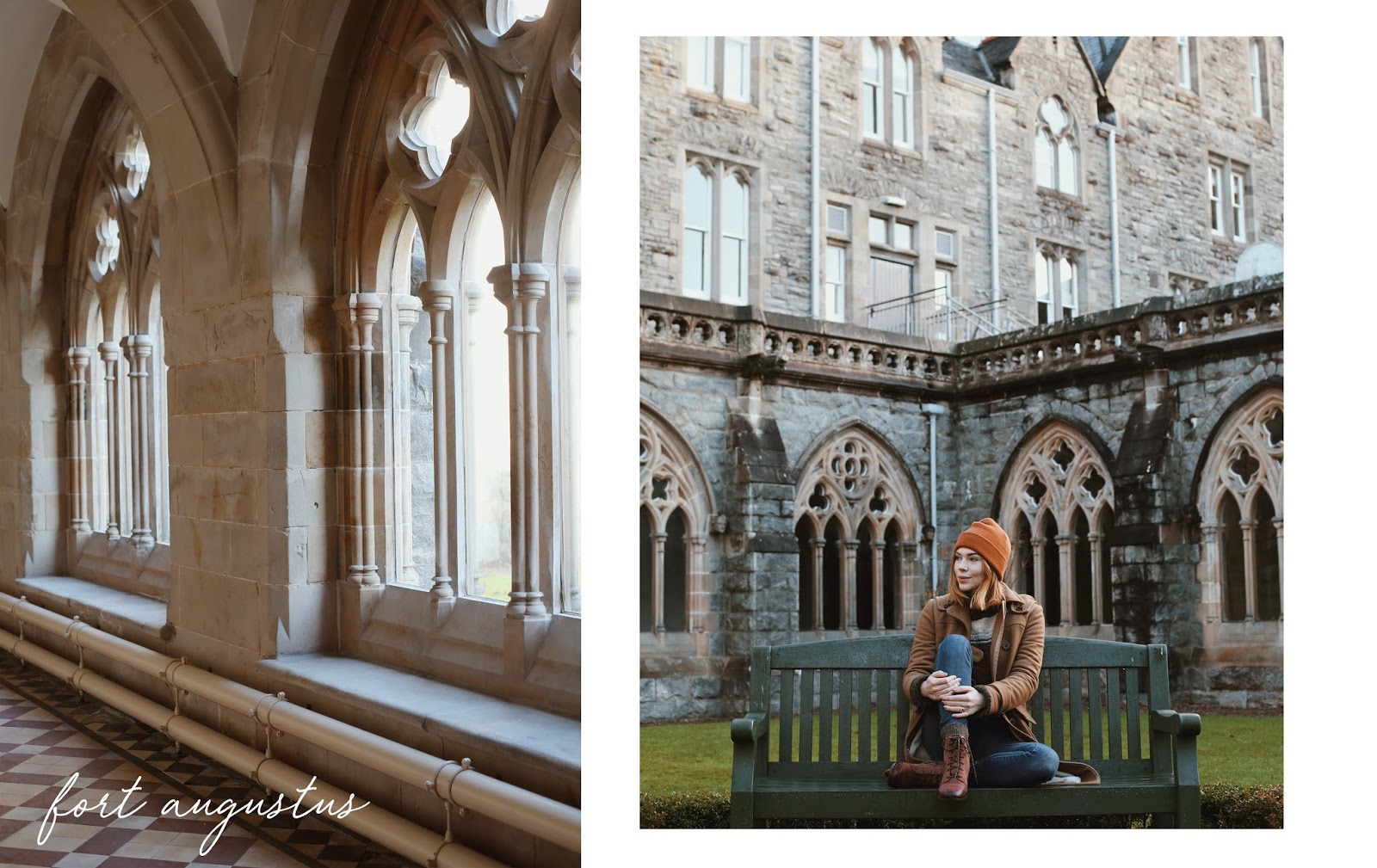 We had found this amazing AirBnb – a room in a former Abbey that looked like a dead ringer for Hogwarts. We checked in late, got some sleep, and the next morning drove along Loch Ness up to Inverness. I had a chance to break in my Teva waterproof boots since the ground was quite damp. We visited Urquhart castle (so worth it) and had lunch up north in Inverness. It wasn't until midday that we realized back home it was Thanksgiving. We skipped the turkey and had curry for dinner instead.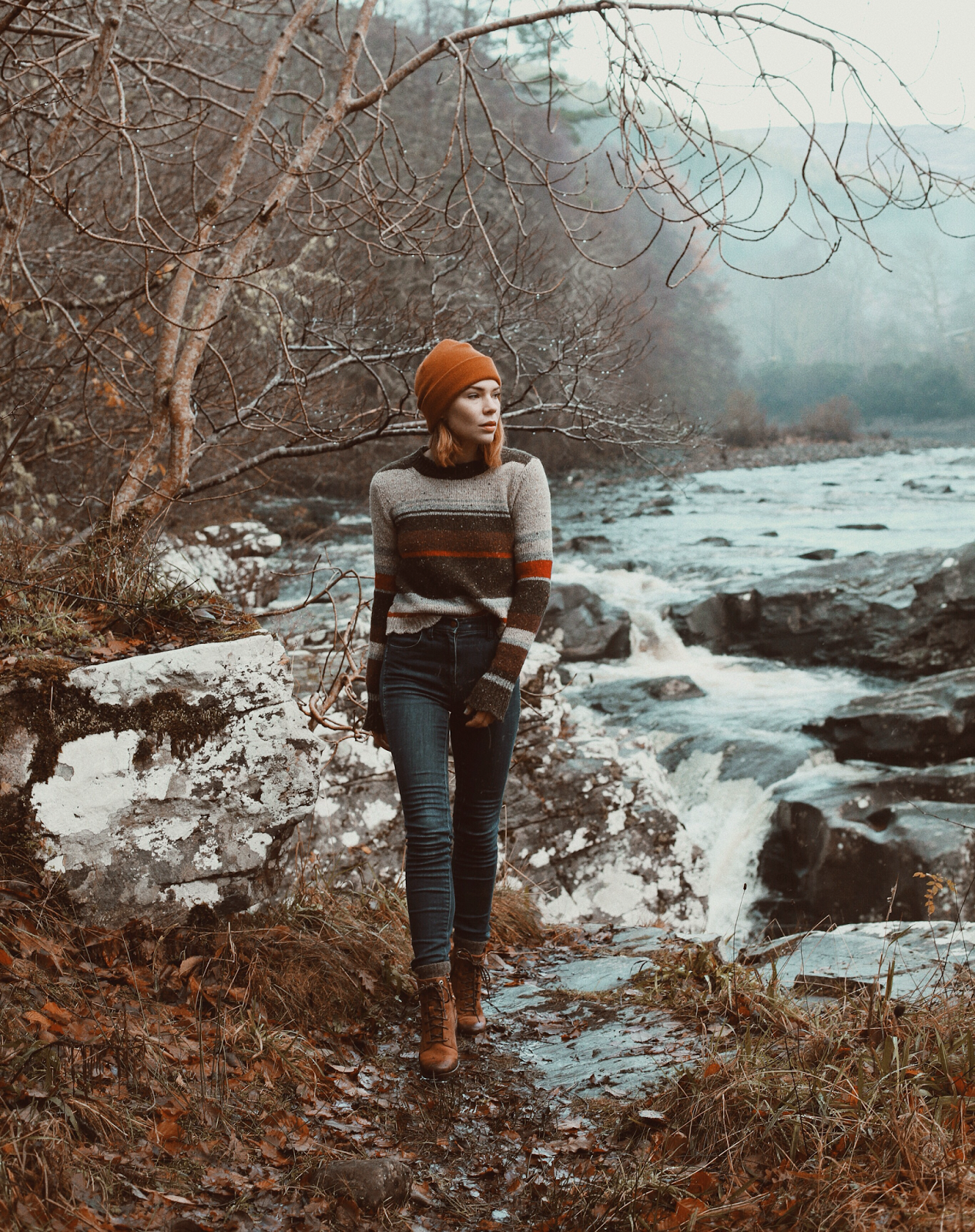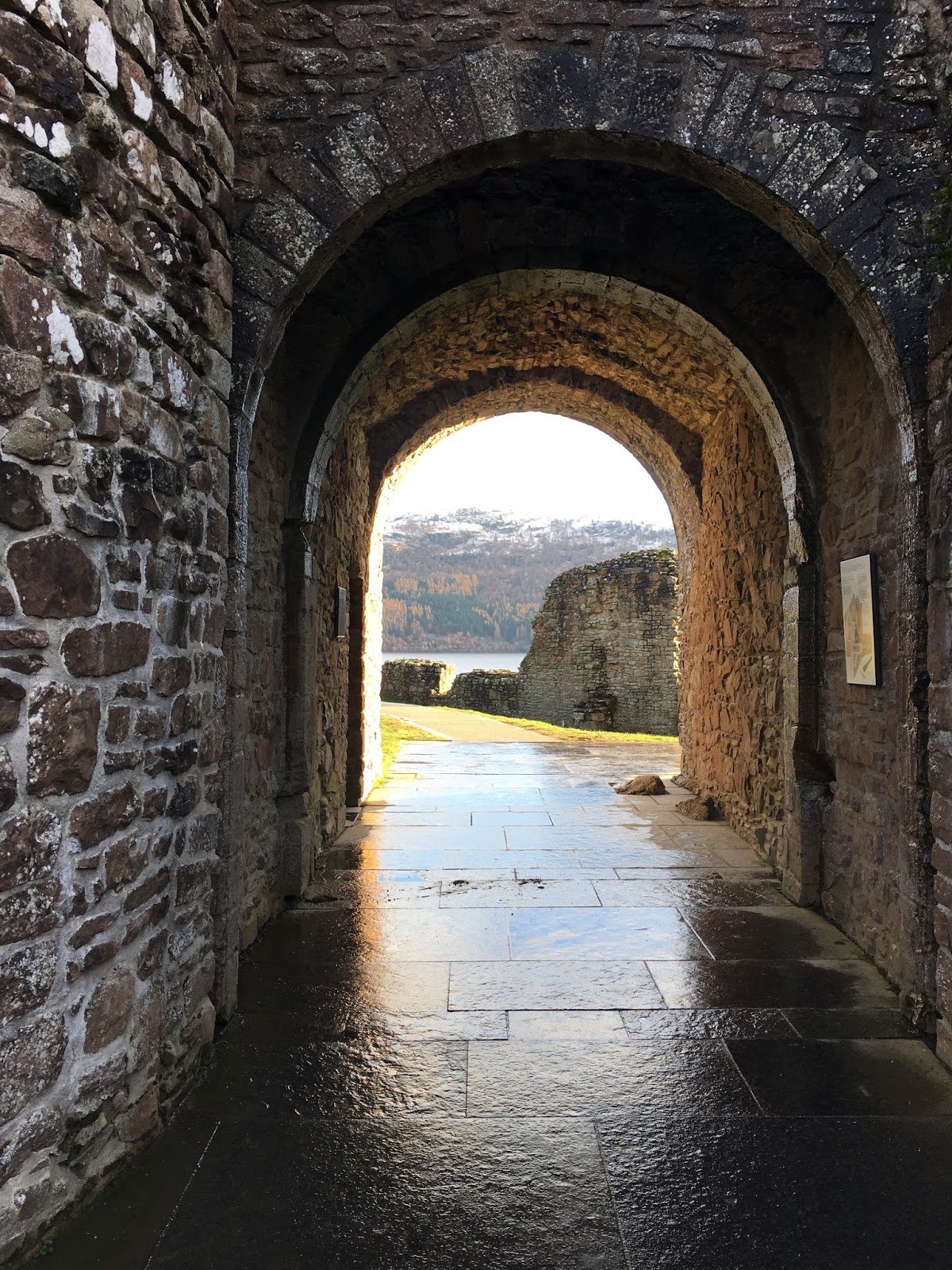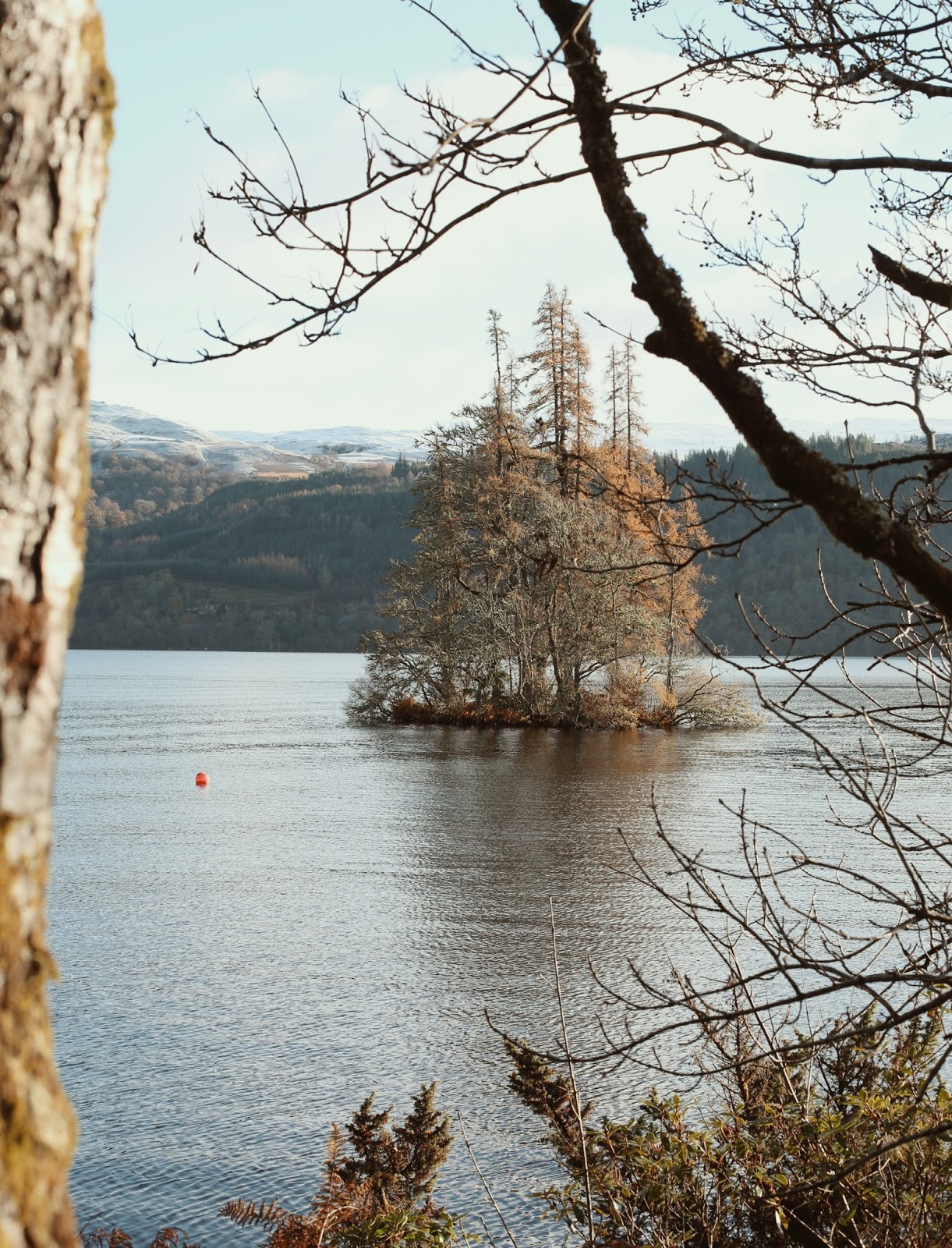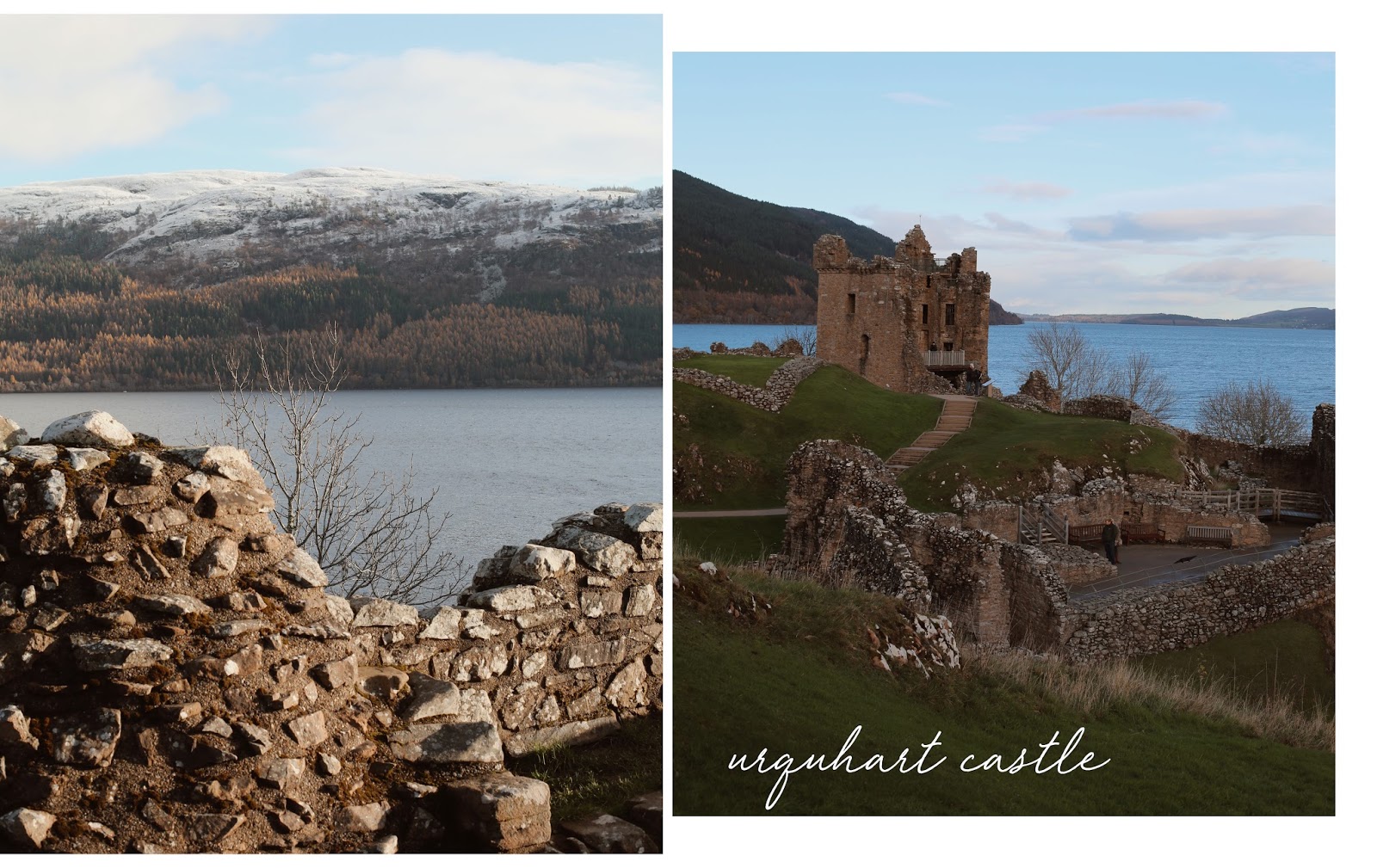 The next part of our trip was something we had left purposely unplanned. On road trips, it's hard to plan every single day in advance. You ever know how long a drive will actually be, if you want to make stops, or really where exactly you want to go. You have to leave some things to chance, and we did.
We woke up early to drive south, and decided on stopping in Edinburgh. I had so many friends and family members recommend it – and with the amount of HP themed stops, I had to visit. When the sun rose on our drive we got to see the light dusting of snow that had happened the night before. I can honestly say it was one of the most gorgeous drives I've ever been on.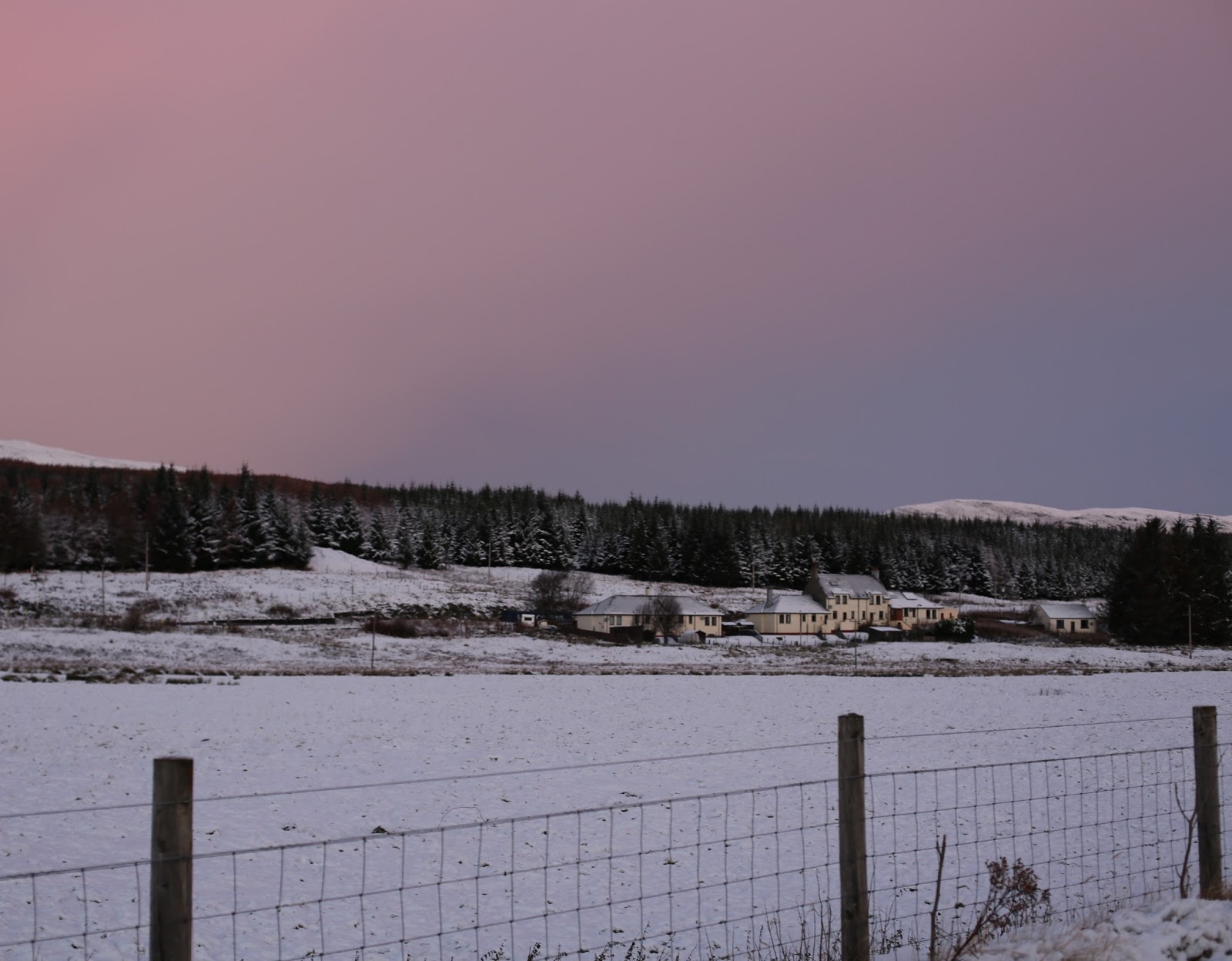 Once we got into Edinburgh, we started hitting up the destinations I had saved in a little note on my phone. Greyfriars Cemetery to see the grave that inspired JK Rowling (a one Thomas Riddel is buried here), the street that inspired Diagon Alley (Victoria St), and even the cafe that she penned the Sorcerer's Stone at.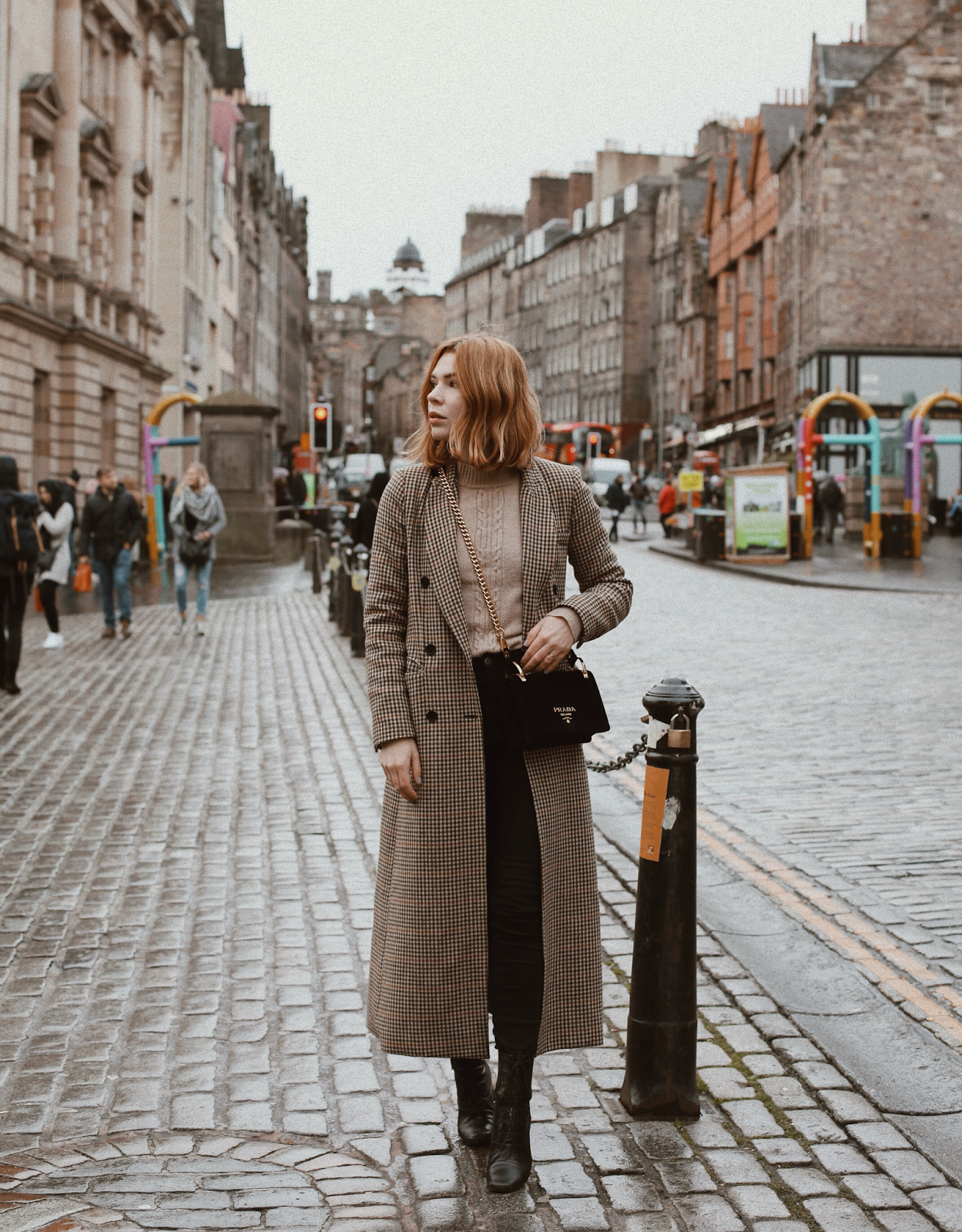 reformation coat / prada purse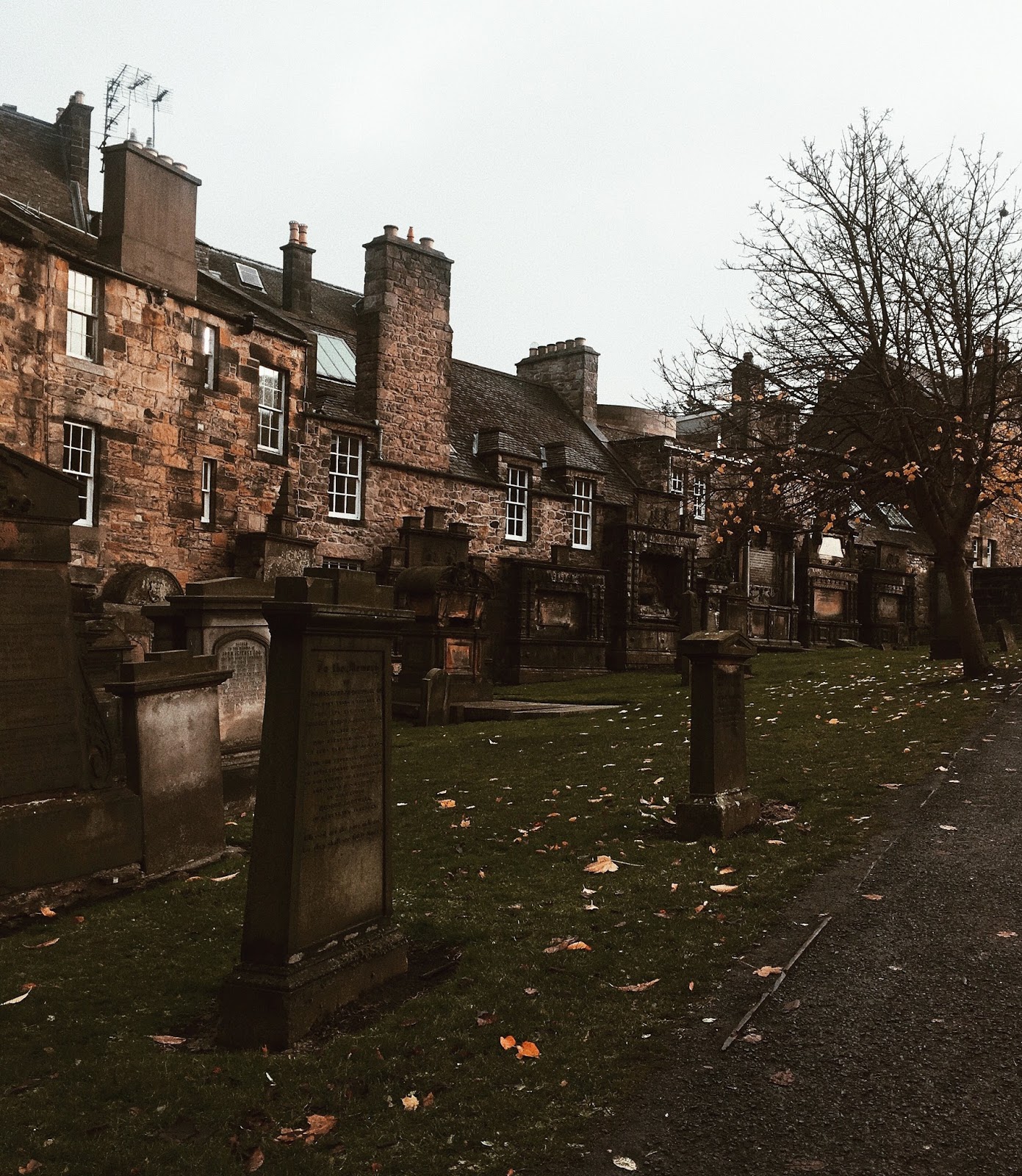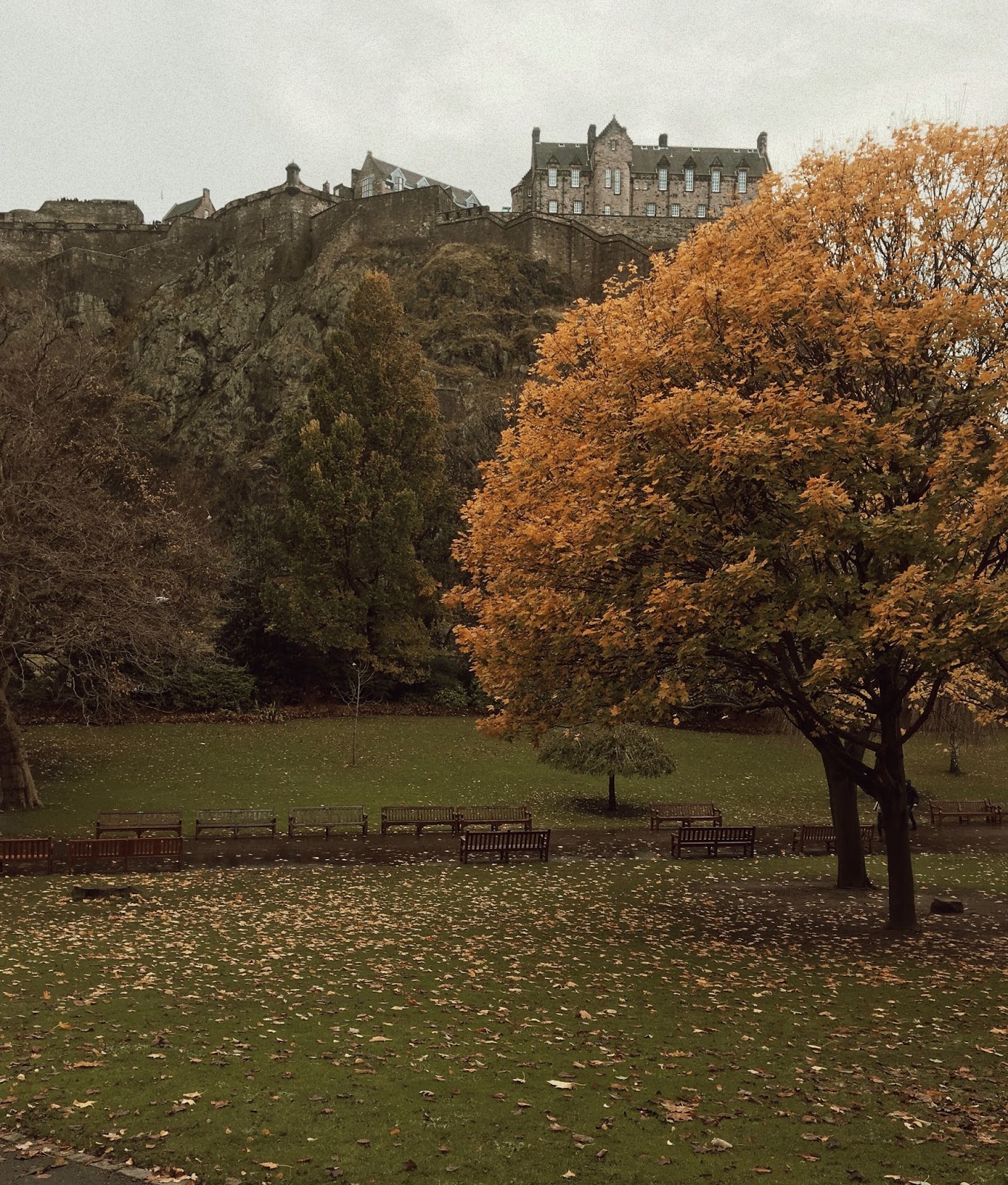 We hadn't planned on staying in Edinburgh, but ended up adding a second night. There was just so much to see. On our second day we visited Edinburgh Castle (major Hogwarts vibes) and did an audio tour. Maybe it's because I love podcasts and audiobooks so much, but I really love audio tours. You can go at your own pace and really feel like you're getting a private tour.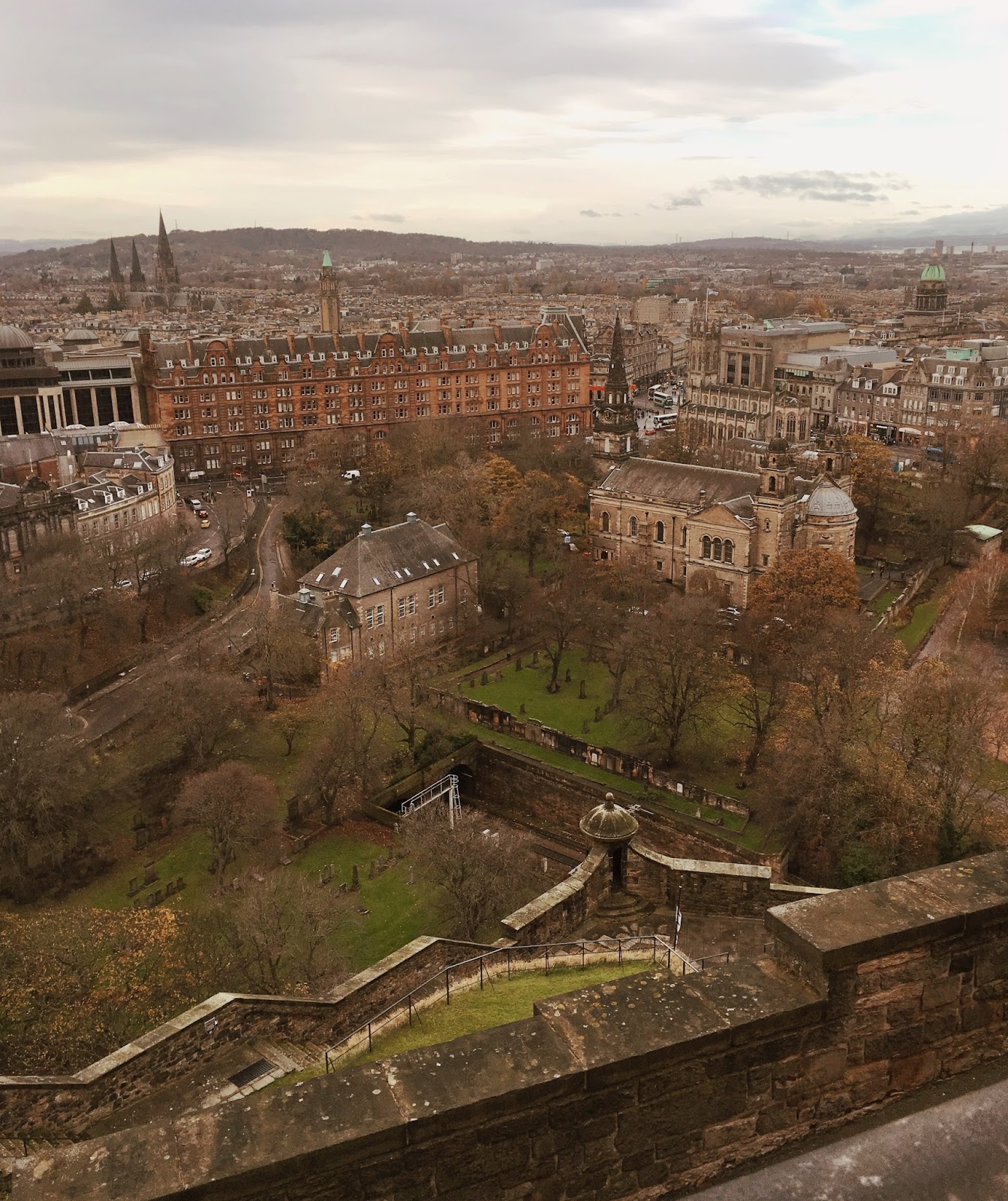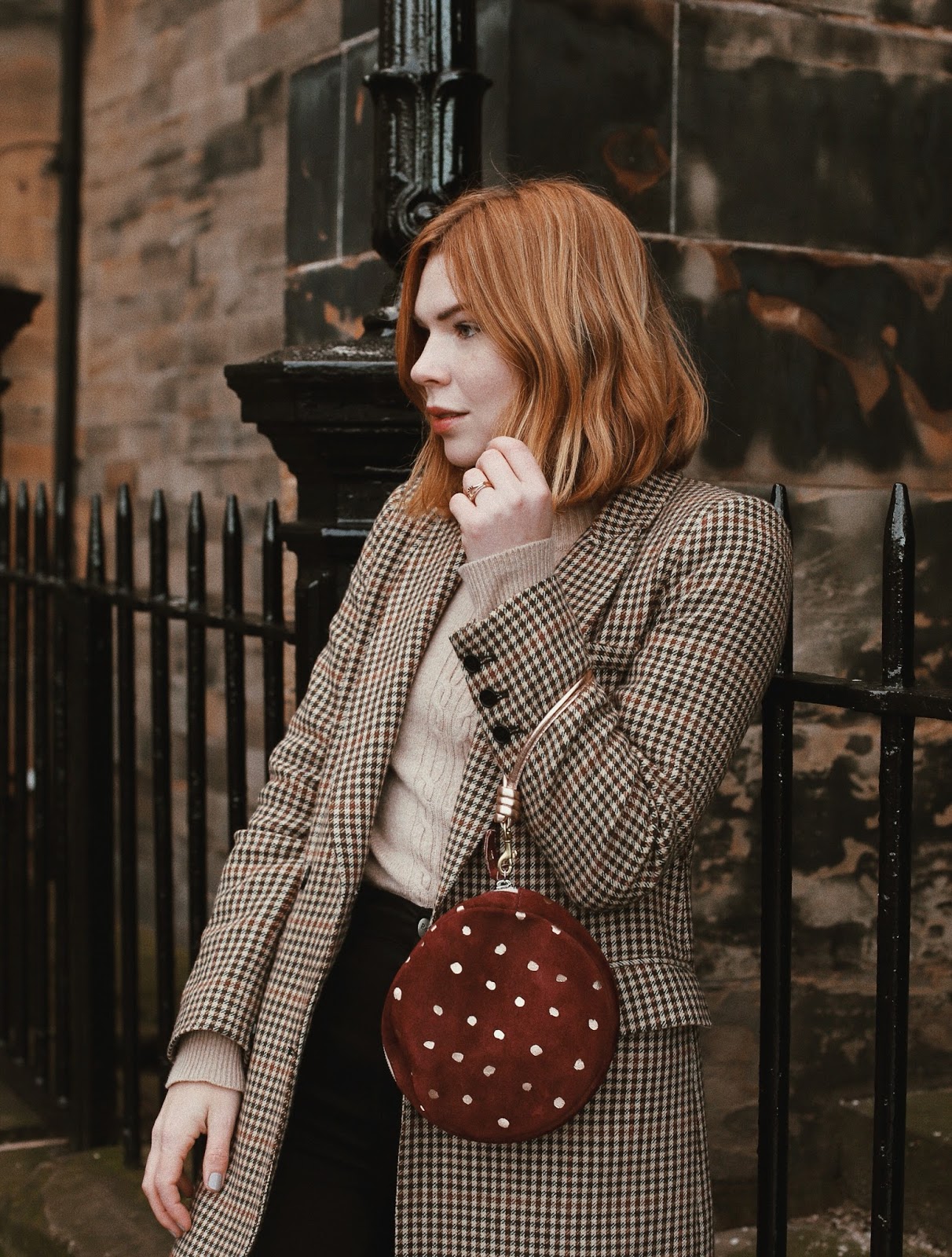 We had lunch at this spot in a park called The Gardener's Cottage (it was heaven) and climbed up to see Calton Hill. We ended our day with another curry (this time at Dishoom, one of my favorite restaurants out of London) and an early bed time. We had to get up early to make the drive south into London (with a stop at the HP studio tour), and since it's about a 7 hour drive, this really was our last full day on our trip.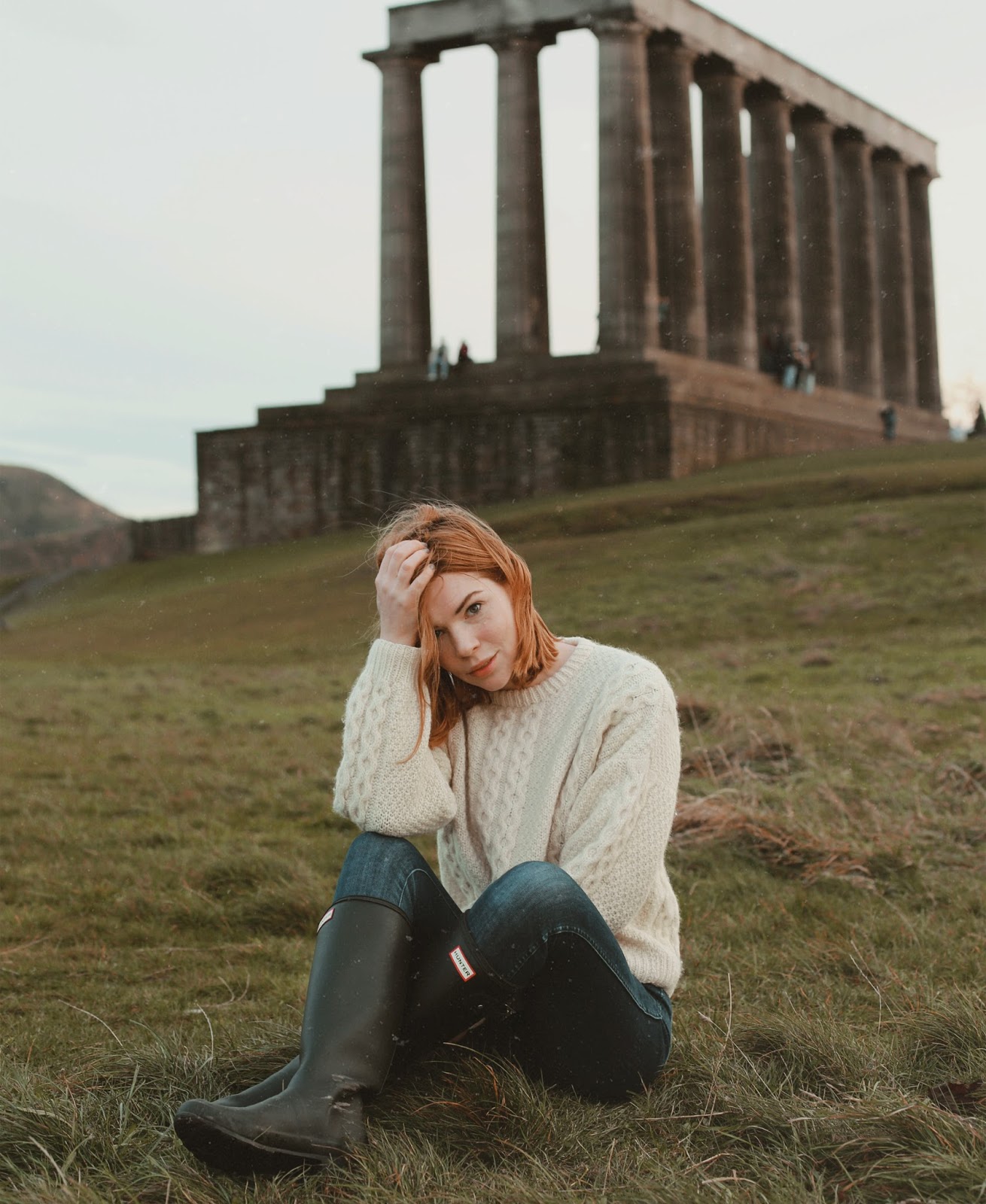 hunter wellington tour boots / vintage sweater
In the end, our trip was 10 days and 10 nights. One of the longest trips we've taken and worth every moment that we spent planning it out. I know that I'll be back soon, simply because England and Scotland immediately felt friendly and familiar to me in some way. Maybe it's all the books and movies I've absorbed over the years, but I really just feel this sense of connection with Britain. I'll have to come back and explore that feeling again soon.