For as long as I can remember, I've loved Chanel. Maybe it's because it was the first designer label I had ever heard of when I was small. Maybe it was the glossy images I saw in magazines as a teenager, or the No5 perfume my grandmother had on her vanity, or that time I found a heavily-worn vintage Chanel purse at a thrift store and clutched it to my chest like a prize. Chanel has always represented the ultimate luxury fashion house to me, and has always put out my favorite runway shows to pour over online, staring at the beautiful pieces. So when Chanel invited me (little ole me!) to come experience their Spring /Summer 2018 Haute Couture Collection in person in New York – I knew I had to go.
I must admit, yesterday, leading up to my visit with Chanel was a it of a blur. I chose a vintage dress to style with an oversize knit (an older Zara piece, I'm afraid, so no link to either), and some simple black sandals. I sipped coffee, put my makeup on, and headed uptown to see the collection. But not before reaching for the loveliest Chanel purse I've ever laid eyes on.
I found this purse (similar styles here, here, and here) on Tradesy right after receiving the invitation to the preview, and was thrilled to be able to borrow it for the trip. They specialize in luxury pre-owned pieces, and really – no one has a bigger selection. I love the details of the purse – at first glance it appears to be the most classic of Chanel bags, but upon closer inspection, you find some unique details. It's a thicket style, and the plaque + top handle combo make it so much more fun. I felt so elated being able to carry it in NY, and I'll admit that I spent most of my day just staring at it and petting it. Designer pieces just have a way of making my heart skip.
By 11:30 it was my time to enter the private showroom to view the collection. I pushed open the door, and was immediately plunged into the world of Chanel. Two floors were set aside to showcase the Haute Couture pieces, displayed alongside dress forms wearing the initial patterns and basically clothing "blue prints" that became the collection. Tweed suit jackets and wool skirts, mid-ankle boots, and on the second floor – the gowns.
I could probably write 10 pages about my time spent on the second floor, lovingly staring at every detail of the gowns displayed there. But to be honest? I don't think anything I write would ever speak louder than the photos. Scroll down and see for yourself.
My favorite details (aside from the enormous amount of delicate beading) were the bows adorning the shoulders of one gown, and the cascading layers of tulle on the skirt of another. I spent most of my time with those two gowns, practically drinking them in. I never imagined, really ever, that I would get to see pieces like this up close, outside of a museum.
And yet, there I was. Being invited to not only look at the collection, but encouraged to touch the pieces, to study them, all while being told little details about their construction. "Did you notice this little pocket here?" No, I didn't, but now I'm admiring its placement. "Did you see the way these straps cross in the back, before rejoining the tulle?" Oh how perfect. "This piece was originally meant to be much shorter, but the drama of the length is lovely, isn't it?" It is, I love the way it falls.
Honestly, it was a really big moment for me. It really was just one of those dream-come-true moments that I never expected to happen for me. Chanel is the ultimate in luxury, so it was a complete privilege to receive the invitation from them to come and see their latest. And to be able to share it with you, here, is my absolute honor. To be able to open the door, bring you inside, and let you experience the world of Chanel too.
And just in case all of these pretty pieces have you dying to add some Chanel to your life, I've pulled together a few different links for your shopping needs – all luxury pre-owned pieces via Tradesy. Scroll down for them, and enjoy.
Rare & Vintage Chanel: this collection is chalk full of pieces you couldn't buy if you tried. Each piece is 1 of 1 on the site and extremely hard to find whether they be limited edition runway pieces, extremely rare, or vintage from collection's past.
Chanel Under $500: this collection speaks to me – mostly because the prices are incredible. From vintage scarves, jewels, small bags, and shoes – it's easy to find a forever piece from Chanel that is budget friendly.
Chanel Accessories: this is a super fun collection full of brooches, watches, vintage jewelry, and more. An all black outfit + one of these accessories = PERFECTION.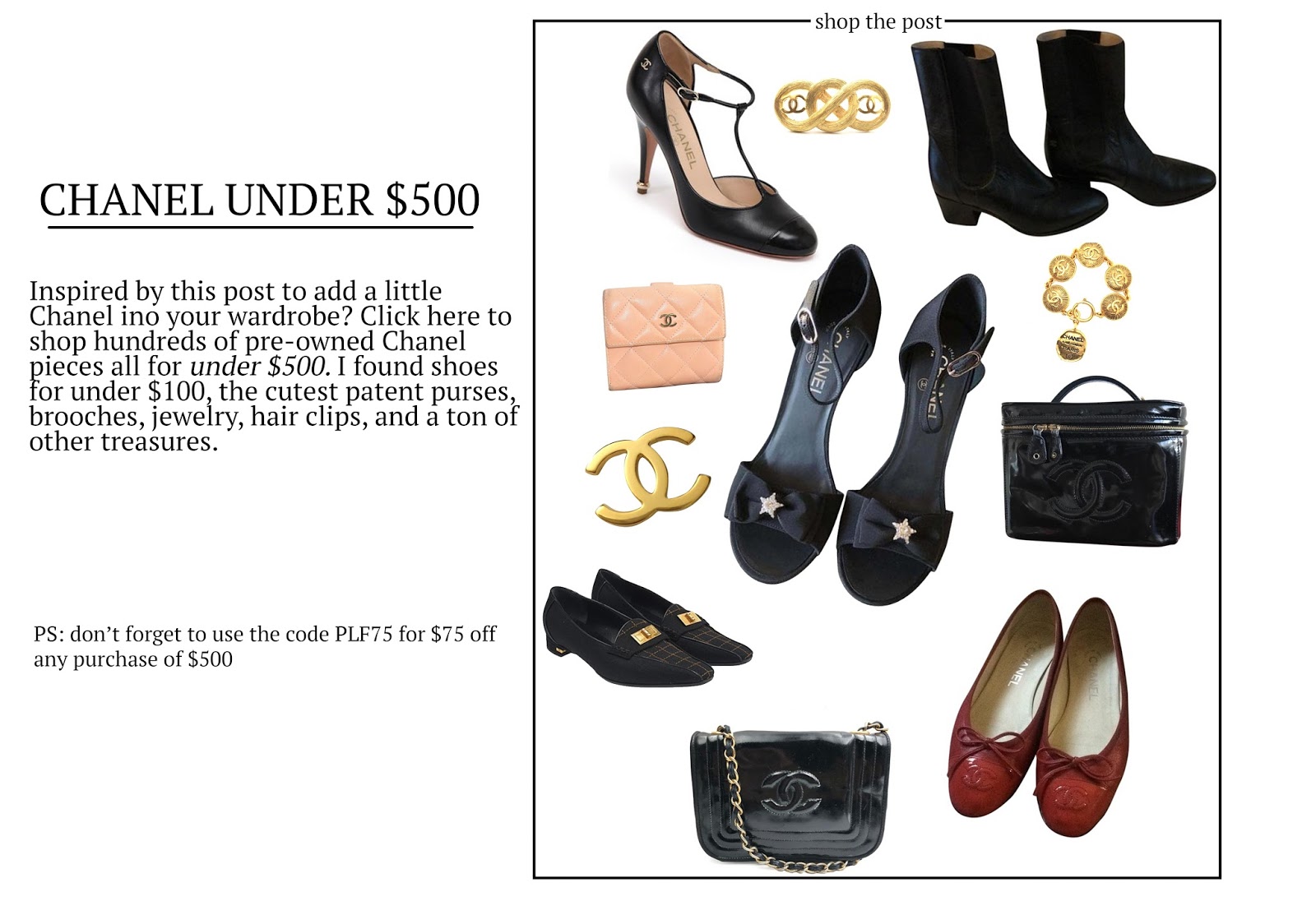 Bag on loan c/o Tradesy. All opinions expressed are my own.