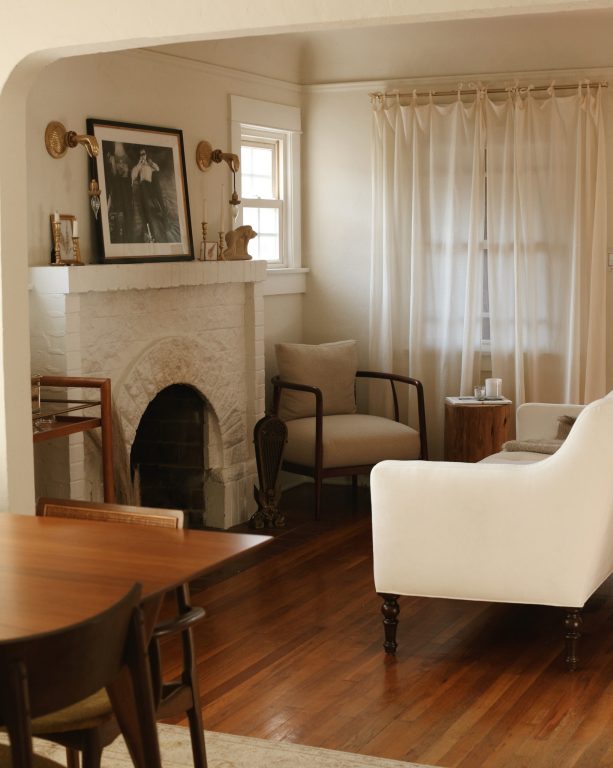 When I last shared this space with you, things did not feel quite … done. When we first moved in, we transferred our furniture from our previous home and just made it work for the time being. But nothing about it felt intentional, and there wasn't really a comfortable place to sit in our living room.
I think that is due to the fact that Eric and I have never intentionally invested in our furniture – mostly because we weren't able to. A thrift store couch purchase here and there, maybe a trendy velvet chair that fell apart after only a year, and of course, nothing ever quite matched. We would spend as little as possible on pieces that we didn't entirely love and were never surprised when they fell apart. Maybe it was because we viewed every apartment and house we rented as being too temporary to invest in, but now that we are homeowners, we decided to really dive into research to find the right pieces that would grow with us.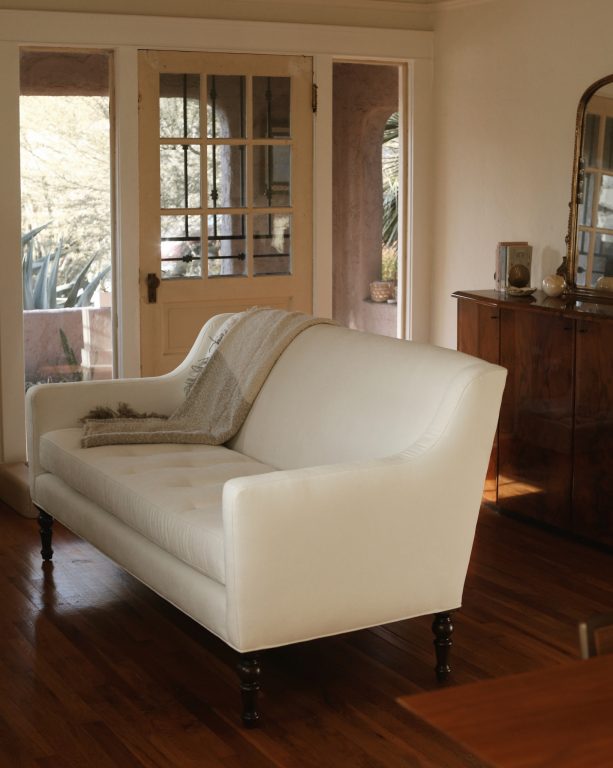 Discovering the furniture store Arhaus was a real turning point for us. I initially found them through a photo on Instagram of this gorgeous mirror, and once I saw who made it I was intrigued. To be honest, I had not heard of them before, but once I started scrolling their site I was in love. Not only was the styling beautiful, but the quality was immediately evident.
Their pieces feel like heirlooms, because Arhaus centers on creating furniture that truly lasts with pieces that can be handed down for generations. Higher quality furniture means less furniture that ends up in landfills and that is something that I feel so strongly about. On top of that, their upholstery is handmade in North Carolina, from sustainably and locally sourced materials. While I was interested in just about everything on their site, I narrowed in on 3 pieces to add to our living room to really bring it to life, starting with this couch.
It's a no-brainer that the couch is the focal point of most living rooms, and I have never owned one that I truly loved. So many were uncomfortable, poorly made, and just did not feel like me. So when I saw this couch (the Fenwick Settee) I fell in love. The shape of it is so timeless and it felt like the perfect addition to our 1920s home; like something that may have existed in this space years ago. Plus I love that with Arhaus, this couch is completely customizable owing to their selection of over 1000 fabric options. We opted for this ivory shade to keep this room bright and inviting. And while I normally would be terrified of owning white furniture, because this comes in a brilliant fabric called Crypton, it is stain resistant, can be wiped clean, and will continue to look this spotless for years to come.
Not only that, but this couch is SO comfortable. It is so easy to just sink into after a long day, and it's where Eric and I have sat for many nights lately with the fireplace crackling in front of us. I've since added a few pillows to it for decor, but honestly it is a lux enough looking piece that it really doesn't need anything to bring a room together.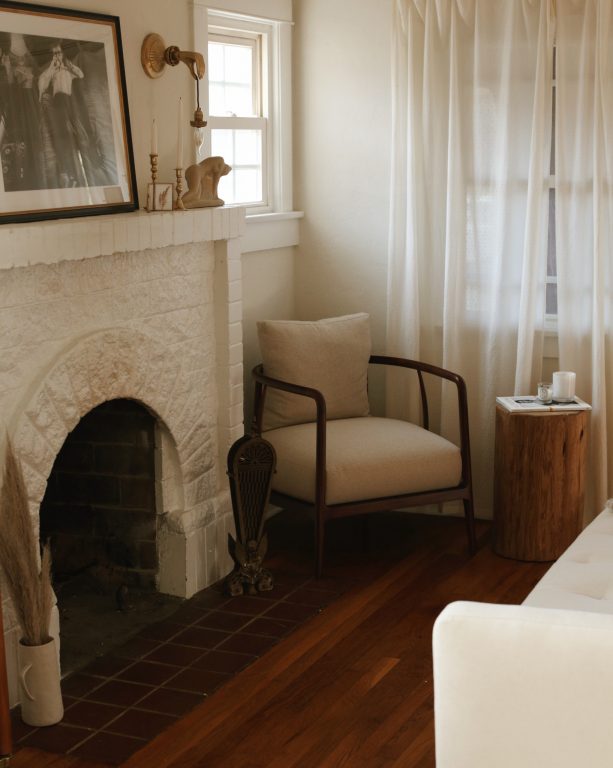 The next piece I chose for this space was this chair for the corner of our living room. I wanted to create a comfortable space for reading in the afternoon, or else for curling up with my laptop to answer emails in the morning with a cup of coffee. Finding something that had a deep enough seat without taking up a ton of room in a smaller space at first felt like such a challenge, but as soon as I saw this chair I knew I had a winner. I love that the back cushion is removable, especially since the wooden arms and backing look beautiful on their own.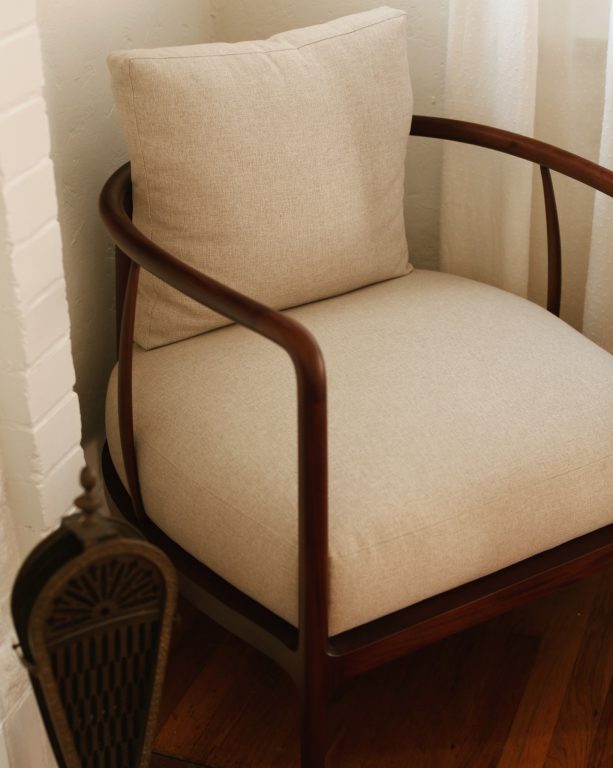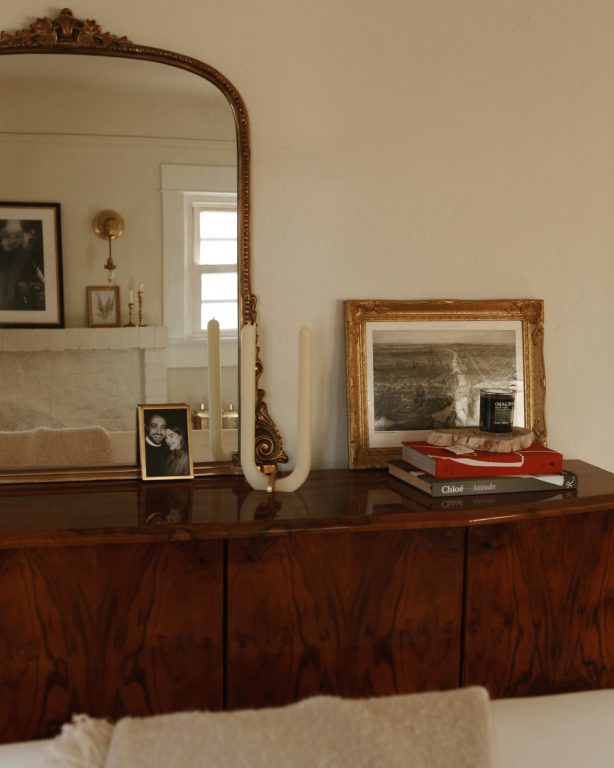 After finding the couch and chair on Arhaus, the rest of the room fell into place. We sourced this burl cabinet from a local vintage shop as an option to hide our electronics + to organize the clutter of our home. We moved the mirror from above the fireplace over to the top to have it be more usable in the space. I styled it with some books, my beloved Glaze Studio candle, and some artwork.
And with the fireplace mantle suddenly bare, we decided on putting up a vintage photograph that I've always loved of Michael Caine to just keep the colors of the space simple. I think it looks better than the mirror did in this space, as now nothing competes with these victorian-style hand sconces we added a few months back.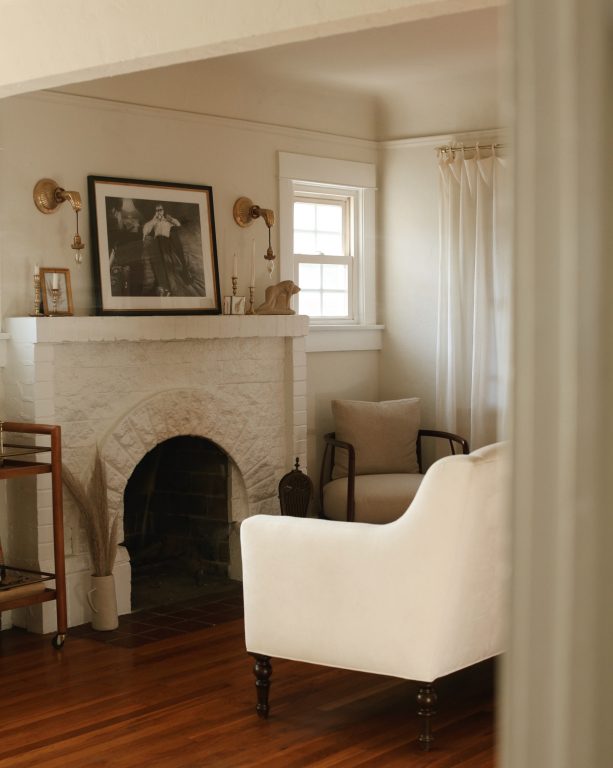 All in all, I love the way our living room has taken shape – the colors are all so warm and inviting, and yet everything looks simple and clean. I am toying with the idea of adding a rug under the couch but for now this space feels truly complete.
And since our front living room is connected to our dining room, I couldn't possibly share one space without showing you the other! While I would say the dining room is not entirely complete, I wanted to share what may be my FAVORITE piece in our entire home – this gorgeous mirror from (you guessed it) Arhaus. I would love to take the credit and say that I discovered it and knew I wanted it, but it was actually a piece that Eric spotted when we visited the Arhaus showroom in LA.
When he pointed it out, I immediately beelined over, assuming it was a one of a kind antique piece. And honestly, up close, it's hard not to assume that it is an antique. The mirror looks perfectly weathered, the gold detailing feels from another era, and the sheer scale of it! This mirror has completely changed the way this room looks. Especially since it is the first place your eye is drawn when entering our home.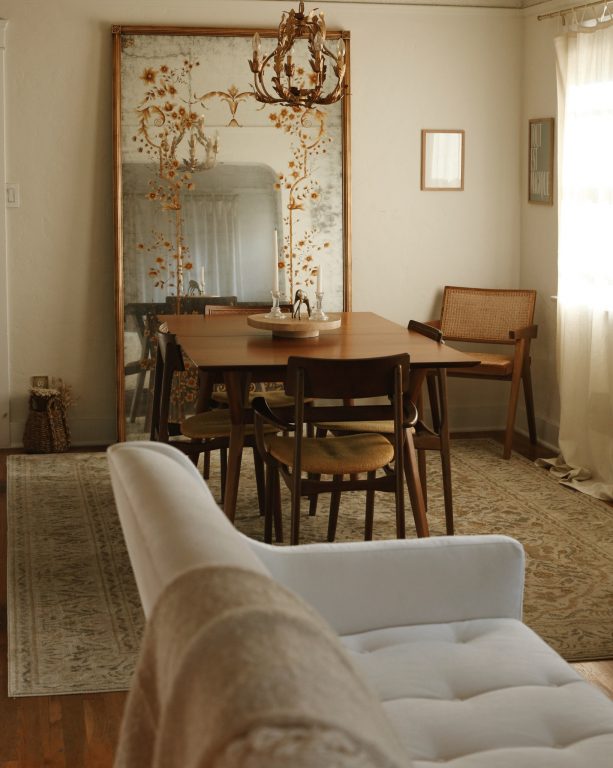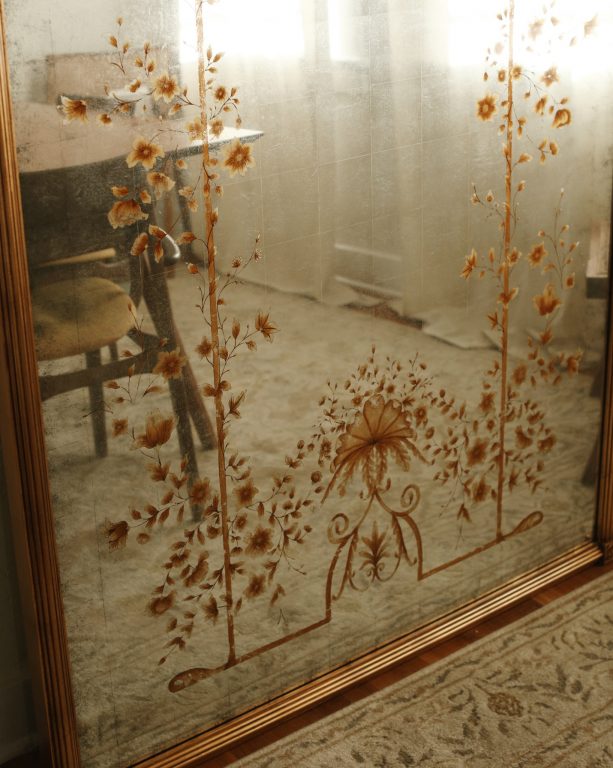 It's safe to say that this mirror has received the most amount of compliments since we started inviting friends and family over. It's just so beautiful and it really adds a lot of light to the room, making it feel much larger than in actually is. While I love it in our dining room, I could see it looking just as beautiful in a bedroom setting. The quality of this piece is truly extraordinary too. It took two men to move it into place owing to the weight and scale and every single detail is exquisite. I know it's a piece I will have for life and one that will always have a place in my heart. I love that about furniture; that it can feel so personal.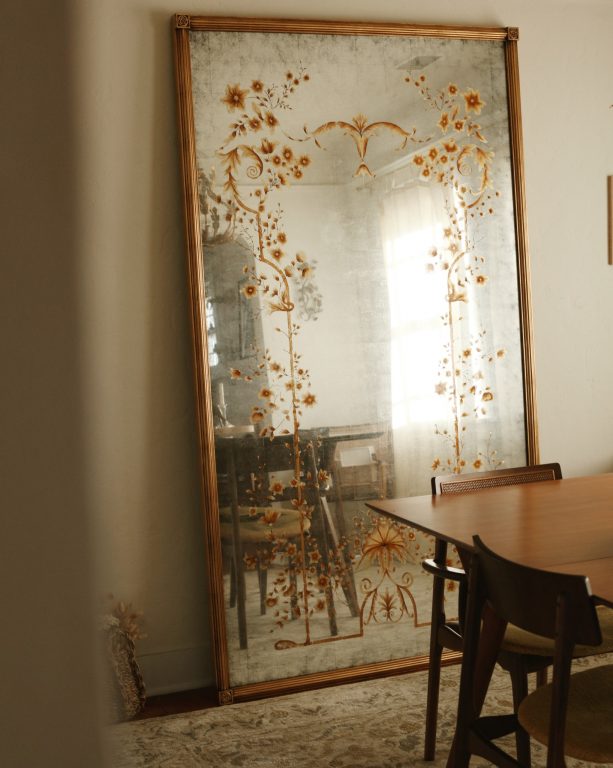 Thank you to Arhaus for providing some of the furniture mentioned in this post. All opinions expressed are my own.