In the past, I've shared my makeup and skincare routines on the blog. But I realized more and more that I tend to reach for different products on different days / nights. Sometimes I need more moisture, sometimes I'm battling an oncoming breakout, and sometimes I'm just looking for a simple routine at the end of a long day. So rather than break down my beauty routine night by night or day by day (as it shifts so much), I've decided to show you every product I reach for in an average week. I kept track over the past 7 days and logged every product used to give you a full picture of my beauty rotation. Enjoy!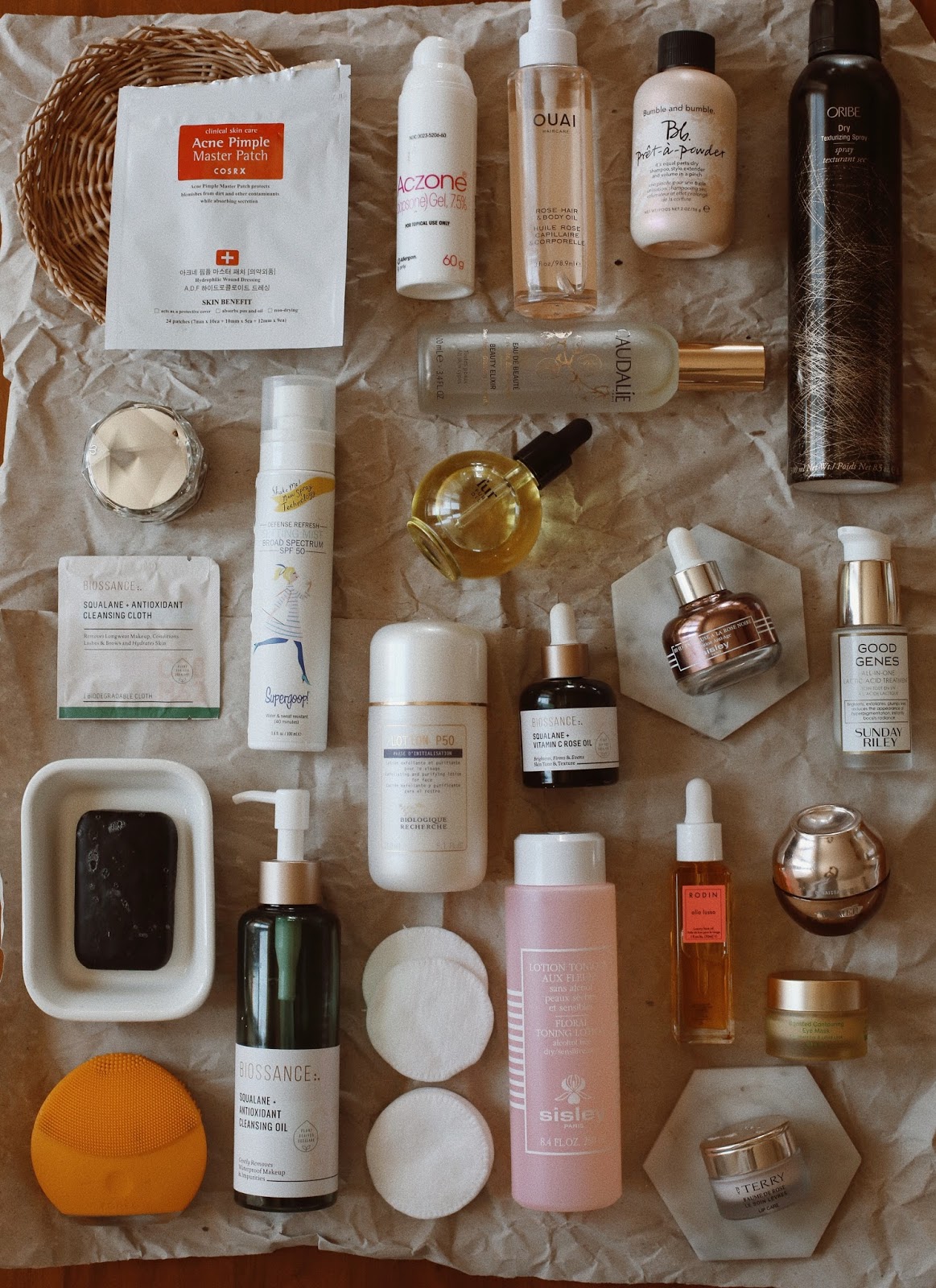 THE CLEANSERS
BIOSSANCE SQUALANE CLEANSING OIL : This is my go-to, use-every-night cleanser. It dissolves makeup like nobody's business and doesn't leave my face feeling dry.
JOANNA VARGAS CHARCOAL BAR : I used this charcoal bar when I was feeling a bit grimier, or in the shower to really deep clean my pores.
FOREO LUNA : I used the Foreo device with the charcoal bar to really get a deep clean, especially around my chin and nose (where I tend to read out).
BIOSSANCE SQUALANE CLEANSING CLOTH : I had a late night this week when I just had no energy to properly wash my face, so was thankful for these wipes I keep on the nightstand. They're my last-ditch effort before my face hits the pillow if I'm especially tired. Plus I keep them in my gym bag for a post workout wipe-down.
OILS OF ALL KINDS
RODIN OLIO LUSSO : I had a few days where my skin felt especially dry (I need to drink more water!) so I added this to my night time routine for a few days. Definitely woke up with plumper skin.
SISLEY ROSE OIL : It pains me to say this, but this week I used the last drop of this Rose Oil. I was using it day and night for a while, and when I started running low, I switched to just night. It sinks into skin like no other.
BIOSSANCE VITAMIN C ROSE OIL : Can you tell I like Biossance? I feel like this oil is so great for brightening my skin in the morning, especially if it's feeling dull.
FUR OIL : I've talked about this oil in the past, but had to bring it up again – this is for body hair, specifically pubic hair. If that's TMI for you, so be it, but I think it's a great product!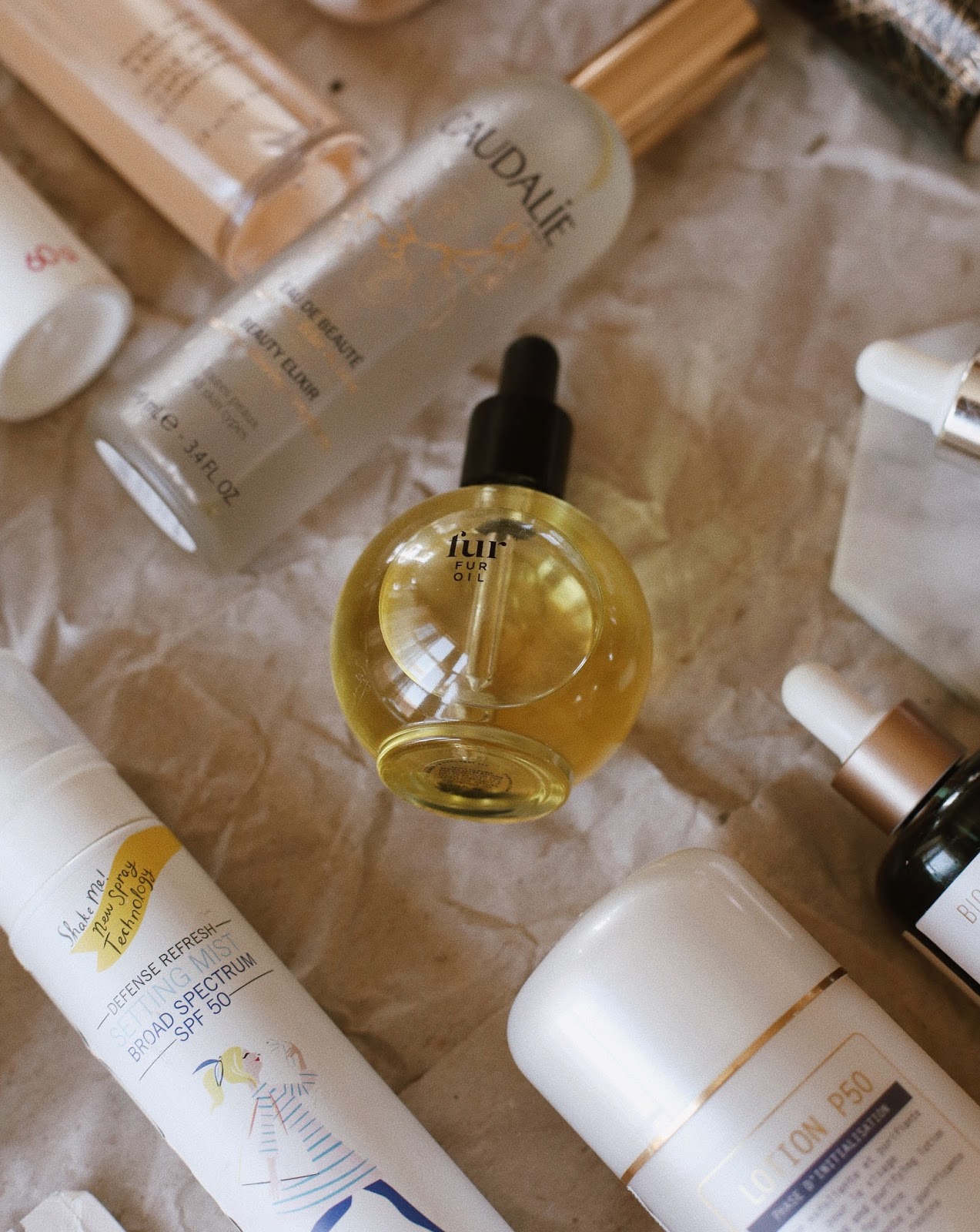 THE CREAMS
TATA HARPER EYE MASK : While technically not a cream, this eye mask is great for someone like me who deals with serious under eye circles. I recommend using this at night so it can sink in – during the day it will make your makeup slide right off.
LA MER GENAISSANCE EYE CREAM : This eye cream is not for the faint of heart – it is expensive. Just to be clear – I was lucky enough to receive this from the company as it's not in my price range, and I can say, it is incredible! But the price tag is a bit of a jaw dropper, so use your own judgement.
CLE DE PEU EYE CREAM : Another eye cream that I love, and the jar is just so lovely to look at. Be warned, this one is also a splurge, but it really does help plump the area under my eyes nicely.
BY TERRY LIP TREATMENT : Every night before I go to bed, I slather a serious amount of this on my lips. It's so moisturizing and a little bit goes a long way.
ACNE TREATMENTS
COSRX PIMPLE PATCHES : I had a rogue spot on my chin that I used one of these on. I love these patches, but they do seem to work better on spots that have already been popped. Gross, I know, but just my opinion!
ACZONE ACNE TREATMENT : I don't have a link to shop this product because it is a prescription acne treatment. I was prescribed it by my dermatologist at Facile Skin, and I use it a few nights out of the week on my chin and jawline where I tend to break out. I really like it, but as it is prescription, I would speak with your dermatologist.
OTHERS
SUPERGOOP SUNSCREEN SETTING SPRAY : Every single day, multiple times a day, I spray this sunscreen setting spray on my face and arms and chest. It is fine to go over makeup, and easy to reapply. And I do it ALL the time because sunburns are a huge fear of mine. Just make sure to keep your eyes closed!
SUNDAY RILEY GOOD GENES : I've mentioned this in the past, but I use this for resurfacing on my face one or two nights a week. It can be drying, but it has helped my uneven skin tone around my nose and on my cheeks. It does make my skin feel brand new, so I'm a fan.
CAUDALIE BEAUTY ELIXIR : This is more of an indulgence, but I keep this mist in the fridge for hot days or when I feel like my makeup is looking visible. It just sort of resets everything, smells amazing, and feels spa-like. I'm leaving on a flight tomorrow, and this is my in flight mist of choice. Planes are drying!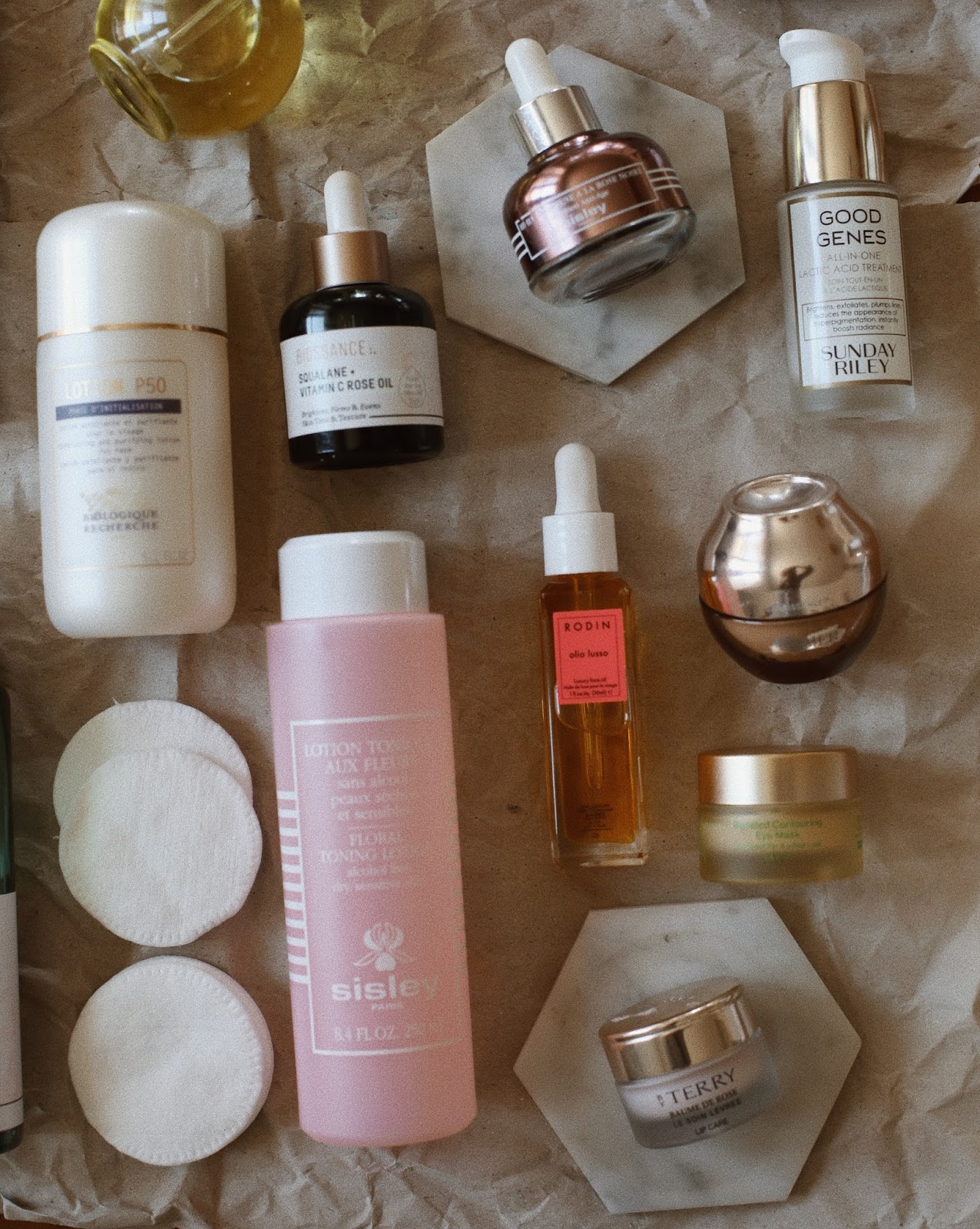 TONERS
BIOLOGIQUE RECHERCHE LOTION P50 : Okay, I used to think toners were BS. Totally an unnecessary step designed to dry your skin out. Until I started using this holy grail product at night. The name is a bit misleading, because it's not a lotion, it's a liquid. And FYI – It smells AWFUL. It stings a bit sometimes. But I swear by it for being one of the best additions to my skin care. Put a little bit on a cotton pad and swipe your face post wash, pre oil. It's a little hard to track down in the US, but I buy mine here.
SISLEY FLORAL TONING LOTION : This is my day time toner that I use every morning, and after removing makeup. Even after washing my face, I always find that my cotton pad soaker in this comes back a little grey – so I know it's removing extra dirt. I swear by toners now, in thanks to this and the BR Lotion p50.
HAIR FAVORITES
THE OUAI ROSE OIL : This one is a bit of a 3-in-1. I used it as an oil on the ends of my hair after I washed my har, but I also mixed it into my bodylotion for a better scented and smoother finish on my skin. Plus, I put a few drops in the bath tub for a rose-y scent.
ORIBE TEXTURIZING SPRAY : There's a reason why every single person who blogs about hair talks about this spray. It's perfect. It's not a dry shampoo, but it is what I use to finish my hair after I curl it. It just gives the right amount of tousled-ness (is that a word?) and adds volume. I spray it around my roots and fluff it up.
BUMBLE AND BUMBLE PRET A POWDER : I love dry shampoo, but I hate constantly going through can after can of sprays. This is a great powder option that is easy to pack and not have to drag out when going through TSA at the airport. Definitely coming with me on my trip tomorrow.