In the past few years (and more specifically in the past few months) I've started to consider my impact on the environment, specifically when it comes to what waste I produce. As a blogger, I tend to work in a more wasteful industry than most. PR packages that come in the mail often have lots of tissue and bubble wrap, and at the end of a busy week, our recycling bin is often full with cardboard boxes. There has been some improvement – some brands are getting better and I've happily watched the amount of filler and plastic packaging go down, all the while saving every single piece of tissue paper I receive to repurpose (seriously, I have a giant drawer of it).
But there are still plenty of areas of my own life that needed to be looked at from the lens of environmental health, so today I'm going to talk about a change I've made gradually that is starting to become habit.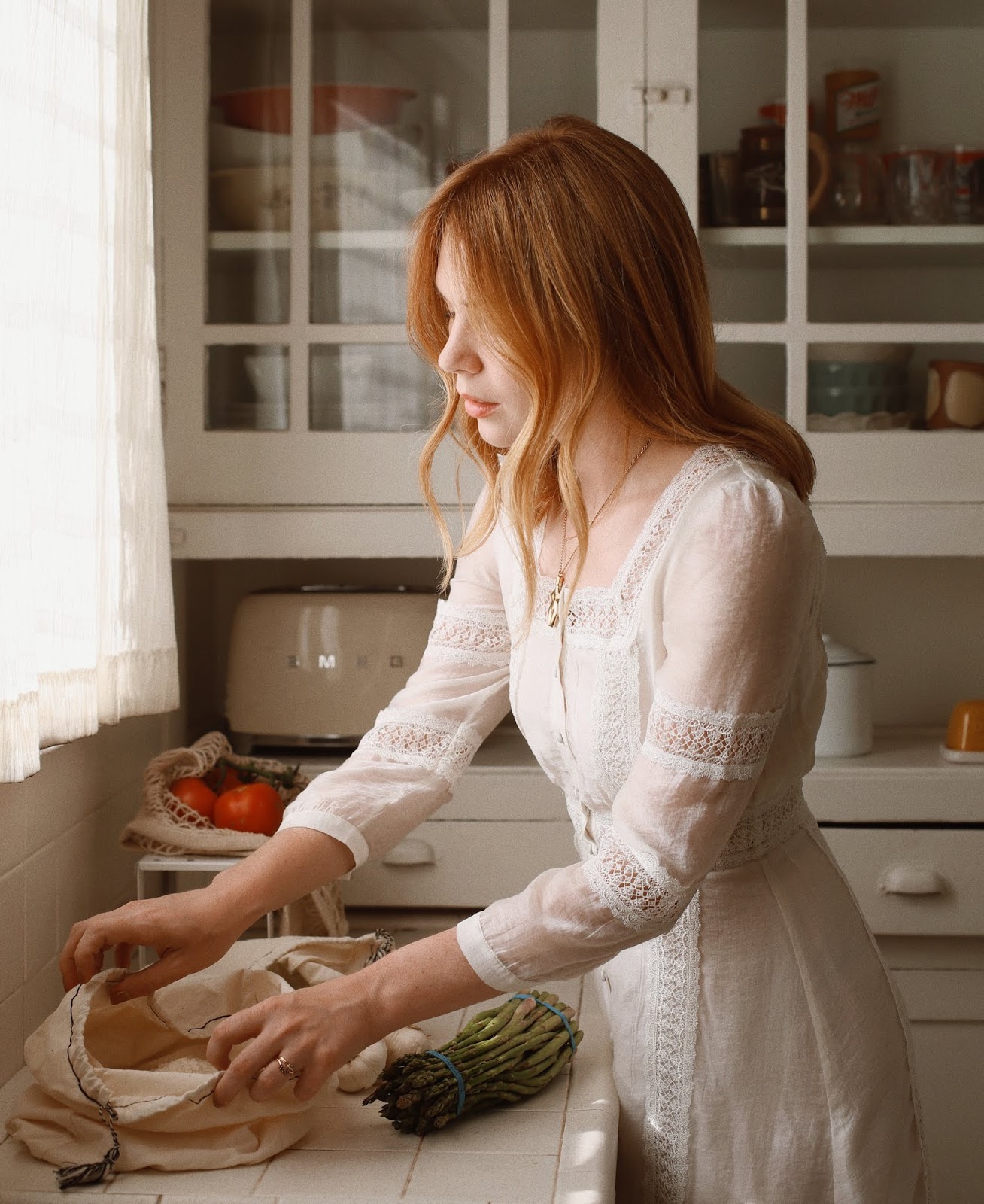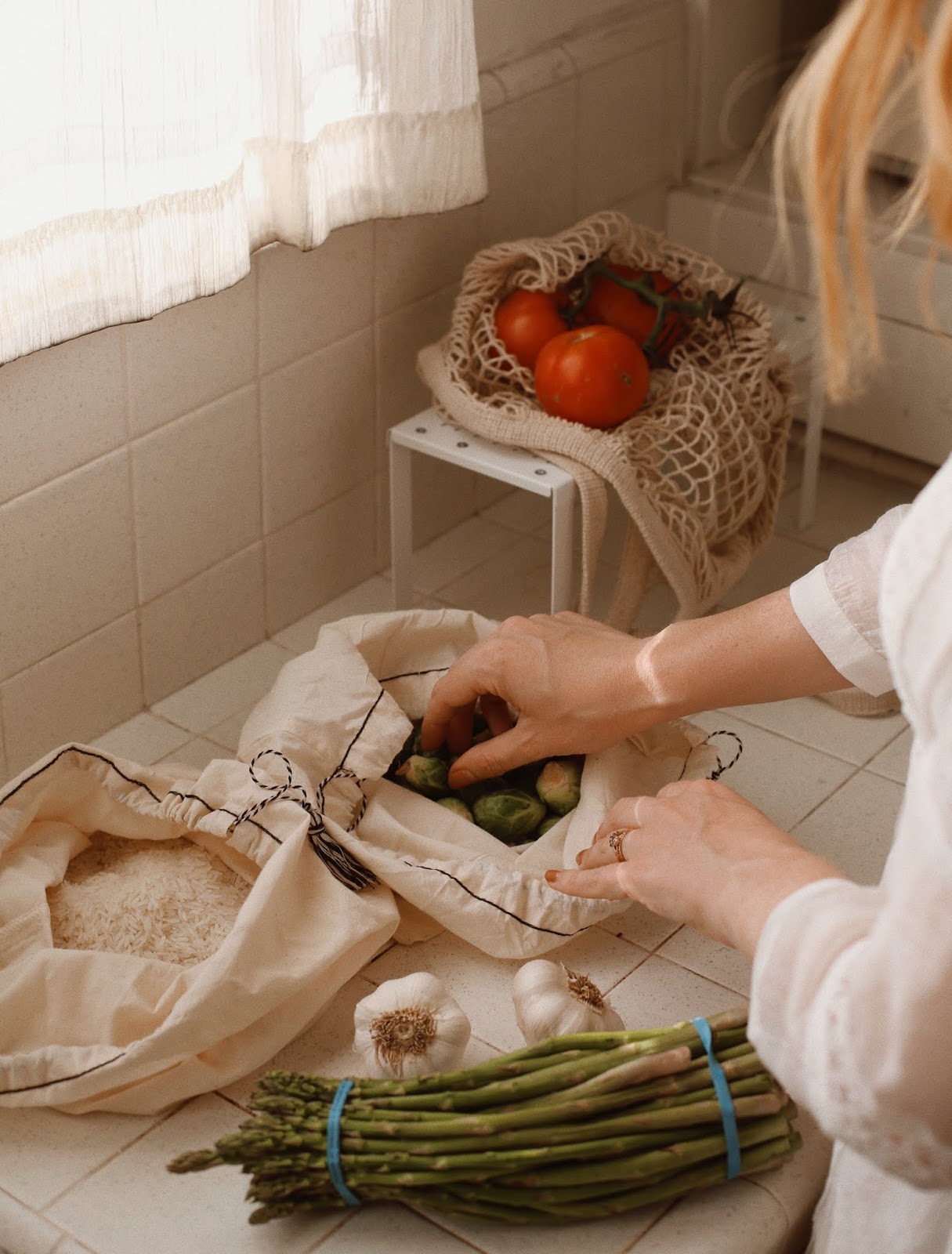 My inspiration for this post is my current partnership with my holy-grail skincare brand – Biossance. Because they think critically about not only their products, but the packaging as well, it helped me to think about the waste I create as an individual. Shopping, and particularly grocery shopping, was one of the biggest causes for waste production in my house. And while you can no longer get single-use plastic bags at grocery stores in LA, there were still plenty of things making it into the bin. Sure, I had bought reusable grocery bags years ago, but would often forget them, and walk out with paper bags full of groceries. An improvement over plastic, but still so unnecessary when the solution was just sitting in the trunk of my car, forgotten.
So I got good about using reusable grocery bags.
Once that was in the bag (so to speak) I started to look at what was actually going into the trash can when I unpacked those lovingly purchased groceries. I'm embarrassed to say, for a while, it was quite a bit. I tricked myself into thinking that by separating and washing all of my plastic and recyclable items and putting those in the blue bin that it wasn't so bad, but still – there was a lot of waste. Specifically those plastic bags you put your produce in, boxes of individual rice meals, plastic containers of pre-peeled garlic – it was a lot more than I expected.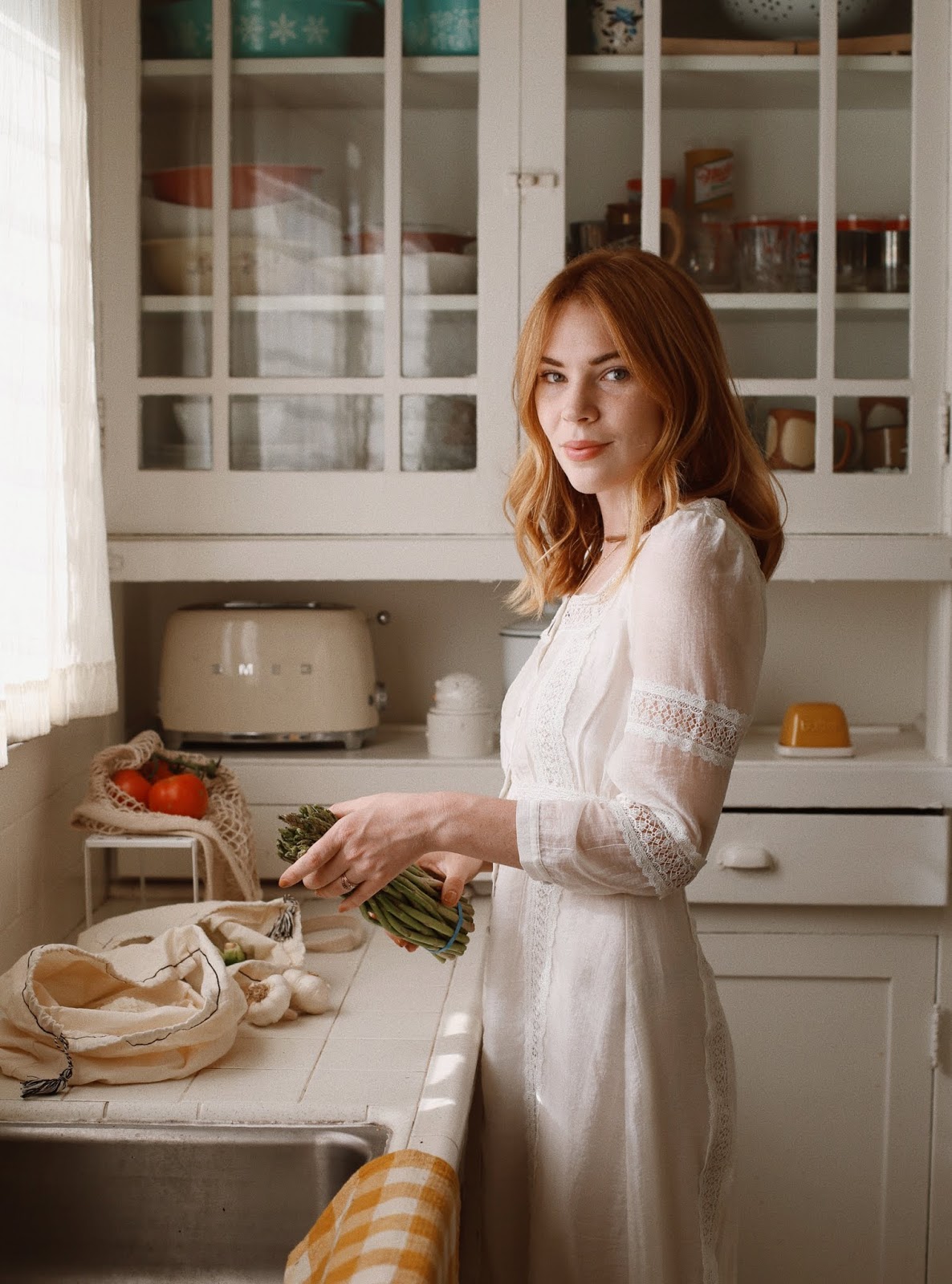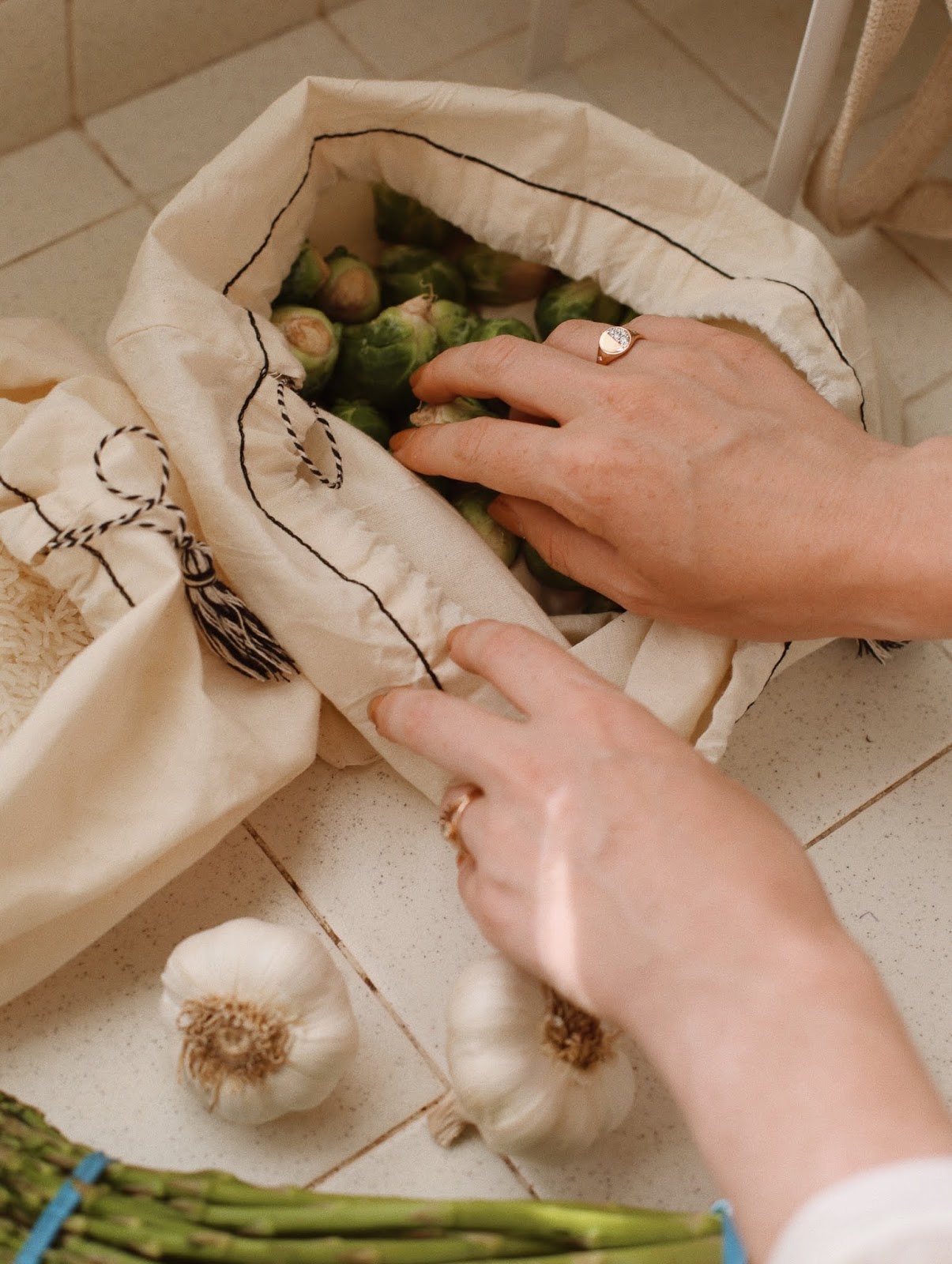 All I have to say, is thank goodness for the internet. I don't think I would have even considered just how much plastic waste I was producing if it weren't for the mirror that is Social Media. I follow some amazing women online who have made it their mission to reduce waste and try to eliminate single use plastic from their lives. I started to take notes, and these were the solutions I reached:
Don't bag your produce at the grocery store // That thin plastic bag that is used to separate your tomatoes from your bananas? You don't need it. You can place your produce directly into your reusable bag and just bring it out at checkout. Give it a good wash when you get home, and ditch that thin plastic bag all together.
Skip the convenience items // It can be really appealing to buy a container of cut fruit or peeled garlic, but that plastic container it comes in is eventually going into a bin. Not to mention, those convenience items are oftentimes more expensive than buying a whole piece of fruit or bulbs of garlic. Please note – I still haven't been able to find asparagus without those rubber bands to hold it all together, but have found ways to reuse the rubber bands. Like shooting them at Eric. Baby steps, guys.
Buy in Bulk // If your grocery store has bulk options, always aim for those. I used to buy small bags of nuts, or boxes of rice meals, but they were so wasteful. I don't need a packet of spices and a pre-measured box of rice, when I can have a full spice rack at home and can just as easily have a large container of rice on hand. Take pictures with your cell phone of the item numbers (or write them down) so you don't have to take one of those little label twist-ties that's going to end up in the trash when you get home.
Get specific with your grocery bags // While I've always had grocery tote bags on hand, I never really thought about carrying smaller bags. Thanks to Instagram, I saw a tip about using lightweight cotton bags for purchasing bulk items. And even better, I saw the suggestion to repurpose clothing and purse dustbags for that purpose! If you have any lightweight and washable dustbags lying around, use those when you go to buy things in bulk. I say lightweight because they do weigh your bulk items, and you don't want to have to pay extra if possible. My favs are the ones pictured above from purchases at Doên. It's just a great way to reuse and you have to admit – it's a lot more visually pleasing than piles of plastic bags.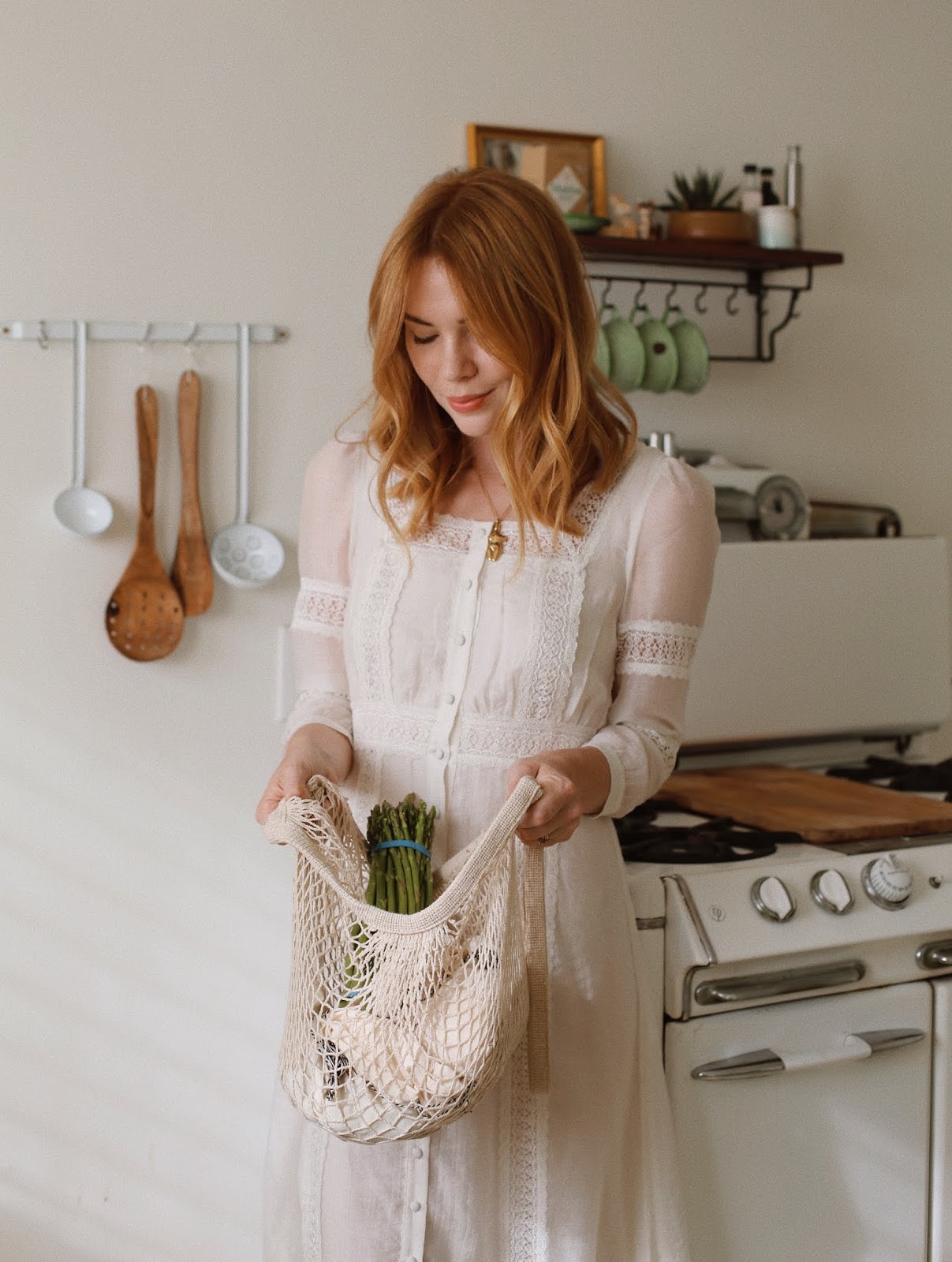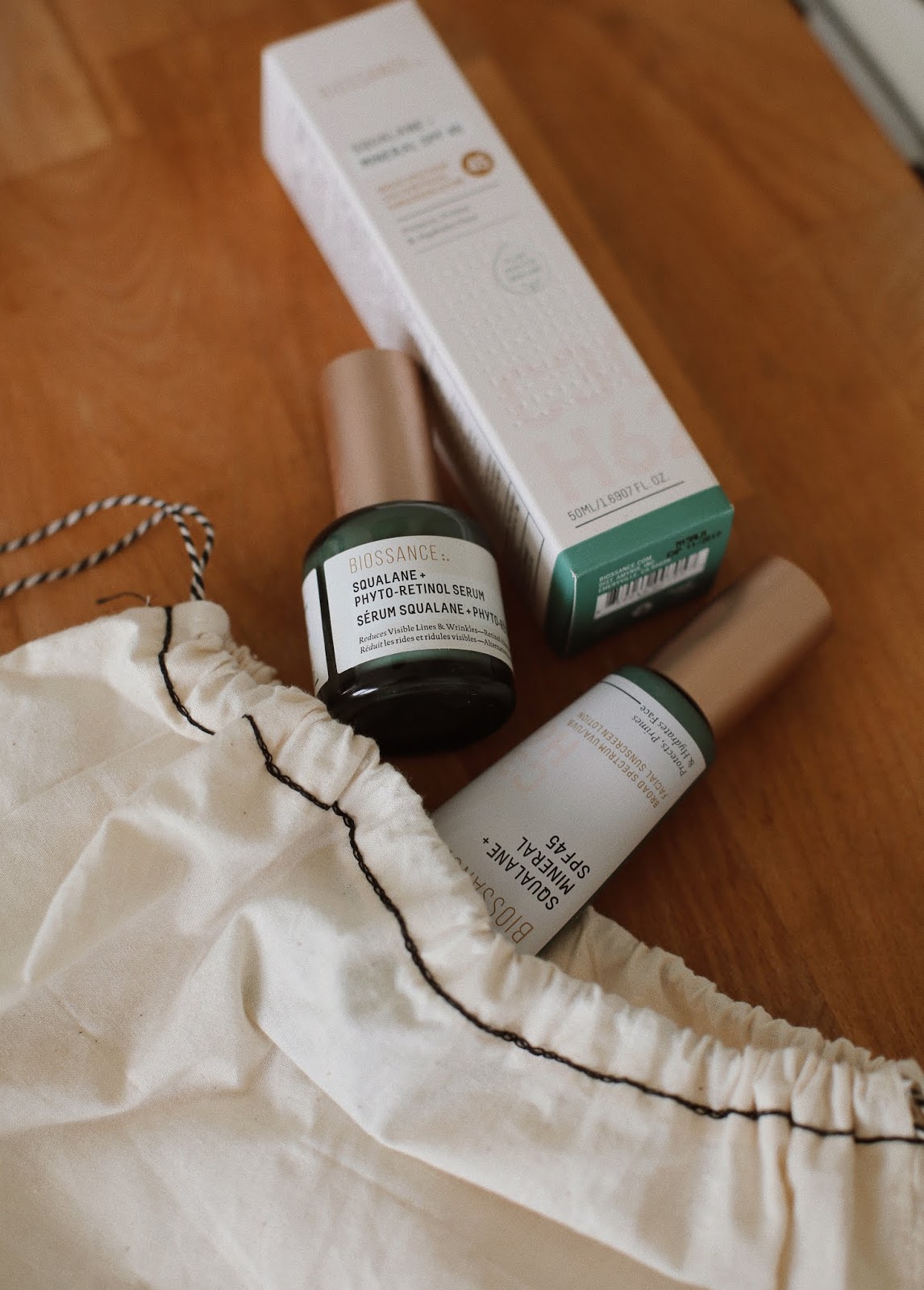 I'm so glad that I got to partner with Biossance to write this post, because they are one of my favorite brands. You guys have heard me talk about them in the past a lot – they produce some of my top must-have, holy-grail, don't-leave-home-without products. But aside from how much I love their products, what I love just as much is their commitment to what they call No Compromise Beauty. They've banned over 2000 ingredients from their products that other companies use that could either be harmful to human or to the environment, everything they make is nontoxic, and their hero ingredient – Squalane – is 100% plant-based rather than coming from shark livers. Save the sharks, y'all.
On top of their commitment to what goes into the products, they've also looked closely at how they package everything. They use recyclable components as much as possible like their outer cartons. They're actually made from sustainable sugarcane paper, which is a by-product of the same process used to produce their squalane. The inner cartons are fully recyclable because they don't use foiling or coating that causes paper to not be recyclable. Just in the same way that individuals are thinking about how they can reduce waste, so is a large company like Biossance.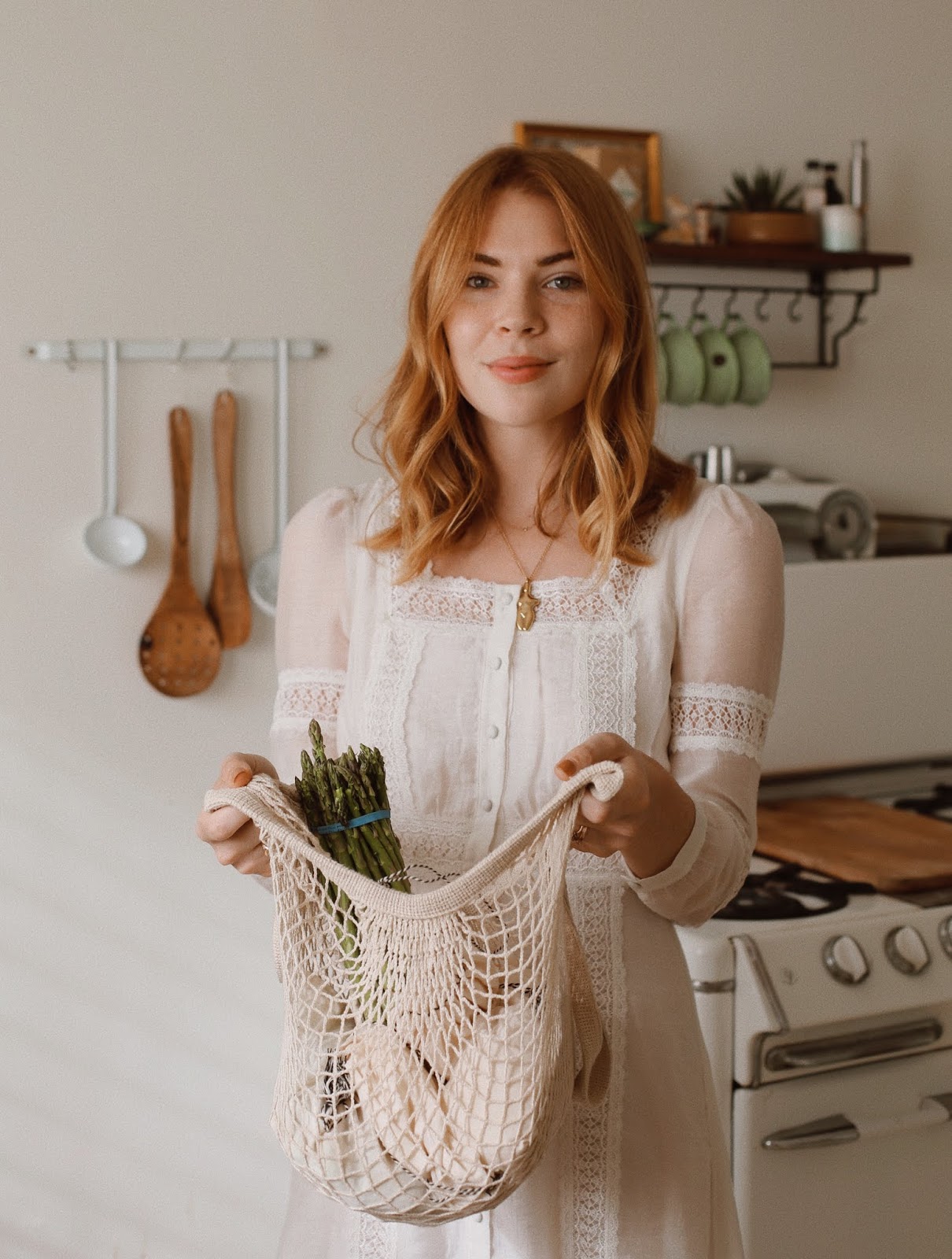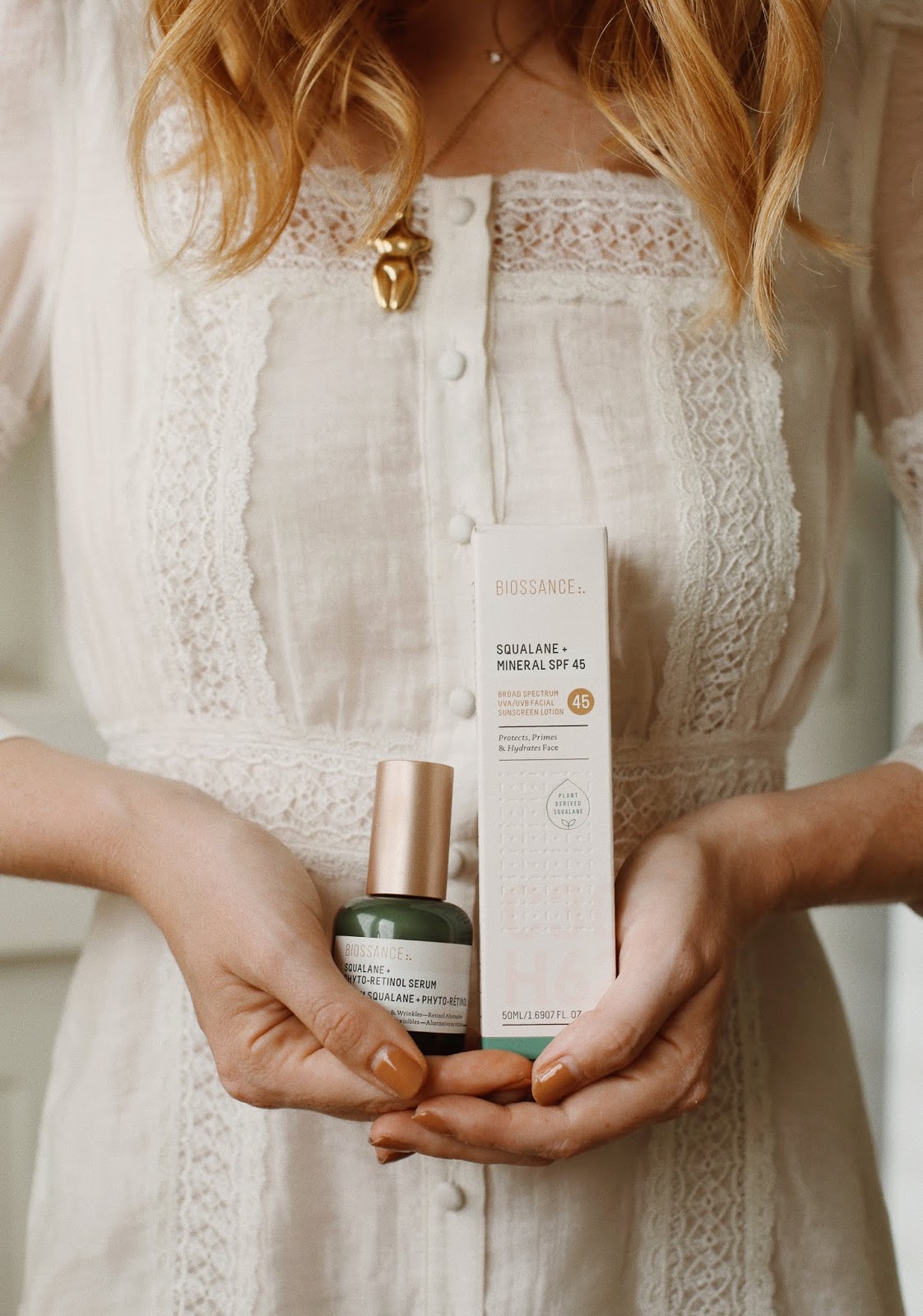 Speaking of Biossance, I'm so happy to introduce you guys to two of their latest products that I've added into my permanent routine. It's no secret that I sunburn SUPER easily. Always have, always will be sensitive to the sun. So because sunscreen is a daily necessity for me, I've tried a lot of different formulas. Plenty of options are greasy, make me breakout, or cause my makeup to just slide right off. Biossance's
Squalane + Mineral SPF 45 is my daily sunscreen. It blends in easily, has a high SPF, and never feels greasy or heavy.
But what I really love about it? It's environmentally friendly too. I didn't know this until recently, but most sunscreens are dangerous for our oceans. They contain micro-plastics or nano minerals that end up in the water. In fact, Hawaii entirely banned chemical sunscreen ingredients oxybenzone and
octinoxate because of their effects on the ocean. Switching to a mineral SPF is a cleaner solution for the environment and this formula is coral-reef safe!
The other product I've added to my bi-weekly routine is their Squalane + Phyto-Retinol Serum. I'm new to the idea of using a retinol treatment, and in truth was scared of traditional retinols which can be harsh on sensitive skin. Biossance instead uses Bakuchiol, a plant-derived, non-irritating alternative to retinol. Plus, traditional retinol is often derived from animal byproducts, so I'm happy this is a plant-based alternative that is still powerful.
It works to plump skin, and help correct skin texture. As someone who dealt with breakouts in the past, finding something that is designed to help texture is huge. I've focused on redness reduction in the past, but a big concern for me lately has been texture, especially since I shoot so many photos. This is targeted to combat fine lines as well as rough skin, and so far I really like it. I use it after I wash my face, 2-3 times a week. And because it isn't a traditional retinol, there are no risks with sun-exposure, so it can be used during the day time.
I'm so happy to have partnered with a brand I genuinely love to create this post. They gave me the freedom to not just talk about their products, but to also share a way in which I'm trying to improve my own sustainability at home. Not many brands are open to having a real conversation, so I'm thankful to get to work alongside Biossance. I've been a fan for years, and have received so many messages from you guys trying out their products and falling in love too.
And since their
Squalane + Mineral SPF 45 is a newer product, I'm excited to be able to giveaway a few of them here! I have 3 SPFs to giveaway, so to enter, simply leave a comment below with your IG handle, and maybe share a way you reduce waste at home! I'm not perfect and still have plenty of room for improvement, so tips are always welcome!