Today is the day! I am so excited to announce the re-launch of Pretty Little Fawn, and to welcome you to my brand new site. It's something that has been in the works for a while, and I am so happy now that I'm able to share it with you.
Late last year, I was introduced to the incredible creative team behind Stories Studio. Once I saw a few examples of their previous work, including site design, product branding, and so much more, I knew I'd found the right team to reimagine what PrettyLittleFawn could look like.
Years ago (waaaay back in 2011), I created a blog on a simple hosting site. A lot has changed online in the years since, and yet my website still had it's same old look. And while it did work for me for a while, I was running into plenty of issues I didn't know how to solve. My mobile site was a bit of a mess, and looking at my traffic, I knew the majority of viewers were coming to PrettyLittleFawn via their phones. I felt helpless to redesign and rebrand, so for years, I sort of ignored the problem. It's strange how used to problems and flaws you can get when you feel like they're impossible to correct.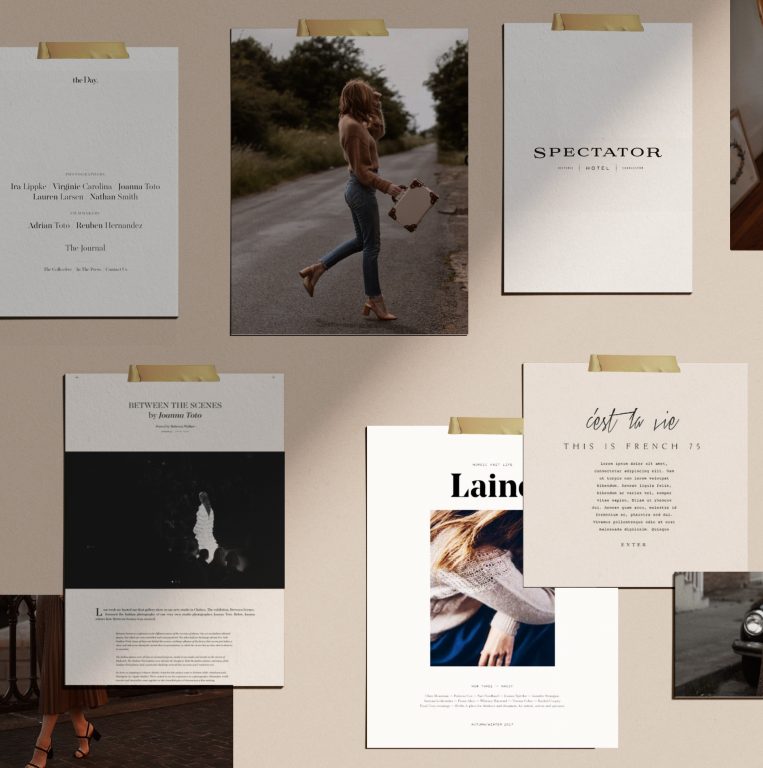 So when I started emailing with Stories Studio with the idea of a redesign, I was a bit sheepish. I felt embarrassed to even direct them to my current site, but I knew I needed to make a change. Within only a few emails, I felt at ease. I felt like I was in confident hands that not only knew how to solve the current issues, but also to create a brand new home. A new calling card to proudly be able to send my readers to. Instead of living my online life solely on Instagram, I could now have a new site that I not only was proud of, but would be excited to fill with my creative ideas.
I knew I'd found the right team to reimagine what PrettyLittleFawn could look like.
We started with a simple moodboard, and from there, the ideas grew. What fonts to use, how to create cohesive color palette – they thought of everything. They created a new section dedicated to my travel guides that I cannot wait to fill with future trips and past knowledge. They created a Closet section that I can easily add new pieces from my wardrobe into. They solved my issue of having a site that really didn't work on mobile, and built a site that looks just as beautiful on a phone as it does on a desktop. But most of all, they created a beautiful home for me to house my ideas. I am so so happy to welcome you to the new site, and so pleased to share how easy the process was made.
I know plenty of you are in a similar position to where I was – disappointed with your current site or blog, and unsure of the next steps. Or perhaps you have a small business that needs a rebranding or a refresh. It can be hard to get yourself motivated to make a change, but I cannot begin to tell you how happy I am with the work that Stories Studio has done. Definitely visit their site if you're in need of some help but don't know where to begin – I'm so glad I did.
If you like the new design, be sure to leave a comment below. I'm so happy you're here and cannot wait to share more of myself on this beautiful new site.