Packing for a trip is always an almost 50/50 blend of excitement and frustration. The excitement over putting together outfits and pulling pieces that I am excited to twirl around in in another city – and the frustration when all of those pretty outfits don't quuiiiite fit into my carry-on luggage.
I've shared in the past some of my thoughts on how I actually go about packing; including my feelings on why I don't want to be that blogger that overpacks and shares photos of their 3 overstuffed suitcases outside of the airport. That's just not who I am, and with the way that Eric and I travel, it's just not practical. Unless we are on a press trip, we are flying economy and trying to save as much money as possible. That means having minimal and functional luggage. That said, I'm still (of course) an absolute sucker for anything that combines practicality and beautiful aesthetics.
I received my first piece of luggage from Steamline as a wedding present nearly 3 years ago. A beautiful pink suitcase that I proudly took on our honeymoon. In case you're not familiar with Steamline Luggage, they are this incredible company that produces vintage-inspired styles of carry-on, checked, and handheld luggage. Think leather straps, printed fabric interiors, and the sort of train cases that wouldn't be out of place while boarding the Titanic. I adore the styles they produce, and since my first piece have been hooked.
While I don't always travel with my Steamline Luggage (some trips just require a suitcase that can easily be beat up, and sometimes Eric and I just share one large case), I did want to share a quick review. I think they are just so eye-catching, so I get plenty of questions from travelers in the airport, flight attendants, and of course on Instagram too.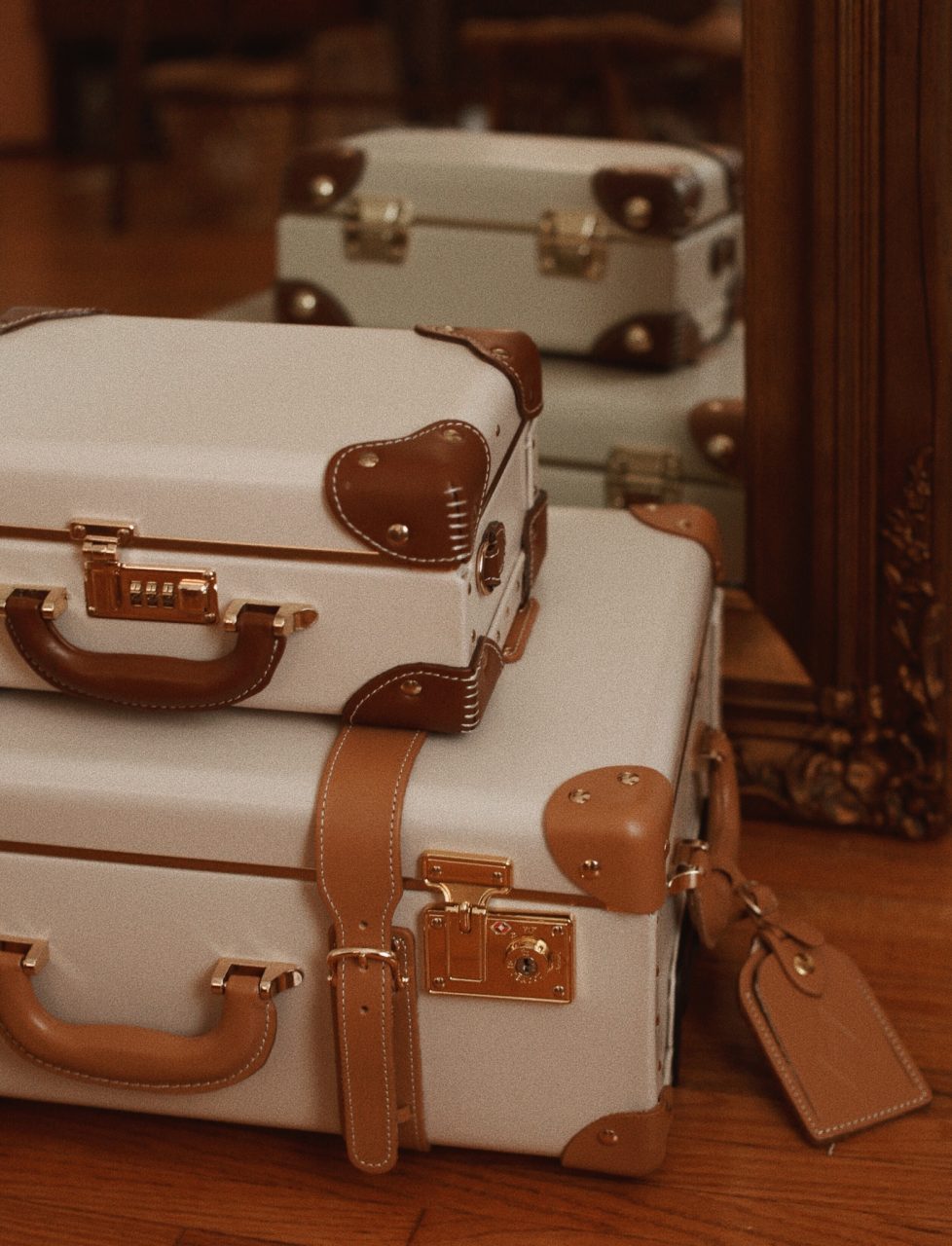 I have had the above vanity case since last Summer and have taken it on about 5 trips. The carry-on is newer, but has already been on two trips with me, and I am planning on it coming along to Morocco and Italy next month. And while they've both been in and out of cars and on planes, they both look next to new. That's because the carry-on piece comes with a little slip cover that you can put over it. This is KEY for when getting the luggage in and out of taxis and into the overhead bin on the plane. Just a little peace of mind to know that the light-colored leather on the outside is protected from any sort of marks or scratches. It is designed so that you can still use the handles and the wheels, while it is covered, so I pretty much just put this on right after passing through security. It does the trick!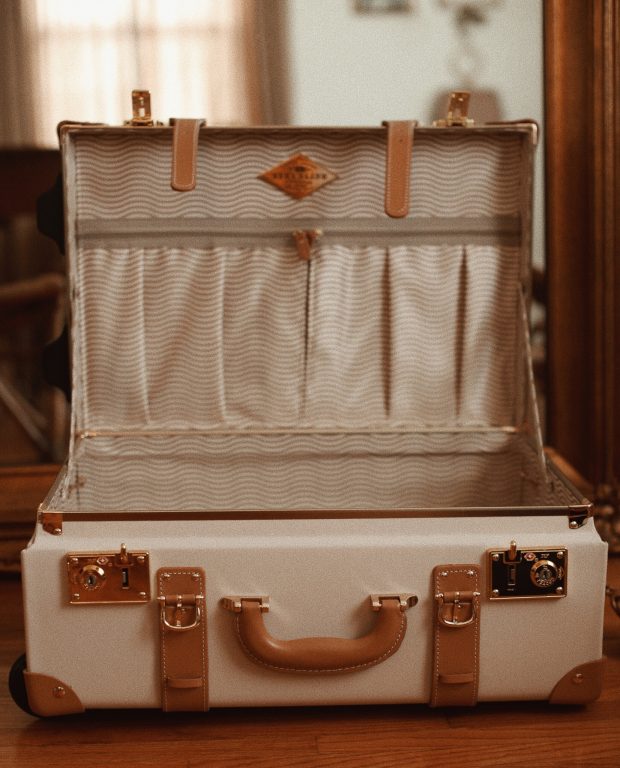 While the vanity case doesn't have a cover, it does have a crossbody strap to keep it close at hand. I've had no problems with keeping it looking fresh while traveling, and love using it as either a camera case or as it's intended purpose for toiletries and makeup. Both cases look so darling together, so I do love traveling with them as a set when I can. Steamline Luggage pieces are by no means inexpensive – but for the quality that you get, I think they are a wonderful splurge. I love looking at them as my special occasion luggage. I bring them on road trips often, and on flights where I don't have to check luggage. I absolutely love not only how they look but how functional they are! Plenty of storage, the wheels are smooth, and I know that they're made to last. Here's to many more trips with my Steamline pieces!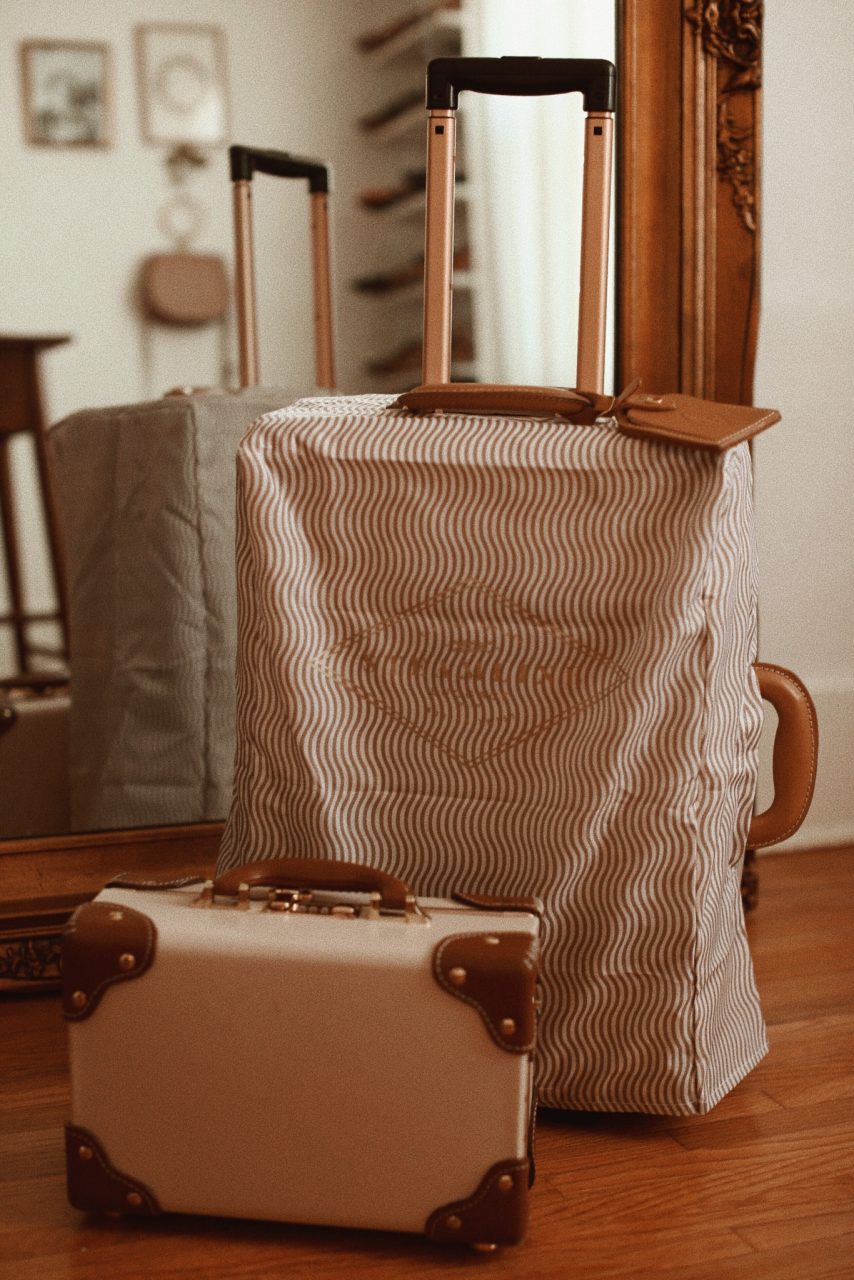 Both pieces featured were gifted by Steamline Luggage, however all opinions expressed are my own.