Spring has definitely already sprung around here, but I'm just now getting into some new styles.
If I'm being completely honest, that's because I love cooler weather. Sweaters and coats will always be my favorite, but there is something exciting about not having to put extra layers on as the sun sets. Longer days, warmer nights, and maybe a few beach visits have me feeling ready to stash my cold-weather gear and get ready for spring. Here are some of my current favorites for the season.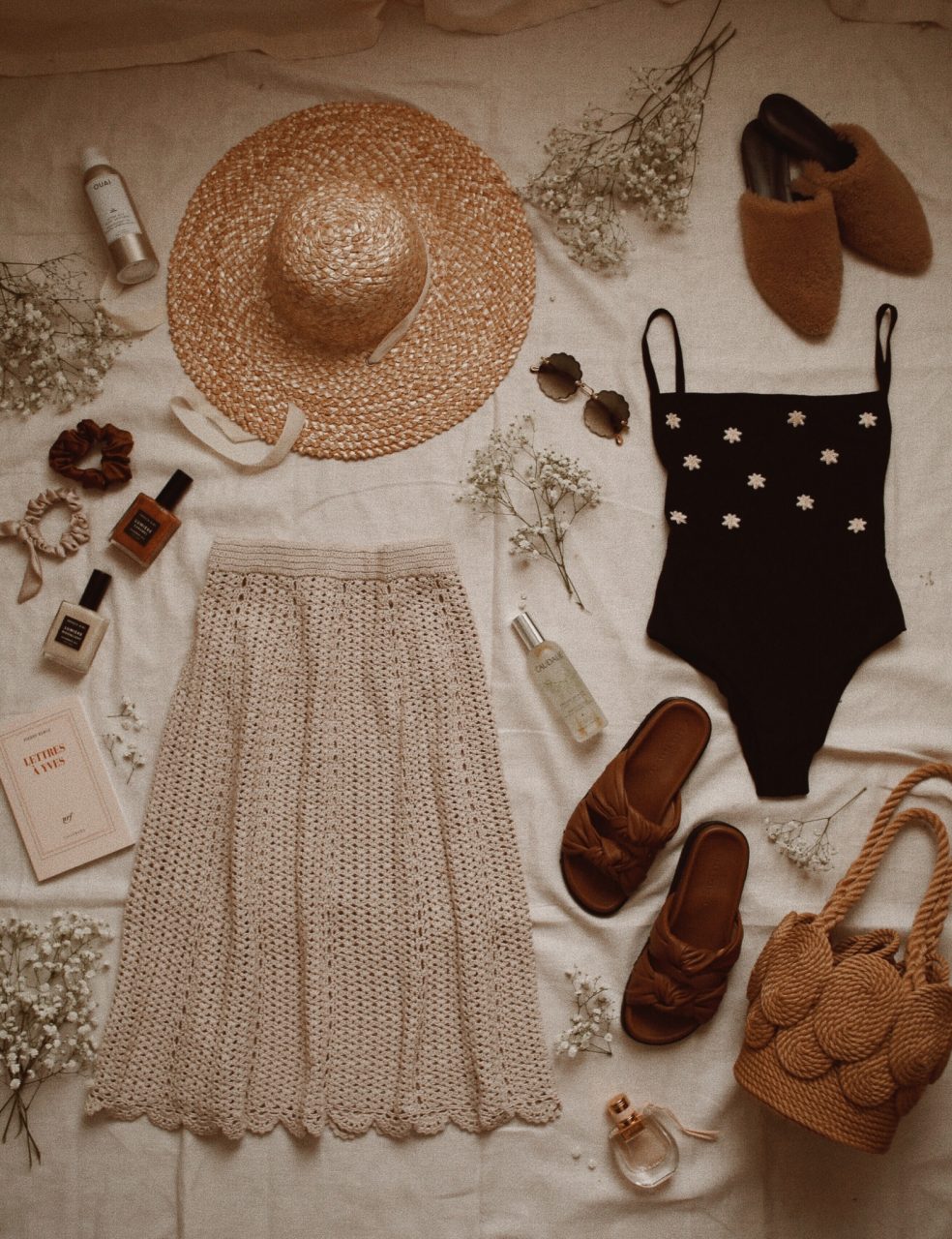 Straw Hat / I ordered this hat for my trip to Italy, but unfortunately it didn't quite arrive in time. Since being home I've worn it twice to Disneyland + out running errands, and I love it. It looks just as cute tied around my neck as it does on my head, and the amount of sun coverage is perfect. I'll be packing it along for any and all outdoor activities this Summer.
Crochet Skirt / I originally had planned on wearing this as a 'going out' look, but since trying it on at home, I actually love the idea of wearing it as a swimsuit coverup. I'll be going to Palm Springs next month and I think it will be perfect poolside.
Brown Sandals / The first thing I have to say about these sandals is just HOW comfortable they are. The leather is so soft and buttery that I didn't need to break them in at all before wearing them for a full day. I've been eyeing a few styles from Dear Frances for a while and while I thought my first pair from them would be boots, these sandals felt way more practical for the months ahead.
Sunglasses / I was gifted these sunglasses on my trip to Morocco with Chloé, and I love how different they are for me. I tend to be pretty basic and simple when it comes to accessories so at first these felt like 'a lot of look'. After wearing them a few times I actually love how different they are, and have gotten quite a few compliments. The frameless look is new for me and I love it.
Swimsuit / I first saw this suit on Lauren Caruso's stories and nearly spit out my coffee. I love love love one piece suits, and this embroidered open-back number is my idea of heaven. It looks just as good when worn with a skirt or shorts, and while the back is cheekier than I'm used to, I think I'll be wearing it plenty this season and next.
Fuzzy Mules / These shoes look + feel like slippers, but are meant for wearing out. I wore them on a movie date recently and love how cozy they are. Once it's peak-heat around here I may not reach for them as much (foot sweat, y'know) but right now they are a favorite.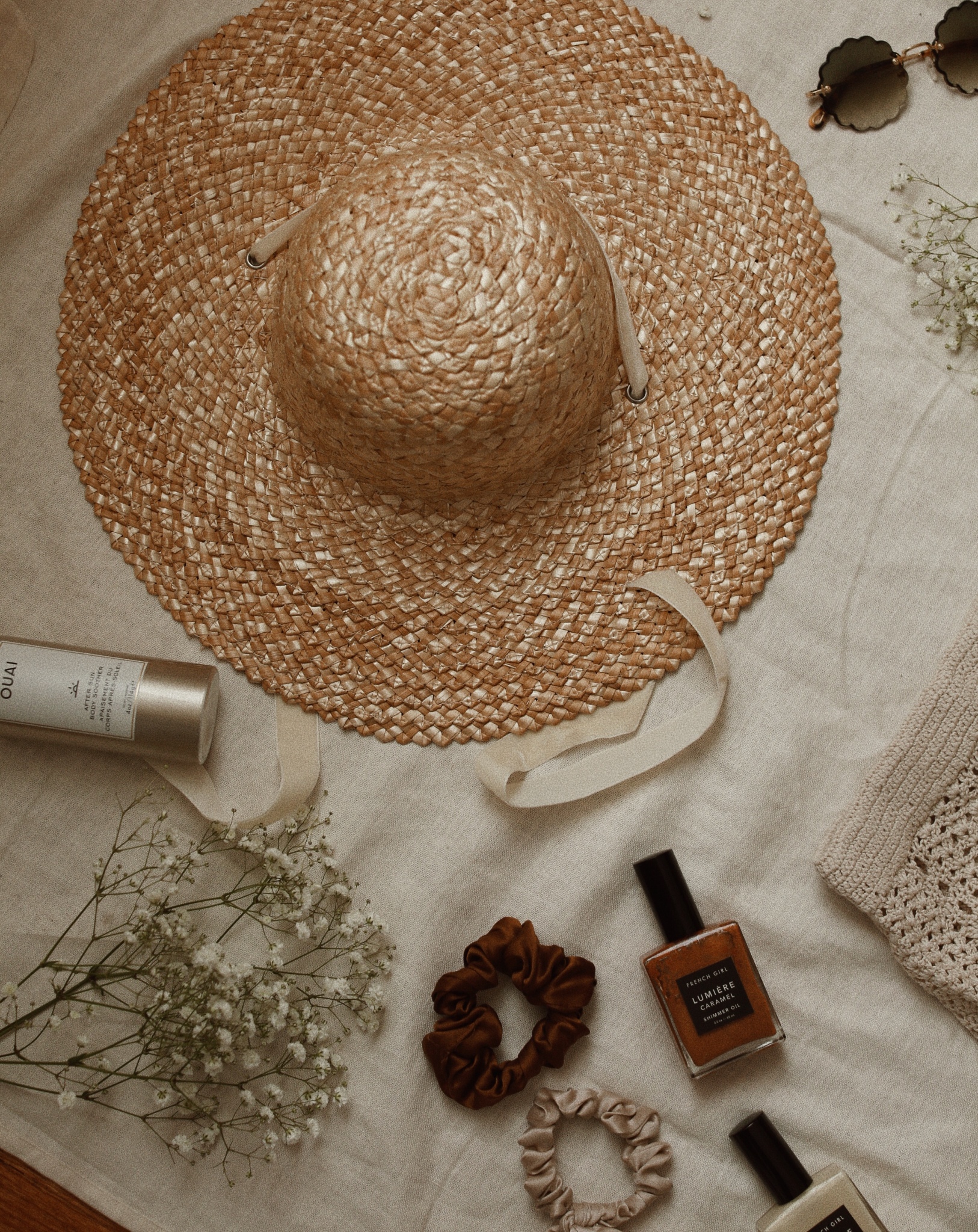 Caudalie Mist / I've been using this product since I was a teenager and I love it. The smell is so soothing and familiar, and I love the way it makes my skin feel. I sprit this onto my beauty blender to blend in makeup, spray it on to refresh my face during the day, always have it on flights, and even spritz it onto the top of the water before I take a bath. I am hooked, and this bottle lasts a LONG time.
Silk Scrunchies / I love the brand behind these silk scrunchies, Donni. They make scrunchies that look just as good in your hair as they do on your wrist – plus the color selection is so good.
Chloé Nomade / Of course you've seen me talk about this fragrance plenty as of late, but I really just can't get enough of Chloé's Nomade fragrance. This latest version, their Eau de Toilette, just smells like summer to me. The mix of oakmoss and freesia is so seductive.
Rope Purse / I LOVE how much of a statement this purse is! I was immediately drawn to the shape, but the weight and craftsmanship of it is really why I love carrying it. I feel like I get into a rut with what purses I reach for, so having this fun option to reach for will help mix things up.
After-sun Treatment / I was lucky enough to get to preview this product back in March. It's hard to describe, but the texture and the total ASMR effect it give during application is addicting. Not to mention if you've gotten a biiiit too much sun, it's a great way to soothe your skin.
Body Oils / I've been a fan of French Girl Organics for a while. Their newest body oil, Lumiere, is perfect for giving your skin a bit of a glow. I'm quite pale, so putting a bit of this on my legs and arms really helps cancel out some of my purple undertones and give a healthy glow. I don't wear the bronze color every day, but if I am ever showing off any skin in a low cut top or dress, I put their Moonlight oil on my collar bones and décolletage to give a bit of shimmer.
Some products featured in this post were gifted, and I have used affiliate links where possible, however all opinions expressed are my own.