I feel like so often my blog posts are about far-flung places, and I hardly write about just an average day in LA.
It's how blogs used to be – an outfit post, and maybe a little bit of a description about what my day was like. Nothing mind-blowing, but more of a slice of life. I have to admit that nowadays it feels a little daunting to me to post something so simple; it seems like each post must be filled to the brim with tips, tricks, links to items, and reflective thoughts. But I love the idea of being able to still share the type of posts that made my blog what it is today, so here goes nothing.
Yesterday I attended two events, which basically means going to either a shop or to a restaurant on behalf of a brand. Bloggers tend to go to a lot of events as it can be a great way to meet the people behind a brand, get to see the products, and in turn share them with our followers. From the outside I'm sure it seems a bit odd, and when I really think about it, it is funny that we drive all over LA to be able to introduce you to these brands and visuals. But I like to think of it like I'm an old-school reporter, covering these events and choosing what parts of the day to shoot and share. So while it isn't the norm for every single day, some of my days are spent like this.
My first stop of the day was a morning event for dRA clothing, to see their new Summer pieces. I wore a dress by them (the Luciano Dress), my Chloé purse that I saved up for, and had a chance to debut these green Reformation shoes I picked out at an event last week. It was such a lovely morning, and I loved getting to see the new pieces dRA has coming out.
I shared a few weeks ago that my trusty blue Benz finally bit the dust, so I'm very very slowly getting used to driving my 'new' car. It's from the 60s, and while we got it for a great deal, Eric has put a lot of time and work into making it as safe and reliable as possible so that I can drive it regularly. I'm not completely used to driving it, so I have yet to drive it on the freeway or go too far in it. I'm a bit of a nervous driver, and not having power steering (or power anything really) is taking a little getting used to, especially with parallel parking. This is such an LA thing to write about, but our lives revolve around time spent in our cars, so forgive me for droning on a bit on the subject. But basically for the most part I have been driving a lot less lately and driving with Eric to events rather than going solo. This was my first time really venturing out on my own, so I'm glad it was a spot close to home.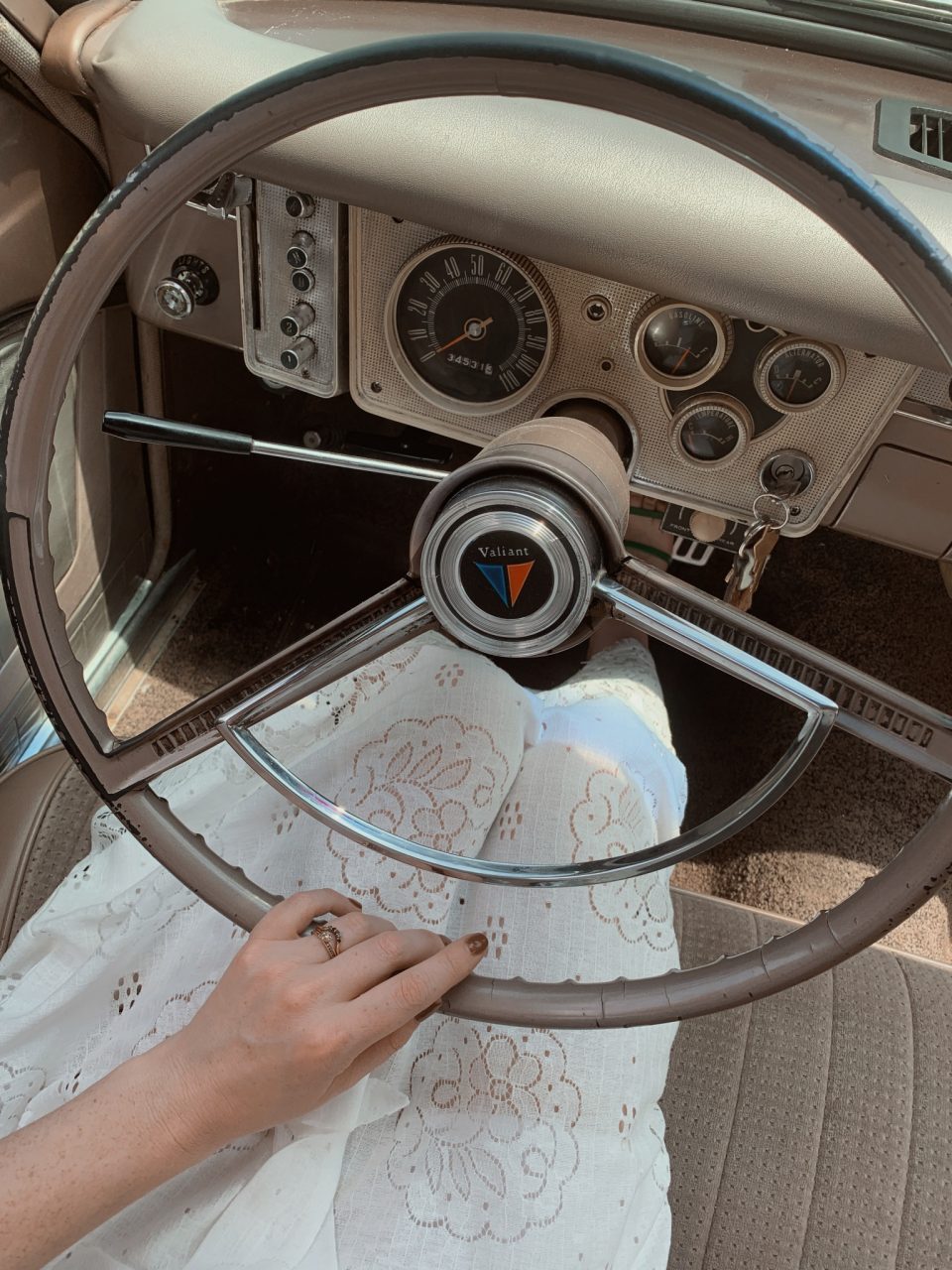 After the morning event, I headed home to have lunch with Eric at home, and to work on a few blog posts I'm writing. I have to admit that since returning from our last trip, I've been on the slower side with just about everything. Slow to answer emails and texts, slow to edit photos, and generally much lazier than I usually am. I think there's just such a rush of creativity that happens when I travel for blogging, and coming home after can feel a bit like a letdown. I love being home, and I love my home, so I'm not trying to say 'woe is me, I want to jet off again' – that's not realistic or even possible. But it can feel a bit like the wind has been let out of your sails once you return home. Every day I'm getting back into more of a normal routine, and soon I'll be my usual busybody self again.
After lunch and a shower, emails and editing, and changing outfits, Eric and I headed out for a few errands + an evening event. I've shared in the past, but I go to Iris+West for what is called a 'lash lift'. I haven't been in in a while, but since I have a birthday coming up and a few shoots, I decided to go in and have one done. Basically they tint and 'perm' your lashes so that they look curled and dark. It means that I can forgo mascara and curling for the weeks ahead, and for me it typically lasts about 6-8 weeks. I love how it looks, so I'm all about it.
The event in the evening was at the Dior Makeup pop-up in Beverly Hills (ooh la la), so we spent a little time over in West Hollywood prior to shoot some photos and grab a bite to eat prior. It's at this point in this blog post where I'm wondering if I've bored you all to DEATH with just what my day-to-day looks like, so I'll keep it brief moving forward. We shot some pictures out on Santa Monica Blvd in WeHo, had some drinks and cheese at Commissary and then drove over to Rodeo Drive to make it to the event at 7. We typically don't go out to eat often in LA (it's pricey) but as it was happy hour and I had sold some pieces at Crossroads next door, we decided to indulge a bit.
The night ended back at home after the last event with some homemade pad thai and watching the latest SNL and the final episode of Veep. Not every day is like this – in fact most of my days are completely different from the last – but I figured why not occasionally share what I'm up to at home? Let me know below if you're into something so simple, and I'll try to post a little bit more from my day-to-day.