While looking around my home last week, I realized just how much of my decor has been sourced on Etsy. Most smaller pieces and plenty of our kitchenware are vintage pieces I found on Etsy – and usually for not much money. Maybe it's because I got my start on Etsy, but they are always a resource that I turn to when I am looking for a new piece. So today I wanted to share both the general terms and guidance I use for searching, as well as specific phrases that I will type in to hunt for dishware, decor, clothing, and more.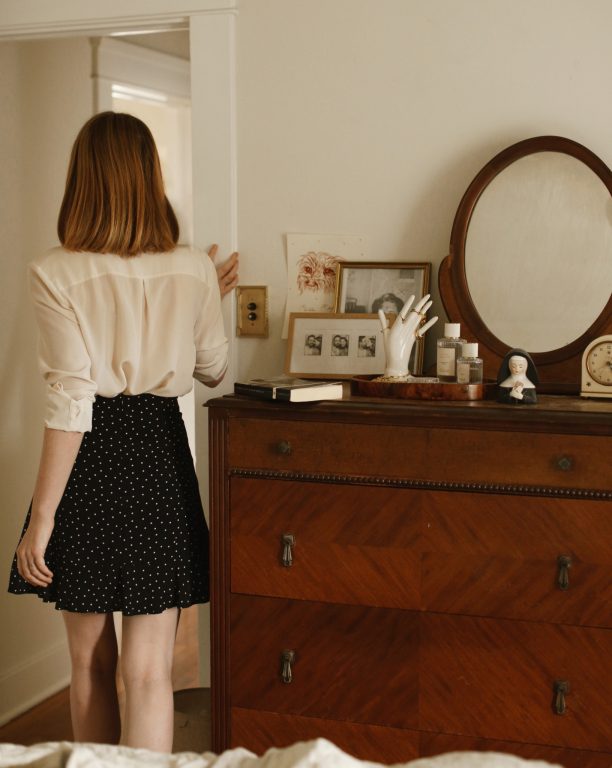 General Tools
This may seem very obvious, but first and foremost, pay attention to the toolbar on the left side of the screen when you start searching on Etsy. I prefer pieces that are truly vintage rather than reproductions, so I always check the box for 'Vintage' rather than 'Handmade' when I'm looking for older pieces. Another feature that I use is the price narrowing tool. Depending upon the category, I'll choose what price range I'm comfortable searching in. Antique and rare pieces can get super pricey, so it's best not to fall in love with something only to have sticker shock a moment later. Plus, there are so many individual sellers out there that will have great deals, so Etsy is a perfect place to do a bit of hunting. And as a bonus, you know you're supporting a small business when you click purchase, and that is so appreciated at the moment.
General Search Terms
When it comes to searching on Etsy (and really anywhere that stocks antiques and vintage pieces), starting out with general words and then narrowing it down is a great method. I like to use the following words as a jumping off point, and as I scroll I get more specific. For instance, I'll use a very simple word like 'France' or 'Crystal' + whatever it is I may be searching for. Sometimes I'll just type an era I like and see what comes up. Usually it will guide my search and as I scroll I'll come up with other words based on the listings I'm seeing to help narrow it down. For instance, a search with just 'Art Deco' could eventually turn into me searching for 'Art Deco Locket Moon' because I'm seeing pieces I like that are similar. Use these vague terms as your jumping off point for whatever you're searching for.
I love having art books, coffee table books, and prints from artists around my home to serve not only as decor but also as inspiration. Try starting out with a phrase as simple as 'art book' and narrow it down once you learn which artists you like. I love Rodin and Henry Strater, and have collected a few books of their work that were printed in the 60s. I've also used this to find reproductions of busts and statues that I like to decorate our mantle with.
Try searching for an item you're interested in, and typing in a decade. For me, I love things from the 20s-40s, so I'll usually plug those decades in to find something that feels like my style.
If you find that you're drawn to styles from specific countries or regions, try including that in your search terms. When I'm feeling especially vague, or just looking for a good browse, I'll add the word 'Paris', 'Florence', or 'France' to whatever it is I'm searching for. Sometimes it will help pull up a style that was unique to the area, or sometimes that will be all that I type. For instance, a recent search I did with the words 'Paris Antique' showed me all of these antique pantries that were once used in country homes in France to keep their cheeses and breads fresh, and I'm debating ordering one as a display piece in our kitchen.
Similar to using decades to search, try using eras to find what you're interested in. I like searching for pieces that are defined as 'Hollywood Regency', 'Victorian', 'Art Deco', and 'Pre-War' when I'm searching, but there are so many more eras and specific styles that may be your taste. Pay attention to listings you find that you like, and try to define exactly what style it is you're drawn to. Maybe it's 'Gothic Revival' or 'Baroque' pieces that catch your eye.
As I'm sure you'll be able to tell from my suggestions for decor down below, materials play a big part. Some of my favorites words to add in addition to what I'm looking for are 'cut crystal', 'brass', 'gold leaf', 'burl wood', 'mirrored', 'crochet', and 'lace.
Do you like things with floral designs? Celestial motifs? Try adding in the things you are drawn to. You can be as vague as 'floral' or else choose the specific flower it is that you like in decor. I love to search for pieces that have designs of roses, shells, or moons in them, but to each their own!
And now that you have a starting point of materials, eras, and artists, you can start to plug these ideas into individual categories. My favorite pieces to purchase from Etsy are dishware and kitchen supplies, decor, and clothing + accessories. Scroll down to see the search terms I use for each category.
Dishware
One of my favorite sections to visit at any thrift store or antique mall is the dishware and kitchen tools. For some reason I find these pieces to be the easiest to make feel current + there is always SO much to choose from. I've used Etsy to find some fo my favorite tea sets, serving dishes, crystal wine glasses, and more. Scroll down to see some of the search terms I've used to find my favorite pieces.
Key Search Terms
Crystal Goblet
Cut Crystal
Gold Tea cup
Gold Rimmed
Gold Leaf
Porcelain
Shell Tray
Antique China
Brass Utensils
Stone Bowl
Cabbage Bowl
Speckle Bowl
Pyrex Serving Bowl
English Mixing Bowl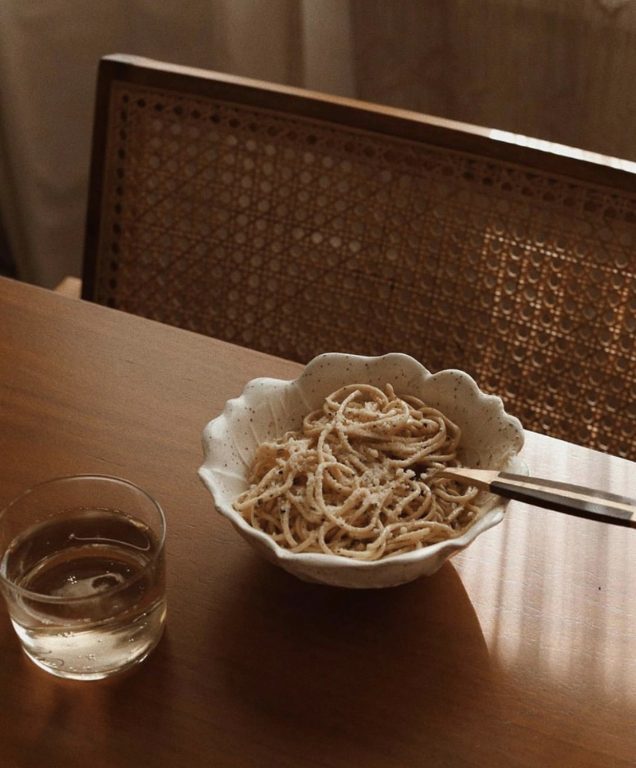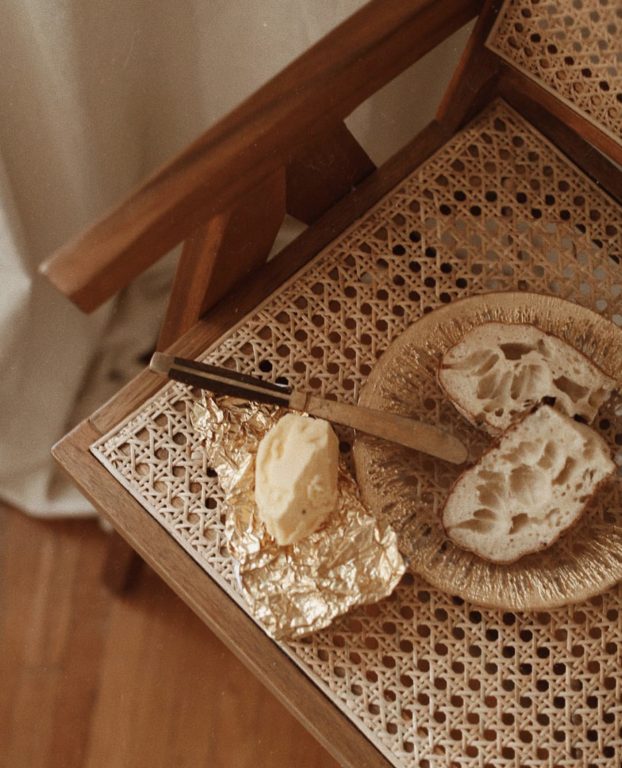 Decor
The most visible way that antiques and vintage pieces play a part in my home is the decor. Any surface in my home (and most of the walls) play host to treasures I've found on Etsy. From the brass candlestick holders on our fireplace, to the ceramic hand that tops our dresser, Etsy is the perfect place to hunt for those little trinkets that can make your space feel truly unique.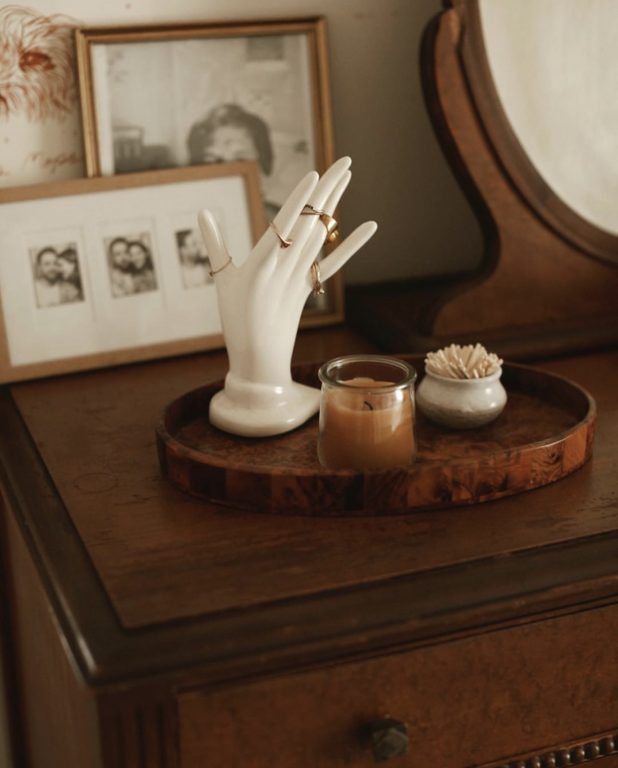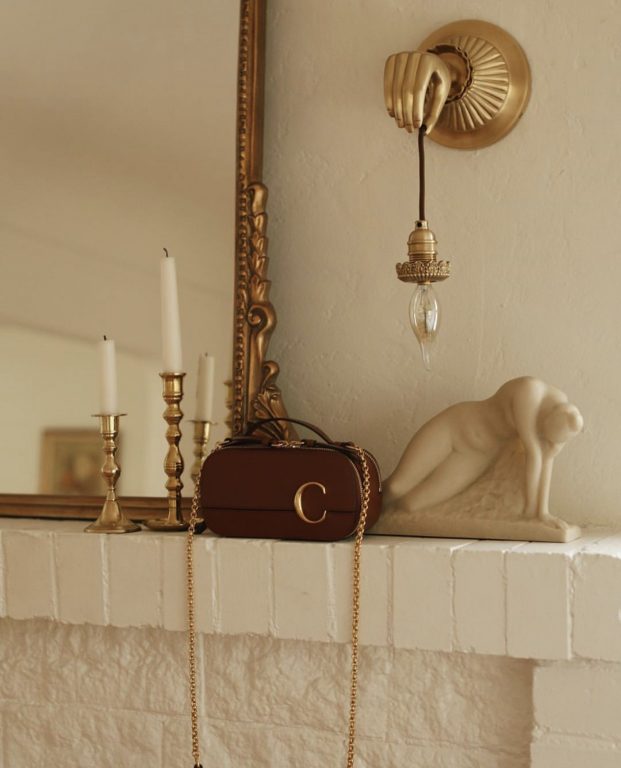 Key Search Terms
Florentine tray
Ceramic or Porcelain Hand (to display jewelry)
Vanity Tray
Brass Shell
Shell Dish
Tortoiseshell or Tortoise
Shell bowl
Rattan
Rattan Basket
Burl wood
Candleabra
Scalloped dish
Crystal Cloche
Oil Painting Nude
Brass Sconce
Brass Candlestick holder (include the word 'lot' to find sellers with multiple pieces)
Dog Oil Painting
Brass Tray
Mirror Tray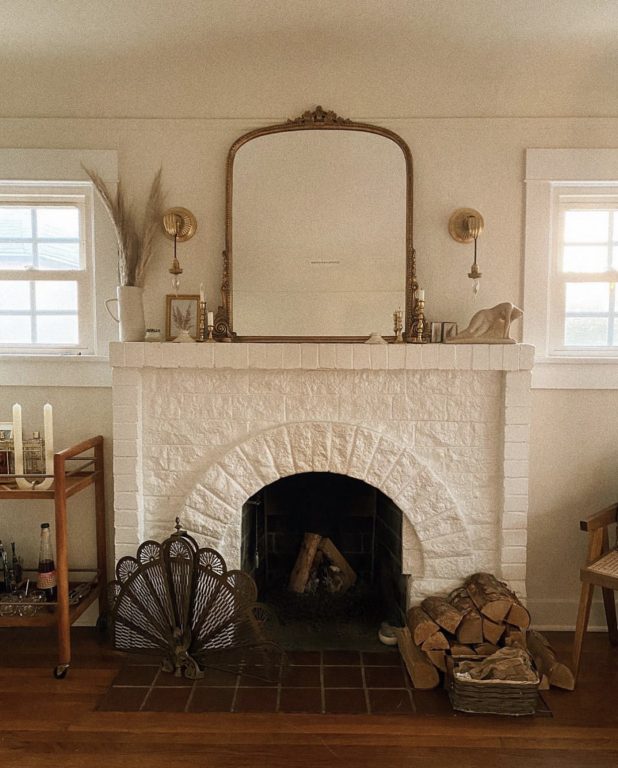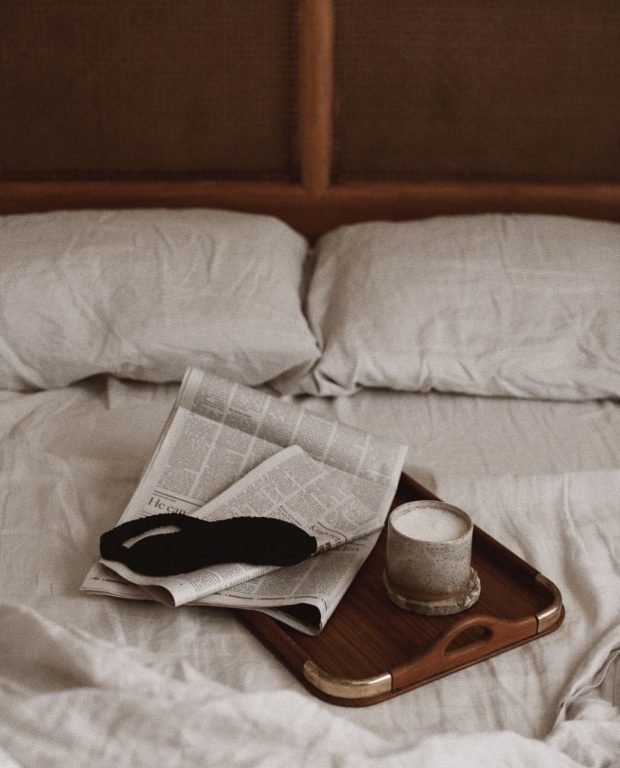 Clothing + Accessories
I used to have my own shop on Etsy selling vintage clothing, so it's only natural that I turn to them when I want to find something unique. Clothing can of course be a bit harder to find with measurements being so different now, and with some pieces not being durable enough to stand the test of time. I like to reserve the pieces that I do choose from Etsy to be in categories that I can wear a bit easier, so denim, outerwear, accessories, and nightgowns are usually my favorites to look for.
Key Search Terms
Brass hair clip
90s Sundress
Novelty Print
Camel knit
Frame purse
Trench Coat
Plaid Coat
High Rise Levis (+ your waist measurement)
Burberry Coat
Designer names (try Dior, YSL, Chanel, etc.)
Chanel Brooch
Chanel Hairclip
Silk Tap Pants
Antique Nightgown
Cotton Nightgown
Bias Cut Nightgown
40s Nightgown
Edwardian Gown
Lace Dress
Lace Robe