I've never been big on resolutions for the New Year – mostly because I can never decide on just one. I find myself wanting to pull in different directions, so this year, I've made two promises to myself that I think will be easy to keep – to be happy and healthy for 2017.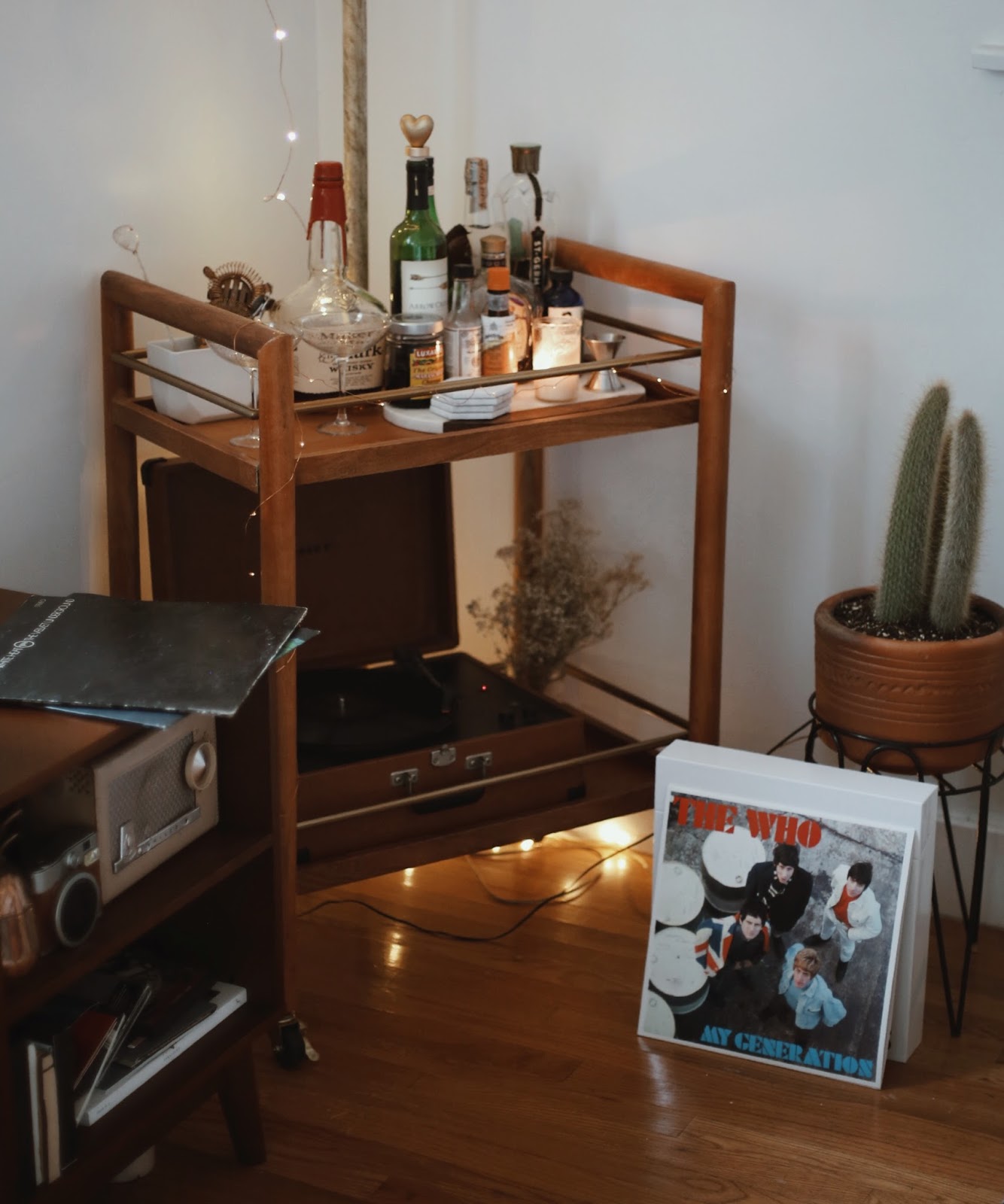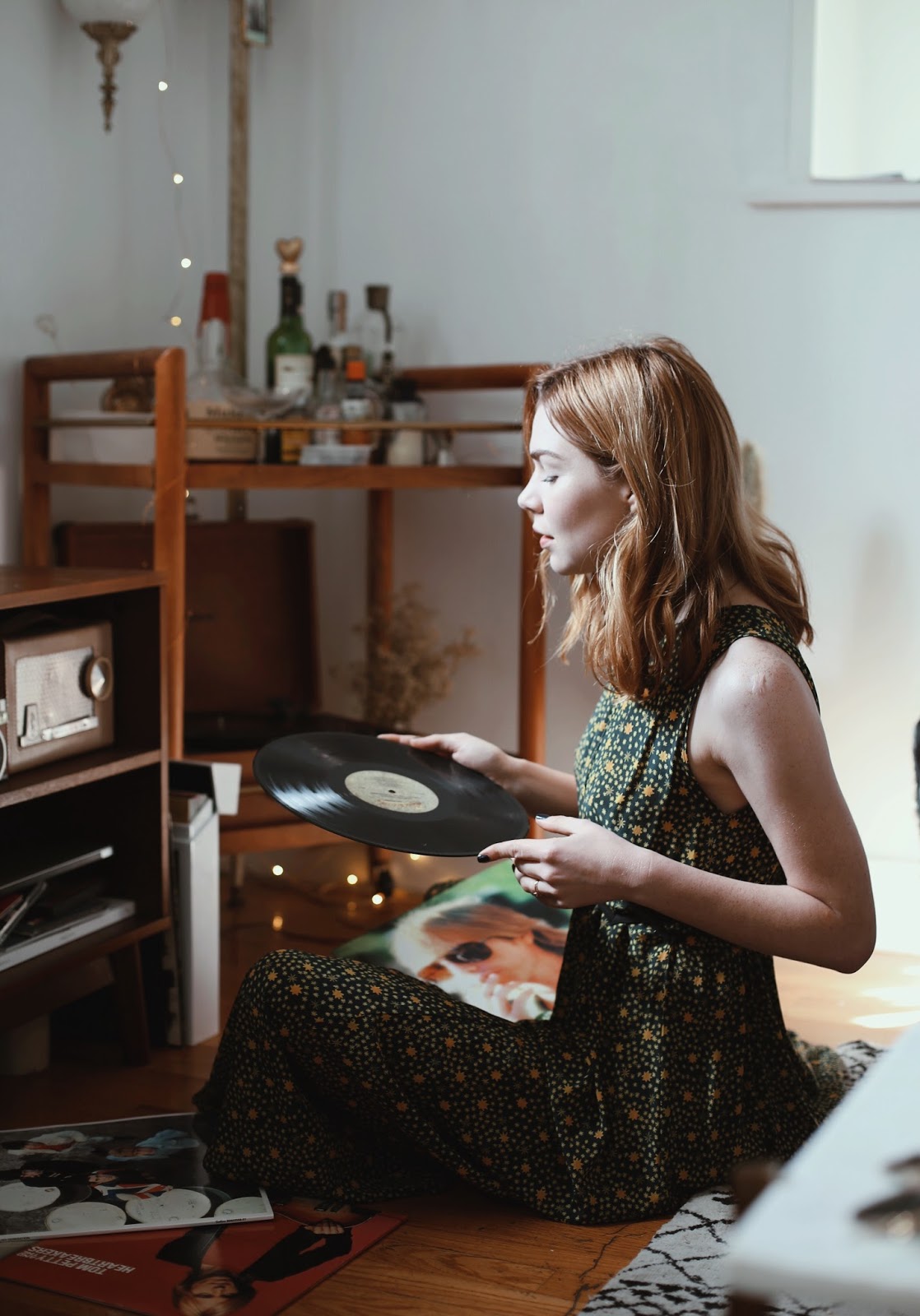 First and foremost – happiness. For me, happiness has meant being surrounded by friends and family. Working from home and being self-employed can be isolating at times, so being able to entertain has become a real outlet for me to get to spend time with others. I love hosting, especially since moving to our new apartment. We've shifted things around in our living room to make the real focal point our bar cart and record player. Music and drinks are the biggest part of any party I host, so it's a fitting tribute.
I've had this record player for years, and have slowly been adding to my record collection during that time. I got all of my first records from thrift stores and family members, and now that I'm an adult, I've been buying records that I hope to pass down to my loved ones someday.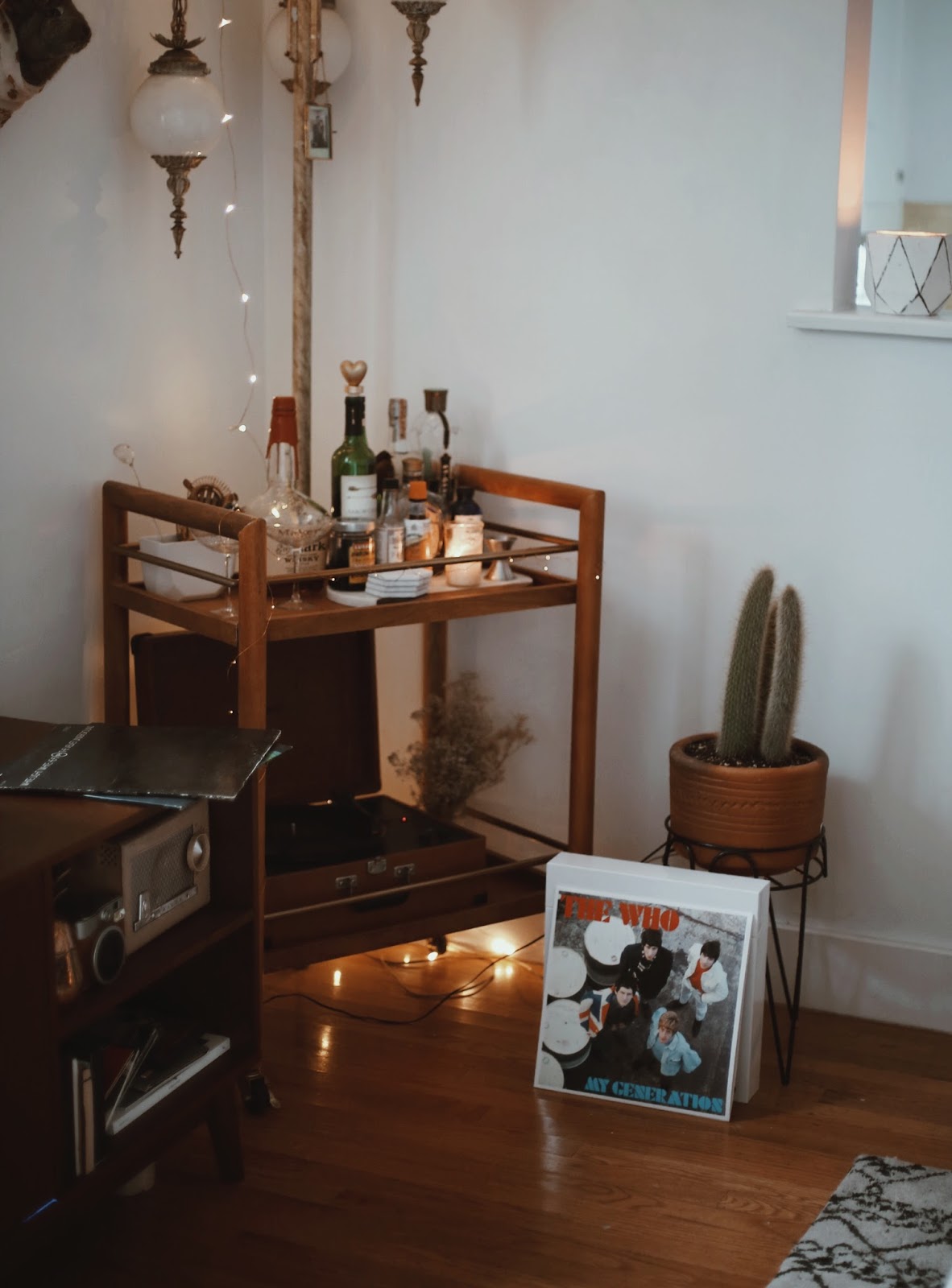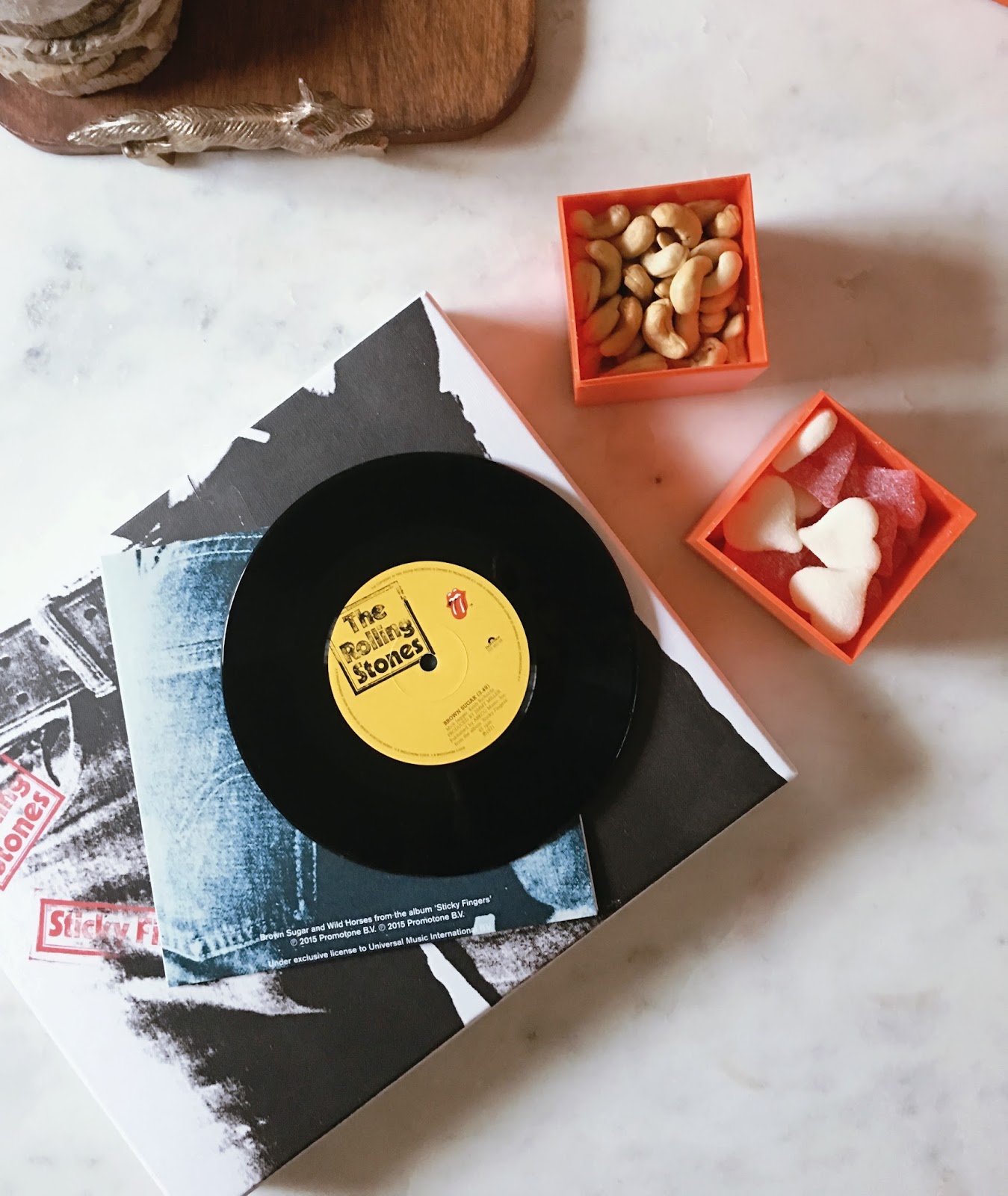 Growing up, there was a lot of music in my house – a lot of rock from the 60s and 70s while my mom did the dishes or my dad worked on the lawn. Some of the artists that my parents listened to have been a steady favorite in my life ever since. My mom loved the British Invasion and subsequently The Rolling Stones – my dad was a big fan of The Who, and Pink Floyd. And while I can listen to digital copies of their albums and songs, there's nothing quite like being able to turn on a record while pouring a cocktail. The music just feels more tangible to me when you're watching the record slowly spin around.
I wanted to pick out some amazing records specifically for our parties and I immediately thought of the music I grew up listening to – I thought how perfect it would all be for a get-together. I found an incredible boxed set of The Rolling Stones album, Sticky Fingers. Wild Horses is one of my favorite songs of all time, and the album is full of some of the most iconic Rolling Stones songs. The coolest part of the set was the book of amazing photos of the band during the recording and release process of the album, and when we had friends over the other night we all enjoyed going through the book and listening to the record.
Next, I found The Who : My Generation. This album got A LOT of play in my house growing up, and since the old record my dad has is not up for grabs, I had to get my own copy. We put this album on a little later in the night, and I have no shame in admitting that a lot of singing along happened. It was fun, and reminded me of why I love to host parties – for those amazing moments you couldn't possibly plan.
So this year, rather than spend nights home alone with my laptop, or staring at the TV, this year I resolve to spin records, to dance, to laugh, to raise a glass with my friends.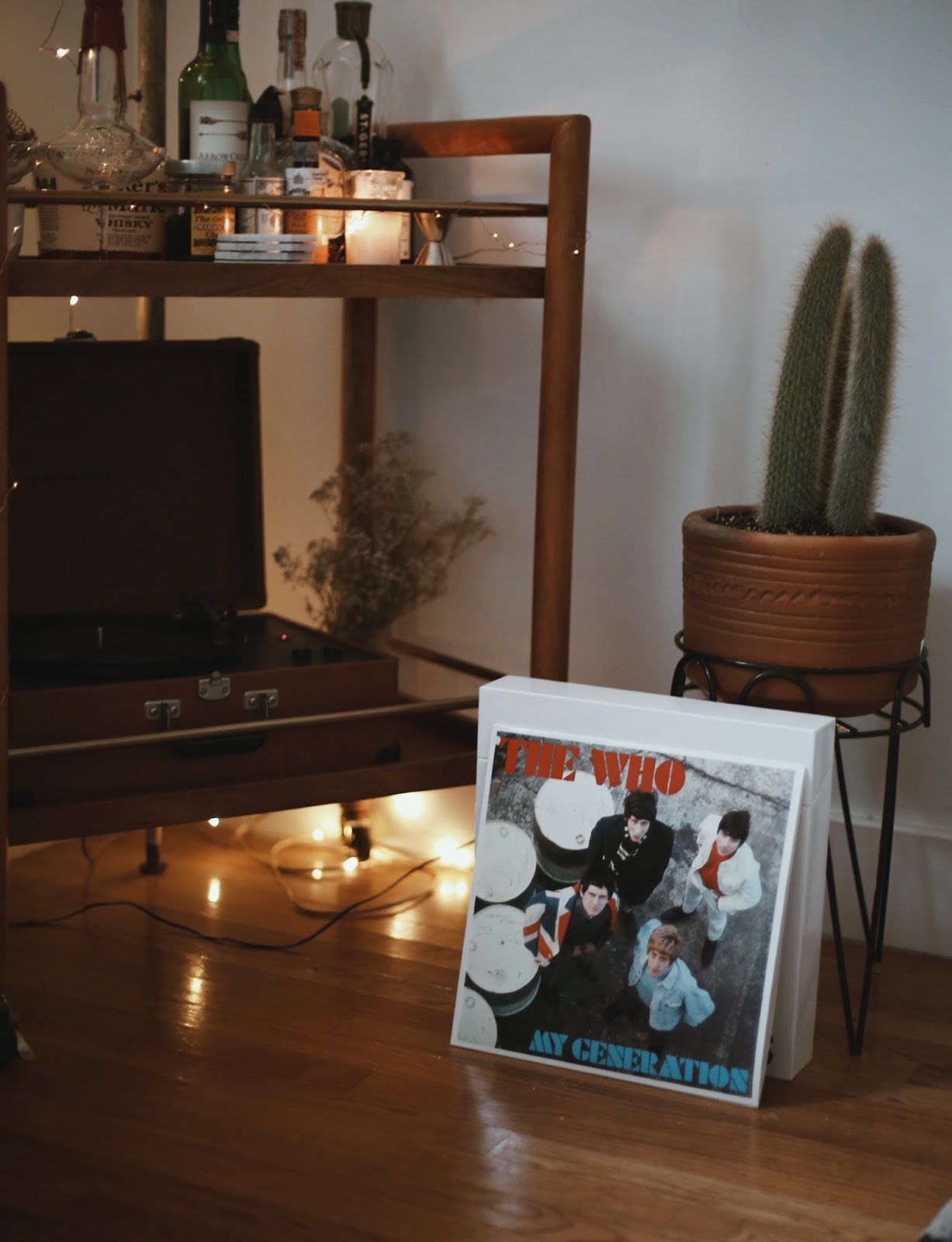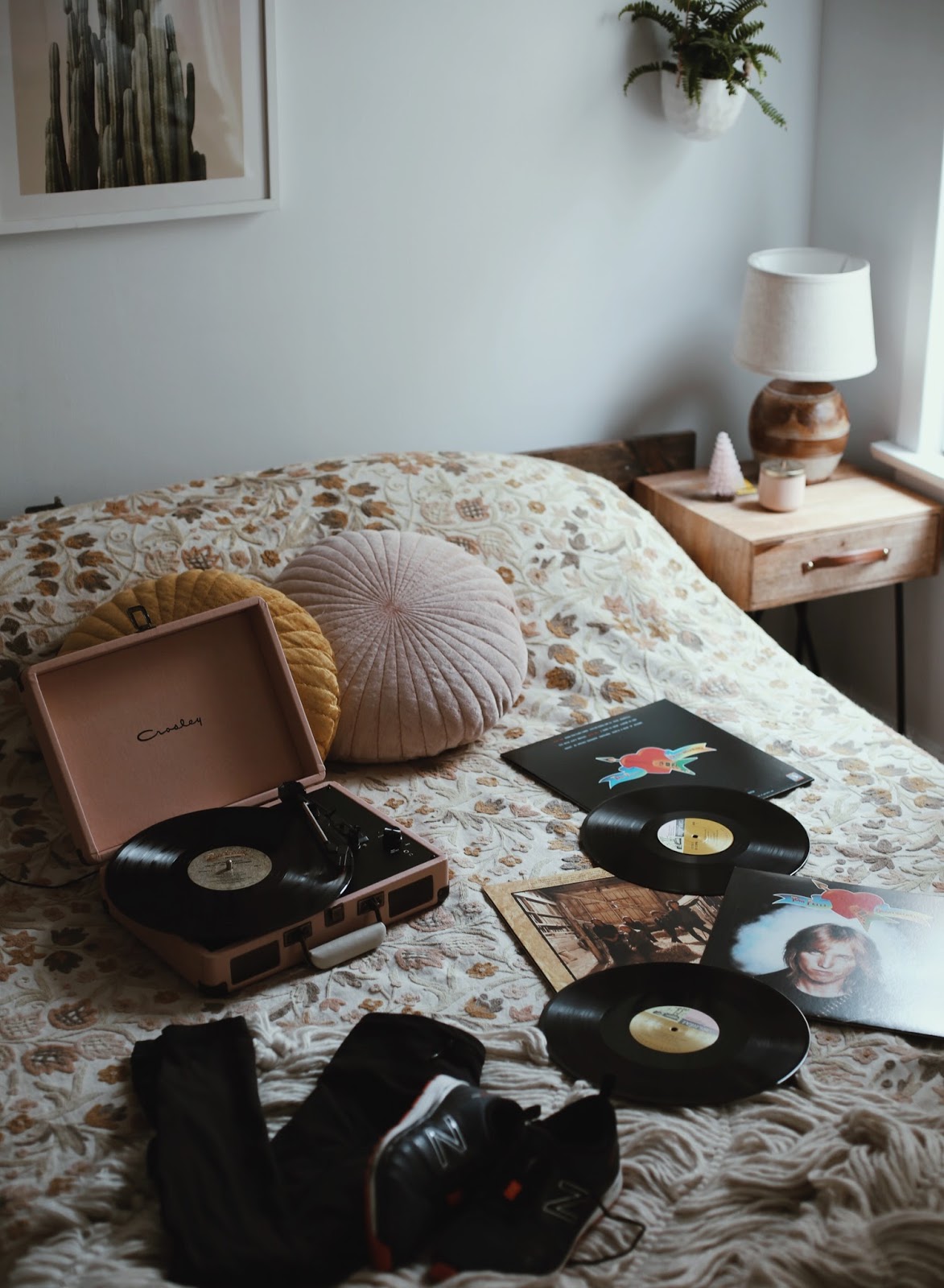 My second resolution – or promise as I prefer to call it – to be healthy. This one is a lot harder for me than my commitment to entertain as I've never considered myself to be especially athletic. But motivating myself to get out there and move, to hit the gym, to go for a walk is so important. We've only got one body, so why not strive to keep it healthy?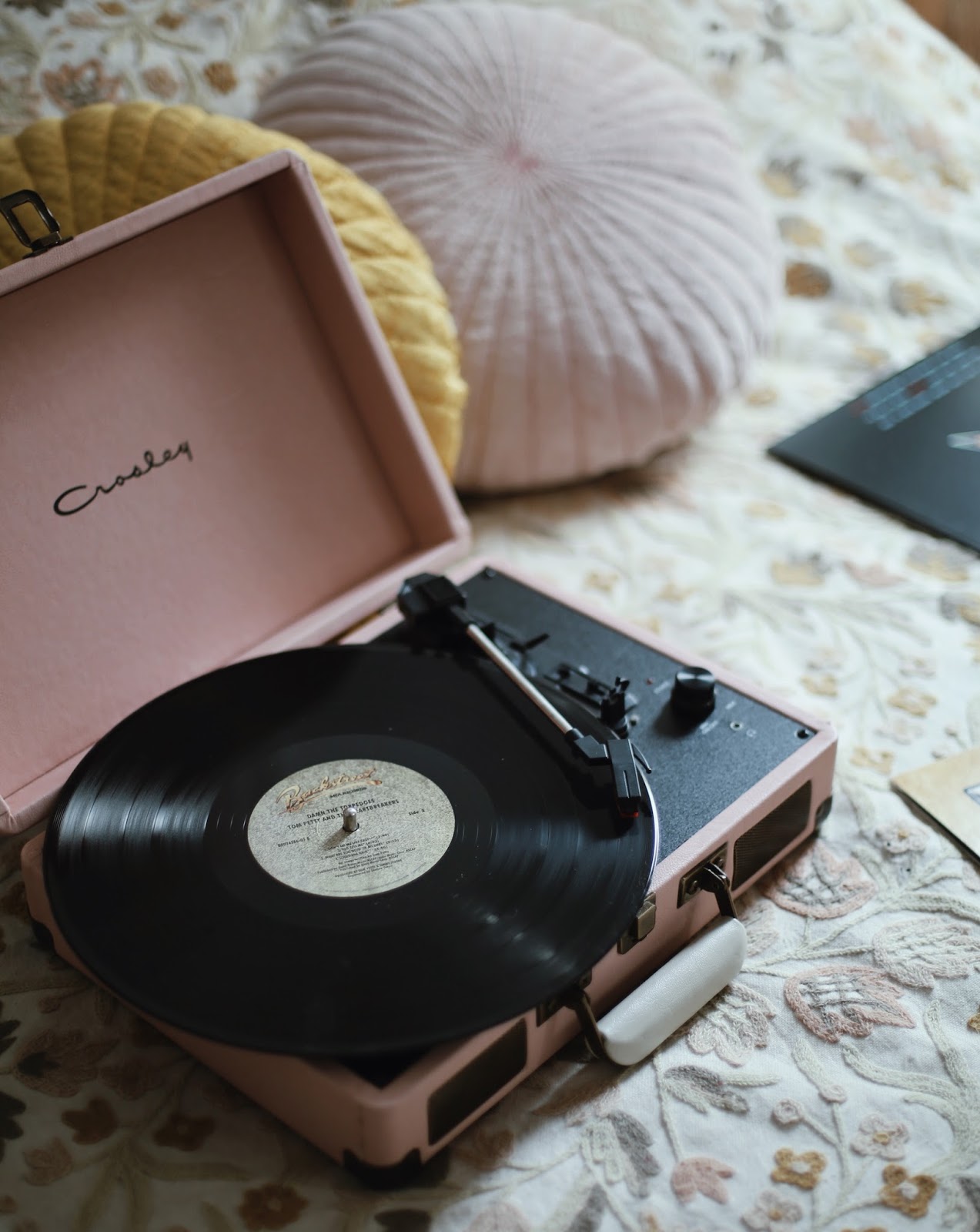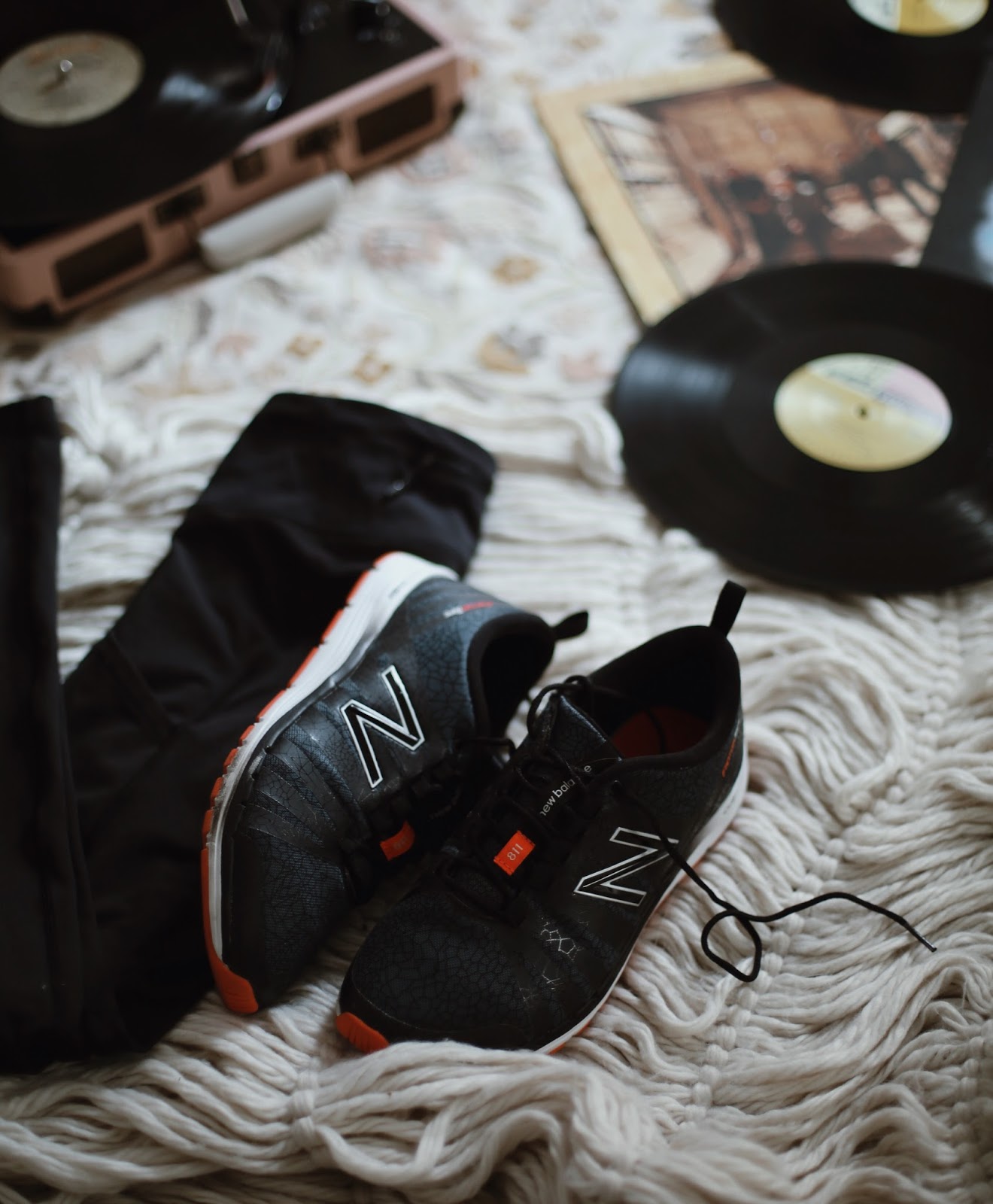 Like I said though – this is a hard one for me. In the middle of the afternoon, when I'm getting ready to go to the gym, is when I'm most likely to fail. To kick off my running shoes, sit down and answer emails, and let the time slip away that I intended to use to work out. Which is why I need PUMP UP JAMS. Music to motivate me as I put on my gym clothes, grab my bag, and head out the door.
Normally I would reach for headphones, but when getting ready to seize the day, I think loud music is necessary. I grab my favorite records, throw one on my little player in my bedroom, put my hair up, and get ready to get out there. For me it's been important to make working out a daily ritual, and I'm hoping my upstairs neighbor forgives my loud music for the few minutes I take before hitting the gym.
My favorite music to put on before a workout? I have plenty of songs that I love to move around to, but lately it's been this boxed set of Tom Petty Records – all of my favorites are on there as well as a few albums I've never really listened to before. It's a MASSIVE collection – disc after disc of all of Tom Petty's songs. My ultimate pump up jam is American Girl – and it has been for years. I actually listen to it in my car before auditions sometimes, so being able to use it before a workout kinda gives me a little extra 'you got this' push. Not pictured, but also a great choice? RUSH. I swear, try it.