Last month I was fortunate enough to team up with one of my favorite footwear brands – SOREL – and one of my favorite fellow bloggers – Stephanie of HoneynSilk – to embark on a trip to the Pacific Northwest. And while you guys know I've hit up Portland a half dozen times, I somehow, inexplicably, have never been to Seattle. So armed with suggestions for amazing day trips, art museums, and more than one Oyster restaurant I laced up my rain boots and hopped on a plane.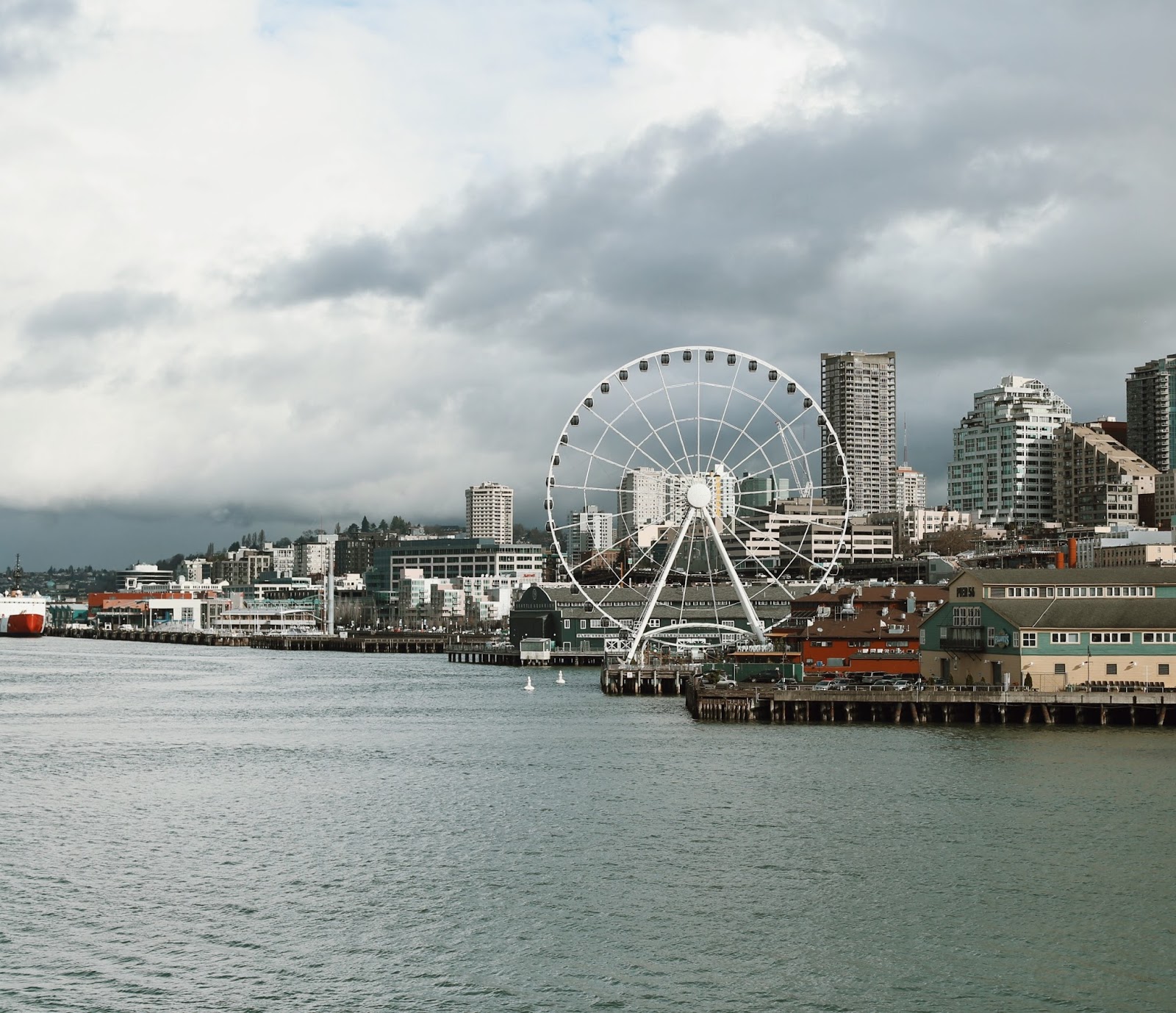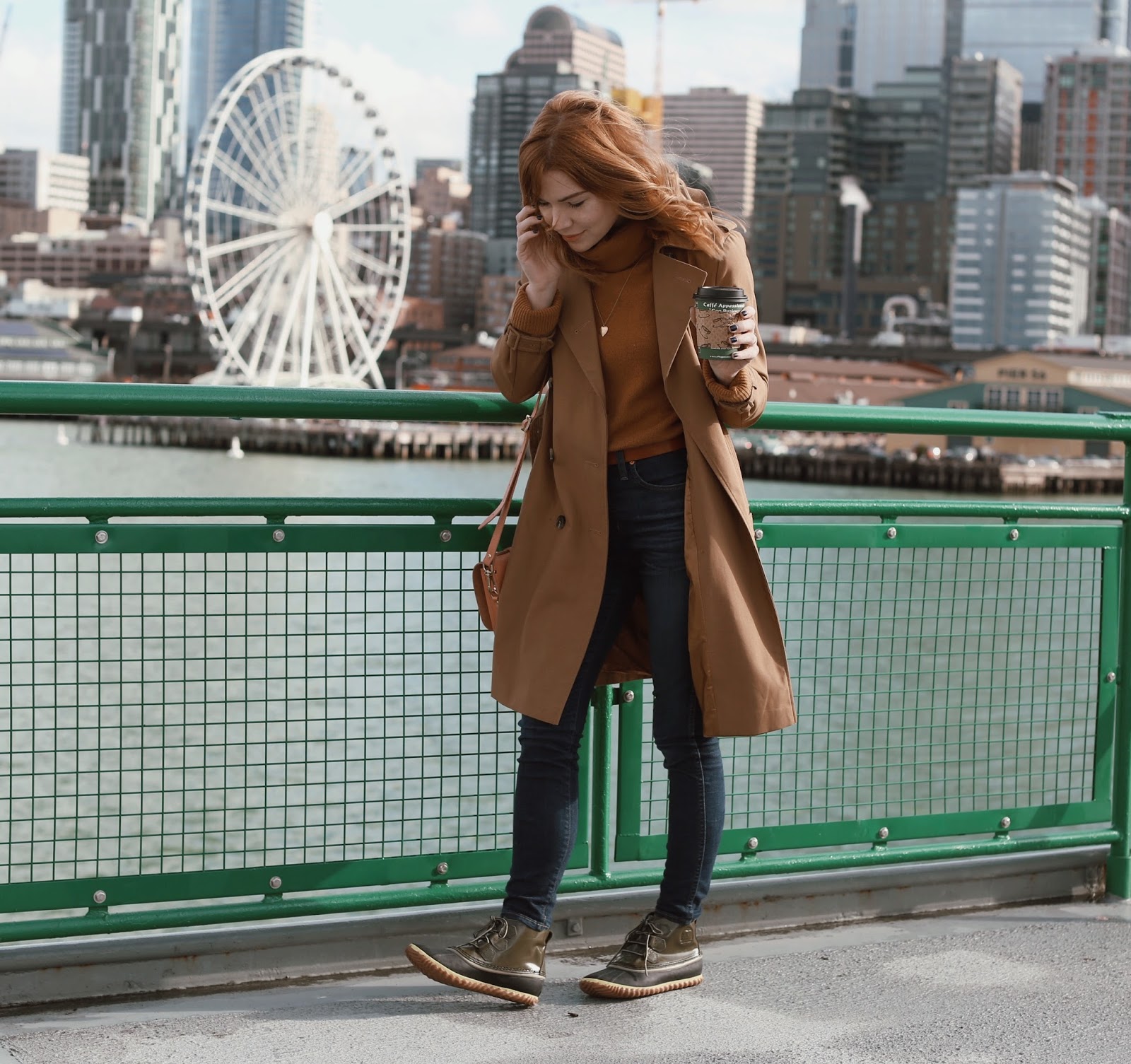 For our first full day in Seattle, Stephanie and I planned an excursion to local Bainbridge Island. It's a quick ferry ride away, and the journey allows for a really great view of the city. Because the weather in the area can be unpredictable, we both paired our trenches with SOREL rain boots. I opted for the Out N About lace-up boots, and Steph chose the cutest short black pair (that I promptly borrowed the next day for a pic).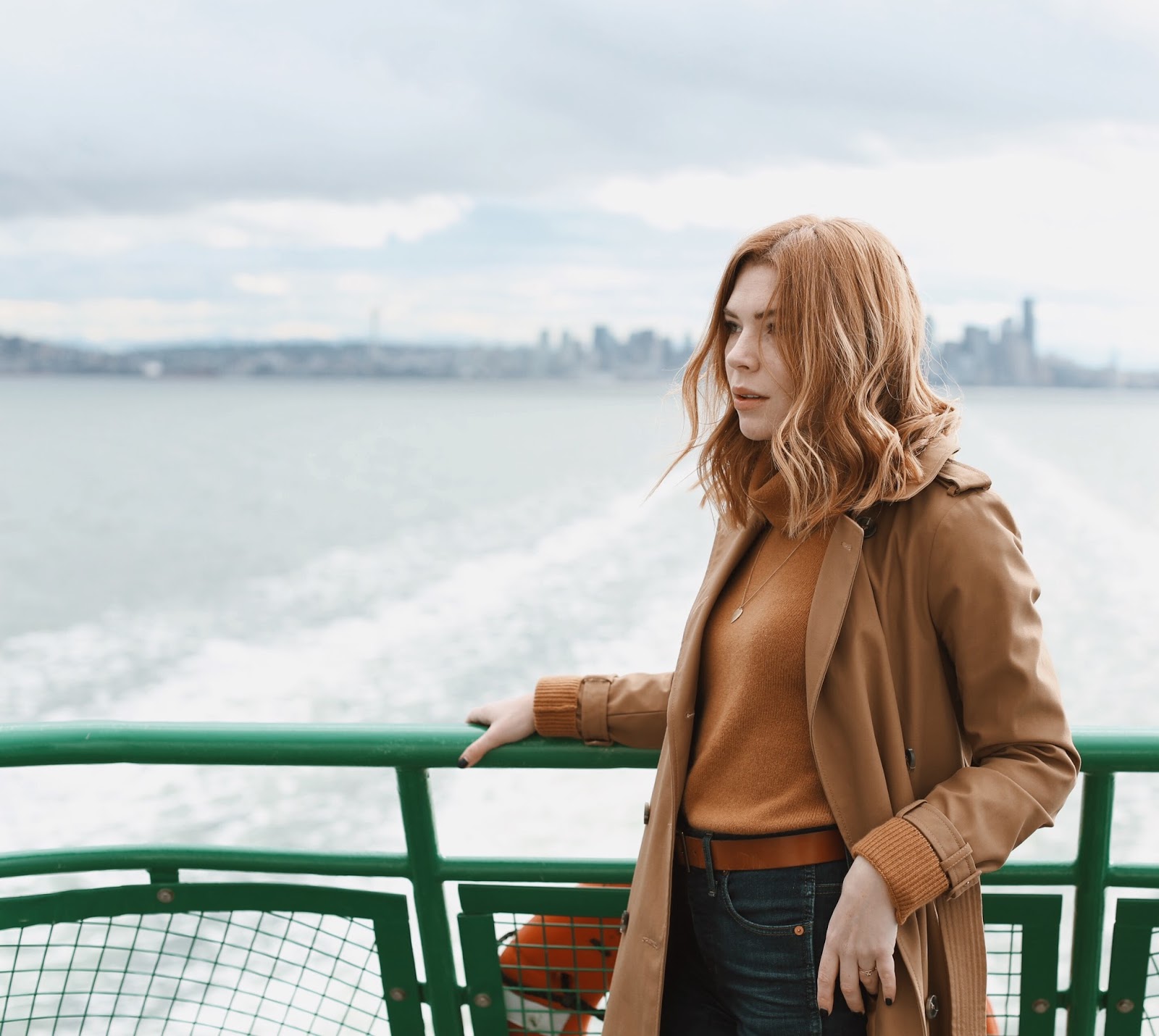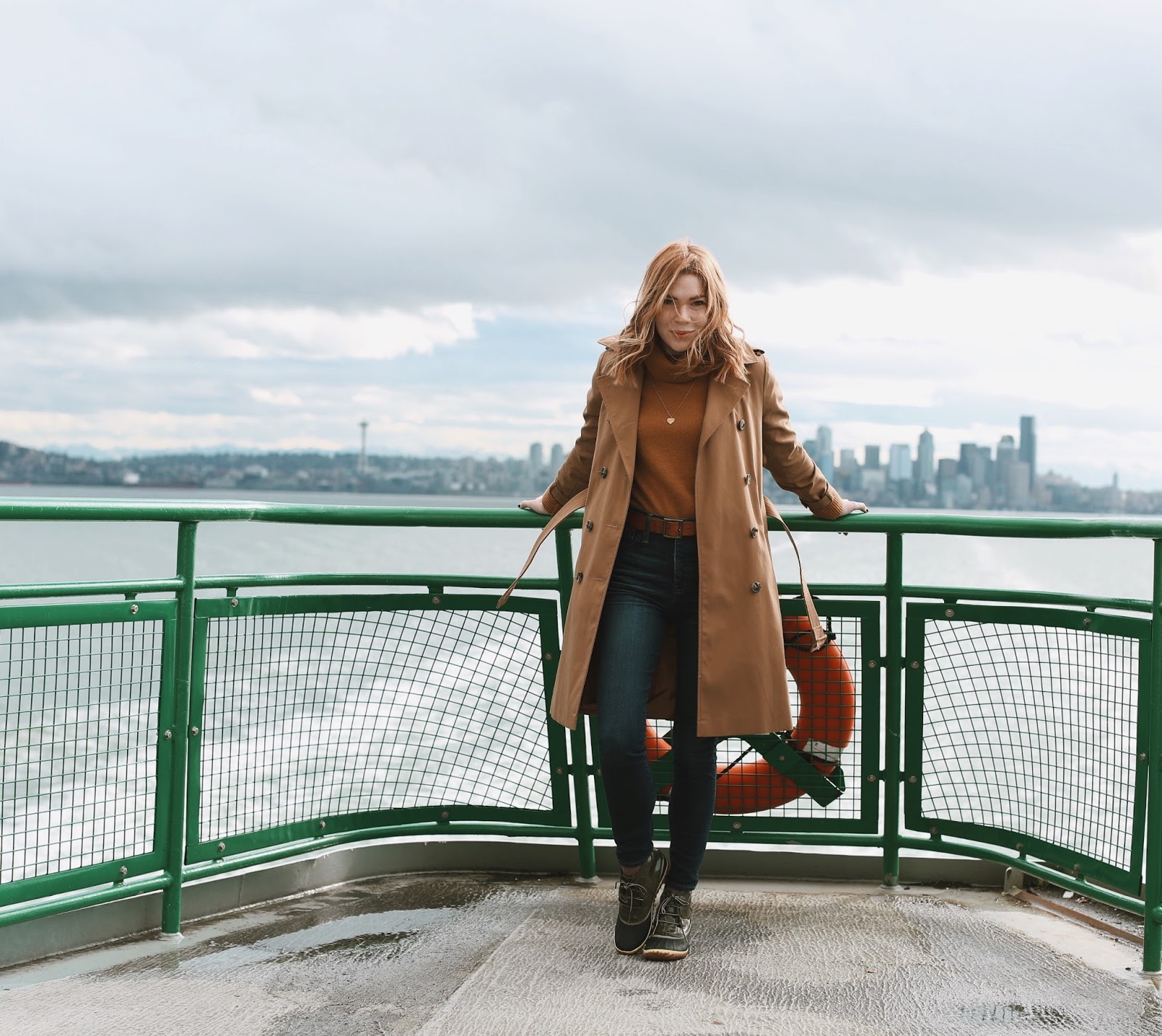 SOREL Out N About Rain boot / ASOS trench / LPA sweater / Madewell Jeans / Cambridge Satchel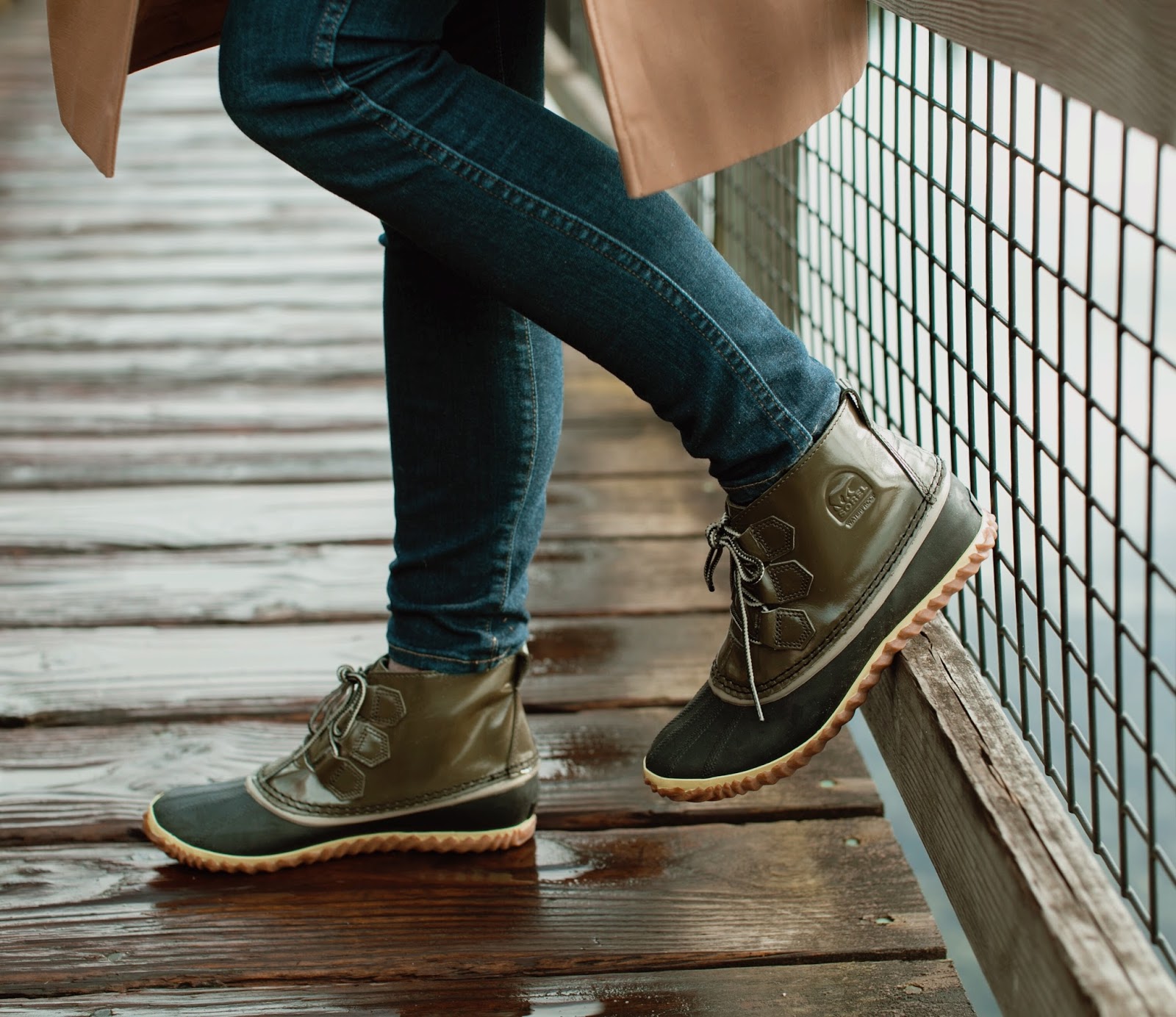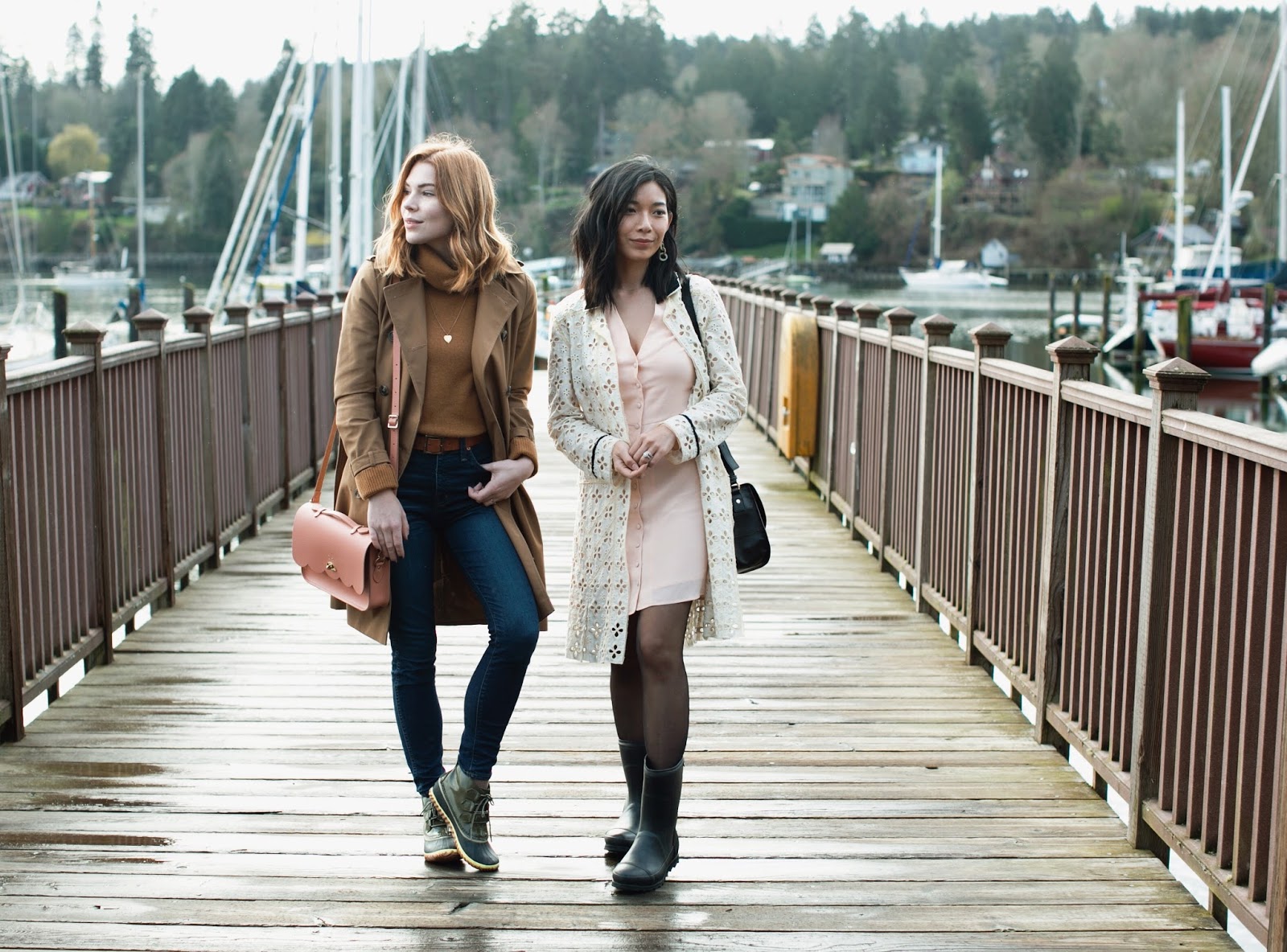 Everything on the island looked straight out of a postcard, and in addition to the cozy cafes and cute downtown, it had a large selection of galleries to wander through. Local artists were displaying these beautiful paintings of the landscape of the island, and we spent a good amount of time soaking up the pieces before heading out to see some of the scenery ourselves.
We walked along the pier, I pet several dogs, and snapped some outfit photos of each other. That's one thing I love about traveling with another blogger – they really understand the need to 'pull over' if there's a great photo op.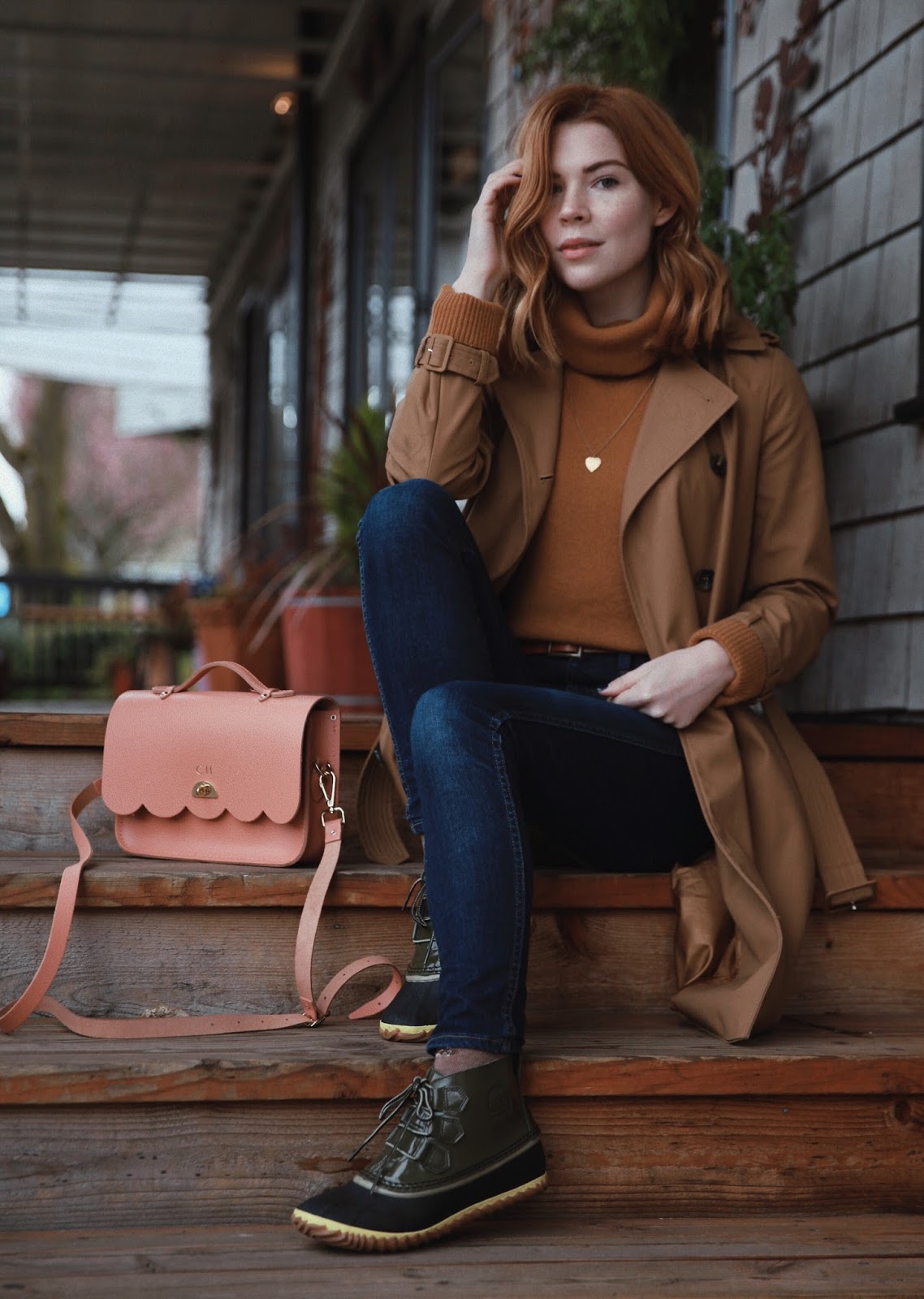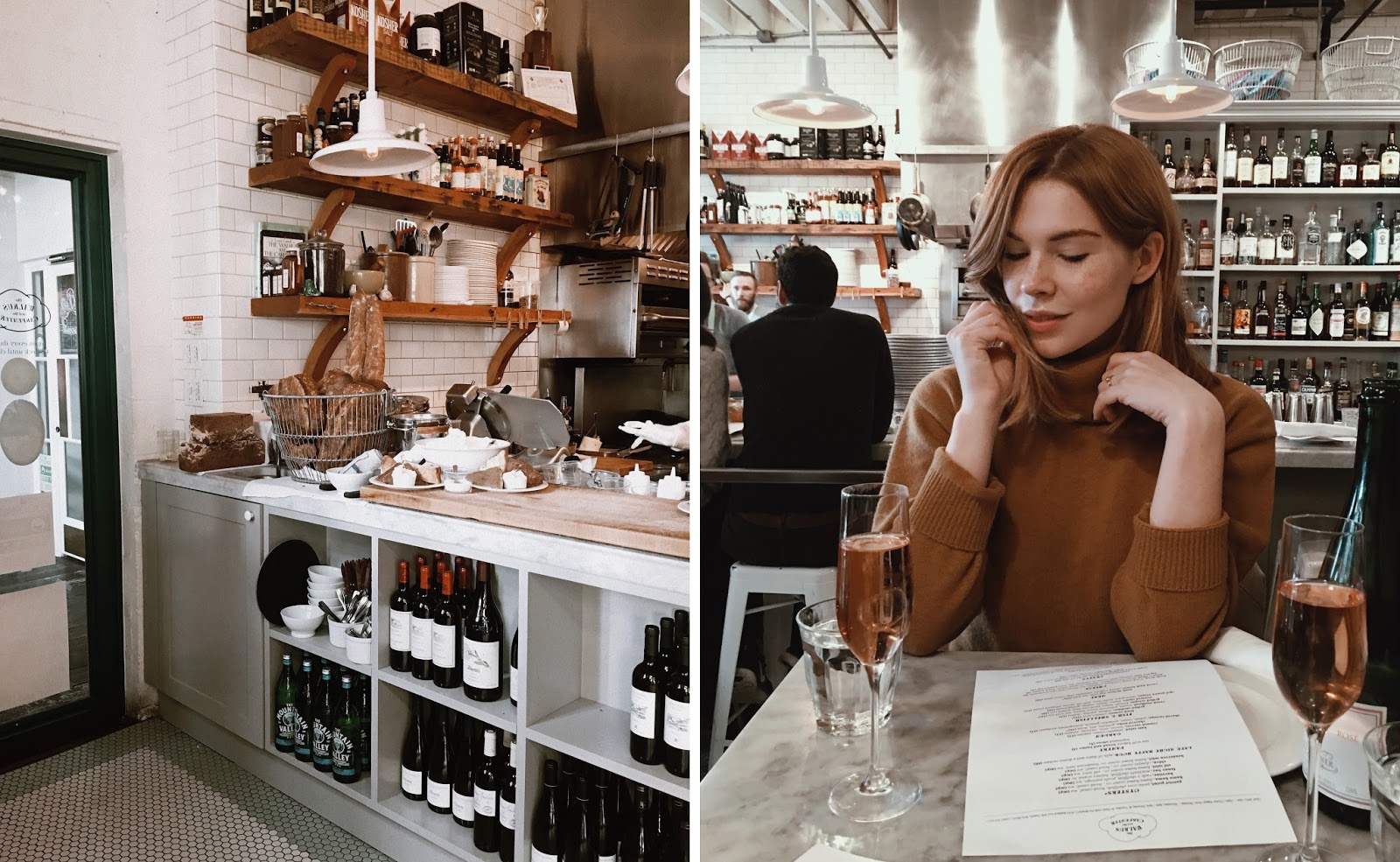 Once we got back to Seattle, Stephanie and I KNEW we needed our oyster fix. You can't go to a city like Seattle without getting oysters at least once, so we found The Walrus and the Oyster in a rad neighborhood. And just like you can't not get oysters, you also can't not get a little bubbly with said oysters. We shared some sparkling rose, warmed up after the chilliness of the ferry, and once again snapped a few pics. How could you not in a place like this?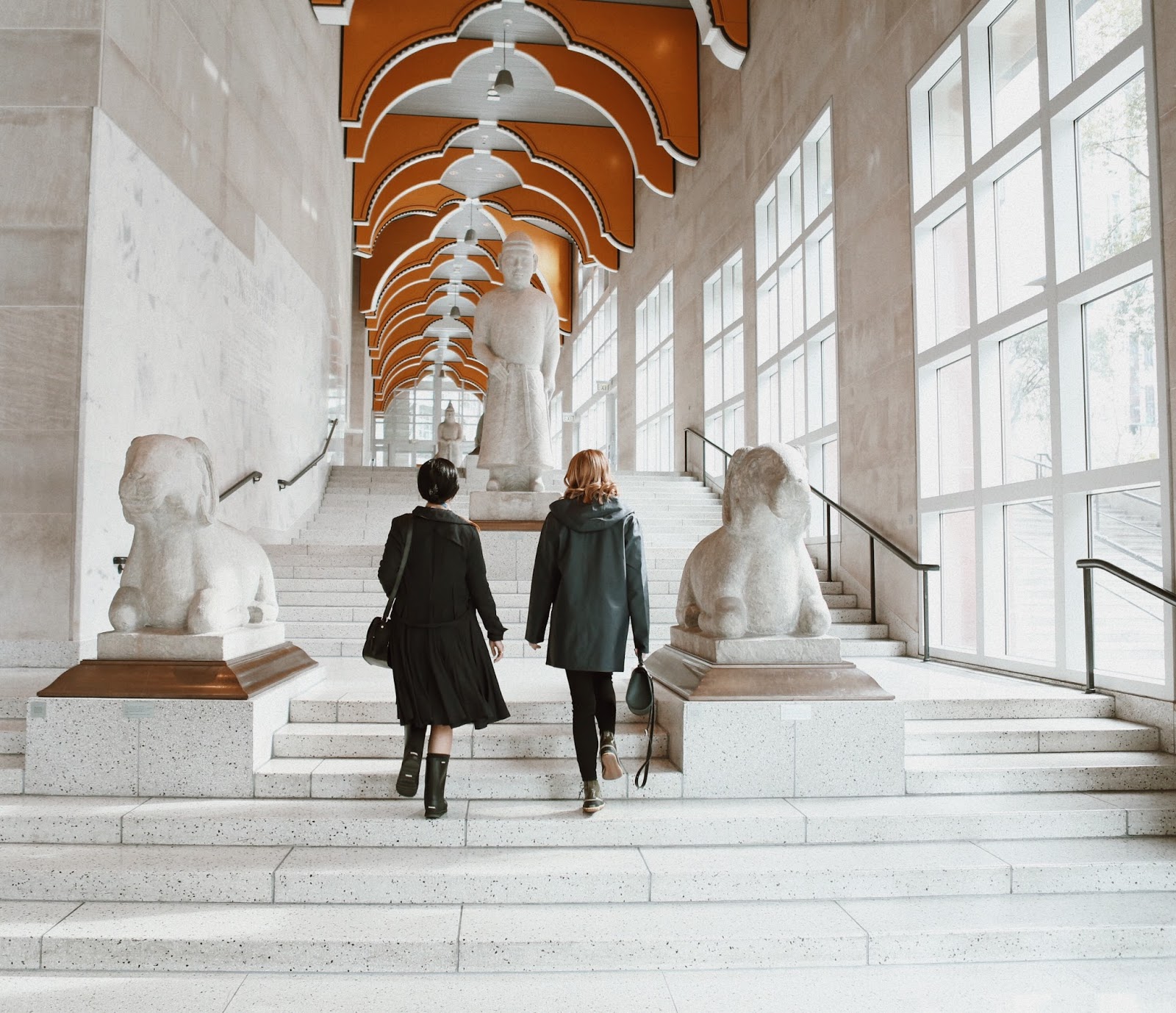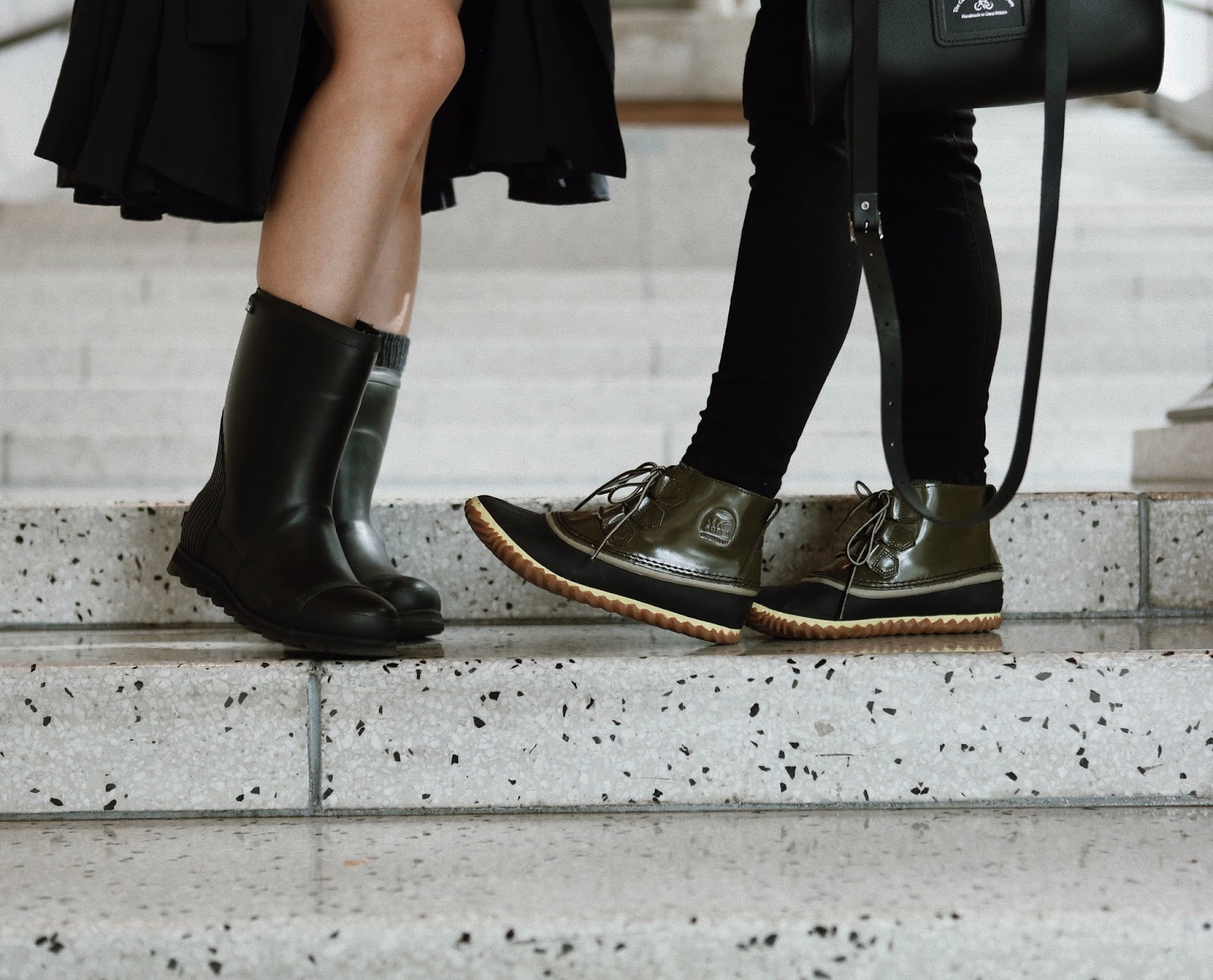 For our next day in Seattle we had a long list of spots we wanted to hit up. Mainly the Seattle Art Museum and the famous Olympic Sculpture Garden. Both were incredible, breathtaking, and allowed for a ton of walking – particularly walking off the amount of oysters and bread I had the night before.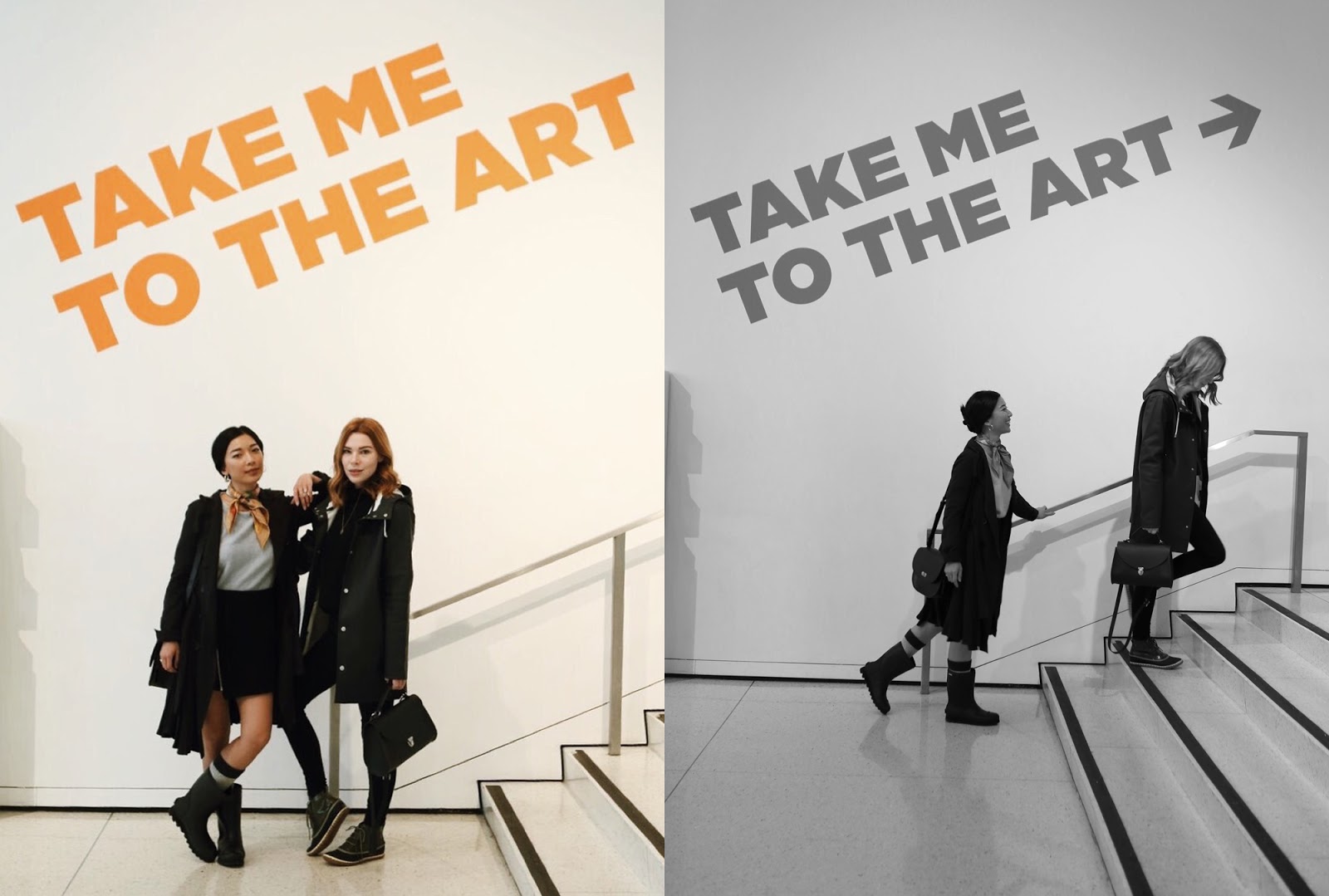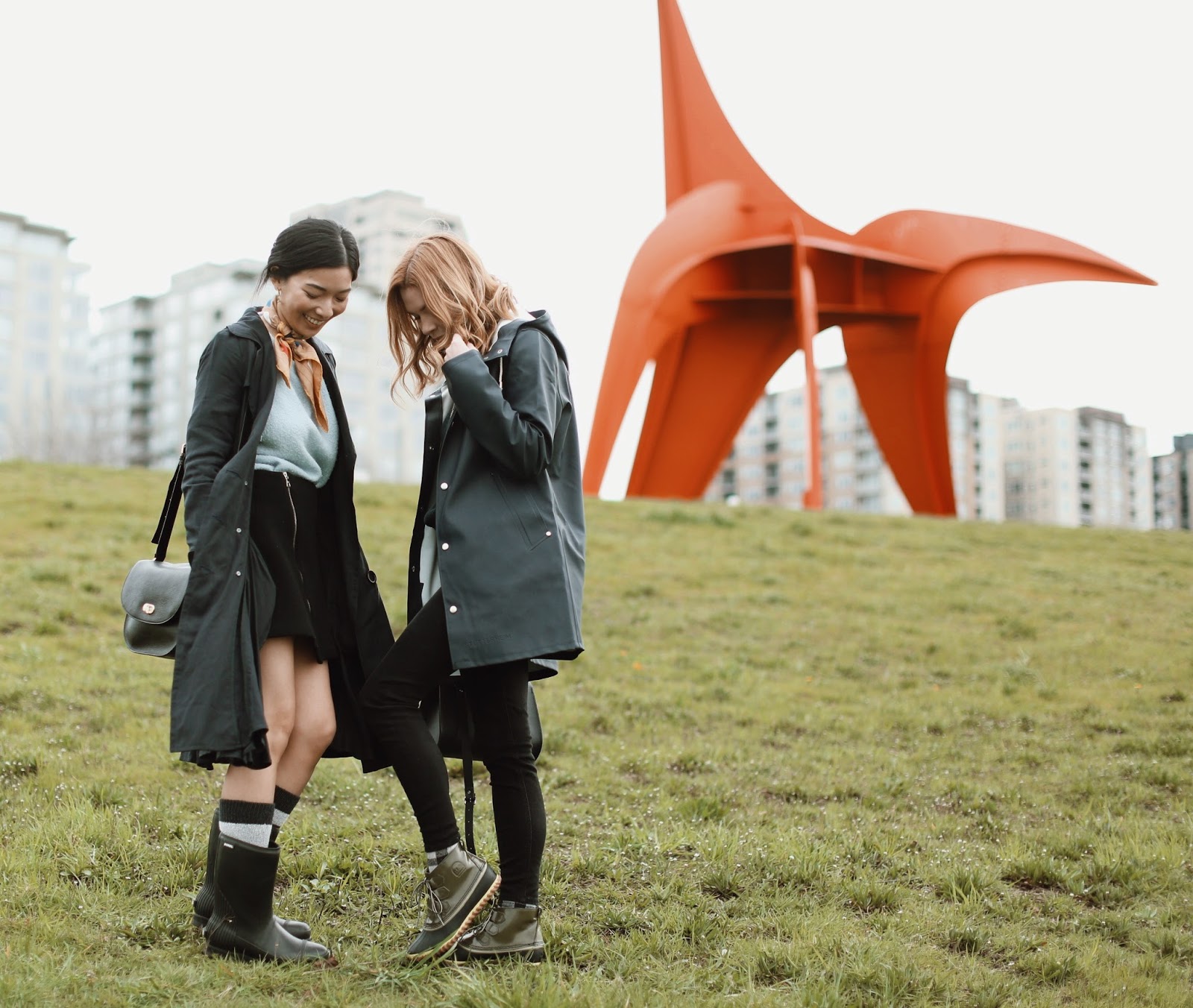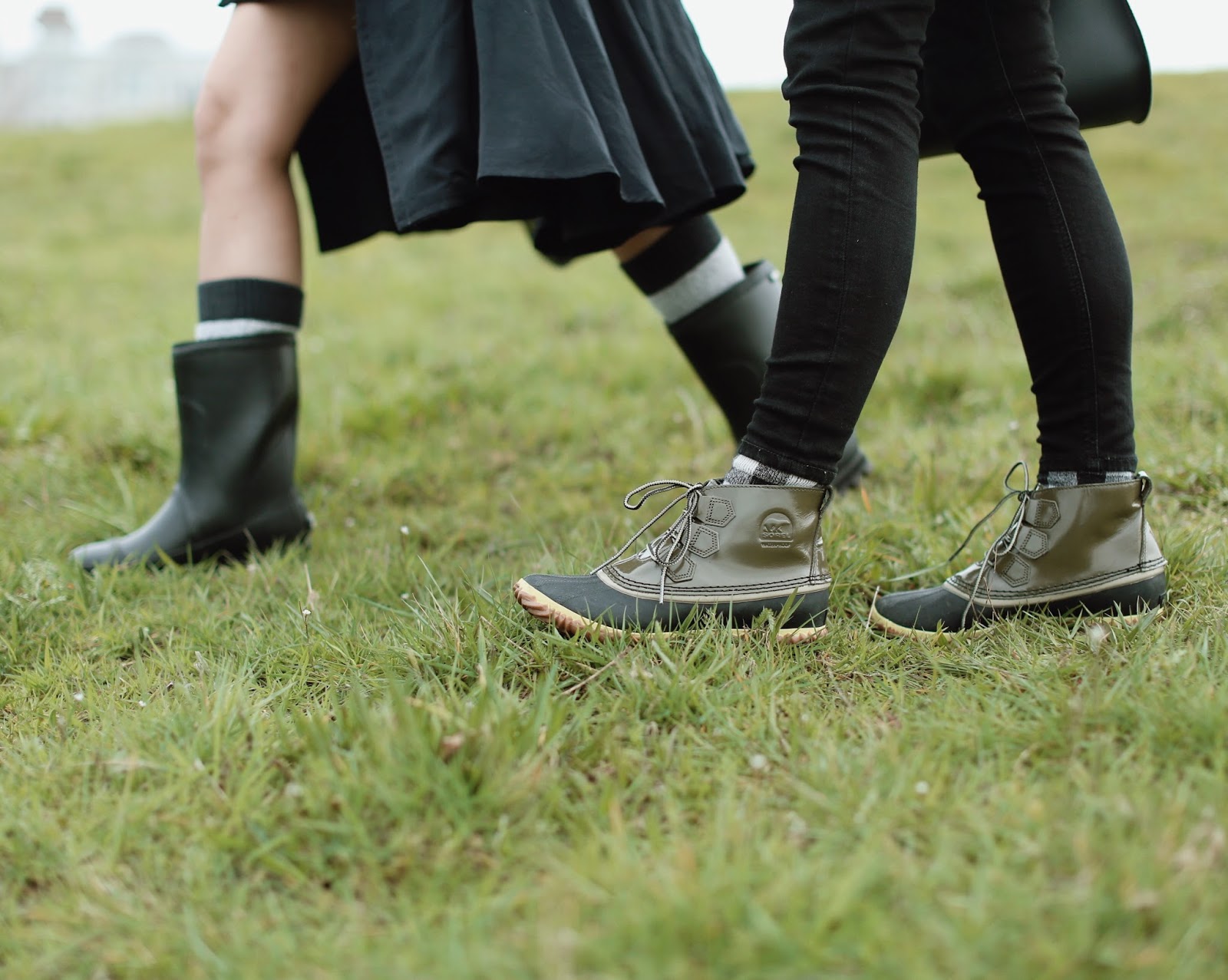 For our second day of exploring, I swapped my trench for a sleek navy raincoat that matched the tones of my SOREL rain boots plus I added a navy purse because I love a good theme. My favorite part of the day was hands down the Olympic Sculpture Museum. I didn't really know what to expect prior to getting there, but it was all of these incredible sculptures set outside. We wandered around, shot some photos, and took a moment to just breathe it all in.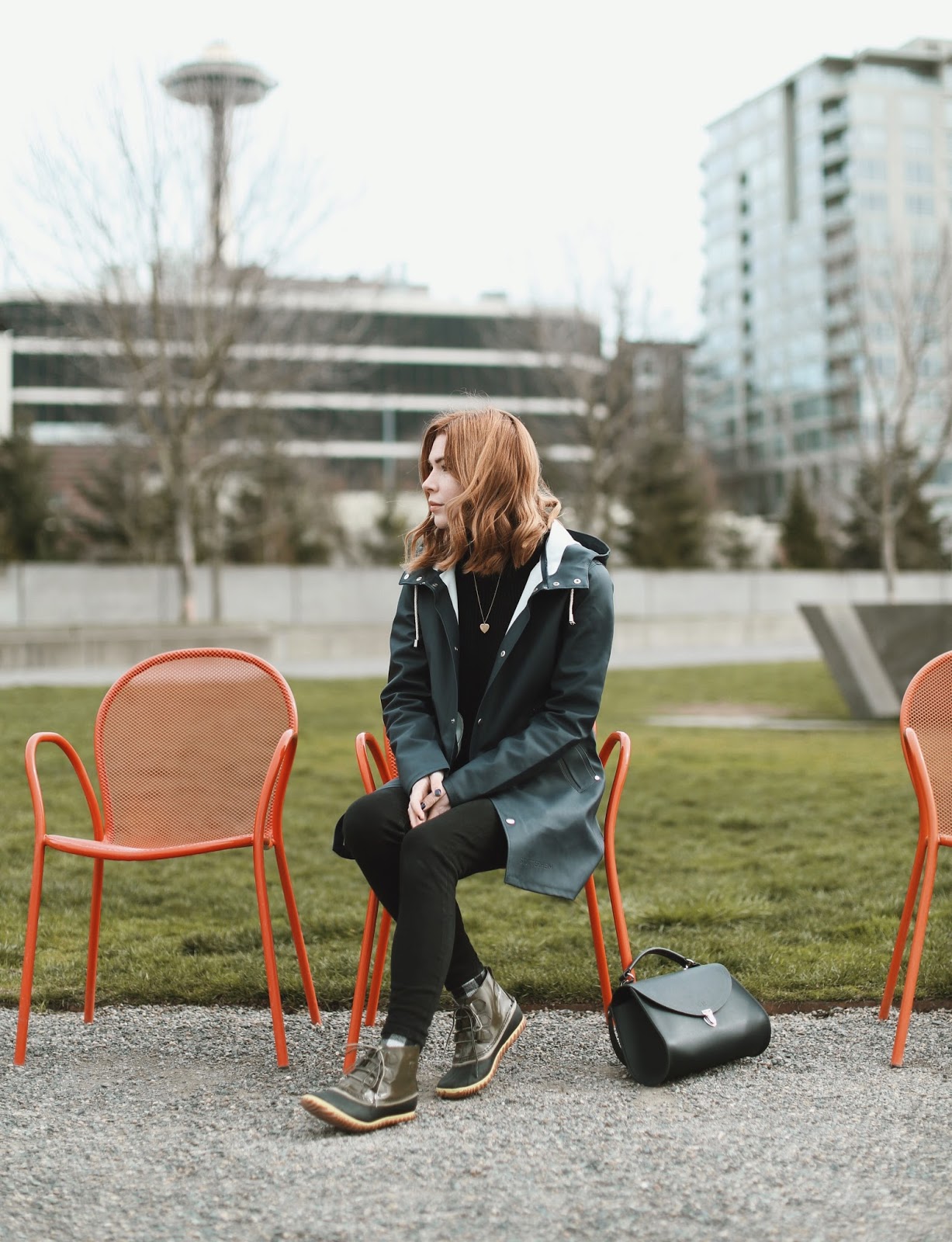 SOREL Out N About Rain boots / Madewell jeans / Stutterheim Stockholm Raincoat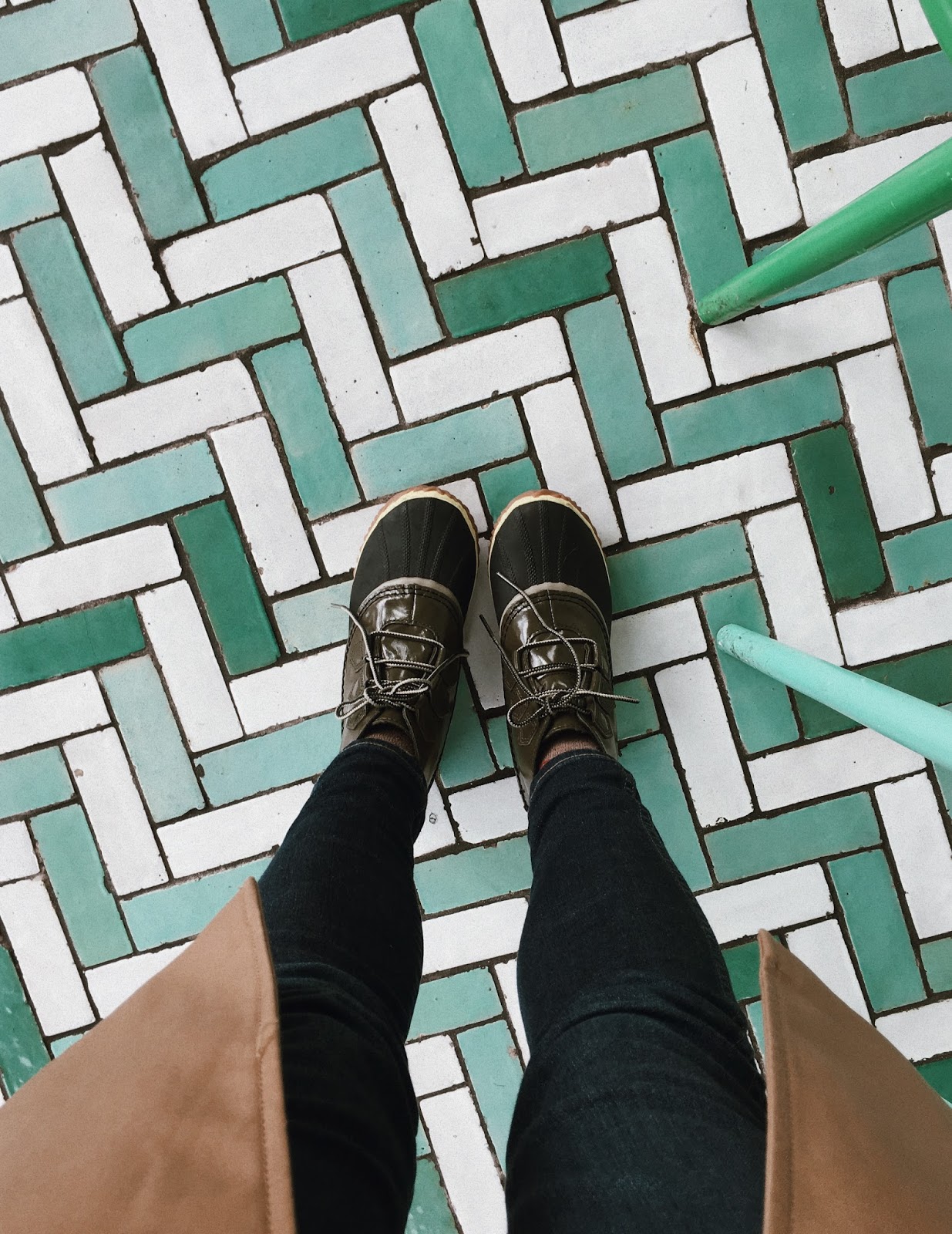 I want to say that I'm ashamed that we got oysters and rose two nights in a row, but to be honest, I'm not. It's Seattle! You gotta have that famous seafood after a day of exploring. Treat yo'self.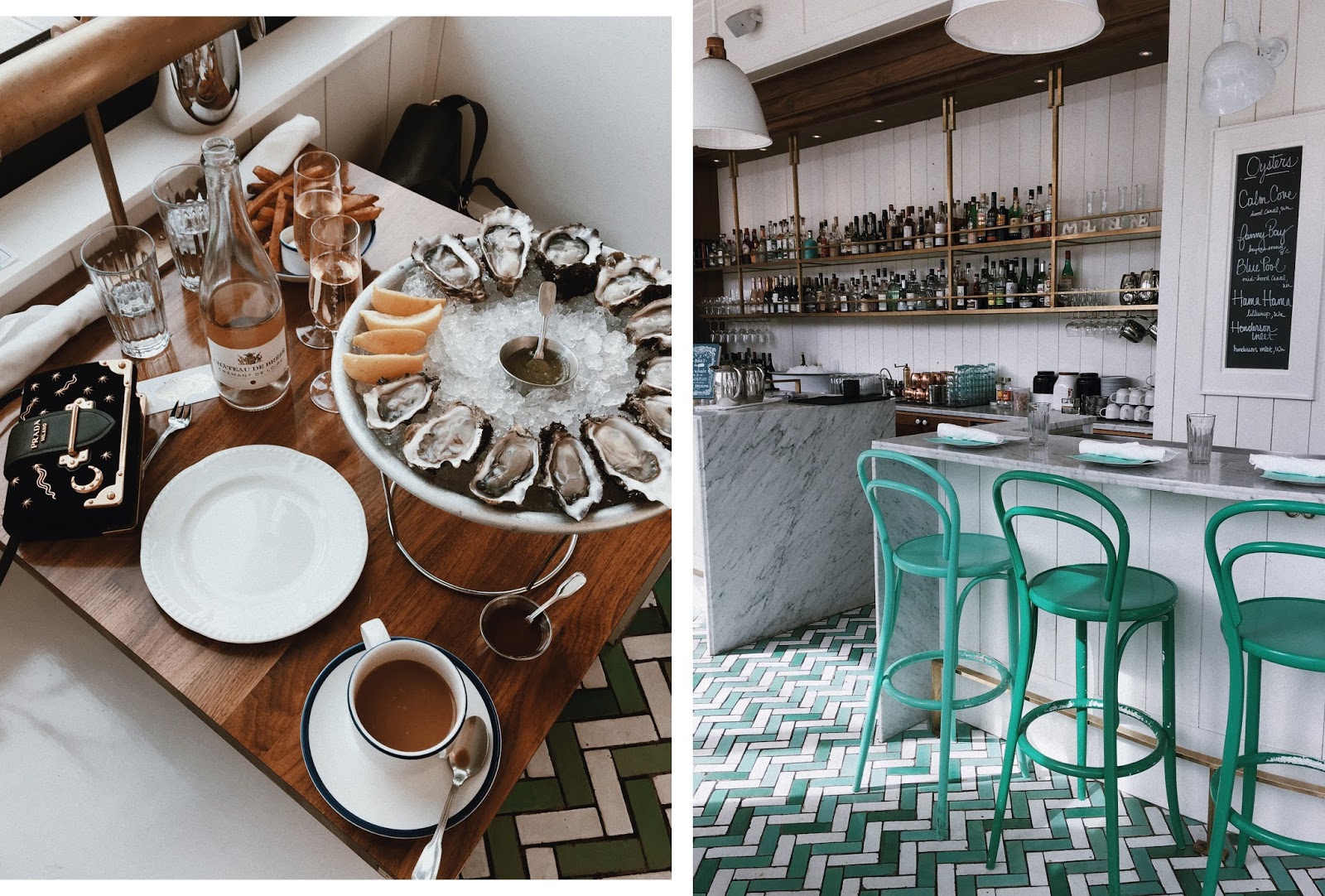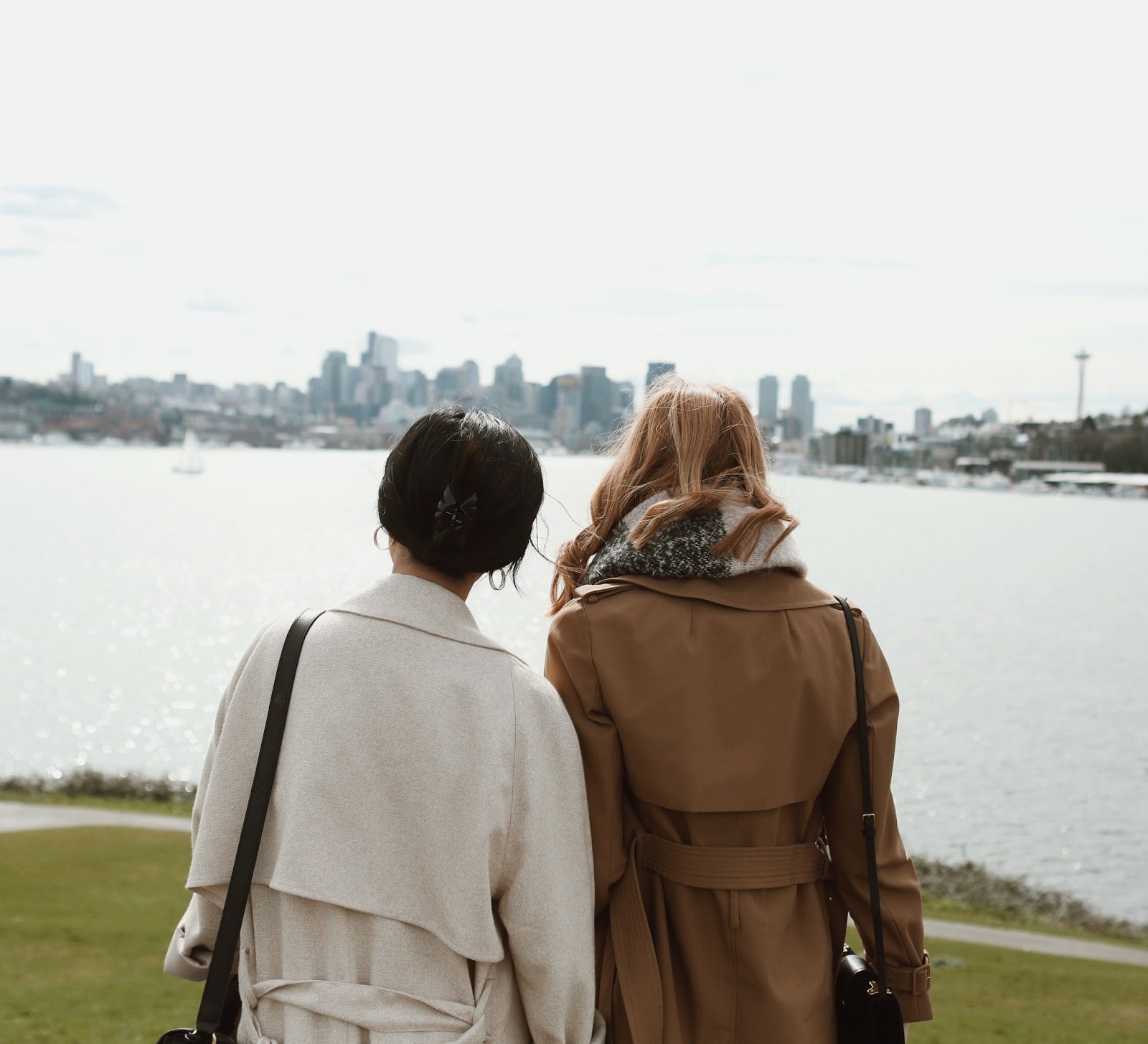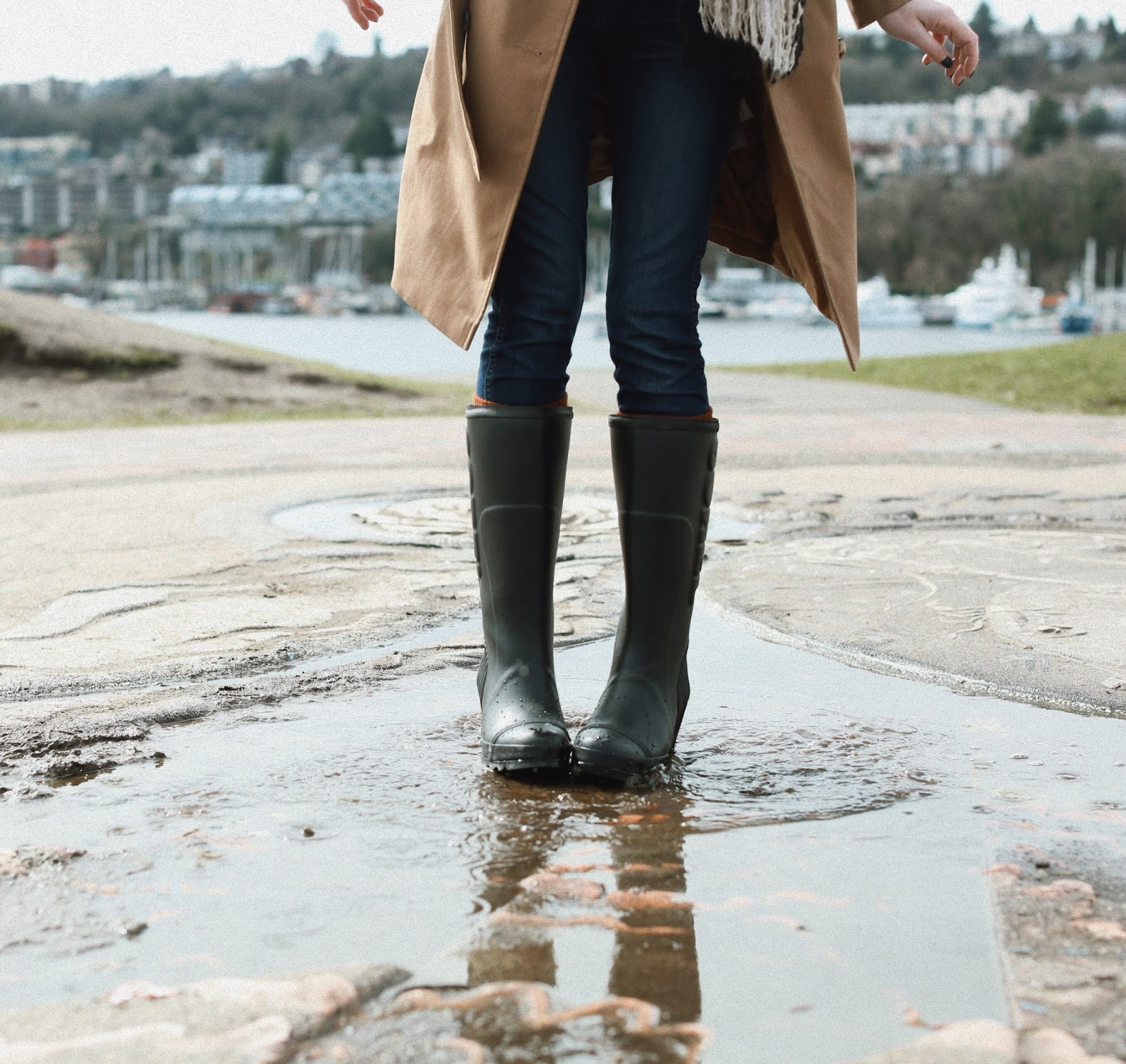 On our last day in Seattle, Stephanie and I got a bit of a late start. I almost never sleep in on trips, but after the amount of walking we did the previous two days, it seemed like I might have needed it. In the late afternoon we pulled on our SOREL rain boots (I styled this knee high wedge pair with some cozy socks – Stephanie wore some cute blue lace-up wedges) and headed out.
Gas Works Park was another location that had been suggested to me in the early stages of planning this trip, and it did not disappoint. It has this great view of the water and surrounding buildings, and since it had rained the night before, it gave me a good opportunity to splash around in a few rain puddles. LA almost never gets rain, so I'll admit that I was having a great time with the novelty of water everywhere.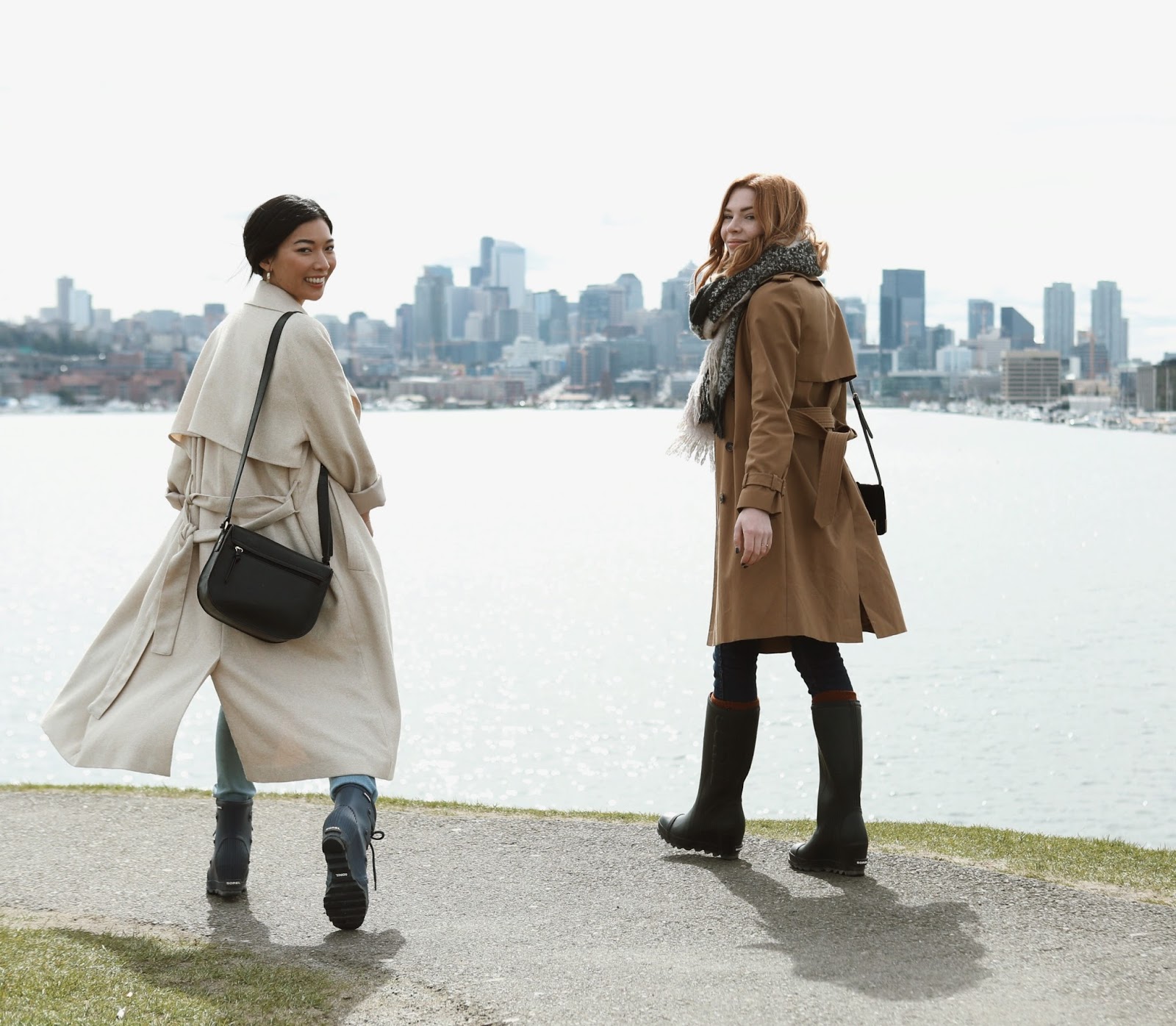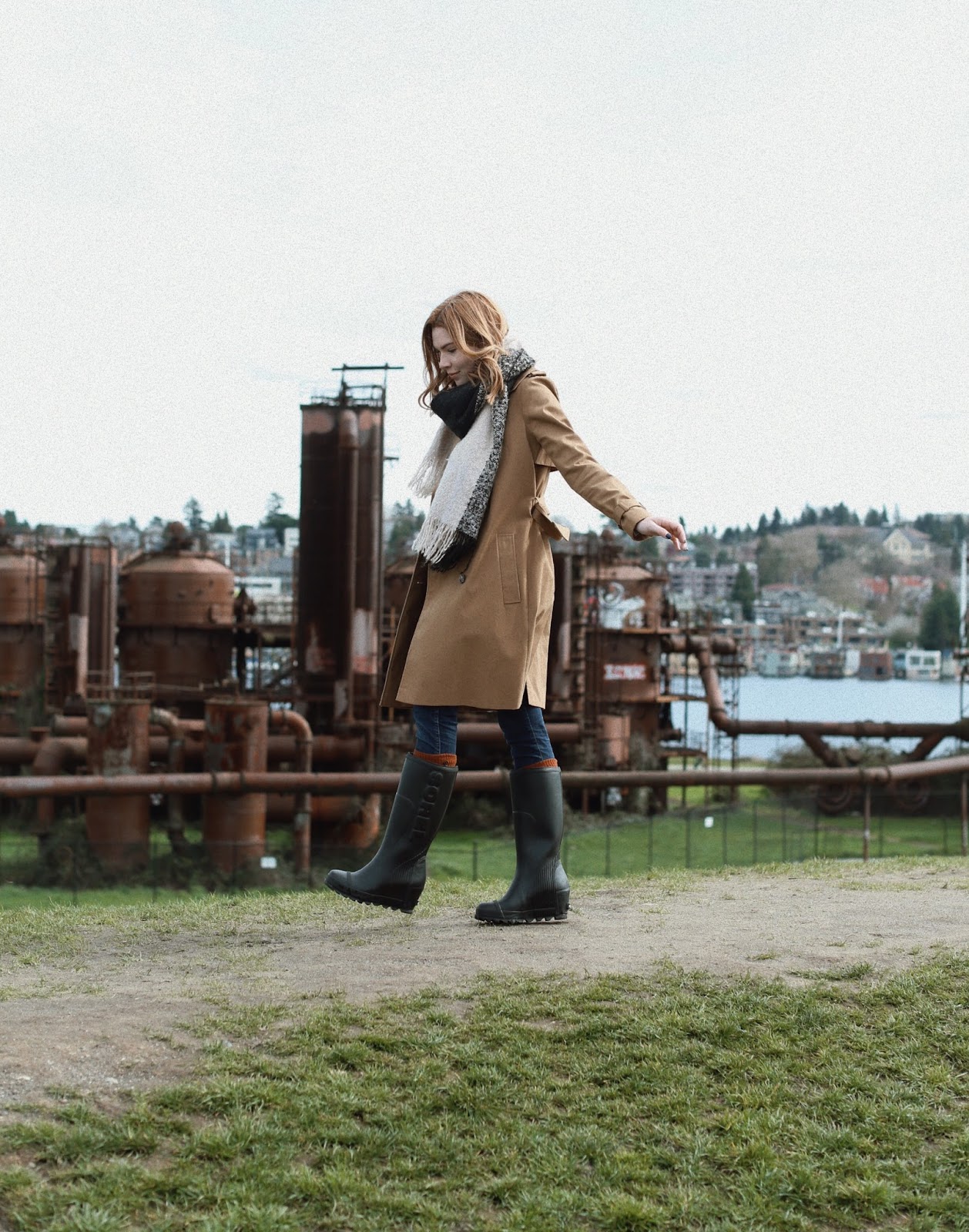 SOREL Joan Wedge Tall Boot / Madewell Jeans / ASOS Trench / Sezane blouse / Prada purse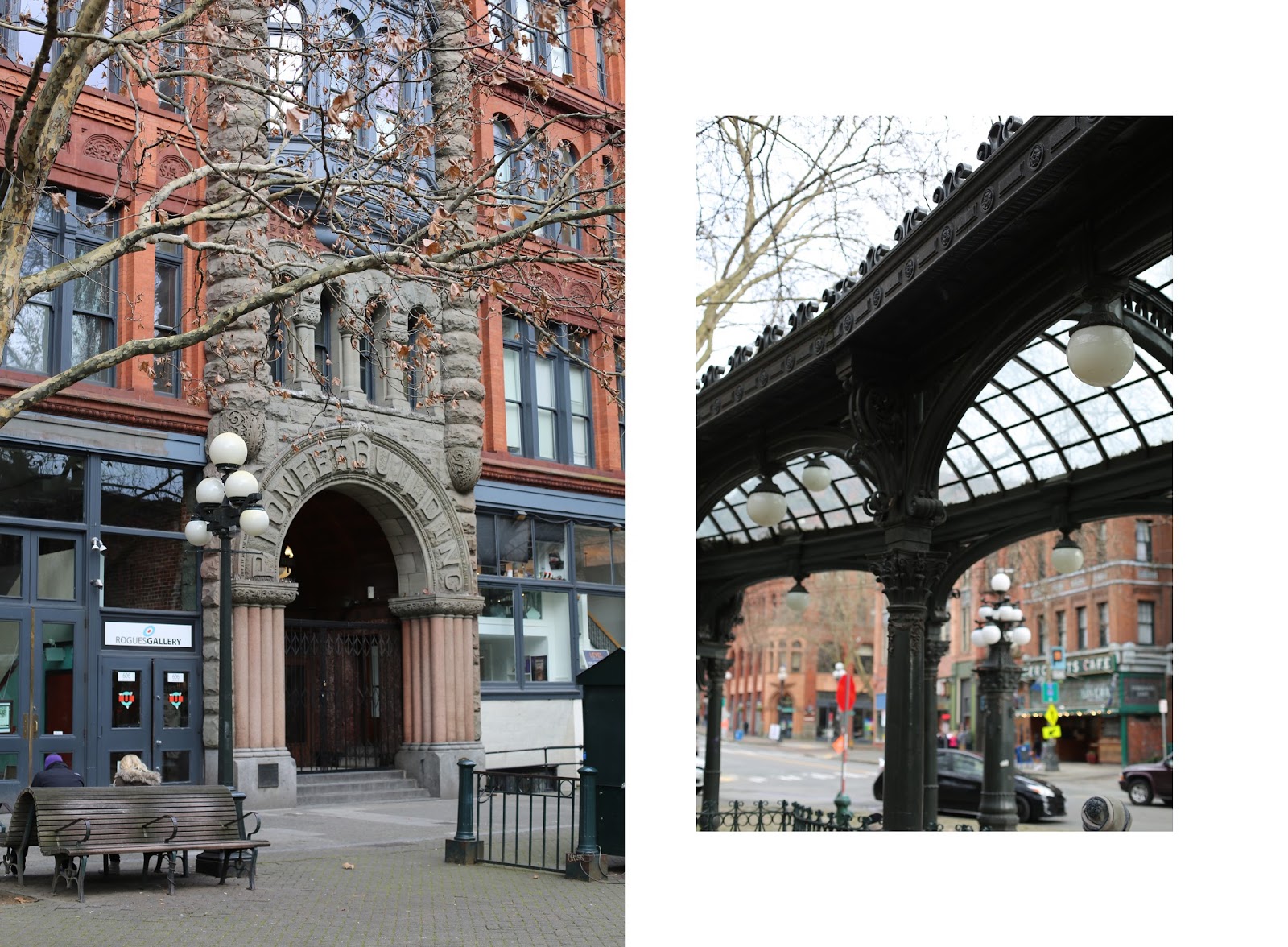 After our afternoon walk around Gas Works Park, we visited Pioneer Square to see some of the old architecture. The buildings were covered in ivy, the sky was a perfect shade of grey, and we just grabbed a coffee and walked around – shooting pictures of everything. There were some really cute shops in the area, and even more galleries to pop in. Seattle has such an art scene, and it really was thriving in this neighborhood.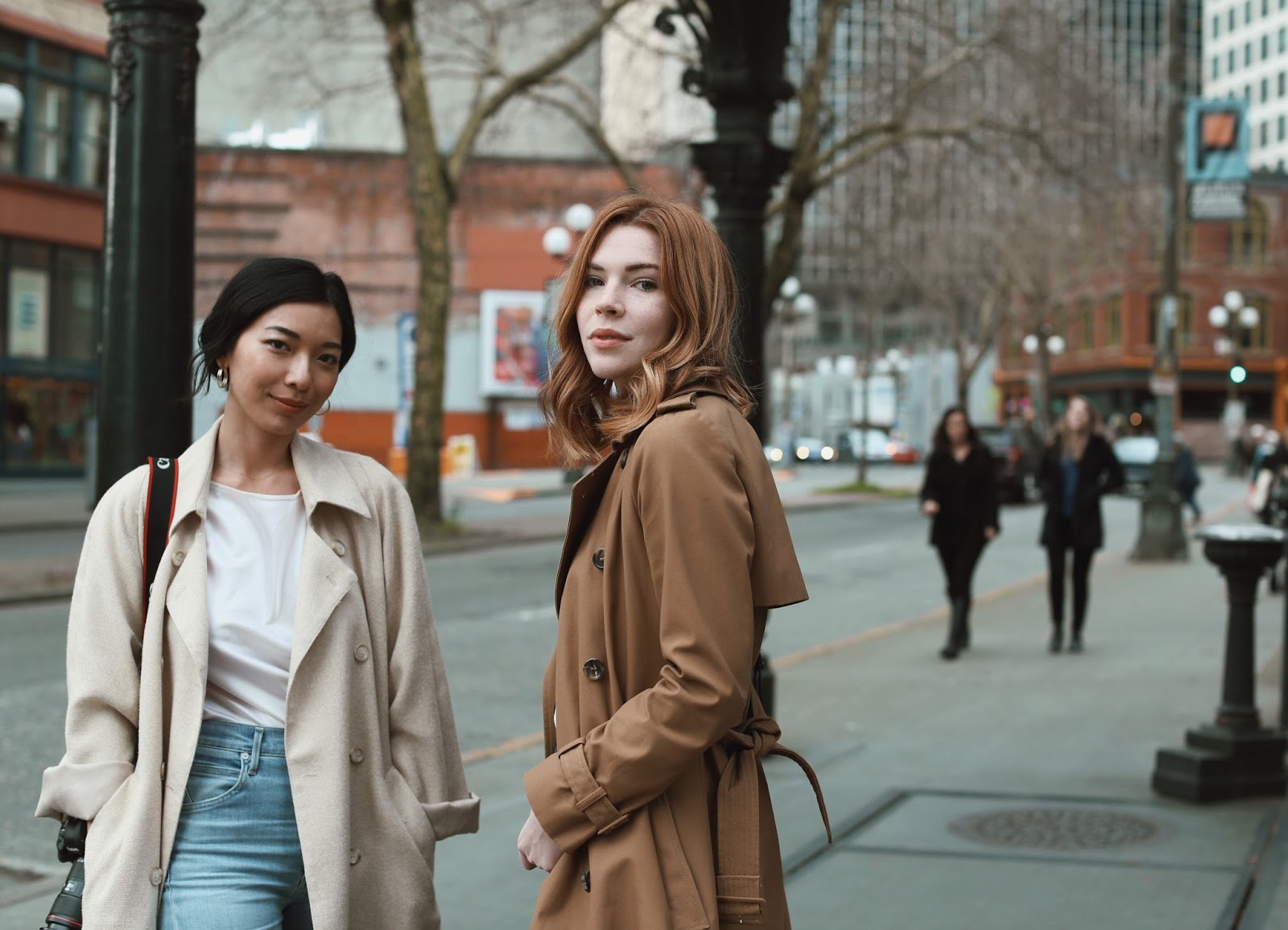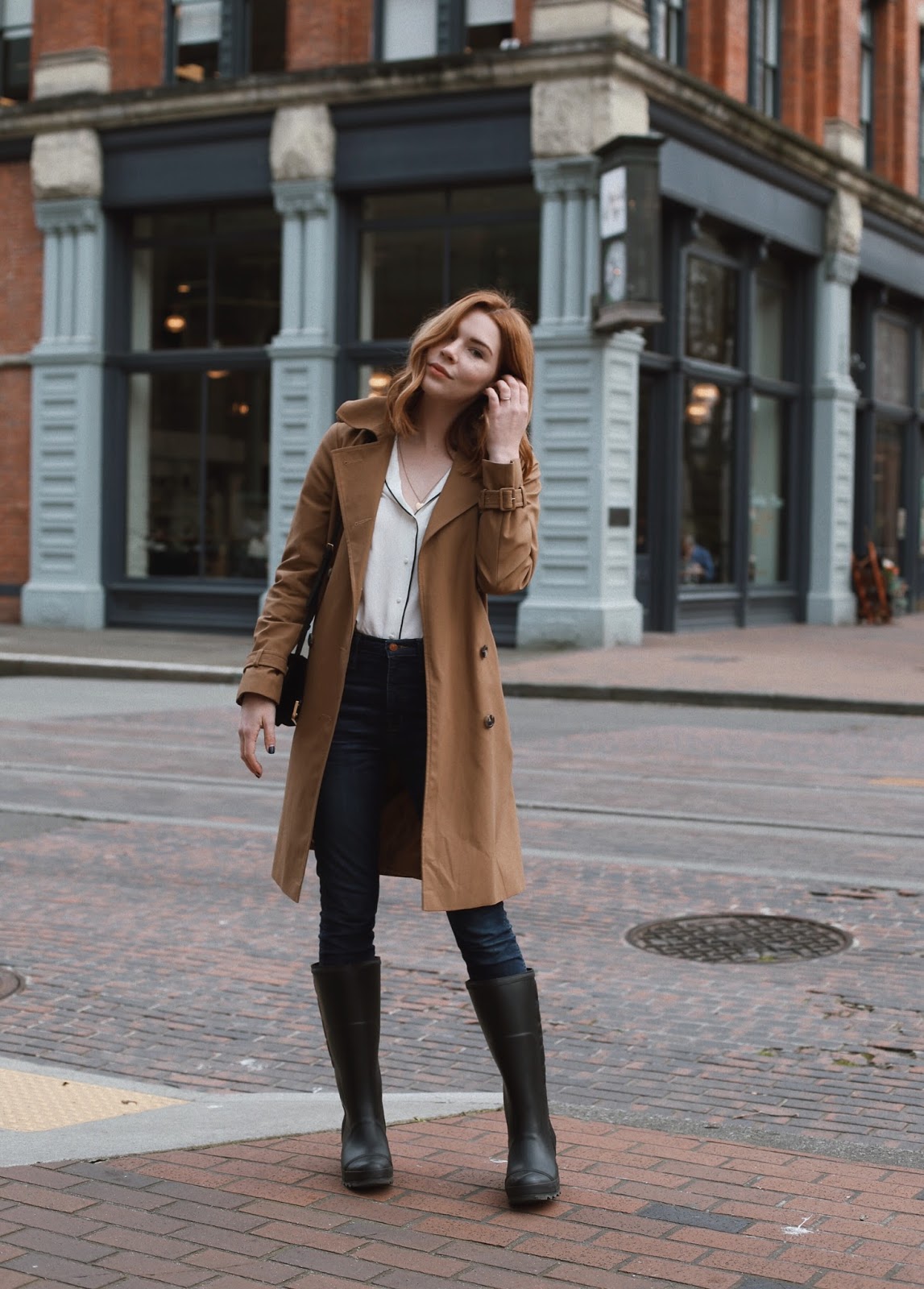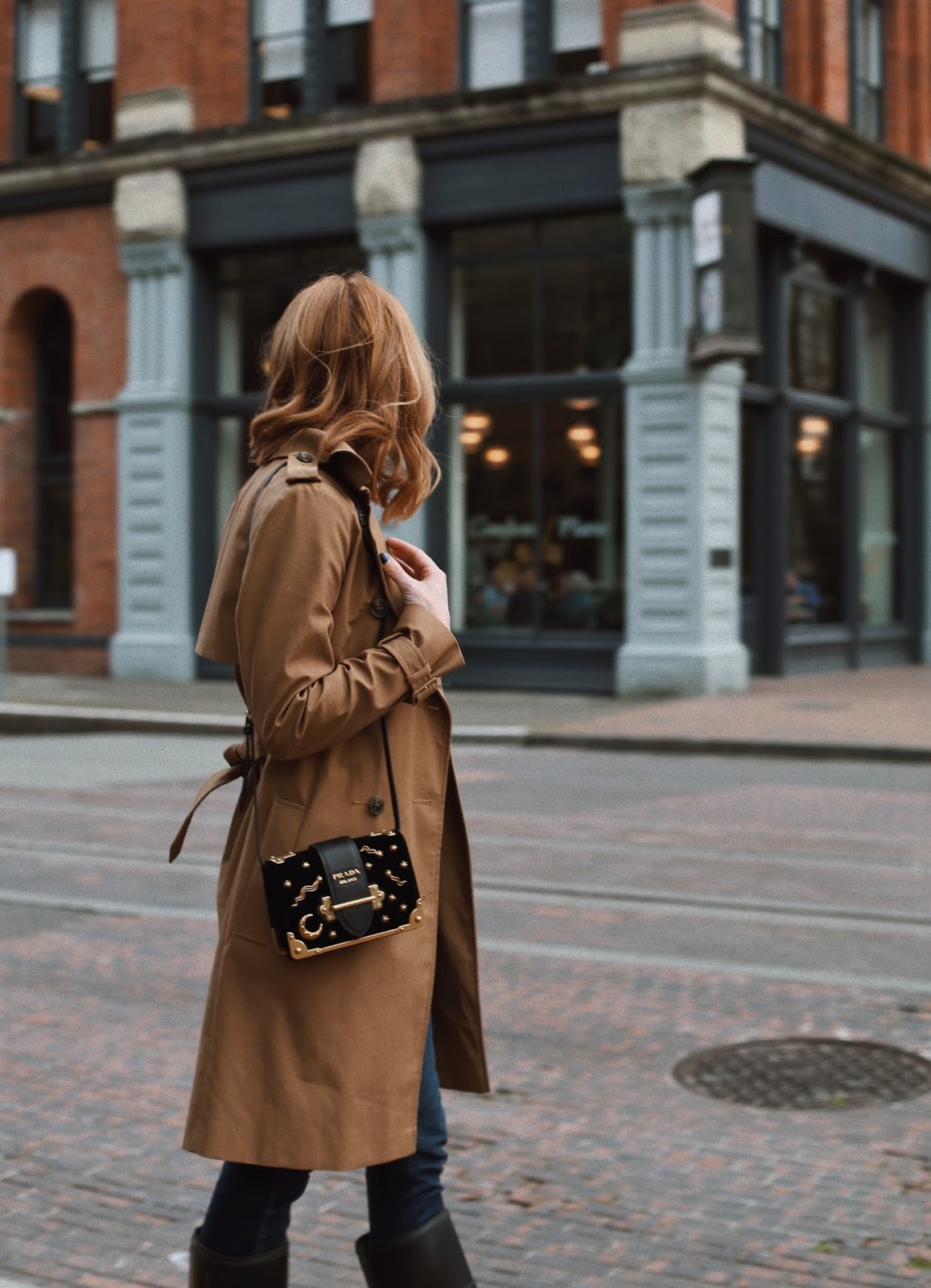 With the sun setting on our last day in Seattle, Stephanie and I hit up Good Bar for some cocktails, some more photos, and a lot of laughs. I can't even remember what we were talking and laughing so hard about, but it was just one of those perfect endings to a long day. Cheers!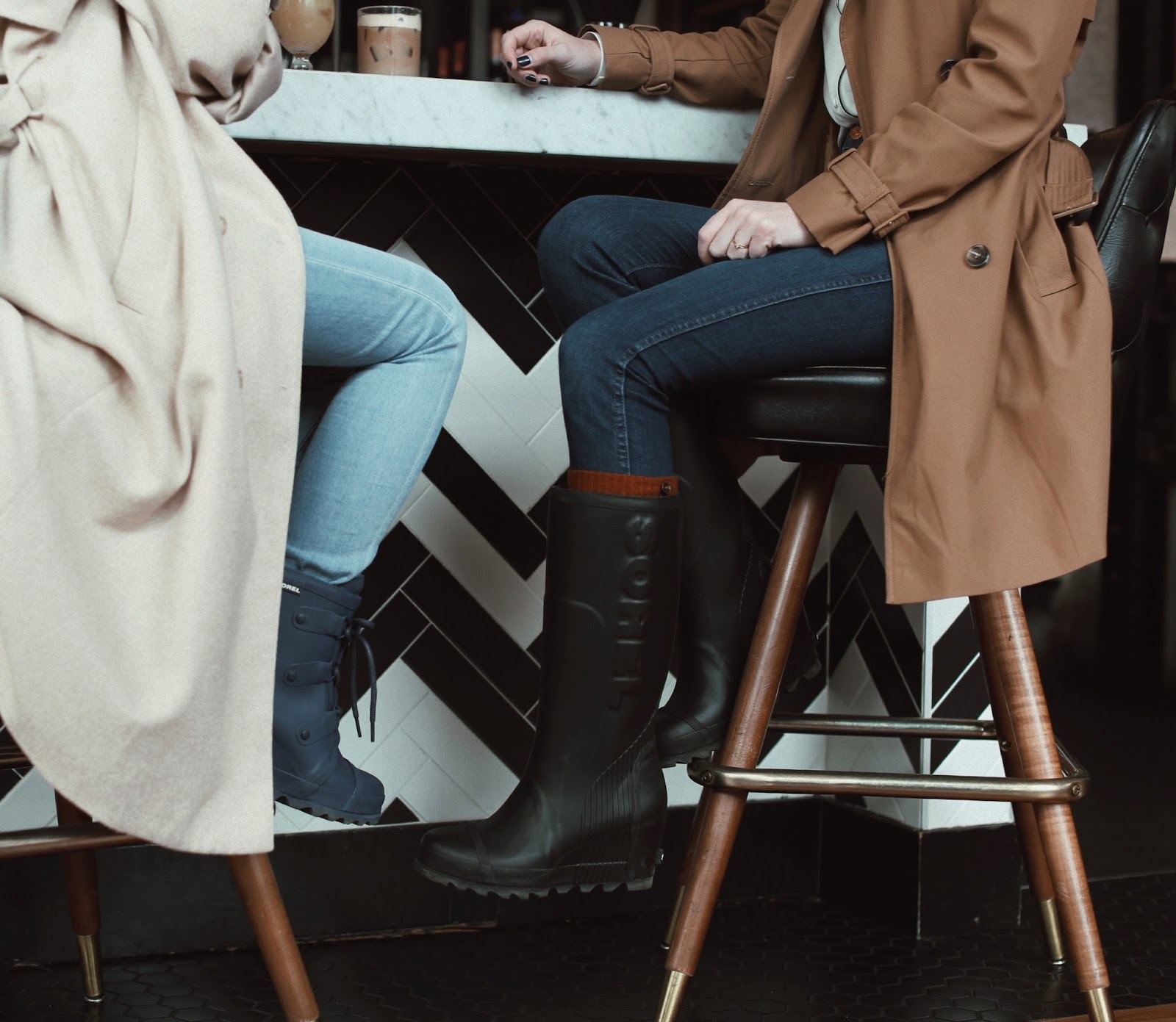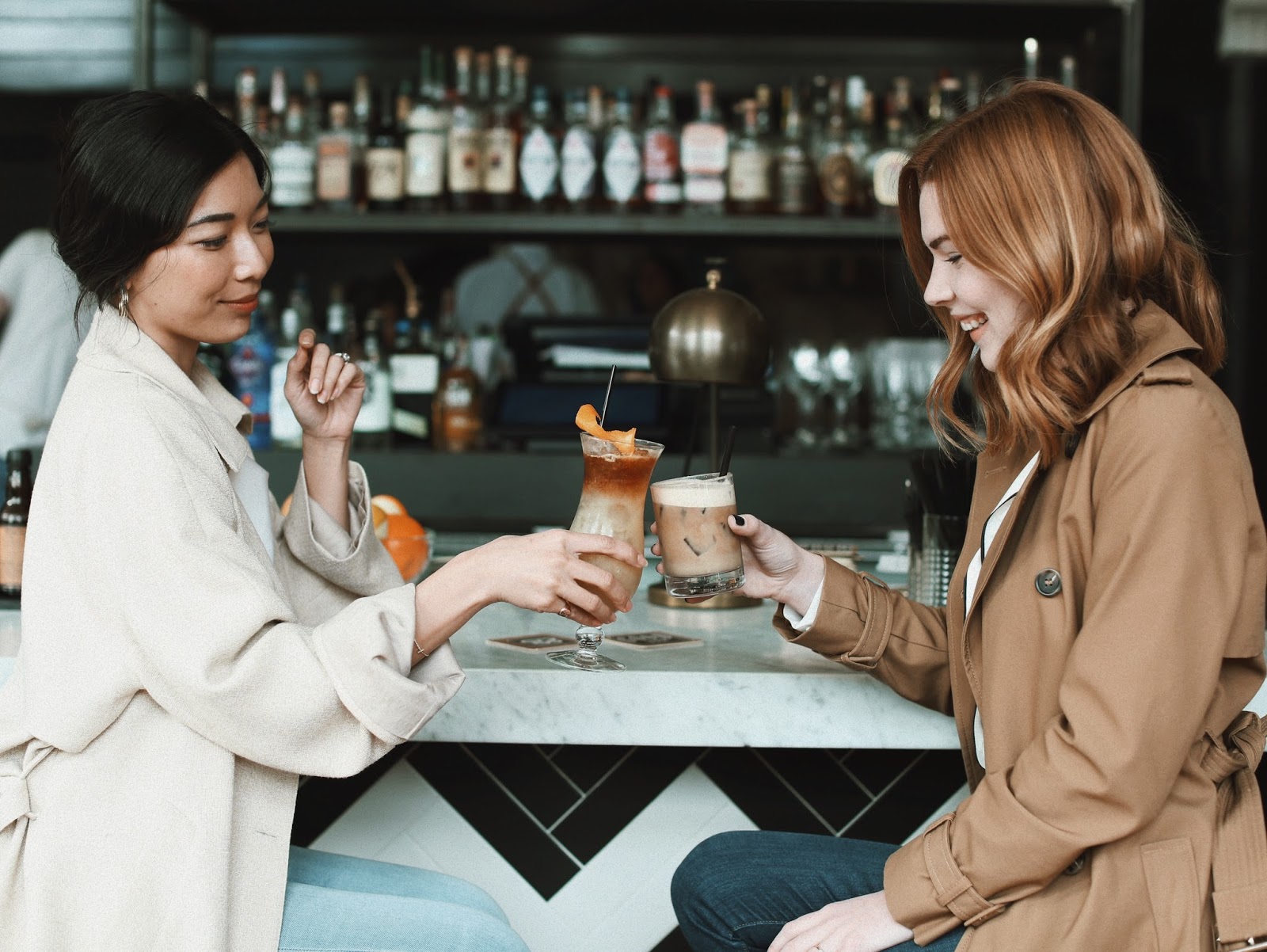 Primary Photography by Claire Oring / Post sponsored by SOREL – all opinions expressed are my own