Truth be told, this wasn't the post I intended on writing. I was planning on just sharing my current favorite face oils, but once I put these shelves up and started shooting, it only seemed fair to tell you about my current favorites and what I keep on my vanity for near daily use.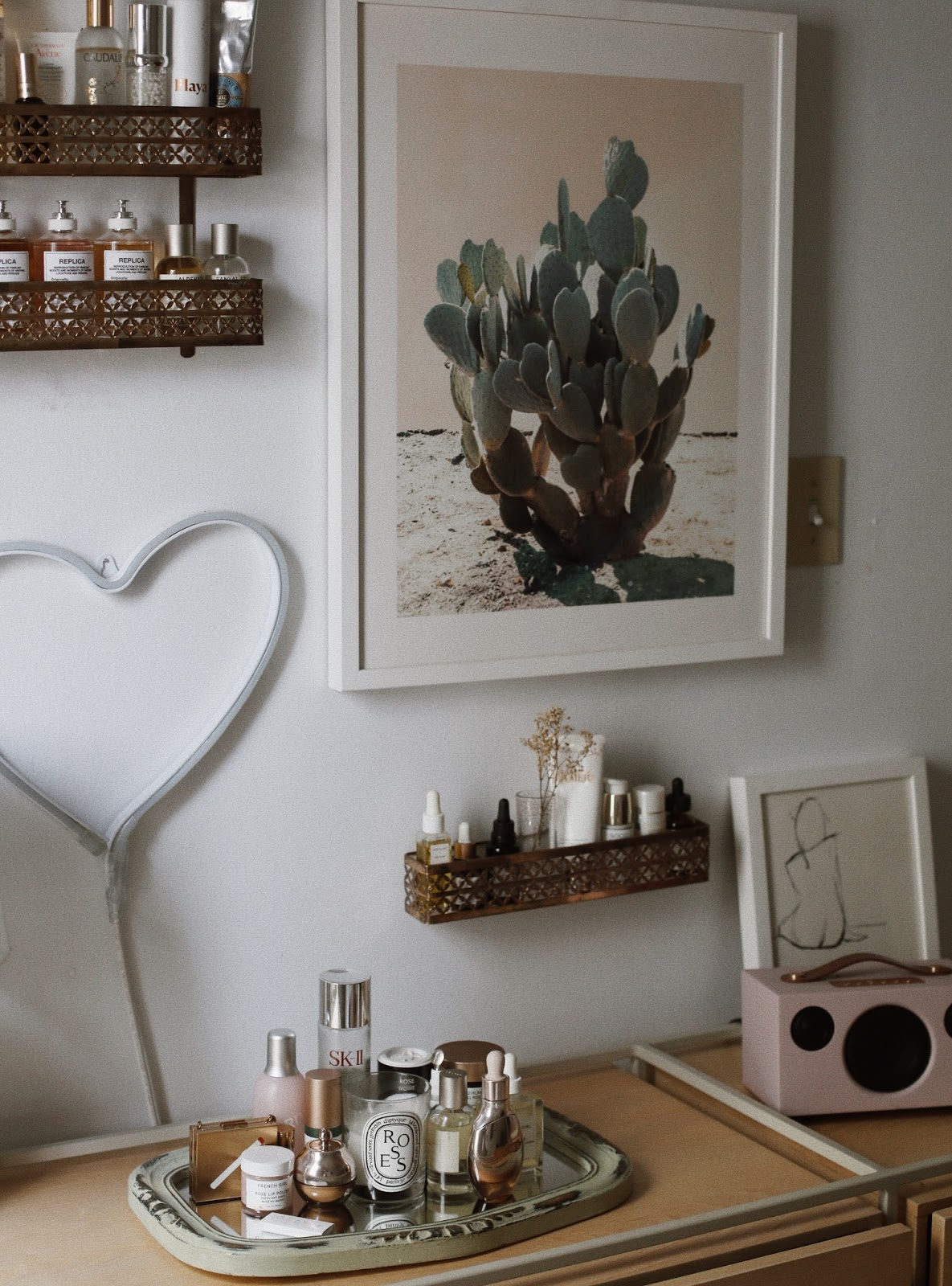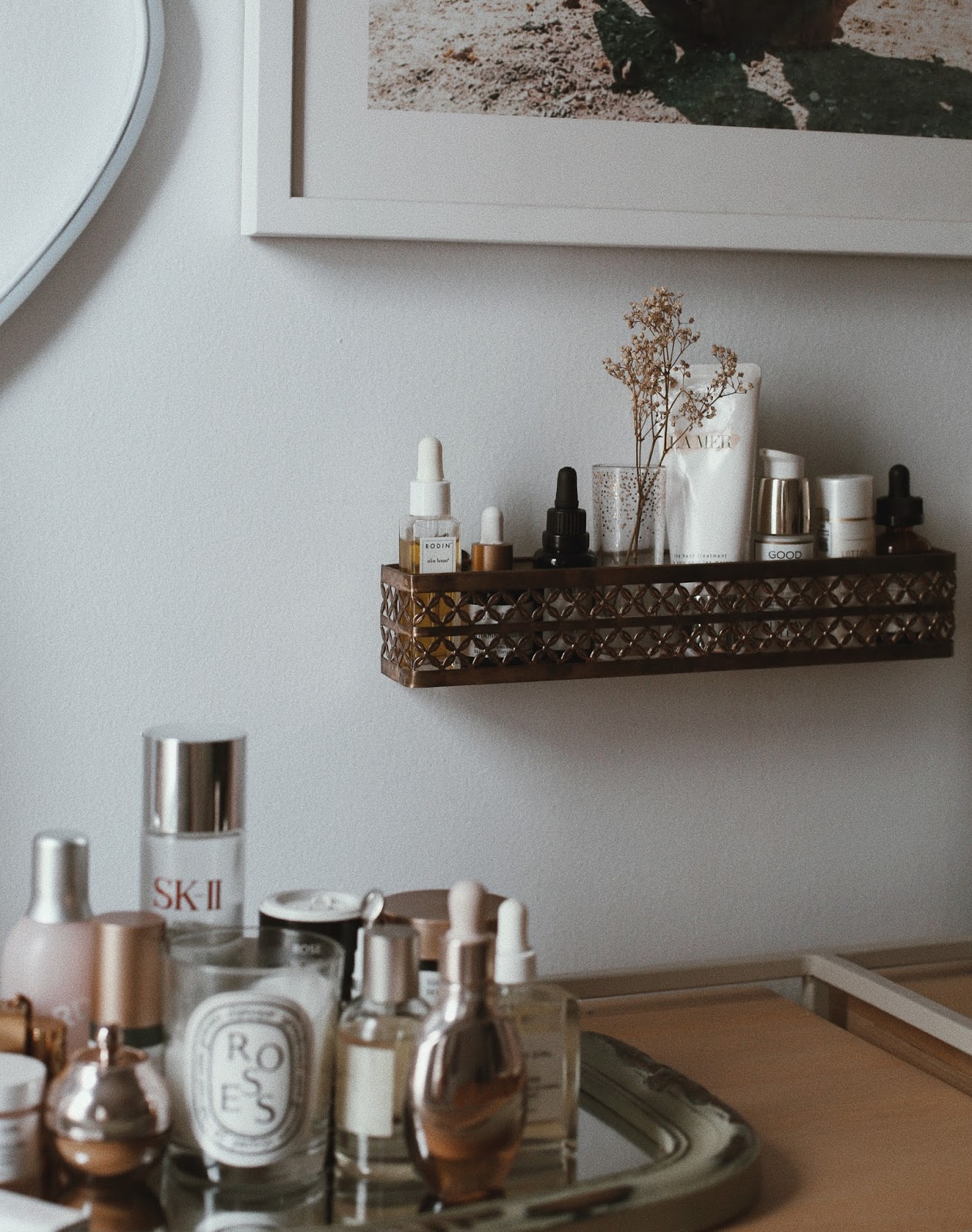 If you guys have been following along on my skincare journey, you know that my routine got a real shake-up earlier this year after my skin started misbehaving. I was dealing with redness and some breakouts, and just overall blah skin. I added in this SKII treatment essence in late May, and have been using it twice a day since – if you want to know more about it, I actually wrote a whole blog on it here.
But as I mentioned, my purpose for initially writing this post was just to talk about face oils. I'm really late to the face oil game – I only started using them in February. I think, like many people, I heard oil and was scared away. After all, I spent my teen years buying 'oil free' everything, thinking that that was what would make me break out. Turns out? Just the opposite. Face oils are the biggest part of my routine, and I now swear by them.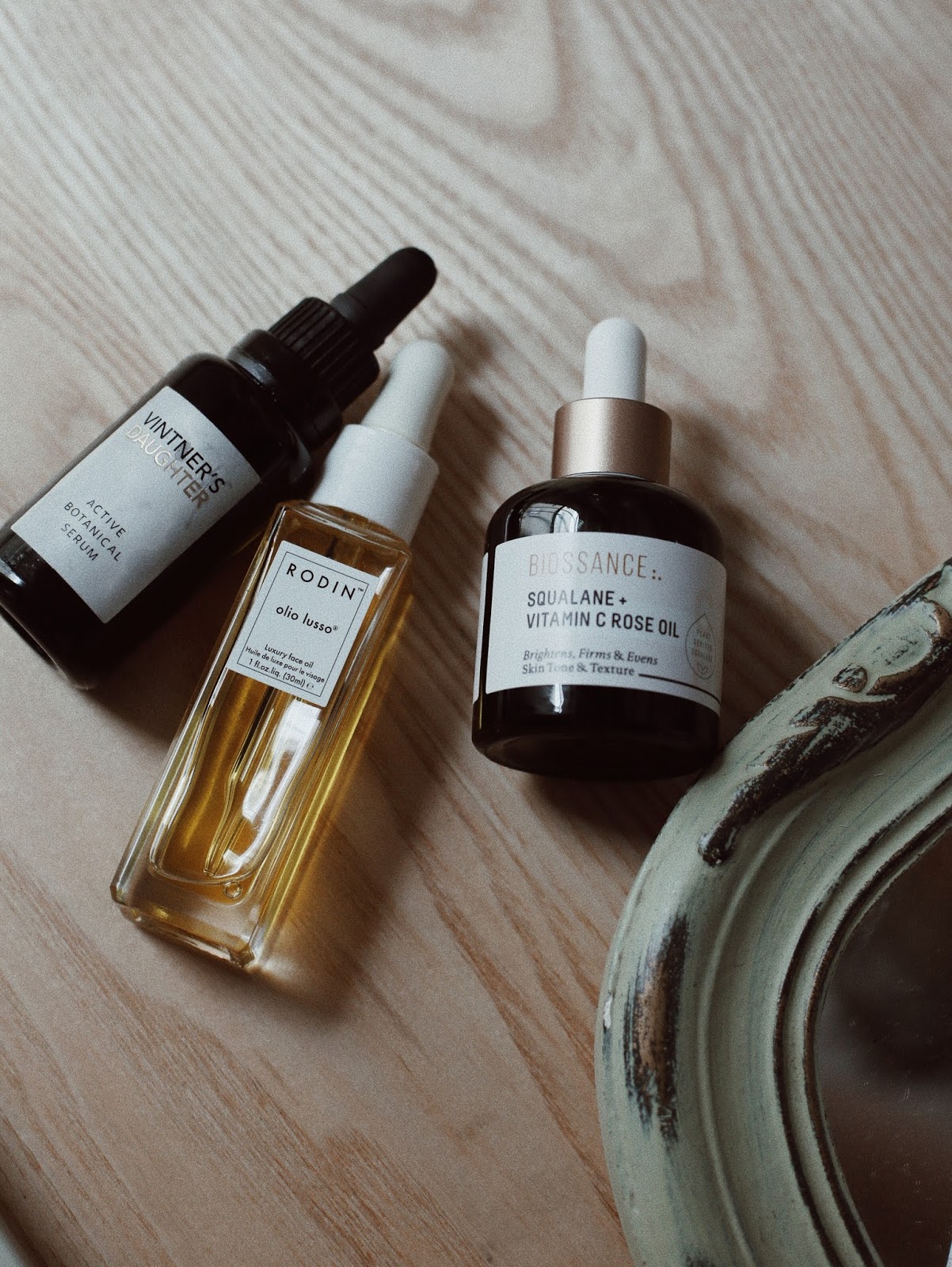 The first face oil I started using was the Biossance Squalane + Vitamin C Rose Oil in February. I've since gone through a bottle of it and had to re-order because I refuse to be without it. It's still the one that I reach for the most, and goes on so smooth to sink right in. The vitamin C really perks my skin up and has helped my naturally red and sensitive skin. Because vitamin C doesn't mix well with other products (or so I learned from watching tons of Violet Grey videos), it's best to put this on and let it sink in for 10 min before applying makeup or other products. I tend to use this oil in the morning, but it's good for any time of day. It's not pictured here (because it's always next to my sink) but I use their Squalane Oil Wash every day as well instead of a traditional cleanser. It's my holy grail product for sure, and very affordable.
Two other face oils I've added to my collection are Vintner's Daughter Active Botanical Serum and Rodin Luxury Face Oil – both from my favorite beauty retailer, Violet Grey. I like them both for different reasons. The Vintner's Daughter oil is one that I have been hearing about pretty much non-stop since it hit shelves. It has developed a cult-like status, and for good reason. It smells INCREDIBLE. It's thicker than the Biossance one, and feels like more of a deep moisturizer for days where my skin needs a boost. This is the one that I pack for long flights to be able to re-apply mid trip (hence why the bottle looks a bit banged up).
The Rodin Luxury Face Oil is similar in that it feels richer than most oils. It glides onto my skin, and I especially like this one for my forehead and around my temples, where my skin is just starting to show signs of aging. It sinks in nicely, and the bottle is worthy of being displayed on your bedside table.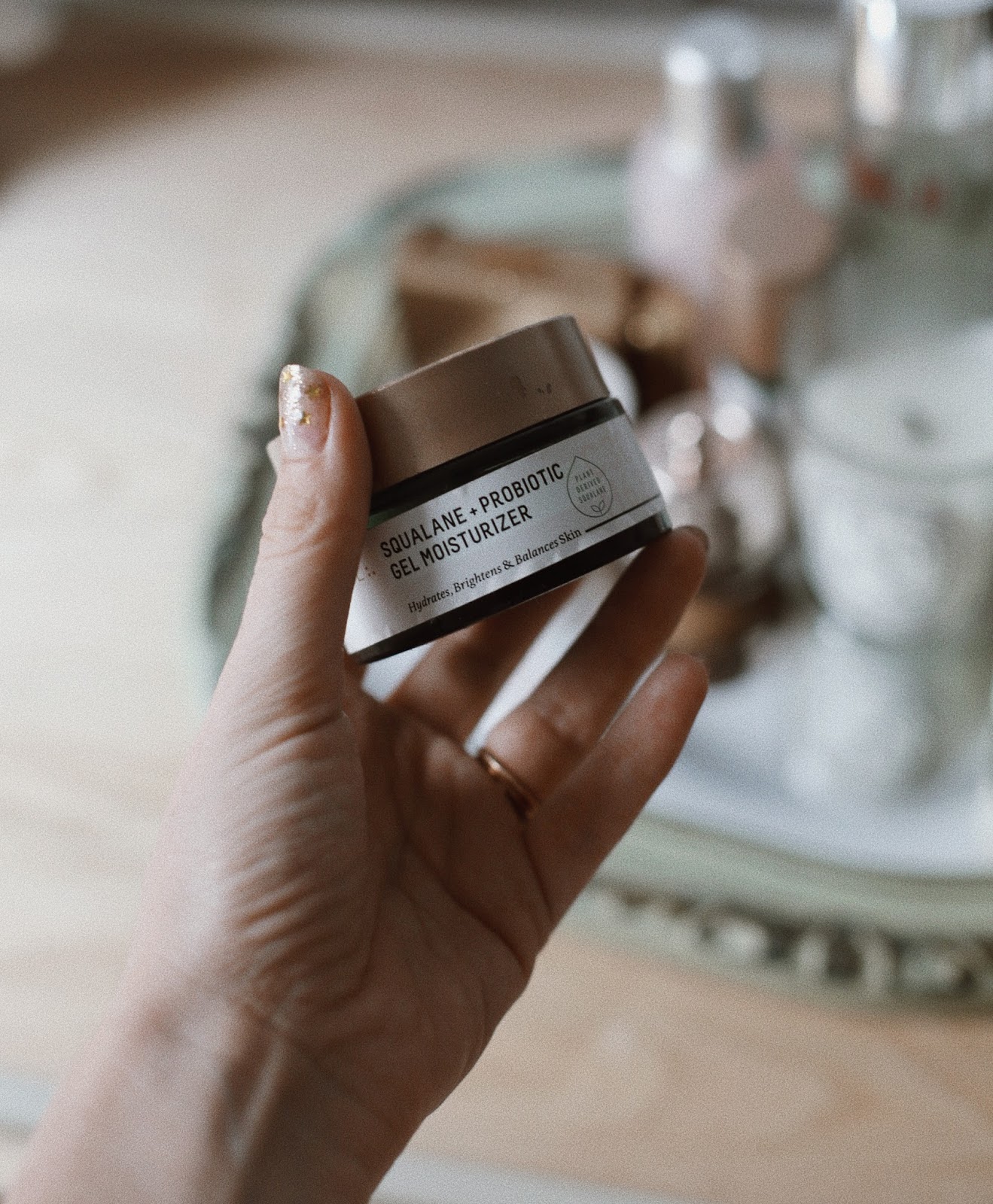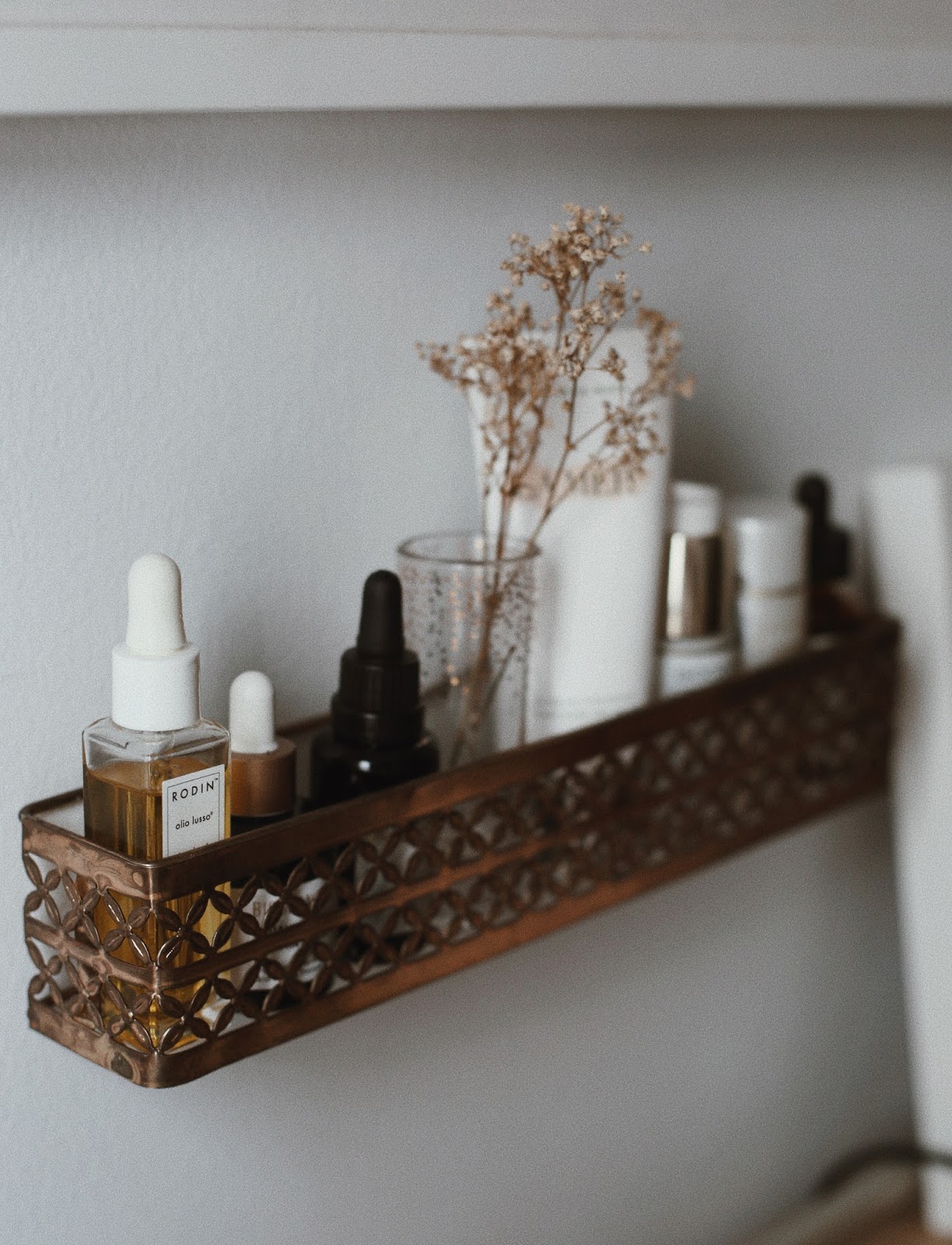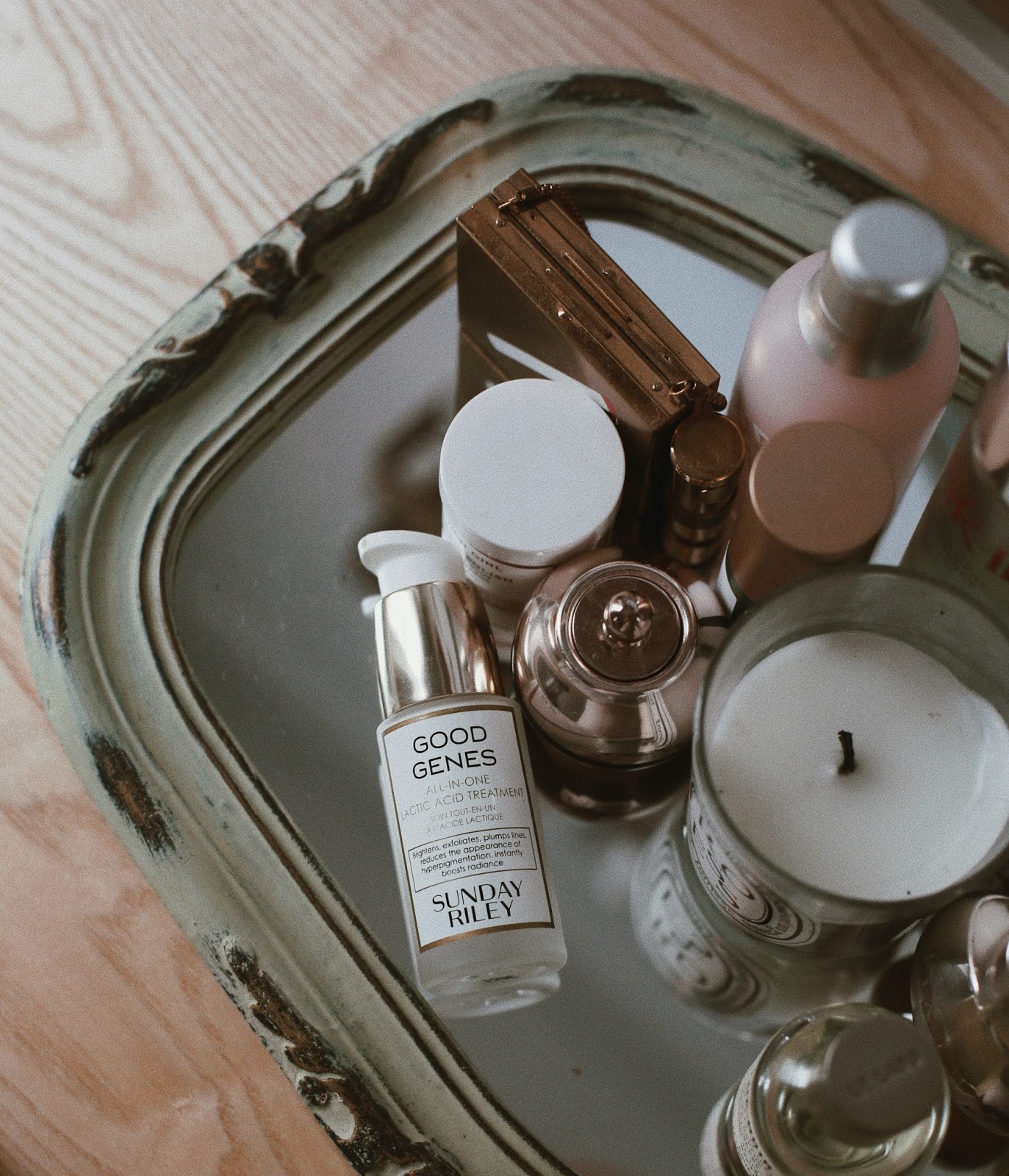 Next up is a product that I used around the holidays last year, that I took a break from during my skin trouble, and recently returned to. Sunday Riley Good Genes is a lactic acid treatment that I've been using about twice a week at night to plump my skin up. Because I think of it as being mostly for signs of aging, I apply it to my forehead, around my nose (where I have larger pores) and to my cheeks – avoiding around my mouth and chin where my skin breaks out every once in a while. I really have noticed a difference after reintroducing it, and I like having a product I don't always use – it's become part of my Sunday and Wednesday night ritual, when I tend to have more time to spend on my skin.
I know I keep mentioning Biossance, but I guess that's because I really do love what their products have done for my face. I'm really glad I discovered them when my skin was at it's worst, but now that my skin has improved, I really get to see what the products can do. I apply this moisturizer after my face oil at night and occasionally in the morning if my skin looks thirsty.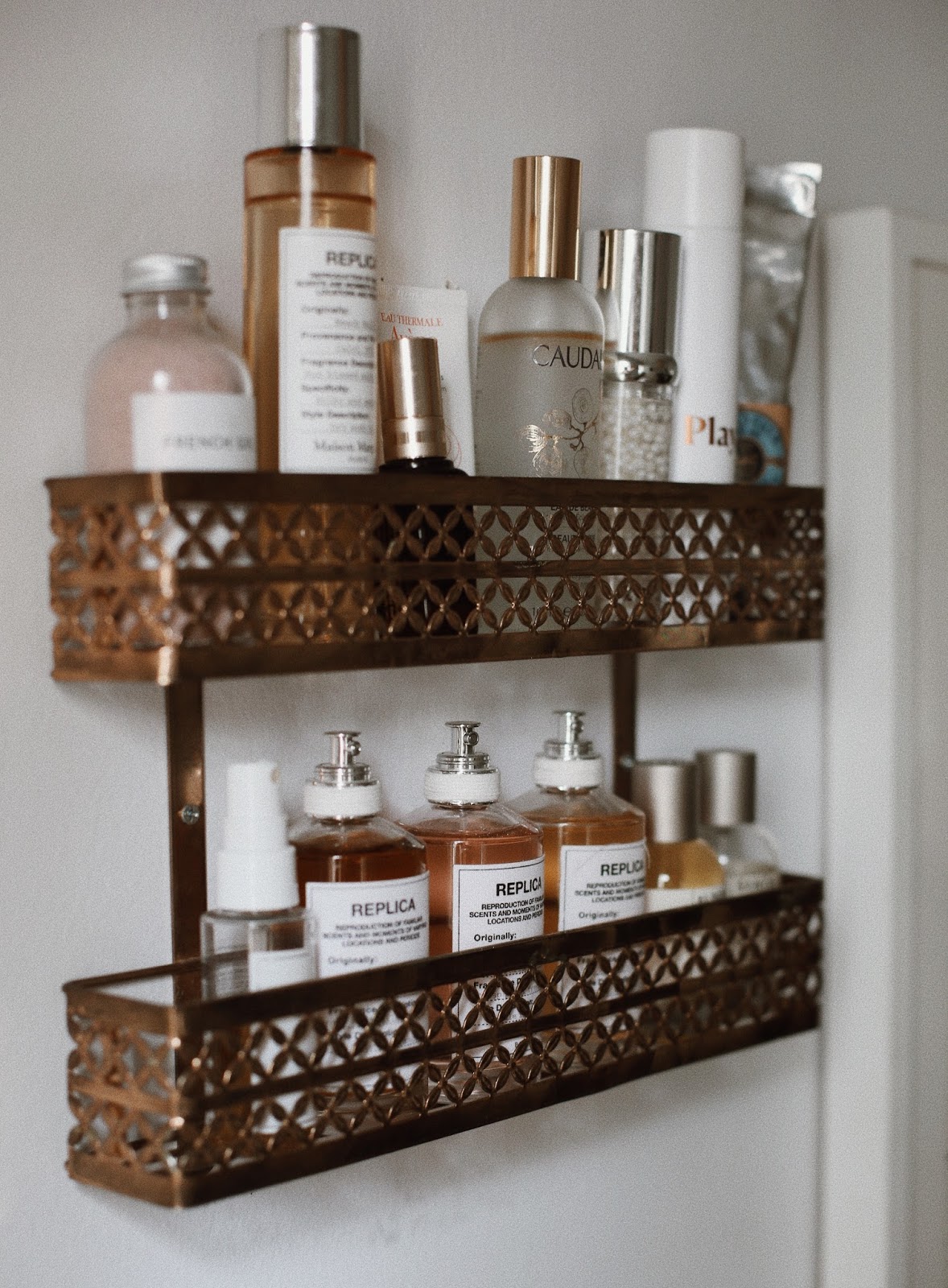 Another thing I discovered when I installed these shelves – or I suppose I should say rediscovered – was my perfume collection. While I tend to wear them same scent every day (Le Labo's Thé Noir), I also like Santal 33 for evenings. Some other scents in my collection are Beach Walk (with a matching body oil I use on my legs), Jazz Club, and Flower Market, all by Replica.
Some other items currently on my shelf that I find myself reaching for is Playa spray for my hair to create beachy waves, Caudalie's Beauty Elixir, and L'Occitane's Shea hand cream. What's on your shelf at the moment?