Late last year, Eric and I embarked on a large road trip across the UK. We started in London, drove through the Cotswolds, to Liverpool, through the Lakes District, and up to Scotland before making our way back down. You can read more about that journey here and here. It was an amazing (and at times quite rainy) trip, and we fell completely in love with the English countryside when we passed through and knew we had to come back to experience it in a different season. So to celebrate our 2 year wedding anniversary and my birthday, we packed our bags and headed off.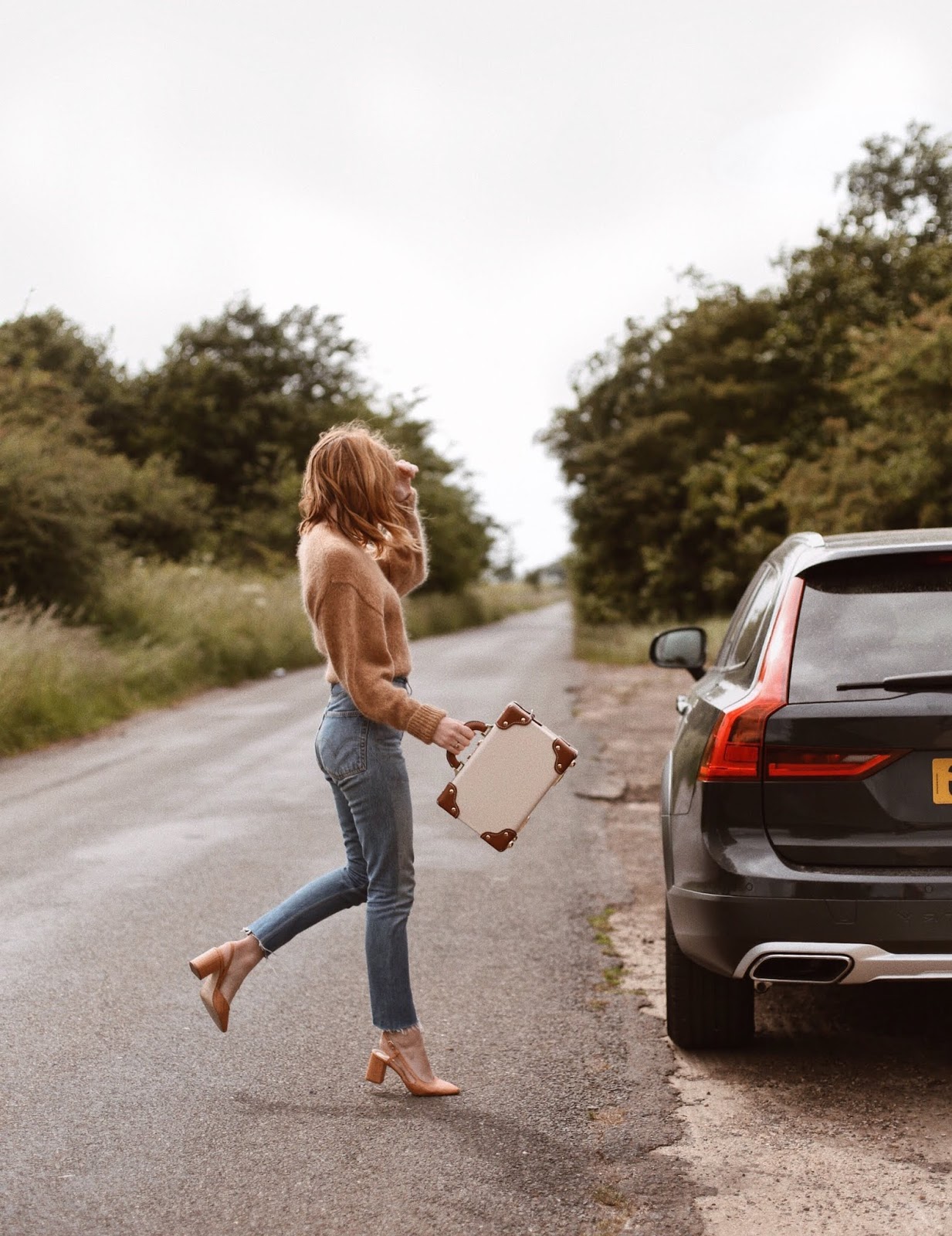 redone jeans / &other stories knit / steamline luggage vanity case / musier heels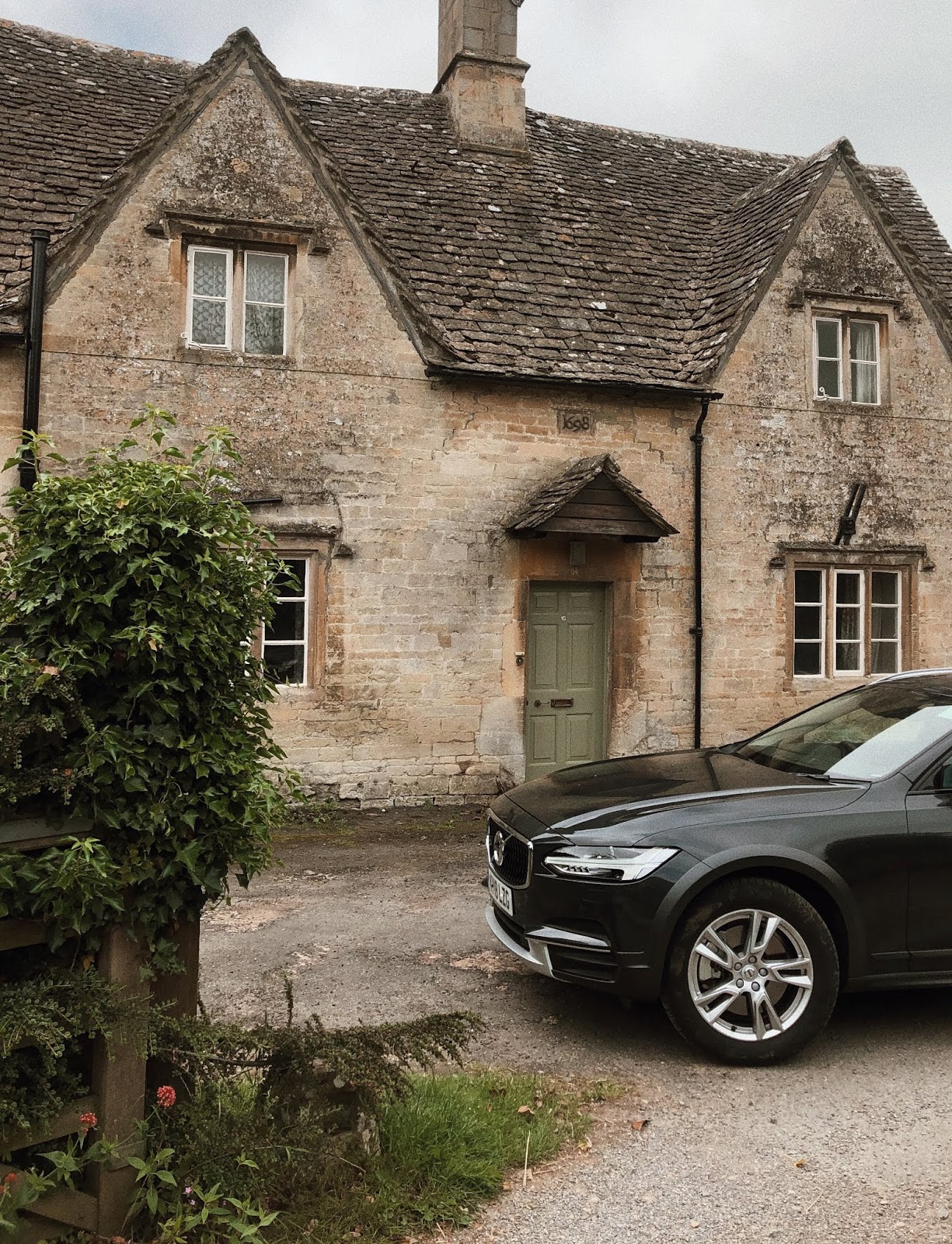 We landed on a Saturday morning after a pretty lengthy travel day, but one in which we mercifully were able to get an hour or two of sleep on the plane due to an empty seat next to us (woo!). We've never flown anything other than Economy on international flights, and we're used to a decent amount of discomfort, so any little bonus is a complete win in our books. We flew into Heathrow airport, collected our bags, and headed to the Hertz counter to pick up our rental car.
I've written in the past about renting a car and driving in a foreign country, but it really is the best way to explore off the beaten path. Sure, if you're planning on staying in a major city with public transportation, you might not need one, but if you're wanting to see as much as possible, a car rental is the way to go! We always choose Hertz for our car rental in the US, and they are just as reliable and helpful in the UK. We were set up with a comfortable car, and despite how many times I tried to get in on the wrong side (oops), it really made our trip. There's no way we could have gotten where we needed to go without renting a car, and Hertz even provided a mobile hotspot so we could use our phones wherever we went without needing a cell signal. And if you're concerned about driving on 'the other side of the road' – don't be. Eric has only done it once before, and it came back to him so naturally. 10/10 – rent a car if you'd like to see the best corners of England.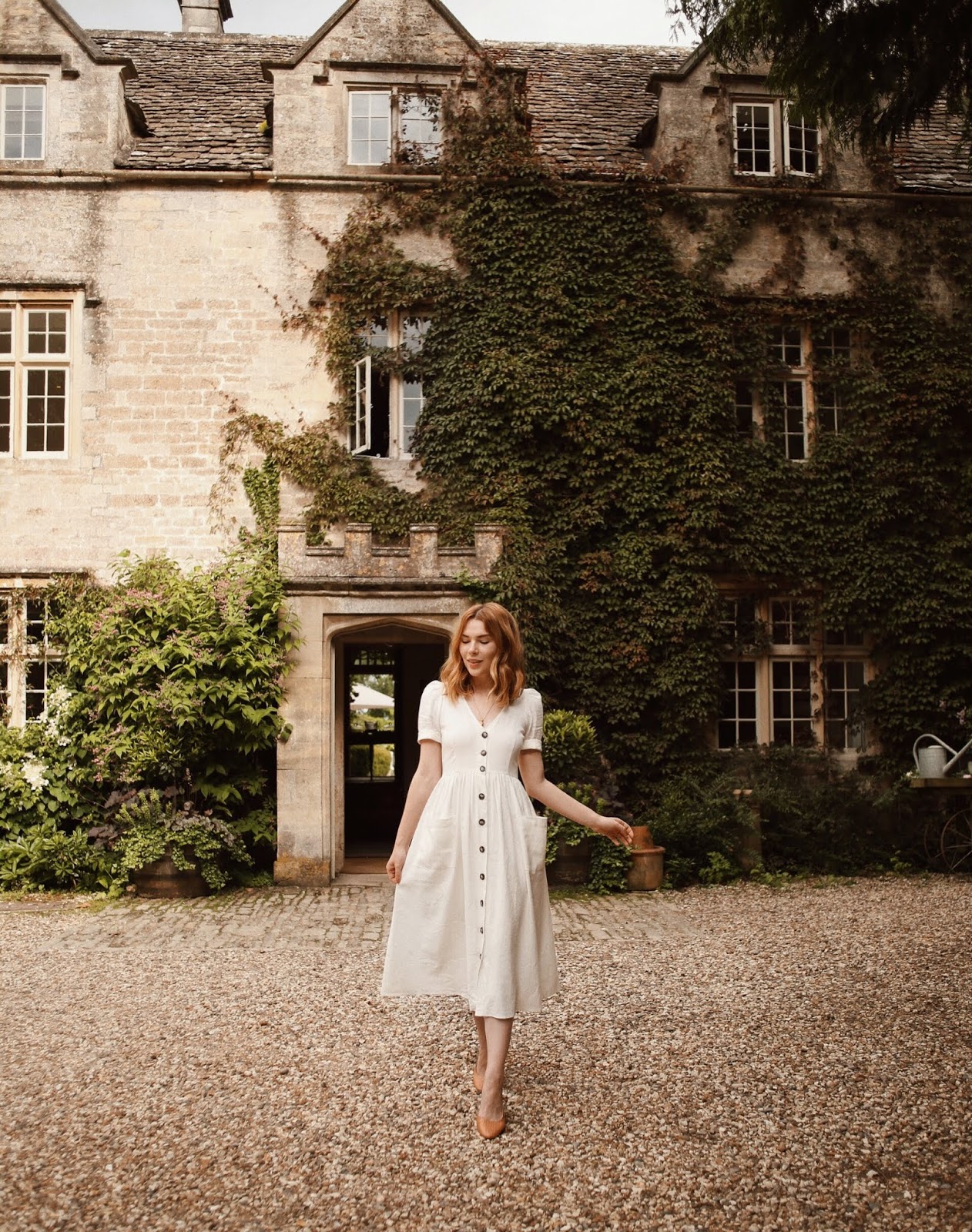 zara dress (sold out) / musier paris heels
Our first stop on our journey was Barnsley House out in Cirencester. We made the drive out from the airport and soon left behind the highway for small country roads, before pulling up to what I can only describe as the most gorgeous house I've ever seen. Stone walls covered in creeping vines, flower bushes, immaculate gardens, and all dotted amongst it were little tables and benches to sit and take it all in. We were almost overwhelmed by how charming everything was, especially after being stuck on the plane for so long. I loved our last trip to the Cotswolds, but seeing everything so green and in bloom was wonderful – especially with the sun peeking out behind the clouds to illuminate everything.
We settled into our room (with our own private garden) and then wandered the grounds. Barnsley House has this incredible spa on the property, just tucked away behind a winding road and some large trees. Eric and I couldn't stop smiling and exclaiming at every little corner, and even though the jet lag was making us tired, we decided to have dinner at the restaurant in the hotel, The Potager. I'm so glad we did, because it went down as one of our absolute favorite meals of the last few years – mainly because there was one dish that Eric and I agreed is the best thing we have ever eaten in our lives. That dish was their Vincigrassi – a wild mushroom and prosciutto lasagna. It absolutely blew our minds with just how deceptively simple it looked and how incredible it tasted, made with ingredients from the very gardens we had just walked through. I would come back just for that dish, let alone the amazing stay.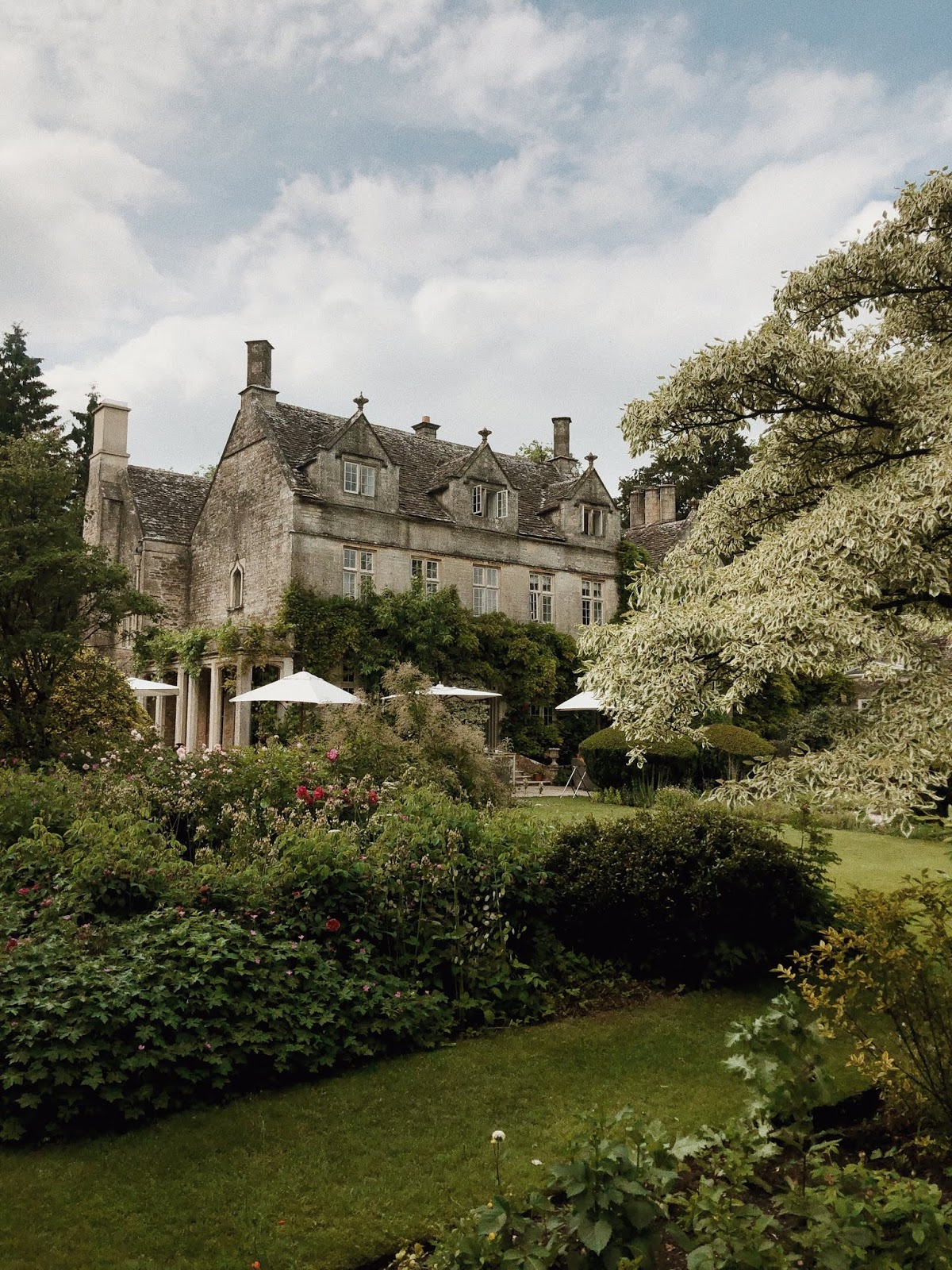 Because we were planning on seeing as much of the countryside and as many cities as possible, we planned to only spend one to two nights each location. And as much as we wanted to stay and stuff ourselves with another helping of Vincigrassi, we had to head out the next day for a day trip we had planned to Wells and to Bath. Both are locations that you guys have suggested to us in the past, and while we weren't able to make the time to stop on our last trip, this time we made the drive.
I didn't take as many photos in Bath as I had wanted, but as we have a Vlog planned that will show more of not only that city, but the whole journey in general, I'll just say that it was a great stop, and I know why it came so highly recommended. We saw the ancient Roman baths, walked through the city and along the river, and I somehow convinced Eric to go into Whistles so I could try and track down a swimsuit I wanted to order in the US.
After Bath, we headed to Wells to see the historic sites that I had saved on my map. We saw the large cathedral, and located this one street that I've seen multiple times in photos, but never was sure I'd see in person – Vicar's Close. It's the oldest residential street in Europe (built in the 1400s), and the absence of cars and mailboxes really transports you back in time. I was in awe of this street, and we admittedly lurked there for a long time, just gaping at the little houses.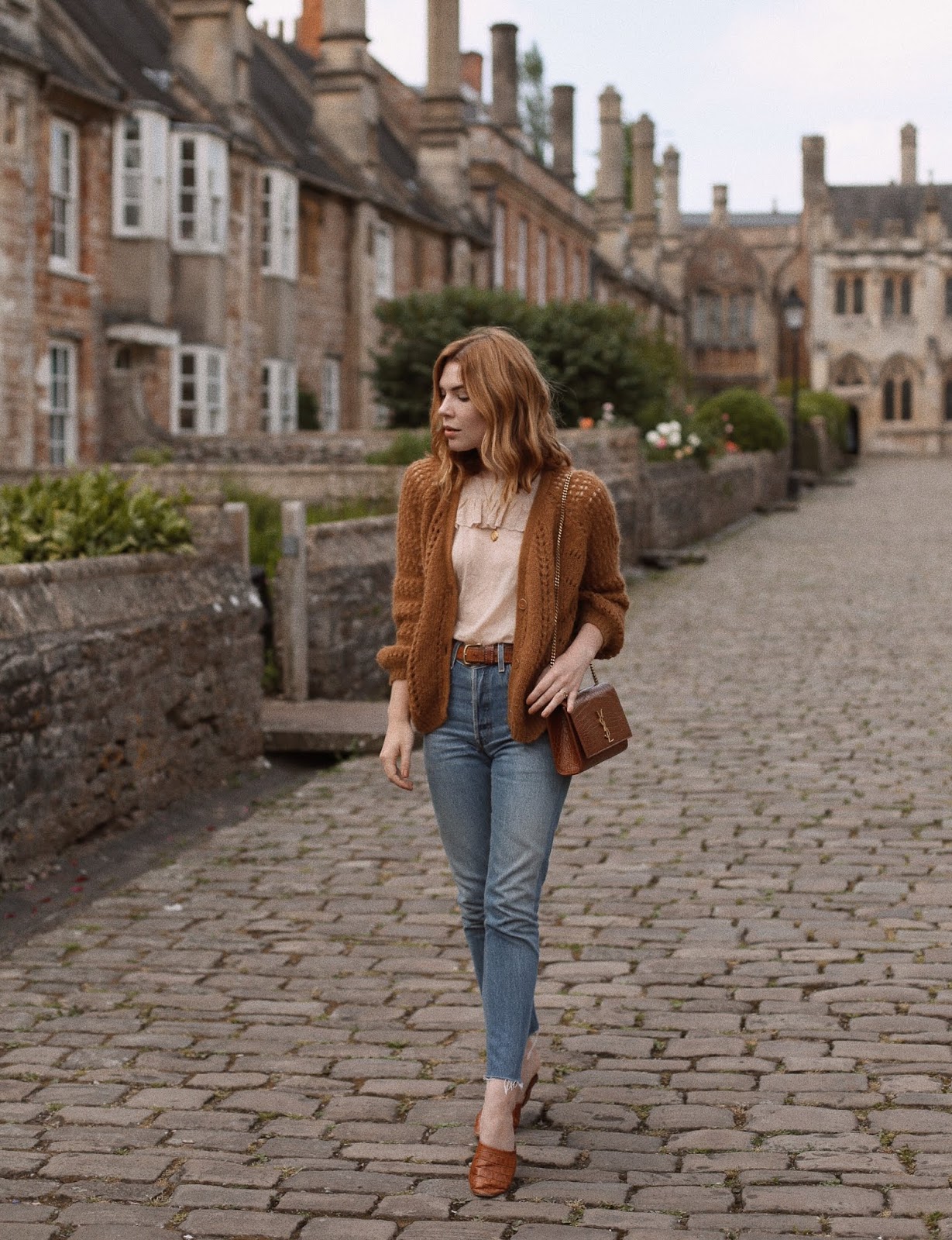 sezane knit / doen blouse / redone jeans / by far shoes mules / ysl purse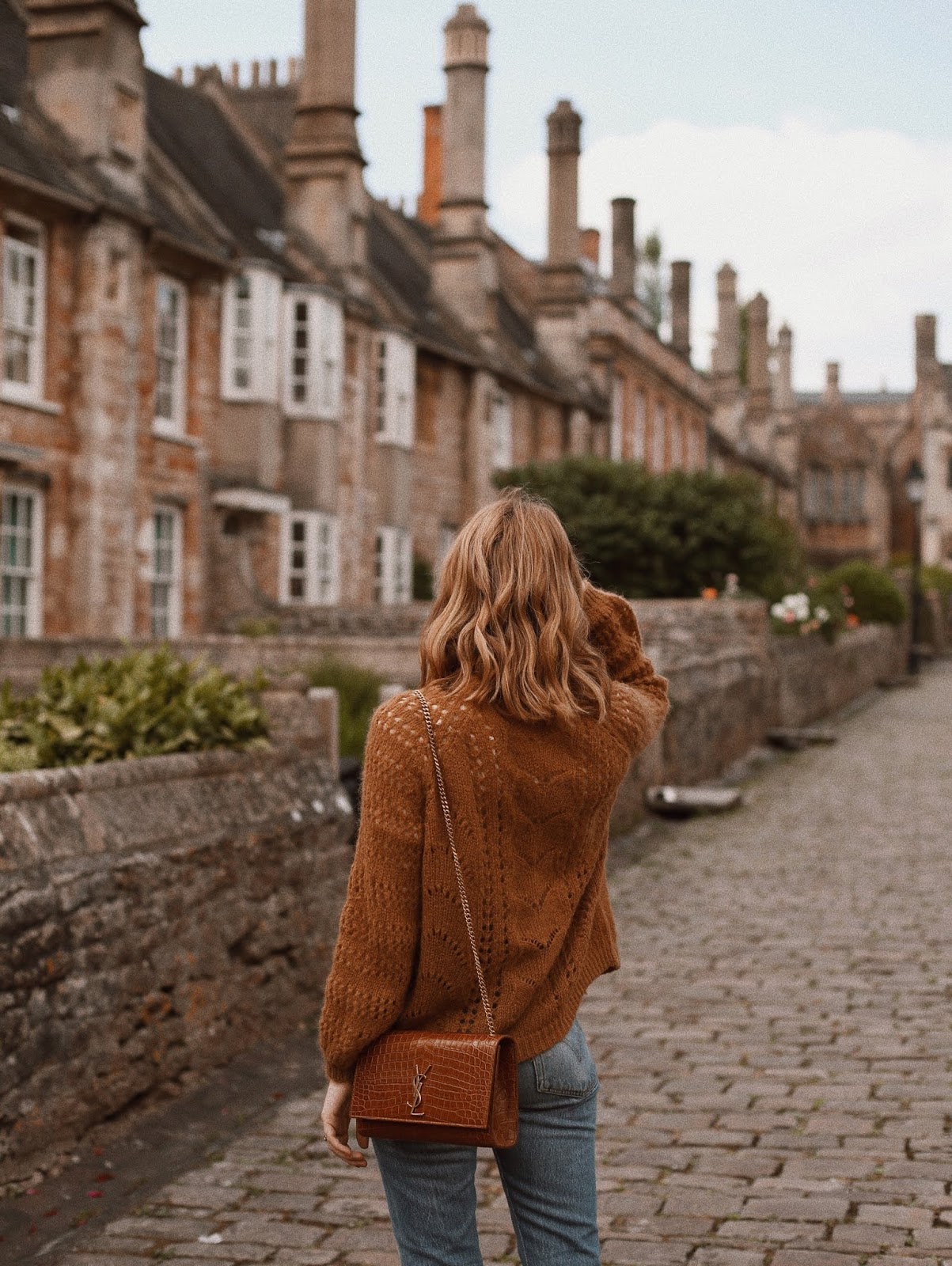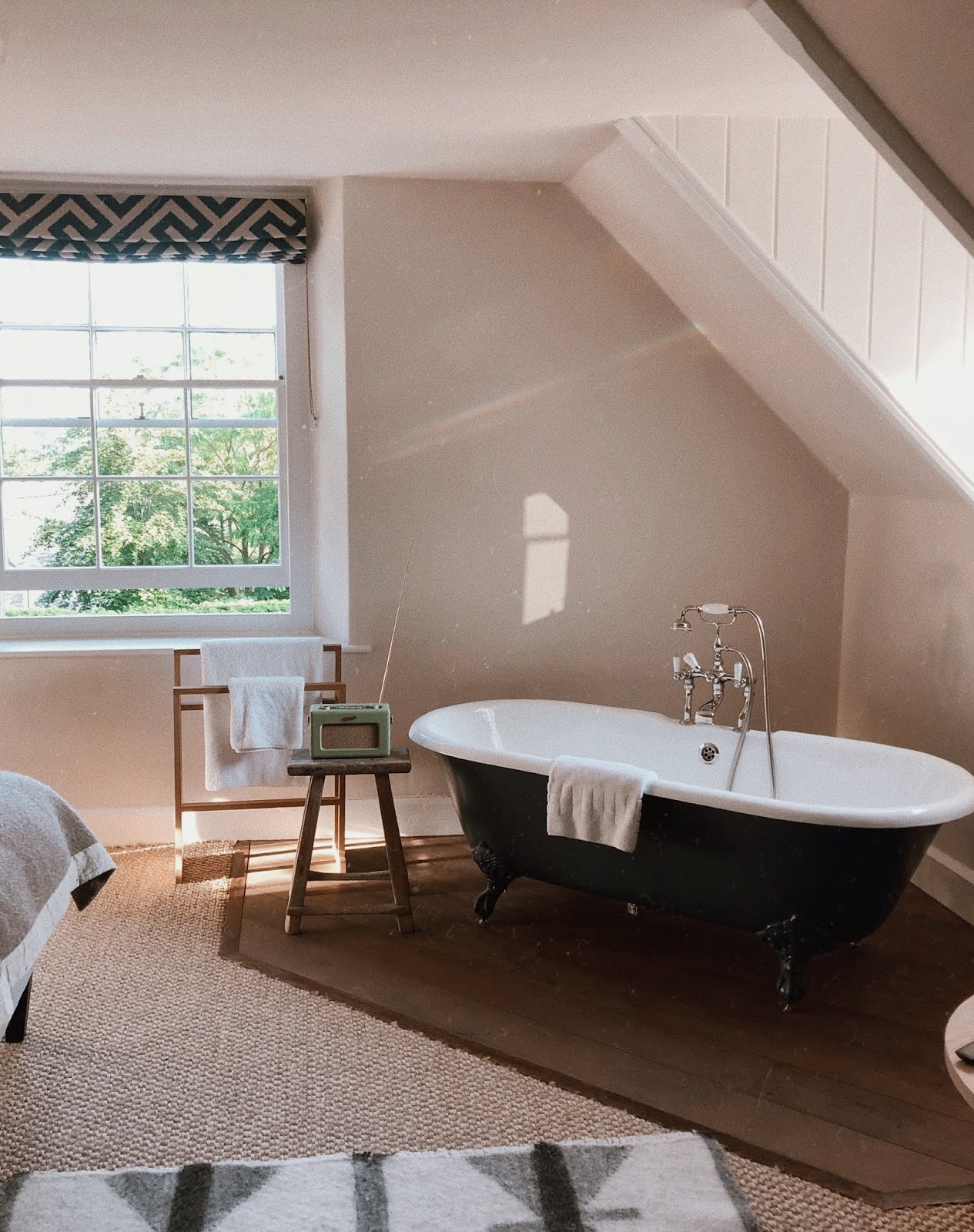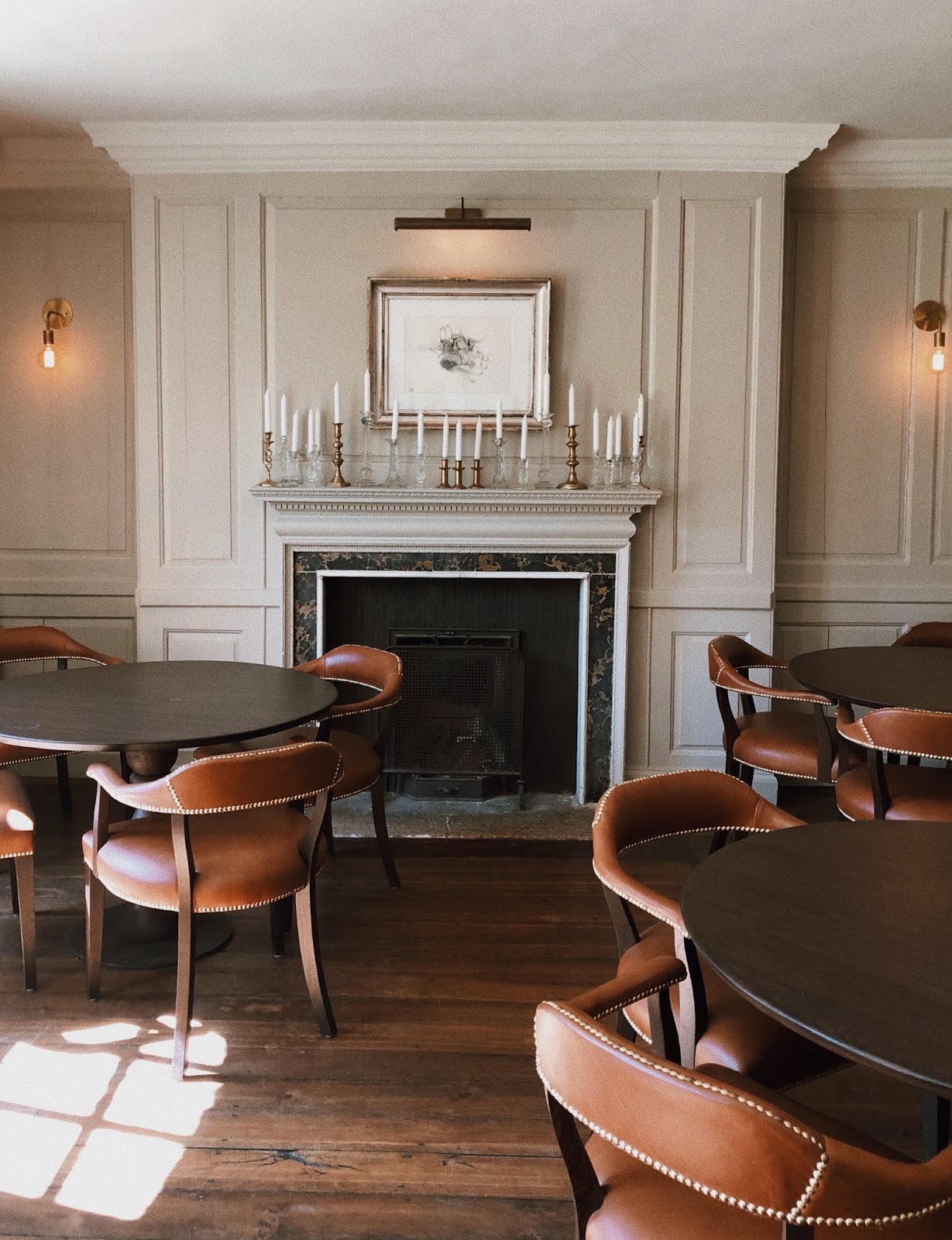 Our next stop on the journey was The Rectory Hotel in Crudwell. It was originally the rectory to All Saints' Church and in order to house the rector's 14 children (!!!), it was built with several levels and lots of bedrooms. We checked into our room on the top floor, and despite how many years the building has stood, it felt distinctly charming with modern touches – like a radio with soft music playing, and a gorgeous clawfoot tub that I took 2 baths in in less that 18 hours. I'm dedicated to that bath lifestyle, clearly.
We spent our night much like the night before, albeit with more sleep under our belts. We wandered the grounds, complete with a pool and little pond, and even passed through the gate at the back of the property to see the churchyard and cemetery on the same property. I can't say it enough, but there is nothing like this where we live. LA is far too new of a city to have anything quite so old, and so everything about the property was just captivating to us. I love how much history there is in a house like this, but the updates and the modern touches make it so fun.
We sipped cocktails, had a gorgeous dinner with the sun slowly setting, and just generally relaxed. So many of our trips involve taking tons of photos and trying to see as much of one city as possible, so this trip was set up to be the polar opposite. Yes, we took plenty of photos, but in many ways, this felt like the first genuine vacation for us, where relaxation placed higher on the list than checking off a large to-do list. We ended up staying up and talking for a long time, as the sky grew darker outside.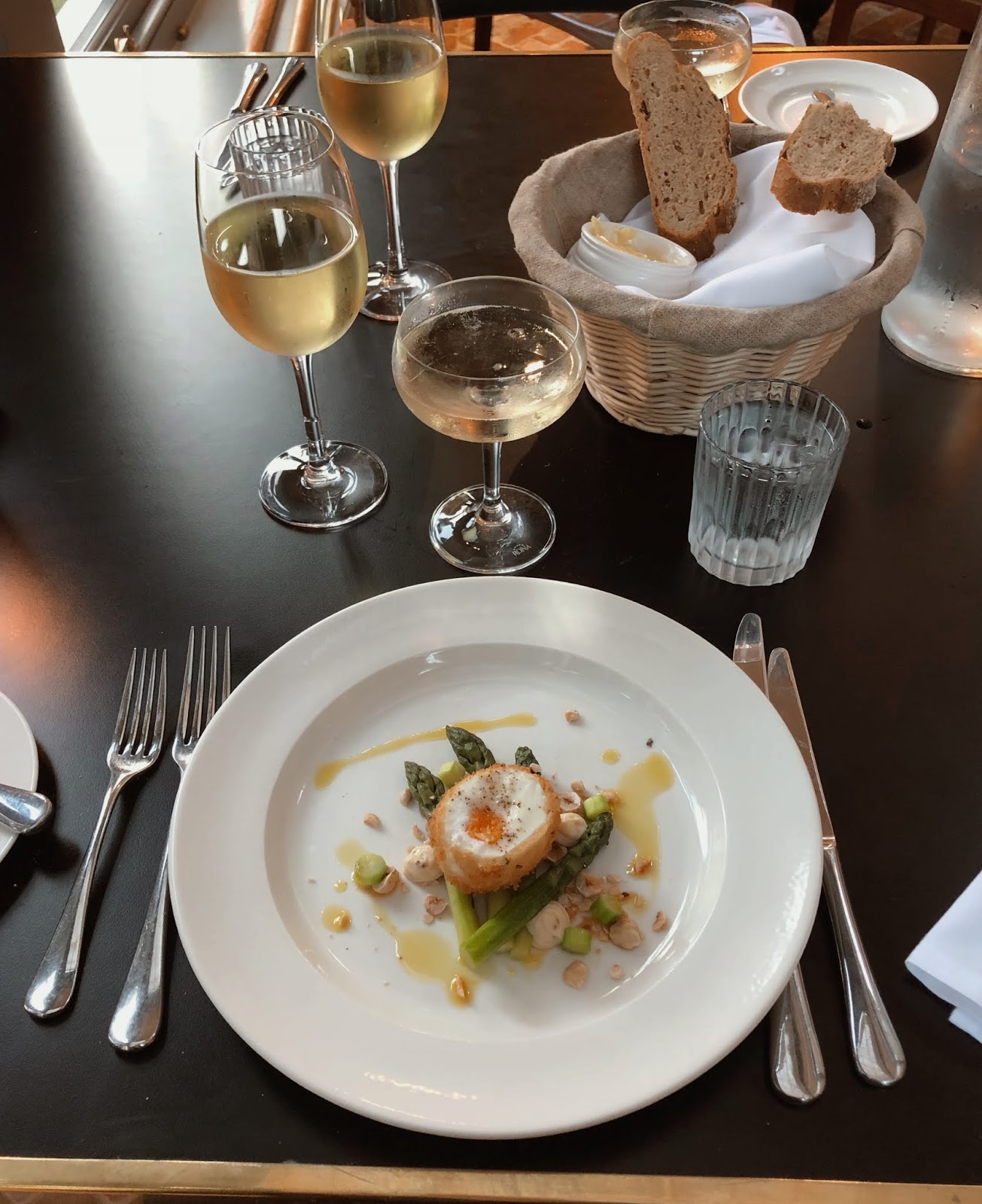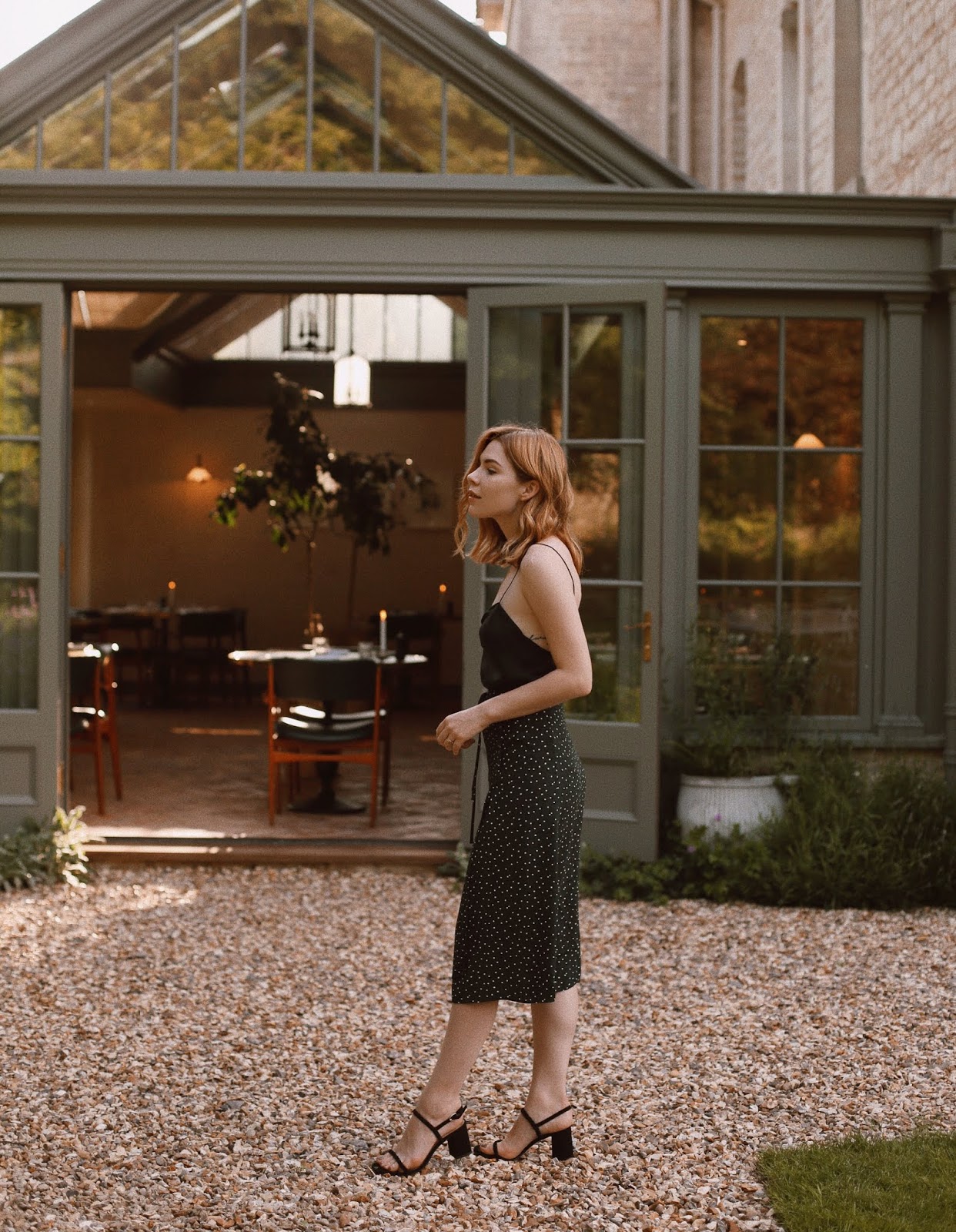 rouje skirt / secondhand silk tank / musier heels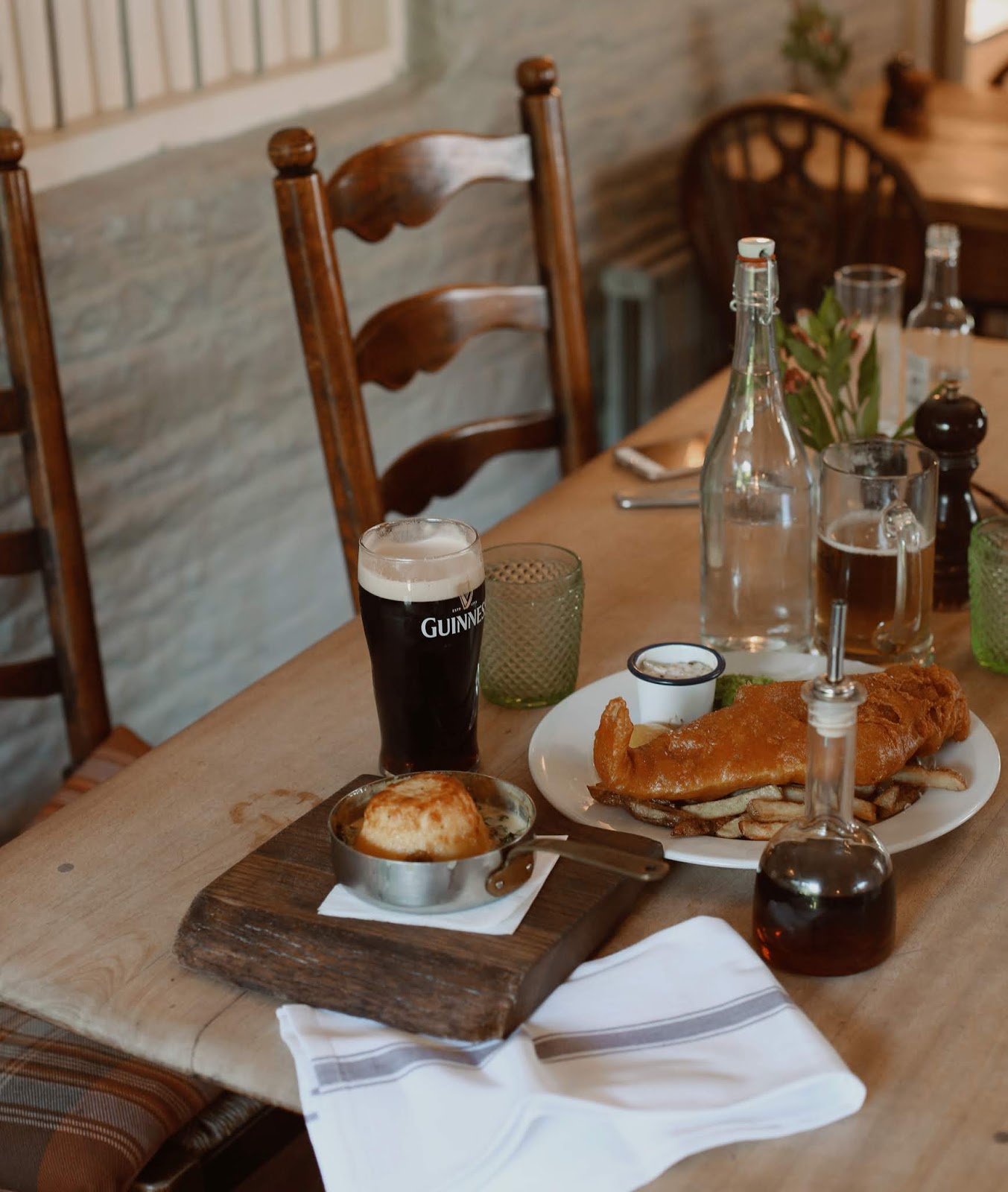 The next day we woke late on the morning of our anniversary, and while I could blame jet lag, I could also blame a full belly, soft sheets in a cozy bed, and the relaxing bath I took right before I climbed into said bed. Either way, we had a slow start to the day, and eventually headed right across the street to have a pub lunch at The Potting Shed. I think I'd been talking about how badly I wanted fish & chips since for weeks before we even got on the plane, so when I saw a big plate at the neighboring table, my mind was set, and we had to order it. And yep – they were everything I wanted and more, just so perfectly crisp and delicious. Obviously we had to have a pint with it, because why not.
After that we made the drive to our next location, a hotel in which I spoke ad nauseam about last year, because it just really made our trip special. The Artist Residence hotel in Oxfordshire. We spent two nights here last year, and made a point to come back and do the same on this trip. After two nights at different hotels, being able to settle in somewhere for two nights felt right, and meant we could really relax on our Anniversary. Honestly, when we stayed last year on the first two nights of our trip, we both talked about it for the rest of the week we traveled around, and both agreed it was one of our favorite hotels we've ever stayed at.
I think it's because it really feels like home when you stay. But like, a really really cool home. There's incredible art all over the common spaces, and when we checked in, we found that we were in one of their newest rooms, the Stable Suite. There's more of that coming in the Vlog, but oh my heavens, was it a lovely room, with our own large bathtub, a fireplaces, and even a little back porch to sit with a glass of rosé. When we planned our trip, we expected some rain, and maybe a little sun, but somehow, miraculously, England was showing off, and we didn't have rain once during the 9 days we spent exploring.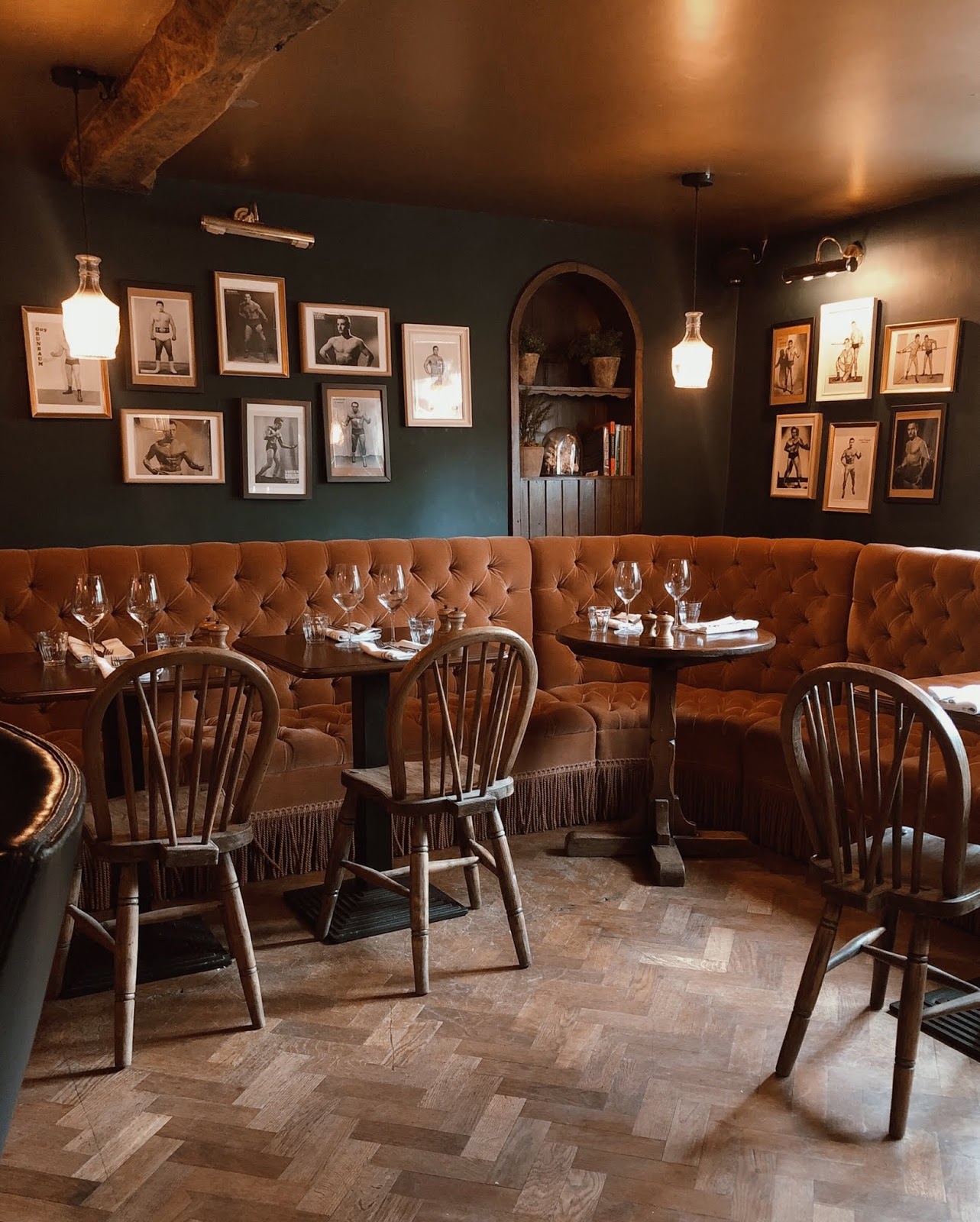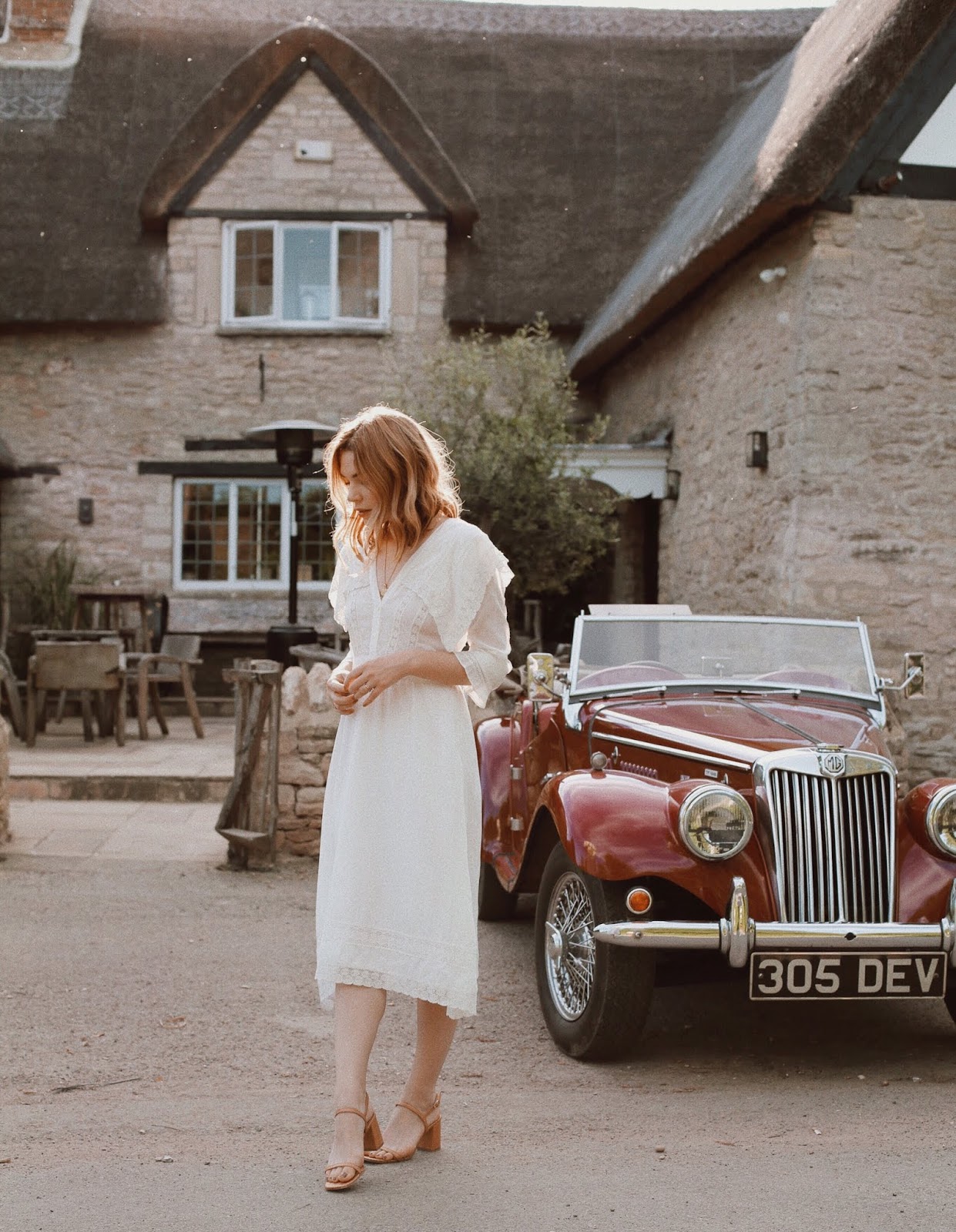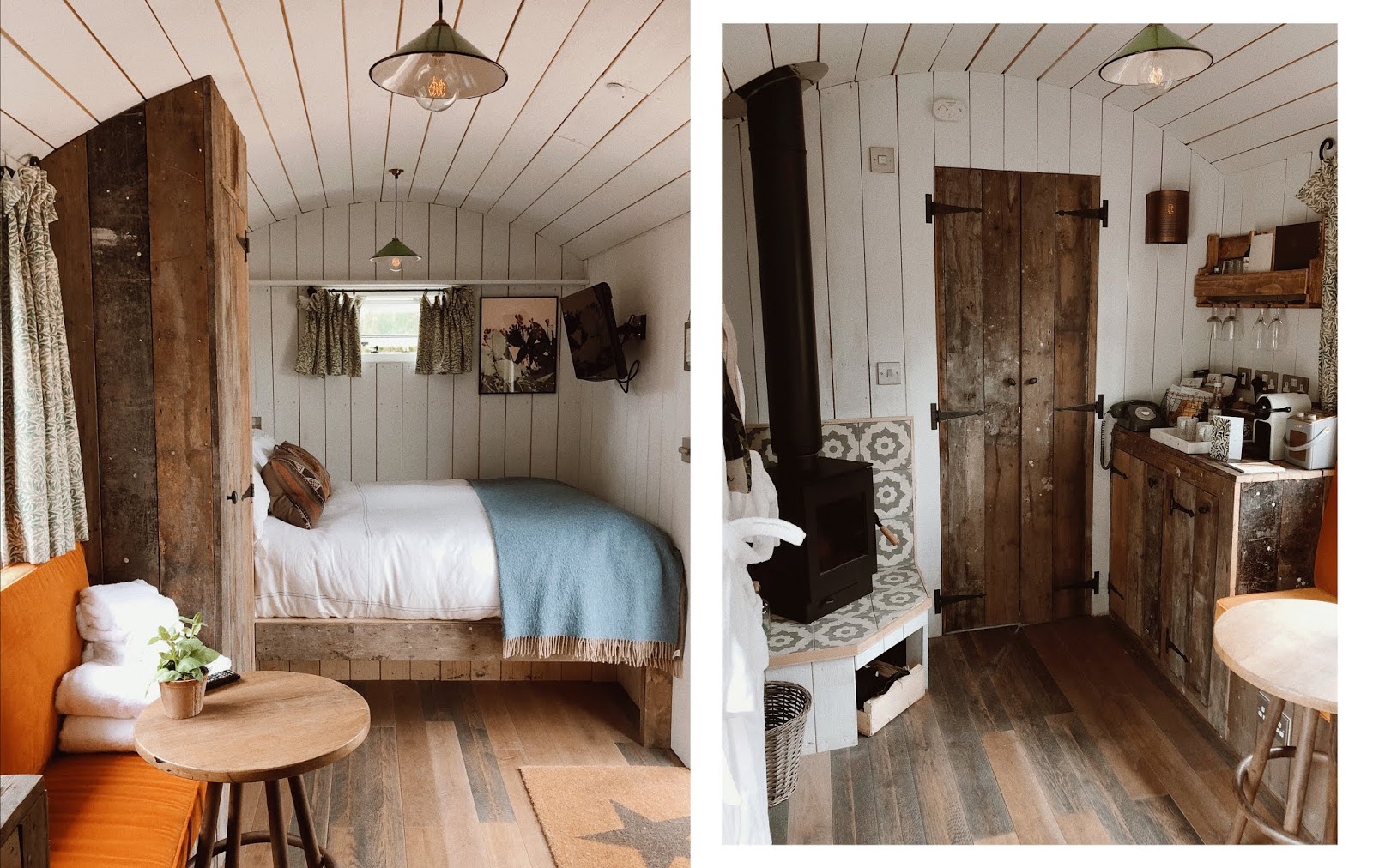 For our anniversary, we decided to have a drink in the gardens just outside the pub on the bottom floor, The Mason Arms. We sat out there for a long time, and there were dogs running around and other people just enjoying the sunshine and drinks. I can honestly say we couldn't have picked a prettier place to spend our wedding anniversary. In the gardens we noticed a new shed that was not there the last time we visited, and when we asked we were allowed to go inside and snap a few photos of their newest room, the Shepherd's Hut! It was so cute inside, and looked like a perfect and cozy spot to stay for a few nights, with a great view of the surrounding garden and grounds.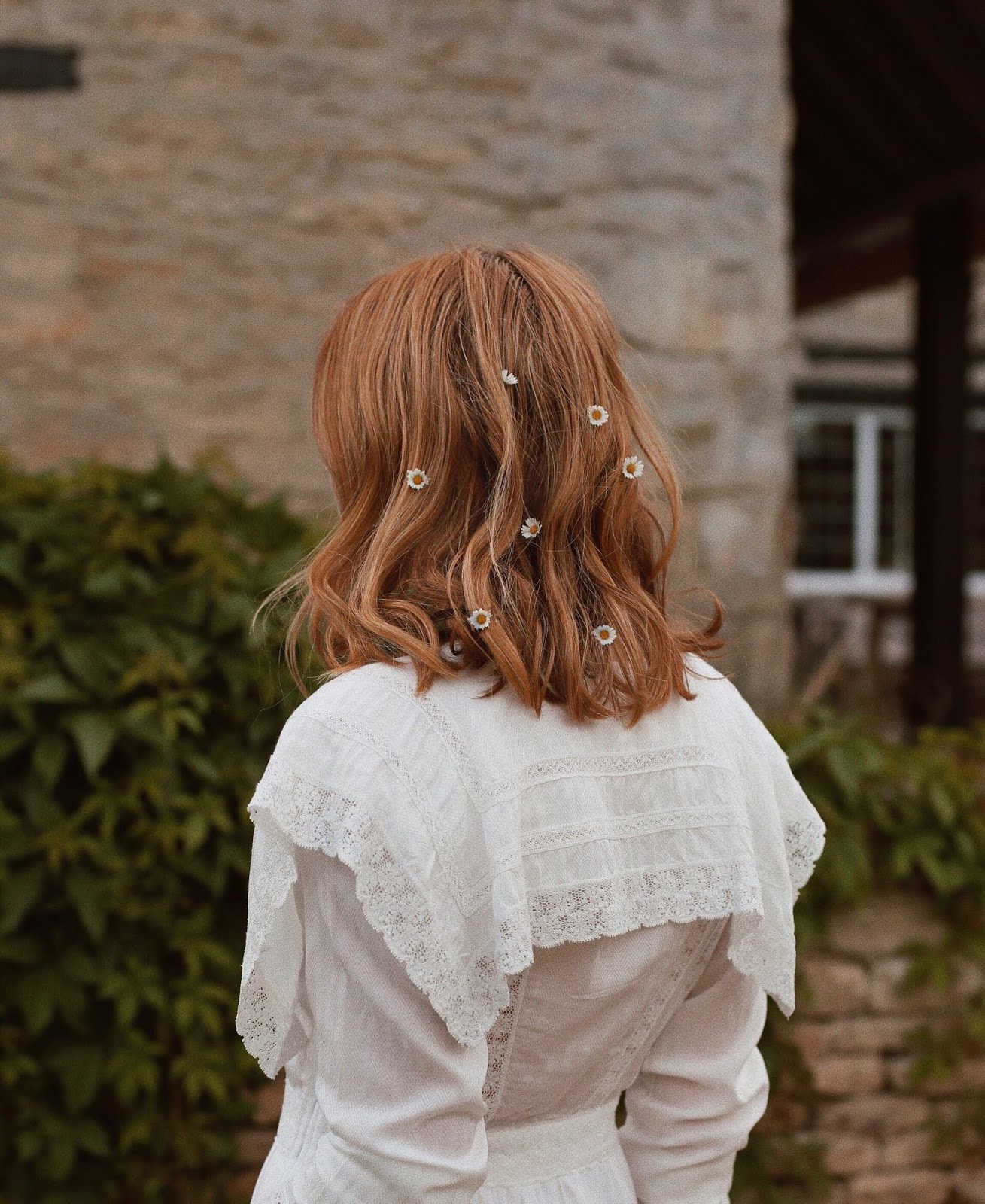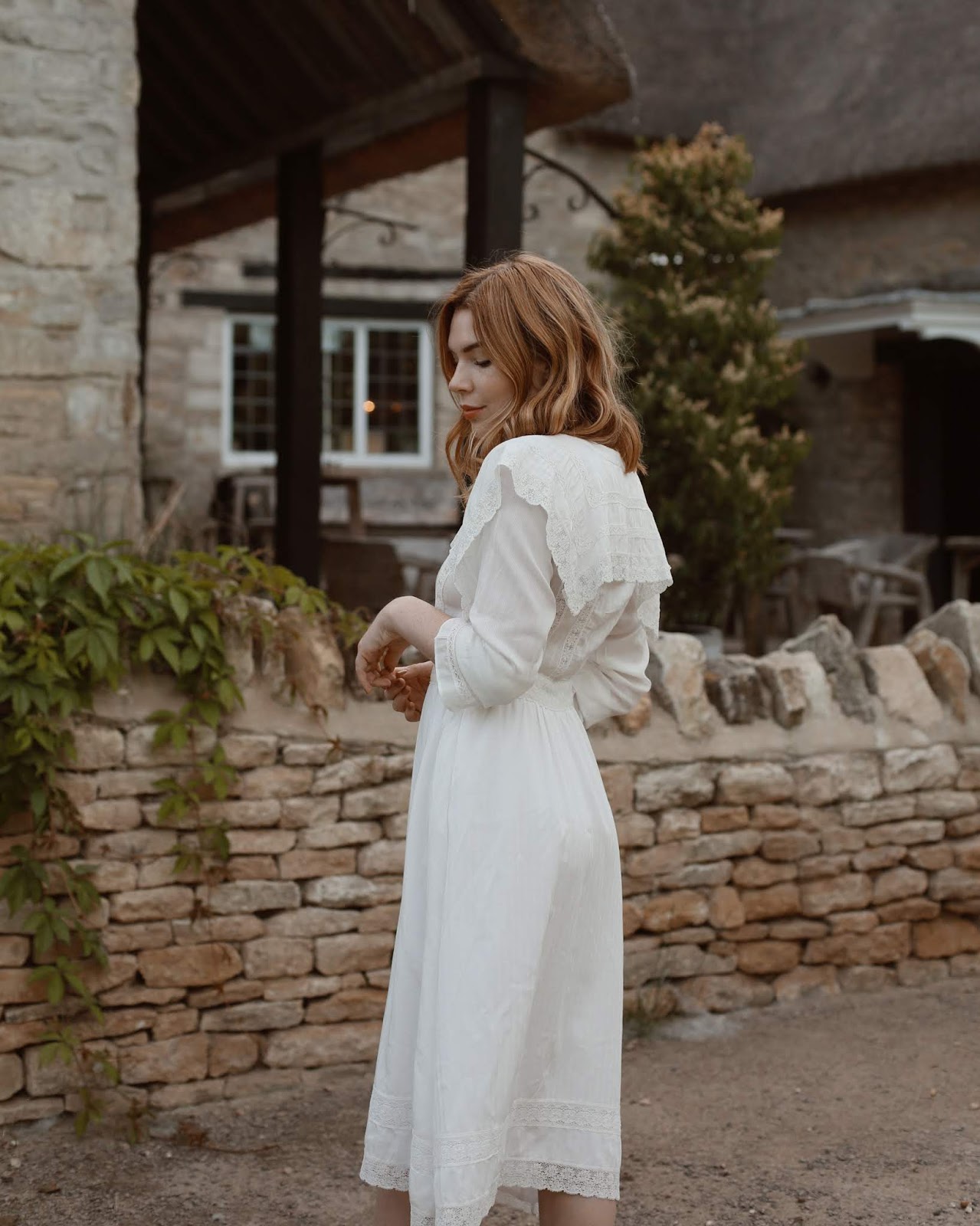 Because we had two days at AR, we were able to have dinner and breakfast at the restaurant, and yet again we had incredible food. They even surprised us with a dessert for our Anniversary! It was a romantic and delicious night, followed by breakfast with lots of tea the next morning in the garden. At this point in the trip, I was obviously considering cancelling our return flight and just living a life in the countryside, because LA has nothing on this place.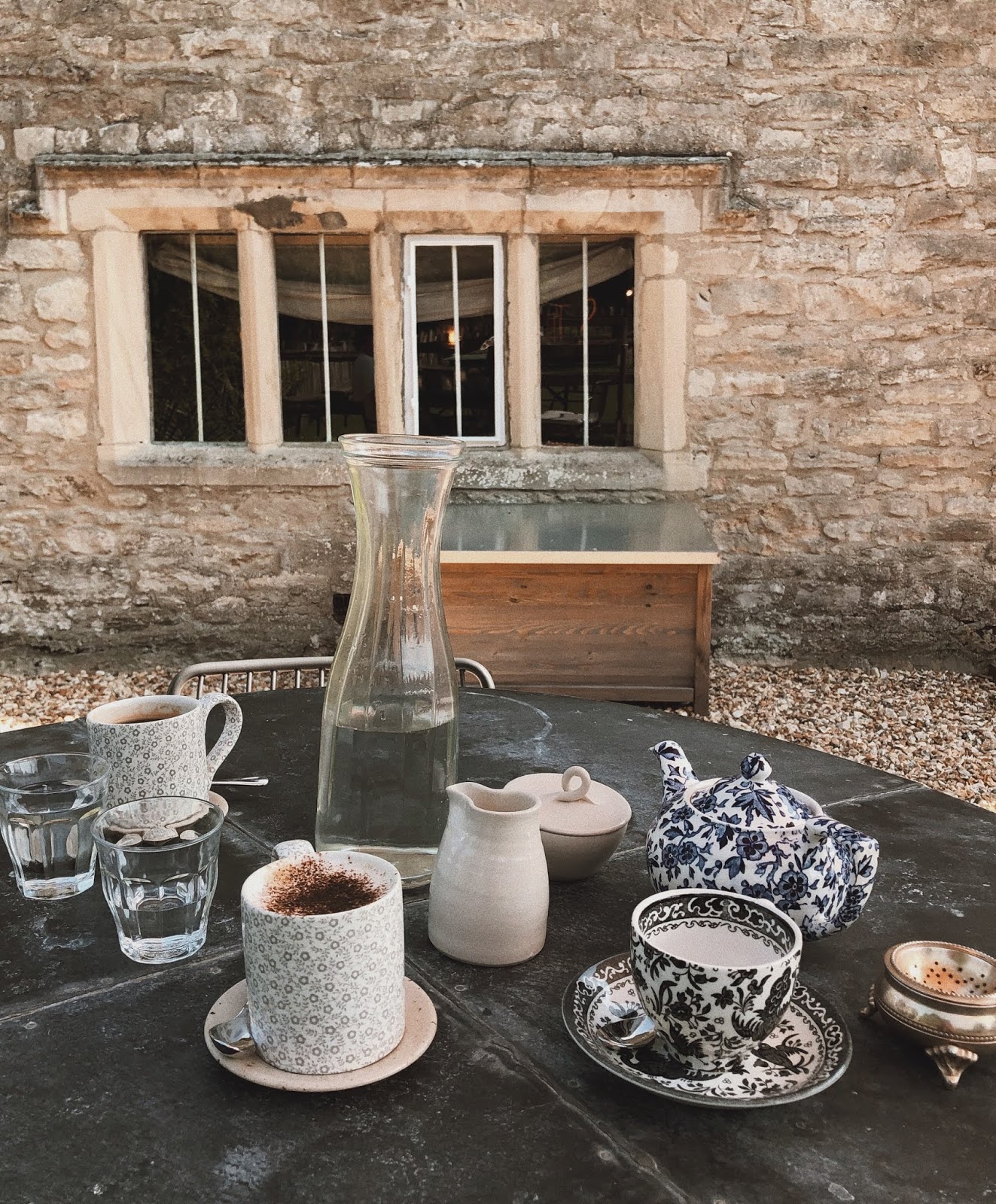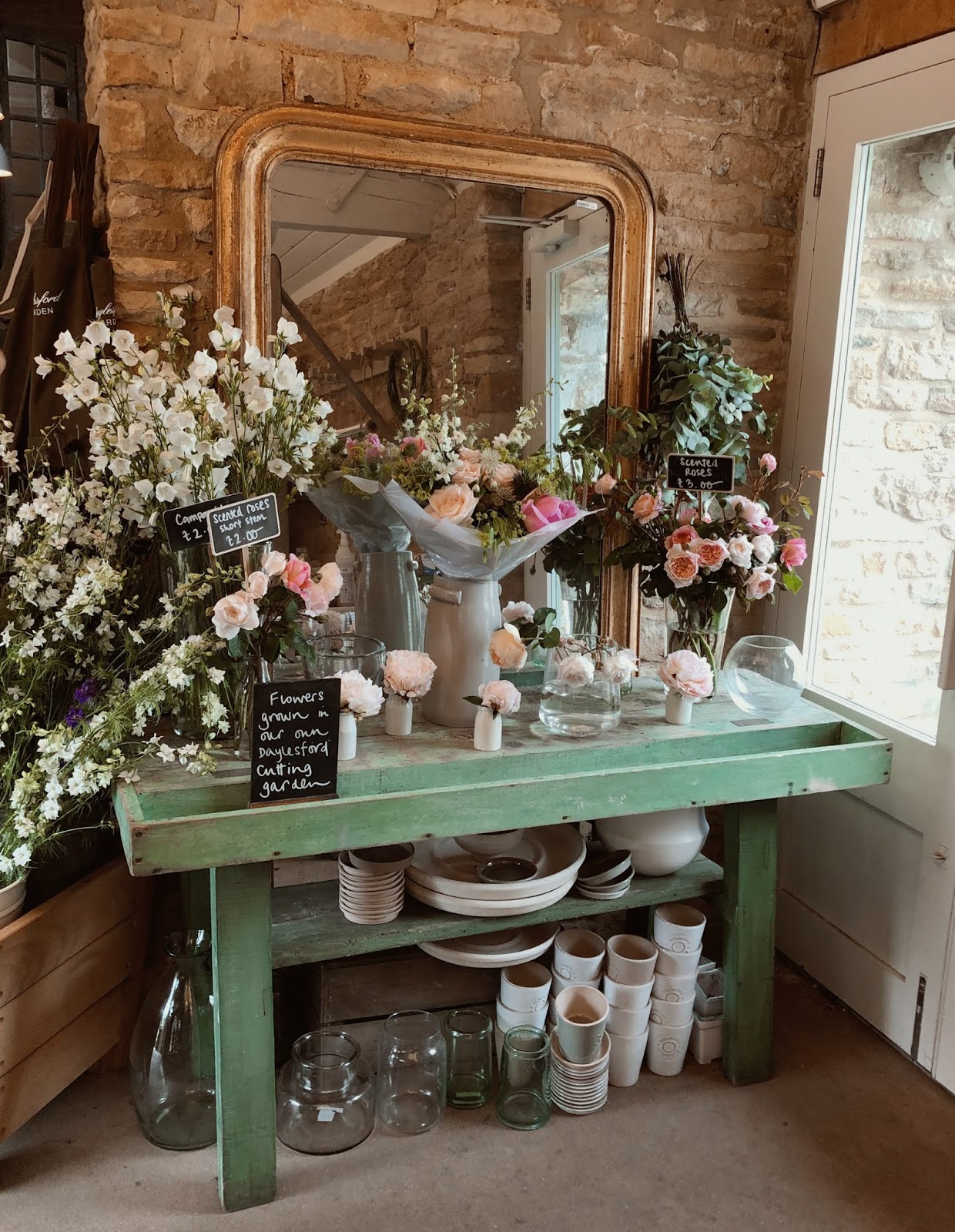 We took a little day trip to Daylesford Farm in Gloucestershire to do a little shopping and ended up spending a few hours there, walking through the grocery and home goods shops, before having lunch in the garden. If I had had extra room in my suitcase I would have bought everything they sold, but as they have an online shop, I'll still be handing my wallet over to them. No joke, as I was writing this post, I ended up delayed by a few hours of browsing the housewares and have no less than 8 things in a shopping basket on their site.*
*update : went to check out, and realized they do not in fact ship to the US. I am CRUSHED.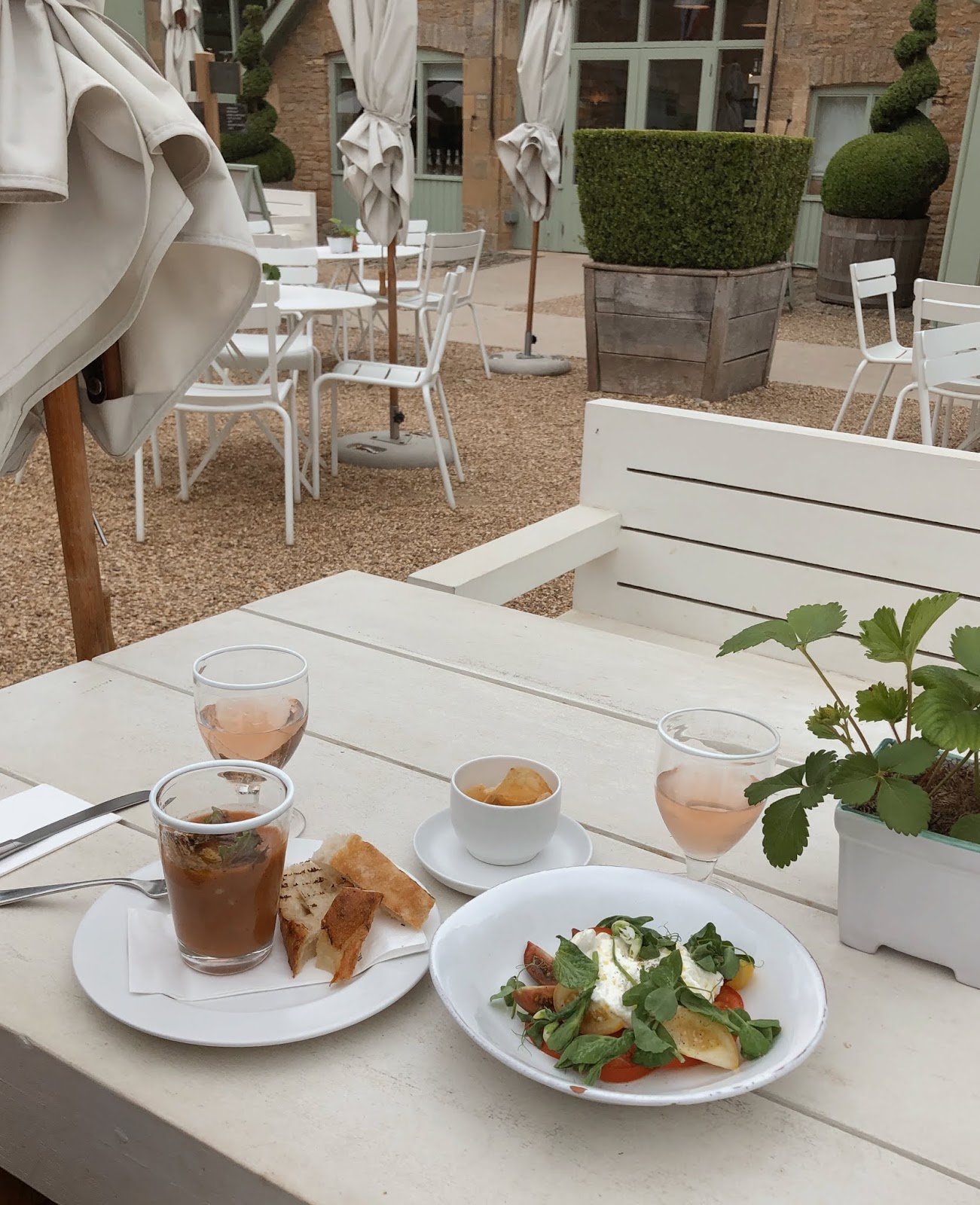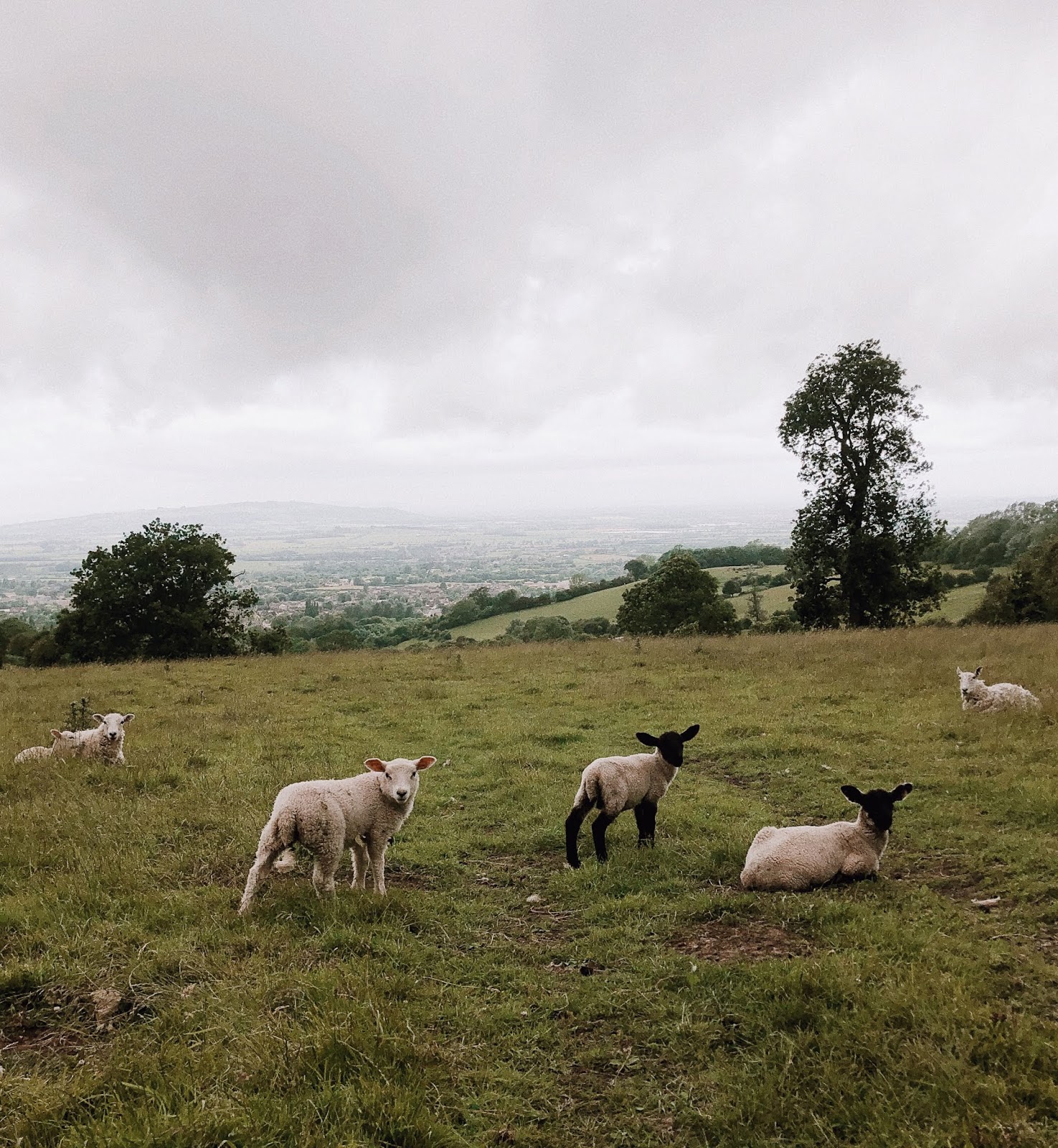 I wish I could tell you more about our stay at AR, but in all hoensty, we spent much of the time relaxing and talking. We celebrated our Anniversary in a dream location, and I cannot wait for our next opportunity to stay either there or at another AR location, as they have quite a few. But at the end of our stay we checked out and headed west to stay at our last hotel in the countryside, The Fish Hotel.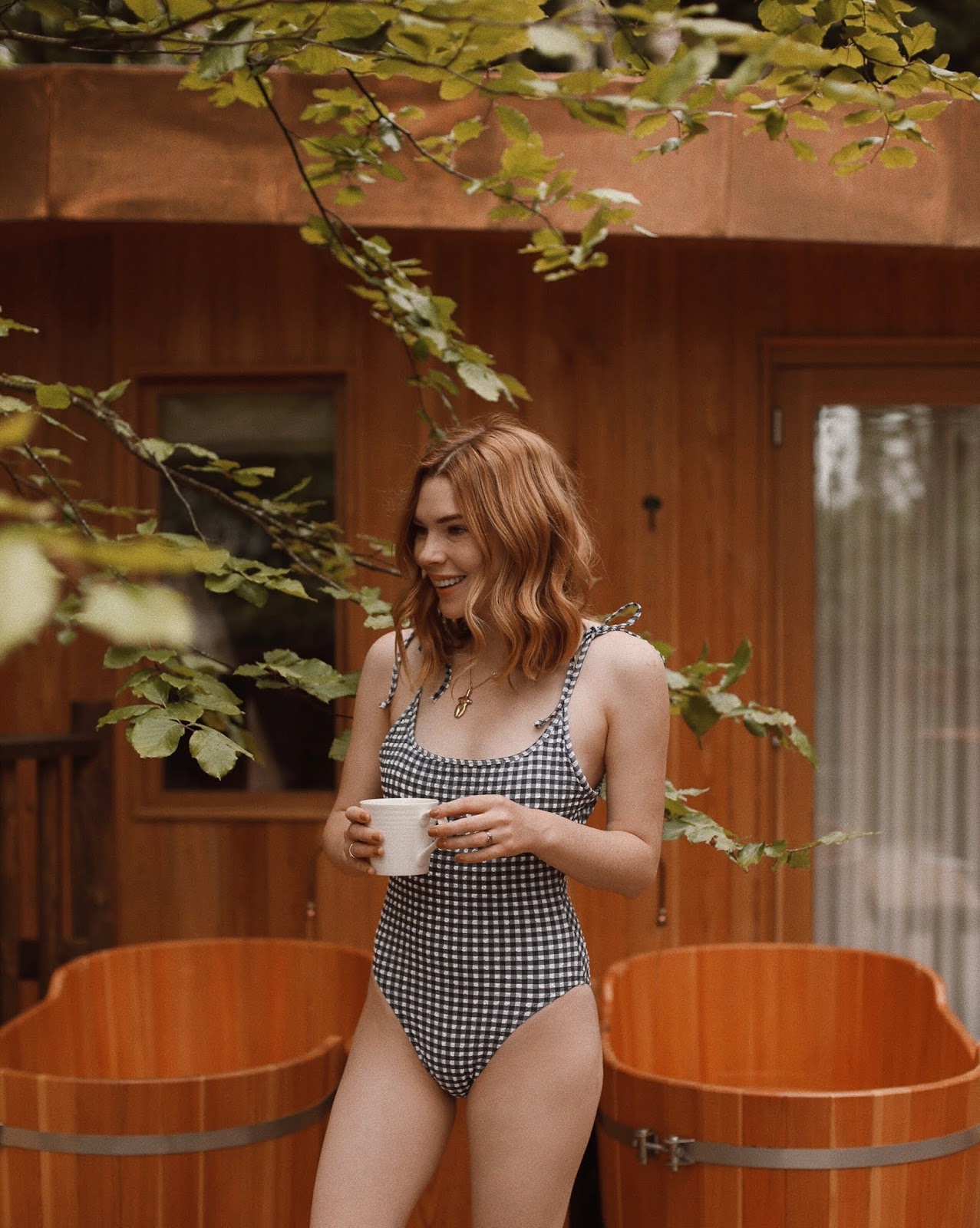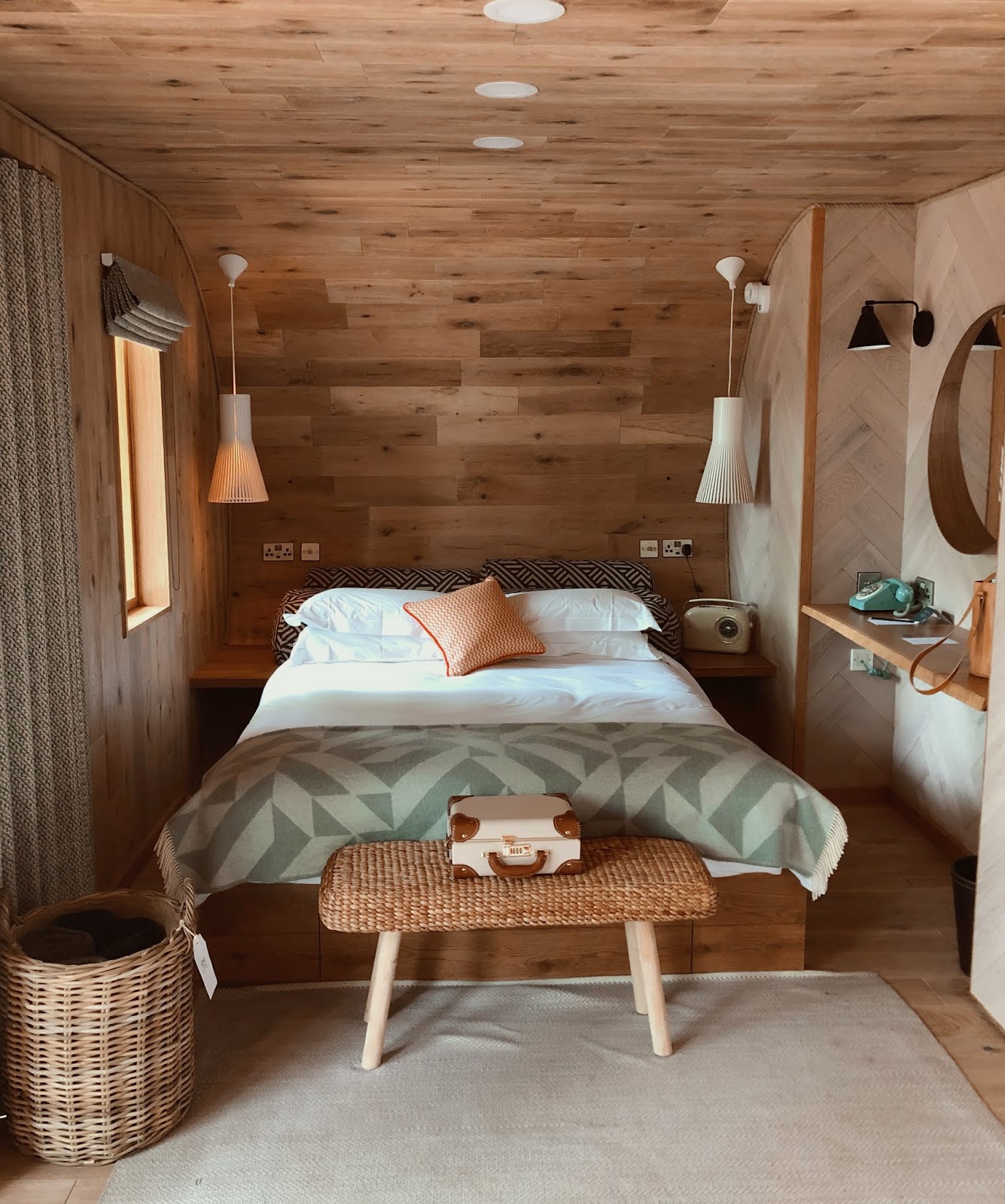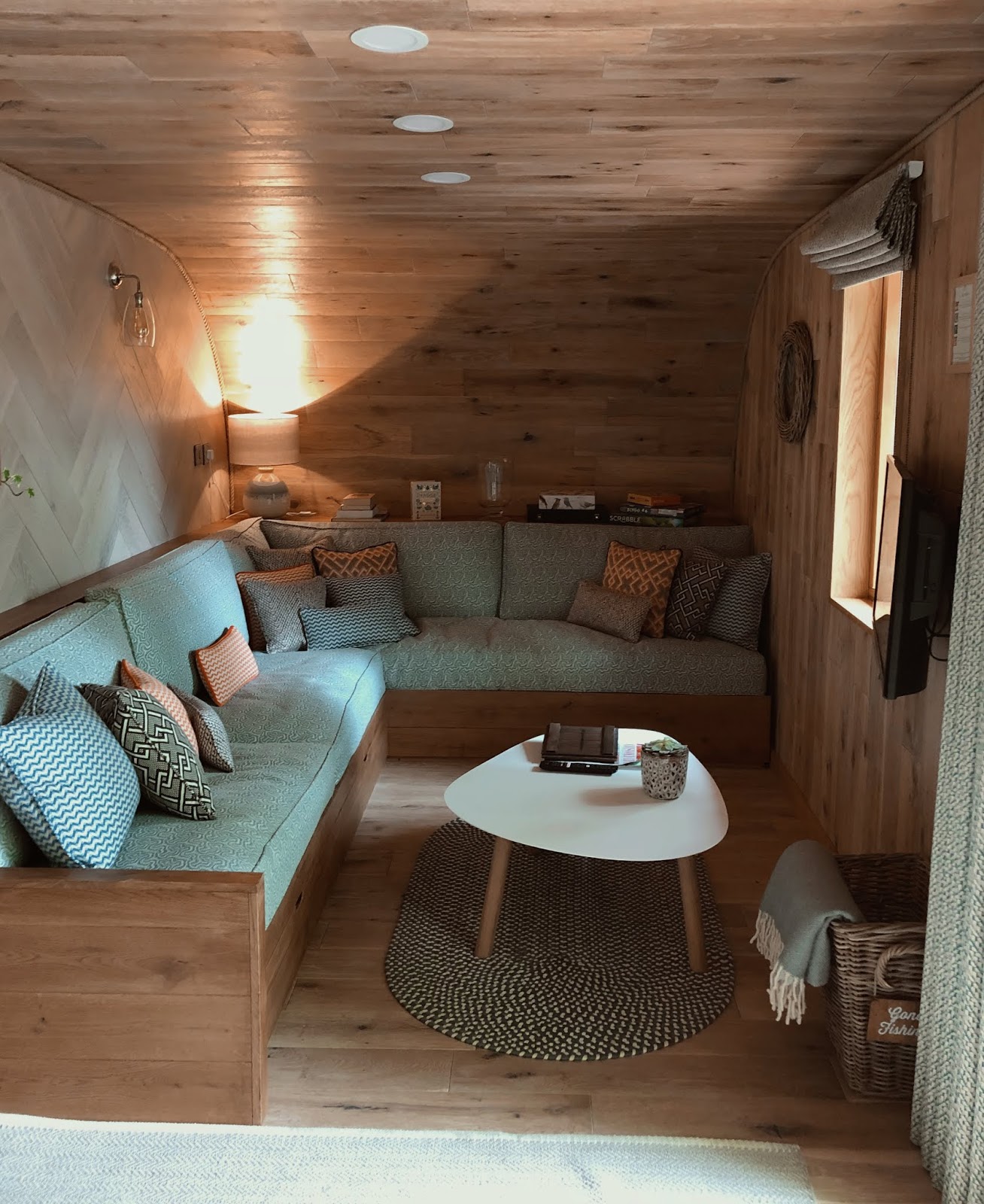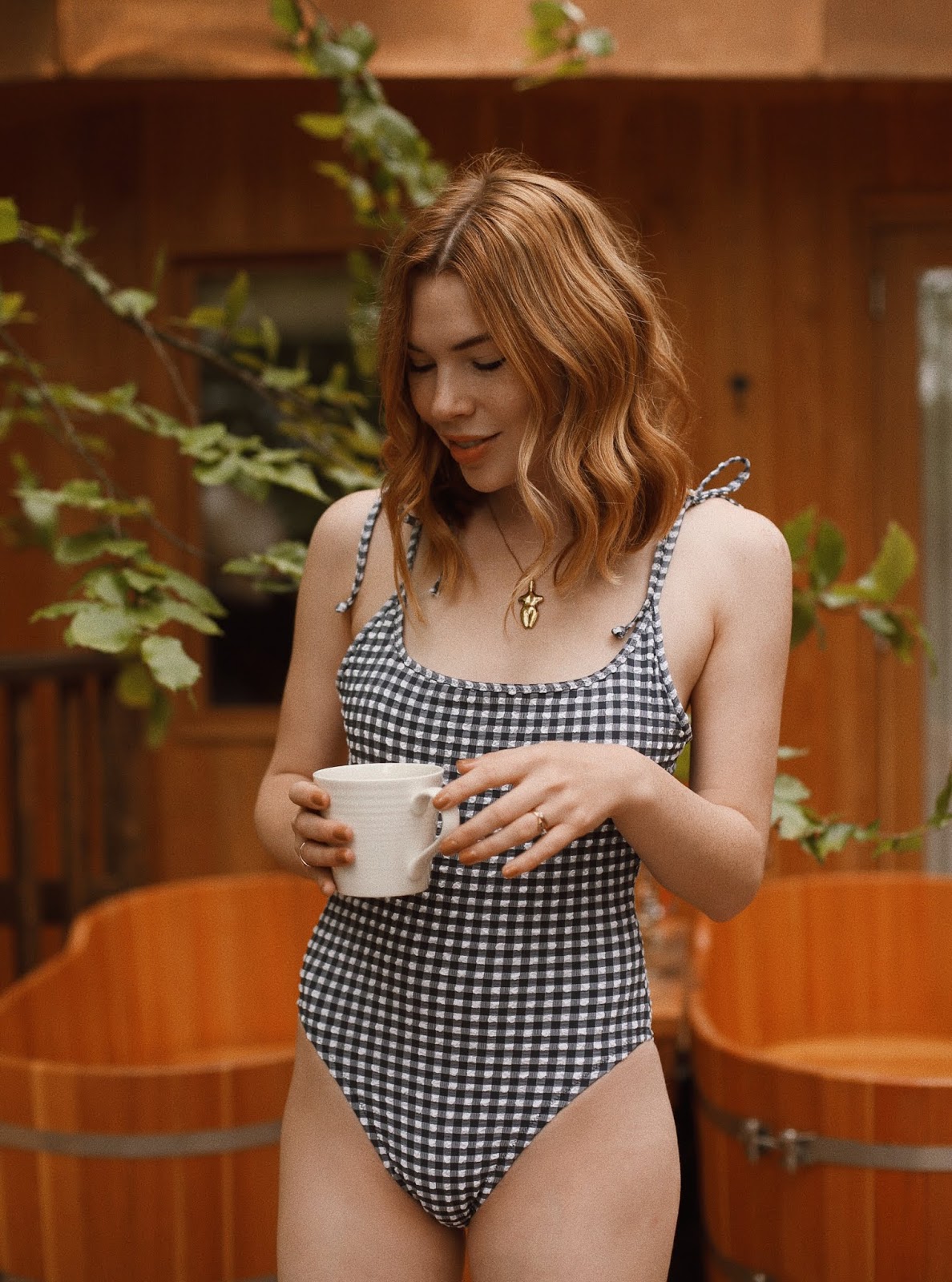 The Fish was unlike any of the other hotels we had stayed in – mainly because we had stayed in more rustic and older properties, with plenty of history. The Fish definitely has a lot of the same charm as the other places, but with a decidedly more modern feel. Especially since we stayed in one of their newest rooms on the properties – the Treehouse. That's right, we slept in a treehouse. But like, a really lux and fancy treehouse, complete with it's own drawbridge to get across and large soaking tubs on our private deck. It honestly was SO much fun staying there, and we loved the property. We saw little lambs in the surrounding fields, and had a great seafood themed dinner at Hook, their new restaurant.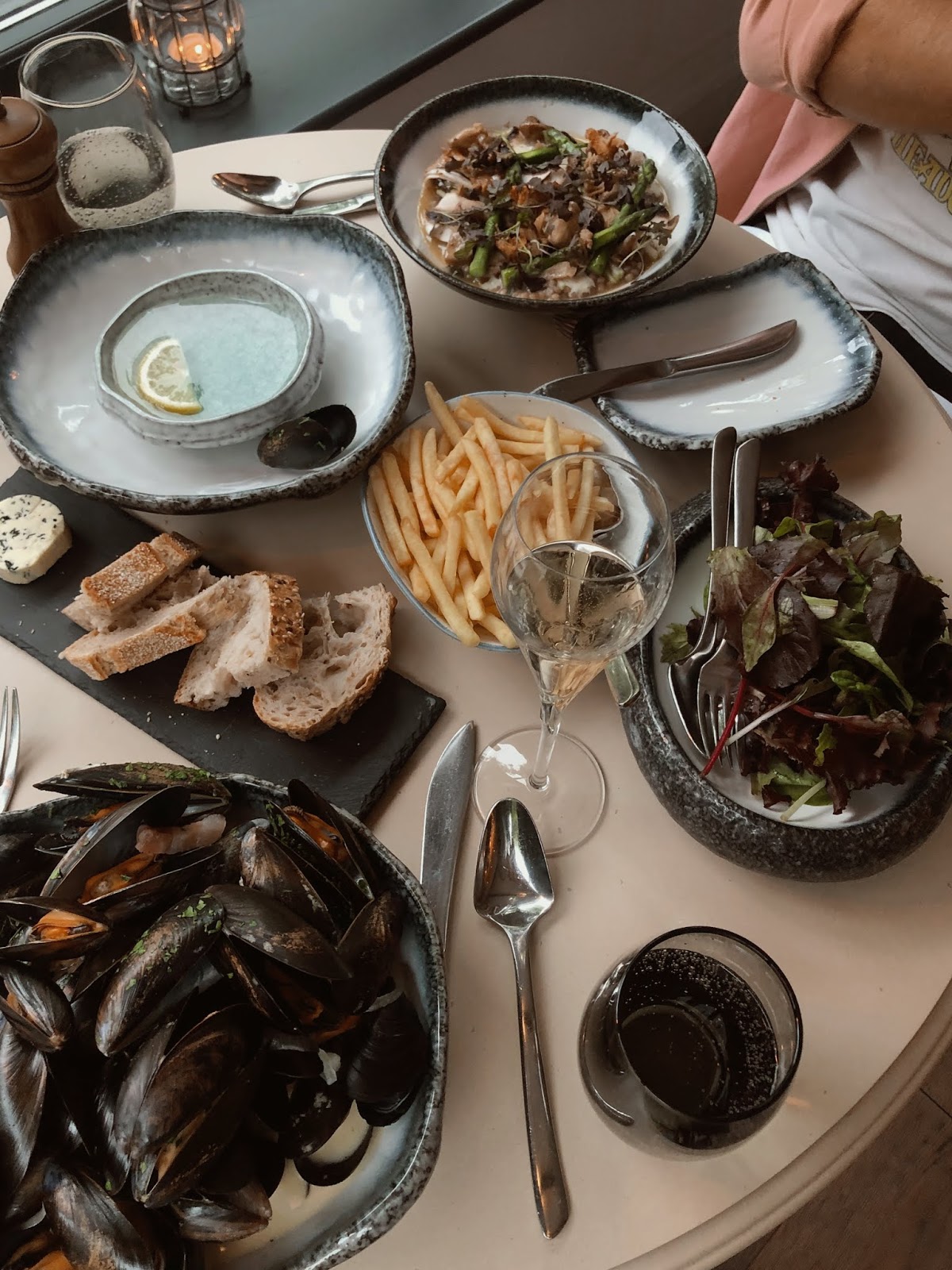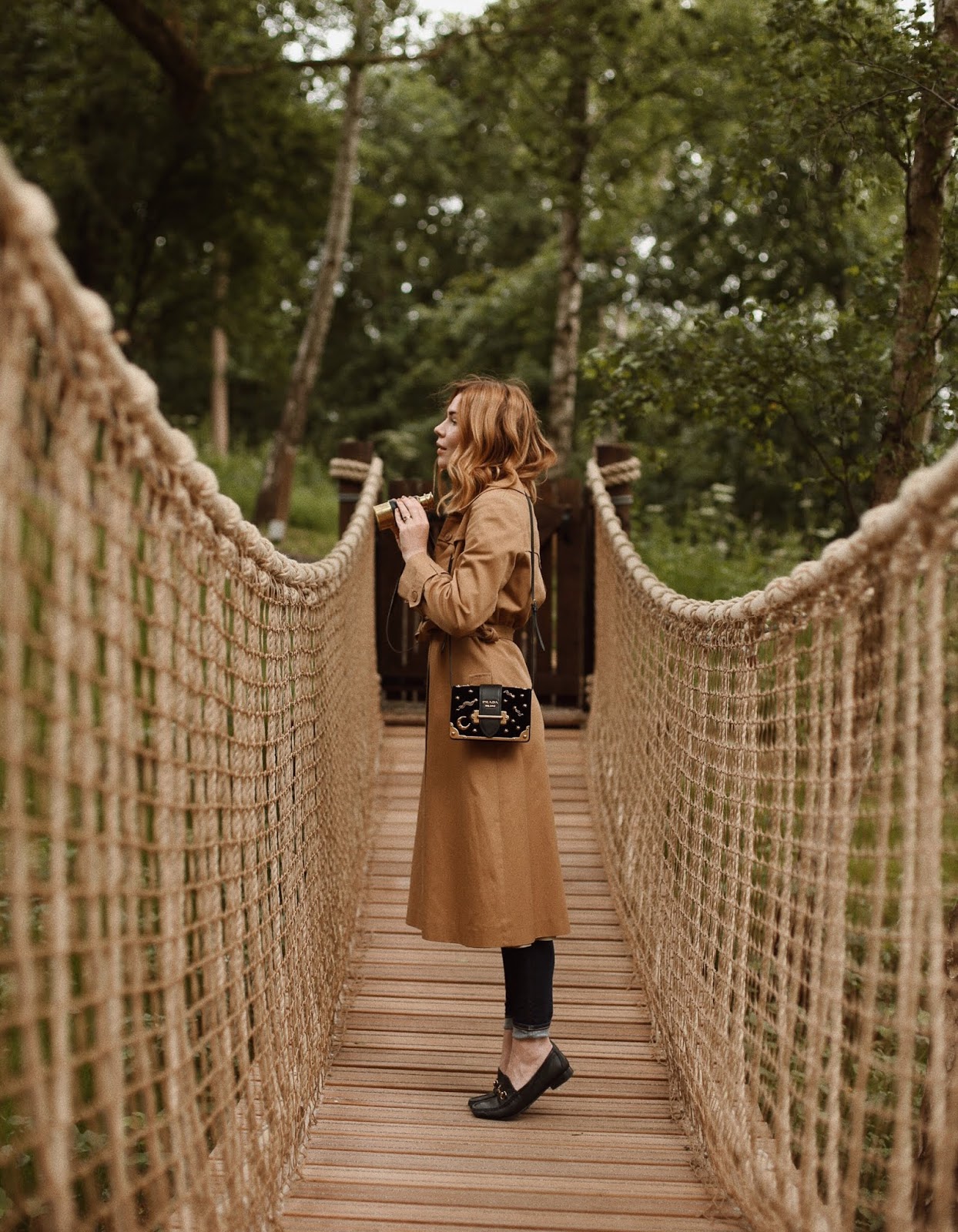 prada purse / vintage coat / gucci loafers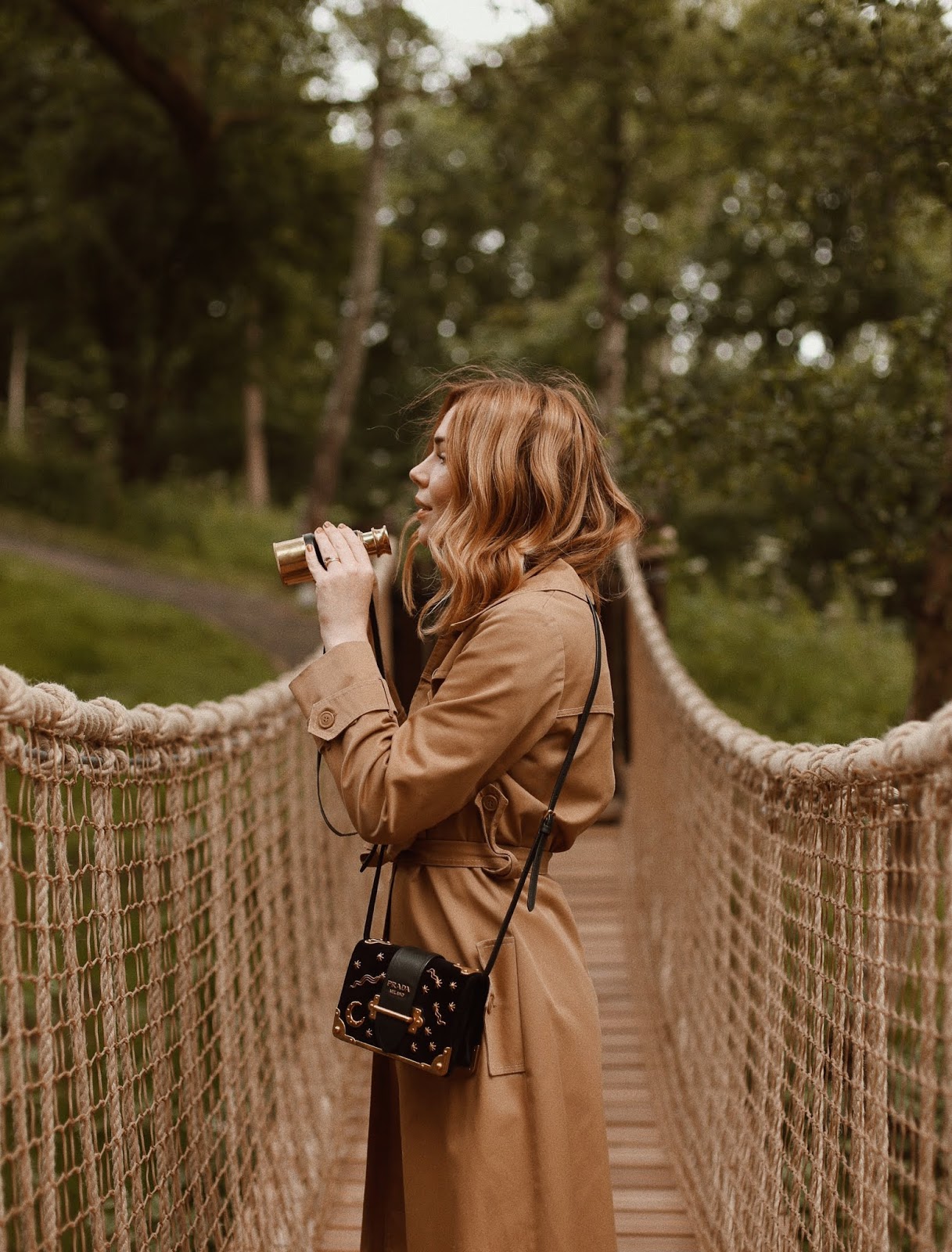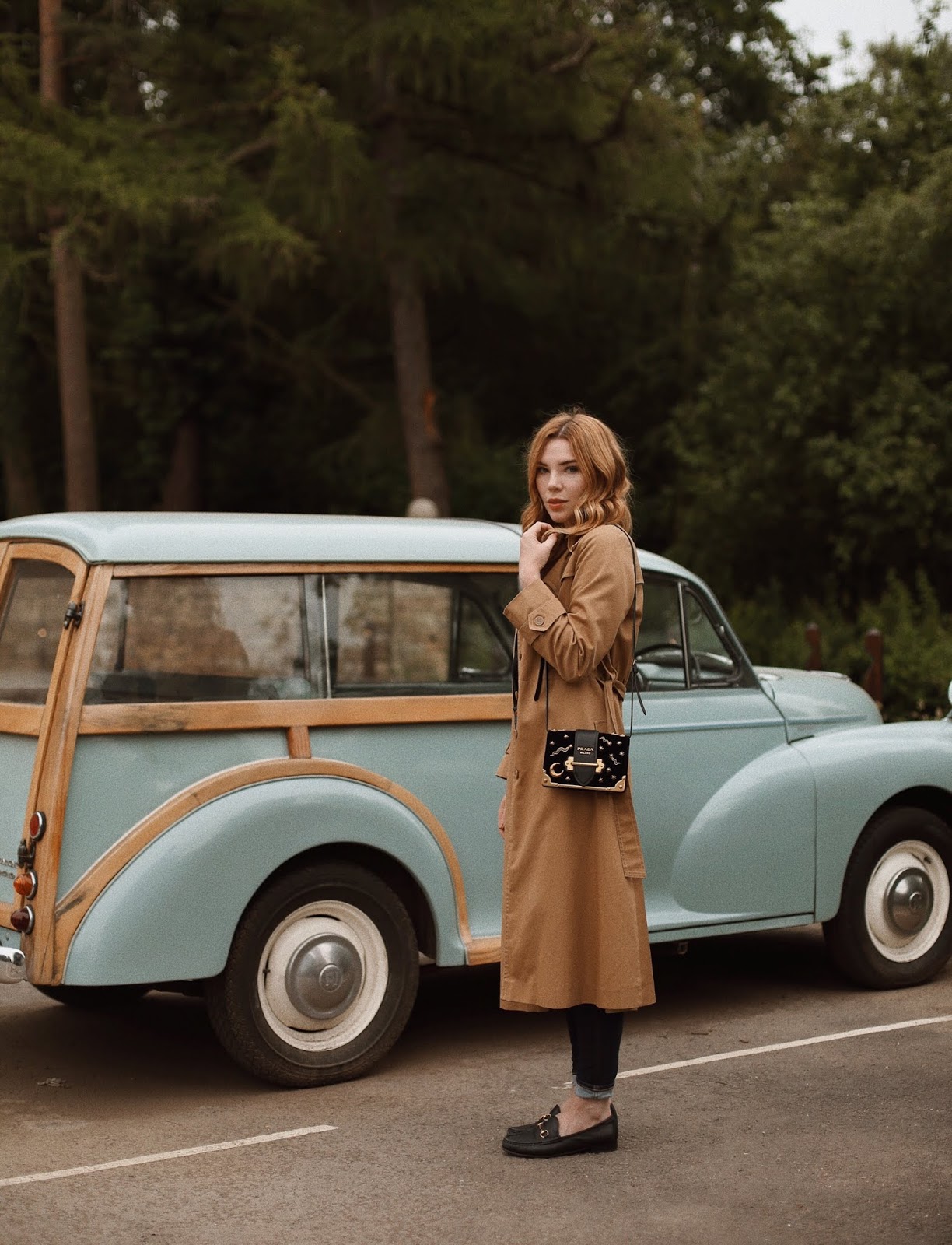 The next morning, I woke up for my birthday. In all honesty, I'm never been a fan of my own birthday, which is why I especially like to leave for the occasion. I tend to feel a bit down on the day, but waking up somewhere new really helps. It's become my new tradition, and has helped me really start to enjoy birthdays more!
We packed up, said farewell to The Fish, and started the drive to London, but not without making one more pub stop along the way, just for a last chance to sit in a garden before heading into the busy city. We stopped in at The Ebbrington Arms for some cheesy chips (because I am the picture of healthy eating, obvi), and then got back on the road to drive into London.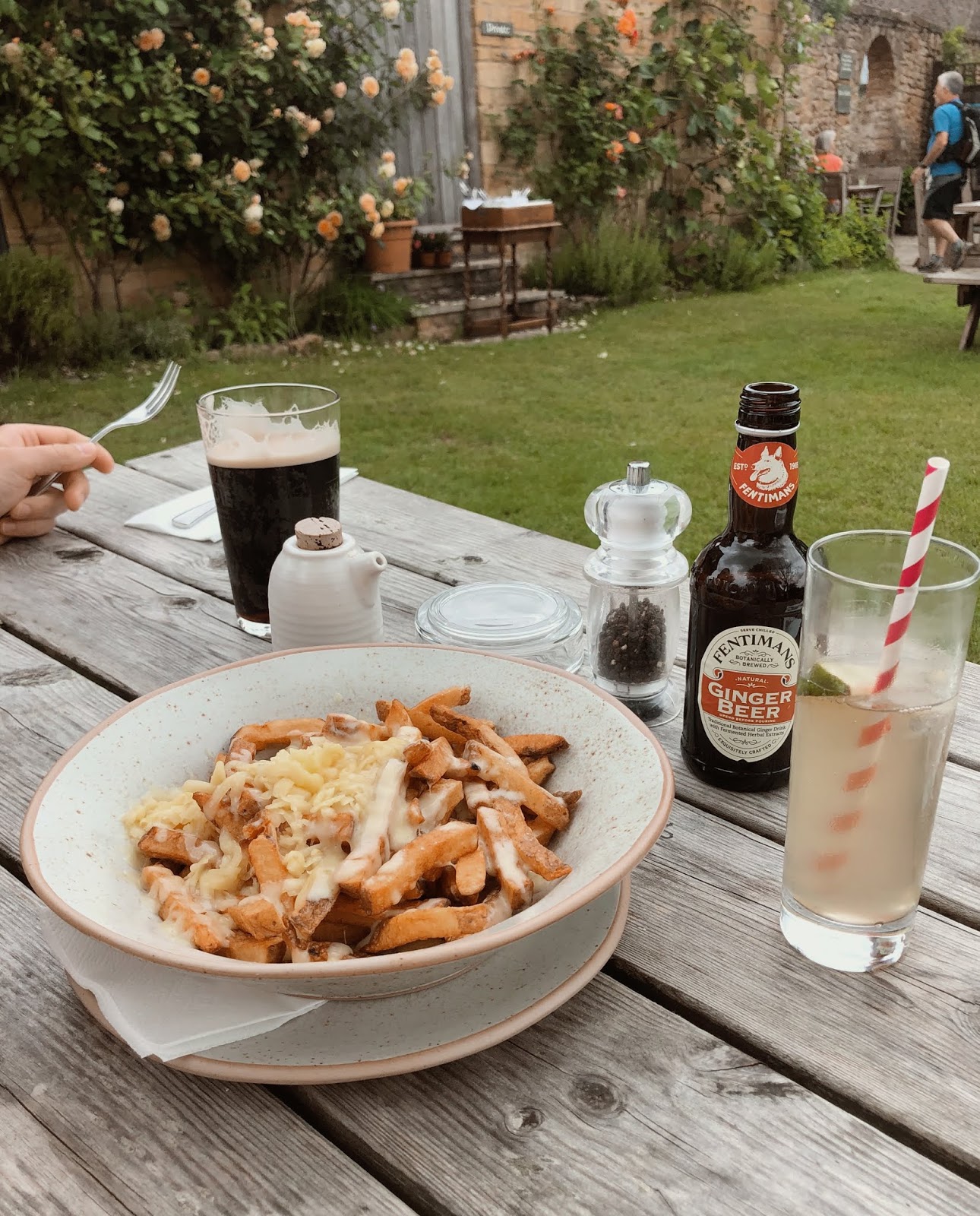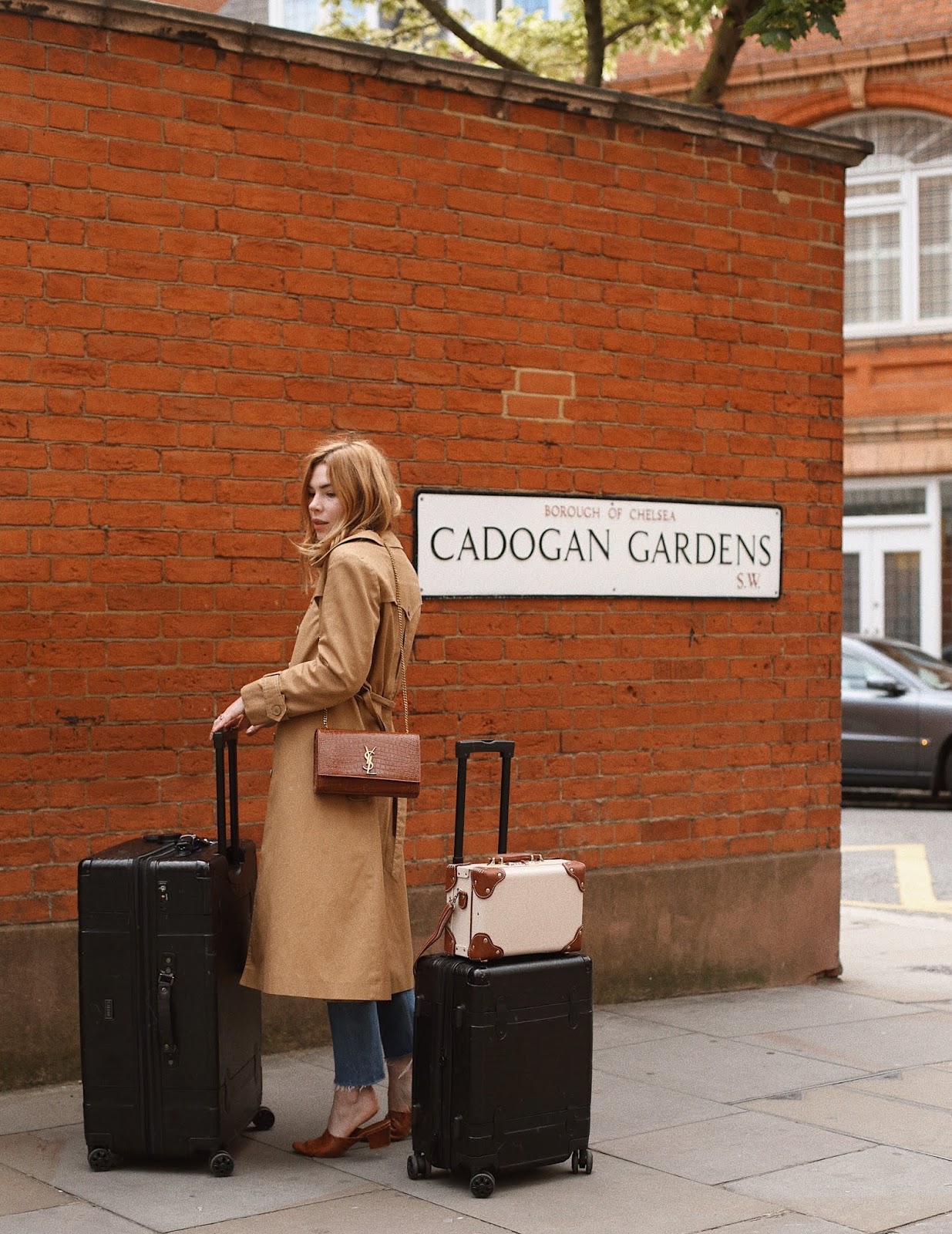 Once in London, we headed to our first hotel, located in Chelsea. We packed a little heavier for this trip than necessary, as we both brought rainboots that we never once needed, but otherwise we found that our luggage was perfect for the two of us. We brought this large Calpak suitcase, a carry-on Calpak, and this vanity case from Steamline for the trip. * Since I tend to repeat outfits a bit, we had more than enough room to bring back treasures we picked up along the way.
*not pictured; another small carryon suitcase taken up with rain boots and rain gear, and our laptop bag.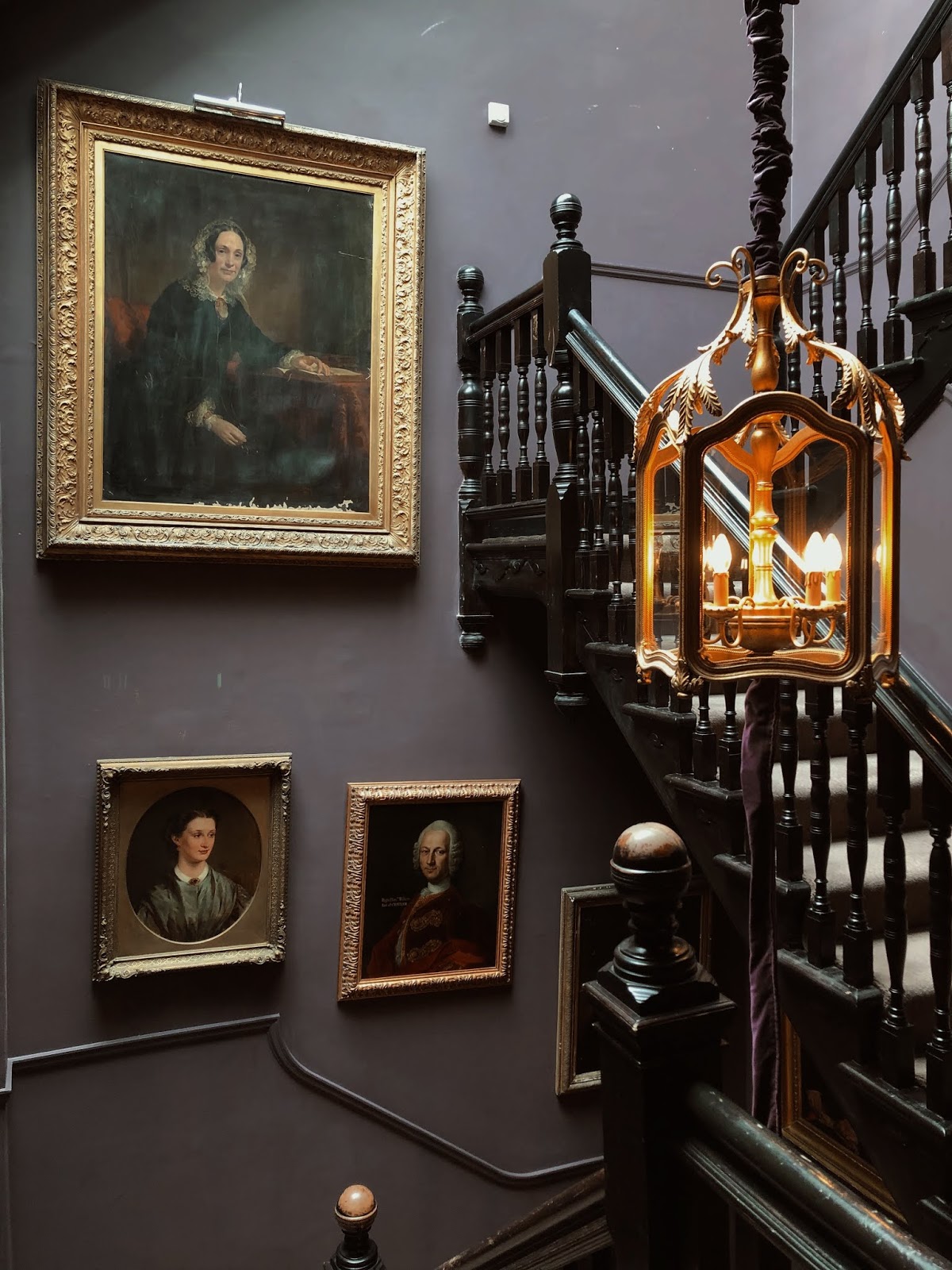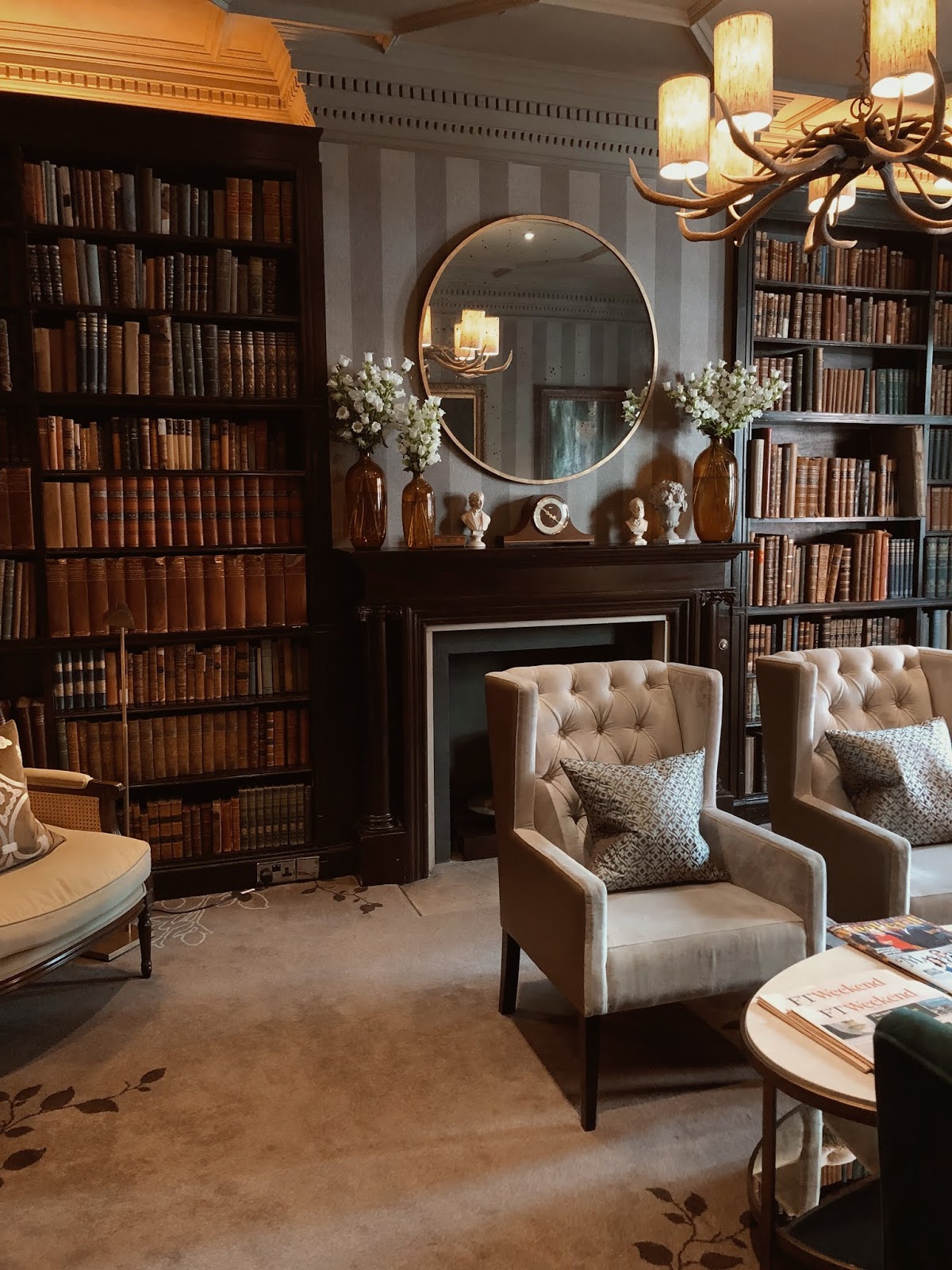 It should come as no surprise to you guys when I say that I LOVE London. I haven't spent a ton of time there, and as it's so large, there are plenty of neighborhoods that are new to me – like Chelsea. We decided for this trip we would stay somewhere on the west side and somewhere on the east side to be able to see as much as possible, so we found both hotels on Chic Retreats. They specialize in offering boutique and luxury hotels all over the world, each with a completely unique experience. Eric and I have never been fans of mega-hotels that feel impersonal, so finding Chic Retreats was really helpful in a city as large as London.
Our first hotel was 11 Cadogan Gardens, and after all of the time spent in the countryside, it felt like the ideal luxury hideaway in the city. The decor was gorgeous, the bed was massive, and they had even left a little birthday treat for us to have upon arrival! I was smitten with the place, and there are so many amazing places within walking distance. I honestly wouldn't have minded a few additional days there, but two days felt perfectly lux too.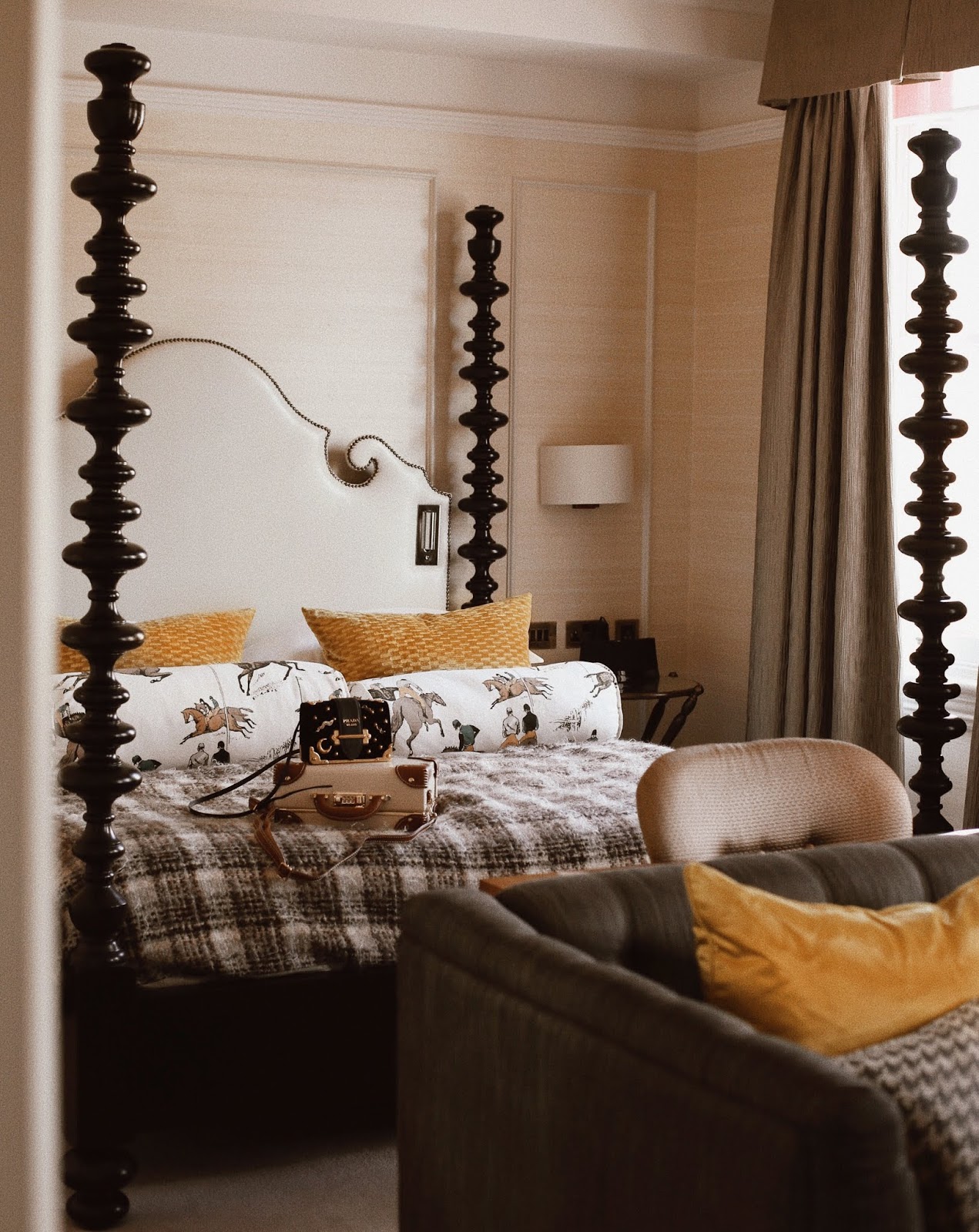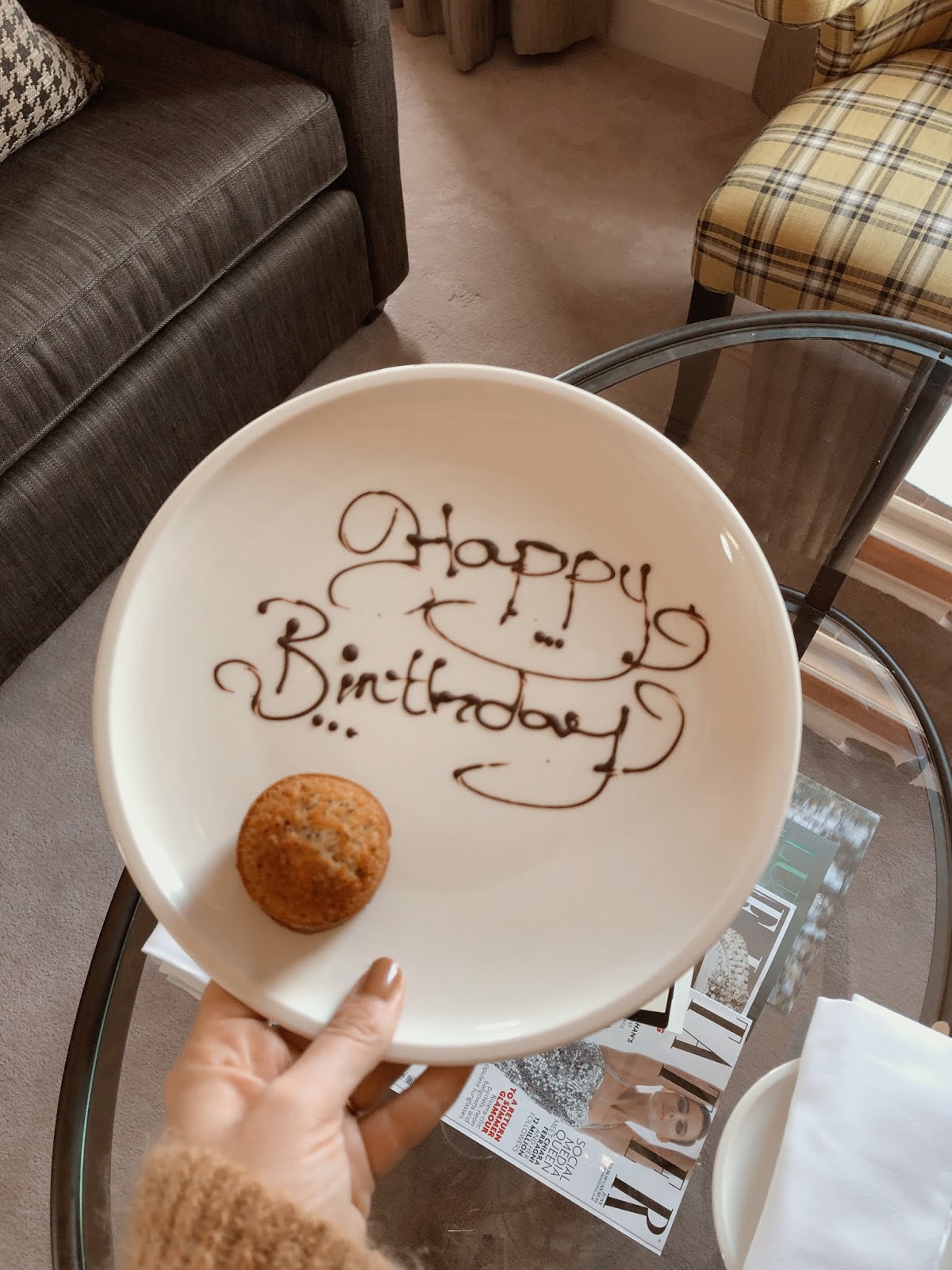 After settling in and unpacking a bit, we headed to the most magical of places in London – sketch. Now if you're wondering just what sketch is, chances are you've probably already seen a photo of it somewhere. Sketch is an all pink, super fun, not too serious destination for the nicest tea you'll ever experience. I'm talking full service, caviar course, with finger sandwiches, champagne, scones, and desserts. It's not somewhere I would go every day, but for a birthday? Hell yes. If you get a chance to go, DO IT. You'll have the best time.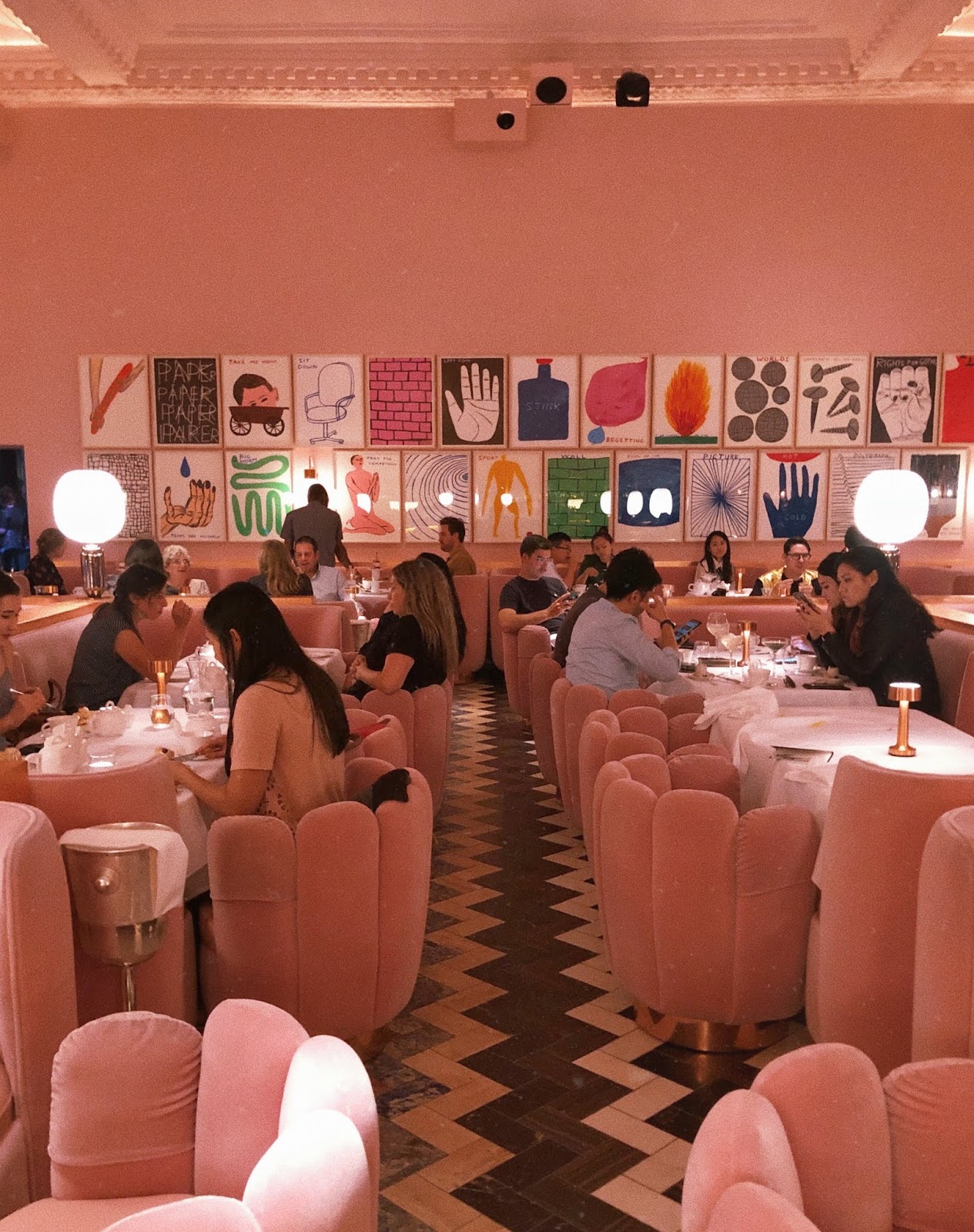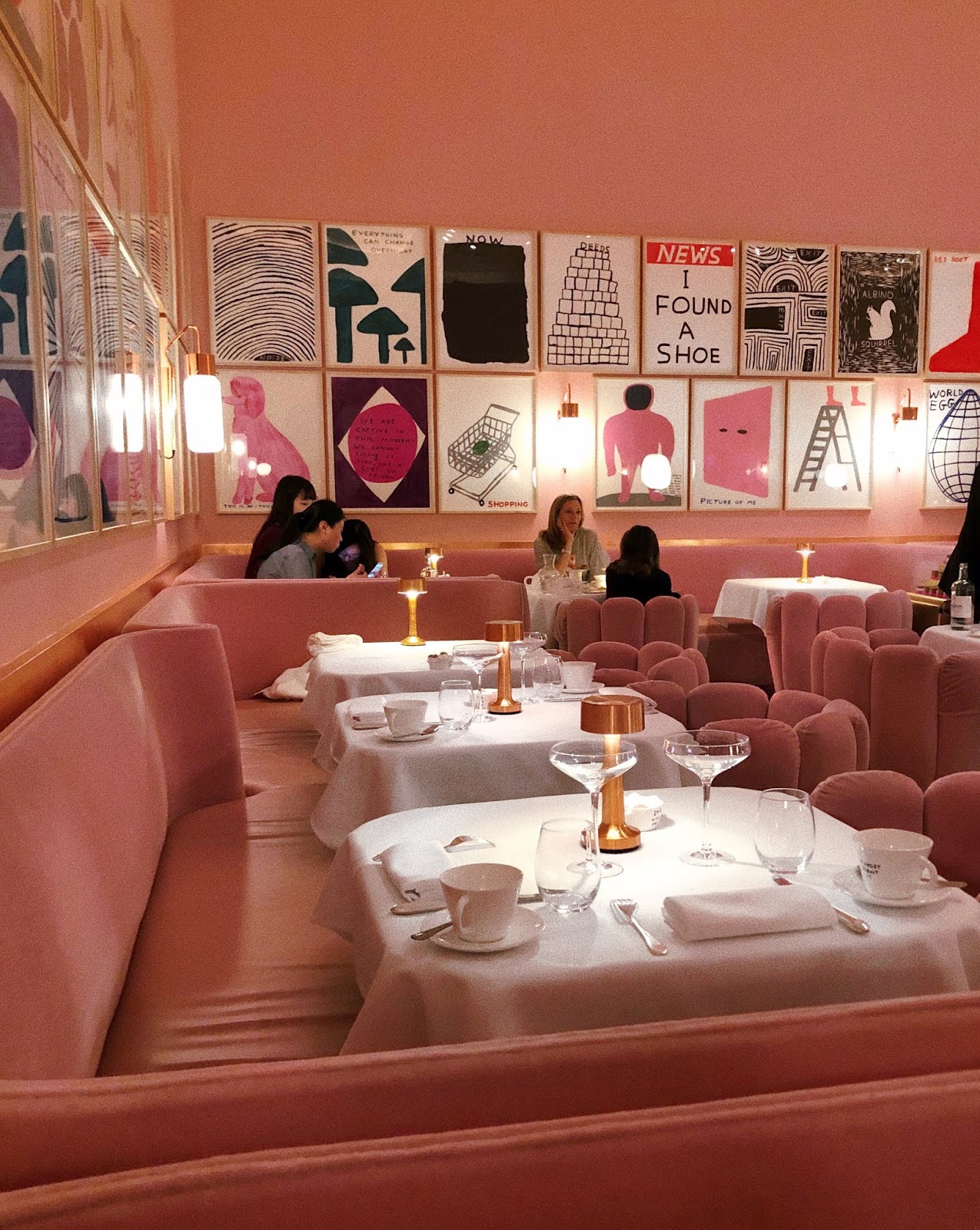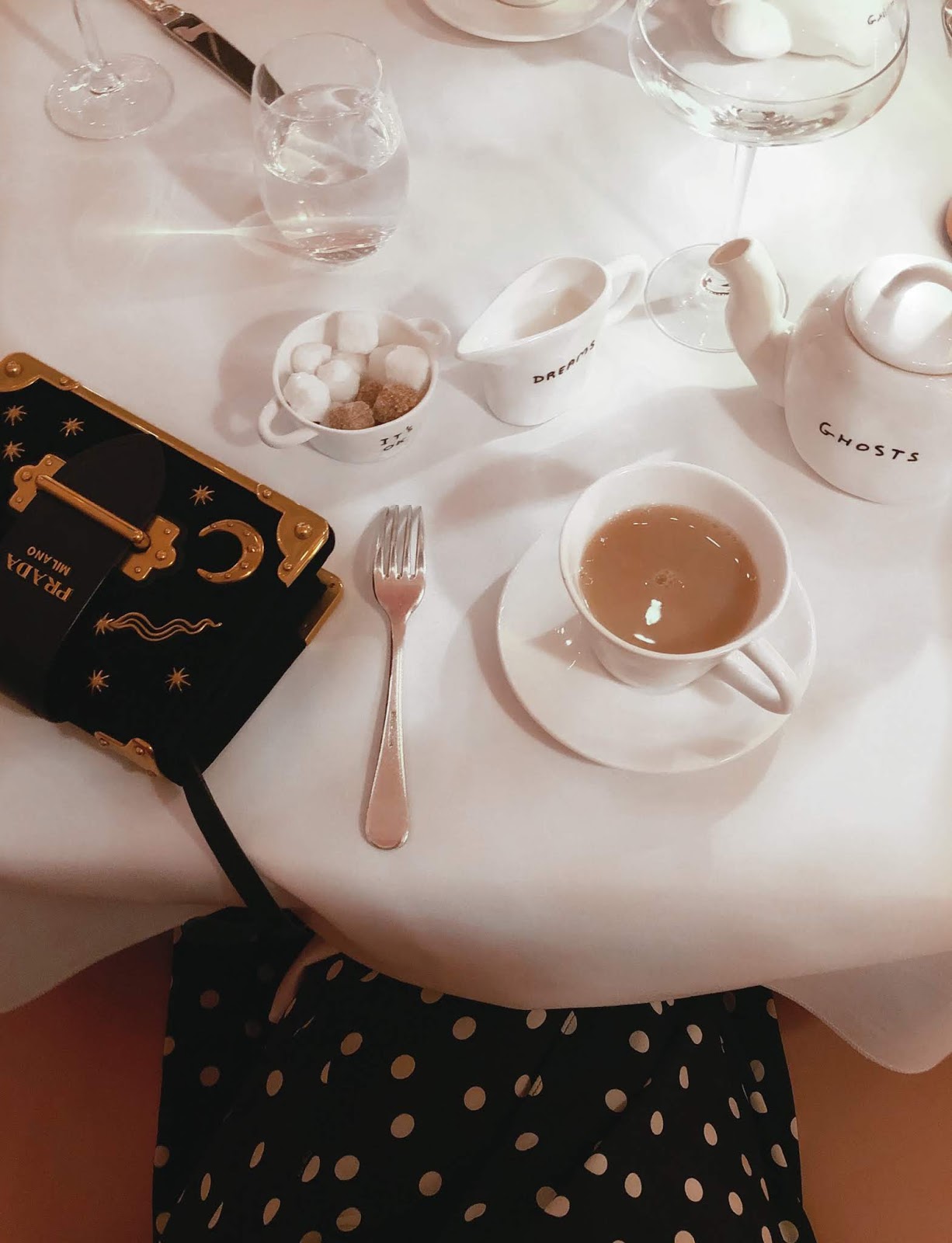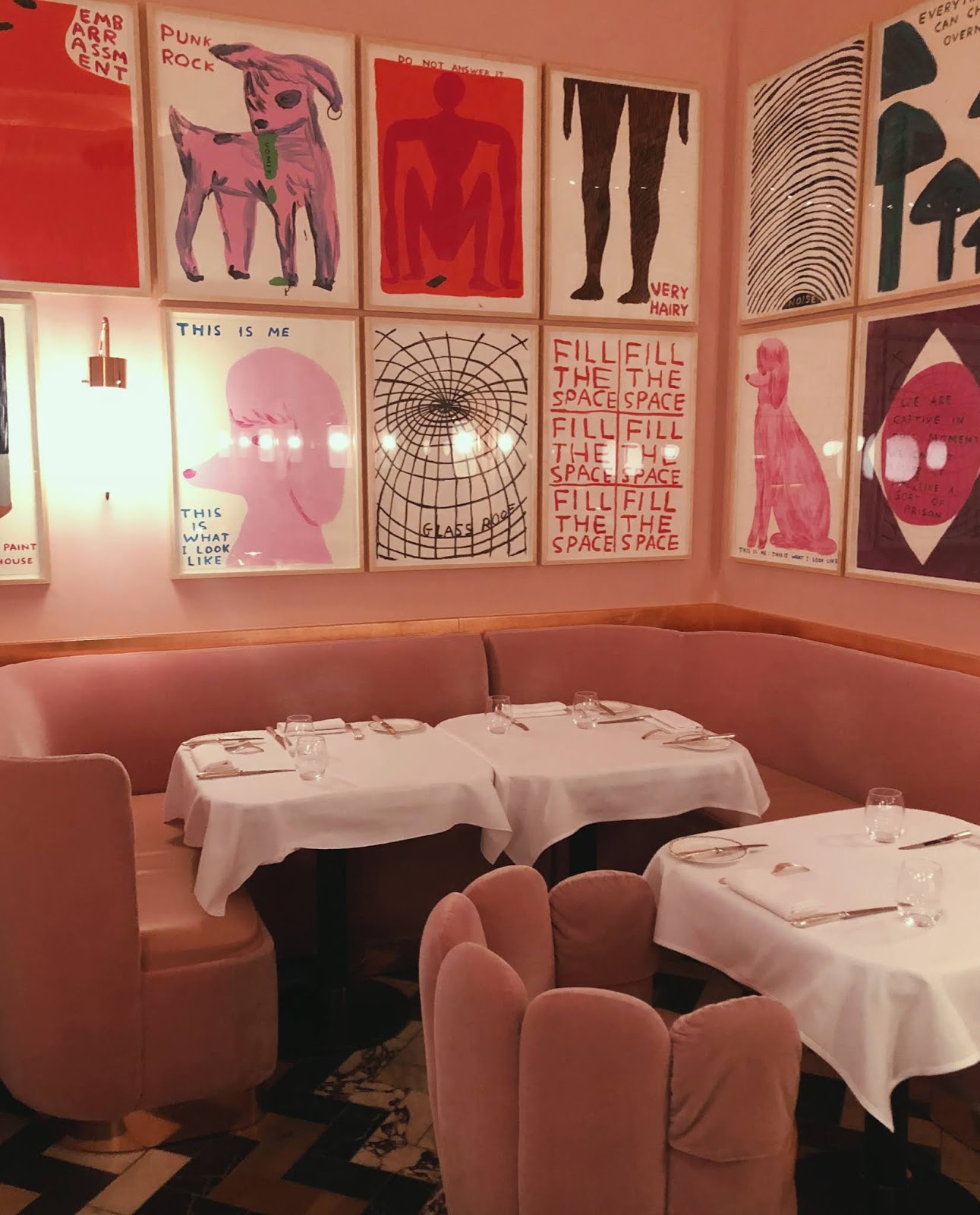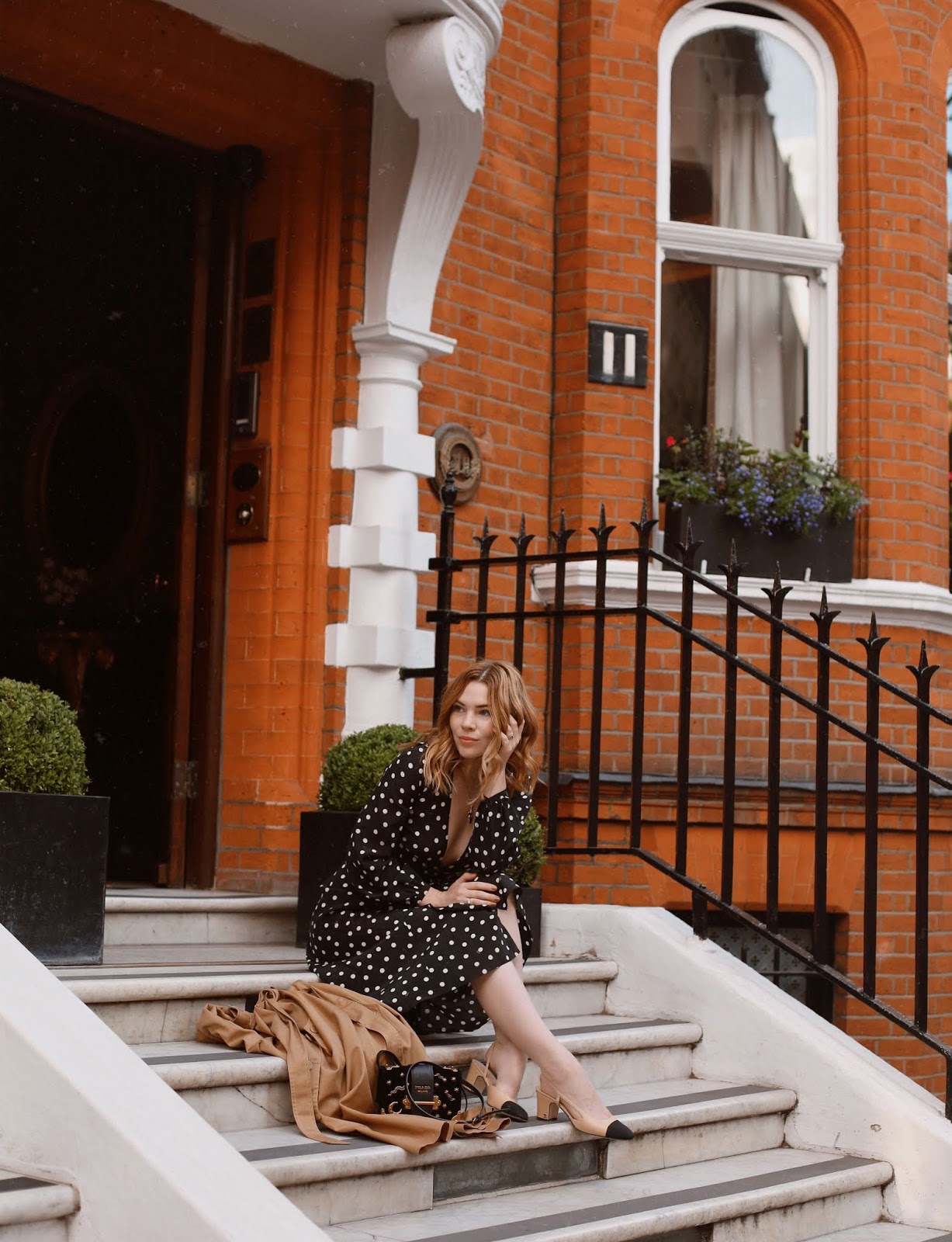 réalisation par violette dress / chanel heels (sold out)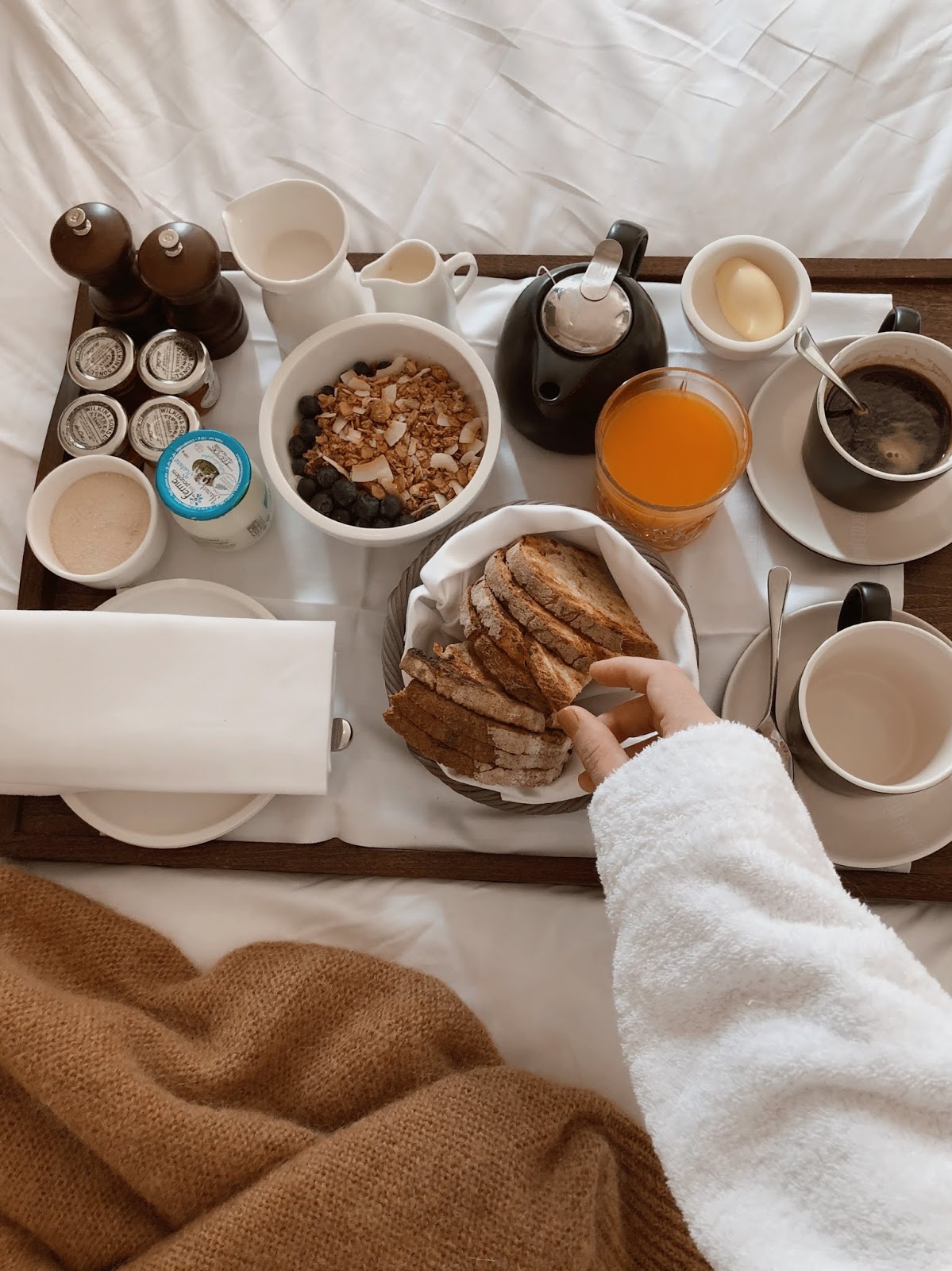 The next morning we woke up at 11 Cadogan and had breakfast in bed. At home, I usually leap out of bed early to take Mops on a walk and to start the day. Eric makes us coffee while I check emails and catch up on various projects. But on trips, we get the chance to skip all of that, and in this case, room service felt SO nice. A lovely tray (with plenty of carbs) and tea and coffee to get us started.
Having never gone, we decided to explore the National Portrait Gallery. In short – the place is MASSIVE. Countless works of art to see from hundreds of different artists. I wanted to take more photos, because the space itself is so lovely, but instead enjoyed the quiet and the artwork. Afterwards we headed to Dishoom for a top notch Indian lunch and walked around pop into Eric's favorite restaurant, Chicken Shop (just for a picture, we were stuffed) and to Ye Olde Cheshire Cheese on Fleet St to re-visit the very old pub where Charles Dickens once sat.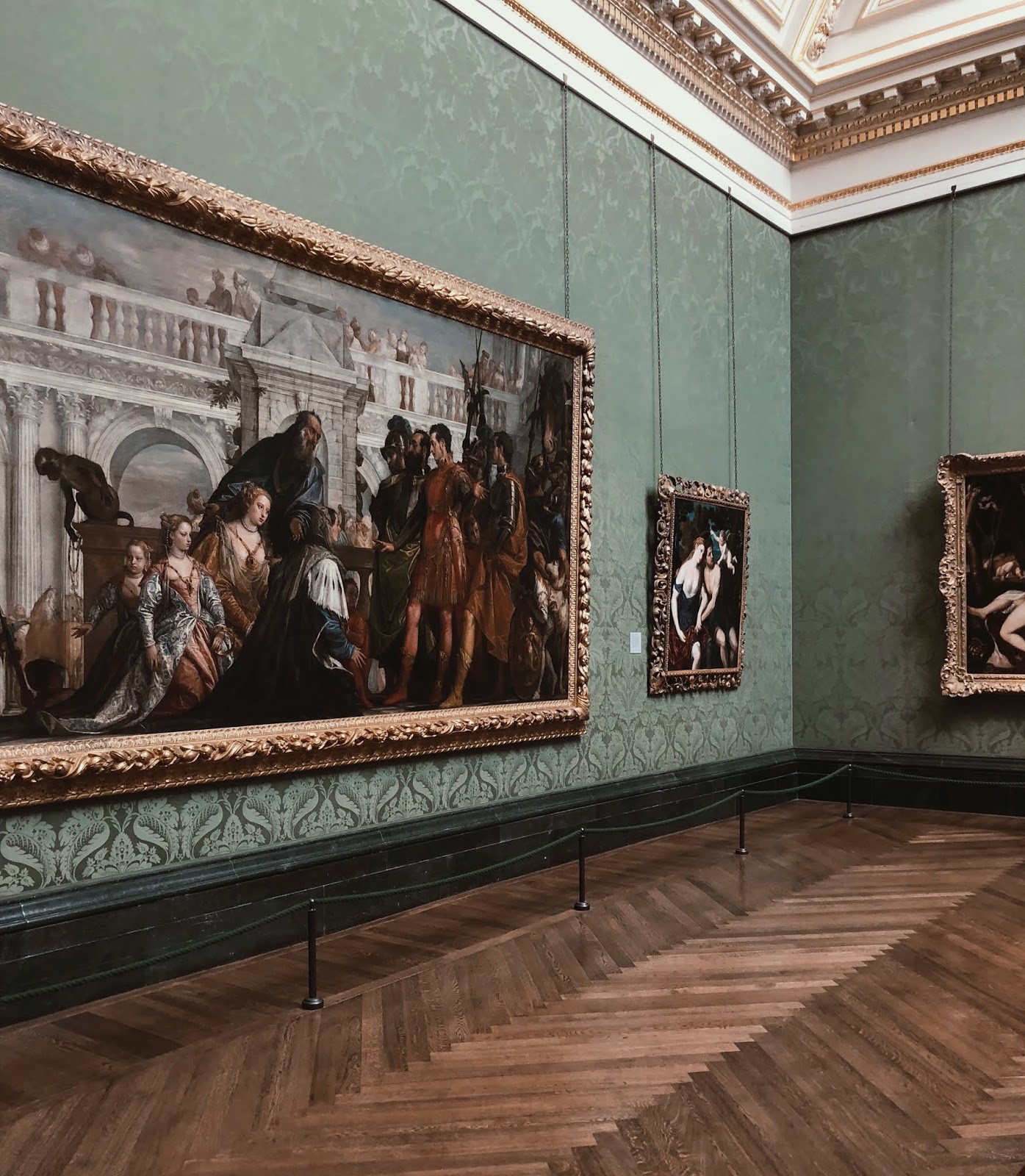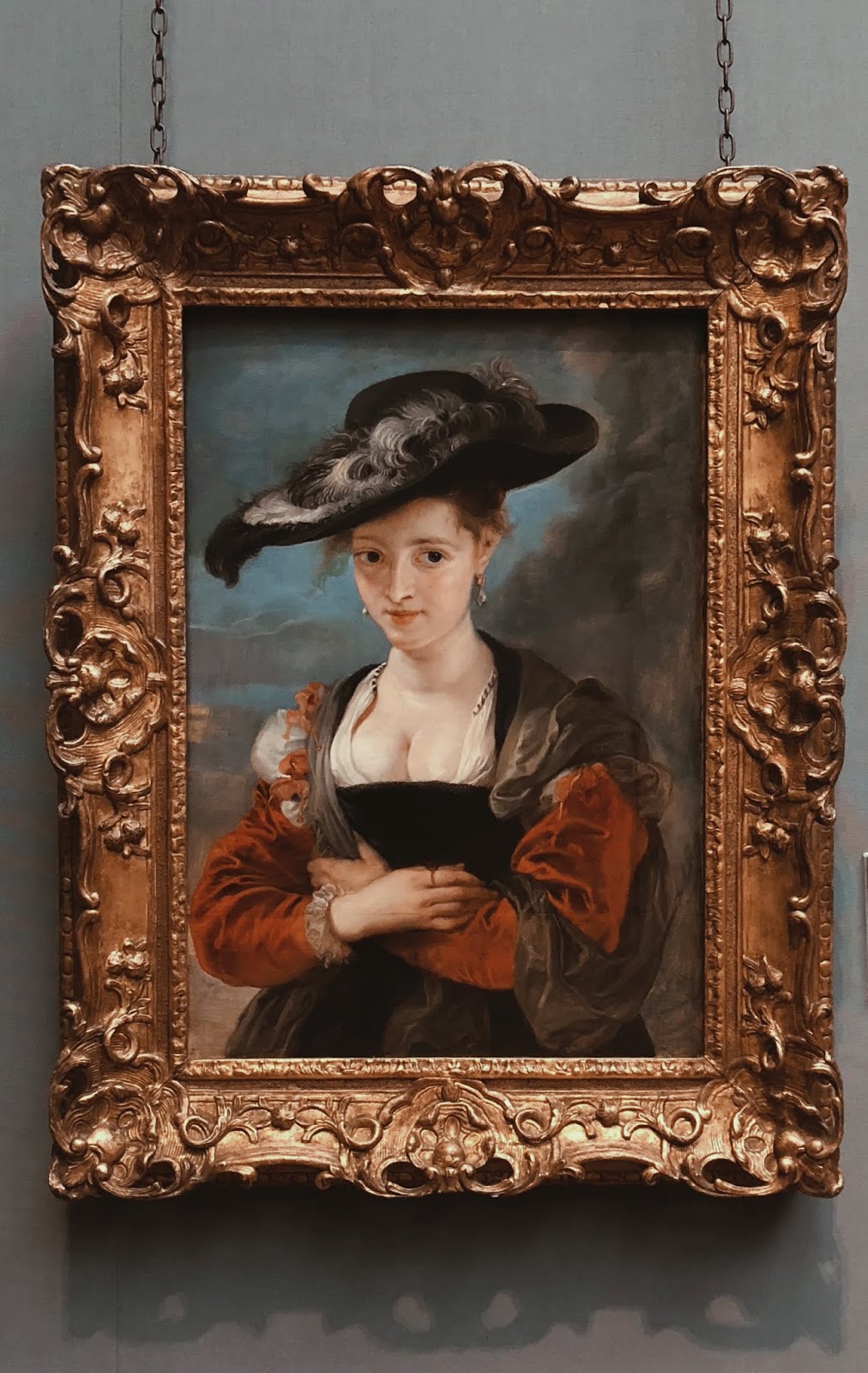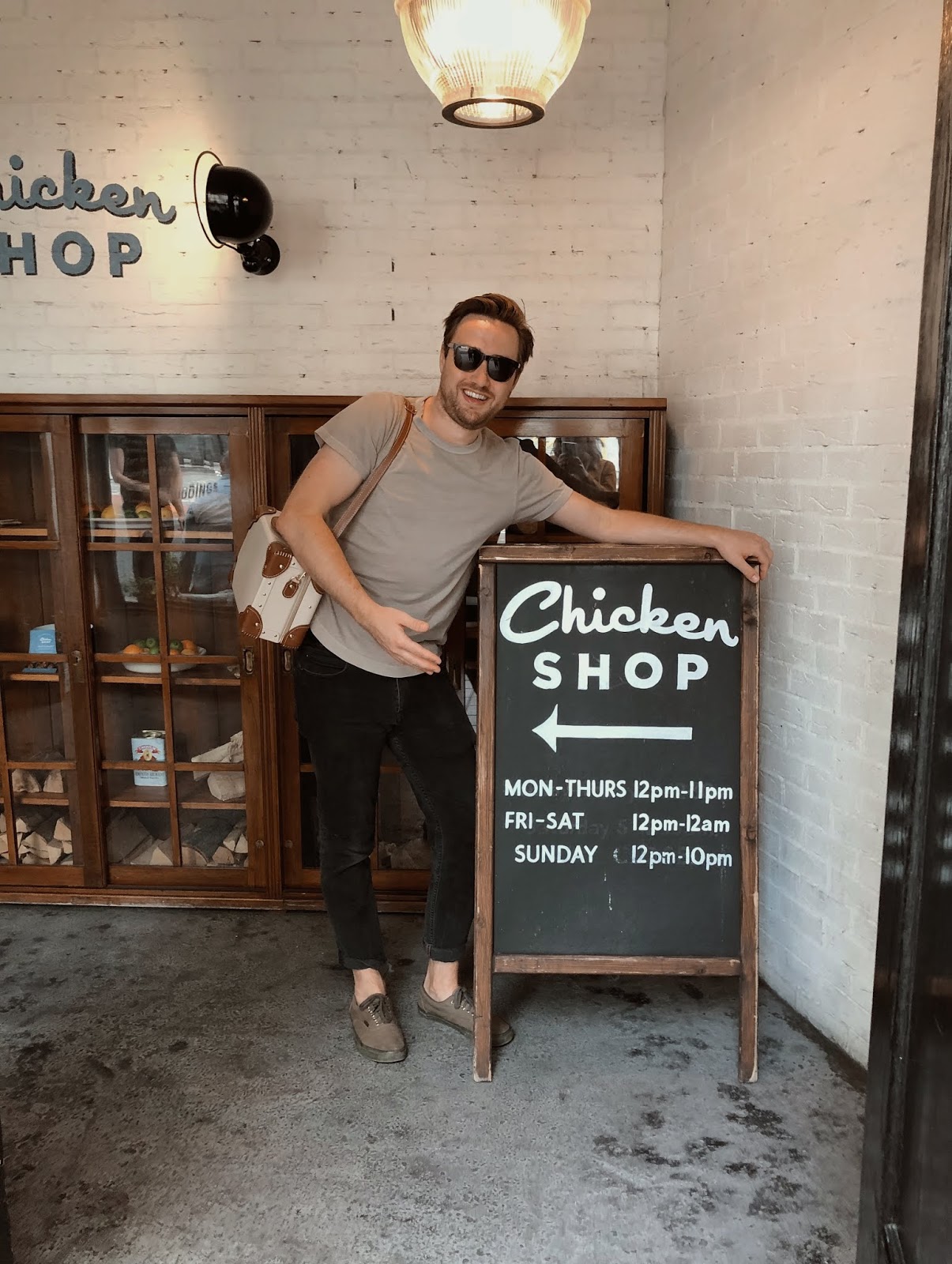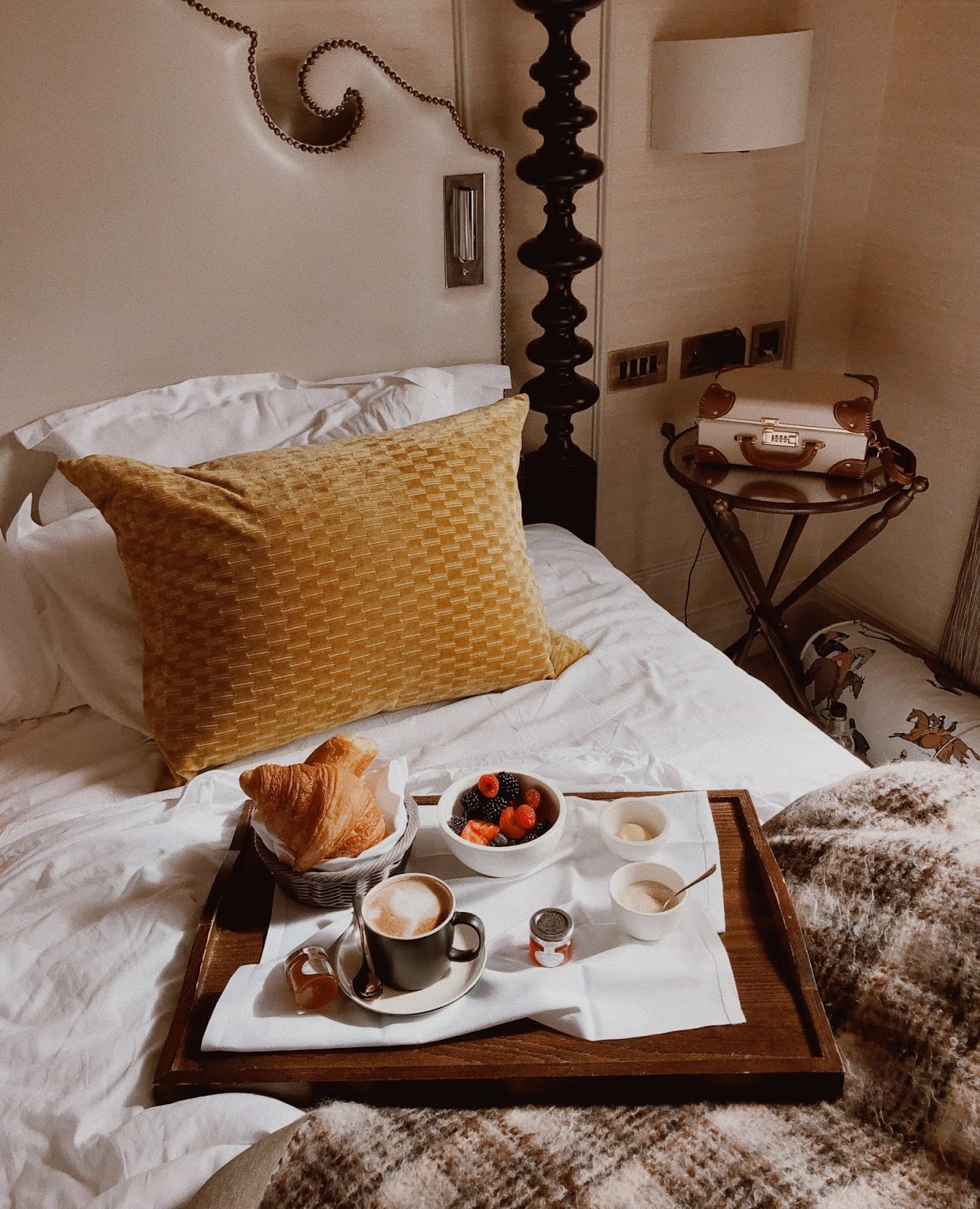 The next morning we said farewell to the west side, and headed east into Shoreditch – our favorite London neighborhood. There's just so much to see walking around, and so many great shops and restaurants. We went to Labour and Wait and Henri London to do a bit of shopping, before popping into our favorite pub in the whole city – Commercial Tavern. The decor is so fun, the drinks are great, and it's just a wonderful spot to pull up a chair and sit for a while after lots of walking.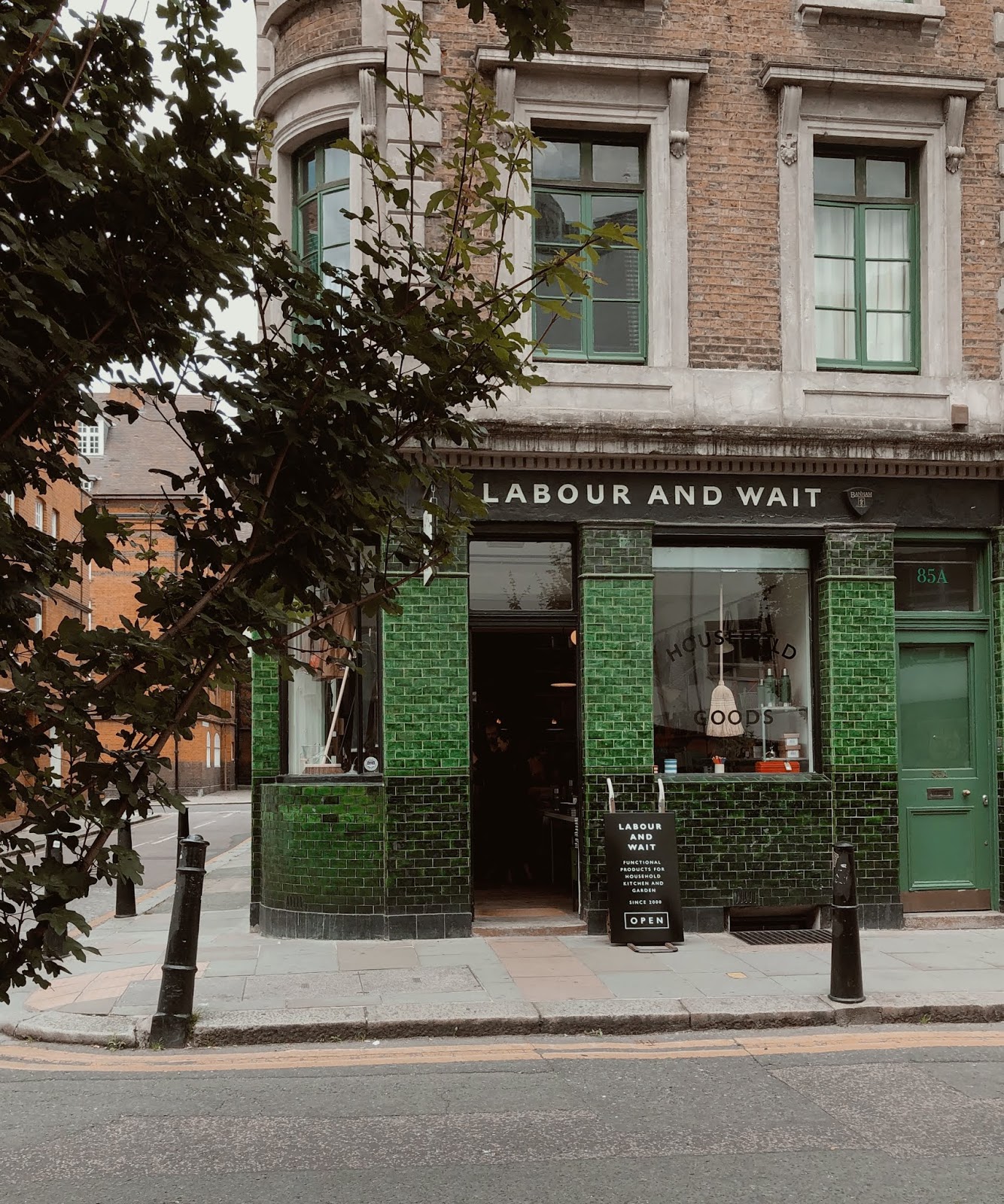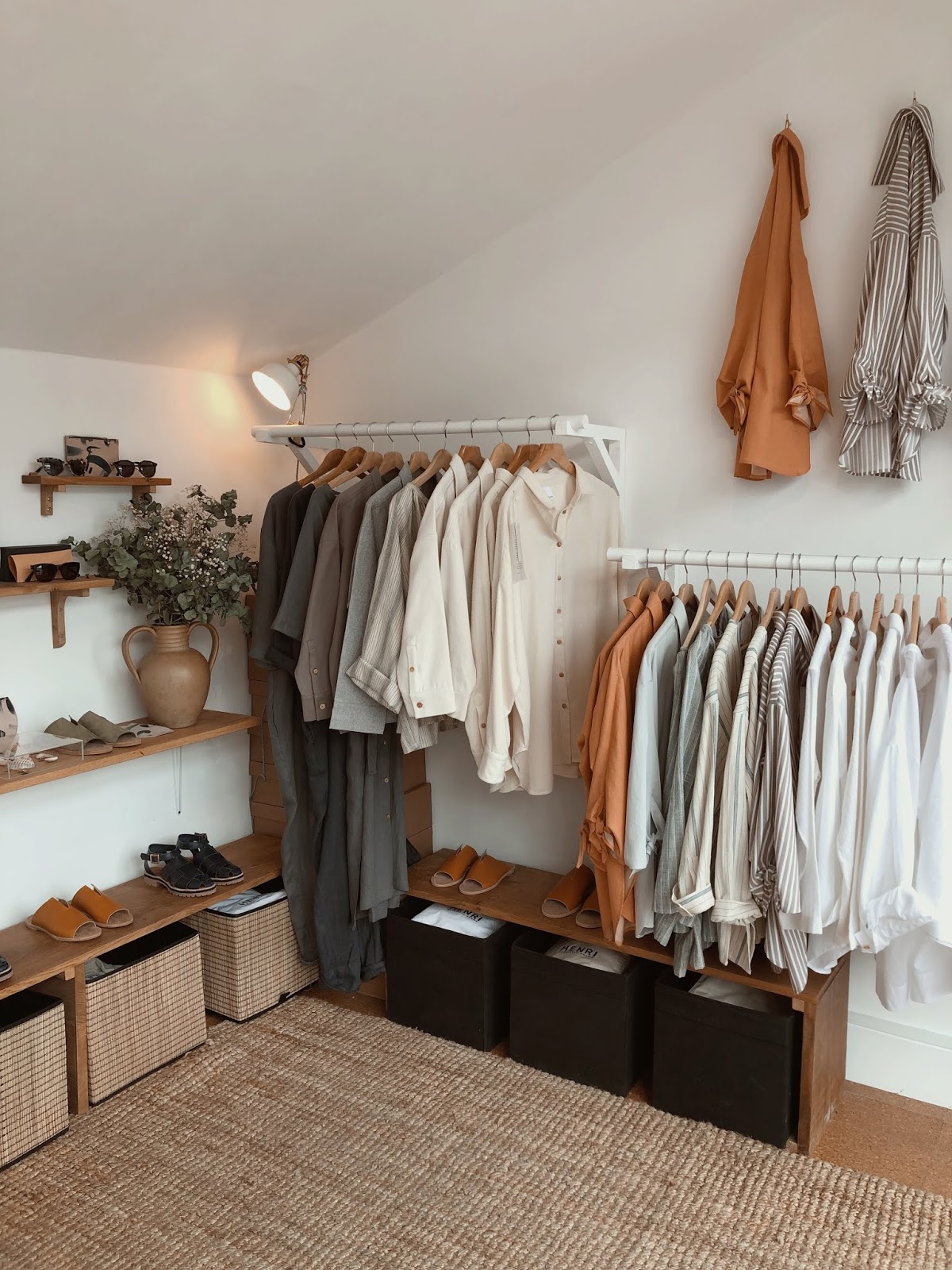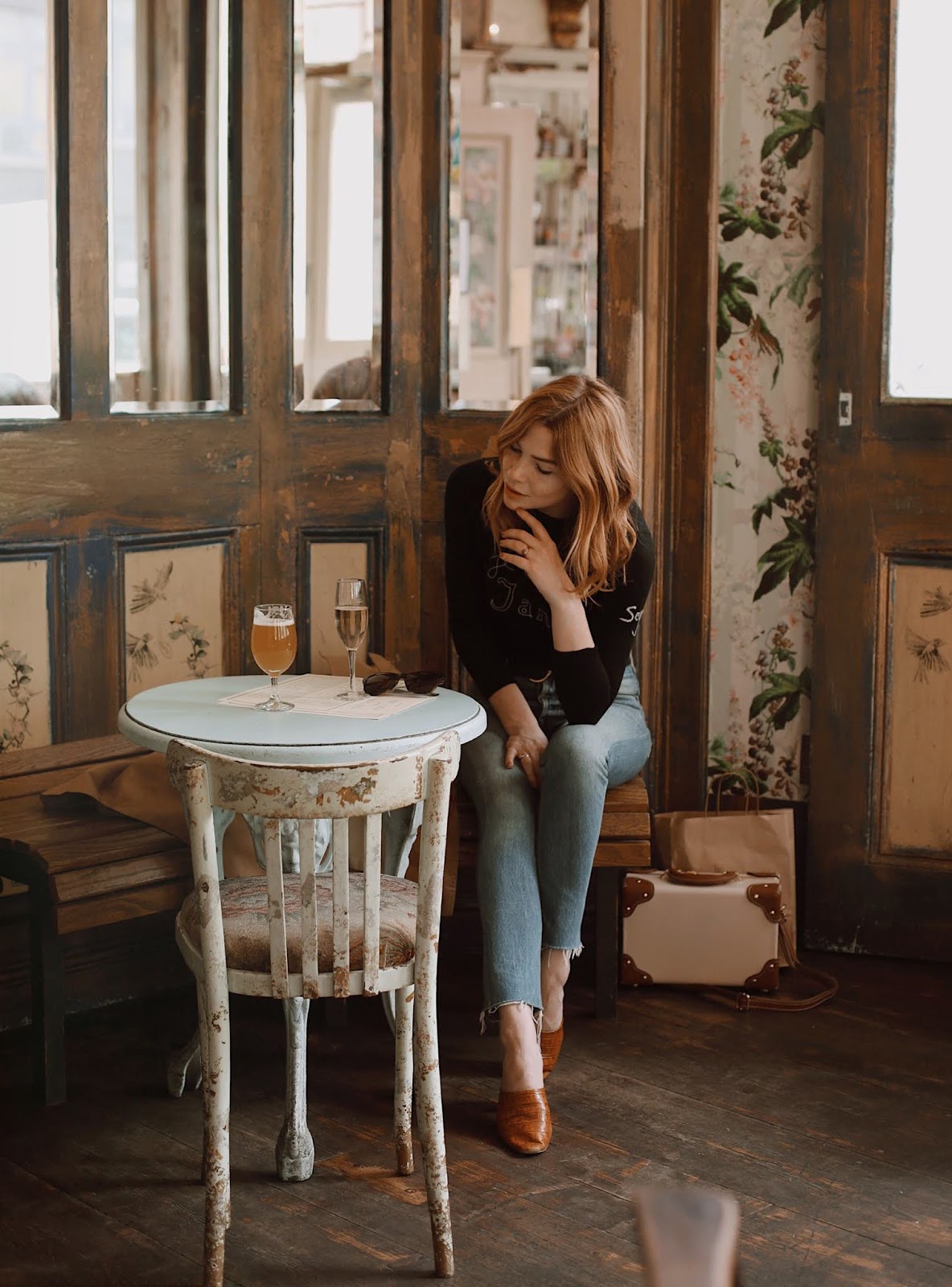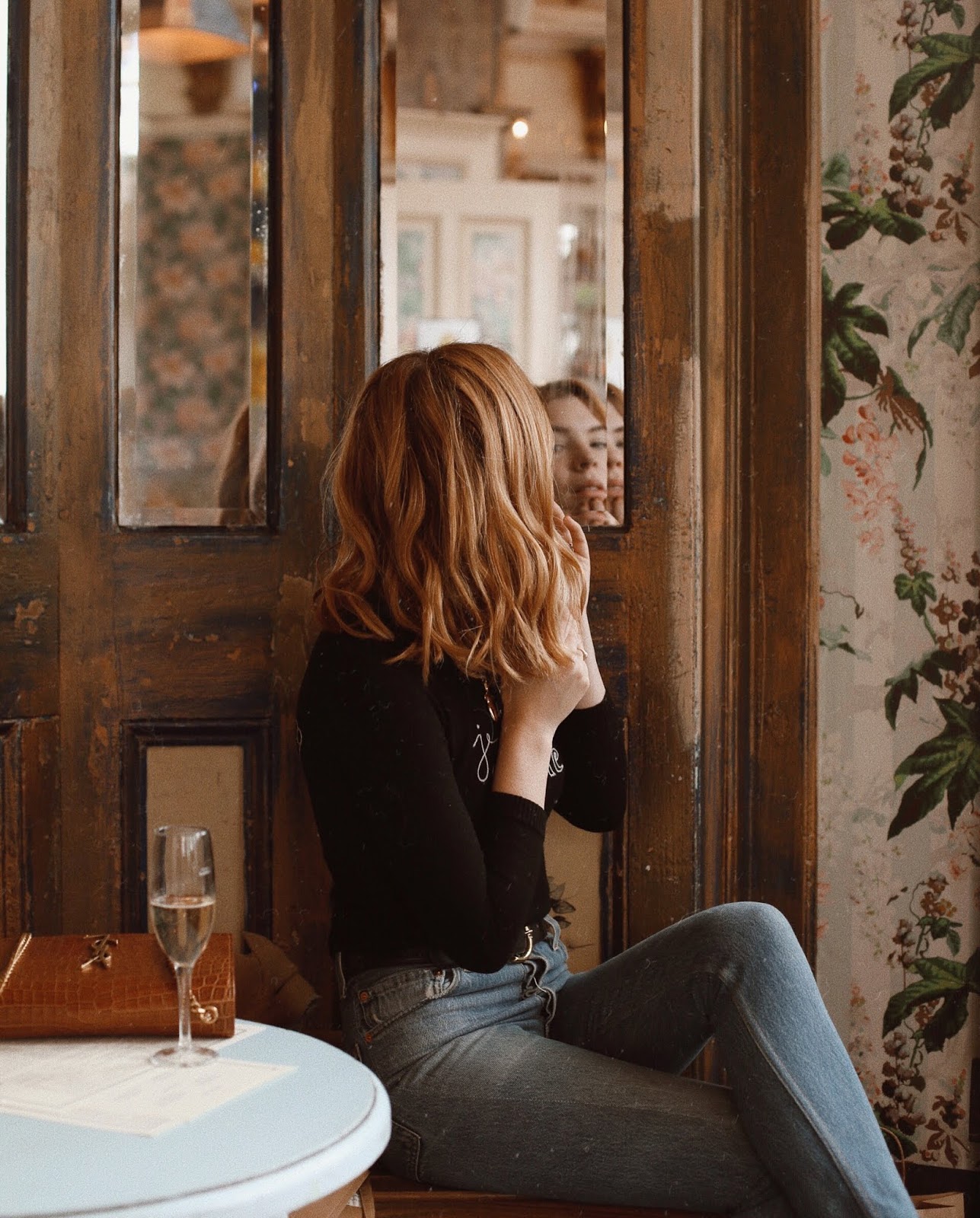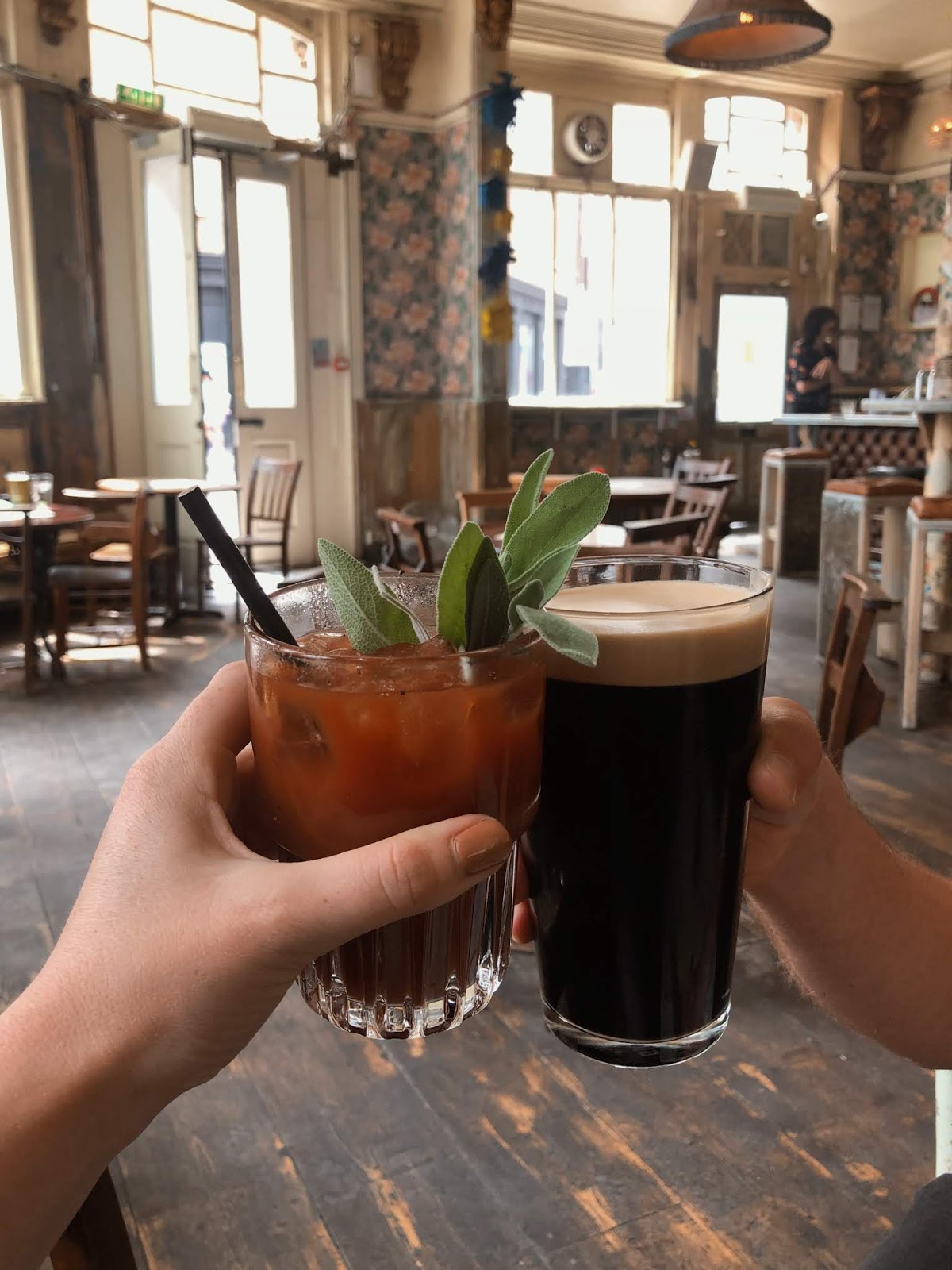 After our day in Shoreditch, we checked into the final (bittersweet!) hotel of the trip – Batty Langley's. This hotel was SO much fun and had some great unexpected details, like a darling courtyard, beautiful portraits on the walls, and really lux rooms. My favorite part of the hotel was obviously the bath tub – we stayed in a lot of hotels with baths on this trip, but this one was my favorite, hands down. I've always always wanted a clawfoot tub, and this one had the most amazing gold taps. HEART EYES.
The bathroom in our room also had, no joke, a THRONE TOILET. You have to stay here to believe it – every corner of the hotel had something new to see, and it really lived up to the unexpectedness and luxury that Chic Retreats offers. We loved it!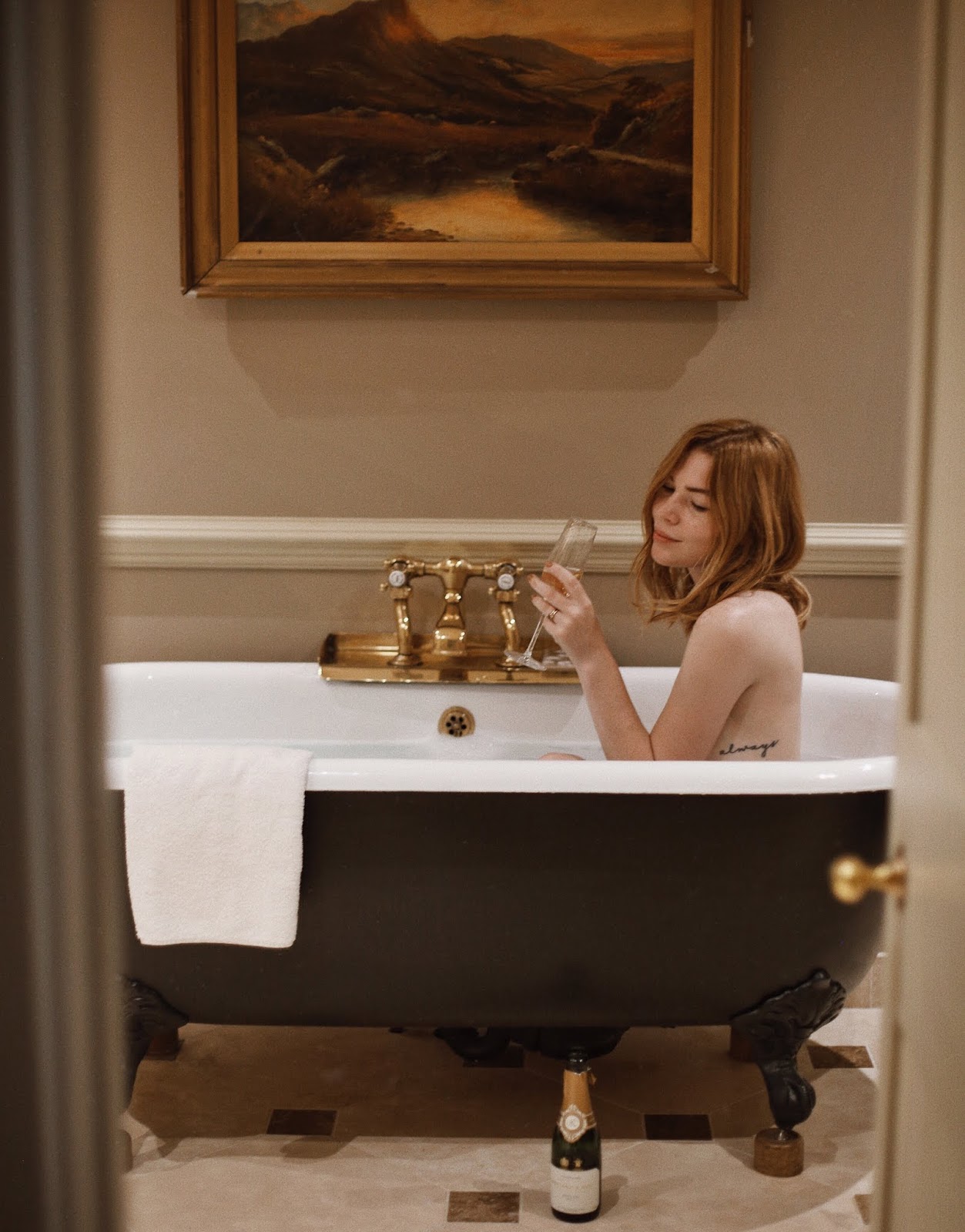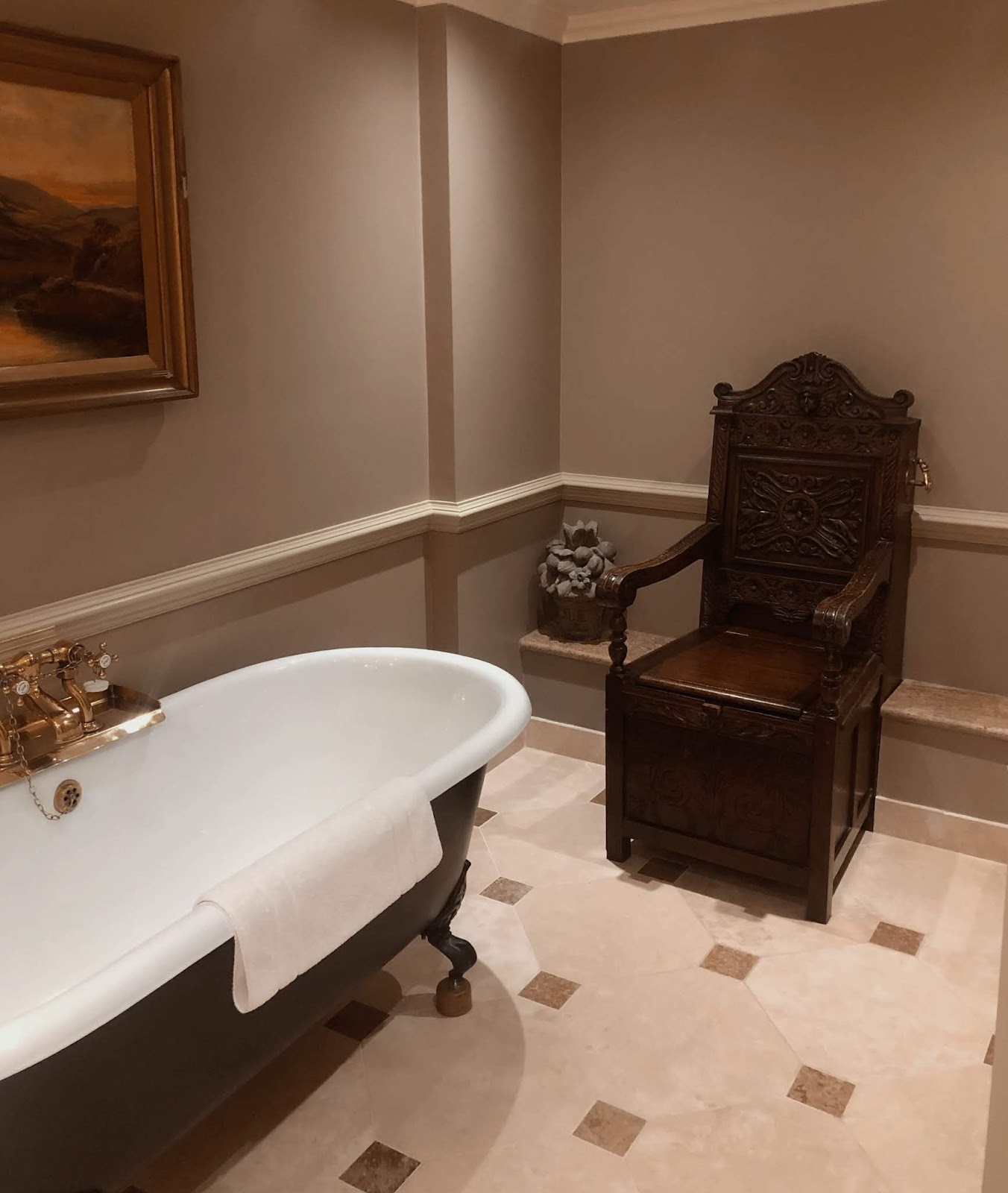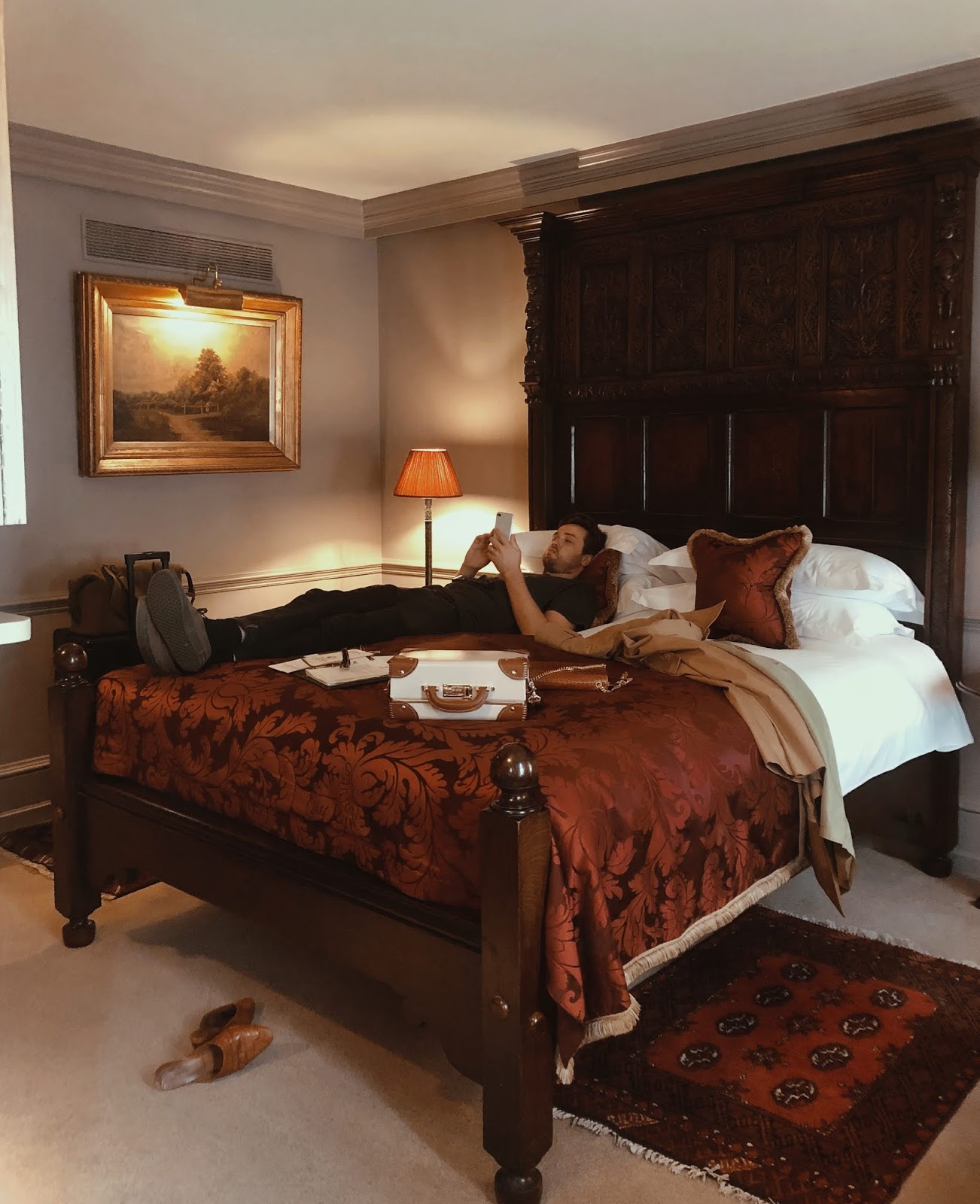 Eric and I both agreed, Batty Langley's bed was the most regal of the whole trip!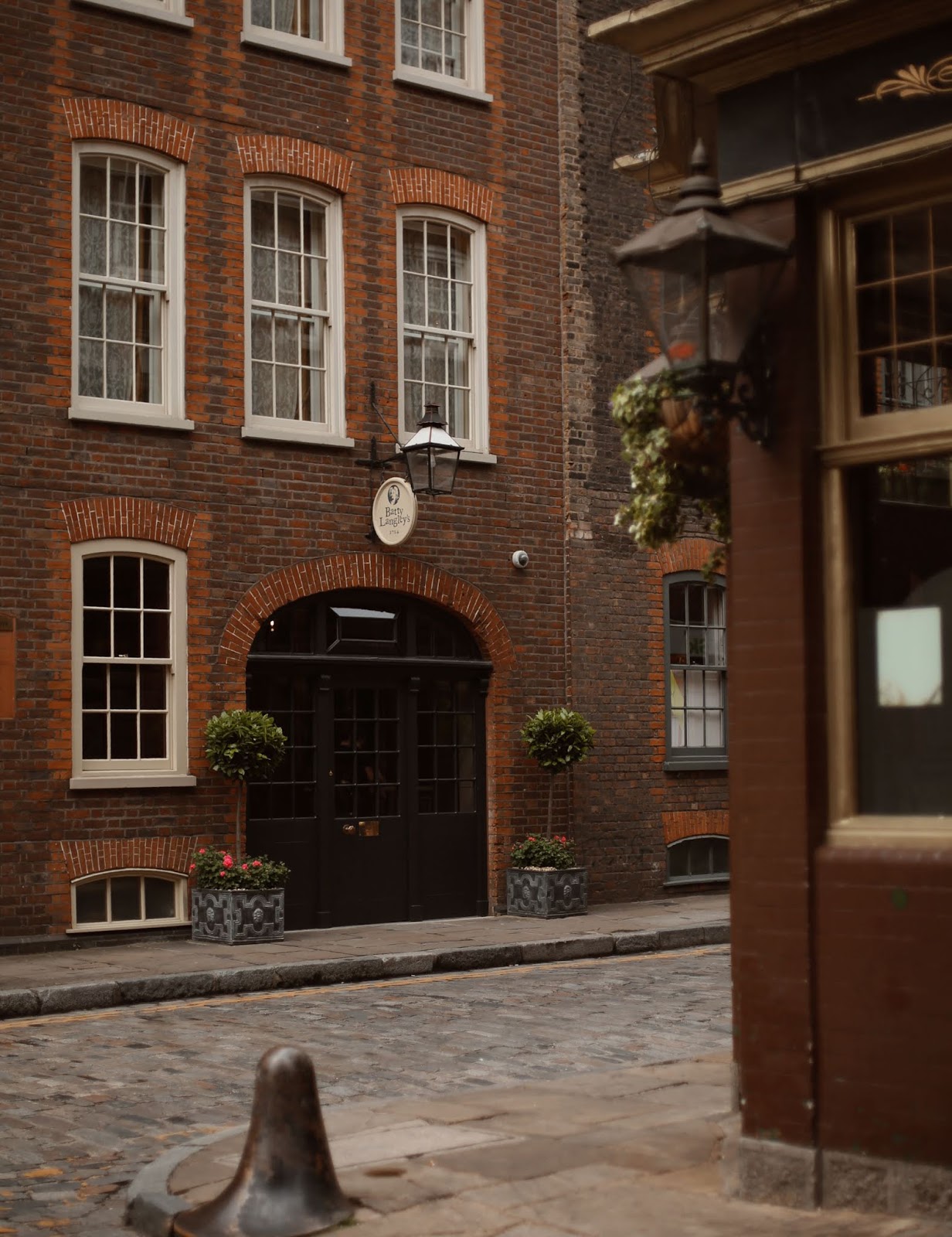 Another reason why we fell in love with Batty Langley's, aside from how comfortable the room was, is that it was in such close proximity to the best spots in Shoreditch. It's down this small street that feels very private and removed and cozy, but then you turn the corner and there are so many restaurants and shops to visit. We ended up spending a lot of the day running around, and then to have a lovely little haven to come back to at the end of the day was great. If you're looking to stay in Shoreditch, definitely pick Batty Langley's!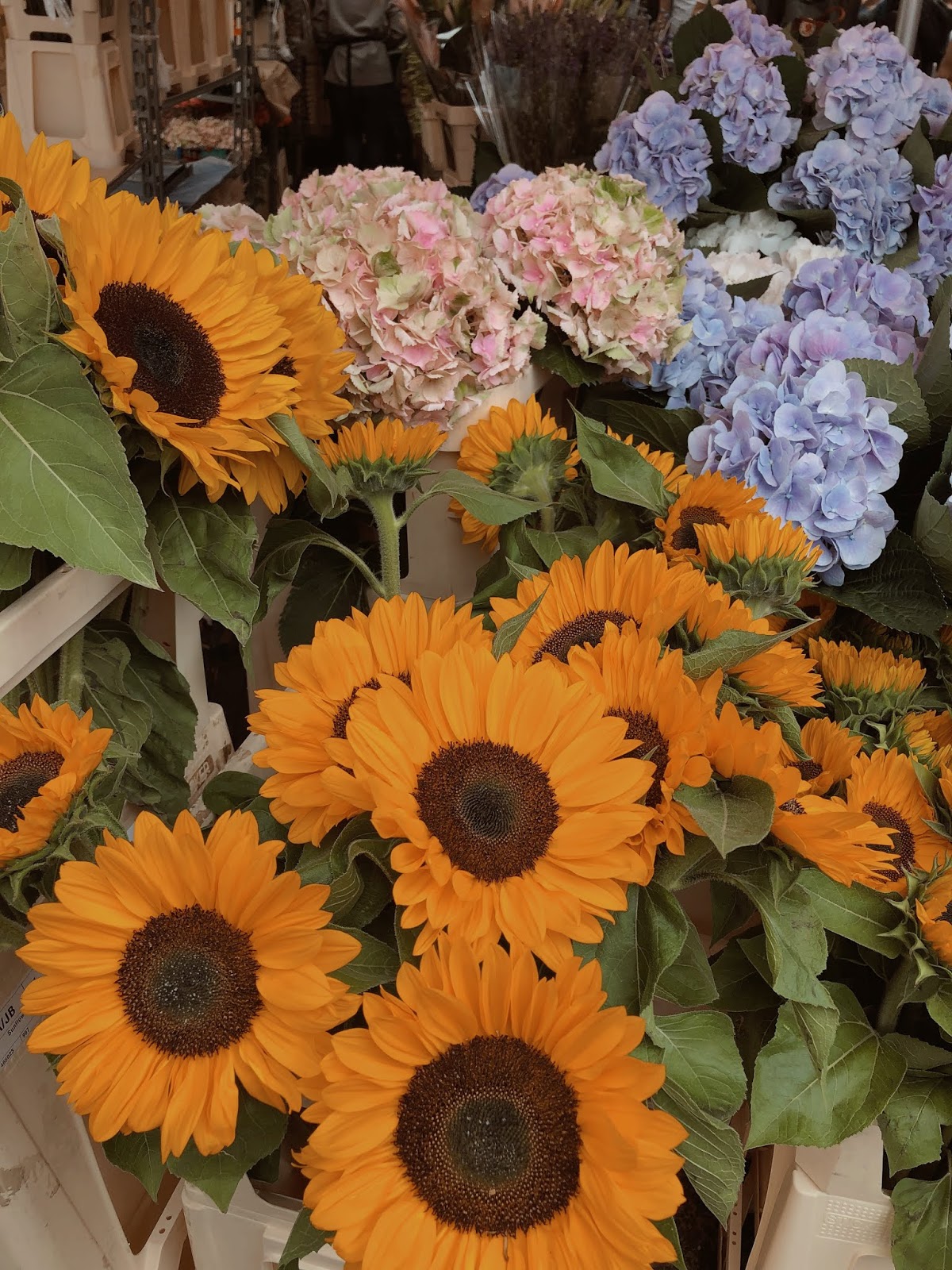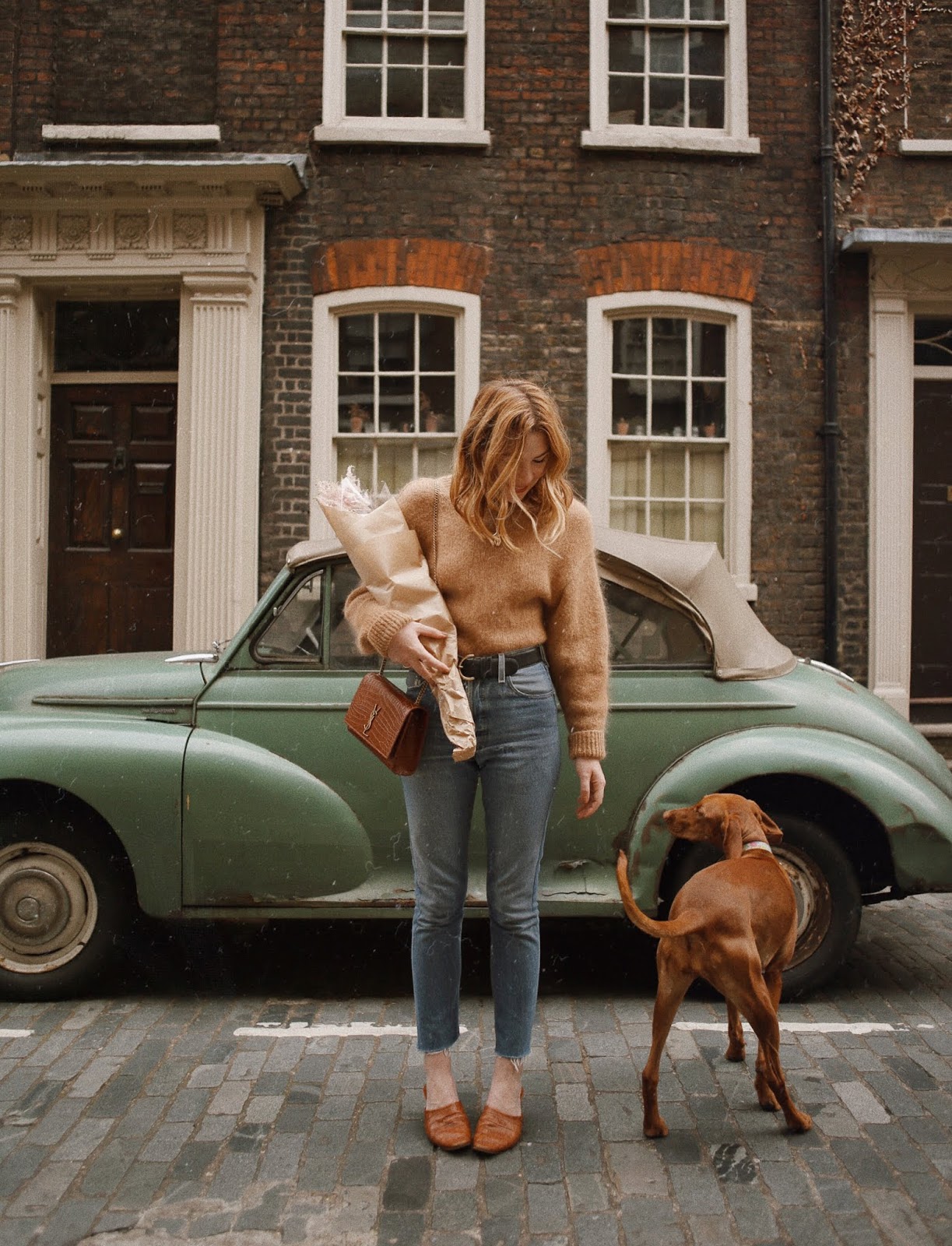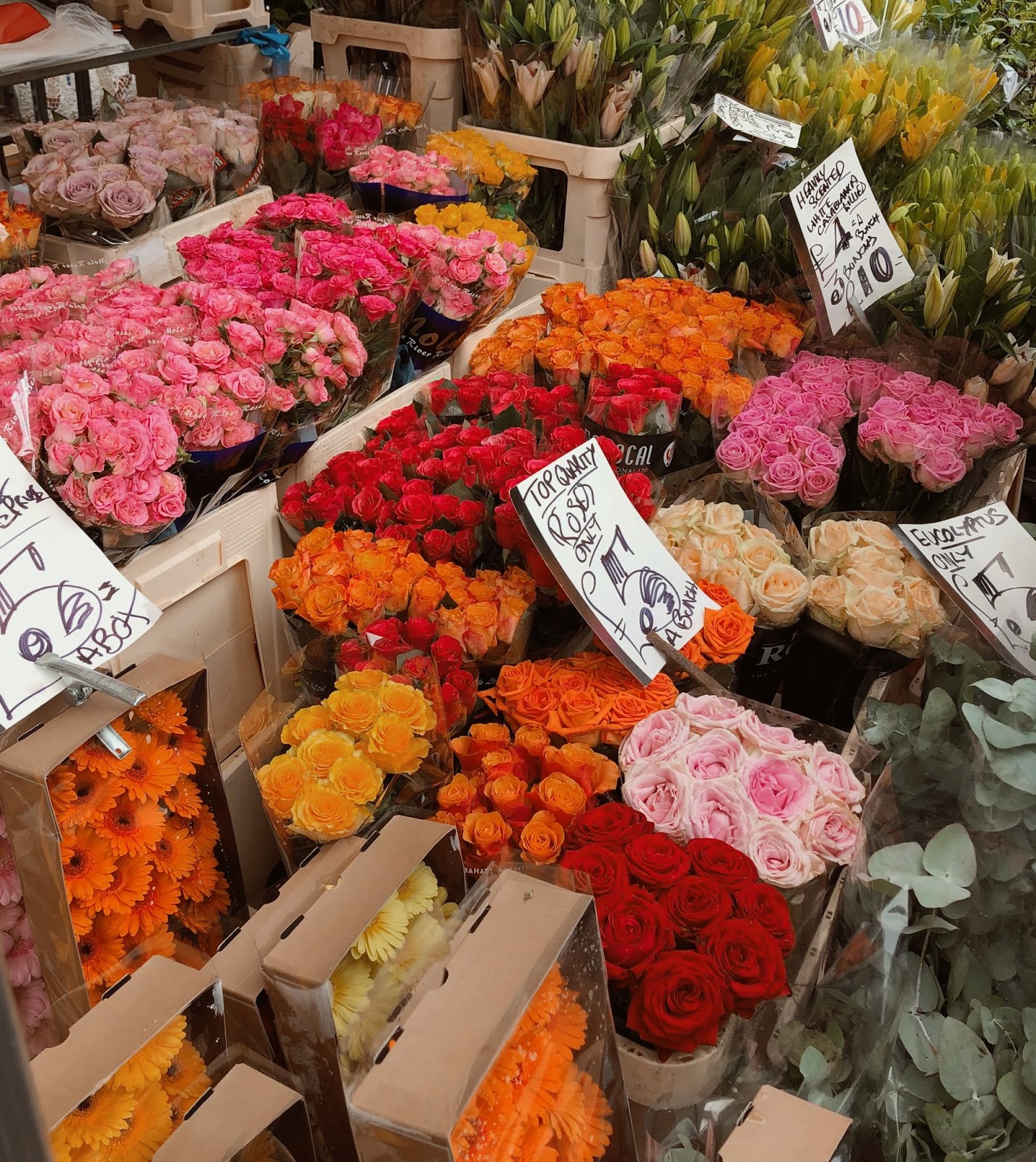 On our last day in London, we visited the famous Columbia Road flower market, watched a bit of the World Cup, and took it pretty easy. After 9 days, there wasn't much we felt like we needed to do, with the exception of seeing some friends in town. We met up with the lovely Carrie of WishWishWish and her husband Miguel for dinner and a walk around Hampstead Heath. There aren't a lot of bloggers that I know IRL, but Carrie is an absolute gem with an excellent sense of humor, and great taste in Podcasts. My only regret is that we didn't have more time together! Carrie, please come to LA soon, or else I'll promise to be back in London soon to hang out.
After that we went to sleep, woke up early, and headed home to our pup and our real life. All in all, I think this trip will go down as one of my favorites. I had so much quality time with Eric, and I loved how much we were able to talk, laugh, and explore together.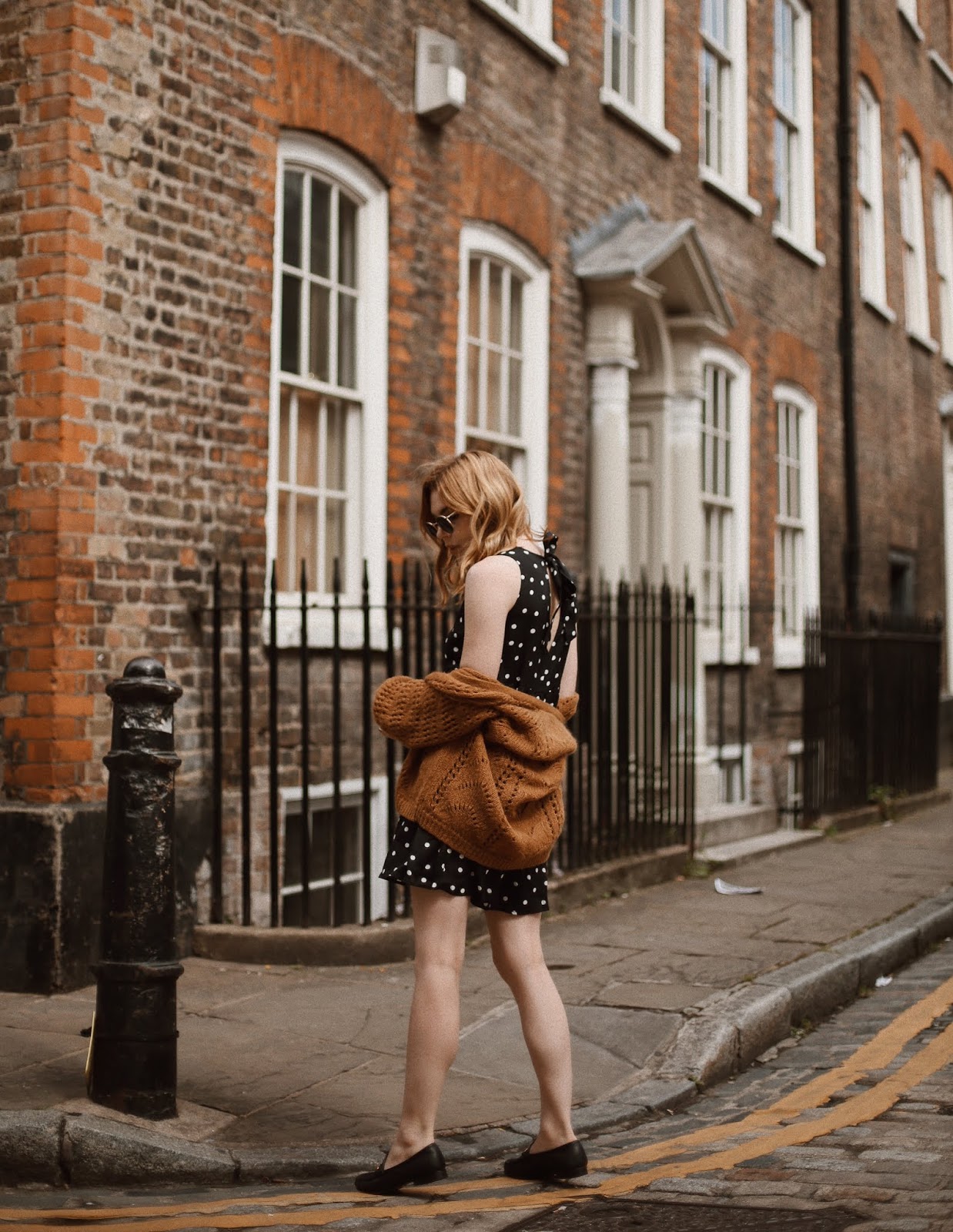 This post was written in partnership with Hertz and Chic Retreats. All opinions and words are my own.