It already feels like a lifetime ago (and a little like something out of a dream), but just last week, I had the immense honor of being invited to Château de Saran by my friends at Moët.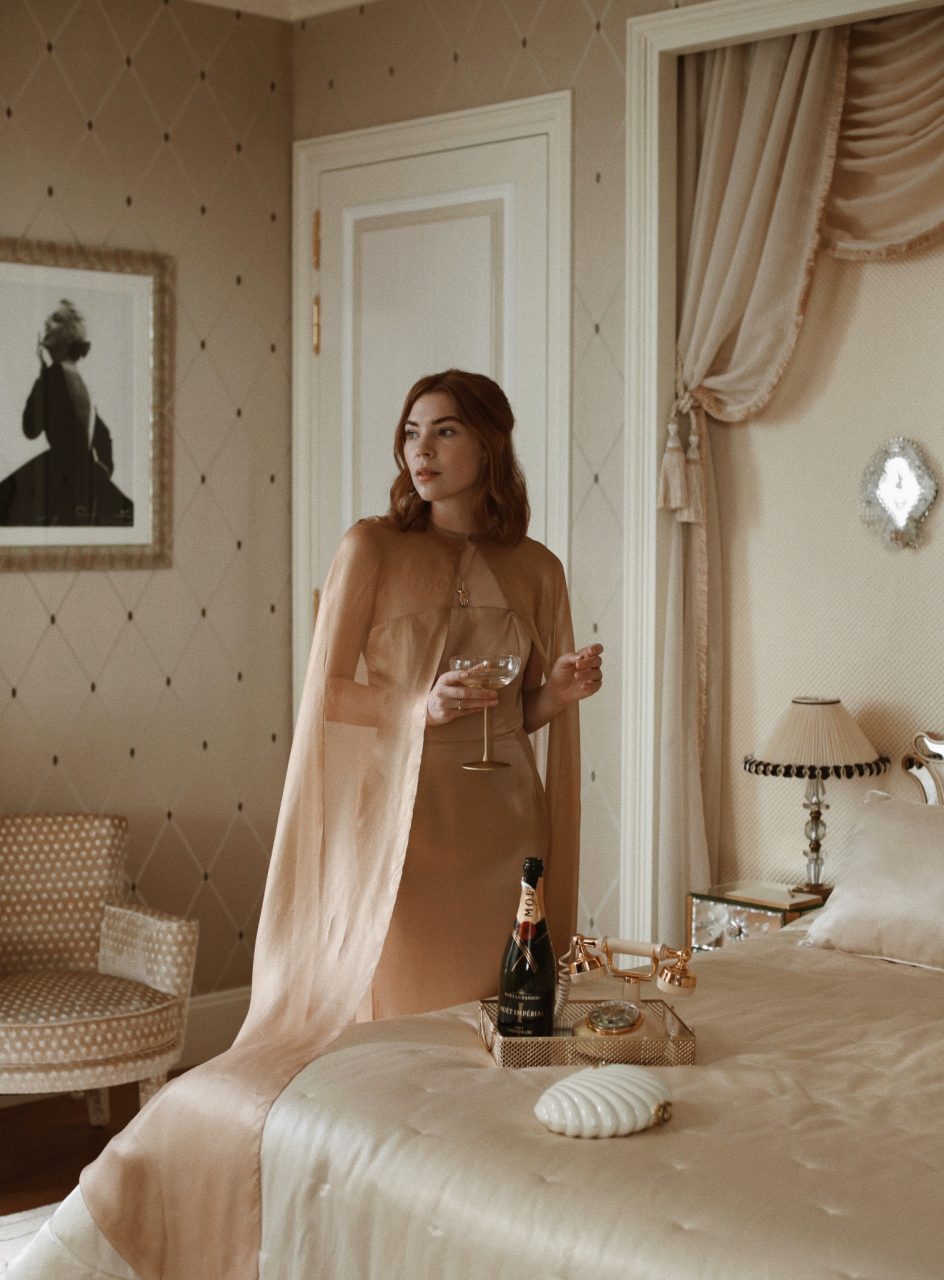 After being in the ever-busy city of Paris for a week, escaping to the countryside (if only for a night) sounded like a can't miss opportunity. But once I learned more about where we were going, I realized it was more than that – it was a once in a lifetime opportunity. The Château was first built in 1801 for Jean Remy-Moët, and while it was originally a hunting lodge, it has since become a destination for royalty and celebrities alike, but with one caveat; It's an experience that money can't buy. You cannot pay your way into staying there, you must be invited by Moët & Chandon to stay.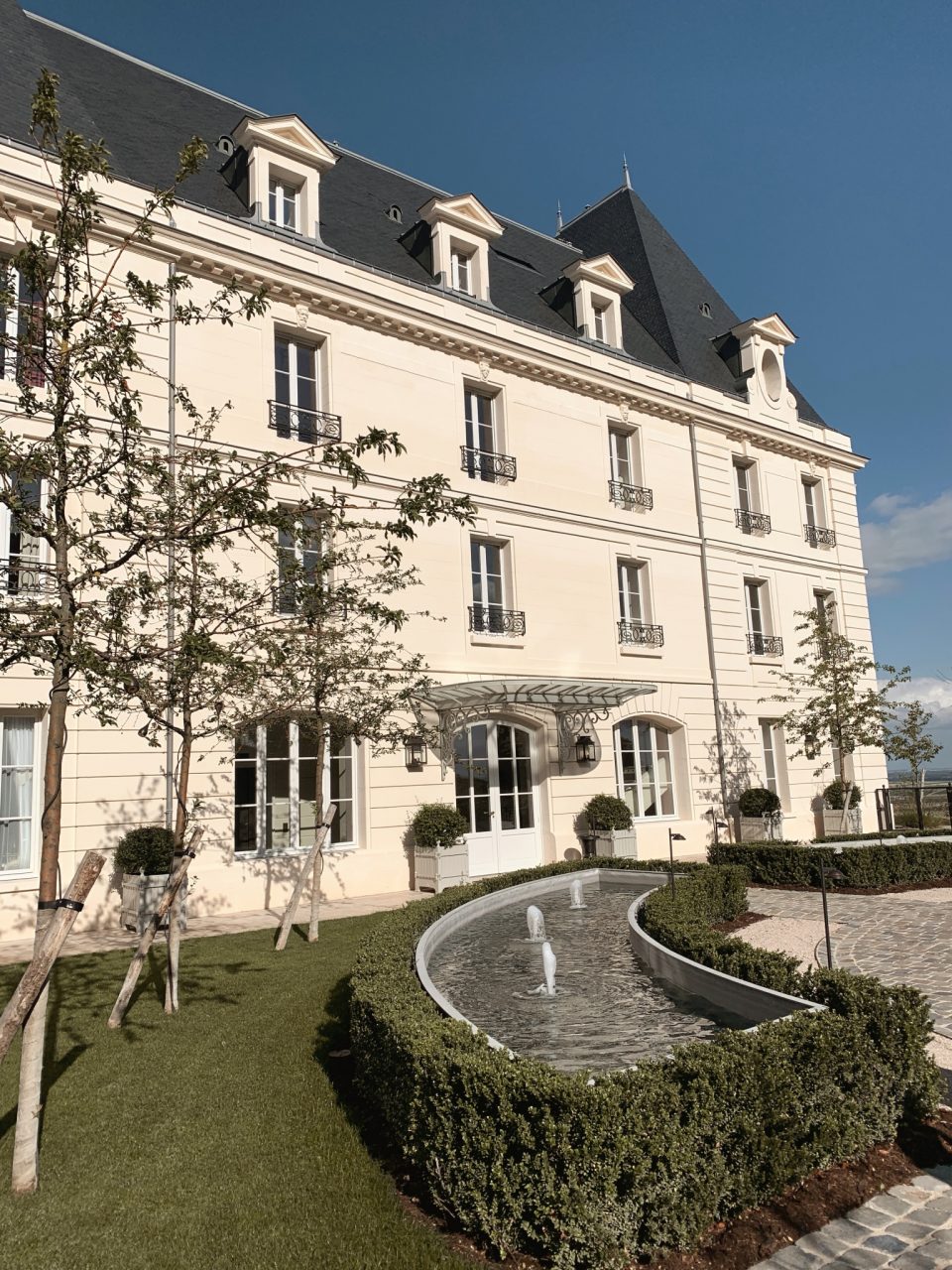 Over the years the Château has seen plenty of changes. Once a hunting lodge, then a stately home, and for a while it was even used as a retirement home as part of a donation to Hôpital Auban-Moët. By the 1950s though, it returned to being a private home owned by the Champagne House Moët & Chandon, and has since played host to all kinds of influentials and royals. The most exciting guest in my opinion was the Queen Mother, who once slept beneath its roof.
Eric and I were lucky enough to be invited by Moët to help celebrate the 150th anniversary of Moët Imperial Brut, the brands most iconic champagne. After learning about the Champagne house's origins and even touring their cellars, we were whisked off to see the Château itself.
Upon driving up, I was immediately awestruck. The lands that it sits on, the beautiful pathway, the gorgeous plants, and of course, the house itself all took my breath away. We were greeted with a glass of Imperial Brut (yes please, don't mind if I do) and then taken on a tour of the 11 bedrooms in the house. The Château de Saran recently underwent a multi-year renovation process that has restored the house and breathed new life into it – all while maintaining the classic style that Moët is known for. In fact, the house in its current state has only been open since May of this year, so getting to stay in one of the new bedrooms is a rare treat.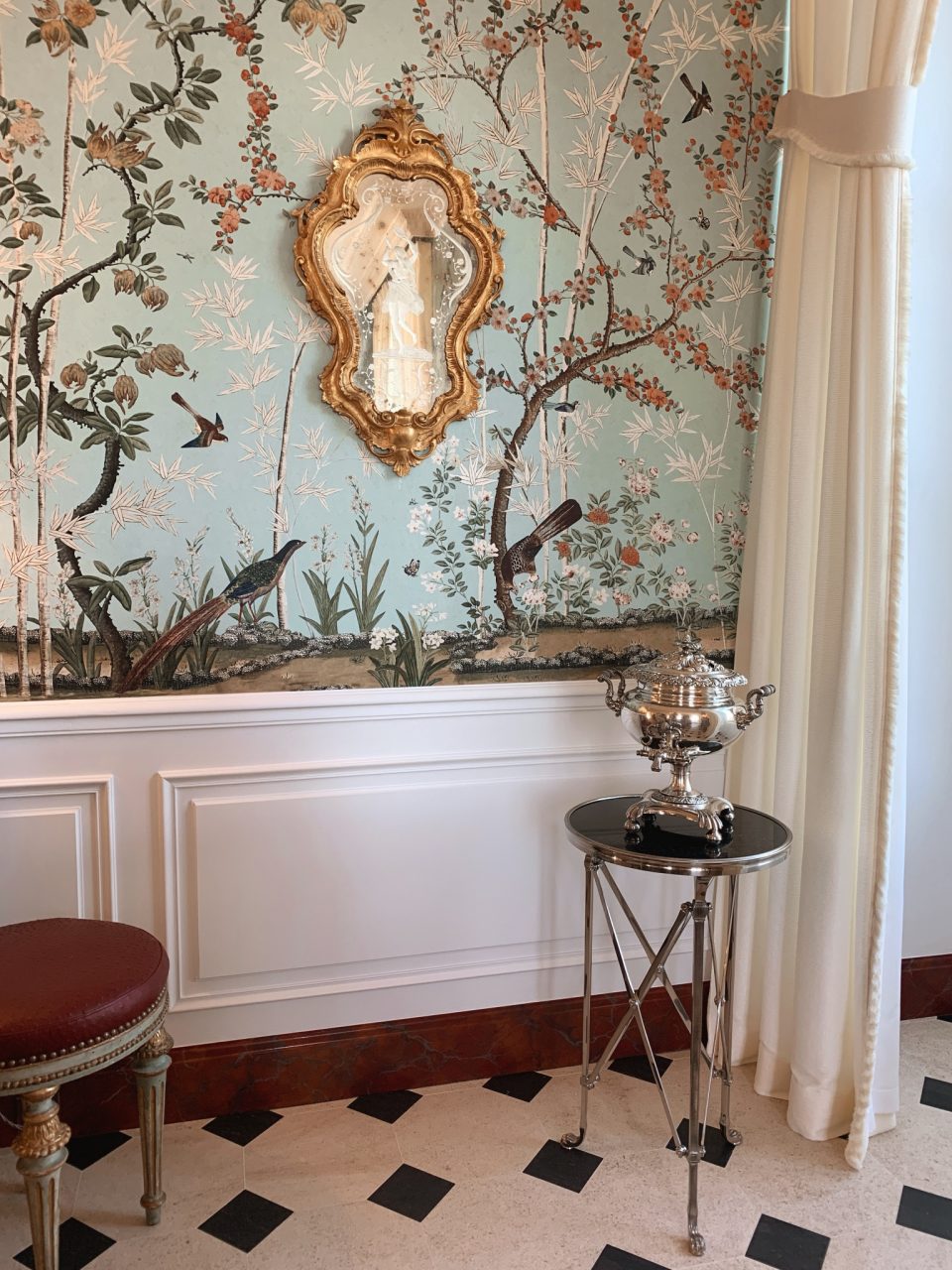 And speaking of the bedrooms, OMG. I cannot begin to describe how gorgeous they were, so I will let my photos do the talking. I think I said a quiet "wowwww" about every 10 seconds, and I definitely spent much of the tour clutching my hands in excitement. The glamour and luxuriousness was not lost on me, and I adored each detail. Each of the 11 rooms has a different theme, all corresponding to important regions, people, and moments in time for Moët. I wish I could remember all of the details, but some of the rooms were : The English Room, the Hollywood Room, the Christian Dior Room, the Chinese Room, the Russian Suite, the American Room, and that's about all I can remember. We were allowed to see inside of each one before each of the guests invited by the brand for the night checked in.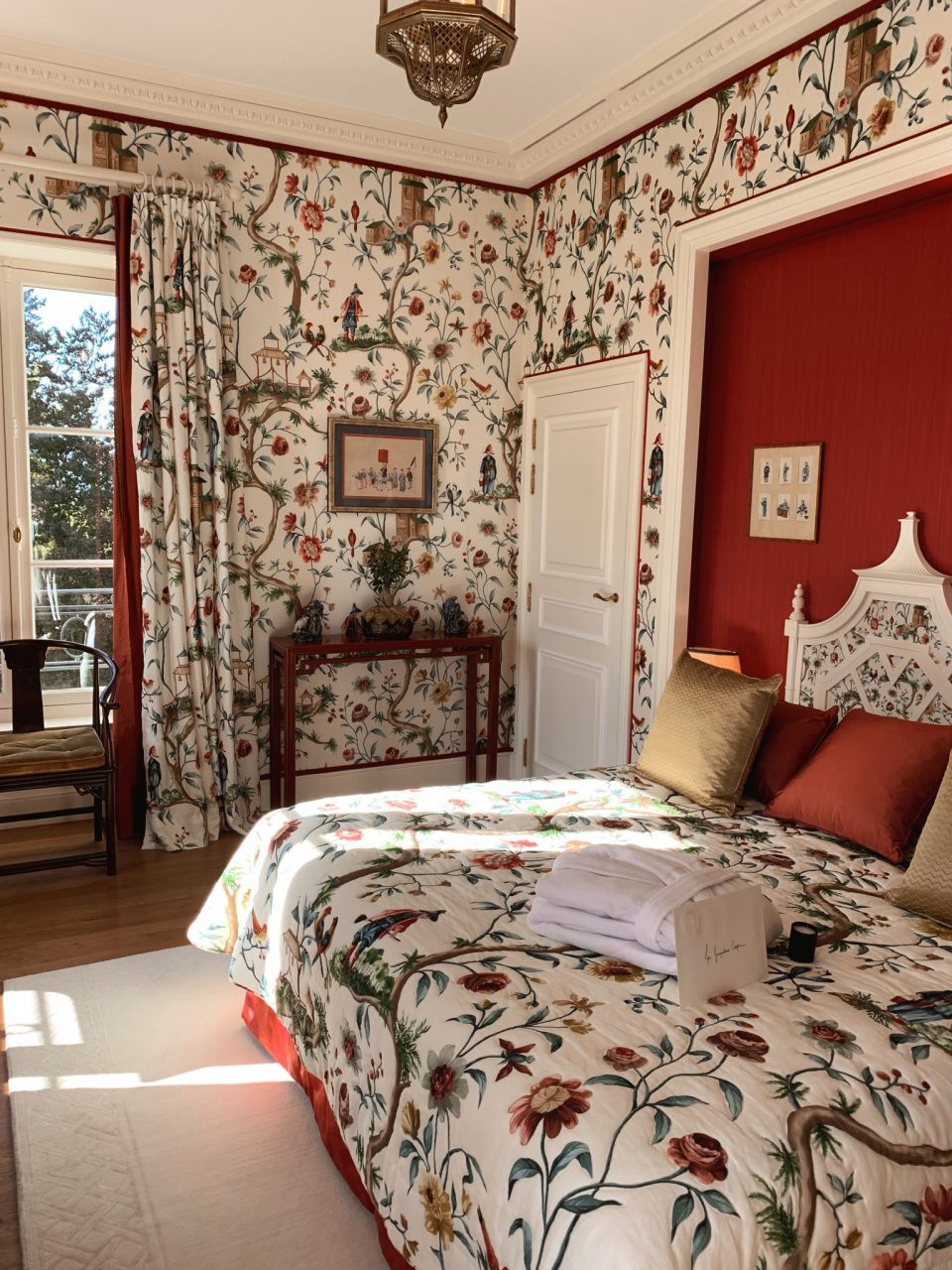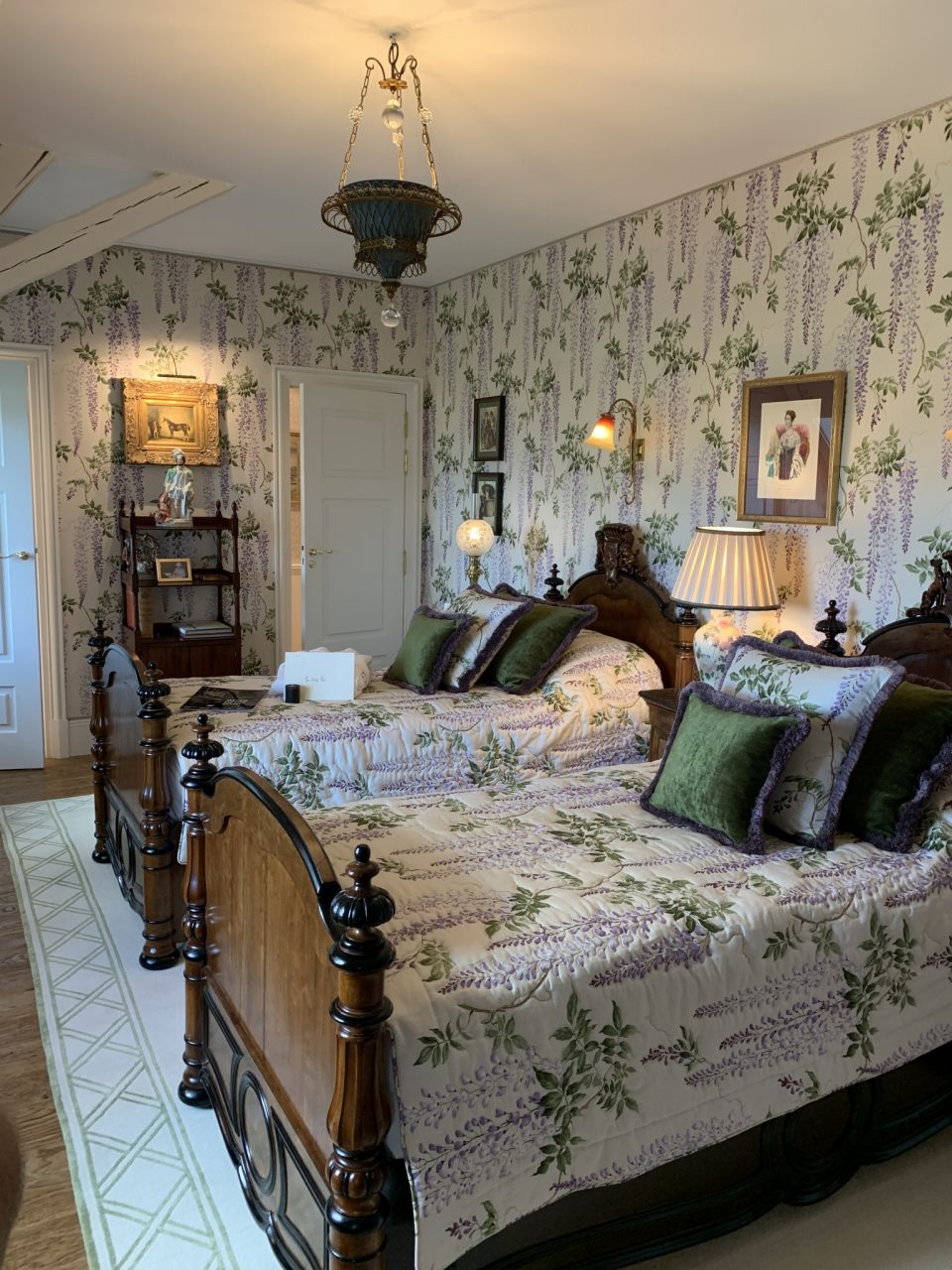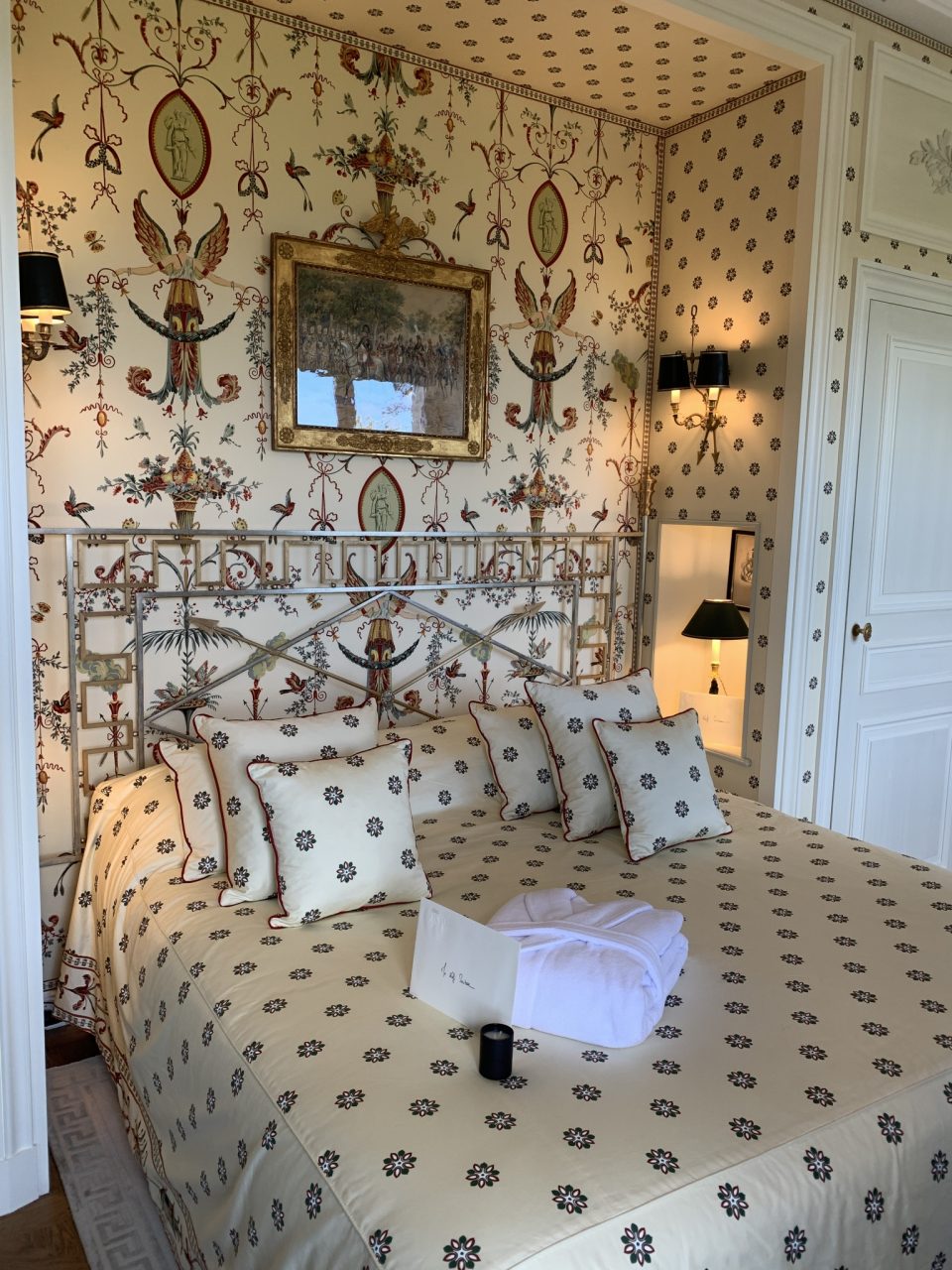 We got to stay in the Hollywood Room, and as I'm sure you've already seen on Instagram, I was in HEAVEN. A beautiful marble tub and separate shower, silk covered walls, and the most ornate gold details covering every inch. I had borrowed two dresses from the Parisian brand Les Merveilleuses, and even though the room and the details were a surprise, somehow both gowns I packed matched the space PERFECTLY. Of course Eric and I got to shooting right away in our room, and I love how the photos turned out.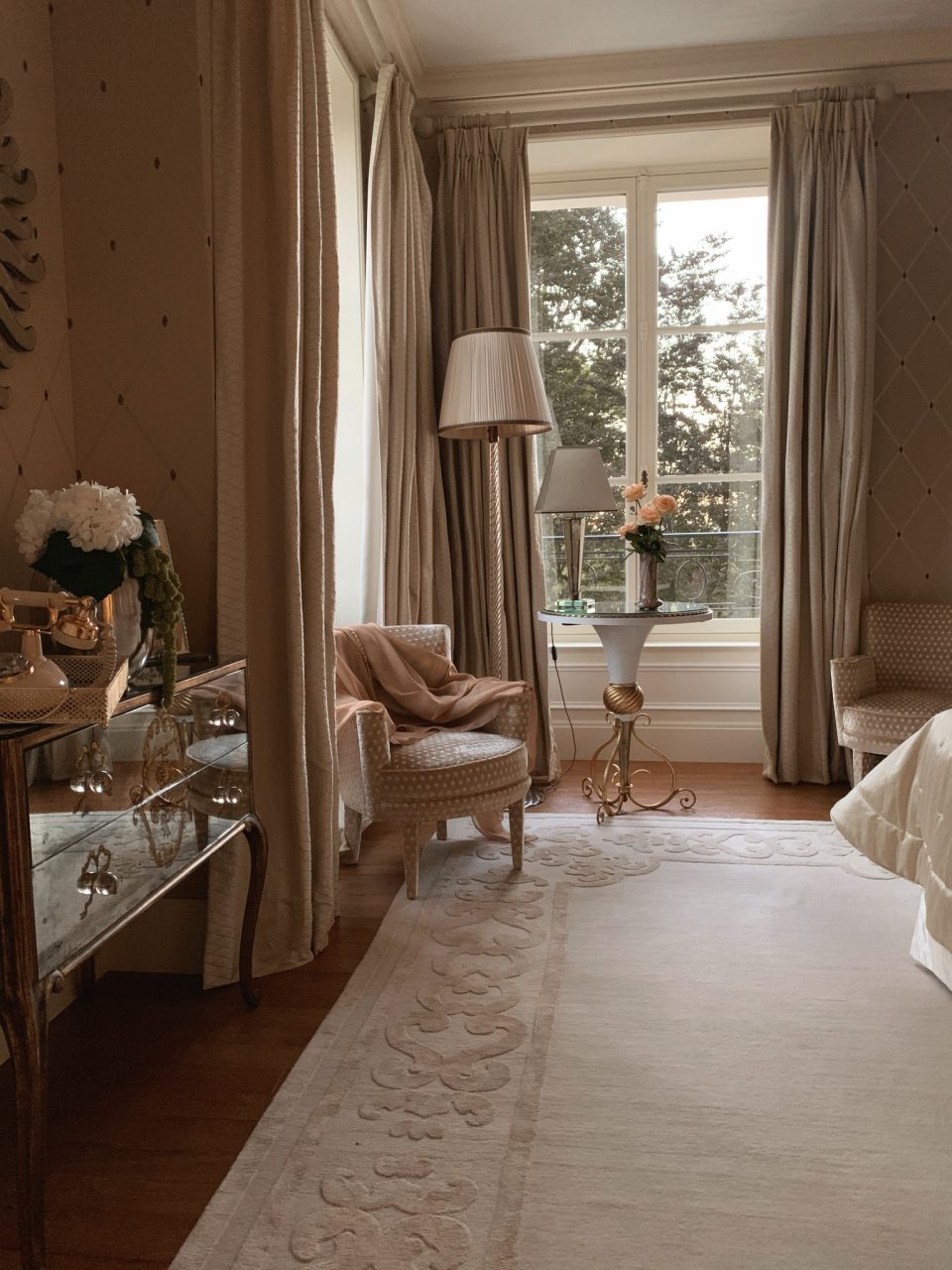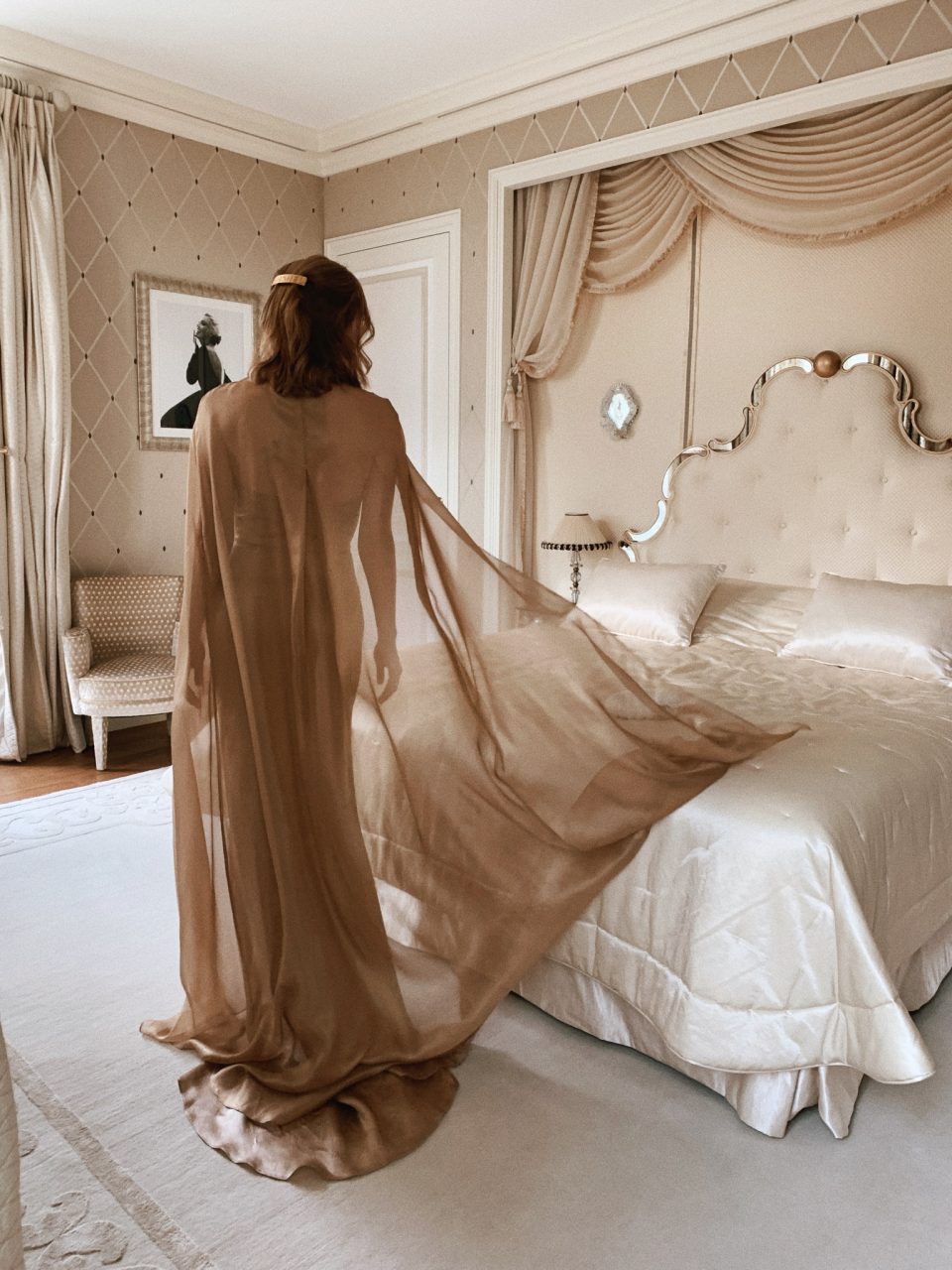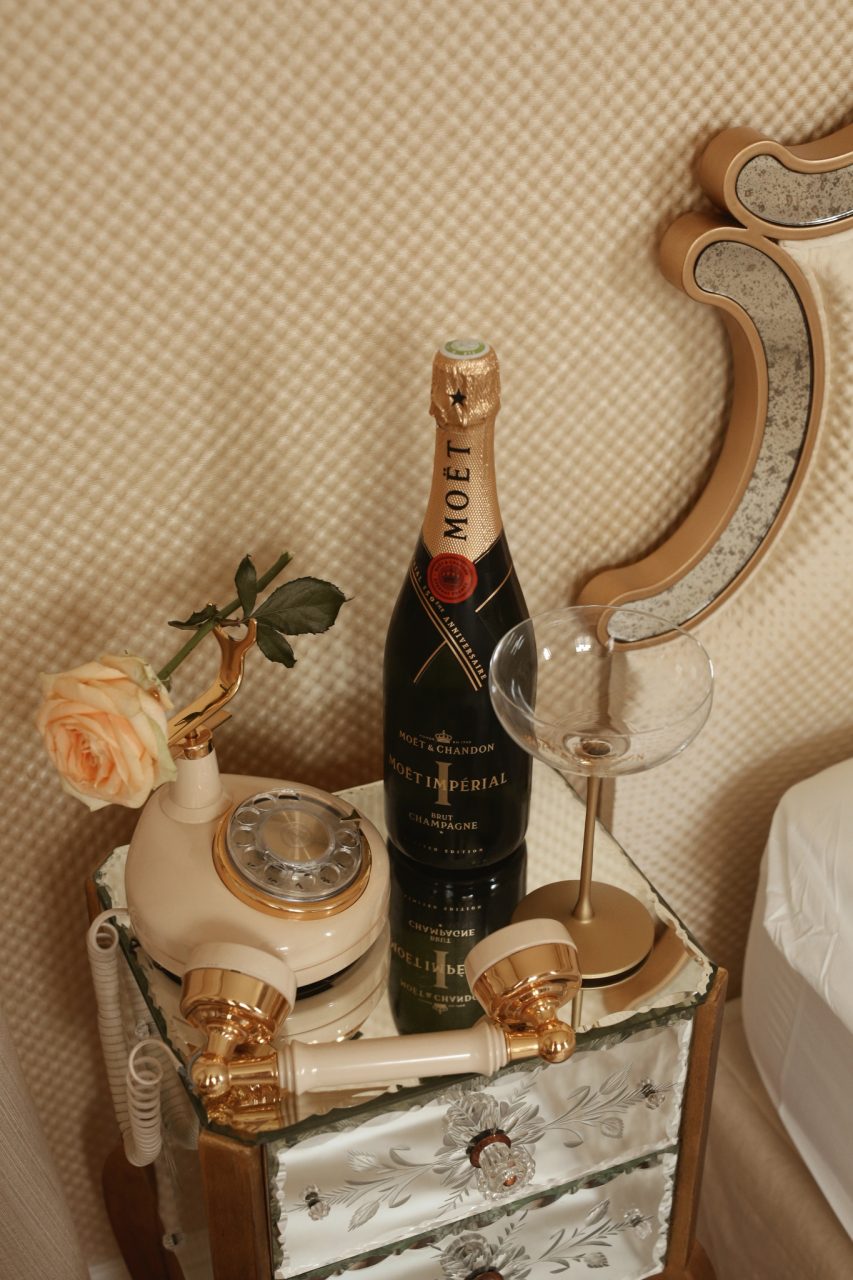 After a little downtime that consisted of me marveling at all of the details and getting a little teary eyed over how lucky I felt, Eric and I headed down to the main floor of the house to have a glass of champagne with the other guests and to mingle. The main floor of the house features several rooms, and while everything looks very antique, the details in the space span decades. Some of the pieces of furniture and art are modern or from the 50s-80s, and some pieces are true relics lovingly restored. Somehow it all works beautifully together to create a space that feels like you've stepped back in time.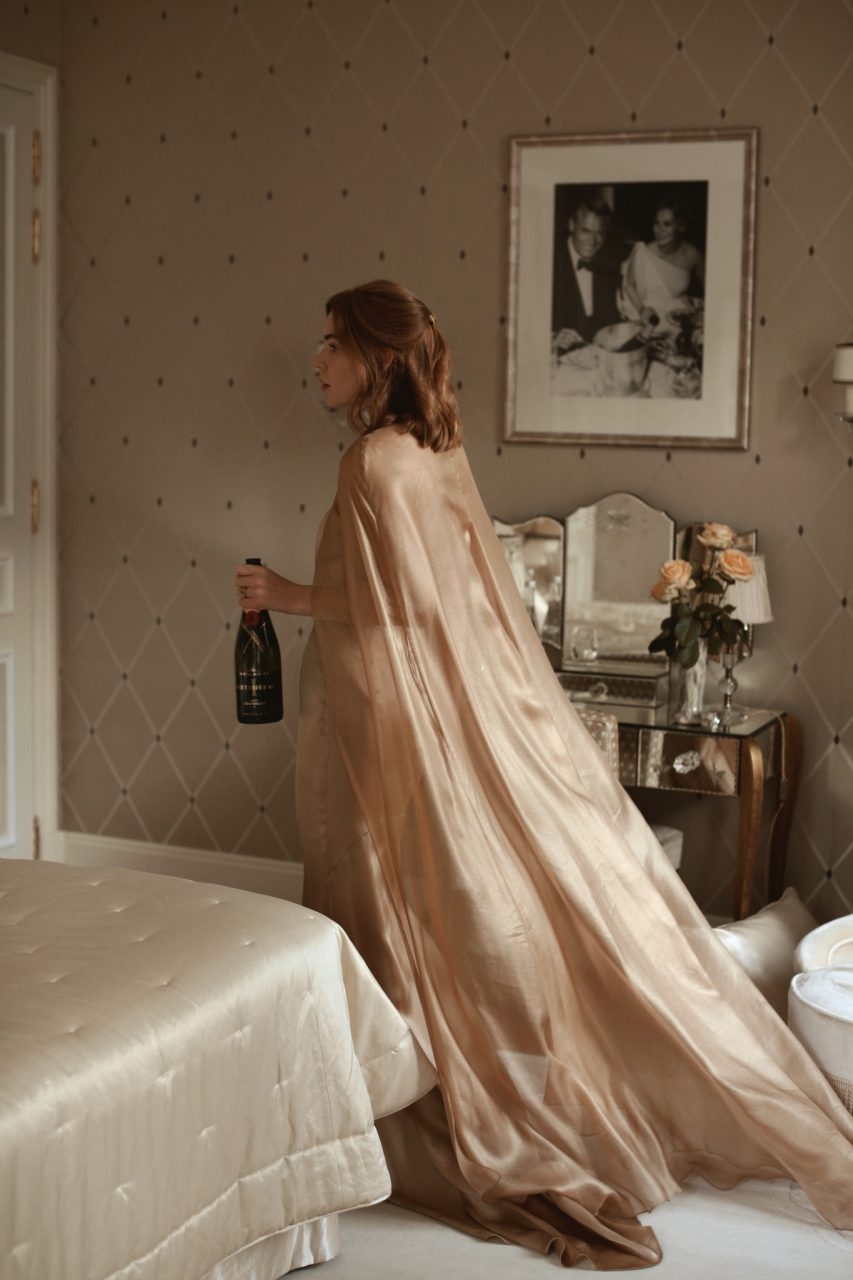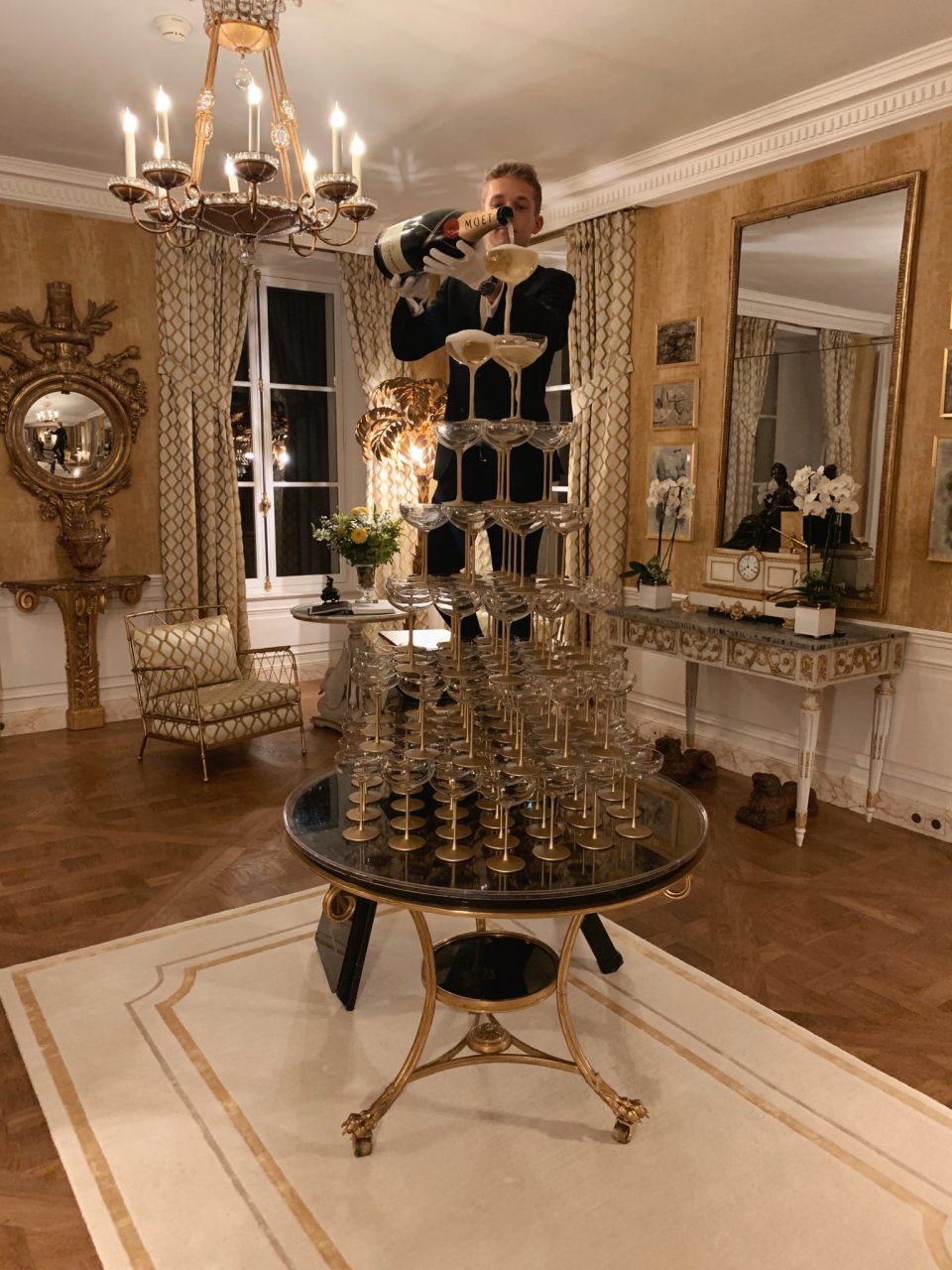 After our champagne and h'ors devours, we made the walk (UNDERGROUND!!) to the building opposite the main house. This is where the kitchen is, the dining hall, a lavish bar, meeting rooms, and a smoking room are. Each was more beautiful than the last, but I was most excited about the dining hall, where we were to have our dinner. It passed by in a happy blur, and I didn't really capture too many photos, mostly because the conversation was great, and the food was awe-inspiring. Each course was paired with a Moët Champagne, and I just say, I've never felt SO fancy in all my life.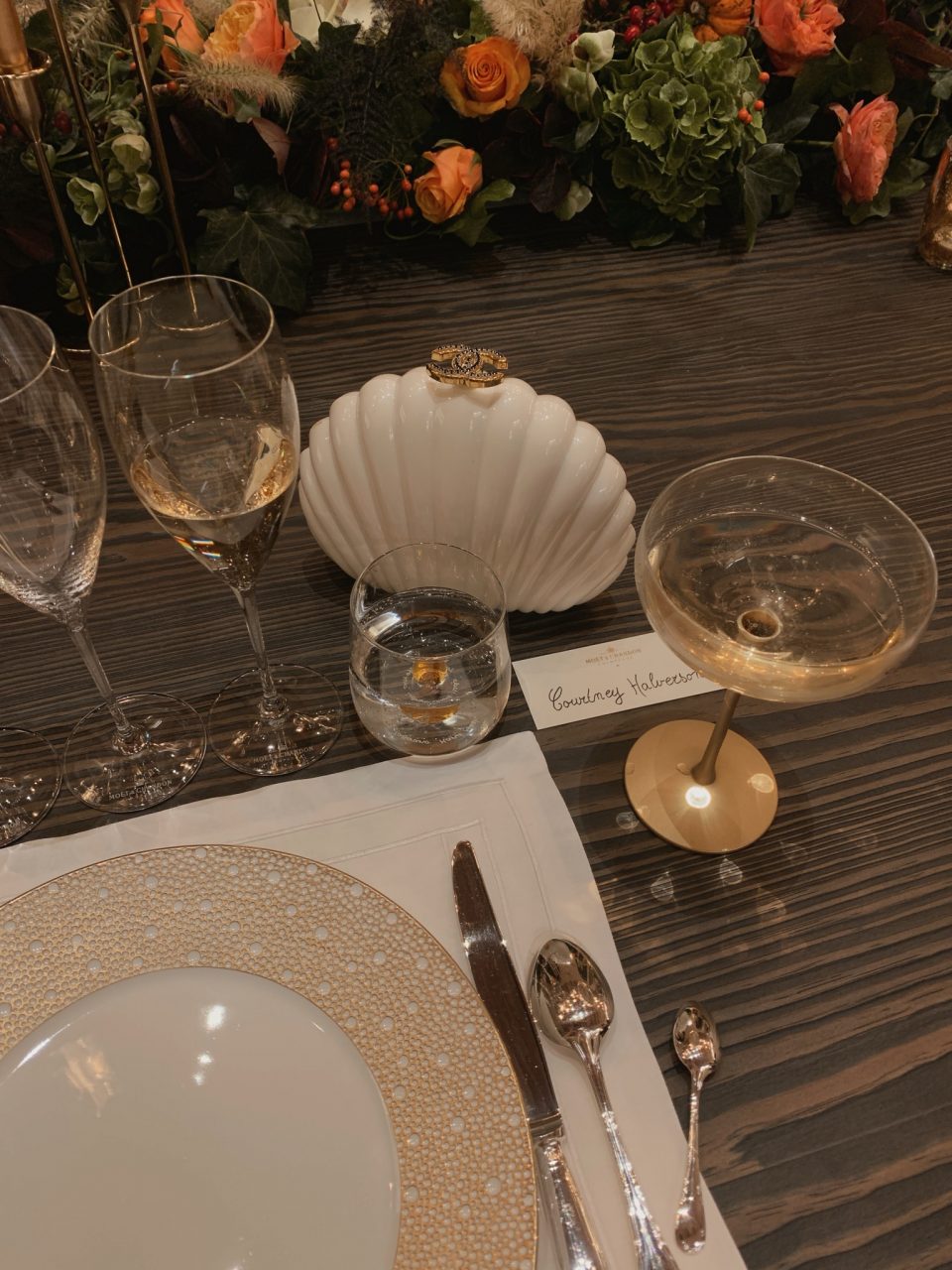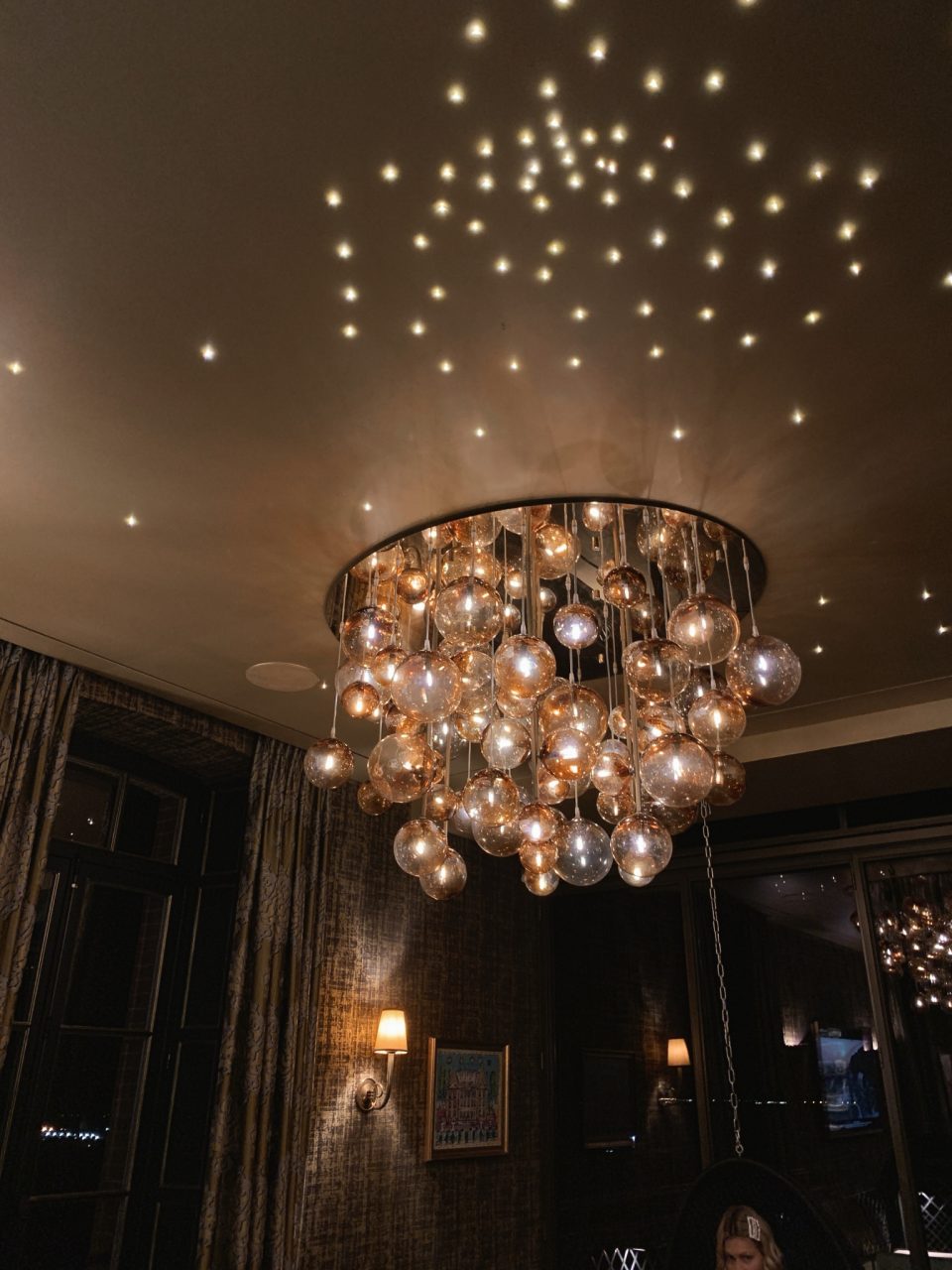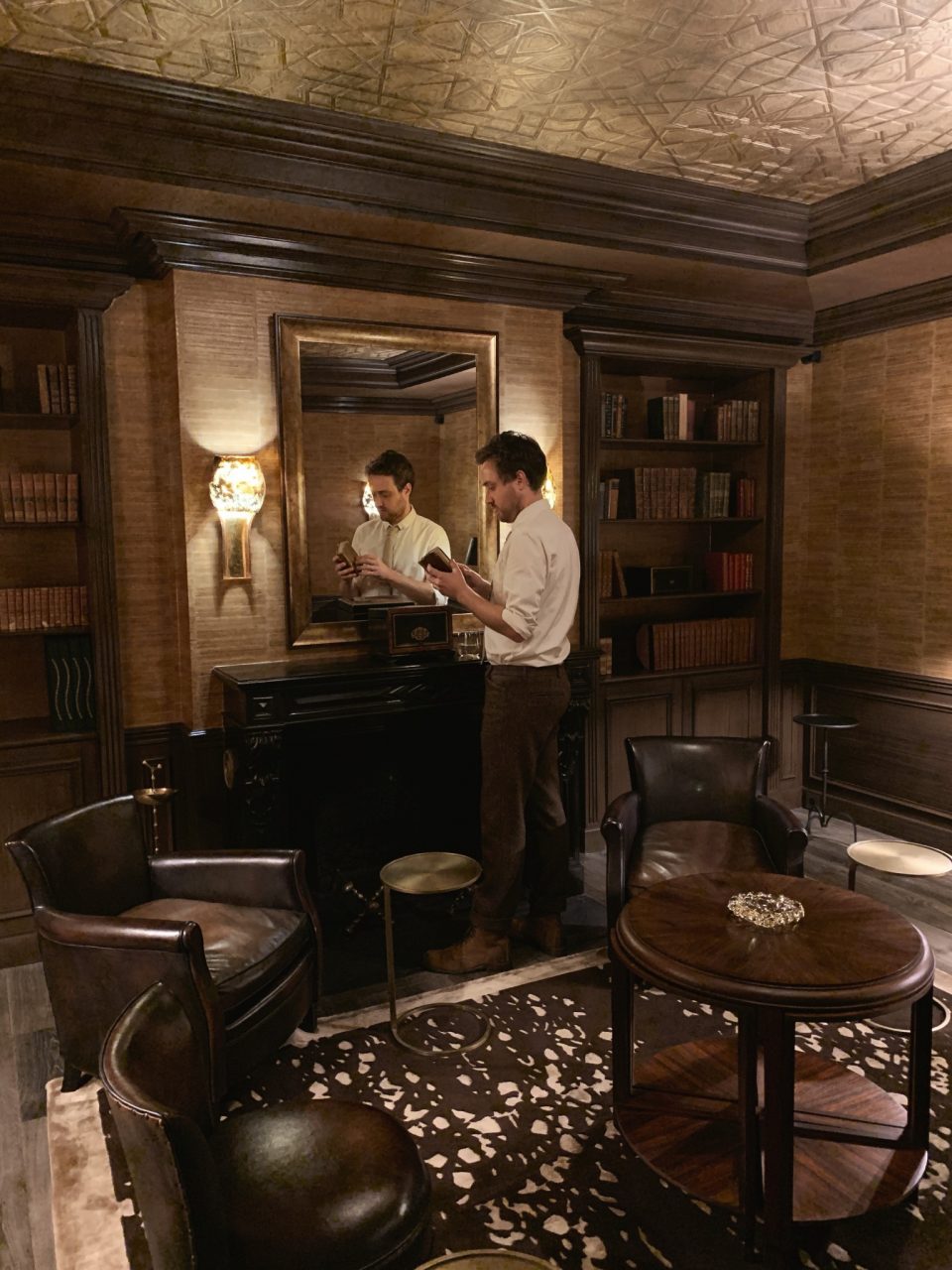 We ended the evening with another glass of champagne in the bar (I had a cup of tea and some candy because I spotted some fancy dishes in the room) and took a few photos before each of us left one by one to stay in our rooms. I slept HARD after a busy day; in fact Eric and I both slept for the first time through the whole night on our trip. Jetlag tends to wake us up in the middle of the night, but in that comfortable of a bed with a full stomach and a few glasses of bubbly, we slept soundly through our morning alarms.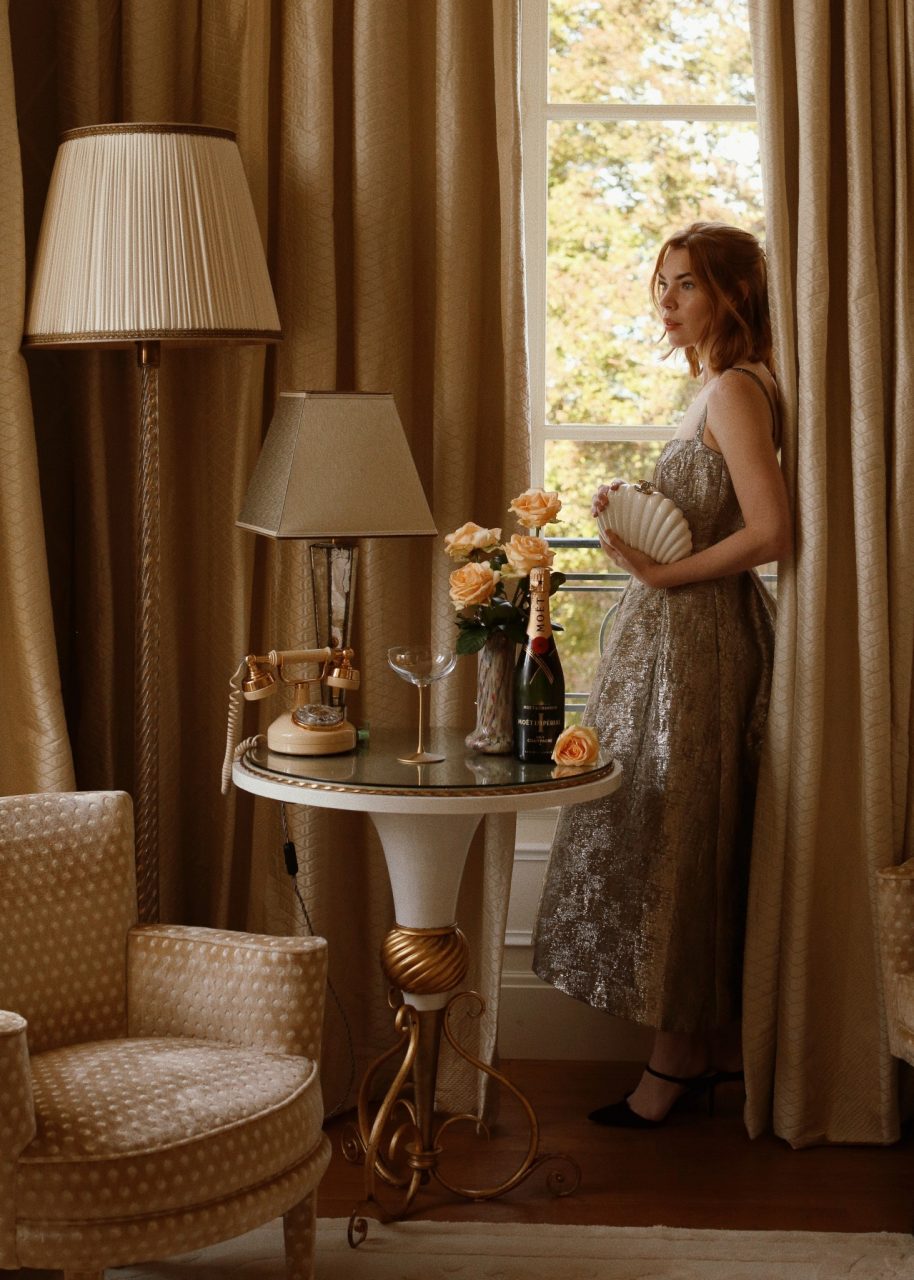 The trip ended with a gorgeous (I mean of course it was) breakfast spread in the beautifully wallpapered dining room of the main house, some more pictures, and some goodbyes. I cannot begin to express how privileged I felt to be included in such an experience, and the whole trip will be something I never forget.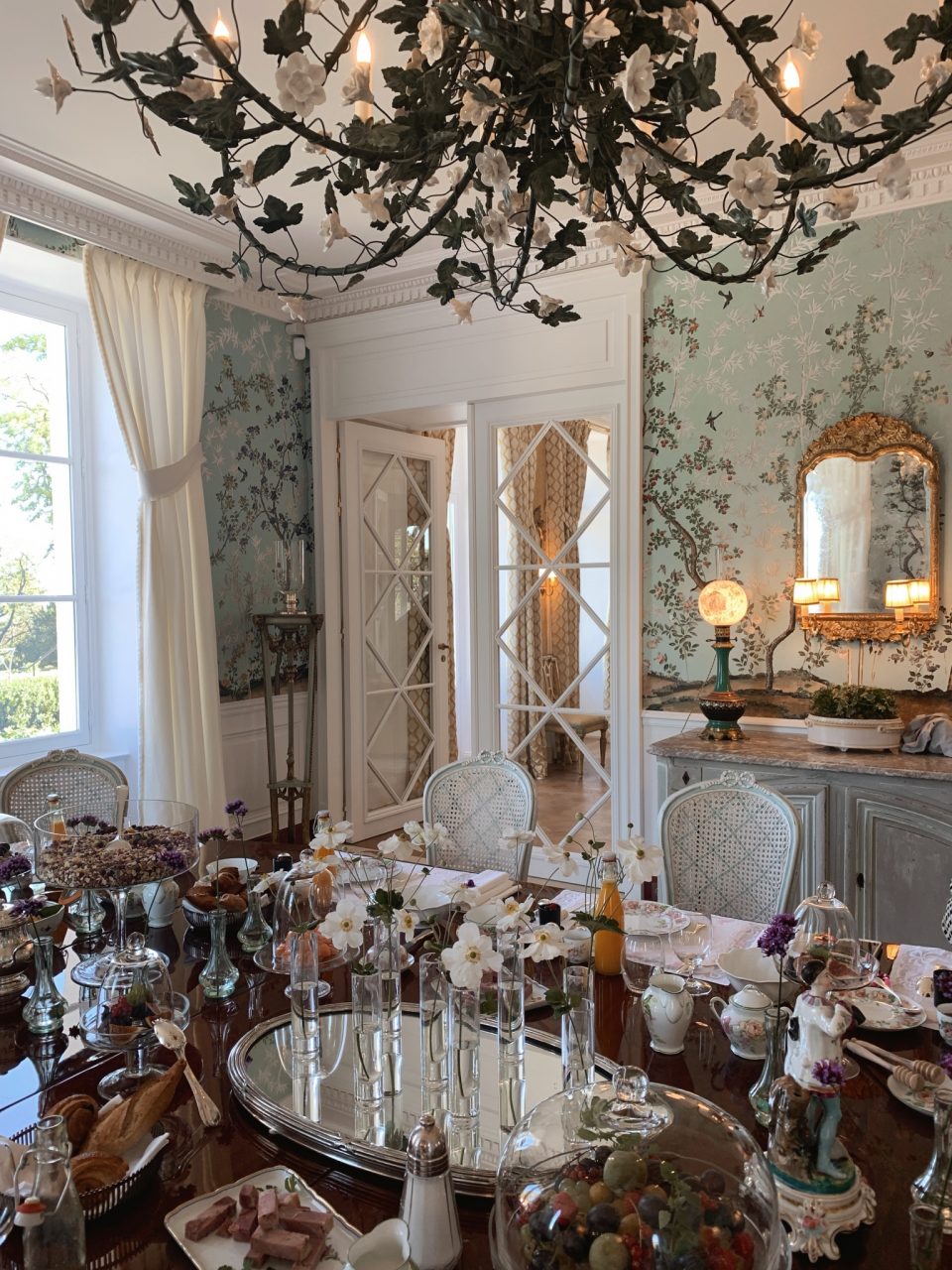 A huge thank you to Moët & Chandon for including me, and thank you to Les Merveilleuses for providing the looks I shot.